This Is Why "Proactive" Feels Like A Four-Letter Word.
Okay.
Back when I worked in that dreary gray cubicle, our "team" was forced to suffer weekly Monday morning meetings. You know the kind, where the overly enthusiastic Head of House tries, once again, to encourage and inspire or reflect or cajole. The point is to make you feel like you're there for a reason, because it's very likely you forgot what that reason was over the weekend while you were hopefully very busy doing things that actually mattered to you.
He'd toss out words like "success" and "leadership" and "strengths" and "maximize" like strands of beads at Mardi Gras. Of course we were expected to catch them eagerly and wear them around our necks with pride — pride we maybe hadn't fully earned, of course, since I'm pretty sure I never flashed a nip.
But the best worst word he liked to use was "proactive."
"Hey guys, let's be proactive this week. Let's make things happen. Let's shake buildings and bring down empires and change the face of the way people view what we do."
And I'm not going to lie — I liked that word. I liked the idea of that word. I'd leave those Monday meetings with a sense of urgency. With a sense of pride. I'd leave thinking, dammit, instead of sitting around this week waiting for someone to tell me what to do, I'm going to go out there and kick some ass. I'm going to make connections. I'm going to feel accomplished.
Of course, that feeling usually only lasted through lunch, by which time I'd responded to 97 petty emails, deleted 123 whiny and unnecessary carbon copies, stared at the dying plant on the windowsill for seven minutes, did the fake stair thing behind a co-worker's cubicle, launched a couple of stress balls across the room and made a general nuisance of myself, answered more emails, rinse, repeat.
When I finally walked away from it all, I took with me a mound of recyclable Starbucks coffee sleeves, a certificate of achievement filled out for the wrong achievement, a couple of pens, a sticky note dispenser, and a very sordid sense of the word "proactive."
If you've been around here for a while, you'll already know that after that I went with a friend to Costa Rica to make hot sauce for two months. I was sure our blog would "get discovered" and the answer of what I should do with the rest of my life would appear magically before me with fanfare and balloons.
"WELCOME, Katie!" The Answer would say. "You can relax now. I'll take it from here."
It didn't.
I returned to the U.S. even less sure about my life than before. I worked in a wine bar. I assisted a Realtor. I earned the odd writing or photography gig here and there, but could never seem to make anything stick. I kept waiting to "get discovered." I kept waiting for The Answer, but she refused to show her skittish little face. I read Eat, Pray, Love and hated Elizabeth Gilbert for her ability to fall into a crumpled crying mess on the bathroom floor, ask the Universe for answers, and actually frickin' receive them. Do you know how many times I tried that?
Do you?
But The Answer wouldn't come.
I've had ups and downs. I've struggled with depression. I've struggled with my relationship. I've thought things were going to turn around but they didn't. Basically, I've run the gamut of human emotion just like the rest of you and I've felt exhausted just like the rest of you.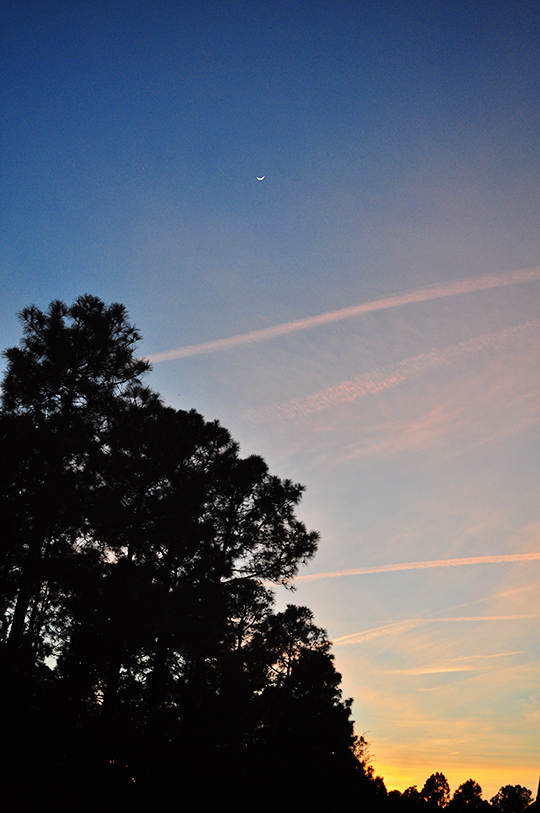 I stopped. I remembered to look west.
And then it occurred to me.
I could be proactive.
But not like fake proactive — really proactive. I could make my blog more professional and organized. I could actively seek out house tours for Apartment Therapy. I could be more diligent about my writing — make it better. More consistent. I could pitch. I could fail. I could pitch again. I could actually converse with my husband like we did when we were new and shiny and learn things about him that were surprising and enlightening and hidden for years behind a veil of passivity.
I couldn't just quit everything and then wait for years for The Answer to come to me. I had to actively seek her out.
And the second I started doing that, my friends — the very second, it seemed — things started happening. Awesome things. It's like the Universe looked at me and said, "Oh, now you're taking yourself seriously? Good. Then so can I."
And I'm not saying I have an actual grasp on The Answer or that she's given herself to me completely, but look. Some of this has been embarrassingly easy. All I had to do was start. And now, some things have even started to come to me, with little to no proactivity required on my part at all. Now I have a real article published in a real magazine. Now people are asking me to photograph their homes for Apartment Therapy. And two days ago, I decided to Twitter — tweet? — a link to the editors for the Women's section of The Huffington Post. You know, that huge online newspaper/magazine? Yep. I Twittered — tweeted? — them the link to my post about not having kids with the words, "I'm pretty sure you should syndicate this" and they responded with "We're pretty sure we should, too" and all of a sudden I have this article published on The Huffington Post and it's like really? That was all I had to do?!
And I don't want to make it sound like everything has been ridiculously easy because it hasn't.
It has been a three-year struggle to get to the point where I could finally start to take myself seriously.
It has been a three-year struggle battling with all of the should's in my head to get to the point where the only should left was the one that told me I should stop dicking around before I ended up a 40-year-old stay-at-home non mother stuffing my face with excuses for breakfast and frosting for lunch.
Directly from the container.
I guess what I'm saying is what every other newly motivated person with an ounce of validation is always (annoyingly) saying:
You have to be proactive. You can't just say you're going to make something happen and then sit back and wait for The Answer to come knocking. She doesn't work that way. She's a coy one, she is, and she won't show you so much as a leg until you start taking yourself seriously. Until you show her some commitment.
But when you do, I promise you —
She'll make it worth your while.