You Will RESPECT My Authoritah!
You know what really chaps my ass?
(Besides the phrase "chaps my ass" because it's just a nasty visual. The closest I've ever come to experiencing the feeling of an actual chapped ass, aside from the years I lived in Minnesota, was the time I attempted CrossFit and completed approximately 857 sit-ups on my neighbor's front lawn where I apparently rubbed a spot on my bum — right next to my tailbone — so raw that there's still a scar.)
What really chaps my ass though, in the figurative sense, are LLMs — Life's Little Moderators.
You know these people. They're the ones who send the neighborhood's Homeowners Association after you because your grass is an inch too high. The ones who delete your post from the City-Data forum claiming it's an "advertisement" when you're looking for someone's home to photograph — for free — in Charleston, South Carolina so you can post it on Apartment Therapy. The ones who don fake badges and too-tight uniforms under little yellow safety vests at the airport and tell you that you need to move your vehicle, even though your sister is literally about to step out of the doors and you're surrounded by other unmoving vehicles and can therefore not move, and you're trying your damnedest not to reach out and squeeze the pimple on his smug wittle freshly-branded security officer face while reaching into your purse to offer him a tampon because with the bitchy, irrational way he's behaving, he obviously needs it a bit more than you.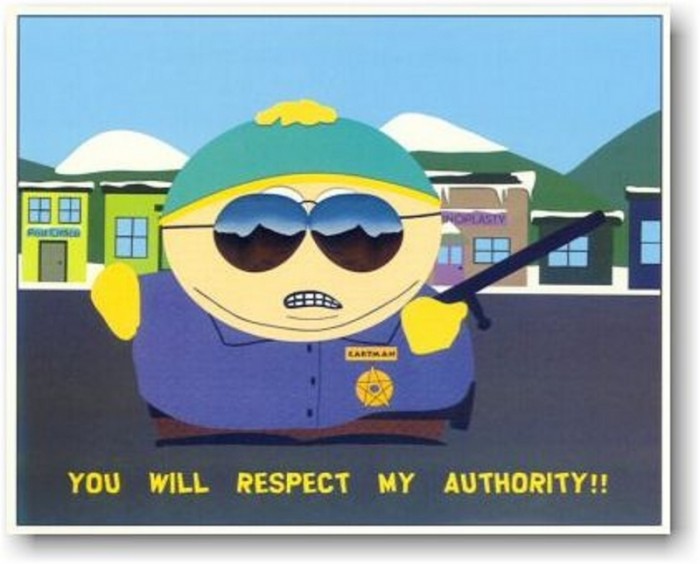 Of course, you wouldn't actually reach into your purse, for such a threatening move would garner him license to break in that spankin' new taser he's been itchin' to try.
The thing I've learned about LLMs is that these are usually people who are so severely depressed by the complacently lethargic paths they've chosen in life that, in their minds, the only salve that provides relief is policing the whole, entire, world. (Insert crack about the U.S. government here. Ba-dum DUM!) I usually try not to engage further interactions with such people than necessary, but dammit if they don't send my ass right to chapsville.
The thing is, I'm pretty sure two main types of people exist in our society as it stands today: The people who are happy, and the people who want the happy people to not be happy anymore.
LLMs are clearly part of the second group — those who are afraid to admit that it's easier to bring others down than to lift yourself up. Who don't want to take the steps necessary to change whatever it is that's making them unhappy because it's difficult. Or unconventional. Or maybe even breaks the rules.
I've been an LLM before. Sometimes I still am, mentally, when I'm driving down the road and someone doesn't understand the concept of a passing lane. But, in the end, when I find myself wanting to react to other people's wrongdoings, a little bit of self-reflection makes me realize that I'm the one who's unhappy in that moment, and making someone else feel the same won't make me feel any better.
Look. All I'm saying is that if you are a full-time LLM and find yourself constantly feeling the need to put someone in his or her "place" — rudely — because he or she is flirting with the fuzzy gray line in a societal code of conduct, you should maybe pause and ask yourself:
1) Is this person causing direct harm to myself or others? If not, maybe you should give them a moment — or several — to correct their own behavior or exit your life forever, either of which should appease your twisted little panties.
2) Why are my panties even twisted to begin with? In other words, why do you feel the need to assert your superiority? Why do you feel superior at all? Did your mother coddle you too much as a child? Are you only able to feel good by making others feel bad? What kind of person does that make you? Why are you so supremely unhappy? It may be time to see if your insurance covers professional therapy.
3) Do I really just need a fresh tampon? If you take the time to ask yourself this metaphorical question, whether you're male or female, I think you'll find that 99% of the time, yes. All you really need is a moment to assess whether this scandalous breaker of rules is what's bothering you, or if you are what's bothering you.
Most likely, it's still them.
But, even deeper, if you're willing to take the first step and just go there, it might just be you.
Are you guilty of being an LLM? Have you had an especially hilarious run-in with an LLM?  Or would you simply like me to quit making up acronyms? Comment below.