Art Galleries, Sterling Silver, And Hot Dogs. Basically My Travel Trifecta.
*UPDATE* Apparently WordPress decided to uncheck my "allow comments" box on this post, which would explain why there are actually no comments when I thought everyone just hated me. Dang. All fixed. And thanks Shelly for pointing it out to me on Facebook!
Okay.
So you all know I have this unhealthy (to say the least) hankering for hot dogs.
Like, I love hot dogs so much that if I see one on a menu, as long as it's not covered in anything chili-y, I will very likely order it.
Yep.
Despite my recent emboldened proclamations of eating real food and cooking with real ingredients from this day forward forever and ever amen, hot dogs still remain at — or near — the very top of my list of all time favorite dream foods.
(Of course, I use the term "food" very loosely.)
So imagine my excitement when Stephanie and I were searching for some grub along Broad Street (also known as "Gallery Row") in downtown Charleston, and we stumbled upon Brown Dog Deli.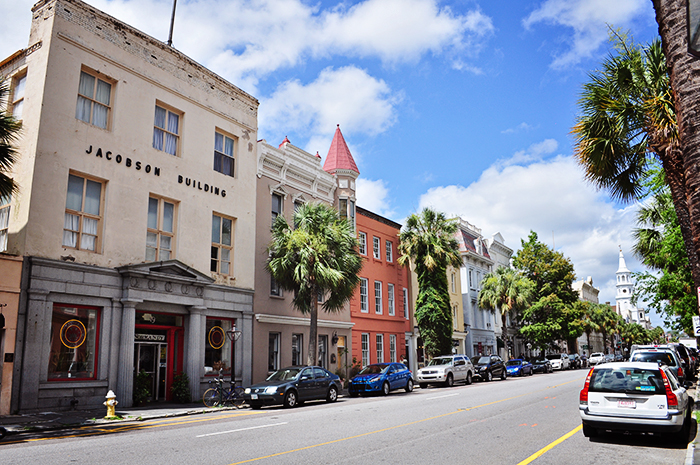 After perusing the menu to make sure it contained vegetarian-friendly options (it does), Stephanie asked if it looked okay to me. I think I responded with something to the effect of, "Um. Okay? I saw a Reuben Dog on the menu. I'm pretty sure I was meant to meet you in Charleston for the sole purpose of eating at this restaurant."
Or something like that.
After stepping inside, I became fairly certain that Brown Dog Deli probably the bane of Gallery Row's existence. Quaint shops and law offices line either side of the street and then here, smack dab in the middle, is a loud, greasy hot dog joint with chalkboard walls.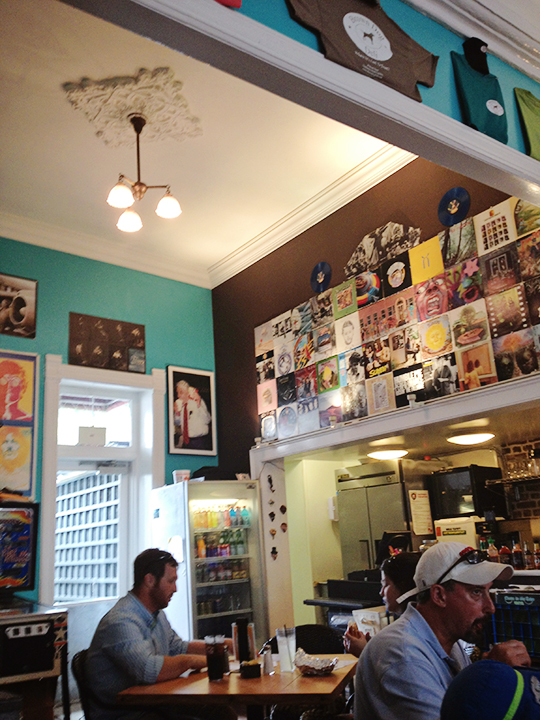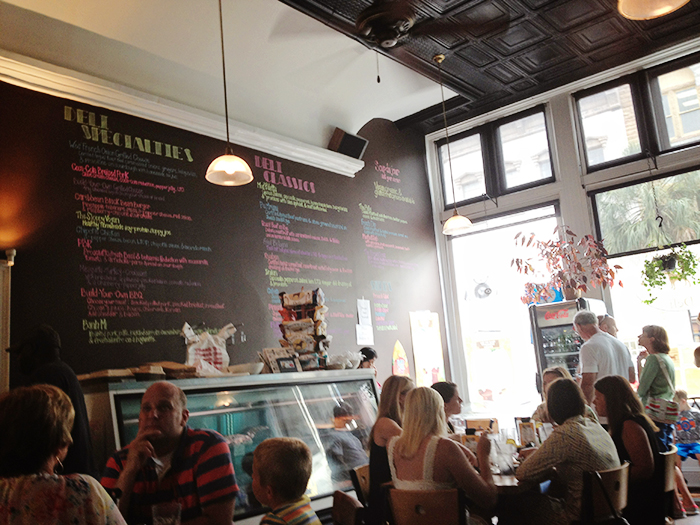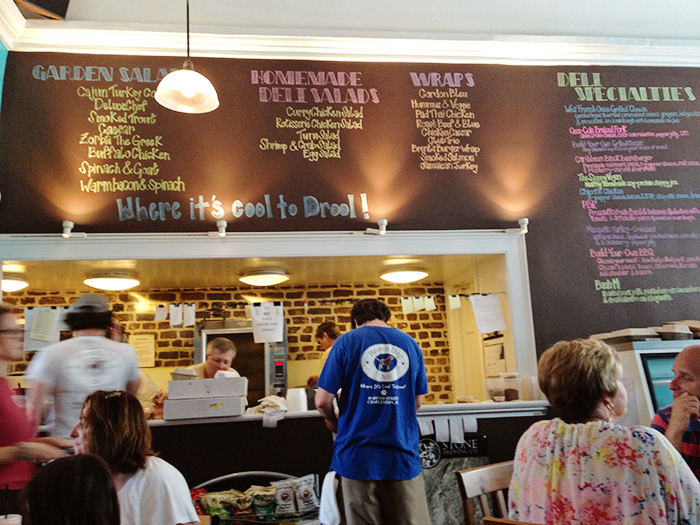 Très chic.
Granted, they were the cleanest chalkboard walls I've ever seen. And even though it maybe doesn't quite fit in among the quiet contemplators of fine gallery art, the atmosphere was fun. And really, in the end, it's all about the dog.
I ordered the Reuben Dog, which was piled high with corned beef, sauerkraut, melted Swiss cheese, and an artful drizzle of 1,000 Island dressing.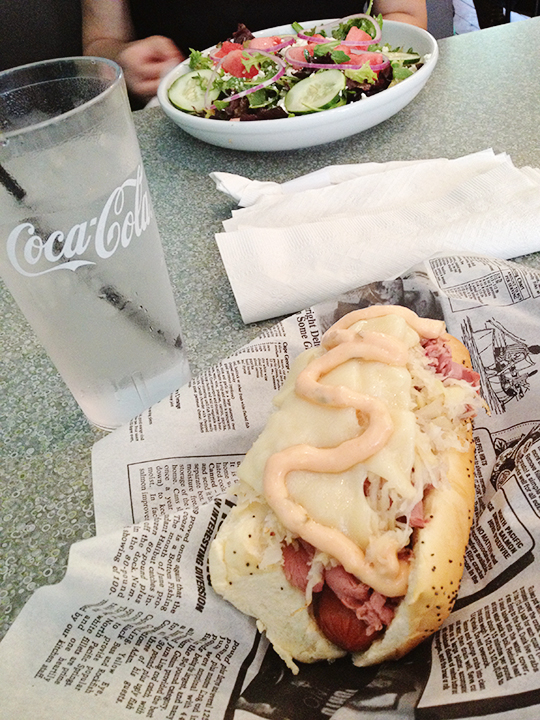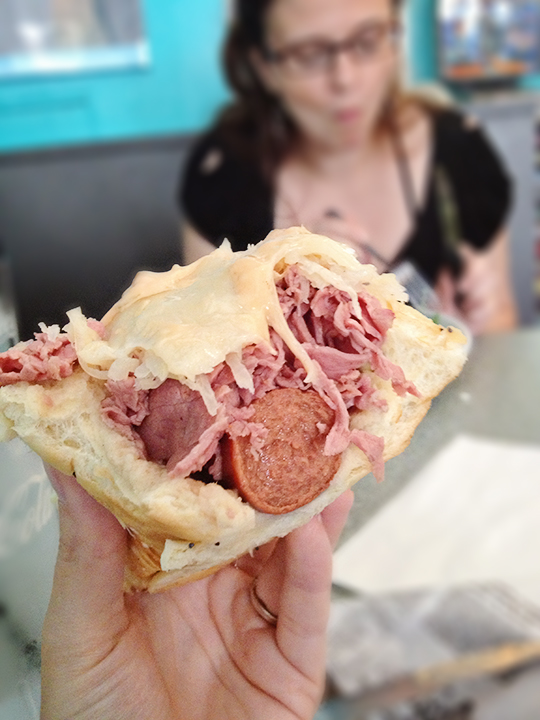 It was delicious. The dressing wasn't overpowering, and it had just the right amount of everything.
*burp*
Believe me — I've heard what hot dogs are made of. And I've heard all of the jokes about their phallic hilarity. And I realize that, technically and nutritionally speaking, hot dogs are probably one of the worst things in the world that I could possibly choose to put inside my body, but there you go. I just love 'em.
And.
I strongly feel that deprivation is the path to despair.
I mean, think about it — If I'm wandering the streets of beautiful and historic downtown Charleston, popping in and out of boutique art galleries, elated by my discovery and subsequent purchase of $22 sterling silver earrings made by an actual artist, and I just happen upon a joint that specializes in hot dogs and don't actually stop to eat one, not only would I completely halt the karmic good flow of my Travel Mojo, but I would continue to question the validity of my obviously irrational decision for the duration of the trip: Is health REALLY that important? I mean… it's not like I would've died from eating that one hot dog. What if it was going to be the best hot dog I've ever eaten and I completely missed out? Let's be honest — the only reason I work out is so I can eat hot dogs and drink copious amounts of wine without sizing myself out of my pants. Because I HATE buying pants.
And so on.
Plus, if I don't cave to these small vices in the present moment, I'm very likely going to binge later.
So really, when I think about it, consuming a hot dog when I have the chance is just my way of being zen.
Right? Right.
Which is why I didn't give myself a hard time about eating this one.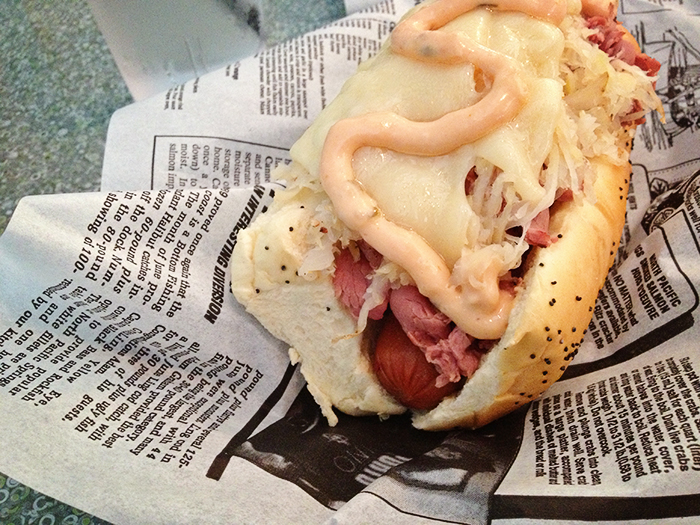 (Or this one. Or especially this one, which still reigns supreme as the best dog I've ever eaten.)
And, after I was finished, I ate a chocolate chip cookie.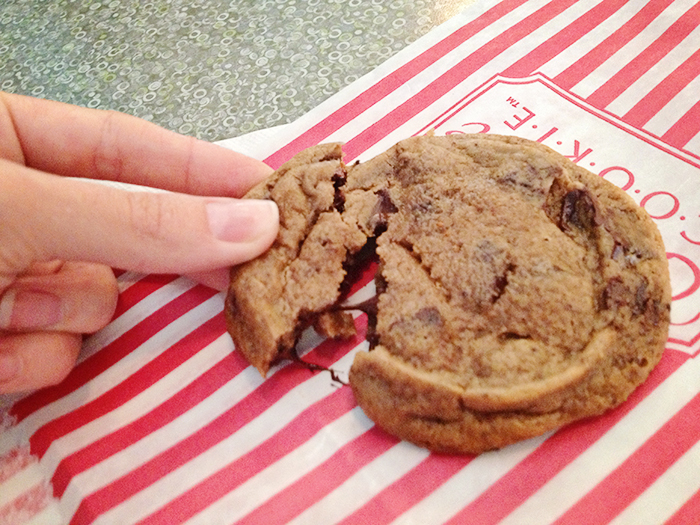 Just for good measure.
Need to Know:
Brown Dog Deli
40 Broad Street
Charleston, SC 29401
843-853-8081
Good to Know:
Sit where you want — don't order at the counter.
There's a courtyard out back for outdoor dining.
Pretty impressive vegetarian/vegan menu for a hot dog joint.