Turning Down the Volume So I Can Finally Hear My Life.
Last night I experienced what I like to call an Existential Movie Moment.
It's what happens when I, quite dramatically, wrap myself up in a bacony blanket of self-pity like some snug little cocktail weenie and think about all of the things that are going horrifically wrong in my life. It's a moment made even better when, solitarily confined within the warm cocoon of my battered Chevy Tracker, I flip on the radio and realize that the perfect song just happens to serendipitously complement the scene.
FADE IN:
INT. NONDESCRIPT SMALL SUV – NIGHT
A gray Chevy Tracker. Unkempt but well-loved.
Photography contracts, shopping list covered
sticky notes, and scratched mix CDs from the
1990s litter the floors. The back seats are covered
in a fine coat of short hairs. Presumably canine.
A well-worn hole in the driver's side carpet marks
the connection between driver and vehicle. Marking
the years of heel kissing car — pushing it hard and
rubbing it raw.
Rain drizzles along the windows. The floor on the
passenger side is damp with leaks.
The odometer reads 174,542.
KATIE grips the steering wheel with one hand. The
other fumbles with the radio.
We see her eyes, terrified of hydroplaning, focused
intensely on the wet, dark road.
She presses buttons blindly, ultimately landing on
a rock station pre-programmed many years before.
When she hears the song, she laughs. Her tension
breaks.
Her pain, she sees, is self-induced.
Really? I didn't need System of a Down to tell me my life is disorder.
You see, we haven't yet gotten orders telling us where we'll be living by this time next year.
I feel utterly out of control of my life. Rootless. "Home" is nothing but a greased little pig — slippery and wiggly and impossible to grip.
And all of my resolve about sitting back and letting the winds carry us where they may has slowly been leaking all over our pretty laminate floors, along with the slew of marbles apparently escaping from the broken-latched hatch at the base of my skull.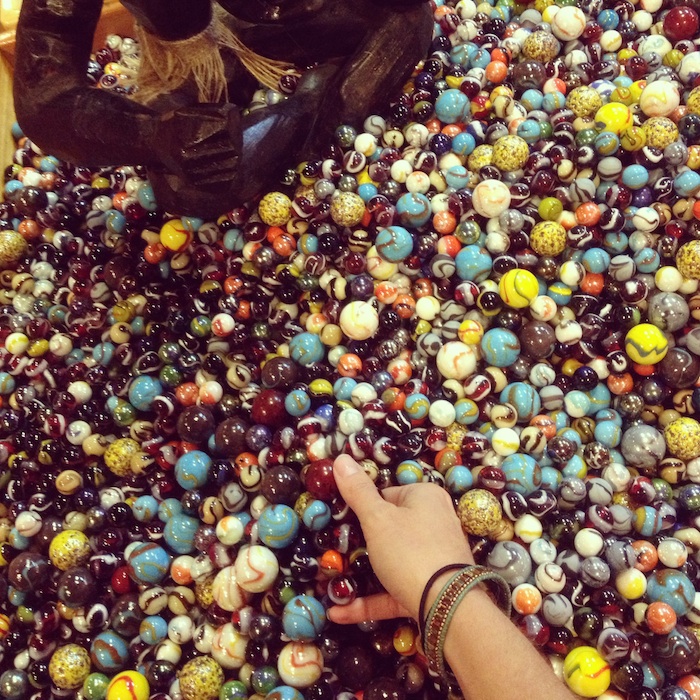 This pretty much feels like the longest poker game in the history of ever, and the truth is — I'm no pro.
I occupy myself by planning trips — Charlotte last month, San Francisco this month, Portland and Miami and Chicago the next — and wrapping myself in the work that's kind of what I want to do but not really, and reading about learning to accept my situation as it is because it turns out what's happening right now — right at this moment — is the only reality that exists. And these movies that play in my head all day — these what-ifs and decisions and all of these doors are imaginary and distracting and the heart of my discontent.
My pain is self-induced and also insane.
It's making me miss my life and clench my jaw and limiting my time with all of the things that are happening now.
The laughable irony of my Existential Movie Moment woke me from my reverie.
I can choose to be unhappy, or I can choose to be happy.
So when I feel myself spinning, I focus on that. The things that are happening right at this moment. The quiet breaths of sleeping mutts. The gentle click of fingers on keys. The hum of a hard drive. The roar of a plane. Then the sound, again, of rain. More rain.
It's a personal orchestra performing the soundtrack I forget to hear while I'm fumbling with the radio.
It's calming.
It is.
And I'm getting better at it every day.
What about you? Do you struggle with living in the moment as much as I do? Are you consistently focusing on how things "should" be instead of how they are? Or have you learned how to love every moment of life? I'd really like to know.