Turkey Sausage Stuffed Squash And The Truth About Dislike.
If there's one huge peeve I have in this world, it's when a person says to me, "I don't like [insert some food here] and I will absolutely never eat it under any circumstances for as long as I live forever and ever amen."
Because here's the thing.
Food, usually in this context, is actually an ingredient. So when this person says, "I don't like celery," she's most likely thinking of the one time she had slightly undercooked celery in a vegetable soup when she was a kid and decided that must mean she always hates celery no matter what. This line of thinking is problematic — and worse, illogical — for several reasons:
1) Celery is an ingredient. If you don't care for raw celery, I don't blame you. It has a weird, stringy texture and a bit of a bitey, bitter flavor that's hard to get used to. I didn't care for celery as a snack until I tried celery hearts. With the hearts, the stringiness and bitterness disappear, and you're left with a satisfying crunch that, I'm not sure if you've heard, happens to pair sublimely with peanut butter.
See, the thing about ingredients is that their flavor can change depending on how they're prepared and what they're combined with. I have a friend who claims she hates celery. Yet I've watched her devour, time and again, my awesome award-winning white chili. One day, after years of white chili consumption, she arrived at my house while the chili prep was still in progress. She saw the massive pile of chopped celery on my cutting board, made a disgusted face, and asked, "What are you doing with that?"
"Oh, this? It goes in the chili," I replied.
"Oh, never mind. I don't want any then. I don't eat celery."
"Sure you do," I said with a smile. "You eat celery every time you have this chili."
She stared at me in disbelief. Now, of course, she says she will eat celery —
but only in my chili.
2) Tastes change. I hate to break it to you especially stubborn people of the world, but tastes change. I swear. As a kid, I actually hated strawberries. I think it had something to do with the seedy texture and the fact that my daycare teacher made me sit in her kitchen for hours with a soggy strawberry in my hand because I refused to eat it. I never actually tried one again until I was an adult, and imagine my shock when I discovered that they're actually quite delicious. Whatever had turned me off to them as a child had completely disappeared. Which means…
3) Most of the time, it's all in your head. Justin is not a picky eater. This is good, because I'm an experimental pseudo-cook with about a 50% success rate in the kitchen. Despite this dismal percentage of actual good food creation, we still eat 100% of the things I make.
Waste not, want not, you know?
But there is one thing Justin refuses to eat, and that's raw tomatoes. It stems back from a childhood experience involving the squishing of tomatoes and watching the gelatinous, seeded guts spill onto the ground, and unfortunately this visual has ruined raw tomatoes for him forever. I know it's in his head. He knows it's in his head. And while I'm the type of person who refuses to let something like a little mental hangup get in the way of trying a food I "don't like" in a new way to see if maybe I just didn't like it the first way I tried it, the truth is that most people are like Justin. When most people decide they don't like something, that's that.
They never try it again.
And I will tell you — if you're one of these people, it's very likely you're missing out.
(Obviously this line of reason doesn't apply to people with food allergies. And of course you can just plain not like something. I don't care for wasabi — the flavor, not the heat. But that doesn't stop me from trying it different ways every now and then, just to see if my mind can be changed.)
Over the years of my constant chiding, my celery friend has become more open-minded about food. I invited her over for stuffed squash the other day, and while her immediate response was, "I don't like squash," she followed up with, "but I'll give yours a try."
Apparently she's tired of my lectures.
And, sure enough, the squash was a hit.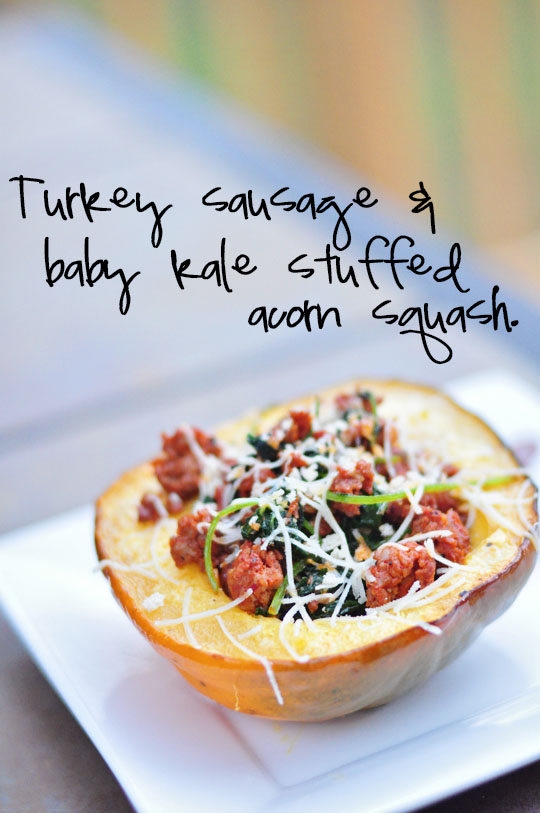 My friend Angie made me this squash while I was staying with her during my latest house-hunting trip to Virginia. I arrived at her house feeling deflated and worn, and even though she'd just had a rough day at work and probably wanted nothing more than to kick back and relax, she instead poured me a glass of wine, laid out a pre-dinner spread of meats, olives, and cheese, and set to work preparing this incredible dinner. She pulled the recipe from (she thinks) MORE magazine, made a couple of slight tweaks, and it turned out amazing.
So amazing that I knew I needed to make it at home and share it with you. Oh, and Justin, too.
*My pictures don't exactly match the ingredient amounts I gave you — the amount of stuffing you'll need depends on the size of your squash. Apparently I bought large squash, so I didn't have enough stuffing and ended up making more. If you have larger squash, follow my ingredient list — not what you see in the photos — and you'll be fine.
Sausage Stuffed Acorn Squash
2 acorn squash, halved from stem to butt, seeds removed.
salt & pepper
Olive oil or cooking spray
3 tsp. olive oil, divided
16 oz. hot Italian turkey sausage, casings removed
1 bunch green onions, diced (whites & light green parts only)
4 cloves garlic, minced
4 – 5 cups baby kale (Could use the large kale leaves too, but then you'd have to deal with removing the stems. This looks like a LOT of kale, but it wilts quickly.)
2/3 cup low sodium chicken broth
fresh grated Parmesan
Panko bread crumbs (optional)
1) Heat oven to 375-degrees F. Hold the squash halves upright and slice a thin piece off of the backs so that they lay flat. Coat with cooking spray or olive oil and sprinkle with salt and pepper. Roast flesh-side down on a foil-lined baking sheet for about 30 minutes, until golden and tender. (You want your squash to be GOOD and roasted. Mine were a little undercooked, but Angie's were perfect and sweet).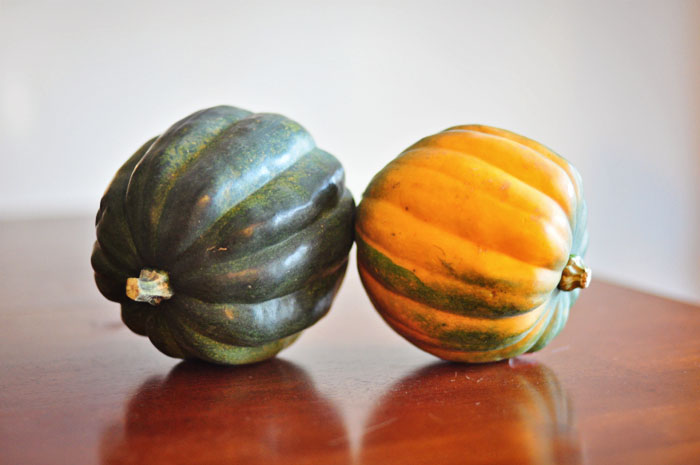 Look. I get why people might not "like" squash.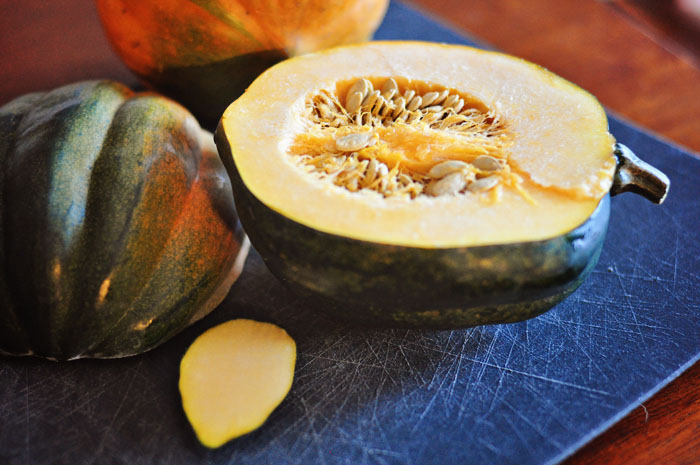 It can be intimidating.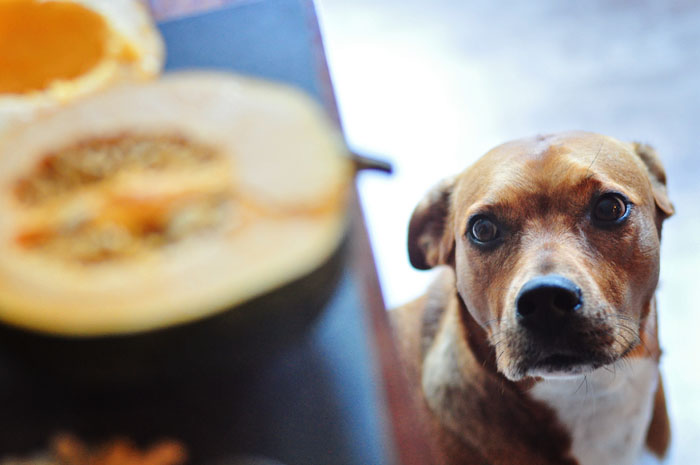 The orange guts don't help its cause.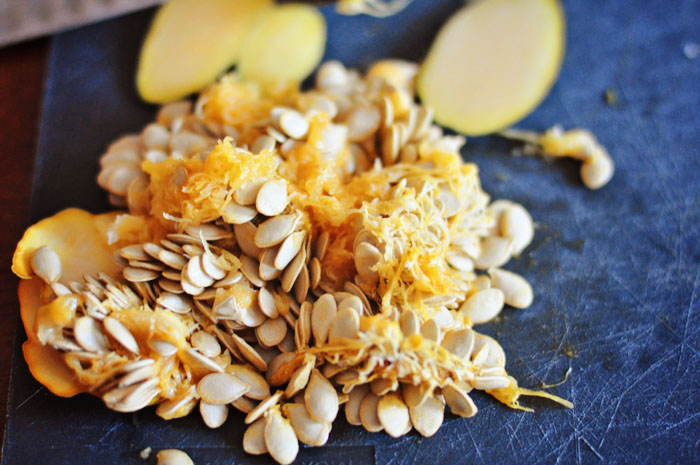 But if you can get over stringy squash guts, it's really quite delicious. Sweet and buttery when roasted, it contrasted really nicely with the spicy turkey sausage.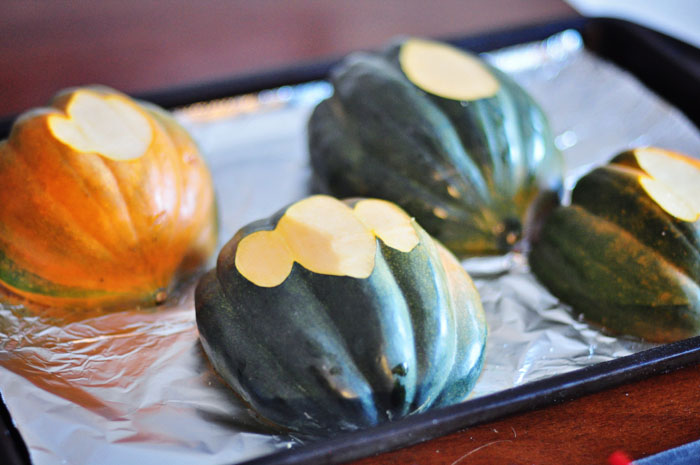 2) While your squash is roasting, prepare the filling. Heat 2 tsp. olive oil in a nonstick skillet over medium heat. Add sausage and break into pieces, cooking until brown. Using a slotted spoon, move the sausage to a paper towel-lined bowl. Add another teaspoon of oil to the pan if needed and sauté the green onion for a few minutes until soft. Add the garlic and stir for about 30 seconds until fragrant. Add the chicken broth, which will deglaze the pan and help lift all of the yummy sausage crispies from the bottom. Toss in the kale, cover the pan, and let sit for a few minutes until the kale is soft and wilted (baby kale will take less time than the bigger, more fibrous stuff). Stir in sausage.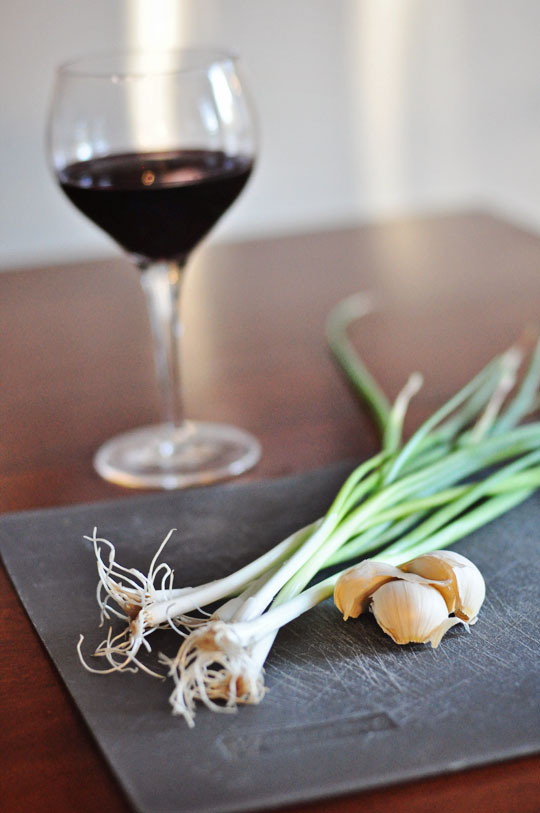 The original recipe called for a leek instead of green onions. I had green onions to use up, but a leek or shallots would be delicious in this as well.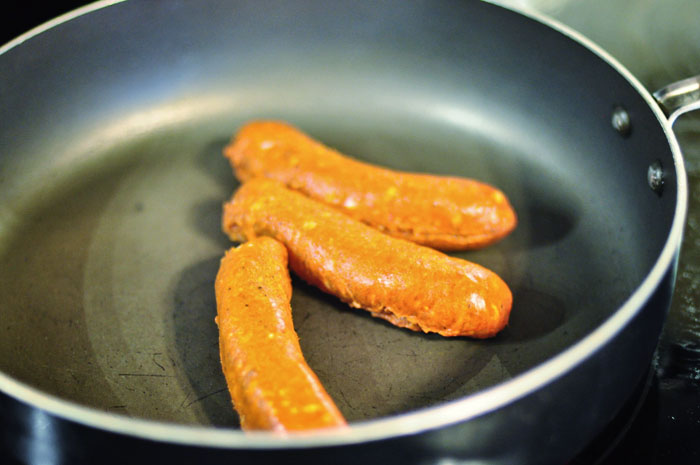 Later, I cooked two more turkey sausage links to get more filling.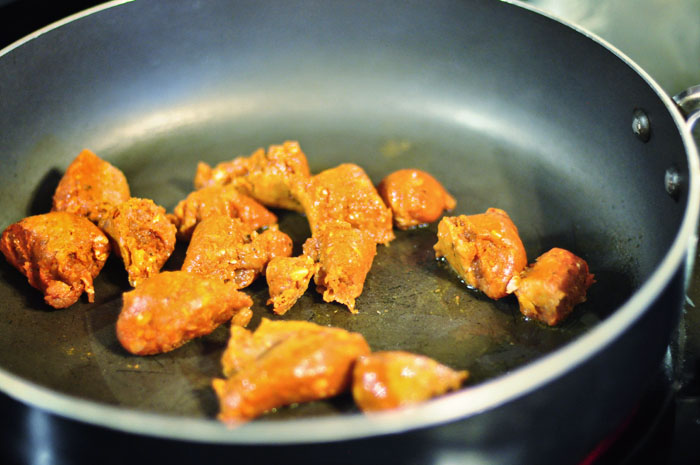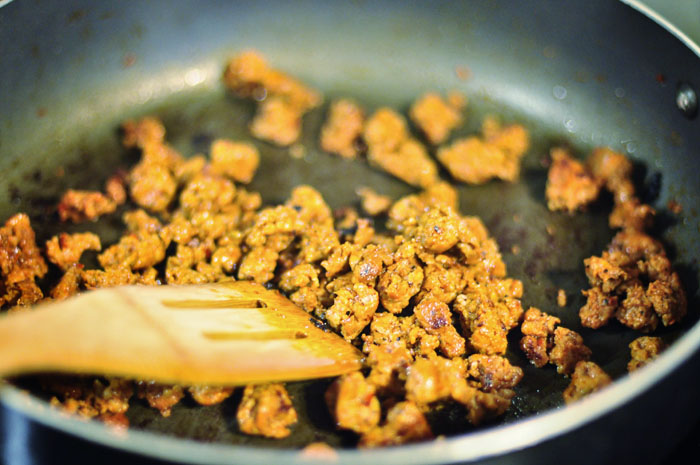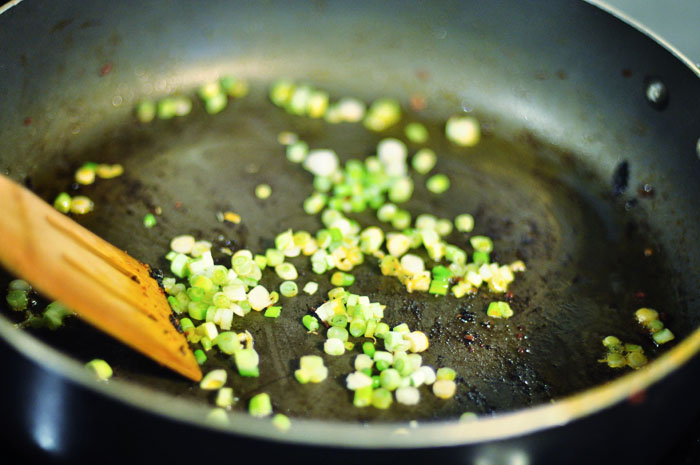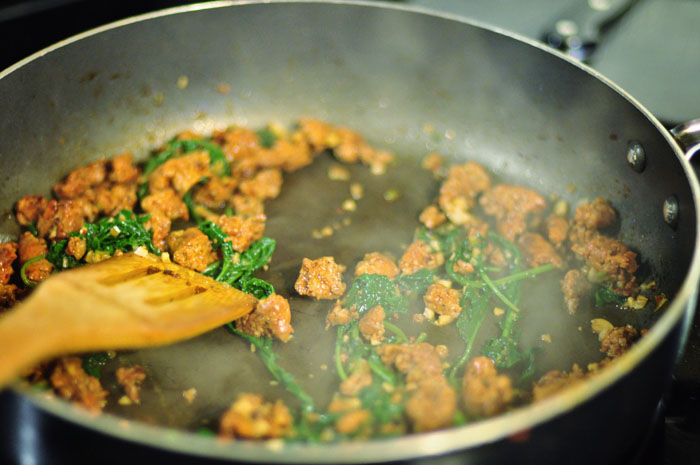 This pan looked full of baby kale when I threw it in, but it quickly soaked up the chicken broth and wilted down.
3) Remove the roasted squash from the oven, turn on the broiler, and gently flip the squash halves over. Divide the filling among the squash, then top with some freshly grated Parmesan and a sprinkle of Panko breadcrumbs. (Angie left the breadcrumbs out, and they really weren't necessary for this dish. The original recipe also called for walnuts at this point, which we both left out.)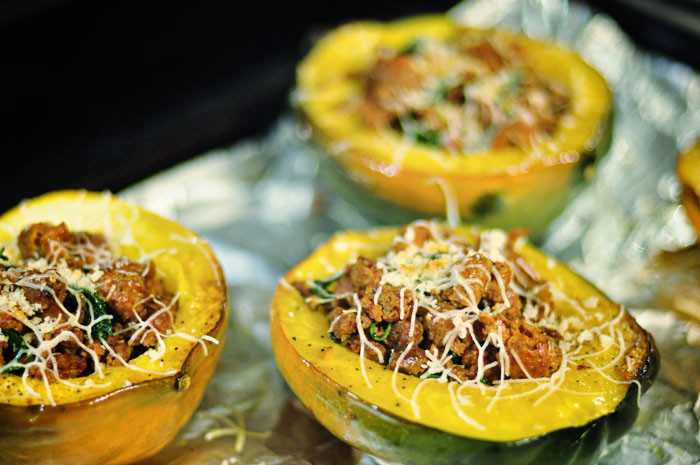 4) Spray a bit  more cooking spray over the top and stick your squash bowls under the broiler for 2-3 minutes (watch carefully!) until the breadcrumbs turn brown and the cheese is melted.
Enjoy the way the sweet acorn squash melds with the spicy sausage. Taste the slight bite of kale, the salty cheese, and feel the crispy crunch of breadcrumbs.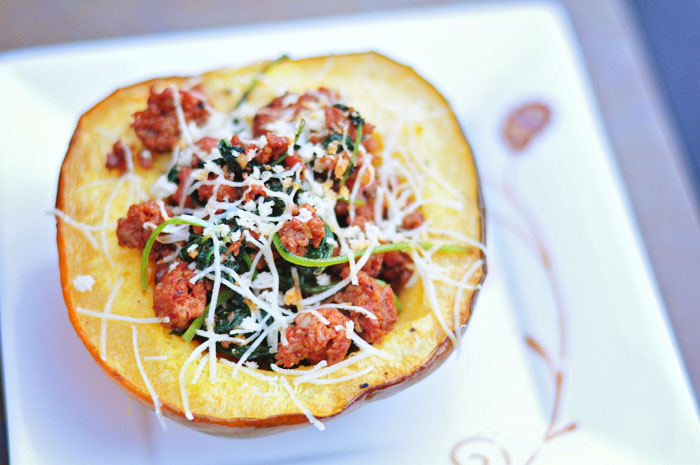 Admit that maybe you were wrong and that squash is good.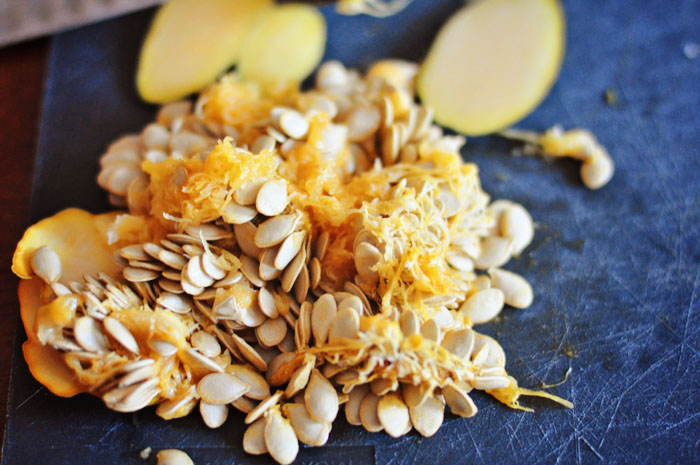 Guts 'n all.
Is there a food you once thought you didn't like but have since changed your mind about?