Apparently The Best – And Worst – Side Dish In Existence. The People Have Spoken.
Did you know that you guys are like, obsessed with Brussels sprouts?
Seriously.
I wouldn't have guessed it, either.
But you are.
See, I posted a fuzzy, steam-riddled Instagram snapshot of my questionable side dish last night on the Domestiphobia Facebook page, expecting to get the usual 1 or 2 likes and maybe a comment about how disgusting I am for cooking Brussels sprouts: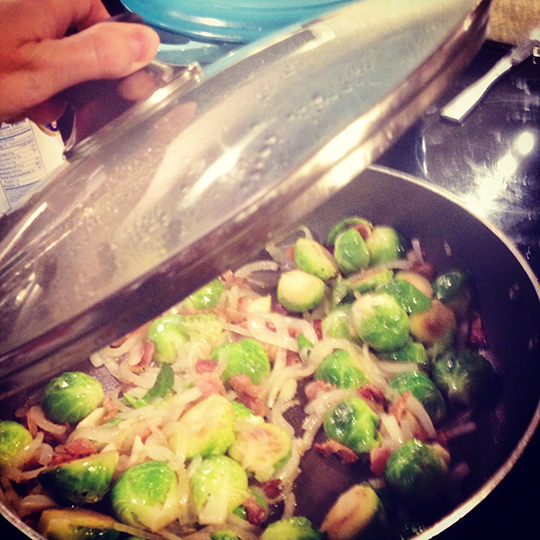 What I didn't expect was the onslaught of input about the many ways some of you love — and hate — to eat Brussels sprouts.
Obviously, some of you hate them. But I'm guessing that's more from unfortunate childhood memories of poorly prepared sprouts than from any fair, modern-day assessments.
I think you should try them again.
And this time, with bacon.
It turns out there's an infinite number of ways to devour these beauties, and who knows? You might even enjoy doing it.
Roasting was suggested. And also garlic and blue cheese.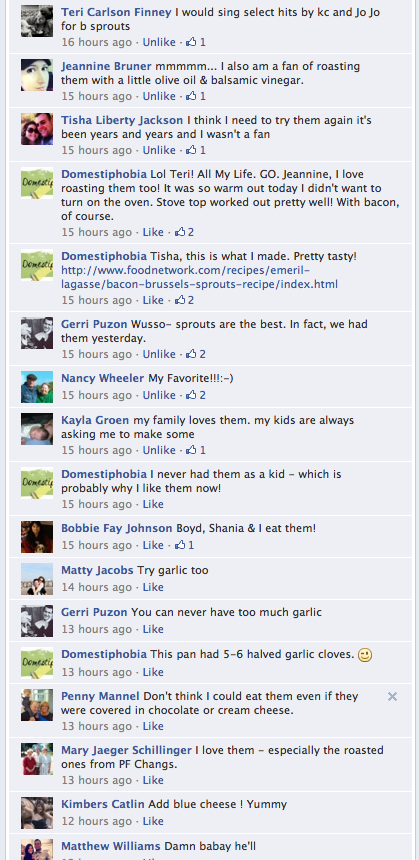 It. Was. Awesome.
You know, I've been hoping to touch a nerve with all of you for quite some time, thinking it might be this post about bad parenting or this post about the meaning of Domestiphobia.
Who knew all it would take is this adorable mini cabbage-like spudskin to inspire debate?
Had I known, I would've taken some step-by-step photos with my good camera to show you how I made them last night.
Instead, I have a couple of poorly-lit and fairly uninspiring, fuzzy iPhone captures of the final product.
So. To make it up to you, I've done something quite impressive.
For the first (and probably last) time ever here, for your viewing pleasure, I've drawn — that's right, drawn — you photos of the sprout-cooking process.
YAY!
I also ruined my white computer desk with permanent markers.
I don't want to talk about it.
Let's get to the instructions, shall we?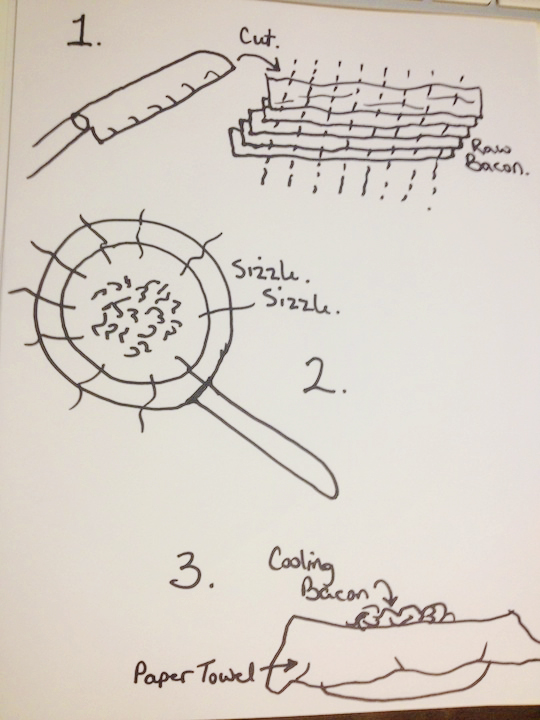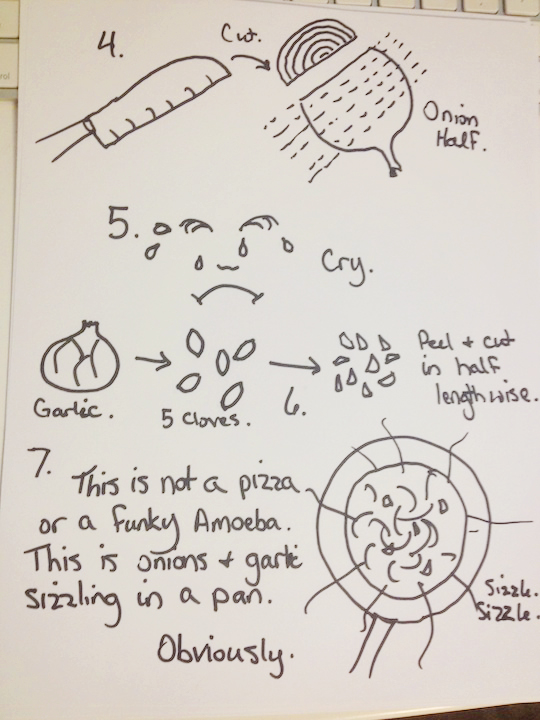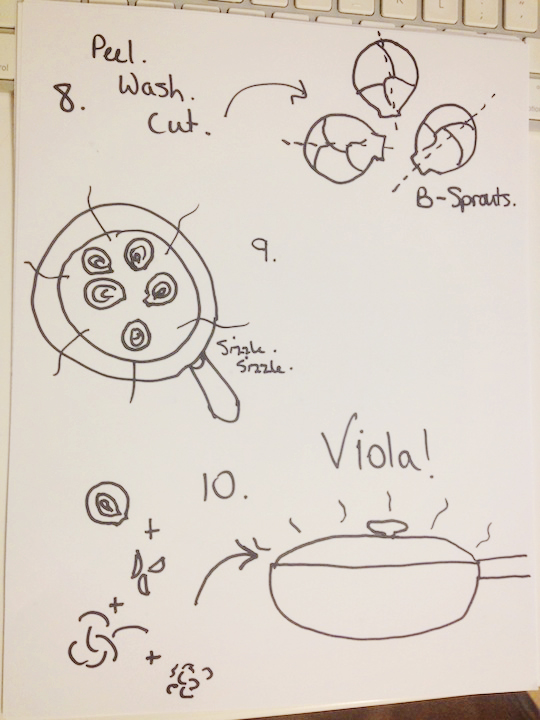 So there you have it.
I'm pretty sure it doesn't get easier than that.
(It does.)
Basically you just cook everything in bacon grease.
Here are the real directions in case, you know, the images don't show up on your computer. Because I'm pretty sure that's the only reason you would need the written directions. (Recipe courtesy of Mr. Lagasse from The Food Network.)
I cut the recipe in half (except for the garlic because I'm crazy like that), so here's how I made it:
1 pound Brussels sprouts, washed, peeled, and sliced in half
5 or 6 or 20 pieces of bacon, sliced into strips
1/2 yellow onion, thinly sliced
5 or 6 or 20 garlic cloves, peeled and sliced in half
Salt and Pepper to taste
Pinch of sugar
1. Cook your bacon over medium-high heat until brown. Remove from pan with a slotted spoon (reserve that grease!) and set on some paper towels to drain. Not that it really helps the fat content of this recipe.
2. Reduce the heat a bit and saute the onion and garlic a few minutes until just soft (but not brown). Remove that stuff too, but keep the rest of that grease!
3. Cook your sprouts until they're goldeny brown. Most of your grease should be good and absorbed by now. Add the bacon, onion and garlic back to the pan, season with some salt and pepper, add your pinch of sugar, reduce the heat to low, pop on a lid and let those puppies get nice and tender for 10-12 minutes. You can stir 'em every now and then to make sure they're not burning to the bottom of your pan.
That's it!
The prep steps take the most work, so just turn on some 'tunes, pour yourself some wine, grab a knife, and get going.
Actually pour two glasses of wine, because my new rating system determines this to be a 2-glass project due to the prep work involved.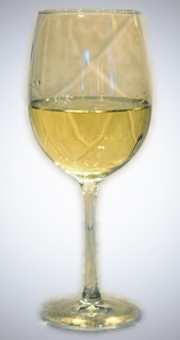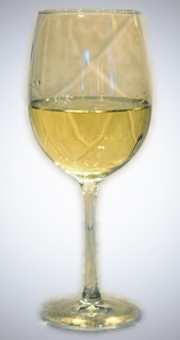 Just be careful with that knife! Seriously. I am NOT liable for any knife/wine incidents.
Serve 'em up with some of this parmesan tilapia, which takes only about 10 minutes to prep and make.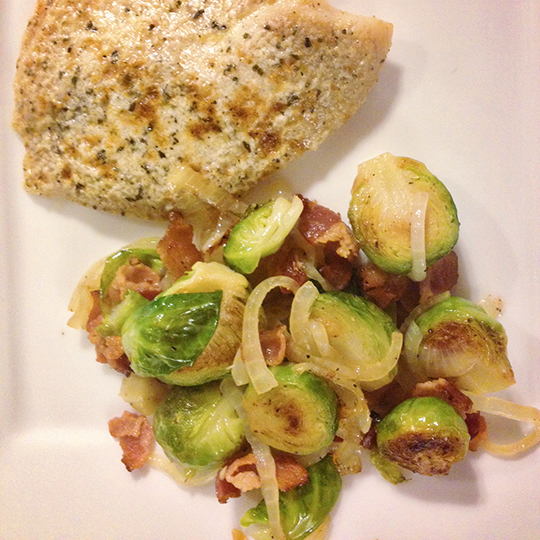 Which totally makes up for the mid-level difficulty of the sprouts.
The delicious, grease-infused sprouts.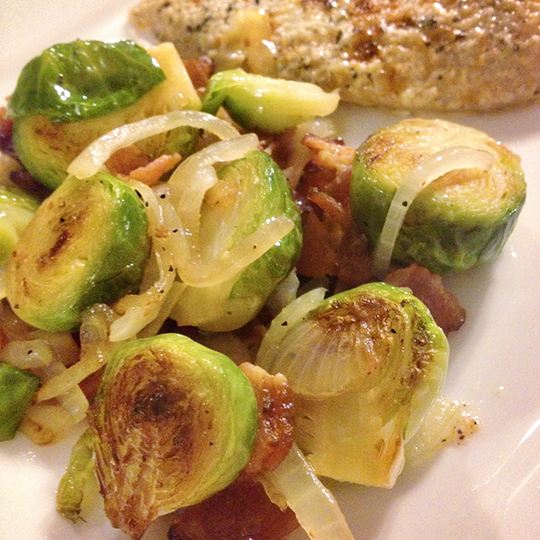 Your hips will thank me.