The Pure, Ballsy, Truth.
You know I've realized, as adults, we do this thing.
We do this really horrific thing that, when I was a kid, I never thought adults would do.
Fictional Conversation Among Fictional Adults
SCENE 1: COCKTAIL PARTY
MARY: Did you hear about that poor girl who killed herself because she was being bullied?
LYNDA: (shakes her head sadly) I know! Just awful. I remember there being "popular girls" in high school, but it was never this bad. How those teenagers could be so mean, I'll never understand.
MARY: (shakes her head sadly) So sad. Oh, look! There's Joyce.
JOYCE smiles, waves, and approaches MARY and LYNDA.
JOYCE: Hey ladies, what's shakin'?
MARY: (exchanges a sidelong glance with LYNDA) Oh, not much. Say, listen. I heard your little Billy was having trouble at daycare with potty training. Did you read that book I told you about? If you follow that book, you really should be able to have him trained in a few days.
JOYCE: (friendly smile twitches) Well you know Mary, I did have time to read it, but that method just didn't work for Billy. We went cold turkey without a diaper for three days, and he didn't make it to the potty once. I'm afraid I'll never get that urine smell out of my settee! HA!
LYNDA: Well, it's hard when you can't be home with him all of the time. (smiles sympathetically) That's why I took two weeks off of work when I was training Lisa. Have you taken time off?
JOYCE: (remains smiling, teeth clench) Well you know Lynda, it's just really difficult to take two weeks off when you're running a law firm.
MARY: (laughing) I'm sure they can survive without their office manager for a little while, Joyce! Billy needs you!
JOYCE: (knuckles turn white as she clenches her cocktail glass) He has me, Mary. He's doing just fine. Sarah is, too.
MARY: Oh, are you still breastfeeding her? (glances at JOYCE'S half-empty cocktail glass)
JOYCE: (grips harder, still smiling) She's weaning.
MARY: (glances at LYNDA and raises her eyebrows) But she's still so young!
JOYCE starts looking for the exit.
LYNDA: OH! That reminds me. Did you hear there was a massive car seat recall? Did you check yours? It was something about the straps not locking properly or getting too tight and strangling the babies. Have you checked yet?
JOYCE: (chugging the rest of her cocktail) You know Lynda, Paul and I decided to just throw the whole seat away! We don't even use one now. We just throw the kids on the back dash and hope for the best! (walks away)
END SCENE.
And okay. Maybe it's not quite as obvious as it is in the movies, but the sad truth of the matter is that adults bully. We do. We bully through our words, our judgements, our questions, our expressions. And we do it for the same reason kids do it — to make ourselves feel superior. To justify our own life choices. To kill a few minutes. I don't know.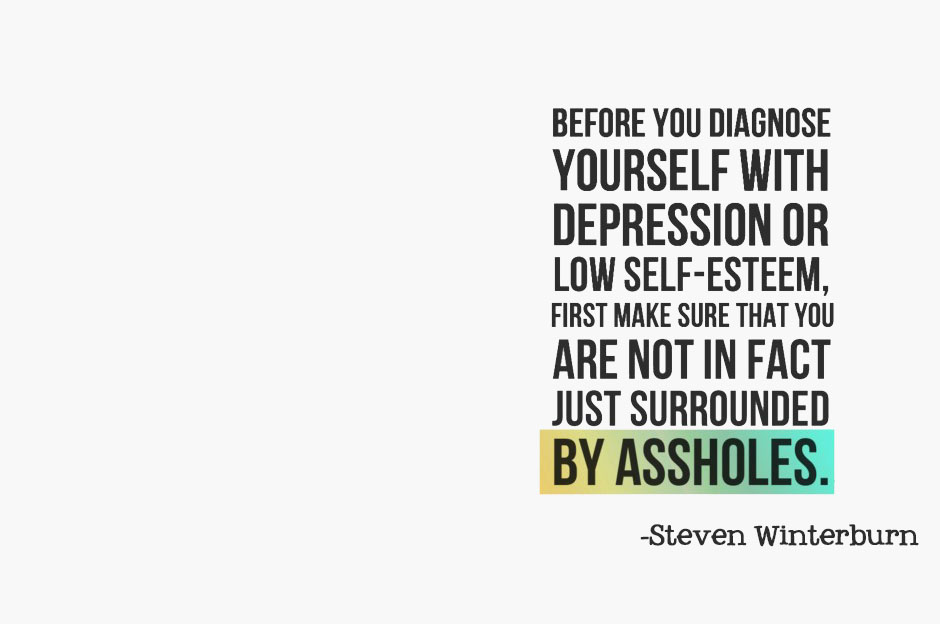 But the more I've assessed this behavior over the years — the more times I've been asked why I don't have children or have asked someone else whether they've ever traveled out of the country — the more I realize that it's borne from insecurity.
If I ask you whether you've been to another country, what I might really be asking, deep down, is Have I been to enough countries? Am I as traveled as I'd like to be? Am I more traveled than you? 
And so, automatically, your answer doesn't really matter. This is about me, not about you. And I've immediately doomed the conversation because you caught it. You caught it in my tone or the catch in my voice or the way I'm not quite looking you in the eye because I'm mentally counting the stamps in my own passport.
And while this kind of up-front bullying is bad, there's something even worse — reactions to perceived bullying.
See, most of the time, I really am just curious about whether you've traveled. Maybe I'm trying to get to know you better, so I picked a topic of conversation I know a little something about. Or maybe I'm trying to help you out of a rut or motivate you to try something new. And if you take my question as a judgement and get defensive about it or think I'm showing off, is that my problem?
Or is it really yours?
Maria Kang has been all over the media in recent months for posting this photo on her Facebook page: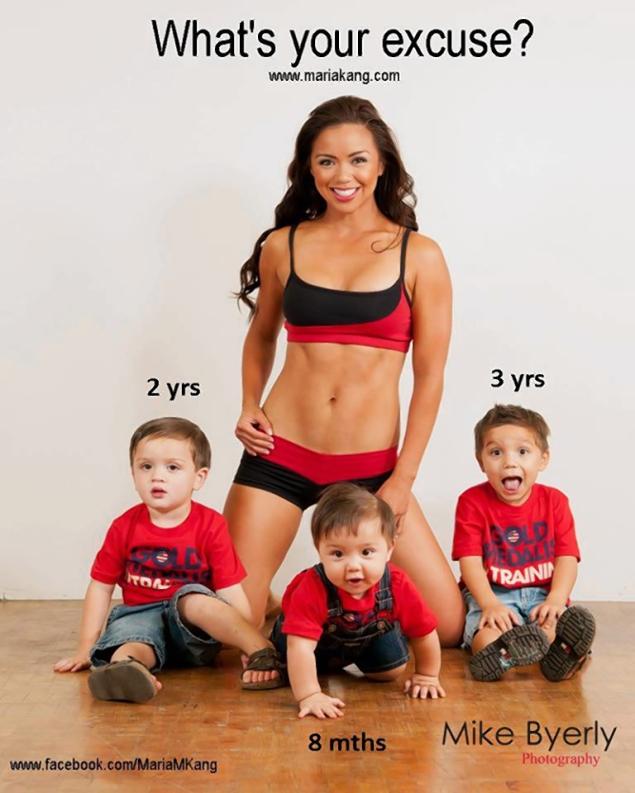 In an attempt to motivate and inspire, Maria posted a photo of her super fit self with her three young kids and the caption, "What's your excuse?"
As an italics addict, I know where she went wrong. She didn't emphasize the word "excuse." So instead of reading, "What's your excuse?" many women read, "What's your excuse?" Where some people chose to interpret it as a challenge, others chose to interpret it as a taunt.
The result? Backlash. Cyber bullies. People calling her disgusting, accusing her of using her kids to self-promote, and claiming she must have had surgery to achieve those results. Basically, insulting her morals and her integrity, and why? Because of their own insecurities.
She had a brilliant response:
What you interpret is not MY fault. It's Yours. The first step in owning your life, your body and your destiny is to OWN the thoughts that come out of your own head. I didn't create them. You created them. So if you want to continue 'hating' this image, get used to hating many other things for the rest of your life. You can either blame, complain or obtain a new level of thought by challenging the negative words that come out of your own brain.
And while here it's taken out of context of the rest of her apology, this is pure, ballsy, truth.
When someone asks me a simple question, like whether or not I have kids, and my immediate reaction is one of defensiveness — I can't believe she made such a big deal about me not having kids! — I know that I'm the one who made me feel upset. Not her. It's because of my own insecurities about the decision.
Or when the Lululemon founder says his pants don't work for all body types and women get defensive, maybe they're really feeling insecure about their own bodies. Maybe lashing out at the head of a multimillion dollar corporation is easier than doing the work to change — either their appearance or their negativity about their appearance.
Because the truth is, if women showed themselves just a modicum of the love and respect they deserve (the love that they, for some completely inexplicable reason, keep asking for from founders of multi-million dollar clothing companies who couldn't care less), they wouldn't get defensive. They'd either be working towards achieving the body they want, or they'd own the one they have.
Adult bullying only exists where negativity flourishes. Your own negative thoughts only lead you to bully or feel bullied. And the only way to end it is to change the way you think, just a little bit at a time.
Do you ever get defensive when someone asks you a simple question? Do you ever ask someone else a question to make yourself feel better about your own insecurities? Pour yourself a drink. The first step is admitting we have a problem.