Socially Awkward Blogger Desperately Seeking Friend Zone. I Think I've Found A Way.
I'm pretty sure I've mentioned before how difficult it is to make friends as an adult.
On the one hand, I've outgrown most — most — of my teenage insecurities. Sometime during my mid-twenties I realized that I was actually in charge of this life inside of me — that I was the one calling the shots. Other people could dial in opinions, of course, but mine were the only ones I actually had to listen to. It was shocking, really, this sudden sense of control. And it was about that time when I figured out that it doesn't matter if everyone likes me.
Yet on the other hand, I've also become more set in my ways. And the less flexible I am as a human creature inhabiting this world that just so happens to be filled with other human creatures, the less likely it is that I'll find new people willing to tolerate me and my special brand of quirks. If we don't have the history, you see, what's nostalgically endearing to old friends might just be strange or obnoxious to you. As a result, and as I've gotten a little older and a little less extroverted (being extroverted is exhausting — just try it sometime), some of the ol' insecurities have started to creep back in.
For example.
A few days ago, I could have made a new friend at Target. I was standing in the Greek yogurt aisle trying to find a brand — any brand — that offered plain yogurt with few-to-no additives and live cultures so I could make cilantro cream sauce for the black bean tostadas I depend on for survival whenever Justin's out-of-town. I was the new girl, in a new town, in a Target that was laid out bass-ackwards from the Target I used to know and love, and I'd been staring at an entire wall of yogurt for the last five minutes. Realizing I'd dropped the sticky note shopping list I needed to reference in my basket, the exemplary weight of which was resting on the floor at my feet since I'd decided to camp out in yogurt for a while,  I bent over to retrieve it. The little square of yellow paper was wedged between a package of dog bones and a giant box of wooden hangars I'd somehow managed to cram into the space.
So there I was, middle of the refrigerated section, butt up in the air and ham strings protesting as I wriggled and jimmied my fingers into the space where my sticky note had slipped. Unfortunately my good sense never appealed to the more stubborn part of my mind which was then in control to… I don't know… pull the box of hangars out of the basket or maybe bend my legs.
I heard a slight shuffle and, slightly mortified, my legs bent of their own accord while I turned and noticed I nice looking pregnant girl smiling as she waited for my butt to clear a path to the yogurt. Still squatting over my basket like Gollum and his Precious, I laughed and said, "I'm just looking for my shopping list!"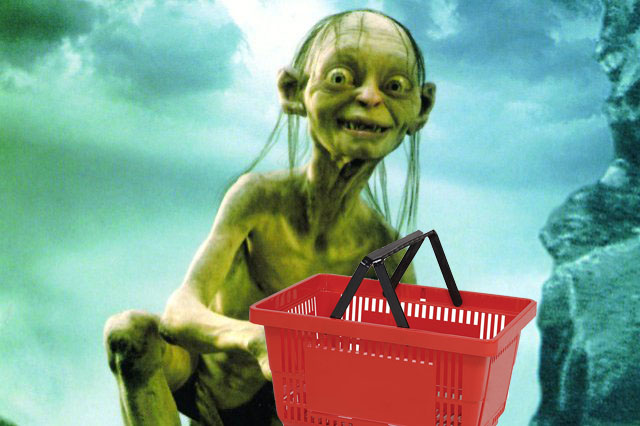 She smiled and said, "No problem!" which I apparently read as encouragement to act like an even bigger goober, so I stood and said, "Sorry I was all… you know… butt up in the air," and instead of giving me the raised eyebrow and walking away (I get that more often than you'd think), she laughed, gesturing to her belly, and said she needed more than the average amount of space to get through. I sensed that she might be looking for an excuse to make a friend too while we stared at the yogurt together for a few minutes and discussed whether Greek yogurt was worth all the hype. I told her about the garlic cilantro sauce, which she said sounded delicious, and then she picked her yogurt and walked away.
And that was it.
I'd missed my window.
I could have said, "I'll email you the recipe" or, "Let me text you the website" or, "PLEASE give me your phone number and I'll call and call until we're best friends forever," but I did none of that. I just let her — and all of our potential postpartum margarita nights — walk out of my life forever.
And, you know, there has to be an easier way for adults to make friends. I mean, the odds of bonding with someone over yogurt again are slim to none at best, and I'll probably never again have the great opener of "Sorry my butt was in your face," so where does that leave us?
I propose business cards.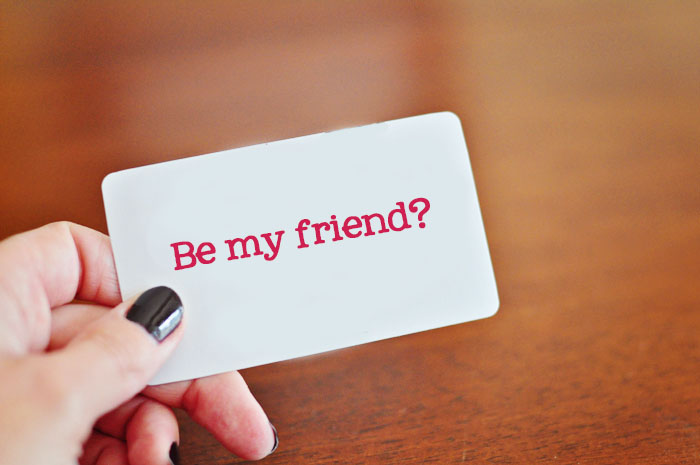 The next time I have a semi-awkward-yet-promising exchange with someone, I want to be able to pull out a business card that says, "Be my friend?" on the front with my name and telephone number on the back, and I want that to be perfectly normal. Like, it's the thing to do. And she can either hand me her card in return or take mine home, replay the exchange in her head, and decide whether I'm friend worthy enough for a call. And that would take all of the pressure off of finding an excuse to ask for contact information. It'd just be putting it all out there, like Hi! I like you. I think you like me. Here's my info so we can bond over tapas while bitching about our husbands. Call me! 
(By the way, this post is about to go promotional on you. I just don't like taking people by surprise. But trust me — it's still worth the read.)
Unfortunately, I hadn't yet come up with this brilliant idea when the company Signazon contacted me and asked if I wanted to review one of their products. Considering the fact that I was in the middle of a move, I had no pressing need for window graphics, car advertising, or yard signs (my old neighborhoods snooty Property Owner's Association didn't allow those), and somehow a giant banner welcoming ourselves to the new neighborhood seemed wildly inappropriate. Since I already had cards for my freelance business, I decided to order some business cards for the blog. I figured I'd leave them at the tables of restaurants I planned to review or stick them to the back of bathroom stall doors. You know — places people would notice.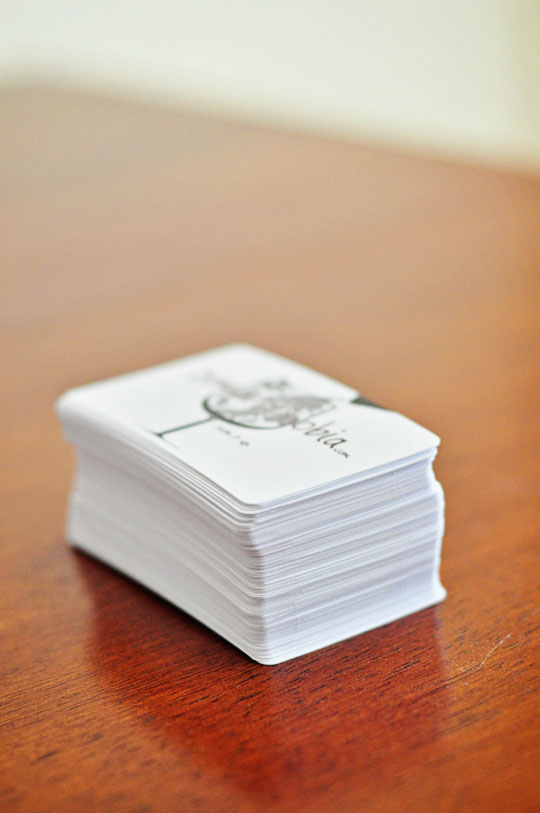 I designed my own graphic in Photoshop and uploaded it to Signazon's super easy design interface for personal business cards. If you want to do a little less work, you can also modify one of the templates they have on file (they have a lot — for professional, personal, contractor, or real estate!), or you can design one from scratch right there on their site. You don't need a fancy computer program to make professional-looking cards.
They offer different sizes and even the option to round the corners, which I did, because I'm fancy like that.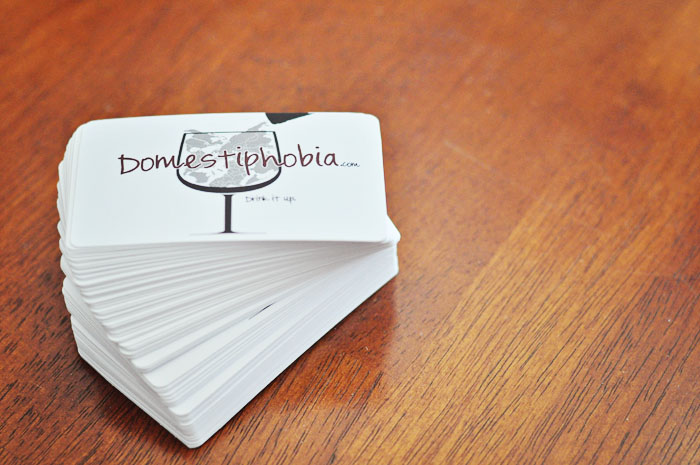 Their prices are some of the best I've seen for business cards, and their website is incredibly straightforward.
My biggest test for any company though is the customer service. When I uploaded my image to their interface, it looked all pixellated. Instead of frustratedly digging through the rest of their site to find their contact information, it was right there at the top of the screen. I could call or do a live chat. I opted to talk to a real person, and within just  a few seconds he was able to view my project using my cart ID at the top of my screen and verify that all was well. He had no idea I was reviewing their site, yet he was incredibly friendly, patient, and not the least condescending.
In a time when it's nearly impossible to get live customer service, I would order from them again in a heartbeat simply for that reason.
Oh, and check out their Pinterest page — they have a really great board with tons of eye candy for graphics freaks like myself.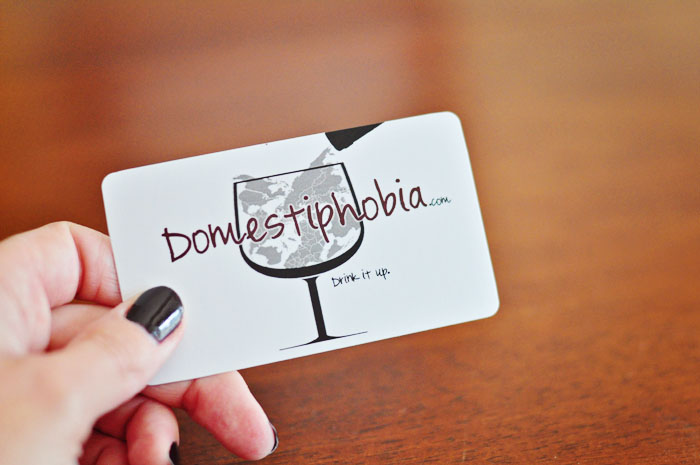 The shipping was super fast, and although next time I'll change my design a bit by removing the wine bottle all together, they turned out pretty great.
I haven't decided if I'll use them yet in an attempt to make friends — I'm not sure my revelations on Domestiphobia are the kind that will make people stand in line to spend time with me, but whatever. People should want to be friends with me for the simple fact that I sometimes paint my nails to match my wine.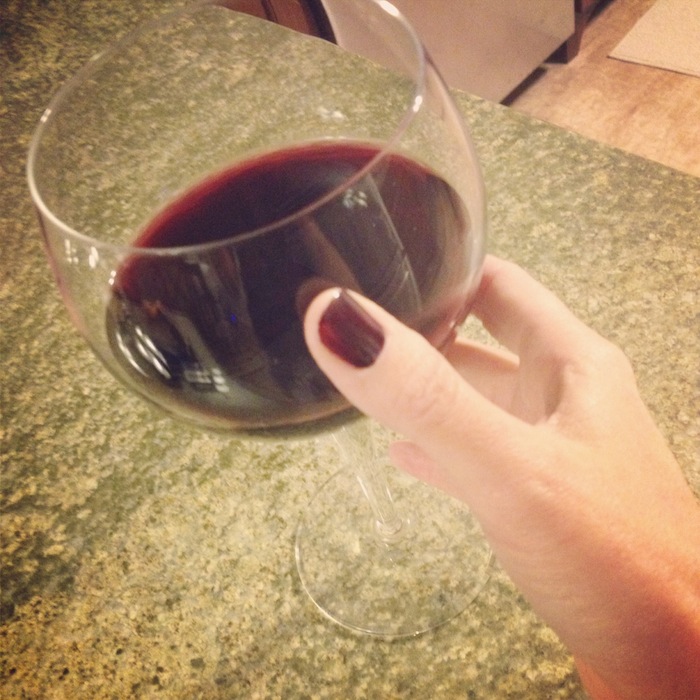 'Nuff said.
How do you go about making new friends? Meetups? The internet? Please let me know because it's been raining for five straight days and I can only have so many conversations with the dogs before we start to get repetitive.
*The business cards were provided by Signazon for my review. All opinions expressed are my own. (Seriously? Would I ever give you anything but?)