We're Already In Trouble. And Why Beer Is The #1 Tool In Salvaging Hardwoods.
What follows is a motley assortment of fuzzy iPhone photos from our first few days in the new (old) house. Most of the time it was too dark or I was too tired/lazy to pull out the real camera, but fortunately for you, Mr. Jobs has seen to it that I can capture badly-lit snippets of our day-to-day activities anyway.
So.
If you've been around for a while now, you'll know that Justin and I have a really hard time following through with things. We usually finish, eventually, but we have a bad habit of starting several projects at once, stalling for a few weeks or years, and then finally coming full circle.
And apparently, moving to Virginia hasn't changed us.
We arrived at the house on Friday and spent a lazy late afternoon just trying to get to know the place. You know, walking around, telling it a little bit about ourselves, apologizing for the damage our rambunctious mutts would doubtless one day incur, and imagining what we wanted to do to make it feel like home. We wanted to ease its worries, you know — make sure it knew it was in good — or at least well-intentioned — hands.
But by Saturday morning, we were done with the small talk. It was time to take action.
It started out innocently enough — I woke up and took a nice, steamy shower. As I opened the curtain and wrapped myself in a towel, I noticed just how peely that pink floral wallpaper was looking. What if… I thought, tugging at a small corner. It came off in one long, cathartic sheet. Like magic. (And vastly different from our bathroom wallpaper experience in the last house.)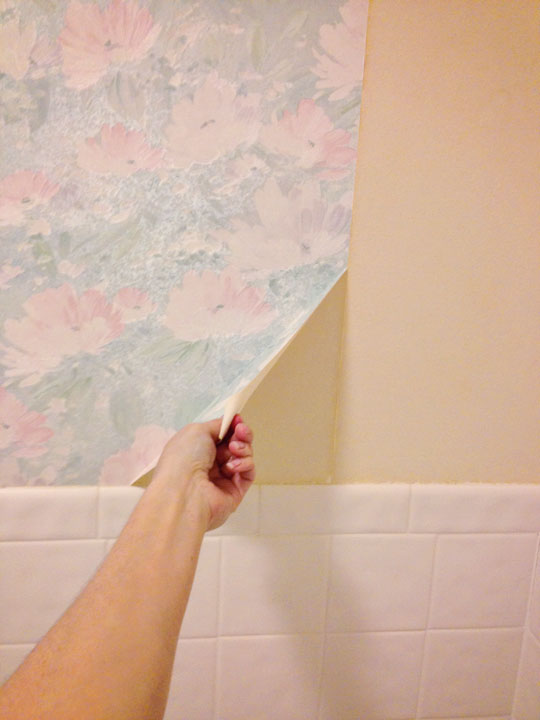 Ten minutes later, still wrapped in my towel, hair drying frizzily in my frenetic attempt to remove all pink, green, and blue wallpaper from my immediate vicinity, I had a nice little pile.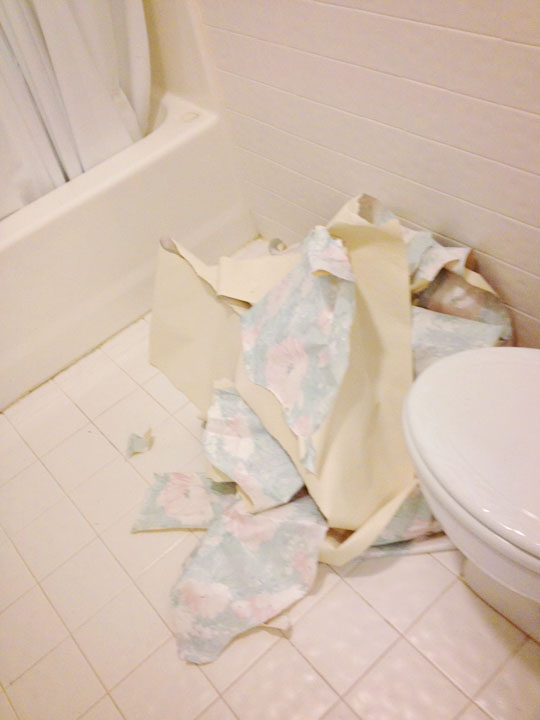 The backing was (and is) still on the walls, but it was a satisfying start.
Sated for the time being, I left the bedroom to find this: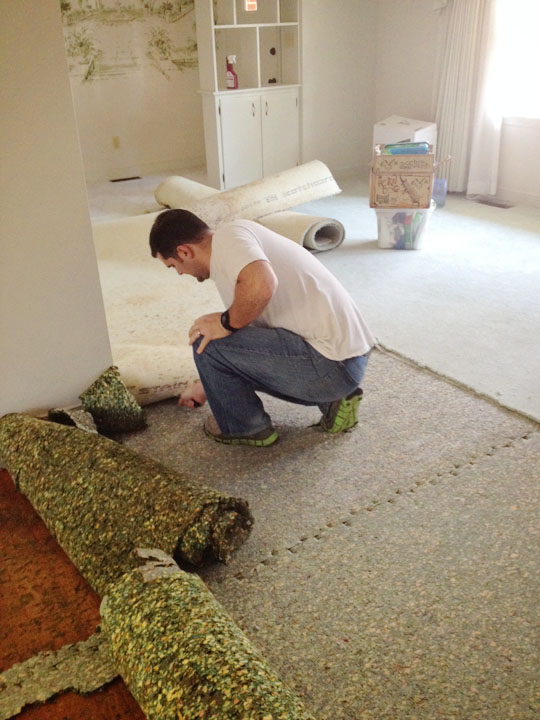 Apparently I wasn't the only one with a frenzied sense of let's-get-something-done-before-all-of-our-stuff-gets-here.
We'd removed carpeting once before in the last house when we were installing the laminate, though this time it was a bit more intense, since we knew we were trying to salvage the flooring beneath. It's a pretty straightforward process, if you can get over the butt-clenching waves of nausea that sometimes occur when you watch someone take a knife to your carpet and are forced to wait excruciating minutes to see if this particular exposure of your home's underbelly is going to cost significantly more than you'd anticipated.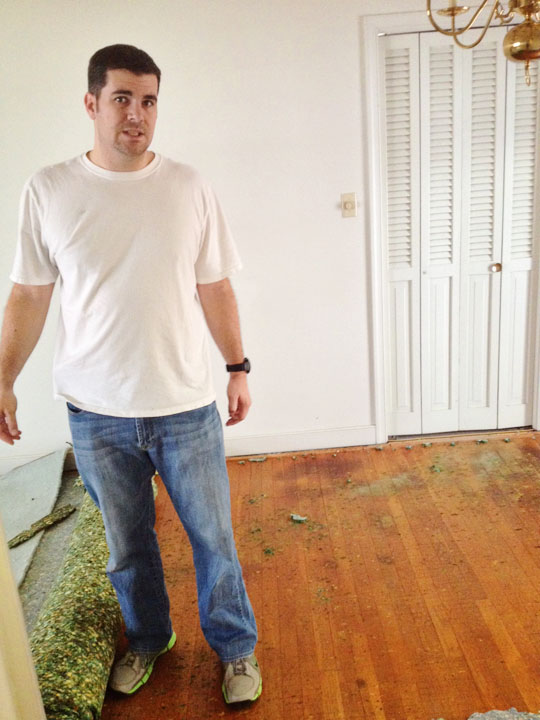 We were off to a less-than-encouraging start when he peeled back the grody padding to unleash the stench and stains of (what I can only hope is) animal urine in the dining area.
Fortunately, aside from the goo from the apparently rotting pad that insisted on sticking to the wood, the rest of the floor was in pretty great shape.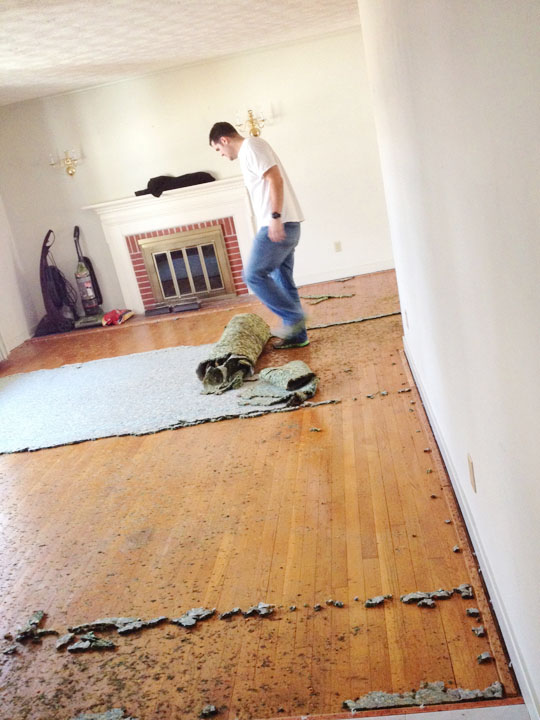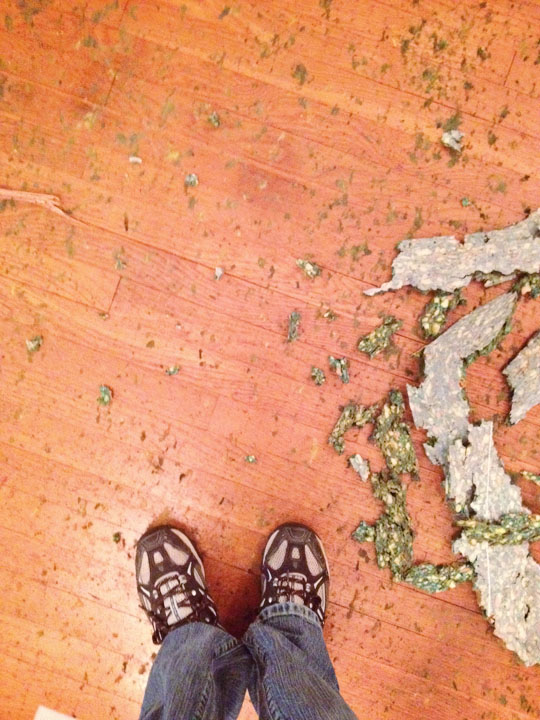 We spent the day searching out post-black Friday appliance deals for the kitchen, and then the evening with me pulling out staples with a flat head screwdriver and pair of needle nose pliers, while Justin pried up tack strips (those naily pieces around the edges of the room that held down the carpet) and tried to scrub the padding residue with a floor cleaner called Bona.
There were quite a few staples: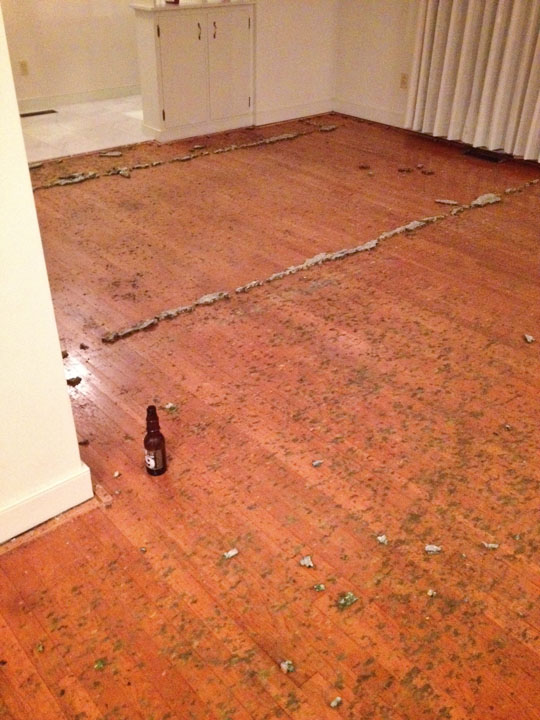 The task required minimal tools: A flathead, pliers, a mop, and lots and lots of beer.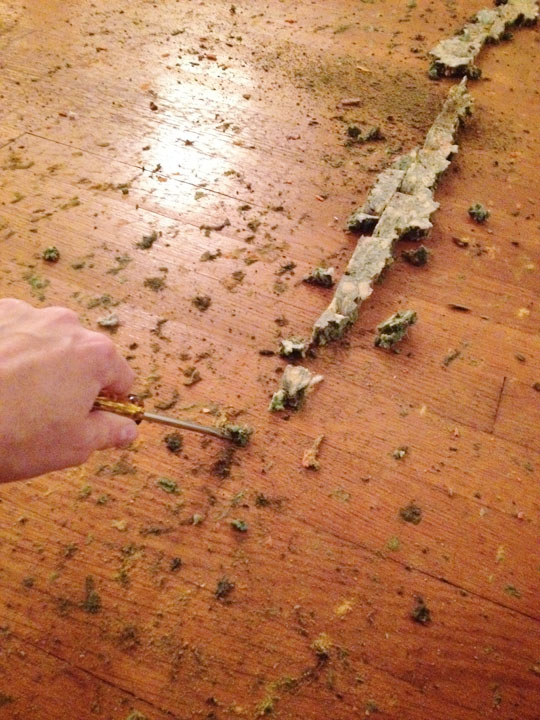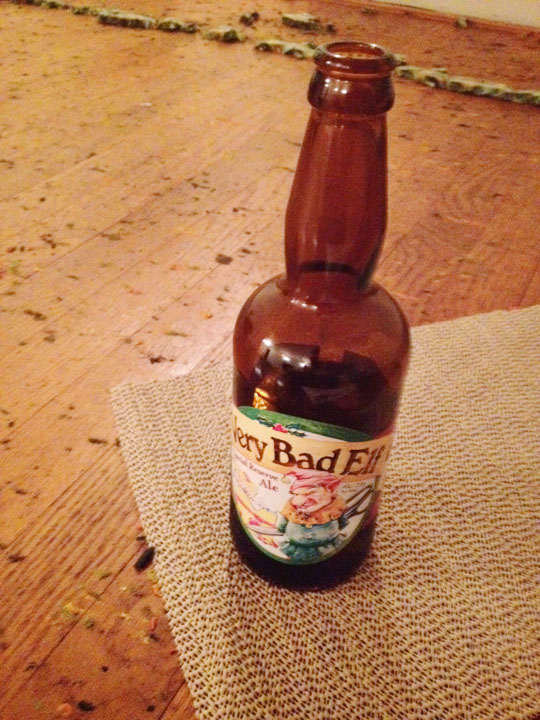 It's important to give you these fuzzy closeup shots so you can see that this is actually disgusting. Sometimes HGTV doesn't show you the real grossness of a situation, so let's get our noses right down in it, shall we?
There.
Can you smell the pee?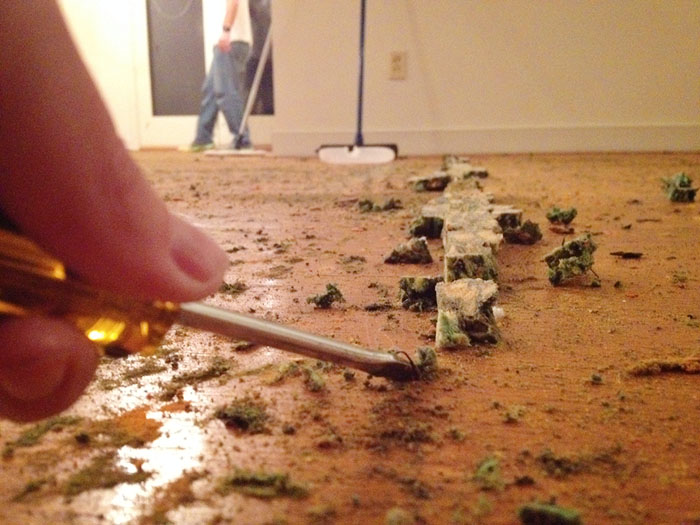 No, Justin isn't doing the moonwalk. He's foot scrubbing the goo.
And yes, I could go on and on wondering why anyone would slaughter these gorgeous hardwoods with hundreds of staples and mint green carpet, but then I realize that several decades from now, someone else might be going on and on about why those annoying granite countertops used to be so popular and why the dumpsters are full of those plastic deer heads with sparkly antlers. We roll with the times, you know?
Anyway.
Gross as the padding residue was, I was glad to be rid of whatever germies were undoubtedly encrusted inside of it. At the end of the night, this is what we were left with: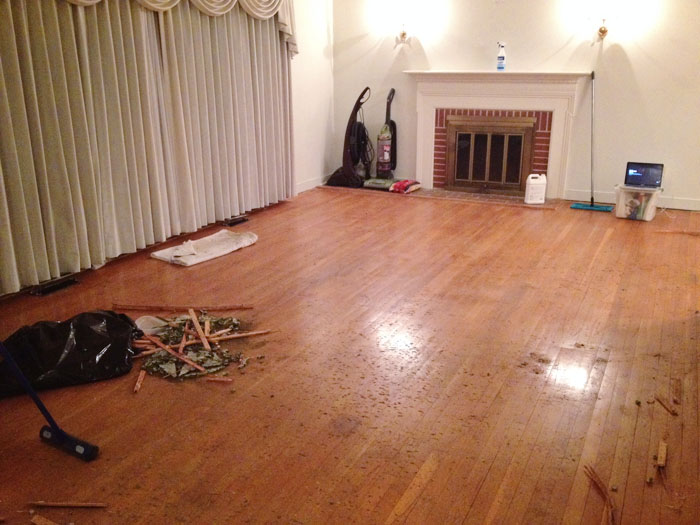 Unfortunately, the Bona wasn't super effective in removing all of the residue. The sanding process should take care of it when we finish refinishing the floors, but of course now our furniture is here, which might help us procrastinate a good long while. Which begs the question: Should we finish them ourselves, or hire a professional?
If it all  looked like the flooring from the fireplace to the entryway, it wouldn't be an issue. We'd do it ourselves. But those pet stains have me worried, so let's take a poll:
So. That's where we've been sitting. That, and this: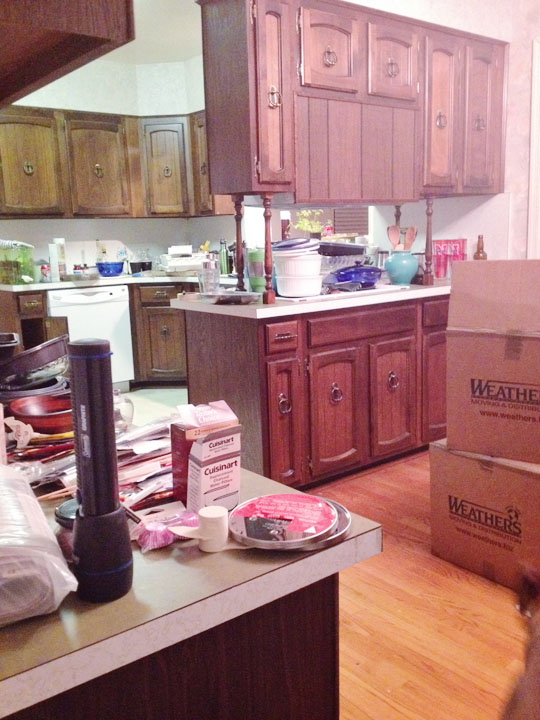 Which is like, really not as bad as it looks. I just have to gather everything in one place before I can figure out where it goes, you know?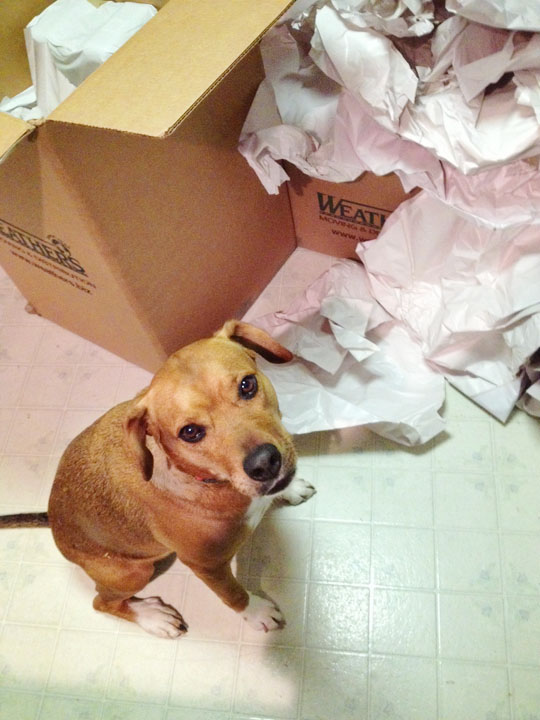 This one totally understands.