Row 4. (Vol. 1)
I think it's safe to say that for me, when it comes to shopping, I'm not like most people.
Most people, it seems, regardless of whether or not they enjoy the actual act of shopping itself, at least enjoy the fruits of said shopping — the way that new flat-screen rounds out his wall decor or how the green in that discounted scarf from T.J. Maxx brings out her eyes. 
But me? I suffer from a well-known affliction called buyer's remorse. And I'm fairly unique because flare-ups aren't restricted to big purchases. See, not only do I spend a ridiculously exorbitant amount of time deciding whether or not to purchase something, from stressing about choosing the best used book option on Amazon to standing in front of the dog toothbrushes — the DOG TOOTHBRUSHES — at the pet supply store for nearly fifteen minutes, I then have to spend, at the very least, the next ten minutes (and up to ten months) agonizing about whether I've made the right decision.
I mean, do you even know how many choices there are for canine dental care?
I've been on a bit of a spendy spree lately, in light of our attempts to whip this house into some semblance of shape. The thing is, when I have a set purpose in mind, the actual act of shopping — of making an informed decision on the best option — can be somewhat therapeutic.
Right up until the cashier hands me my receipt. At which point I send myself into a shame spiral of second-guesses.
It all stems, I think, from the value I place on money. My warped dollar value scale looks something like this:
| | | |
| --- | --- | --- |
| Category | Examples | My Perceived Value |
| Necessities | deodorant, toothpaste, Nair, dental floss, etc. | Spend as little as possible to get 'er done. |
| Nice-To-Haves | television, kitchen counters, heat, working vehicle, etc. | Spend as little as possible to get 'er done. |
| Really-Nice-To-Haves | electricity, plumbing, take-out, pretty decor, etc. | Spend as little as possible to get 'er done. |
| Can't-Live-Withouts | travel, wine, comfortable bedding, delicious food, art, etc. | Money? What's that? |
My mother asked me once how Justin and I can afford to live the way we live — dining out fairly frequently, buying fresh, whole foods to eat at home, travel (even if it's just locally) a couple of times per year, renovate our house, etc. — on mainly just his income. And, when I think about it, the answer is pretty simple. We're willing to be incredibly stingy — or, in some cases completely forego — basically everything in the first three rows of that table for even just a taste of anything in the coveted ROW 4. (If I hit the "shift" key, that's ROW $. Coincidence? I think not.) Whenever I purchase something from Rows 1-3, I have to ask myself if it's worth having a little less of Row 4.
It's a sickness.
That's why owning a home stresses me out. It forces me to pull items from Rows 2 and 3 into Row 4 — things that are important for re-sale value, like curtains. And lights. And apparently home buyers like to have kitchen counters, on top of everything else.
Spoiled brats.
In the interest of transparency, I'm going to share with you a few of the things I've purchased — and agonized over — in recent weeks, and you can either make me feel better by telling me how thrifty and awesome and pretty I am, or you can make me feel shitty by telling me how much I suck at life. Also, if you want, you can buy some of these things yourself, or tell me what you'd do differently. (None of these links are affiliate links, and I'm not being paid to share these items with you.)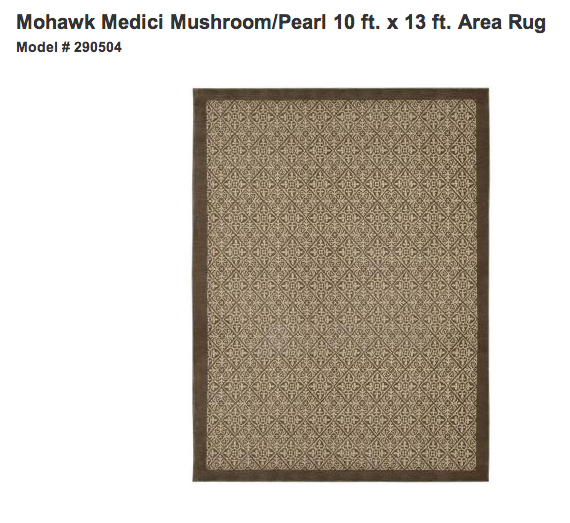 What I Paid: $193.90 + tax, free shipping
Why It's A Deal: This rug is normally listed for $277, which is still pretty low for a rug this size. But right now, online, it's listed as "overstock" at a deep discount.
The Pros: Okay, guys. I don't have the best track record when it comes to rug shopping. I've wasted a lot of money buying non-returnable discount rugs online and having them show up in an unexpected color or basically disintegrate within a year. And, unfortunately for me, this whole house is filled with hardwoods (who would've thought that could be a bad thing?), and I like some occasional padding under my footsies. This rug is actually a really pretty gray color in person, and had excellent reviews online. (I'd show you a picture, but I can't even unroll the whole thing right now because all of our kitchen cabinets are temporarily relocated into the same room.) And less than $200 for a 10×13 area rug?! That's pretty much unheard of.
The cons: When it arrived, I realized that the beige part is actually looped fibers — not tufted. What that means is that little dog nails can snag those loops and basically make the rug look like crap over time. Also, the strands along one side of the border have been cut and frayed — probably during manufacturing.
Keep or Return? I'm going to return this one anyway, because of the manufacturer defect. But should I have them deliver a new one? For $200, I could theoretically replace it with the same one each year for the next three years and still not spend as much as a typical 10×13 foot rug. Also, it's not going in a high traffic area.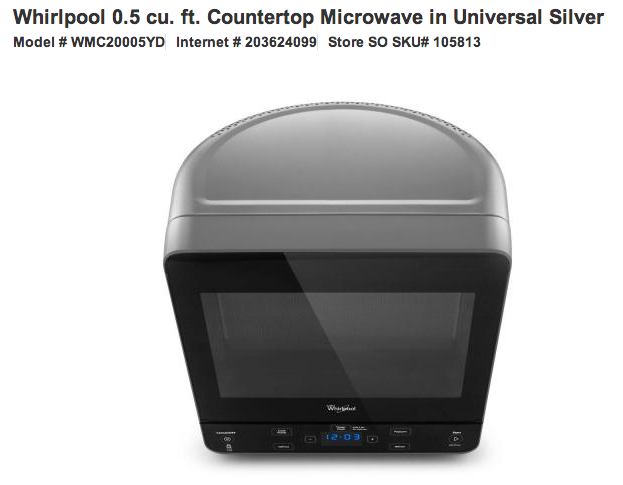 What I Paid: $116.10 + tax, free shipping
Why It's A Deal: It's listed on the Home Depot site for $139.00. However, Lowe's currently has it listed for $129.00. My local Home Depot will price match and add a 10% discount to get the sale.
The Pros: It's so cute! Yes, apparently microwaves can be cute. It fits into a deep, unused corner of our kitchen countertop, and the curvy interior makes it simple to clean. It even fits an 11″ round dinner plate.
The Cons: It's only 750-Watts, so I probably shouldn't expect to actually do any cooking in this thing — just re-heating. We've never use our microwave to cook anyway, so that's not a big deal. I also don't love the fact that it doesn't have a number pad, which I didn't realize when I ordered it. It just has + and – buttons you can push and hold to adjust the time.
Keep or Return? It's a little spendy for only 750-Watts and 0.5 cubic feet of space. It kind of looks like a little, boxy television set.  (If you were born after 1990, you probably have no idea what I'm talking about.) But it's also incredibly unique, does what we need it to do, and fits in the limited amount of space we have for a microwave in this remodel.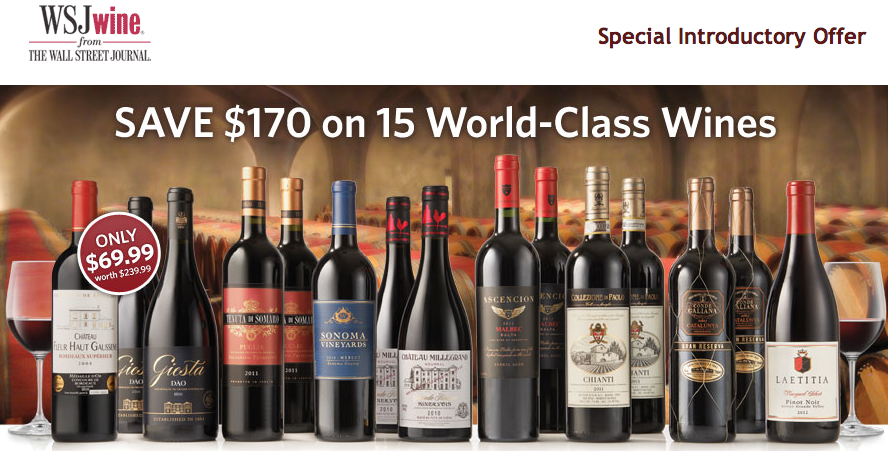 What I Paid: $69.99 for 15 bottles, + tax and $19.99 shipping
Why It's A Deal: What I ended up paying amounts to approximately $6.28 per bottle. Though I primarily stick to inexpensive wines, we easily spend closer to $8-$20 per bottle when stocking up from Trader Joe's, Fresh Market, or Total Wine.
Pros: This club is affiliated with The Wall Street Journal, which I figured is a reputable source, and there is no membership fee. I plan on discontinuing my membership once this first case gets delivered, because the price goes up after that (though it still seems to be a pretty good deal).
Cons: I don't get to pick the wine. But then I don't know enough about wine — except for the fact that I like it — to really care that much. And we all know how I feel about making decisions.
Keep or Return? Um, yeah. I'm not going to return it. It's in Row 4.
How about you? What's in your Row 4? Does it make you agonize over purchases as much as I do? I just don't like to waste money. Do you think I'm wasting it on the items above? Is this a fun game? Should we play again? Maybe next time you can come over and help me shop. I'll have plenty of wine.