If Your Goal Is To Eat All Of The Food, Chicago Is A Good Place To Start.

Look. It's no secret that I enjoy culinary tours.
I enjoy culinary tours so much, that I've decided to dedicate an entire page of my blog to the sole purpose of walking you through each and every delectable bite. Because, guys, I don't know if you heard, but food is pretty much amazing. It's the thing we use to fuel our bodies. (SO much better than gasoline, amiright? Sucks to be a car.)
Food affects our moods, our physique, our skin, our happiness. Enjoying its many flavors is, without a doubt, one of the greatest pleasures in life, and yet so many of you guilt yourselves out of ever truly enjoying it.
It… just… I don't know.
And.
I won't get into it now, but I'm fairly convinced that the refusal to enjoy food — to truly indulge, eat slowly, and appreciate the immensity of its role in our lives — is one of the absolute worst things you can do for your health, your self-esteem, and the limited amount of time we have in this world.
We only get so much, you know?
And it will never be enough to try all the food.
*steps down.*
So when Justin and I decided to go to Chicago this summer, I knew I had to take him on a Chicago Food Planet food tour. My sister, my friend Rachel, and I loved our Chinatown tour last year, and I couldn't imagine returning to one of my absolute favorite cities without tasting another part of it.
This time, we opted for the Gold Coast & Old Town Food Tour because it best fit into our schedule. My dad, his wife Mei, my sister, Justin and I, along with 3 other food enthusiasts, met our amazing tour guide Nicole outside of Lou Malnati's in the Gold Coast neighborhood.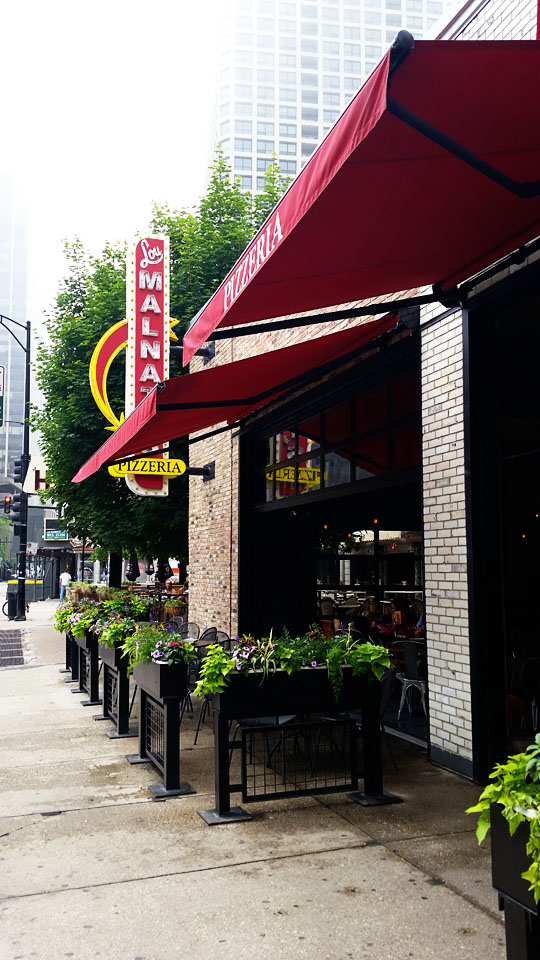 If there's one thing I can stress about Chicago Food Planet's tours, it's that they have the absolute best when it comes to guides. Just like Ploy from our Chinatown tour, Nicole was genuinely enthusiastic about her city. She was extremely knowledgable without being boring, and she was just plain fun to be around. This is so important when it comes to tours. I mean, you paid to spend time with this person, right? So they should probably be pretty cool. And CFP really seems to get that.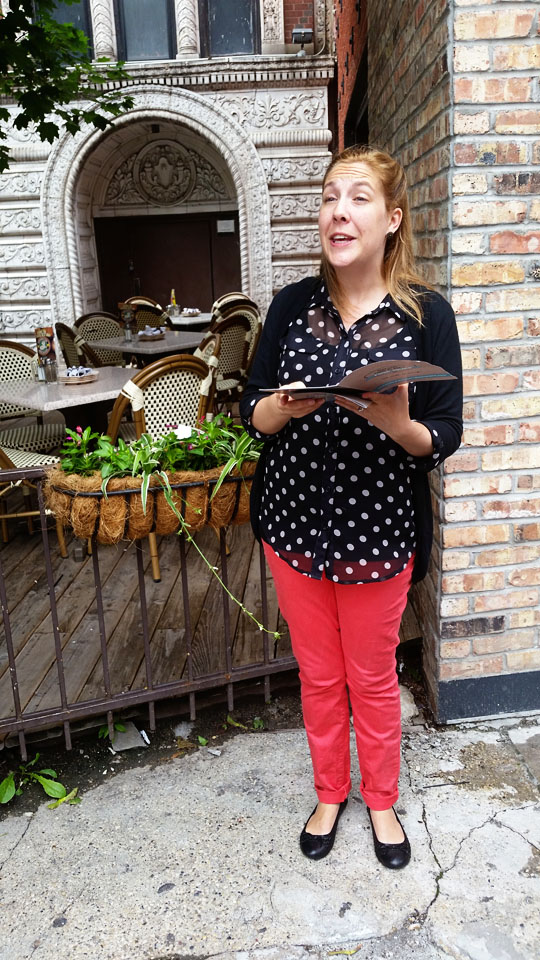 Now. You know Chicago is known for its deep dish pizzas, and I wouldn't be caught speaking too loudly among its streets about which restaurant has the best, though I remember my Giordano's from last year tasting pretty spectacular. However, Lou Malnati's was just voted the best in a poll on Eater.com.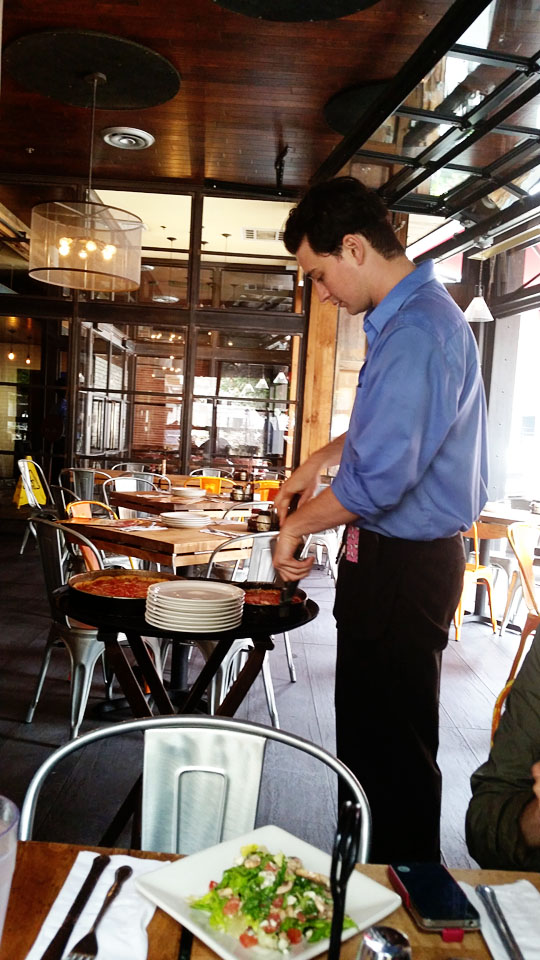 See that salad? We each got one of those, too.
And with its golden buttery crust, very simple tomato sauce, thick gooey cheese, and an entire flat sausage patty splayed across the bottom crust…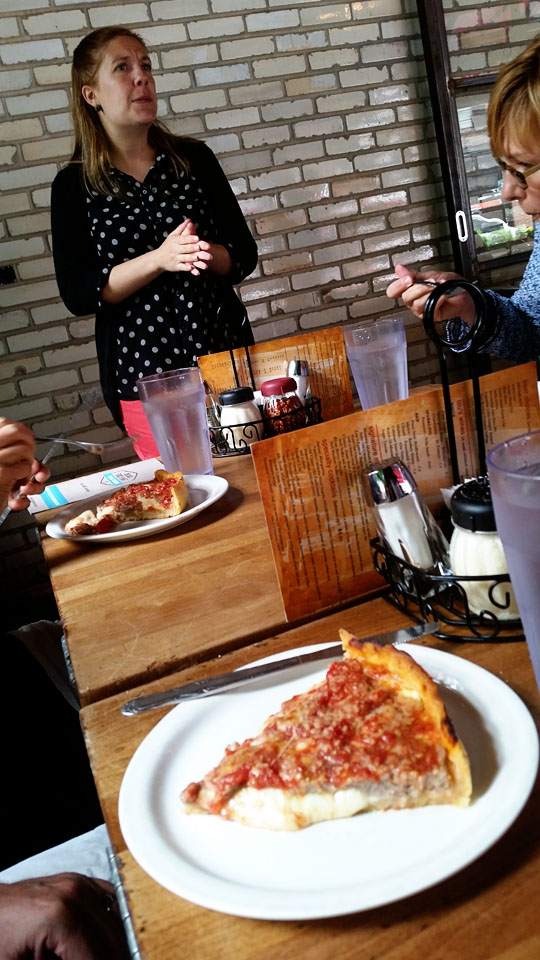 Well.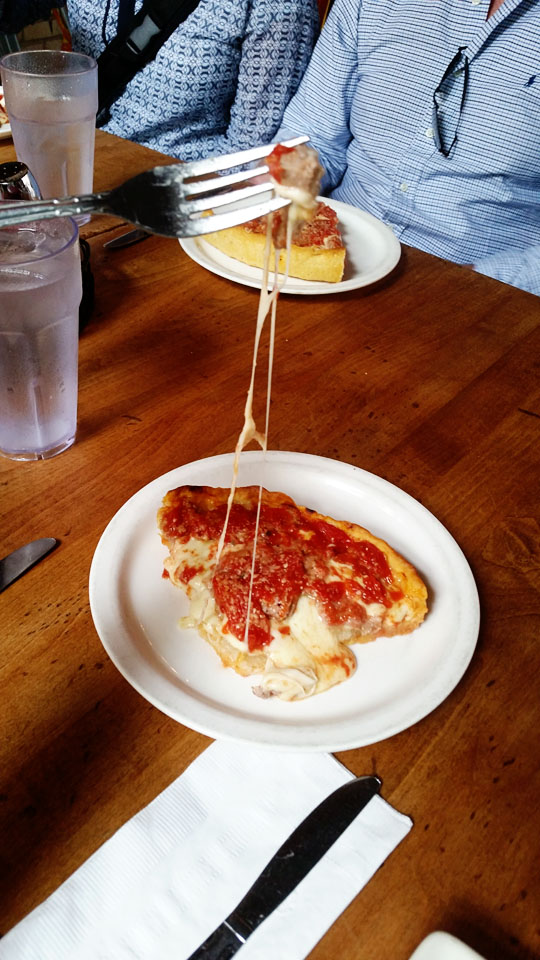 Let's just say it wasn't the worst deep dish I've ever had.
The restaurant's decor was pretty incredible as well, with a warm-yet-industrial vibe and huge garage doors that opened to the sidewalk: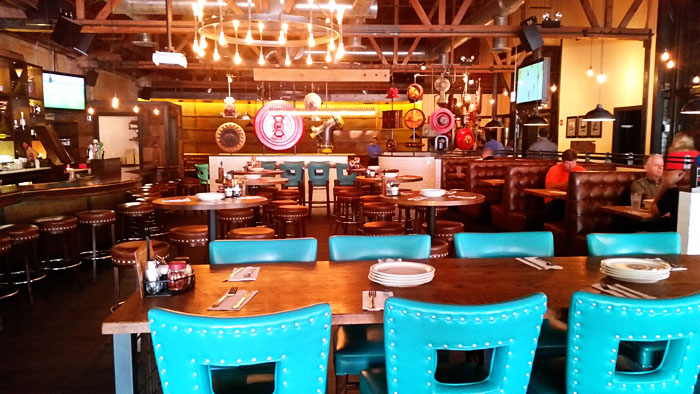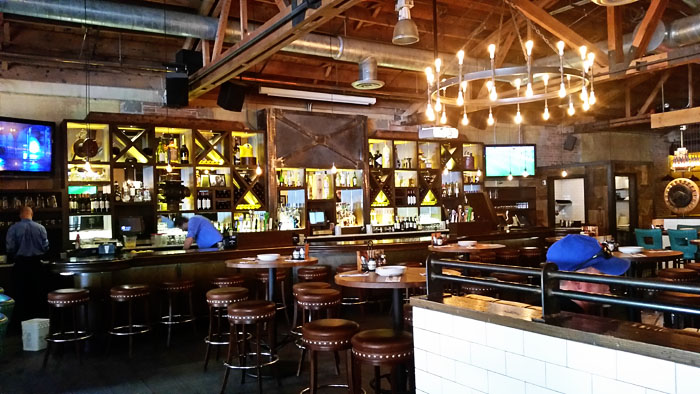 Absolutely stuffed (already!), we sauntered over to Tea Gschwendner, a company that specializes in loose leaf teas.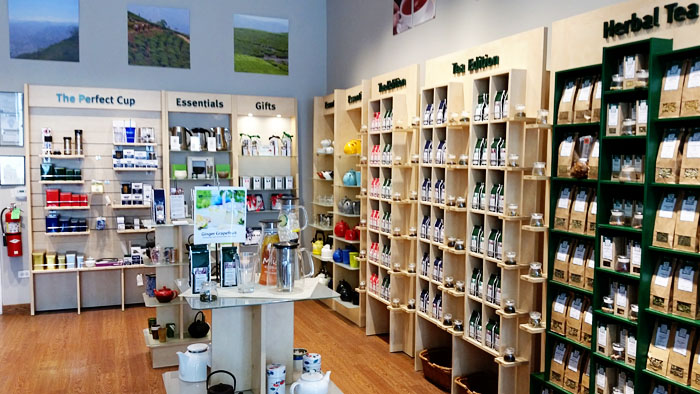 While there's no time for shopping during the tour, Chicago Food Planet provided us with coupons for each place that we could go back and use afterwards, and I can tell you one thing — this is where Justin did the most damage while I was in a meeting downtown.
They passed around some iced tea they had prepared for us while one of the employees shared his vast knowledge on the origins, varieties, and health benefits of tea.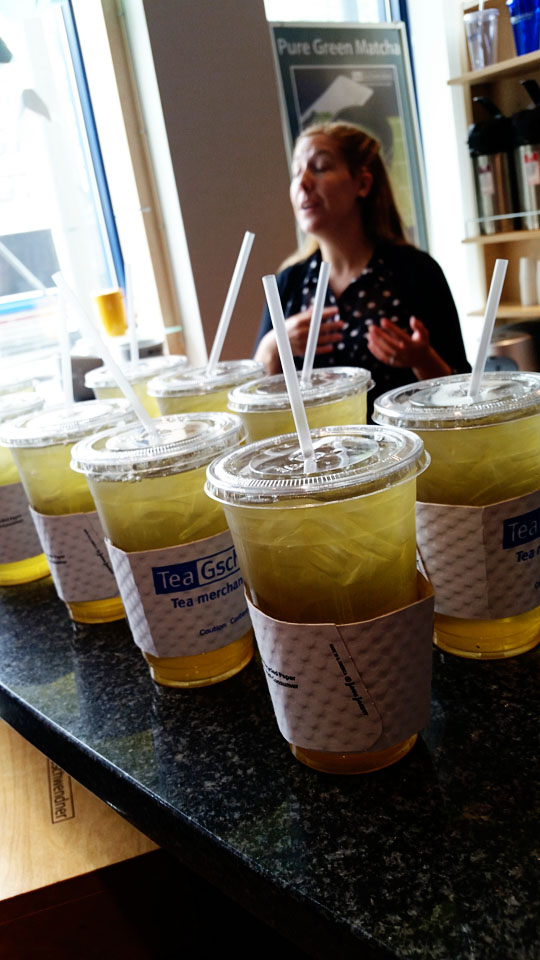 For example, did you know that while tea has considerably less caffeine than coffee, its effects actually last longer and you don't get "the crash." So basically, it's like the best legal upper you can use to stay boosted throughout the day.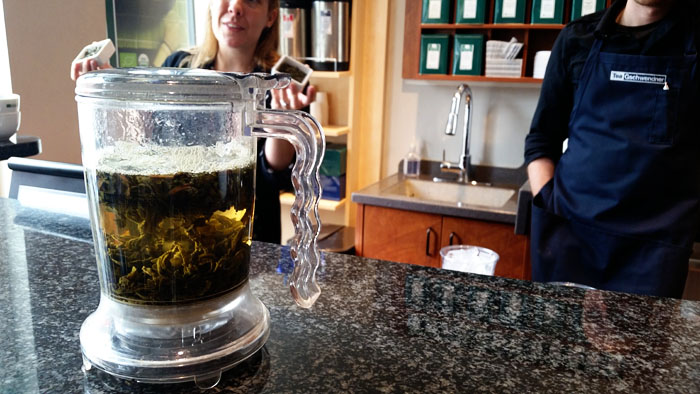 We had a bit of a hike to get to Old Town, so we took our cool drinks and made our way through the Gold Coast, stopping to learn about and admire some of the architecture along the way.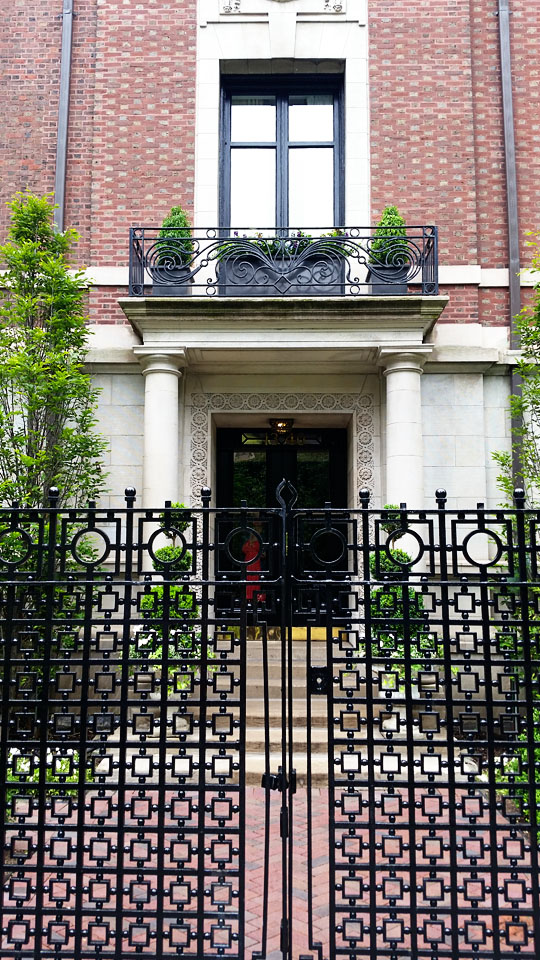 I don't remember for sure, but I *think* this is the house Nicole told us was the first Playboy Mansion.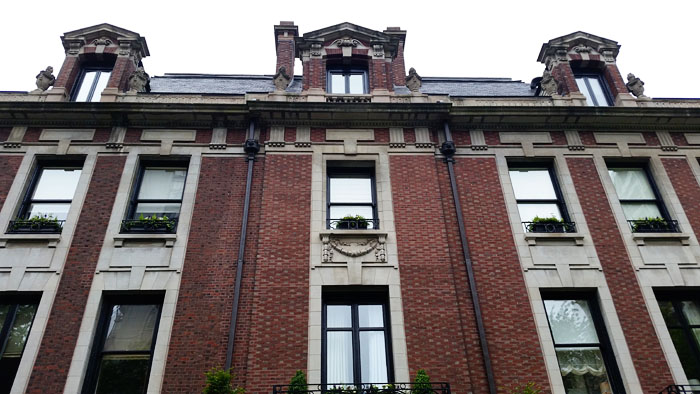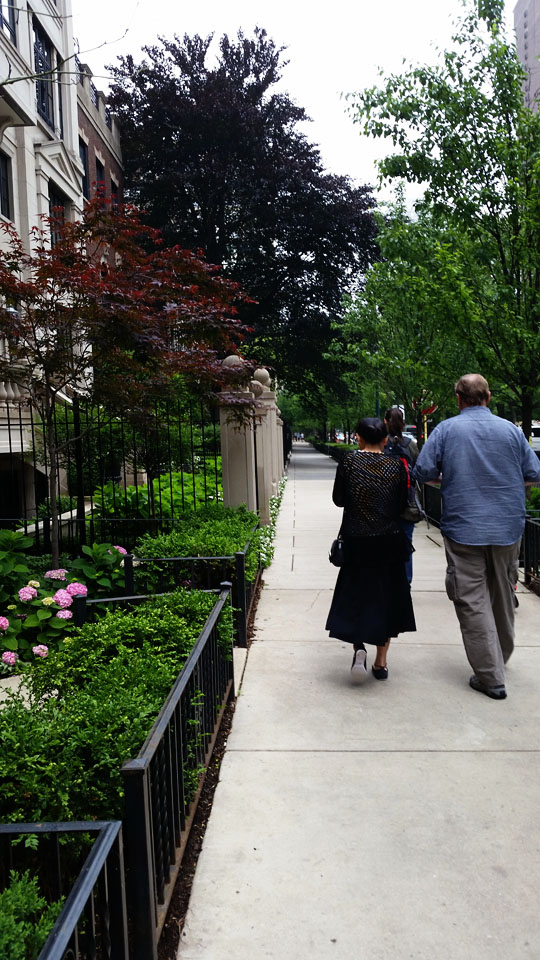 Eventually, we made our way to Old Town.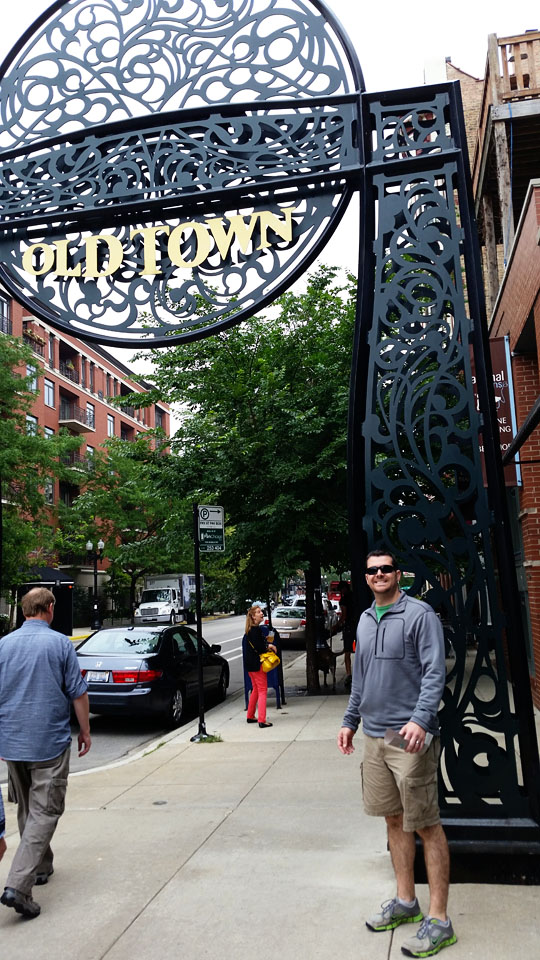 Our first stop was Kamehachi, a Japanese restaurant.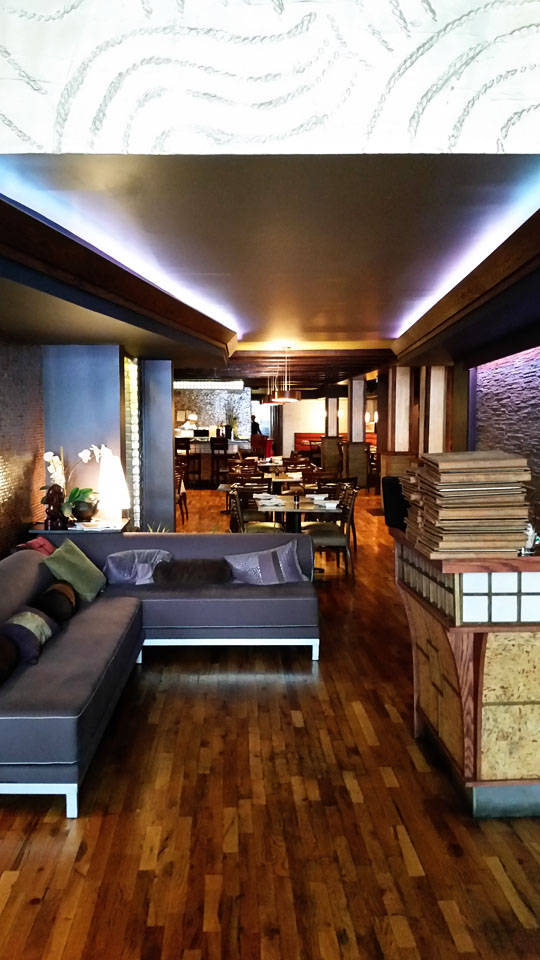 Here, they poured us some amazing sake, which is a Japanese rice wine. (Double points for alcohol on a food tour!)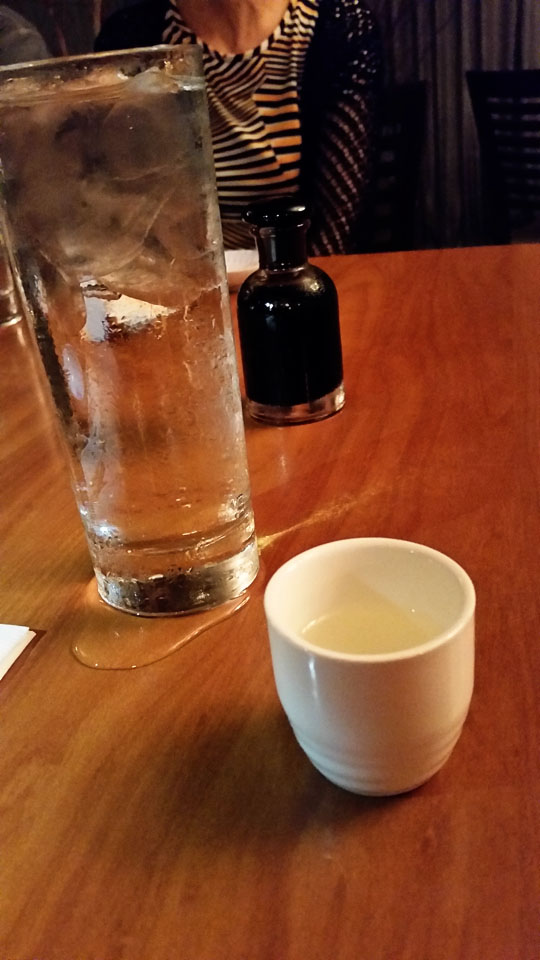 I tried my first sake with Dennis back in San Diego a few years ago, and while it was okay, it's never been something I'd go out of my way to order. But I have to say — this sake tasted amazing with the two sushi rolls we were served. (I believe one was a basic tuna roll, and the other was a really delicious vegetarian sashimi mushroom roll.)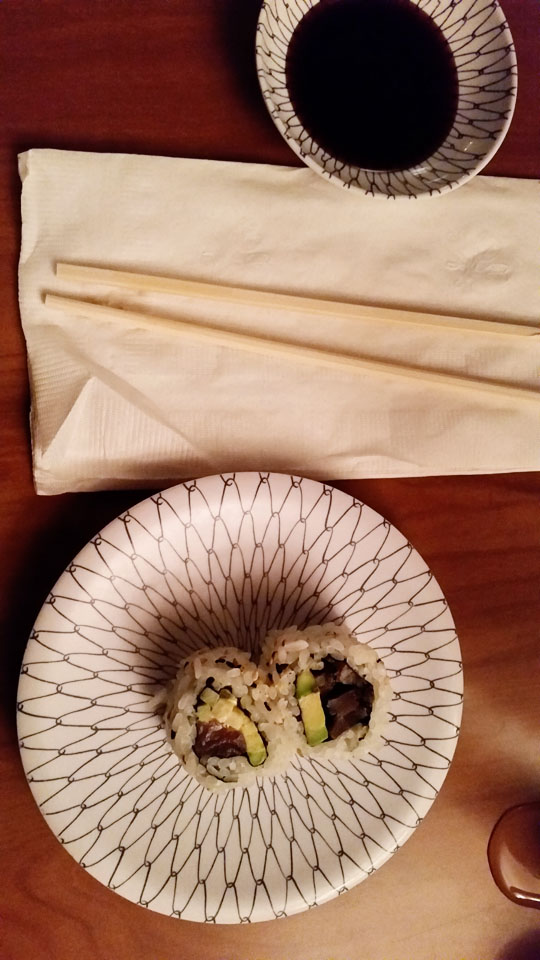 The next stop, The Fudge Pot, was one of my favorites.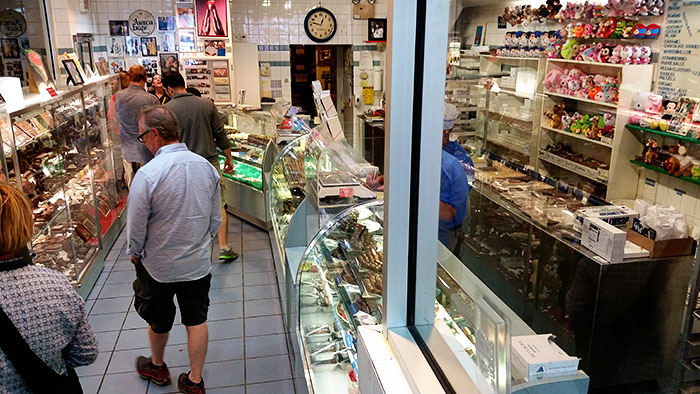 We were led back behind the counter where I pretty much don't remember a single word of what Nicole told us because she gave us THESE.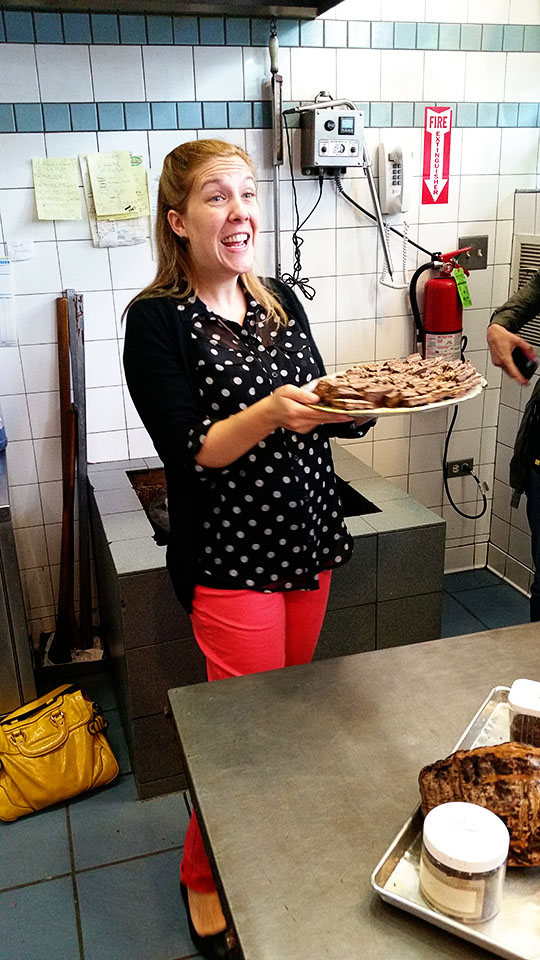 Chocolatey, caramely, praliney nougat things, and apparently I couldn't even get a clear picture of one because I was too busy shoving them inside my mouth.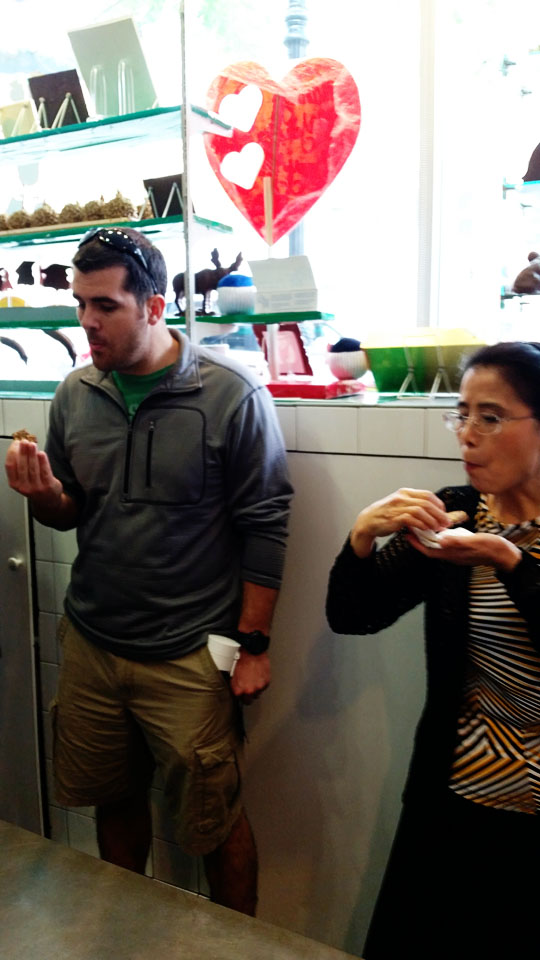 Apparently I wasn't the only one. I did see on the way out that they made some pretty interesting chocolate bars.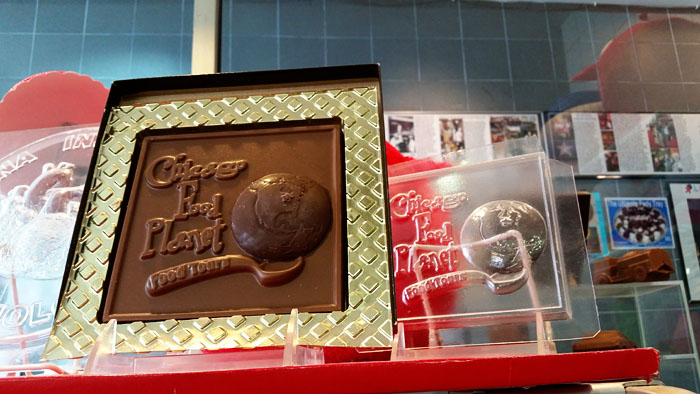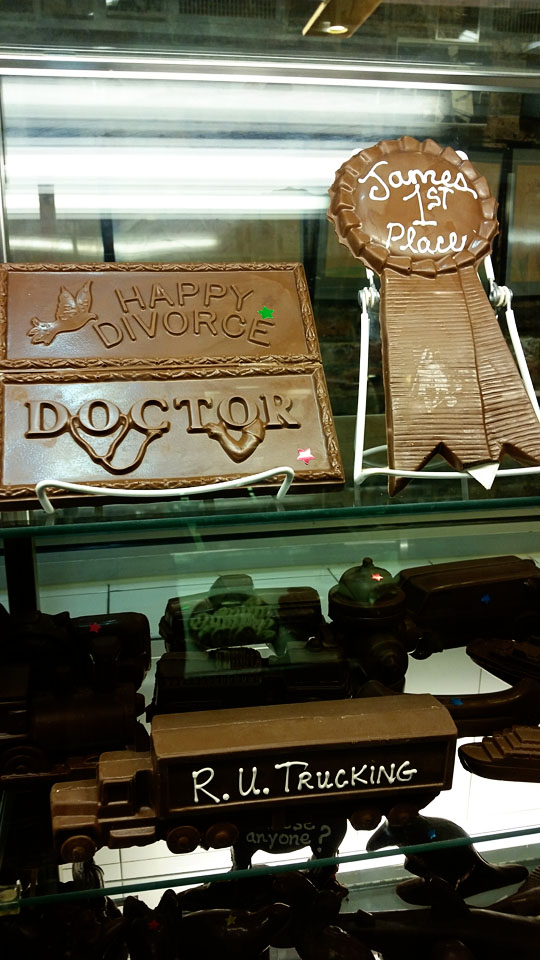 I have mixed feelings about the next two stops, Old Town Oil and The Spice House. While I definitely agree that they are certainly culinary highlights of Old Town, one of my biggest complaints about a Williamsburg food tour we did last year in Virginia was that they took us to places where it was common to receive samples, which is something we could've done on our own.
However, Chicago Food Planet did take it a step further by custom picking and preparing oil combinations for us to try with some amazing crusty bread at Old Town Oil, and The Spice House is the other place where Justin did some damage with his coupons.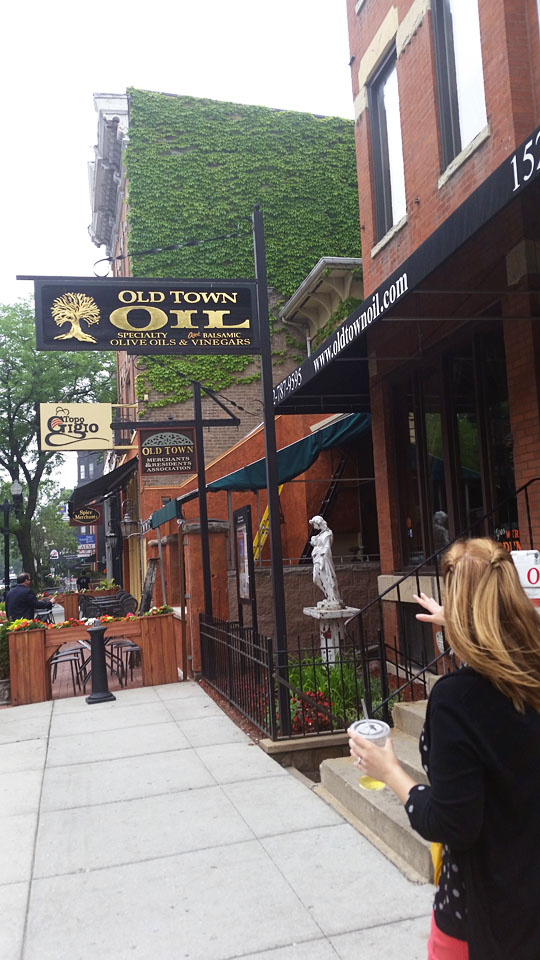 At Old Town Oil, we tried some incredible infused olive oils as well as some aged balsamic vinegars.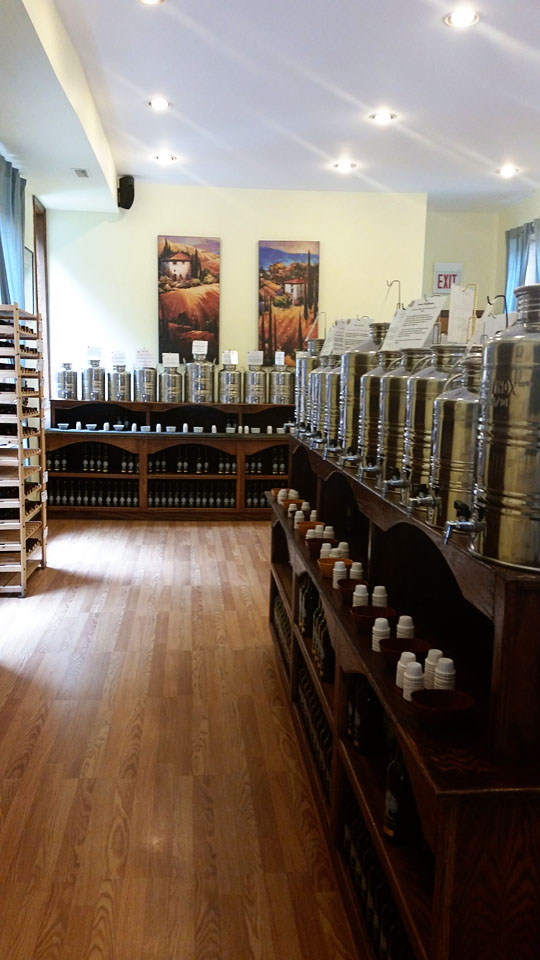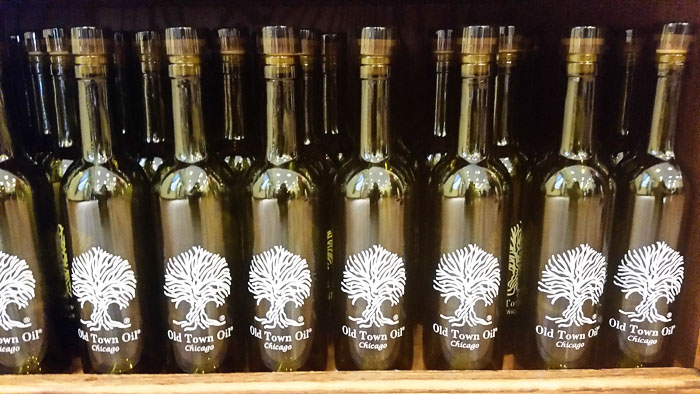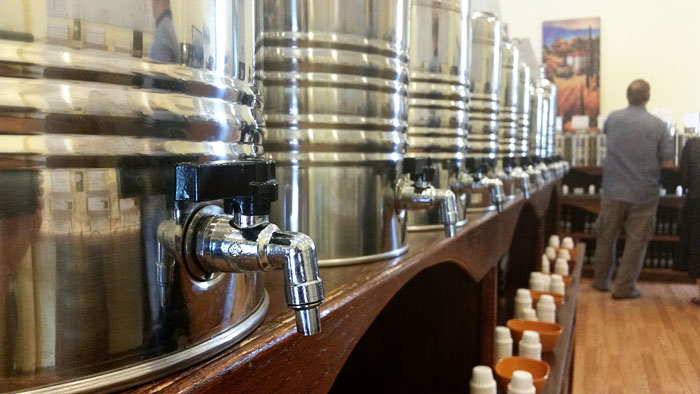 And while there weren't any samples per se at The Spice House, Nicole did give us an informative presentation on cinnamon in a gorgeous courtyard out back, and we had plenty of time to peruse the impressive selection.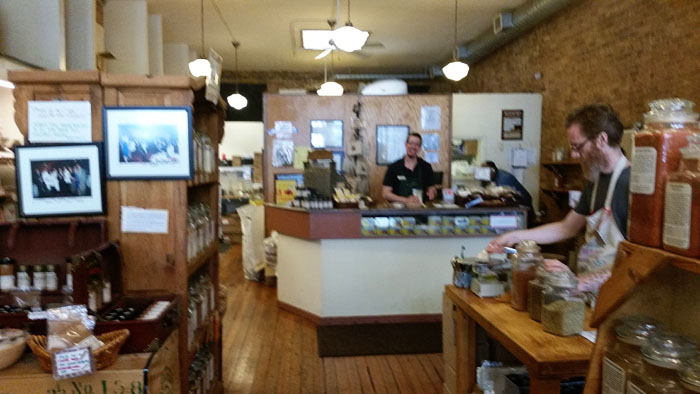 Photo fail: The guy behind the desk smiled for my shot, and I got so excited that it came out blurry.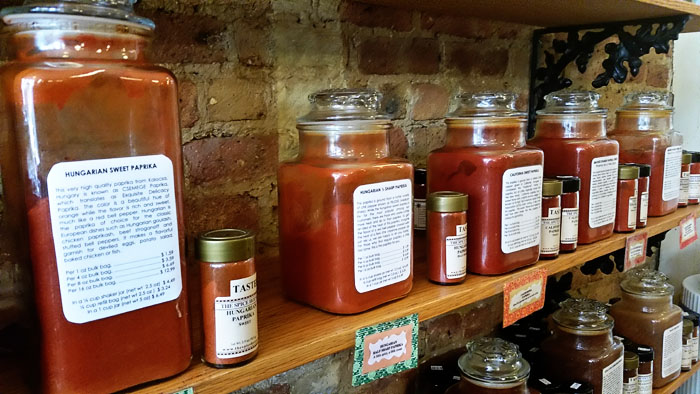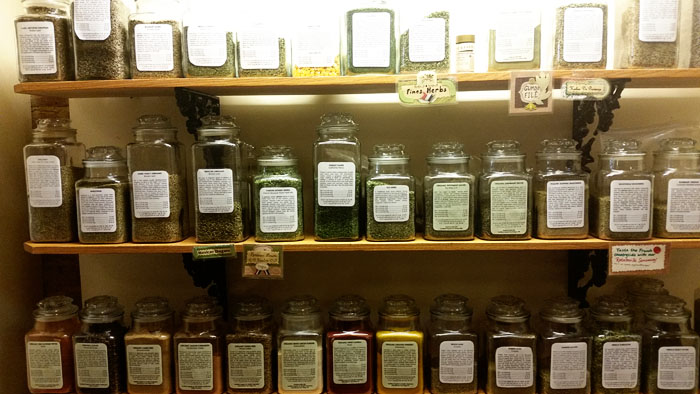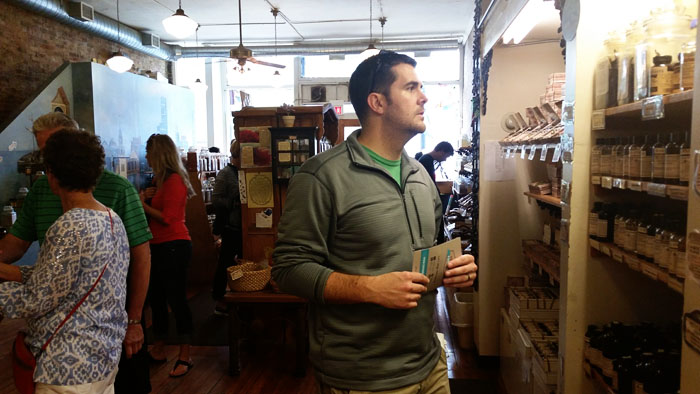 Justin deciding which vanilla beans he'll come back and buy later.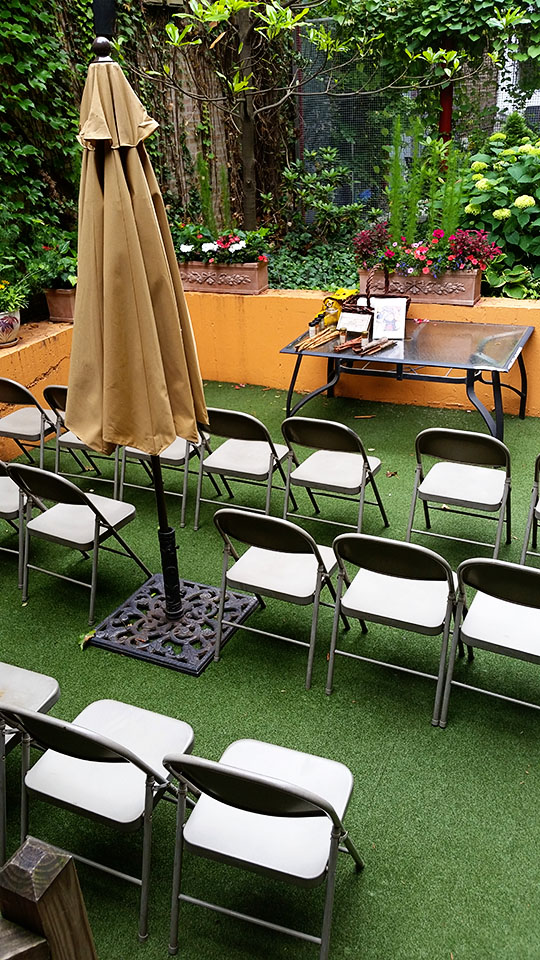 Can I live in this courtyard, please?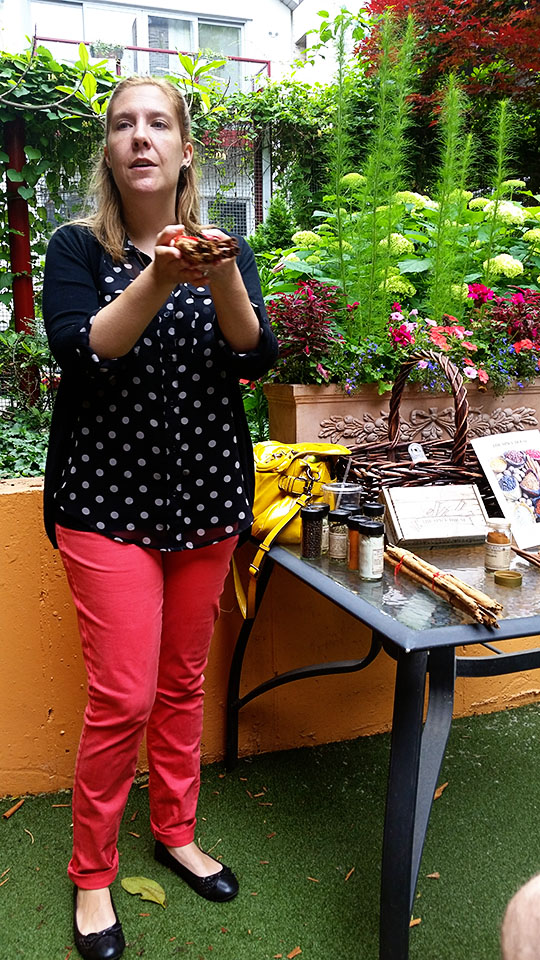 Everything you ever wanted to know about cinnamon.
We had to walk a way to get to our final stop, and I admired the architecture while Nicole pointed out some of the adorable homes still standing that were built after the Chicago Fire.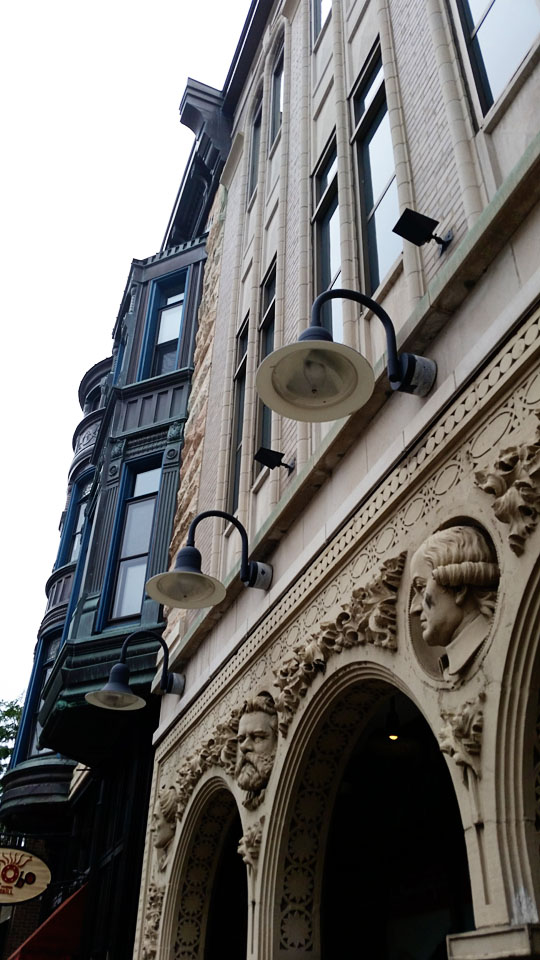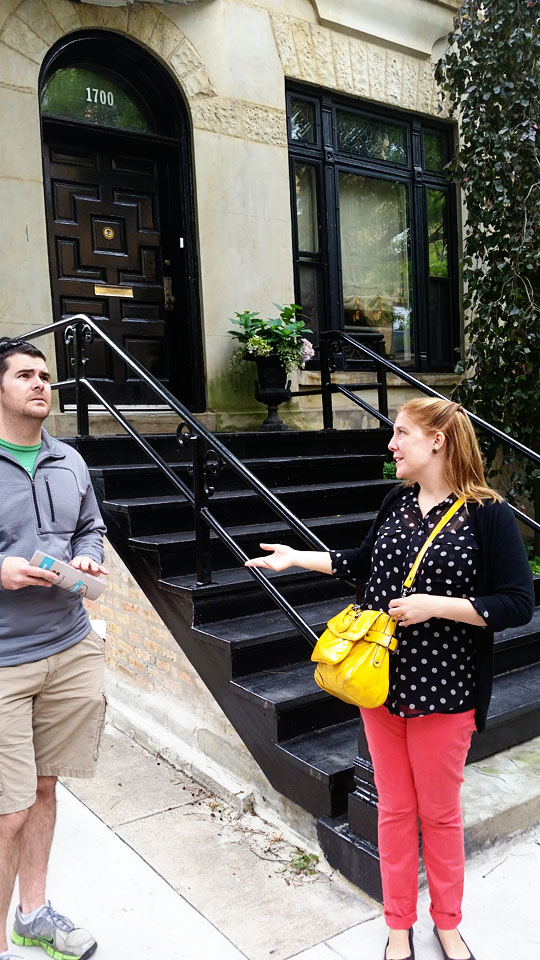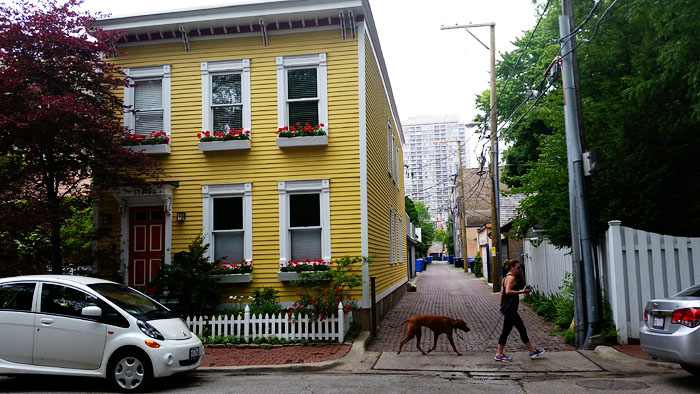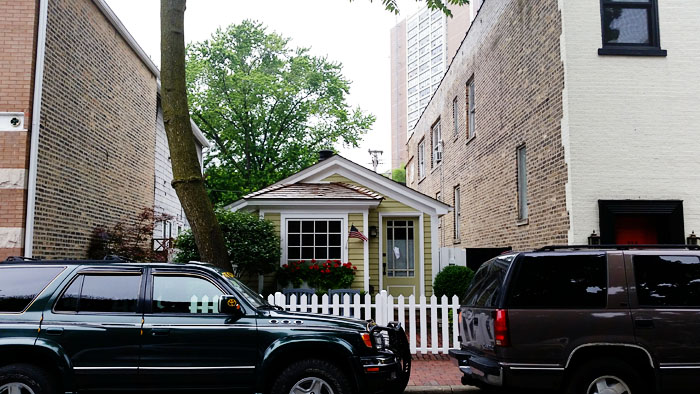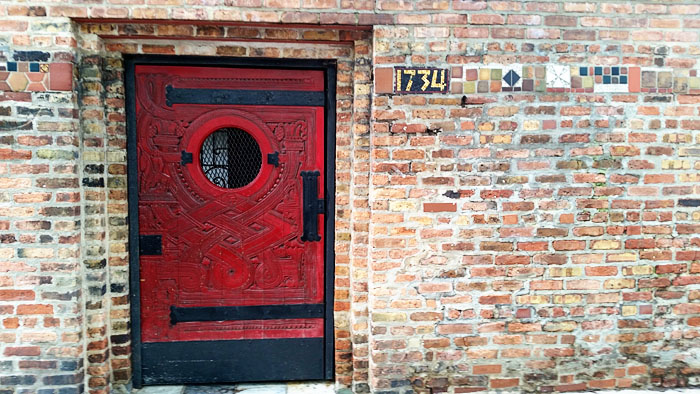 It seemed like it'd been a while since we'd had any substantial food, and our last stop, Delightful Pastries, was my other favorite stop and well worth the wait.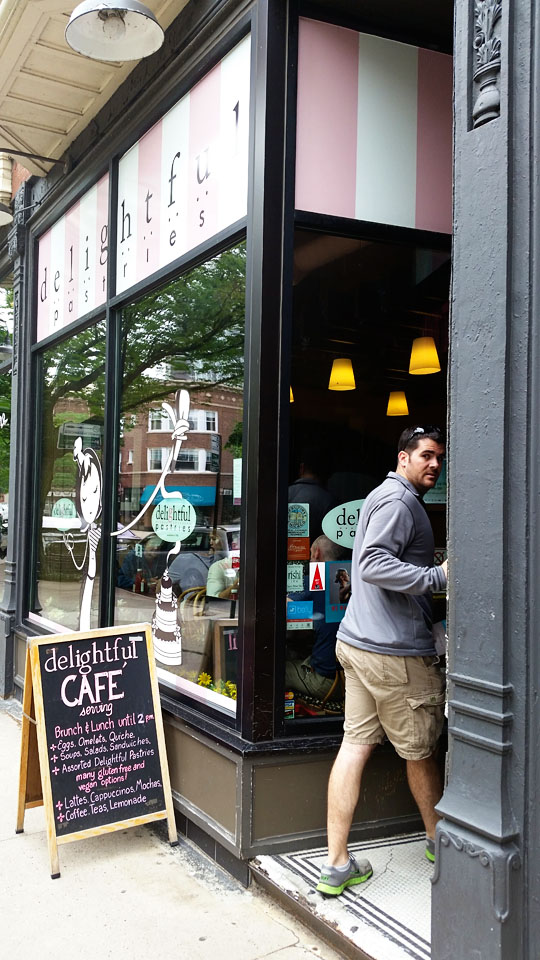 The inside was tiny and we weren't given a place to sit…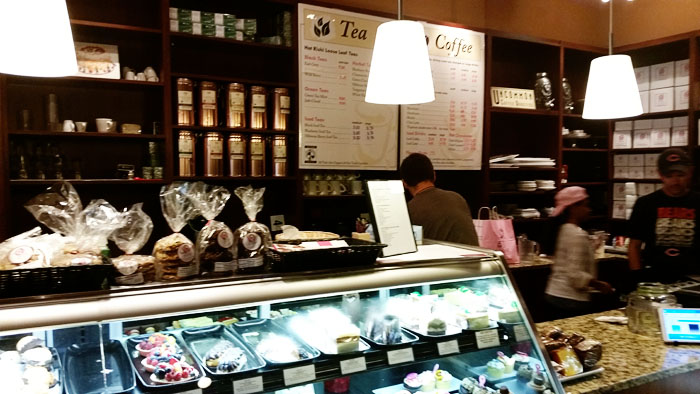 …but when I spotted the French macarons…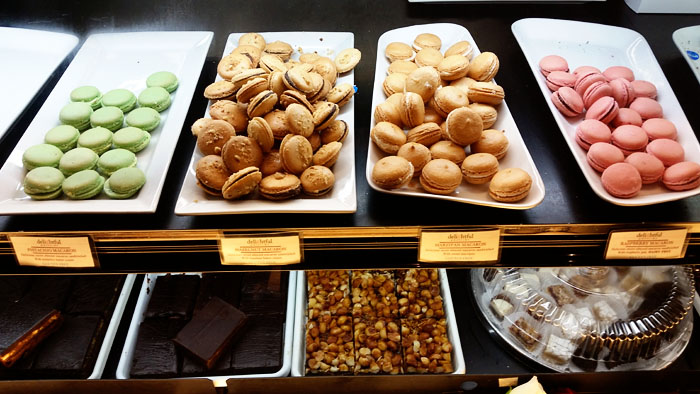 …and was handed a plate with not one, but TWO, along with two whole pierogis, I unbuttoned the top button of my jeans and did what I had to do.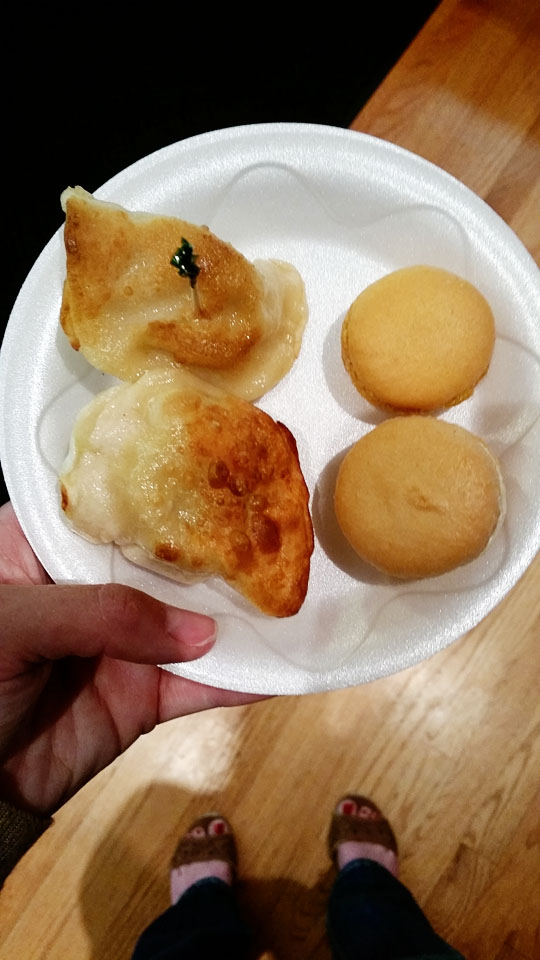 All of this went in my belly.
If I lived in Old Town, I'd probably build myself a fort in the corner of Delightful Pastries during the winter so I wouldn't have to leave.
So. Overall, I was quite happy with the tour. We received less than the Chinatown tour, but this tour was also less expensive. I do think they could use one more substantial food stop (even if they had to increase the ticket price) to supplement the fact that a couple of the stops were ones that already would've provided the same samples to non-paying tourists.
But would I tour with Chicago Food Planet again? ABSOLUTELY. From their organization, to the informative booklets with maps and coupons, to their charismatic tour guides, they still provide some of the best tours I've ever participated in.
Next time you're in Chicago, be sure to check them out!
It's a fantastic way to eat the city.
Oh, and here is everything I've ever written about Chicago.
Good to Know:
Chicago Food Planet will send you all of the pertinent information — directions, parking, what to wear, etc. — when you book.
Tours are ever-evolving — if you take the Gold Coast & Old Town tour, there's no guarantee it will be exactly the same one I did. But I'm pretty confident in saying that it will be amazing.
I honestly can't wait to try another Chicago Food Planet tour!
My tour was provided by Chicago Food Planet, but rest assured that all opinions were entirely my own.