On Making Good Choices: When NOT To Buy A House.
Pay attention for a second, because I'm about to get real.
Last weekend one of Justin's troops from our last duty station stopped by for a visit while traveling up the coast. He's a young, intelligent, nice-looking guy with loads of potential for his future career, whether it be with the Air Force or as a civilian. He —
Wait. I have to explain something to you first.
Now that I'm an old person, I've developed a "bit" I like to use with the young'ns. You know, my schtick. The catchphrase that they'll remember me for long after they've forgotten what I look like or how they knew me. It started last spring when my dear friend's daughter was heading off to prom. She's always been an amazing girl — wicked smart and funny and full of lovable quirks that remind me of her mother. She's not the type to make bad decisions, but something about seeing her wearing a sparkling long dress and makeup for the first time — looking not like her cute, self-conscious self but like a woman about to get out after the world — I couldn't help but shout as she headed out the door,
"Have lots of fun! And… and make good choices!"
I heard her laugh before the door closed behind her, and I knew. If a bad choice presented itself to her that night, she'd at least think about my parting shout before exercising her autonomy in some annoyingly teenage way. And the truth is, that's the most we can hope for the people we care about.
So this guy Justin used to work with — he's also not the type who needs to be told to make good choices. For someone his age, he's unusually adept at assessing a situation and making fact-based decisions. What's more, he's come incredibly far in the way he carries himself from the shockingly quiet, awkward kid I first met several years ago. And he knows this about himself. So when we sat down over beers and he told us his next step was buying a house, my first reaction was, of course, "Wow! That's amazing! Congratulations!"
But then he looked a little uncomfortable and fidgeted in his chair. "Well… I've been looking into it and I realize how little I actually know about the home-buying process."
Now. I recognize an advice-giving window of opportunity when I see one. Even when there isn't one. I live for this stuff.
So I shot Justin my very best "I've got this" look and launched into a speech about the pros and cons of using a realtor (almost always a plus when buying a house, though maybe not so much when selling one), what qualities he should probably look for since re-sale is always a concern for military buyers, and what kinds of things he should be financially prepared for because when it comes to owning a house, you can't just call your property manager when the air conditioner decides to crap out during the middle of a humid, North Carolina summer. And throughout my brilliant soliloquy, he started to look more and more uncomfortable. And as he did, it occurred to me — he'd said step. He hadn't said buying a house was his next "goal," but step. When I finished, he said, "Wow. I guess I didn't realize how little I know about buying a house."
"Don't get me wrong," I said. "It's totally worth it if your goal is to be a home owner."
He laughed nervously.
"Well… why do you want to buy a house?"
"Honestly? Because I'm tired of sharing a wall with my neighbors."
And this, m'dears, is what we call a "slap-yo'-forehead" moment.
Justin and I exchanged a glance. "You do know you can just rent a single-family home, right?" Justin asked. Of course he did. But home ownership is so ingrained in the minds of young people as the next natural step in the "growing up" process, that it didn't occur to him that he could choose to not buy a house.
"It's just that I kind of like doing projects around my townhouse, and it might be nice to do them for myself rather than for someone else," he explained. Valid point.
"But the other difference is," Justin interjected, "it's not as fun when the projects have to be done. When there's something to do every weekend." He shot me a sidelong glance.
"What he means to say," I laughed, "is that it's not as fun when your wife is always nagging you to work on the next project!"
We all laughed at that, but here's the thing — home ownership can be stressful on a relationship. Especially if one partner is a relentlessly ambitious perfectionist (*cough*me*cough*) and the other prefers to take a more lackadaisical approach to getting 'er done (*cough*Justin*cough*). And while the closest I've probably come to airing our dirty laundry on Domestiphobia is when I literally aired our dirty laundry on my Facebook page a couple of weeks ago (which, by the way, is my most popular Facebook post this month, you voyeurs) —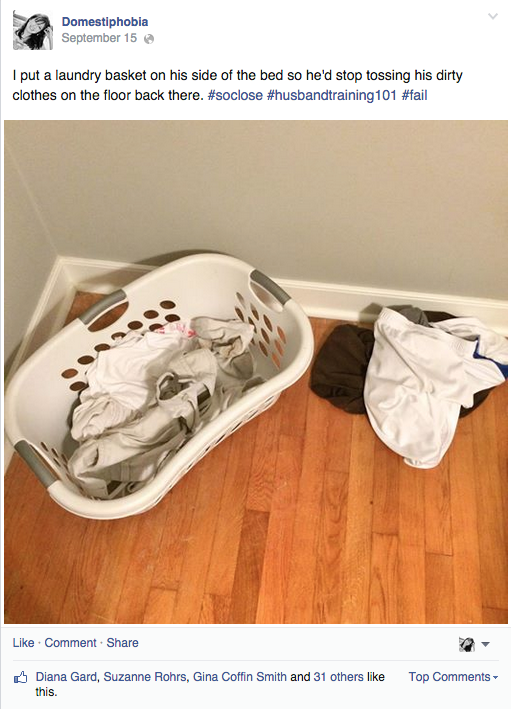 I'm not going to lie to you and say that there's never been any strain while dealing with having our kitchen torn out for months, or creative differences in design decisions, or the fact that I want it all done now so we can relax, and Justin just plain wants to relax. I mean, the guy works hard. Yet I'm the kind of person who, above most else, values being heard. And Justin values not being told suggestively motivated about what to do. What I see as discussion, he interprets as orders. And that can be problematic when we're supposed to be partners.
So my point is this:
If it's not a personal goal of yours — if you're not looking at it from a sentimental or an investment perspective — if you don't enjoy manual labor, thankless upkeep, and the idea of throwing buckets of money into something that may or may not be worth it in the end, don't have children.
I mean a house. Don't buy a house.
As smart as he is, our friend hadn't really thought about everything that goes into home ownership. Often it literally stakes claim to your blood, sweat, and tears. Sometimes all at once.
So why do we do it?
Because.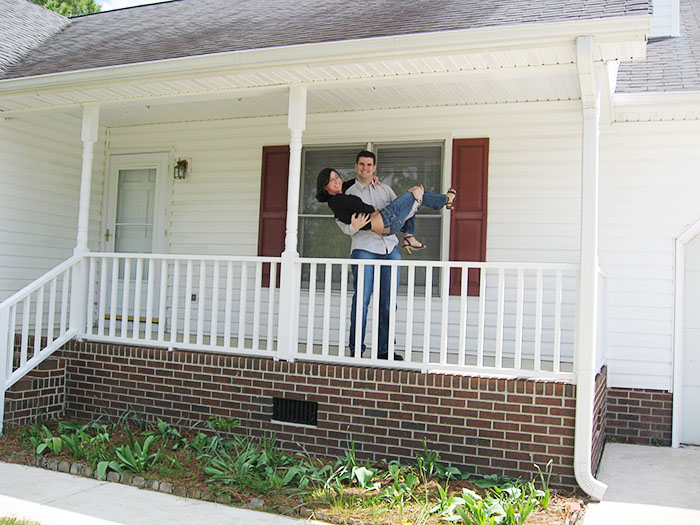 First-time buyers of a LOT of work and a weed bed, circa 2007. Oh, the naivety.
The sense of achievement is the highest of highs.
What's holding you back from buying a house? Or, if you own one, do you regret it?