I Prep For Travel With Tagliarelle And Truffle Butter. You?
Okay. It's quite possible that I didn't have a post for you yesterday because this: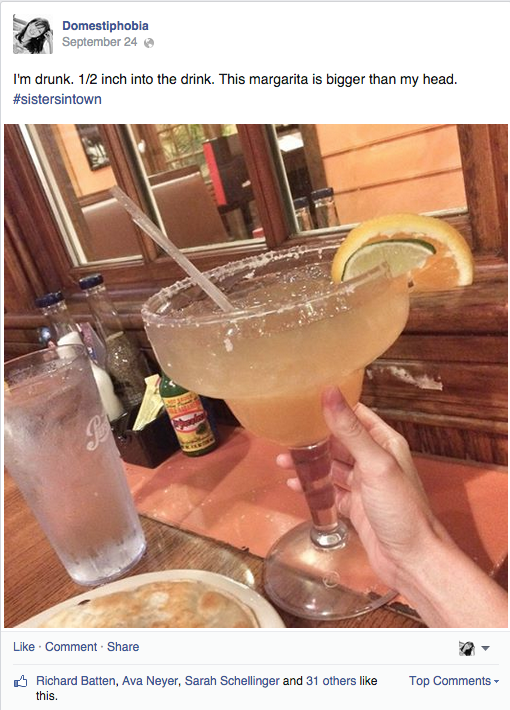 And listen. I am not that girl who drinks a margarita that's bigger than my face and then attempts to scan old-school embarrassing pictures of my little sister to post online until someone takes my touchpad away and then, after puking in the bathroom, wanders down the hallway in search of said touchpad while my sister asks, "Hey? Where are your pants?"
I am not that girl.
Except two nights ago I was. I thought that the whole tequila-inspired disappearing pants phenomenon was fabricated by movies, but I can now not-so-proudly report that it's fact. And I think this is a clear sign that I just need to go ahead and turn 32 already because 31 was like a replay of 21 except with way worse hangovers after way less tequila.
I think this may have been a release from all of the stress in trying to plan this Italy trip. I know. #Firstworldproblems.
But I've got some exciting reviews lined up in Florence and Siena and a pretty awesome giveaway which I'll announce first to my exclusive update email subscribers. This is different from emails you get whenever I publish a new post, so if you're not subscribed to get these emails I send once or twice a month, you might want to do that now:
But before Siena and Florence, I've got that veritable binge-fest that will be my Mediterranean Cooking Experience in Sorrento. To say I'm excited about this trip is the understatement of the century, and though I don't feel the least bit prepared when it comes to language barriers and phone data plans and currency exchange rates, I'm super prepared for the practical stuff like acquiring plenty of loose skirts and pants in stretchy materials and acclimating my stomach to rich, carb-filled pasta dishes.
Last week I made kale salad for dinner. I felt a little bad after watching Justin choke it down because c'mon — the man strips my floors — and so the next night I made this:
Truffle Butter Tagliarelle
The recipe is courtesy of Ina Garten, so you know it's good (if not at all calorie-conscious).
I managed to find some white truffle butter at my local Fresh Market, but I was a little bummed to see "natural flavors" in the ingredients list.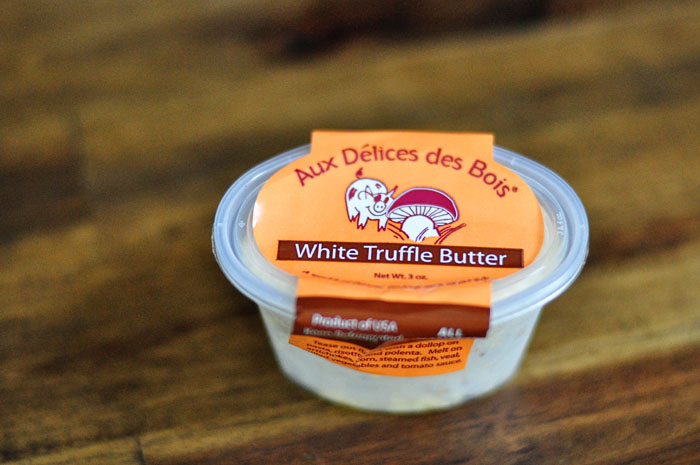 I bet if you could find real truffle butter, this pasta would be downright orgasmic.
To make this, you will need:
1 (8.82 oz.) package tagliarelle pasta (I splurged on the Cipriani brand because Ina suggested it and I like it, but you could use any wide egg pasta.)
1/2 cup heavy cream
3 oz. white truffle butter
Kosher salt
Fresh ground black pepper
3 Tbsp. chopped chives
3 oz. Parmesan, shaved thin with a veggie peeler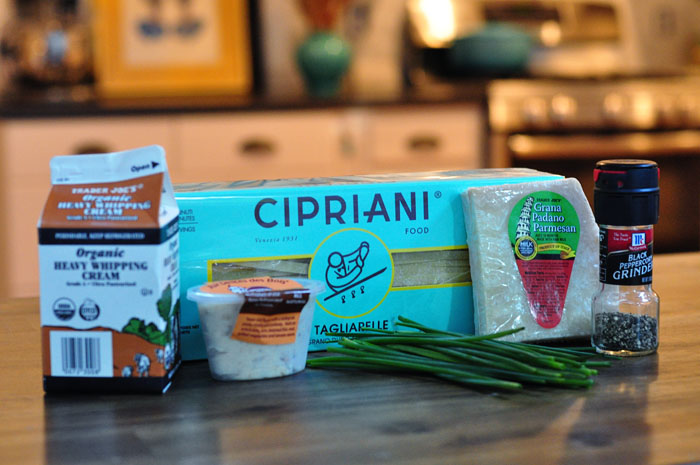 It's officially getting too dark too early for proper dinner photography.
Directions:
1. Bring a large pot of salted water to boil. While that's happening, go ahead and chop your chives and shave up that Parm. It'll be nice and thin and delicate and fancy.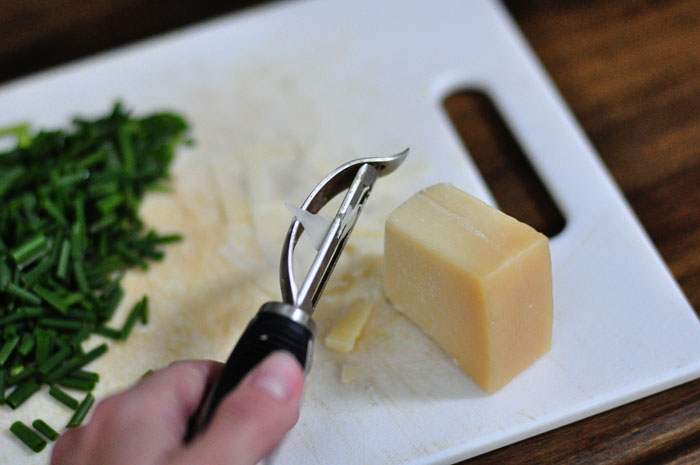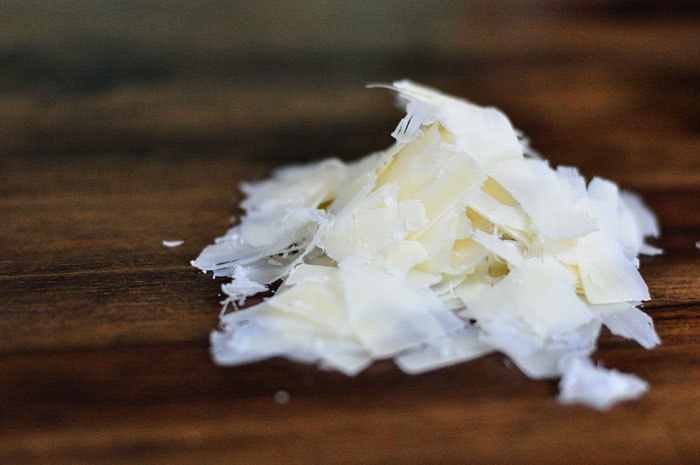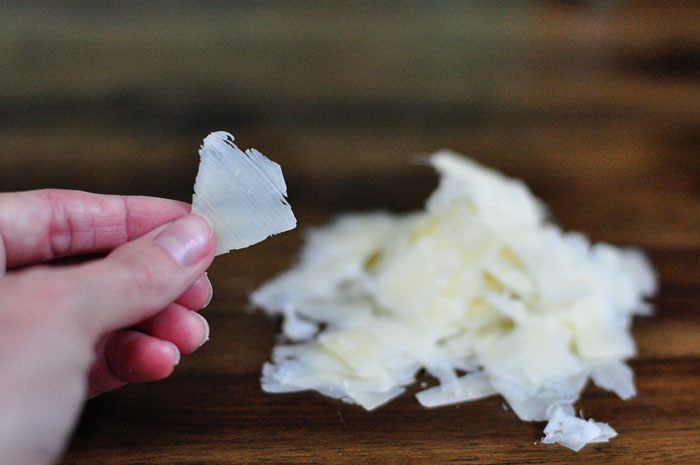 2. When the garnishes are all prepped, bring the 1/2 cup of heavy cream to a simmer in a large saute pan over medium heat.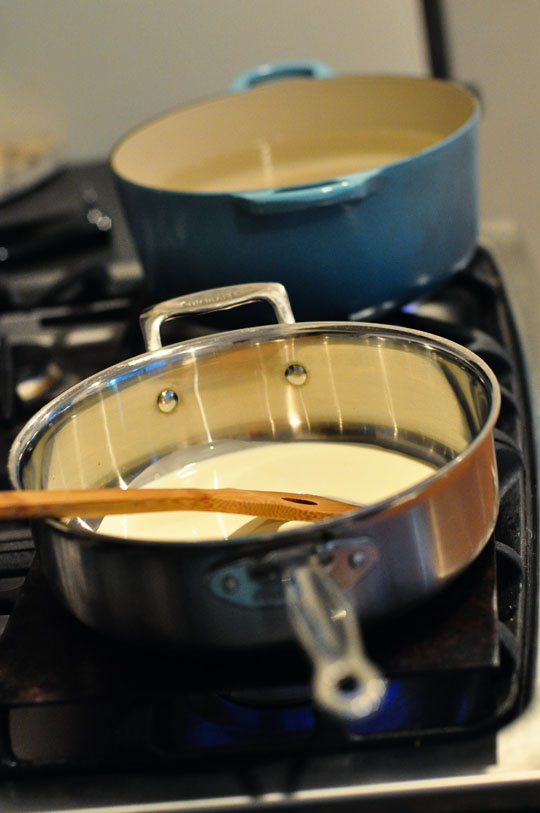 3. Once the cream is simmering, lower the heat to very low and add the truffle butter, 1 tsp. of salt, 1/2 tsp. of pepper. Swirl it around until the truffle butter melts. Keep it warm over very low heat.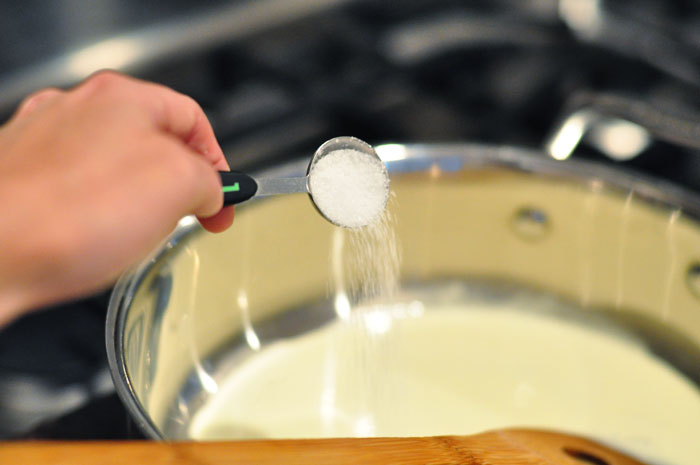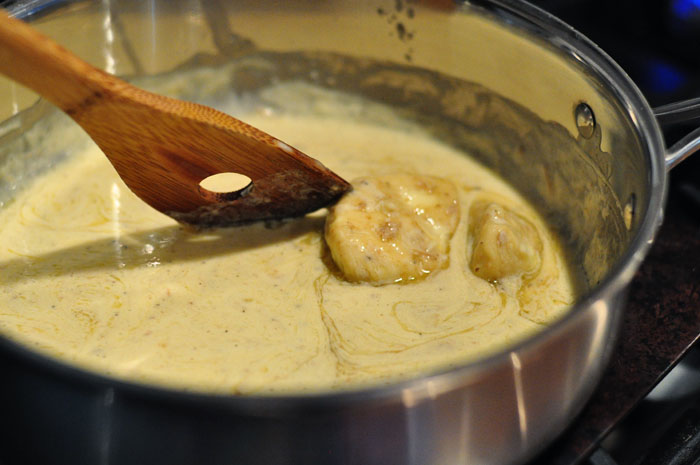 4. Meanwhile, open your tagliarelle and, if you splurged on the Cipriani, take a moment to appreciate the fanciness of paper-wrapped pasta.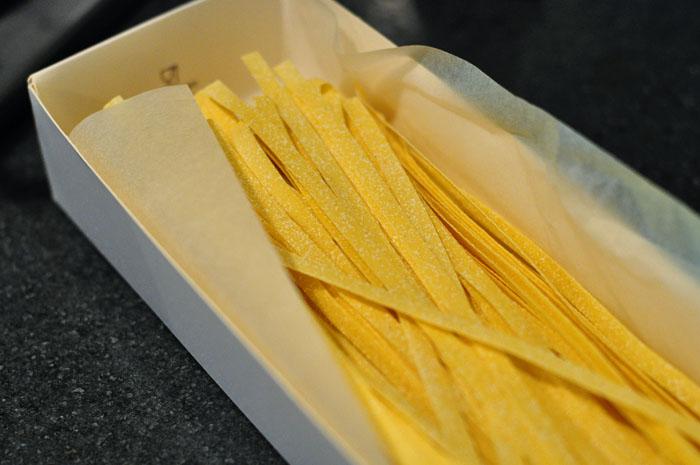 5. Toss it into your boiling water and cook for 2-3 minutes until al dente. (Other dried pastas will likely take longer to cook, so follow the package directions for whatever you bought.) RESERVE about 1/2 cup of the pasta water!
Mine got a little over-cooked, which is a travesty in Italy. It's a good thing I'm going to take some cooking classes while I'm there.
6. When the pasta is ready, RESERVE about 1/2 cup of the pasta water, drain the pasta. and add it to the cream sauce.
7. Stir it around until everything is incorporated and coated with sauce. If it's too thick, add some of that reserved pasta water until it's a nice, creamy consistency.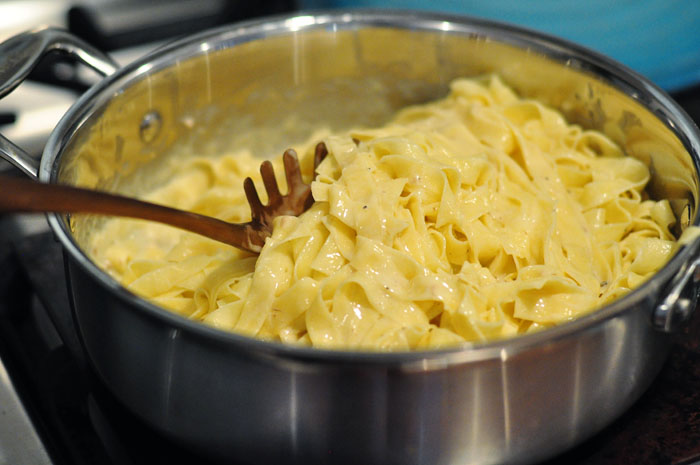 8. Top it off with the Parmesan and chives, and indulge. For real.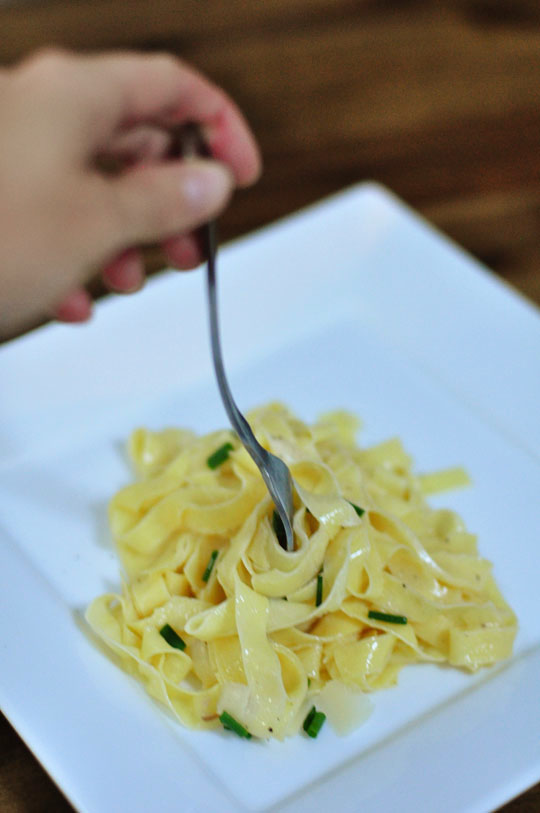 This 10-minute pasta dish is all about self love. Guilt-free.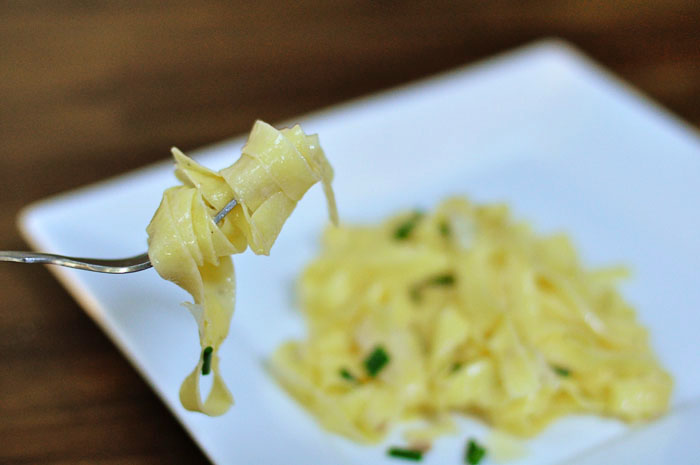 Because we're lucky enough to live in a world with internet and electricity and rich, creamy pasta.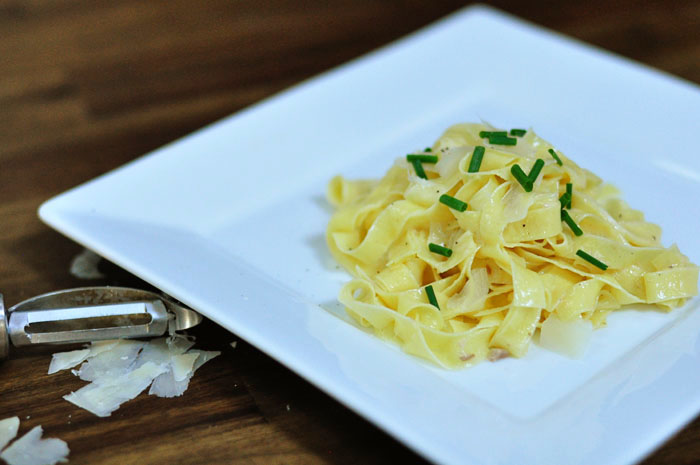 And we shouldn't take that for granted.
Not one.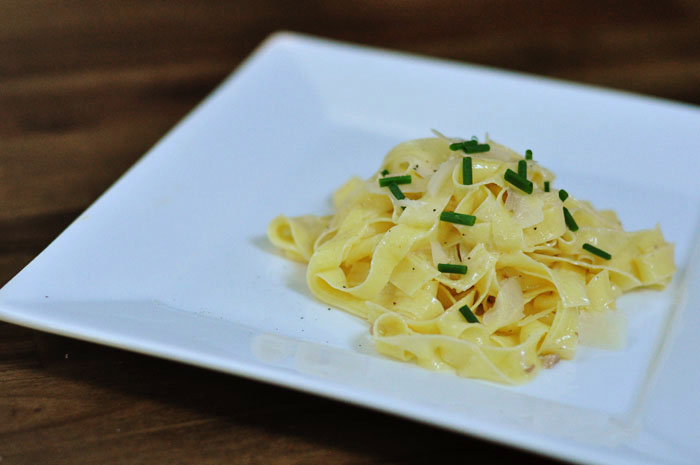 Little.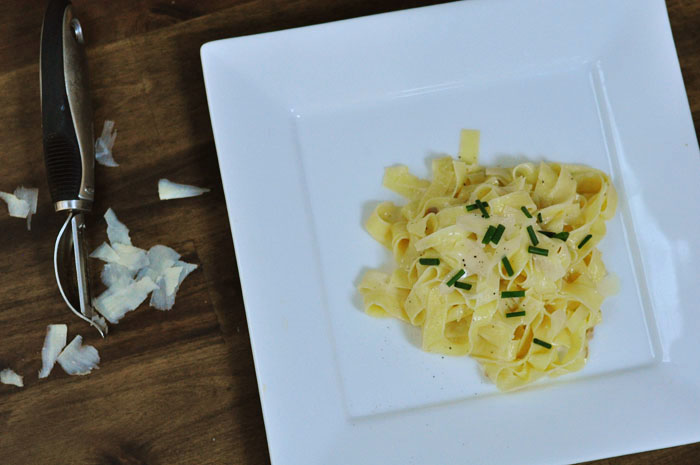 Bit.