How To Learn The True Capacity Of Your Weak, American Stomach. (TIK Tour Day 3)

Chef Carmen's menu plan for our third day of The International Kitchen's Women-Only Week Mediterranean Culinary Tour was ambitious, to say the least. I mean, we knew the tour would involve cooking, but after the previous day's 4-course extravaganza, we started out slightly exhausted — not to mention full. But this was Day 3 of no luggage for Alaina and me, so the truth is that we were a bit relieved we weren't leaving the hotel.
The trip to Pompeii that had originally been arranged for Day 3 had to be rescheduled, so cook, we did.
After a leisurely breakfast and several (dozen) cappuccinos, Chef Carmen revealed what we'd be making that morning:
Caprese Style Ravioli
Braciola (Rolled Steak stuffed with Parsley, Raisins, Pine Nuts, & Parmesan)
Stuffed Artichokes
Fried Artichoke Appetizer "Sandwiches"
Panna Cotta with Strawberry Coulis
And that was just for lunch.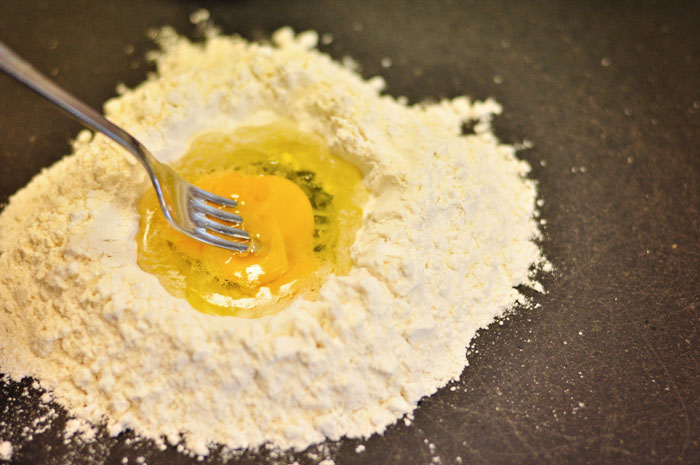 We got the biggest mess out-of-the-way up front — ravioli.
Next, we moved on to the artichokes.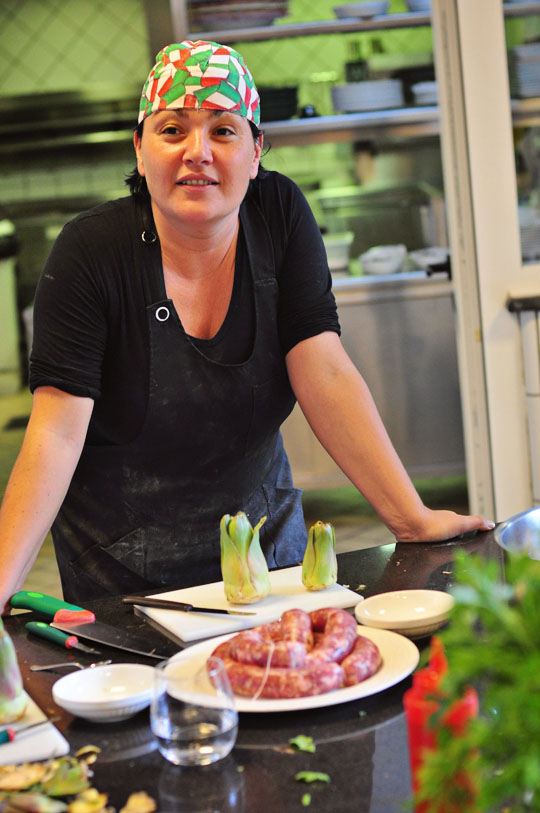 I think we would have been satisfied to stop there, but this was Italy. Let there be meat! And panna cotta!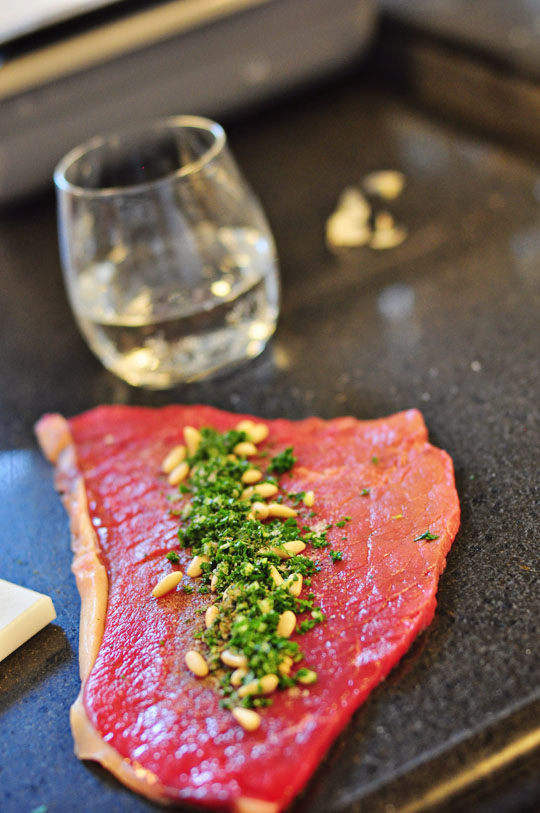 Finally, we were ready for lunch. In true Italian style, we started with some prosecco to work up our appetites (as though all of that cooking hadn't done the trick).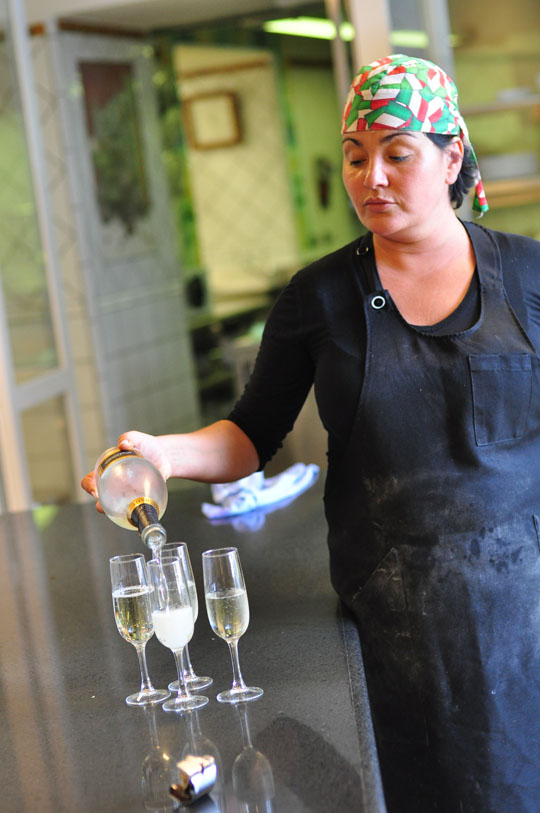 The early autumn weather was gorgeous, so we dined on the hotel's beautiful terrace.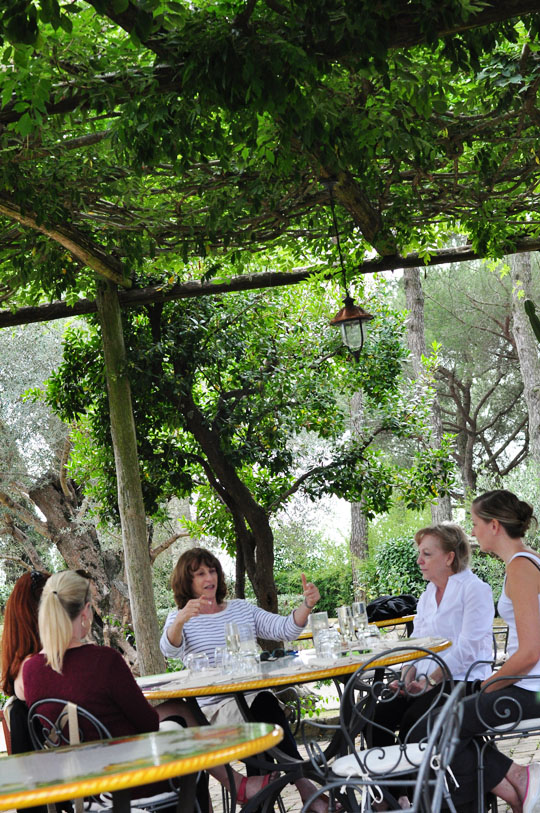 We didn't manage to eat everything we'd made that morning, but we did make a good dent.
First, with the ravioli: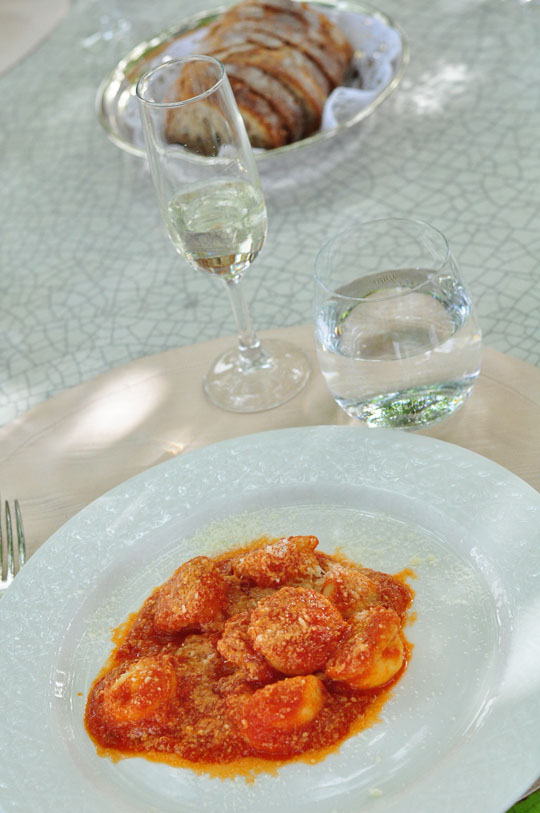 Then, the braciola: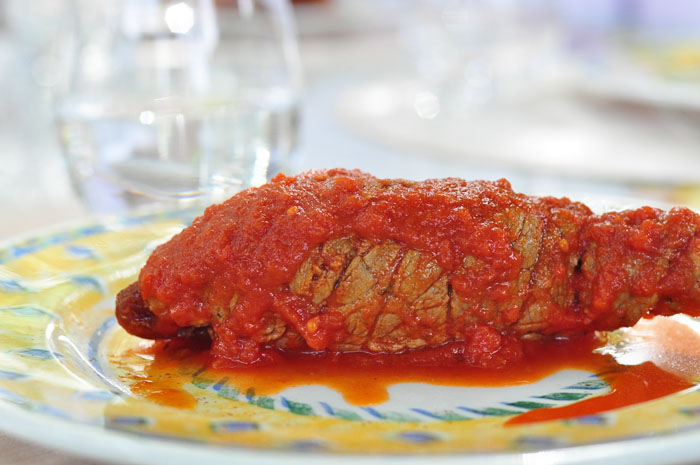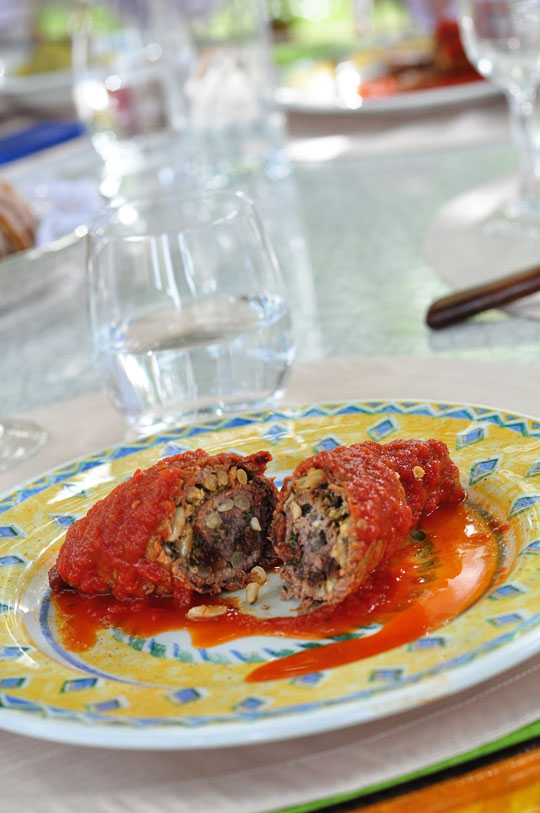 Finally, the stuffed artichokes: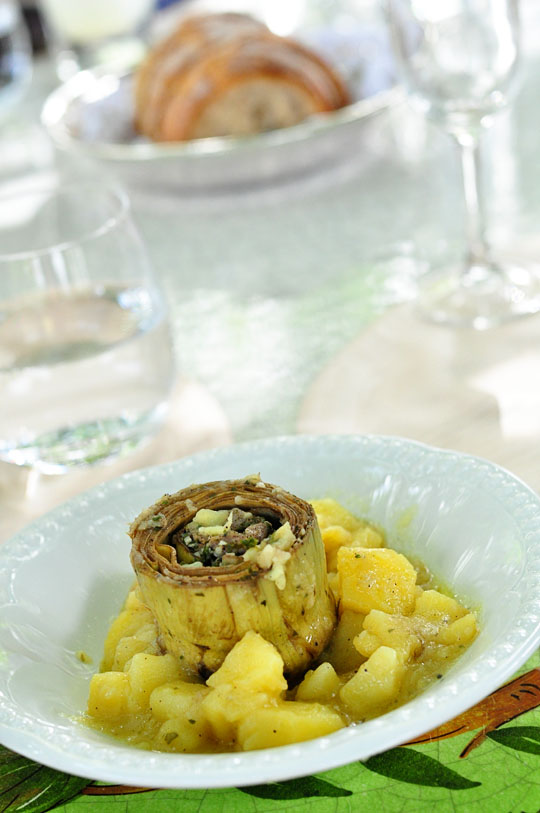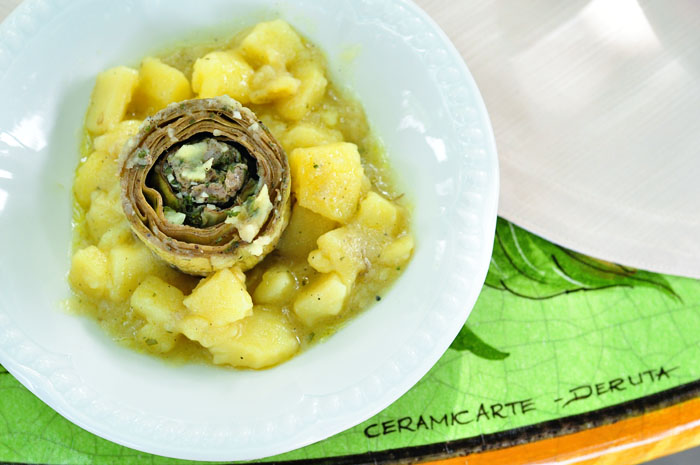 After stuffing ourselves with three delicious entrees, a few of us walked/rolled our food babies down into the village of Sant'Agata to explore.
Then we had a few hours to relax before it was time to head back to the kitchen, which was nice and cozy while the pizza oven preheated.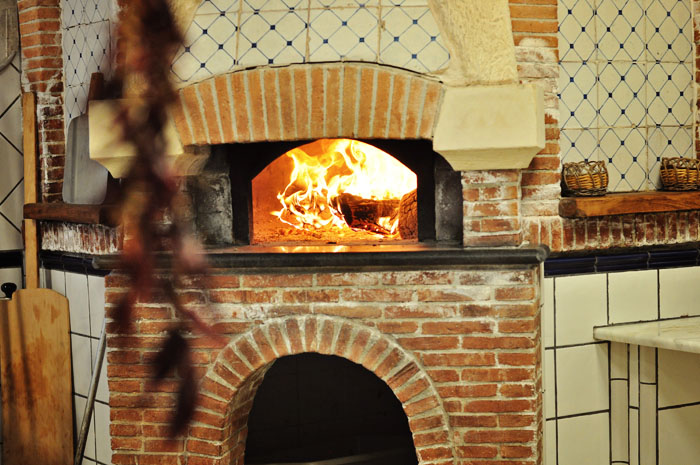 Now. I'm not sure whether pizza dough is just plain annoying to make or if we were too tired and full to deal with it or a little bit of both, but not-a-one of us was adept at the skill.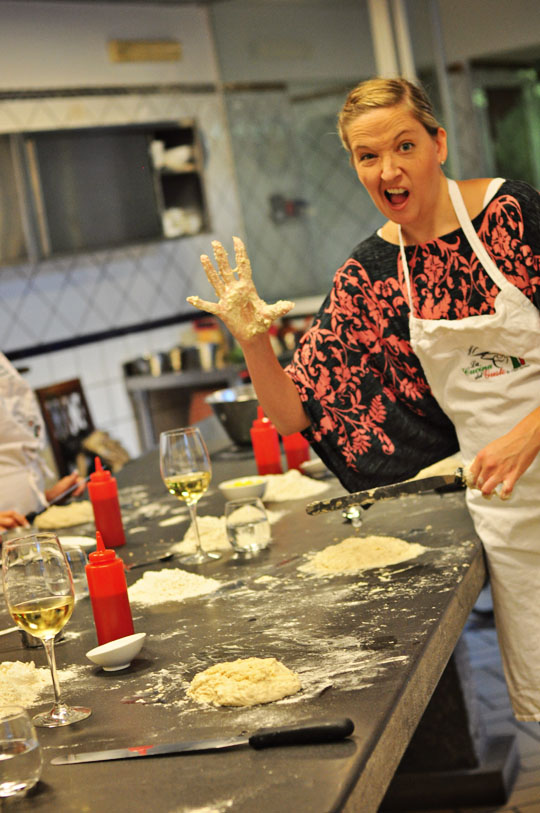 Alaina is probably going to kill me for this photo. It was really nice knowing you guys.
But it doesn't mean we didn't have fun trying!
While our dough rested, we snacked on our fried artichoke appetizer from that morning.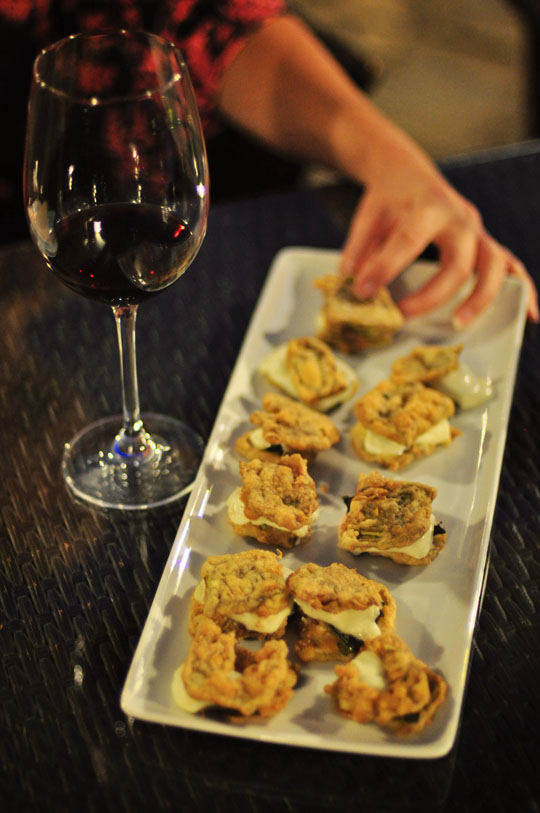 You know — because it had been at least two hours since we'd last eaten.
In the kitchen, Chef Carmen and  Lina set out a medley of toppings from which to choose, and we set to work on our masterpieces while the chefs worked their magic with that pizza oven:
I was way too stuffed to try them all, but my favorite was Lina's pizza margherita.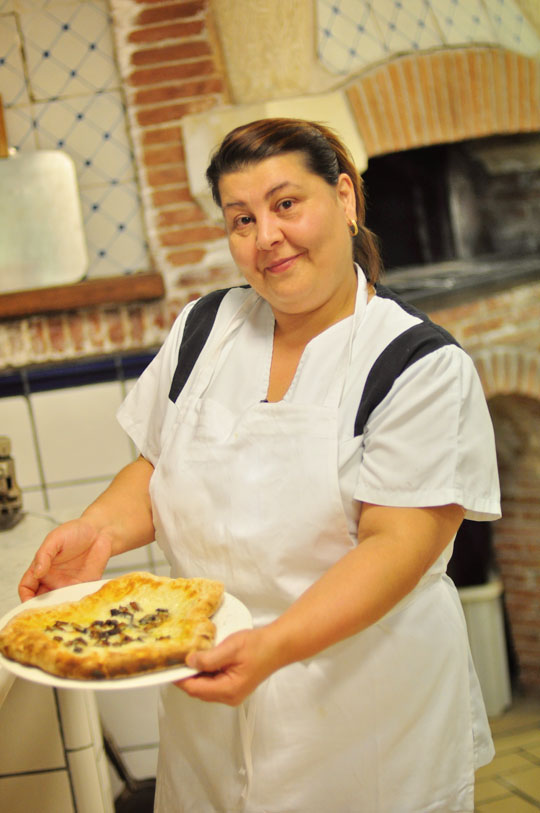 I actually think she's holding someone else's pizza here.
Alaina's pizza was quite tasty as well!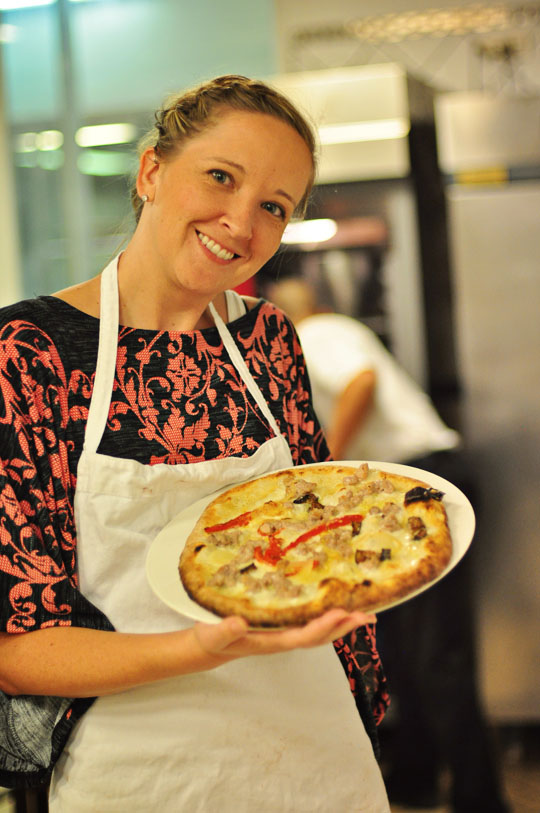 And hopefully, since she looks so adorable in this picture, she'll forgive me for the other.
The thing I learned that day about Italy, is that Italians — at least firey brunette Italian chefs named Carmen — don't fully understand the rather limited American stomach capacity. Since we're not used to eating real food, our bodies simply aren't accustomed to handling five entrees per day.
Oh, plus dessert. (We saved our panna cotta for another night.)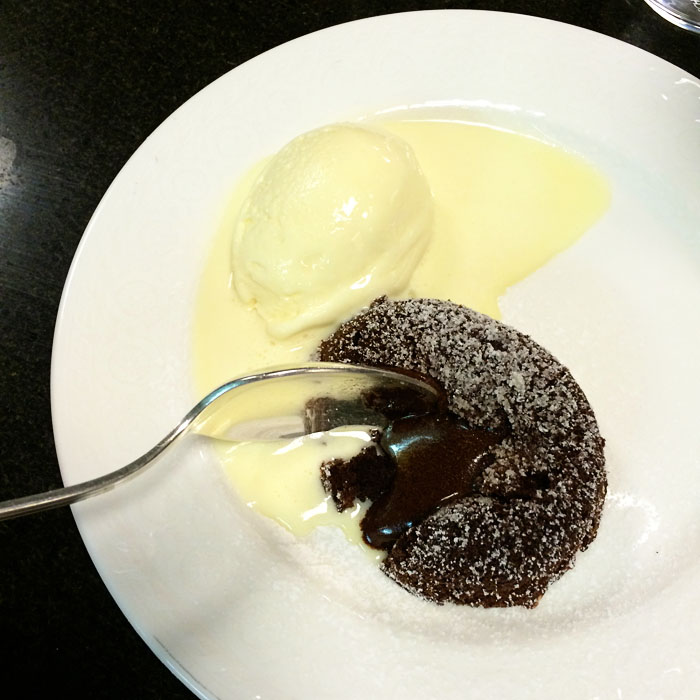 Oh. Plus dessert.
But you know what?
This is a skill I'm willing to learn.
Good to Know:
If your luggage doesn't happen to be lost, bring comfortable clothes and shoes for the cooking classes.
Chef Carmen selects the dishes based on skill level and available seasonal ingredients. She's flexible to suggestions.
Be prepared to COOK! There's plenty of relaxing time on the tour, but the cooking is no joke. You will learn, and you will love it.
Disclosure: My Women's Only Week Culinary Vacation was provided for review by The International Kitchen. Rest assured, though, that all opinions — as always — are entirely my own.