How To Tile A Backsplash For Less Than $200. BAM.
It seems odd to write about something like a backsplash right now. On one side of my life, serious things are happening. Friends are losing loved ones, job applications are pending, and people are leaving ignorant, condescending comments on my harassment piece, which was syndicated on The Huffington Post yesterday. (I'm talking to you, Thomas O'Duffy.) And these things take up valuable real estate in my consciousness.
Then on the other side of my life, there's this kitchen. This never ending time-and-money-suck of a kitchen.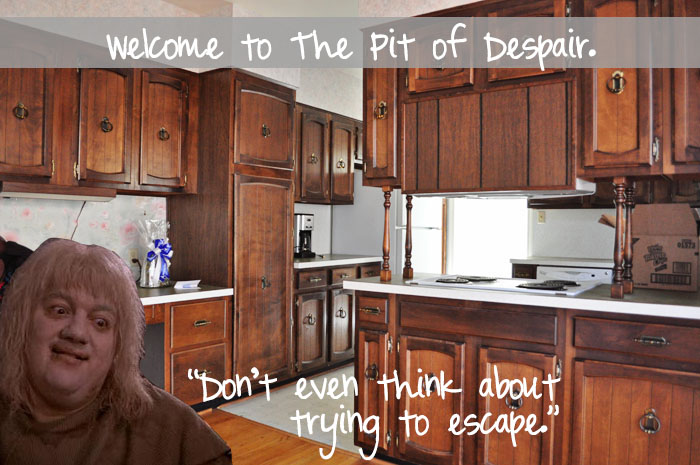 Remember her?
And while it seems trivial comparatively speaking, it's like this nagging mosquito buzzing around my ear, and I can't move on until I sufficiently KILL IT.
Or slap a backsplash on it.
Which, if you're subscribed to my newsletter, you already know is exactly what my phenomenal husband did over the past two weekends.
The fact that I will no longer be splattering grease onto raw drywall makes me happy beyond measure.
In case you've forgotten, here's what it looked like pre-splash: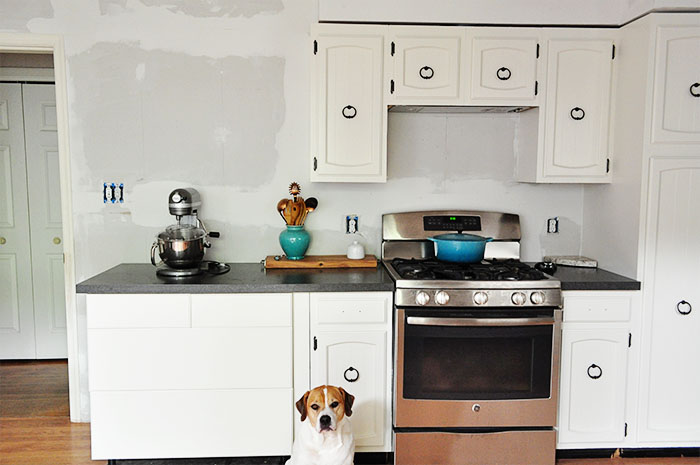 Notice something else a little different?
Last I showed you, Justin had added the beadboard around the soffits, and our decision to bring the cabinets to the ceiling was looking a little… questionable.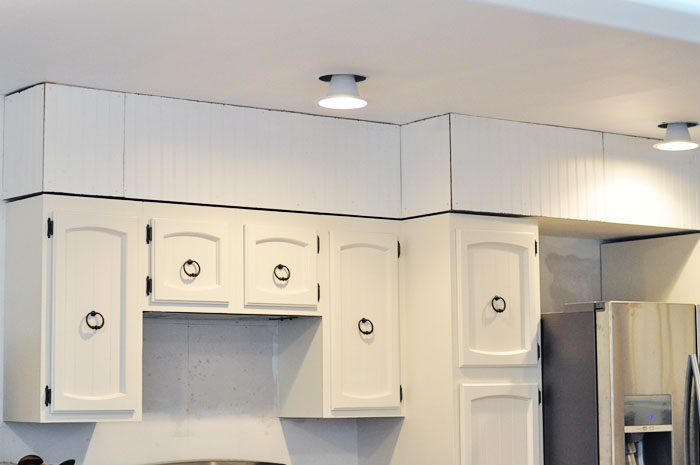 But since then, he added the crown!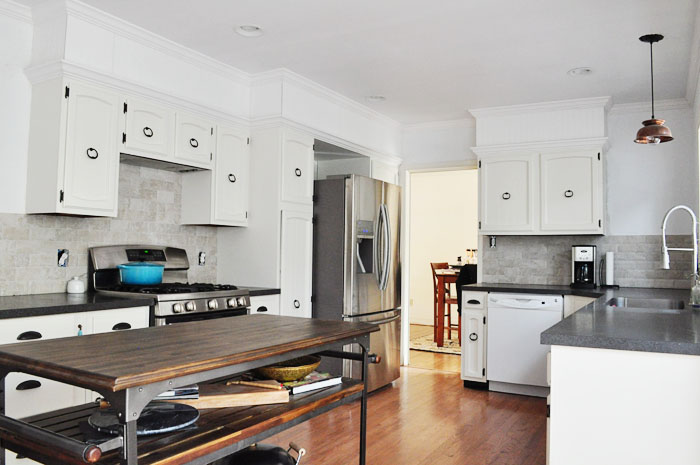 And once again, I'm a believer.
I still need to paint the beadboard and crown to match the cabinets, but this has made a world of difference in the finished look of the space.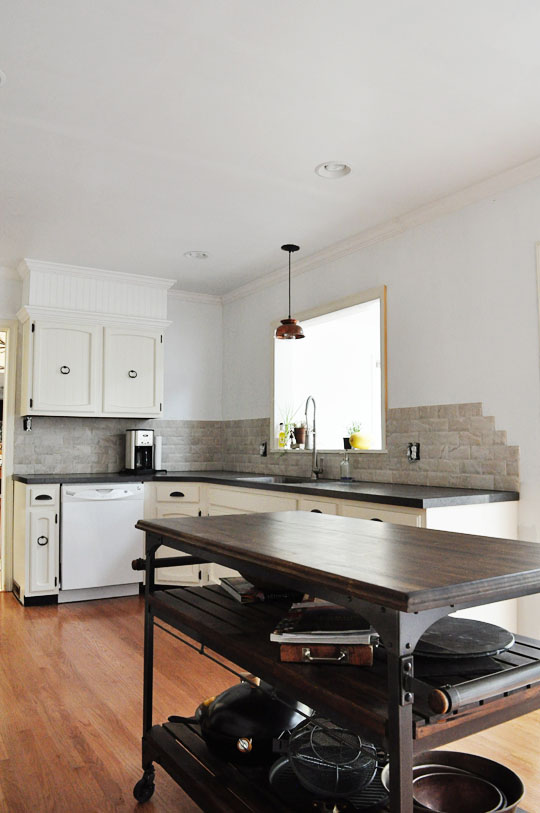 You might have noticed that we oh-so-cleverly "stepped" the two ends of the backsplash because I neglected to have the foresight of making sure the switch plate next to the door that goes into the hallway wouldn't be in the way. You can't have a switch plate halfway covering a backsplash — it just wouldn't work. So we made the executive decision of avoiding it completely, and then mirroring that look on the other side of the room.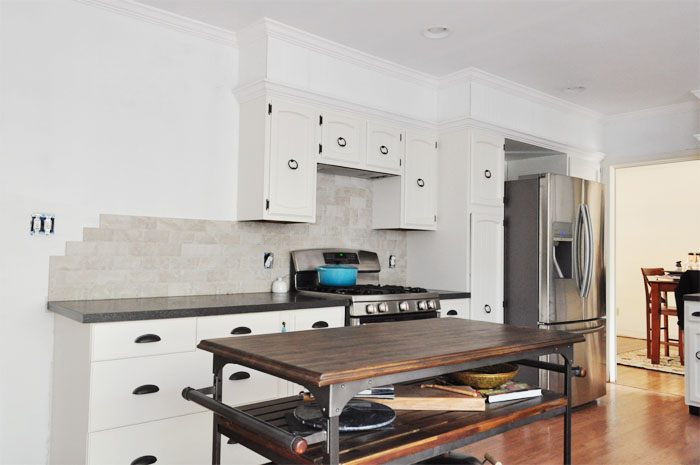 And in case you're wondering, no. My counters are not always this clean. We still need to seal and caulk the backsplash, so you can see through that doorway above that most items that belong in here are piled up on the dining room table.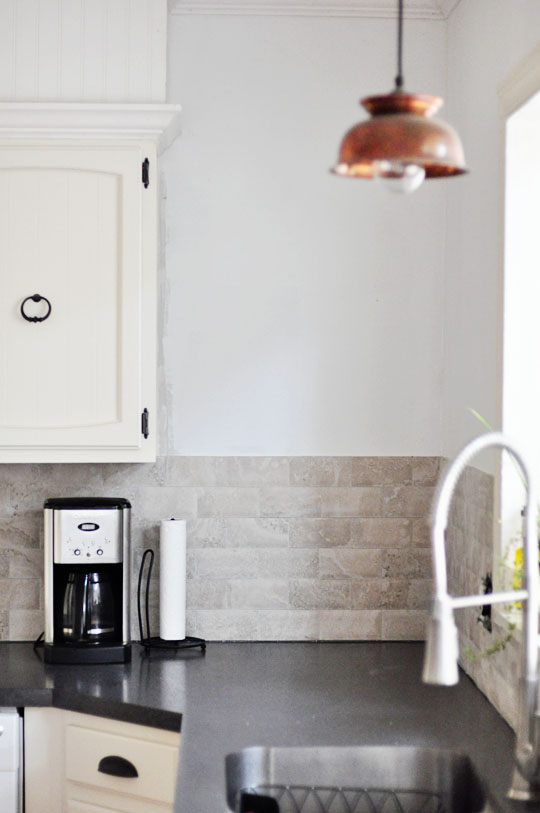 Also, note this coffee maker. Now that you've seen it, you will notice it on every commercial and television show from this point forward. Apparently Cuisinart has the market cornered on decent looking, affordable, stainless coffee makers.
But back to the tile. Isn't it puuuurty? We chose a porcelain tile that's made to look like travertine — Del Conca Classica Cream. The guy at Lowes actually told me it was travertine when I went back to buy it (it's deceiving because it says "travertine" on the box) and I thought I was getting a killer deal at $0.49 a piece, but on closer inspection, it really is porcelain. There are a few repeating patterns, which is a dead giveaway of a man-made product. I'm totally okay with that because it's not nearly as porous as travertine, which is a natural stone, and I'd spent $32 on a stone sealer which I now get to return. The other cool thing about these tiles is that they're "pillowed." They have a bit of a beveled edge all of the way around to make them a little more 3-dimensional.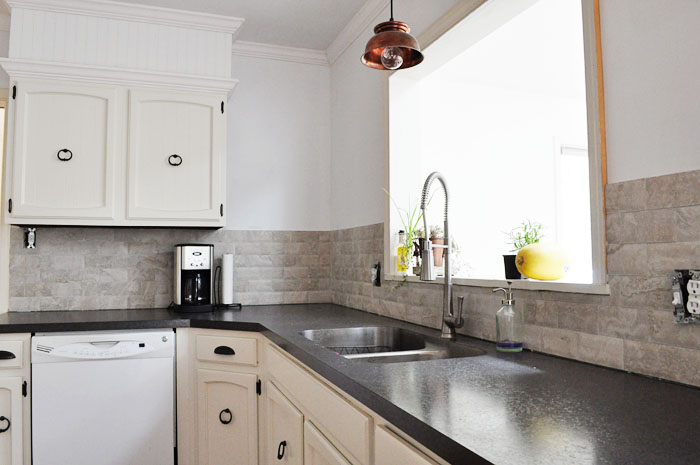 This particular tile didn't come with matching beveled edge pieces or pencil liners, which means we've left the raw edge exposed. (I can see your eyes twitching, Roxanne and Missy!) I could have ordered contrasting liners, but they easily might have added $100 to this project, and at this point we're working very hard to keep costs low. I've ordered caulk in a color that matches the grout, so once that arrives we'll be caulking along the edge of the tile to cover any gaps between it and the wall.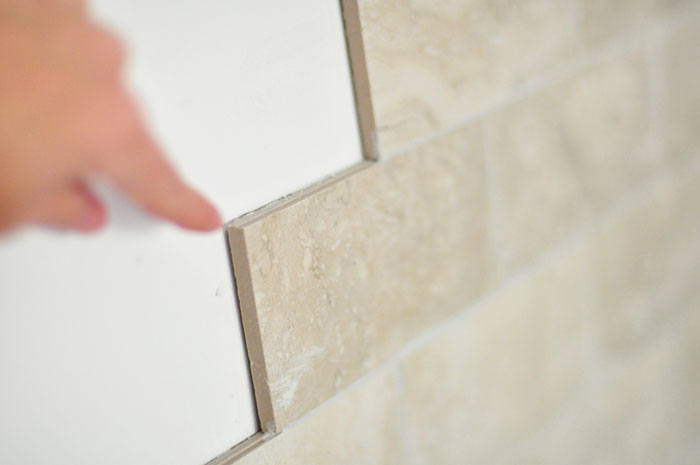 Caulk is also what goes between the backsplash and the counter: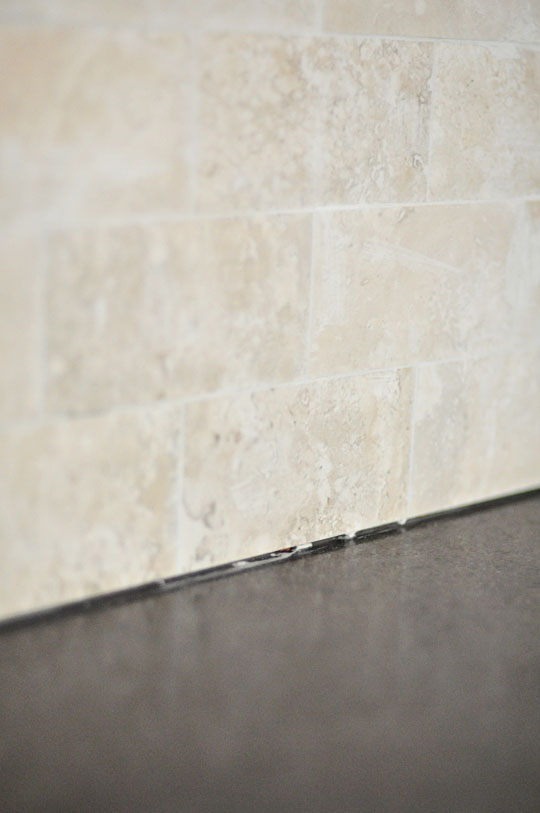 I've already written a super comprehensive tutorial on installing a tile backsplash, so check that out if you need more details. It's a bit labor-intensive, and we had to deal with yet another mess for a while: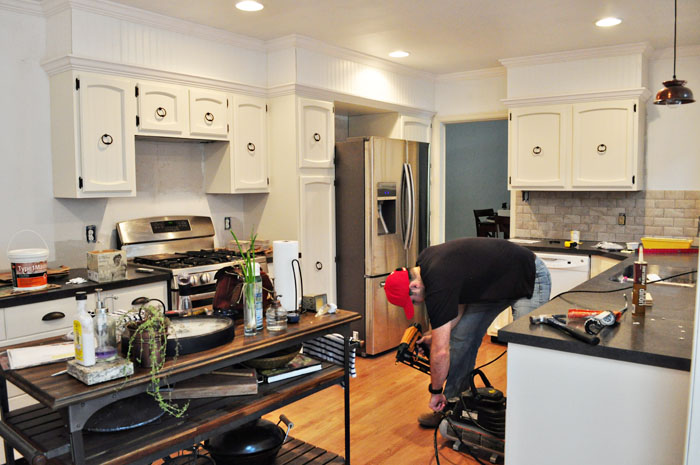 But it was nothing compared to this stage of yore: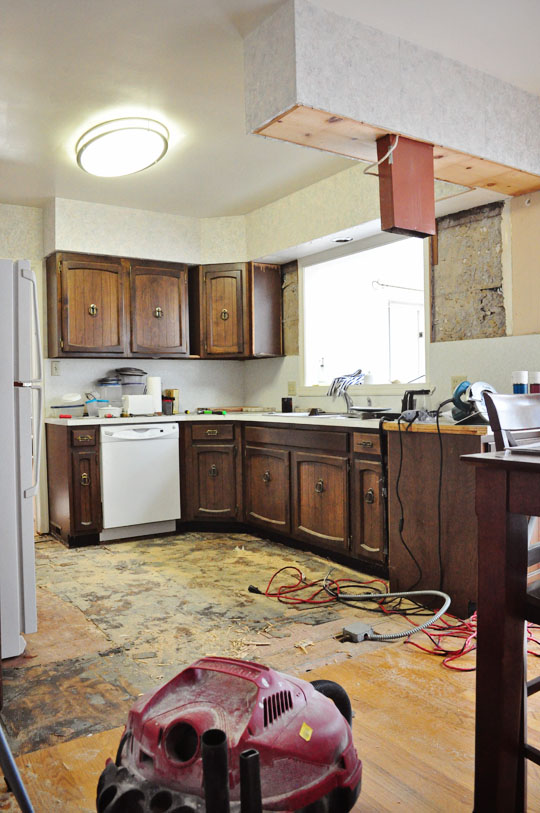 And for that, I am eternally grateful.
So how much did this little project set us back?
Tile: 300 tiles @ $0.49/ea. = $147.00
Grout: $9.98
Caulk: $14.98
Mastic: 2 @ $11.97/ea. = $23.94
10% Military Discount
= $176.31 TOTAL
Not too shabby! Of course, we already had the tile saw, trowel, grout float, etc. which can add a lot more to the cost of a project like this.
And here's where we stand: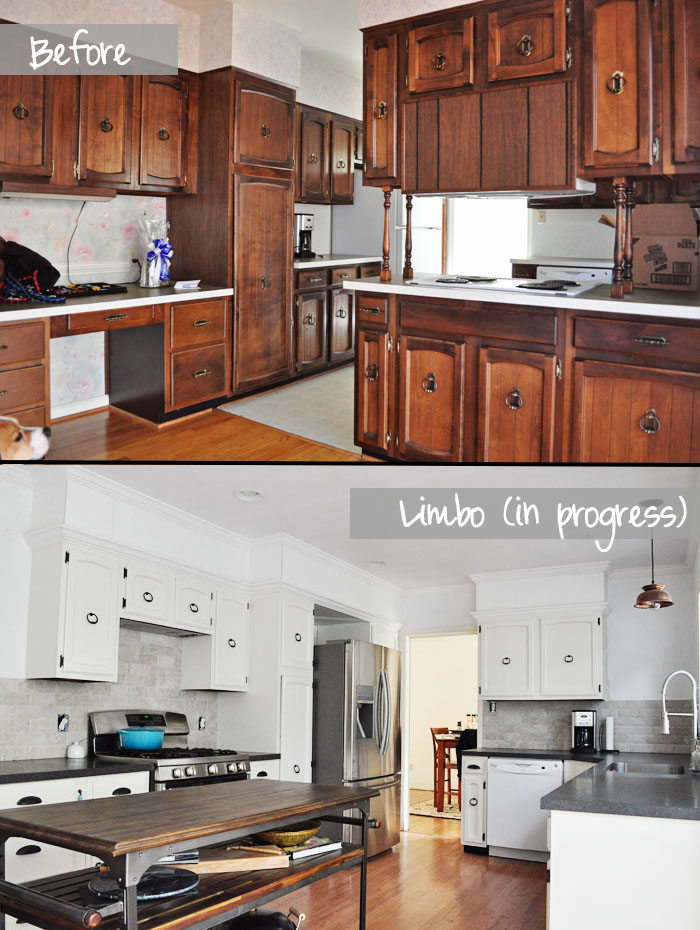 And here's what we have left to-do:
Caulk and seal tiles
Paint trim to match cabinets
Paint walls
Finish toe kicks
Add shelving
Install outlet extenders and switch plate covers
Install statement piece on this huge blank wall: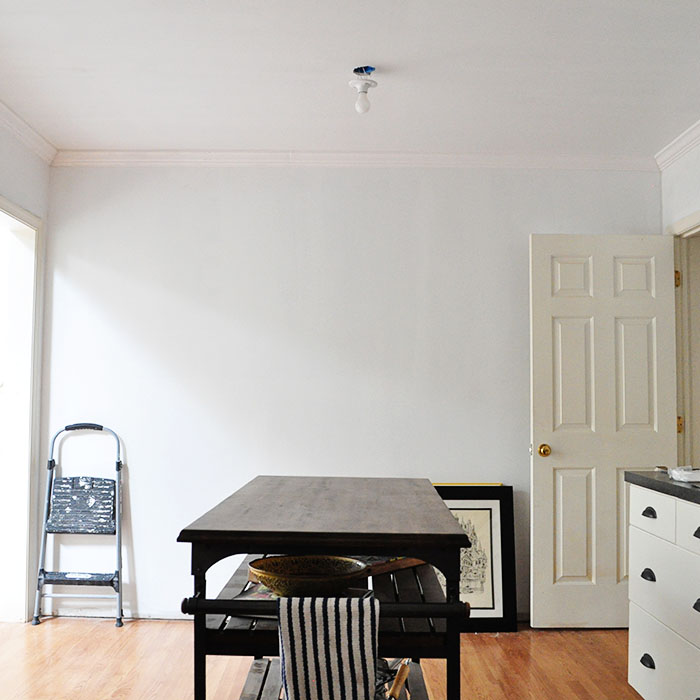 Hey. Everyone loves a good cliffhanger.