The Peens Of Pompeii (TIK Tour Day 4)

Our small group of women clustered in awe around the ancient cobblestone, undoubtedly placed there by the hands of a skilled slave laborer over 2,000 years ago, during a time in my mind's obviously skewed historical eye when I imagined people walked around barefoot wearing animal furs and clubbing sabre-toothed tigers for dinner.
This was so not the case.
At the archeological site of Pompeii, the uncovered remnants of colorful frescos covering crumbling stone walls told me the people of that time were skilled artists with an eye for natural beauty. Intricate mosaic tile entryways and fountained courtyards spoke of their taste for opulence and modern comforts. Sunken city streets lined with raised sidewalks and dotted with stepping-stones to allow dry crossing told me they were remarkably adept at city planning — except, of course, for their unfortunate lack of knowledge about plate tectonics.
Also, they liked to party.
Once located right along the shore of the Bay of Naples, Pompeii was, in its heyday, a bustling Roman port city full of eateries and shops and brothels catering to brawny sailors. Our enthusiastic tour guide shot us a knowing smile before pointing to a stone at our feet.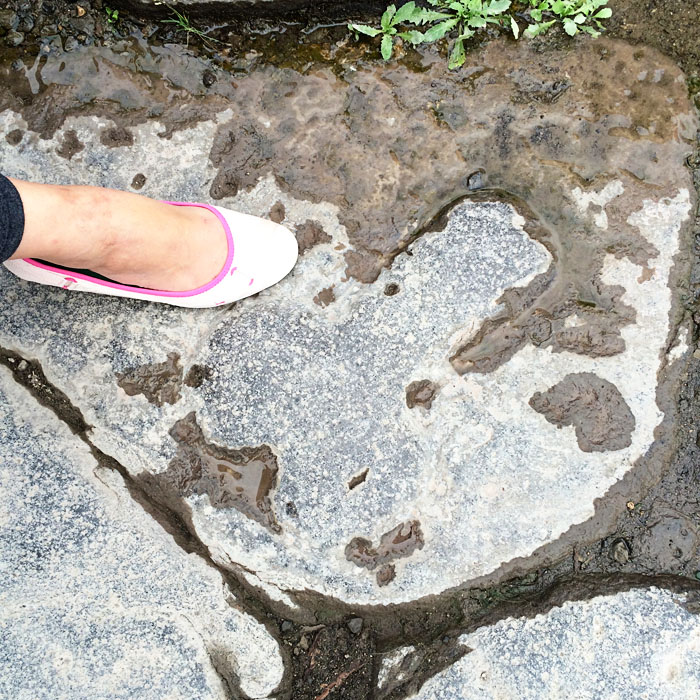 See it?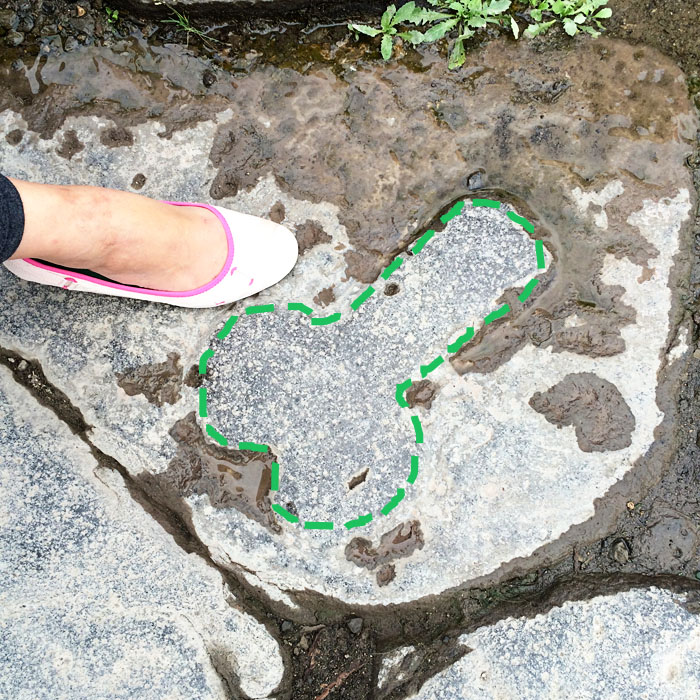 How about now?
"There were penises everywhere," she explained, while we stared at a carved penis relief in the stone. "They pointed — quite literally — the direction of the brothels."
Now I'll admit it — I did zero research before heading to Pompeii and in my mind, we'd be visiting a small ancient village that had been excavated hundreds upon hundreds of years after getting decimated by — and then preserved beneath — layers of ash and soot after Mount Vesuvius erupted in 79 AD. What I didn't expect was an entire city once filled with 11,000 inhabitants — one that's only been partially excavated — and the discovery of a debaucherous society of sex and slaves, the likes of which might send a flush straight to the cheeks of Ron Jeremy himself.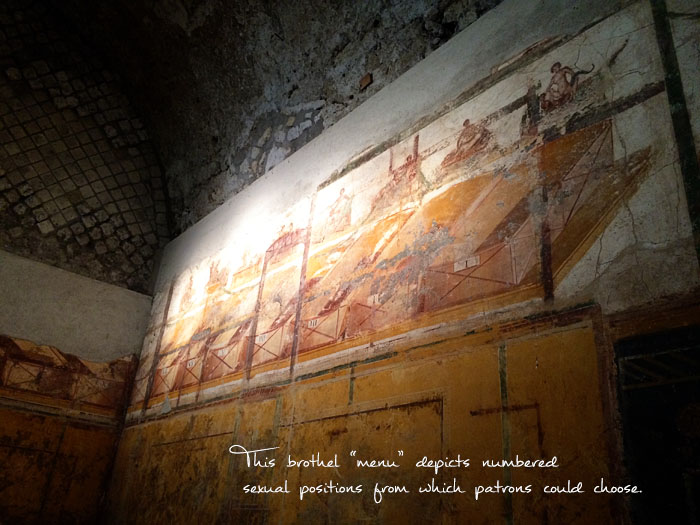 From high-end, luxurious bath houses to seedy back street brothels, lechery was apparently all the rage in those days, and there it remained frozen in time beneath 4-6 meters of ash and pumice while the rest of Roman society moved on to more modest times.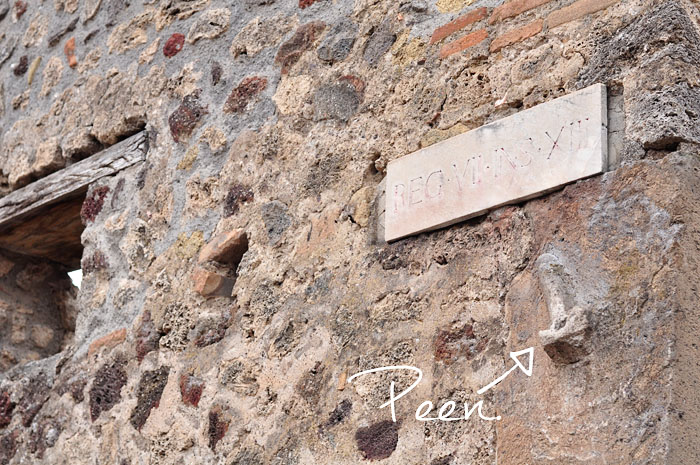 Today, much of the artifacts removed from the site (that weren't stolen by kings), can be found in the Naples National Museum of Archeology, where the more… uh… explicit pieces (including frescos, statues, and party favors) unearthed from Pompeii and surrounding villages are kept in a secluded viewing room, the Gabinetto Segreto.
Phallic symbols not excluded, Pompeii was a fascinating sight to behold.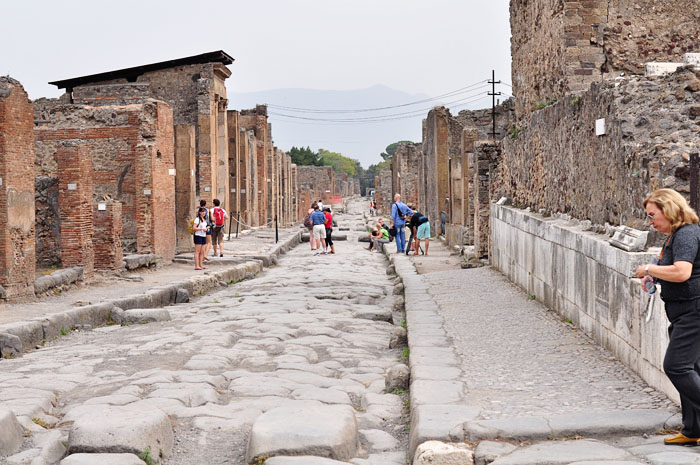 I'd highly recommend visiting with a knowledgable tour guide so you can fully comprehend what it is that you're seeing — which is, in fact, a whole lot of interesting stuff.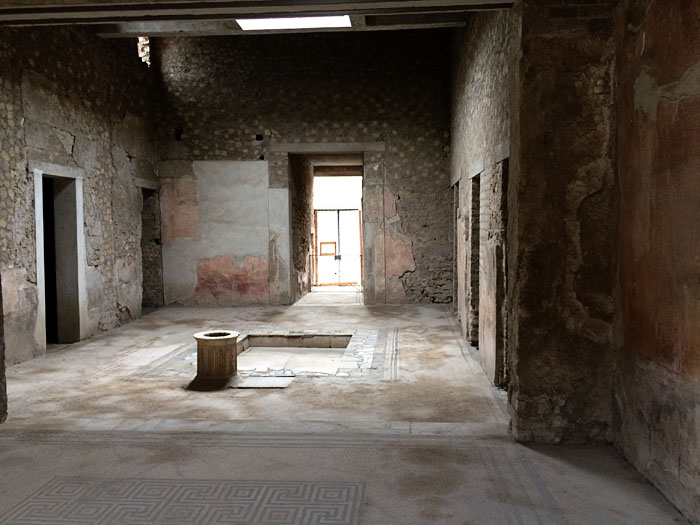 Saddest, of course, were the casts depicting human and animal remains. Some people — mostly slaves — were left behind while the volcano showed signs of activity, and their bodies left cavities in the ash which, upon excavation, were filled with a plaster-like substance and then unearthed, revealing in surprising detail the positions in which they died.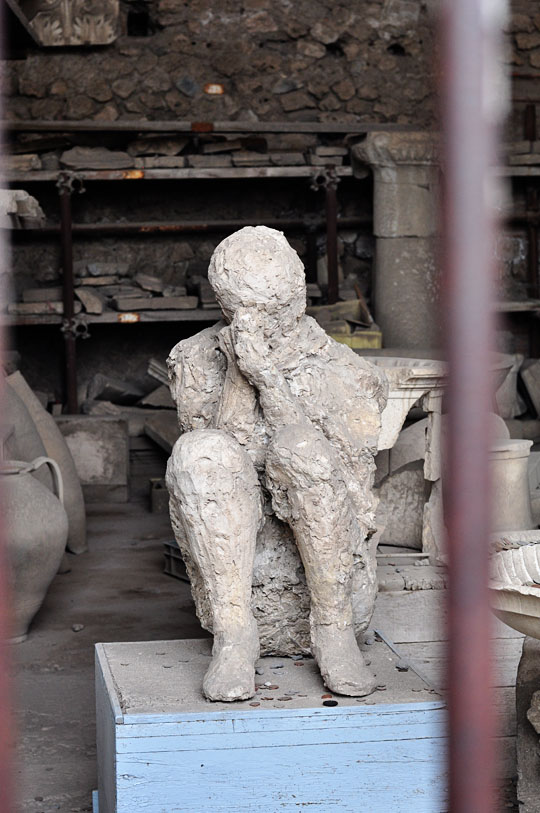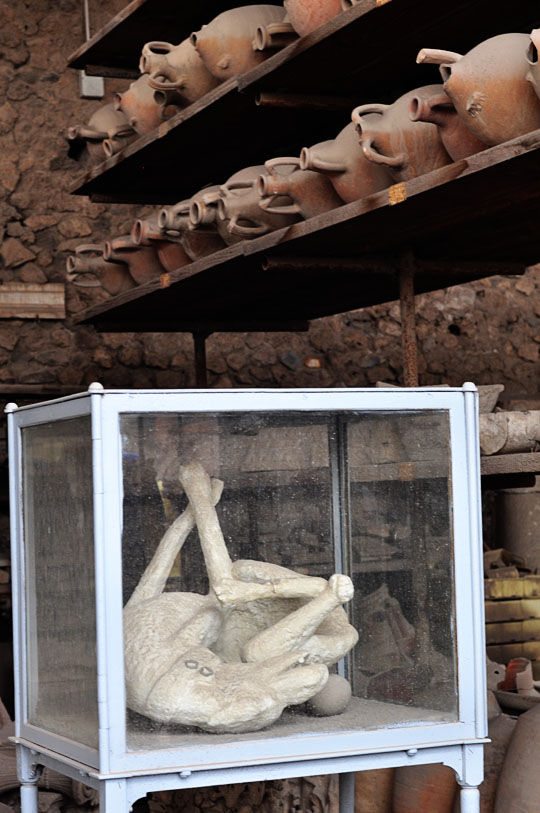 The biggest drawback of Pompeii is its immense tourist pull — the city was hot, crowded, and would've been miserable on a sunny summer day. Word on the street is that there are several other partially excavated villages surrounding Vesuvio, like Herculaneum, which are even better preserved and far less inundated with tourists.
The irony of Vesuvius is that still today, even with history's lessons, people are drawn to settle in the gorgeous landscape atop its fertile soil. The region is, in fact, the most densely populated volcanic area in the world, with around 3 million people living in Naples and the surrounding vicinity.
On our way to unwind at a tranquil winery perched along the volcano's subtle slope, I couldn't get the visions of a deceptive predator — a man selling ice cream to happy little children — out of my mind. Only in this case, Vesuvio is the predator. A sleeping dragon with one eye slit open — just waiting for the right moment to strike.
Fortunately, these morbid thoughts were easily subdued by lunch.
Our driver, Tony, (different from Tonino and Antonio of yore) picked us up from Pompeii and dropped us off at the lush, soothing, Cantina del Vesuvio for an afternoon wine tasting.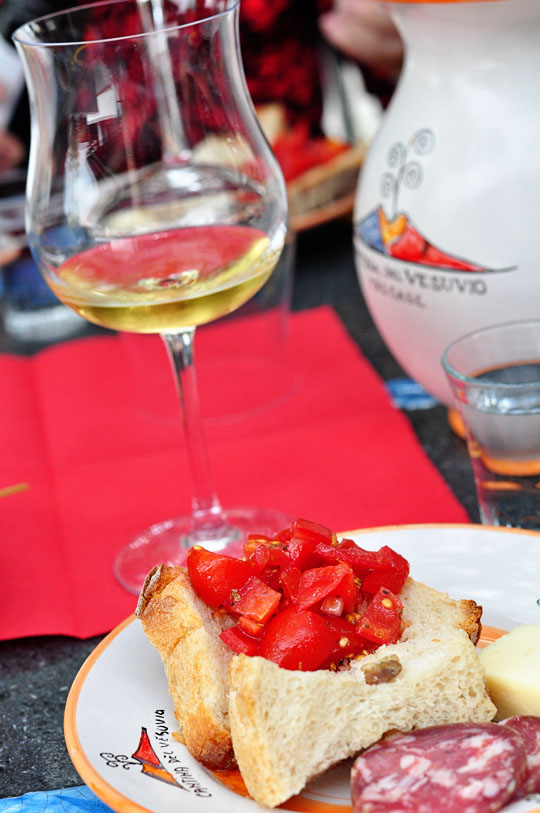 Typically, wine tastings are accompanied by a light plate of meats, cheeses, and maybe some bruschetta, which we were served, but we were also served an absolutely incredible pasta al pomodoro (pasta with tomato sauce and basil).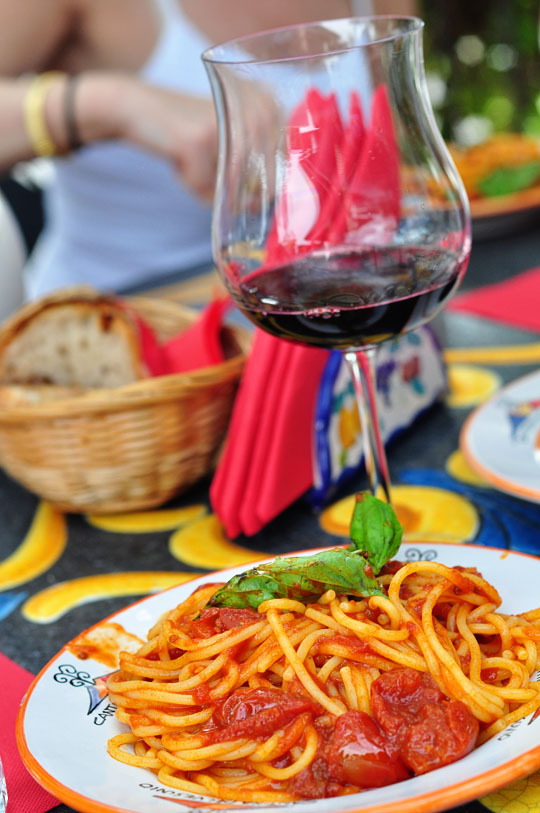 I still salivate thinking about this pasta.
And also dessert, over which they asked us to drizzle a super potent liquor.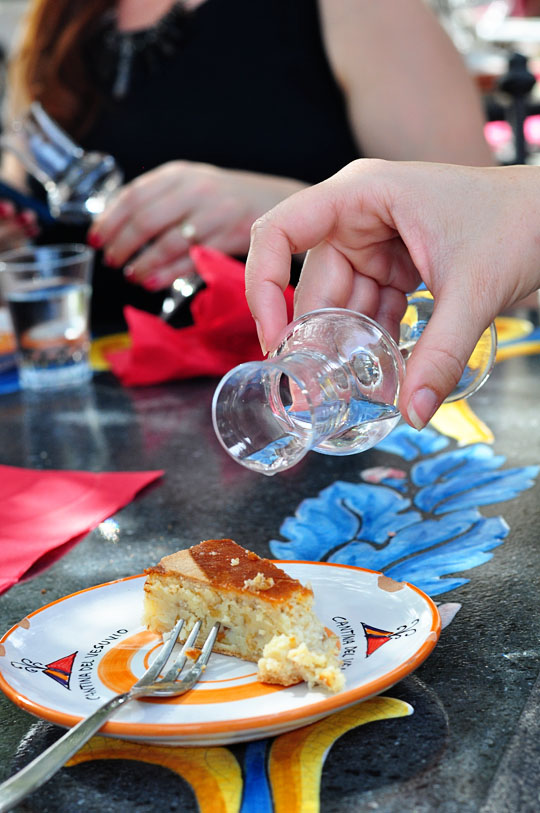 After the slightly physically demanding morning of walking around Pompeii, this was the perfect way to spend the afternoon.
When we arrived back at the hotel, it was time to get back to the kitchen for our final cooking class where we prepared:
Rolled Stuffed Red Peppers
Lasagna with Bolognese Sauce
Ricotta Pear Sandwich Cookies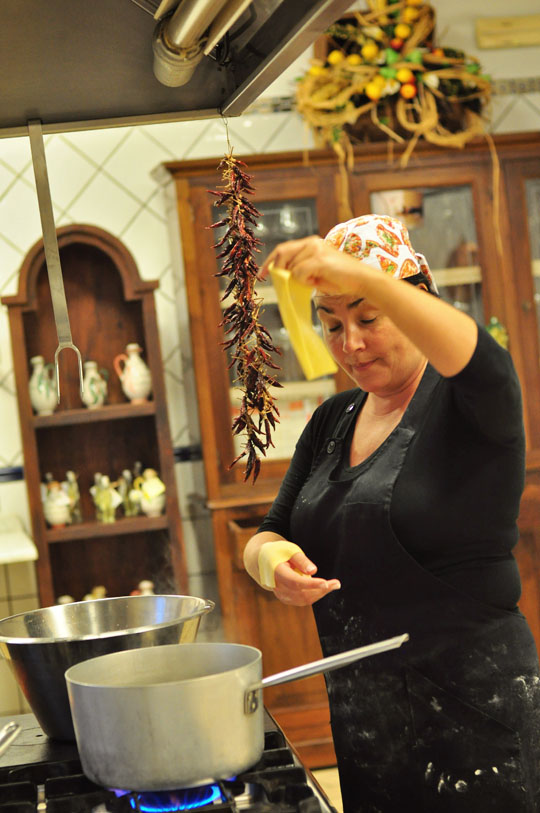 Yes, we were tired. But once again, we had a great time together in the kitchen — at this point we synchronized our efforts to complete dinner in record time. Italian time, that is, with sips of wine and made-from-scratch noodles.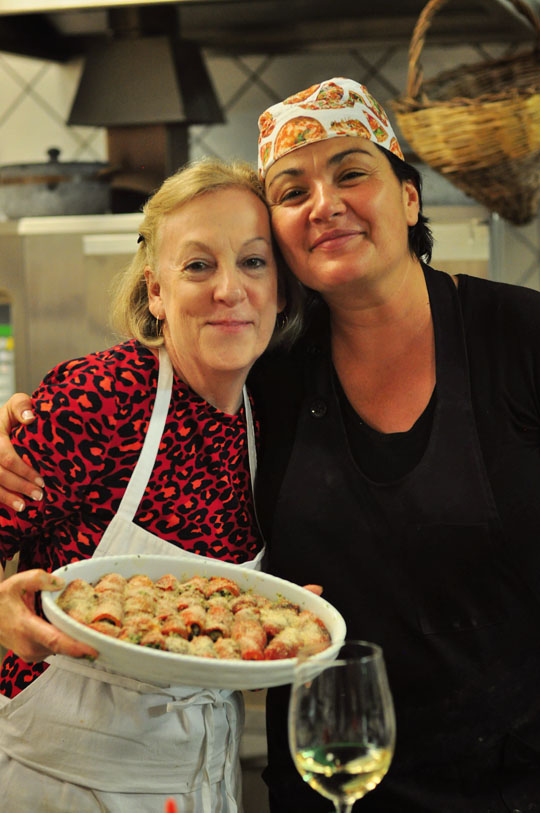 Even though Alaina and I were on Day 4 with no luggage, we couldn't have asked for a better time. This day had everything — historical learnin', wine tasting, an emergency pit-stop in Sorrento for gelato, and a final amazing cooking class with people I was beginning to love.
If I had one day on the trip to live over again, I think this one might be it.
Good to Know:
If your luggage doesn't happen to be lost, bring comfortable clothes and shoes for the cooking classes and excursions.
Chef Carmen selects the dishes based on skill level and available seasonal ingredients. She's flexible to suggestions.
Be prepared to COOK! There's plenty of relaxing time on the tour, but the cooking is no joke. You will learn, and you will love it.
Disclosure: My Women's Only Week Culinary Vacation was provided for review by The International Kitchen. Rest assured, though, that all opinions — as always — are entirely my own.