The Gem Of Naples: A Best-Kept Italian Secret.
Blinding and hot, the bright Napoli sun spilled through tall narrow windows and across heavy marble sills to settle, quite contentedly, into the ultra modern red lacquer kitchen and reflect vibrantly off of its yolk colored walls. A rainbow chandelier in blue and orange, red, purple, yellow and avocado smiled down apologetically at the sleek gray table with its clear acrylic chairs. Outside and in reverberated the sounds of loud Italian women yelling at loud Italian children and loud Italian dogs. Busy sounds of laughter and gossip and that oh-so-Italian emphasis dramatizing every spoken syllable bounced across the clothesline-draped balconies and courtyards dotted behind the tight-walled buildings of Frattamaggiore, Naples. The only thing louder, at times, was the occasional honk of an assertive driver and the echoes of church bells singing for their supper.
Hours earlier our host, Nino, had been fifteen minutes late picking us up from the train station, and I'd been sweating. "Oh, Airbnb is perfectly safe!" I'd assured my friend Alaina's worried husband before booking the room. The truth is, I'd only done it once before in Charleston, South Carolina, but I needed it to be safe because I planned on using it at least once more during the solo part of my time in Italy.
And I needed to be right.
I tied my cardigan around my waist and fanned my armpits, no longer concerned with appearing demure to the elderly gentleman who'd meandered into the tiny enclosed waiting area. I kept stepping outside and then running back in. Naples doesn't exactly have a reputation as the shiniest gem in Italy's treasure chest of locales. From Puglia's rustic cuisine to Tuscany's renowned wine; from the fashion of Lombardy to the balsamics of Emilia-Romana; from Amalfi's jagged coastline to Venice's sunken streets; from Sicily's mob allure to all the art of Rome; gritty, makeup-free Napoli, resting defiantly in the shadow of Mount Vesuvius, is often overlooked as a primary tourist destination.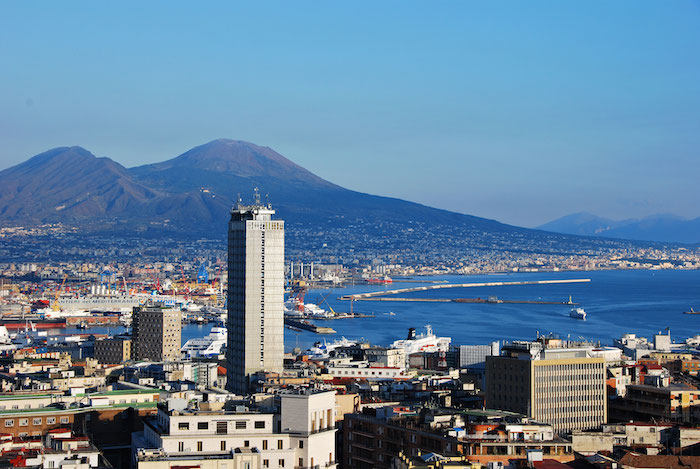 Per our host's instructions, Alaina and I had ridden the city train two stops out from the central station to the suburb of Frattamaggiore. After our incredible week-long culinary experience in Sorrento, we needed a place to stay the night before I headed on to Tuscany and Alaina flew home from the Naples airport. At one point a small pack of young teenage boys boarded the train and I found myself covering my purse as well as my face to hide my laughter at the fact that they looked exactly like New Kids on the Block impersonators. In that respect, I couldn't tell if Naples, from a fashion standpoint, is decades behind or ahead of Milan. In any case, when we disembarked at our station, we were well beyond the typical Neapolitan tourist attractions, and the perfectly normal suburban strangers who kept pulling up in front of the building made me more nervous than I'd care to admit.
What if we're still here when it gets dark? I wondered, checking the time on my phone and then quickly shoving it back into the depths of my purse lest the little boy riding his bicycle down the street develop any unsavory ideas of thievery. What if he never shows? What if there aren't any hotels? What if — 
"Buongiorno!" A tall, angular man with white hair popped out of an impossibly small car and began stuffing our impossibly large suitcases into his hatchback. I recognized him immediately from his photo and let the relief warm my blood as he apologized for his tardiness. As a single father working as a local travel agent, Nino has an incredibly busy schedule and a seemingly endless supply of energy. He pointed this way and that on the way to his apartment, making sure we knew all of the best cafes and shops in Frattamaggiore, in case we decided to extend our stay. Apologizing profusely, he made a quick pit stop at his favorite bakery and emerged with a mysterious package.
After settling us into our room, Nino insisted on fixing us a "light lunch" since we'd have to leave well before his customary breakfast in the morning, and he began pulling assorted accoutrements from his sleek IKEA kitchen — crusty bread, prosciutto, cherry tomatoes, ripe fruit, homemade mozzarella, and a crisp, white wine. Like so many single Italian men, Nino lived in very close proximity to his mother. So close, in fact, that he ran downstairs to the apartment below to fetch the huge bowl of fresh mussels she'd prepared especially for us.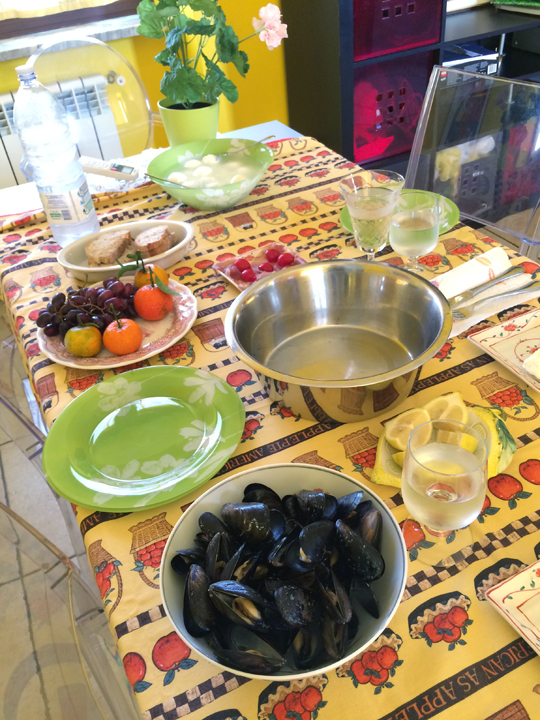 Now. If you think you don't like mussels, then you haven't tried the freshest, biggest, most succulent mussels prepared by Nino's mama. You just have to get past the fact that they definitely look like labia.
Nino left us for a while to go play soccer and when he returned, he pulled out the mysterious package he'd picked up at the bakery.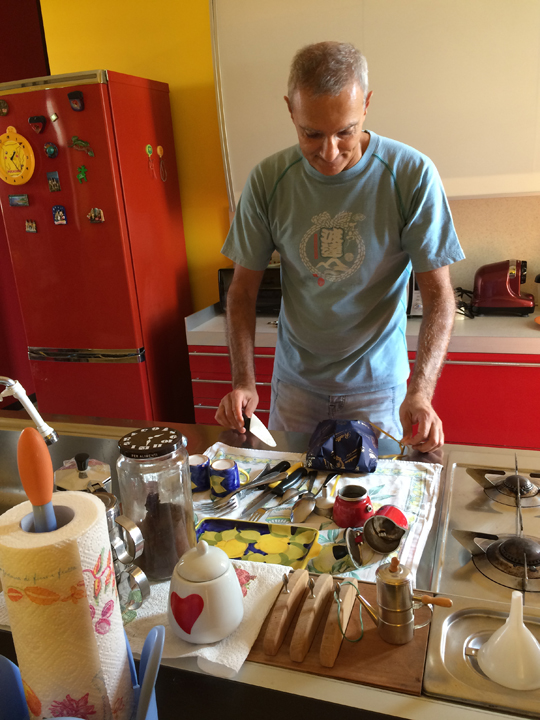 A true connoisseur of local cuisine, he was absolutely appalled that after a week in southern Italy, we hadn't yet tried babà, a small, spongy yeast cake completely saturated with rum. Though it originally came from France, he explained, the Neapolitans quickly adopted it and it's remained a speciality in the region ever since.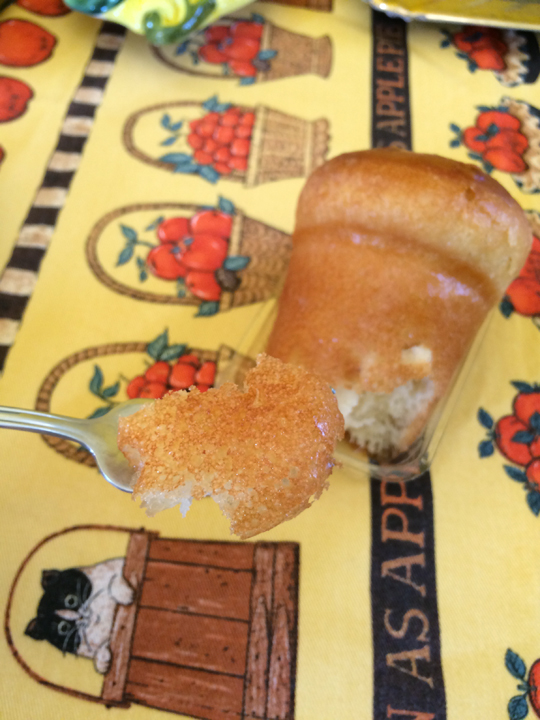 We tried to explain that we hadn't actually been staying in Naples, which I'm pretty sure he chose to ignore.
If I learned one thing about the people of Naples during my short time in Italy, it's that they're among the most sincere, the most outspoken, and the most heart-wrenchingly enthusiastic people in the world when it comes to their beloved city.
Things You Should Know About Airbnb
Airbnb is a phenomenal alternative to typical vacation accommodations.
Unlike hotels and hostels, Airbnb allows you to rent a room or even an entire house or apartment directly from the owner. You book securely through the website, so you're never giving a host your credit card information. Identifications of hosts and guests are verified through the site, and added security measures include photos, profiles, and reviews by other hosts and guests.
Some listings are private, and some notsomuch.
Depending on your comfort level, you might find yourself sharing an apartment, bathroom, or even a room with your host or other guests. The extensive search engine allows you to narrow down your options based on location, price, and level of privacy. Of course, the price tends to be higher if you're renting an entire private apartment (either the host doesn't live there as a primary residence or goes to stay with a friend while someone rents his place).
If you're traveling to a foreign country, be aware of language barriers.
Airbnb allows you to contact a potential host before booking so you can work out travel arrangements, lodging clarifications, etc. before you're locked in. Just be aware that if your native language isn't their primary language, there still might be some missteps.
Airbnb lets hosts offer a few different types of cancellation policies, from super strict to flexible.
If you're booking well in advance, make sure to note your host's cancellation policy to see whether you'll be eligible to receive a full refund if you cancel.
Not all hosts are created equal.
Some offer bare-bones accommodations, while others treat their place like a b&b, offering home cooked meals. Some hosts offer guests full use of the kitchen and other living areas, while others do not. If you'd rather not interact much with your host, that's fine. But personally, the thing I love about Airbnb is the opportunity to get a sincere local experience. Often, hosts are enthusiastic about their towns, and it's a safe bet that their recommendations for food and entertainment are genuine.
So far, I've loved using Airbnb for accommodations and plan to continue using it, especially for longer trips, in the future.
Staying alone? It's a great way to get to know a local. Staying with a large group? Try using it to rent an entire house or condo in a prime location! While hotels are amazing for their amenities and services and hostels are nice for their affordability, Airbnb is a fantastic "in-between" option to find super unique, usually budget-friendly accommodations.
BONUS: Sign up now through this link and you'll get free credit from me to use on your first stay!
Nino was no exception. As a travel agent and a local resident, he's a bonafide expert on all things Naples. For dinner that evening, he offered to drive us to one of the province's most unique restaurants in the city of Pozzuoli — La Fattoria del Campiglione, which, suprisingly, specializes in kobe beef in this region of seafood.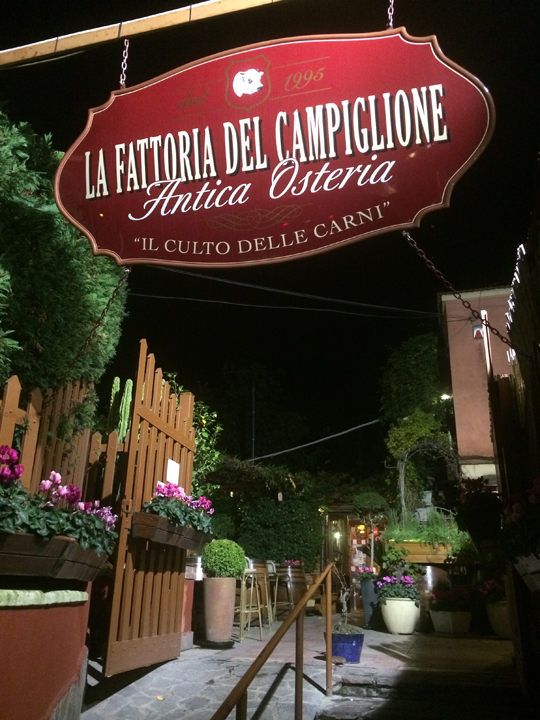 Since we were there with a VIP, we first got to tour the impressive restaurant and extensive wine cellar.
The kitchen was open to one of the main dining rooms, and Nino shouted amicably to the chef in Italian while we cracked open a bottle of red and were served course after course of savory meats, luscious pastas, and the most amazing dessert of whipped tiramisu I've ever had the pleasure of stuffing into my food-pregnant stomach.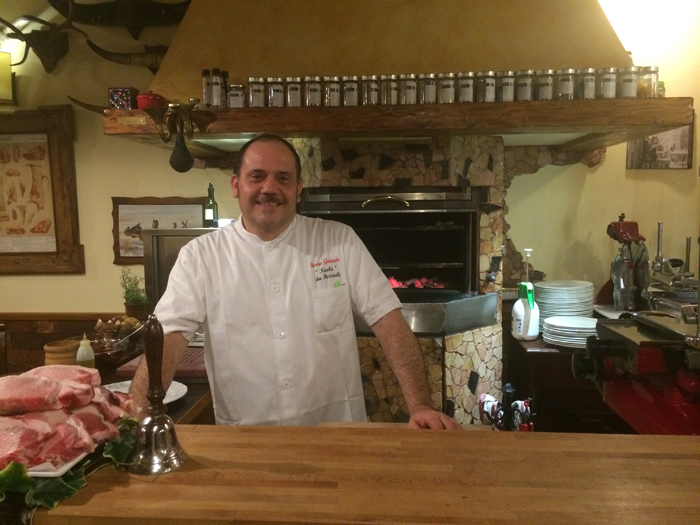 I don't think I've ever eaten so much in a single sitting. (Hey, there was a LOT of pressure dining right in front of the chef!) But it was so, so worth it.
We were worried at first that this Airbnb experience wouldn't pan-out, but in the end, it was much more than we ever expected. We enjoyed two of the most incredible, authentic Italian meals of our entire trip, experienced life for an evening in an Italian suburb few tourists explore, and reinforced our belief that people around the world are essentially the same — with a love for food, friendship, and a place to call home.
Naples, now, is officially a city to which I'd like to return when before, it was merely a place to pass through. Nino helped us pick up that gem, polish it off, and appreciate its true value — especially for the cuisine. I'd stay with Nino again and have him give me the insider tips on what to eat and see. If you go, don't expect the most beautiful scenery or fake-friendly people. What you should expect, though, is authenticity — of food, culture, and intoxicating pride.
P.S. If you're interested in what it sounds like to sit in the middle of an authentic Italian restaurant, check out this video I captured all stealth-like while Nino chatted with the chef:
Is Naples a city you ever considered visiting? Would you visit it now? And don't forget — if you sign up for Airbnb now through this link, you'll get free credit from me to use on your first stay!