A White-Knuckled Vespa Tour Of Chianti In Tuscany.

The 400-pound machine bucked beneath me and I stood as instructed, dipping my torso forward between the handle bars to counter my weight against gravity while my four-wheeler climbed the steep mountain of dirt. We made a sharp right turn on the 45-degree slope, the tires of the classmate in front of me kicking dust into my teeth. Still standing, I leaned far to the left, coaxing the beast with all of my 115 pounds not to roll and send me tumbling down the side of the hill.
At the end of the class, I removed my helmet and goggles and spat soil from my mouth — my hair was plastered to my skull in a gorgeous sweaty coif, and I laughed at the apparent 5 o'clock shadows of dirt left beneath the clean goggle marks on my classmates' faces. Until I realized that I, the only girl, very likely had the same.
I'd been encouraged to take the course as training for my internship at the Air Force base back in 2005. At the end of a long, hot Georgia day, I knew how to shift gears, handle bumps, stand on curves, and as such, proudly accepted my official, laminated all-terrain vehicle license.
The badassery of it all was worth blowing black dirt from my nose for the next 24 hours.
Nine years later I found myself astride a much smaller beast, however, and I was terrified.
Check out the video:
Not only because we're a lot less invincible when we're 32 than when we're 23, but also because this particular beast only had 2 wheels.
Friends, meet Vespa.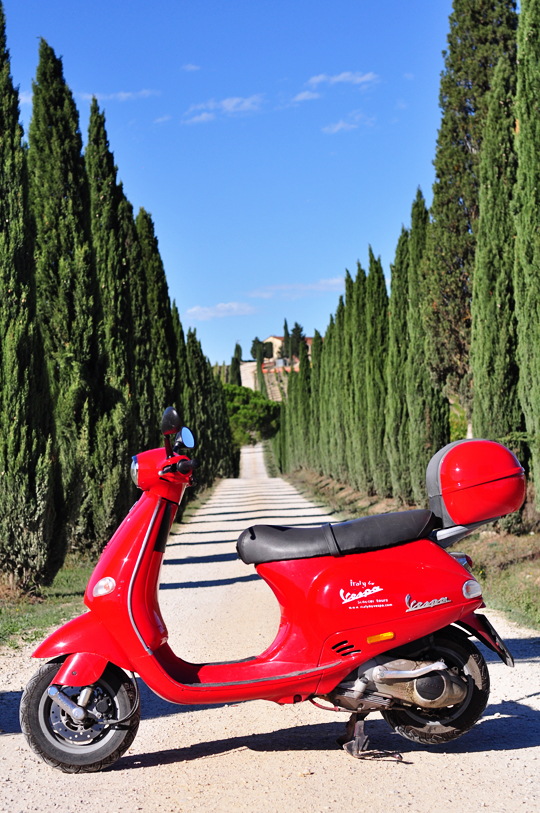 She was developed by an Italian company, Piaggio, just after World War II in answer to a need for an affordable mode of personal transportation. In Italian, Vespa means wasp.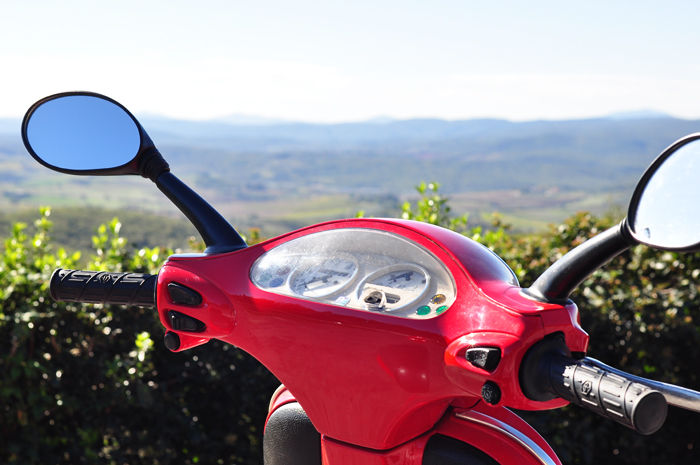 The MyTour guide picked me up outside of my Airbnb in Siena, though I think for this particular tour there is usually a meeting place in Florence. I waited in MyTour's headquarters office in an industrial park in the countryside while they picked up the sole other tourist who was brave enough to tackle the Vespas that day, Jamie.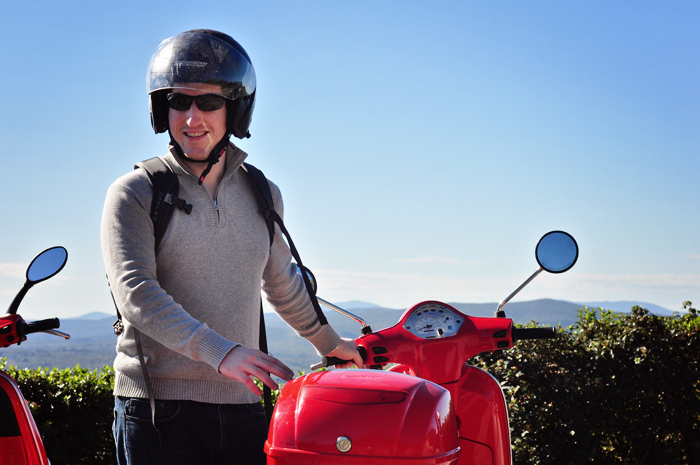 Neither of us had ever ridden a Vespa before, but our guide, Ciro, insisted it was a piece of cake.
And it was.
Mostly.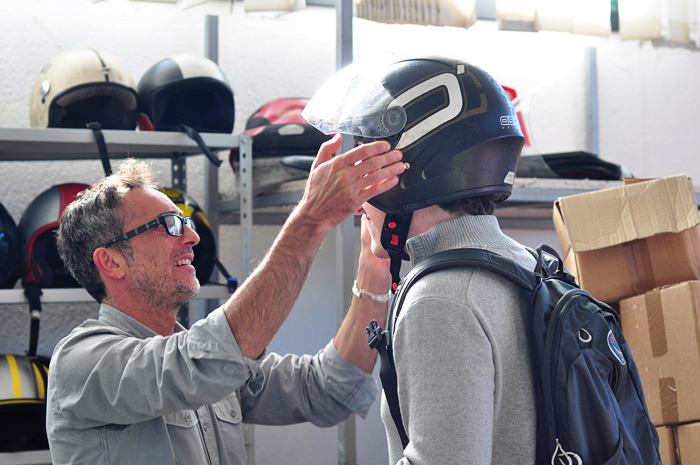 Outfitted with helmets and a very quick run-through of what makes a Vespa not crash (thankfully our transmissions were automatic), we were allotted fifteen minutes or so to perform tight loops on the street outside of the office before hitting the winding roads of Tuscany.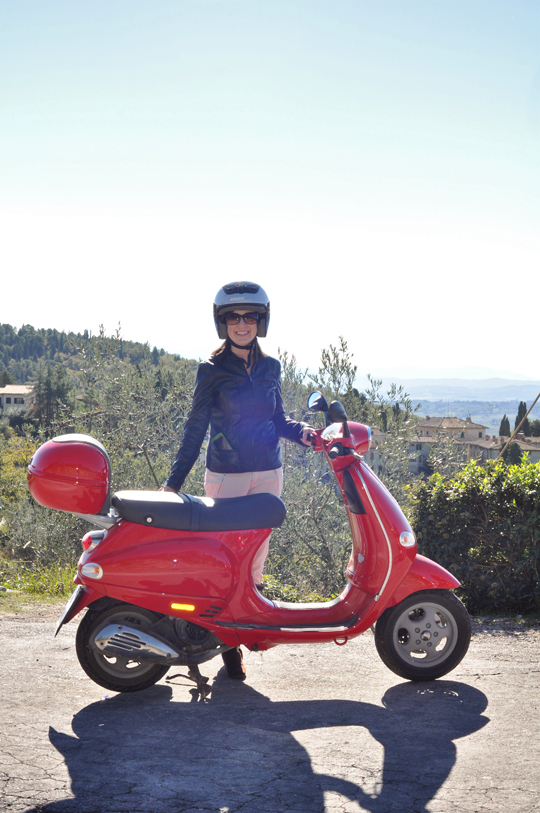 The sensation was freeing.
And terrifying.
I'd be zipping along, grin on my face, sometimes even brave enough to turn my head and admire the views, and then an impatient driver or GIANT TOUR BUS would come up behind me, and it was all I could do not to pee myself while they passed.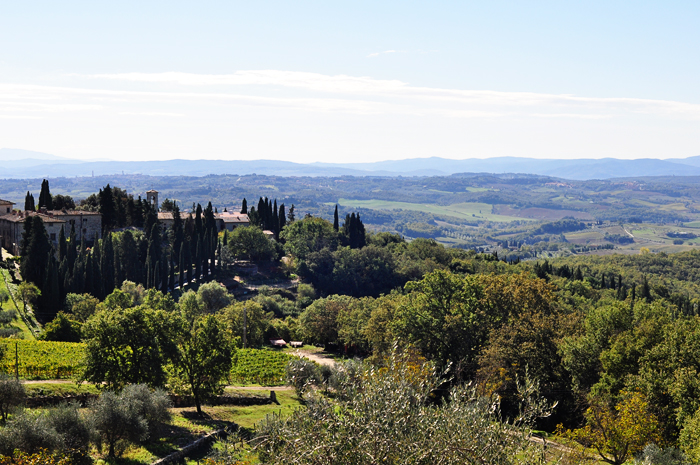 Our tour was at least 8 hours long and included stops in medieval towns, a wine tasting, as well as places to admire the classic Tuscan countryside.
Castellina in Chianti
First up was Castellina in Chianti, a tiny medieval village with a castle boasting sweeping views from the top.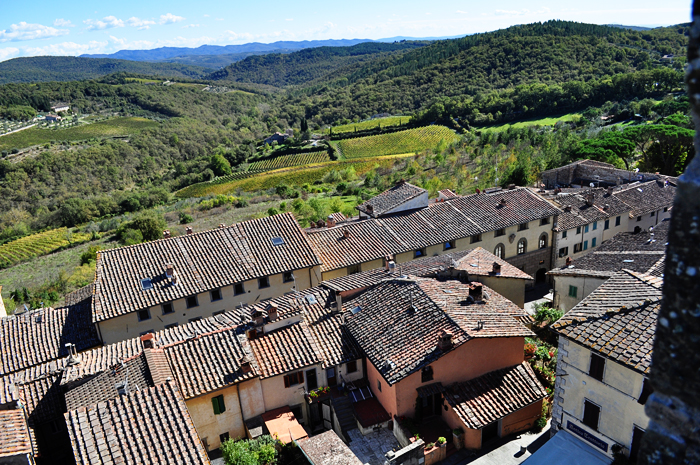 The wind was so strong, I was positive I'd blow off the castle.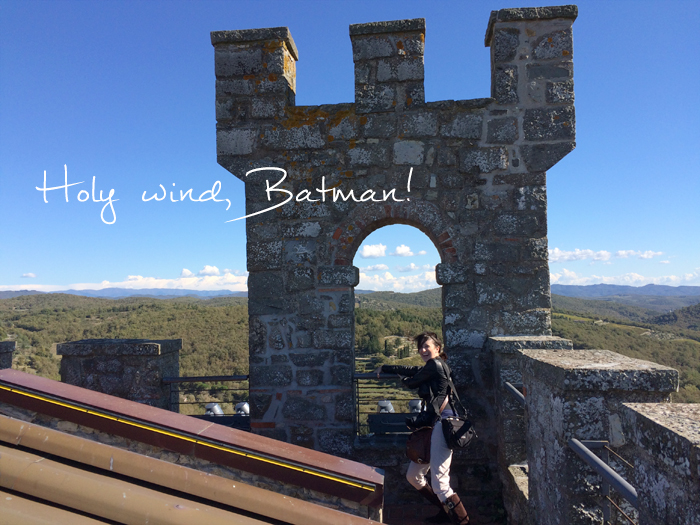 Wine Tasting
I know what you're thinking. An already-shaky Vespa novice guzzles gallons of wine for lunch and ends up smeared across the windshield of a 50 passenger tour bus. Fortunately I'm smart about these things, and most of my wine ended up in the bucket on the table. Also, Ciro made us park at the bottom of the vineyard's steep hill, just to make sure we didn't wipe out on the dirt path.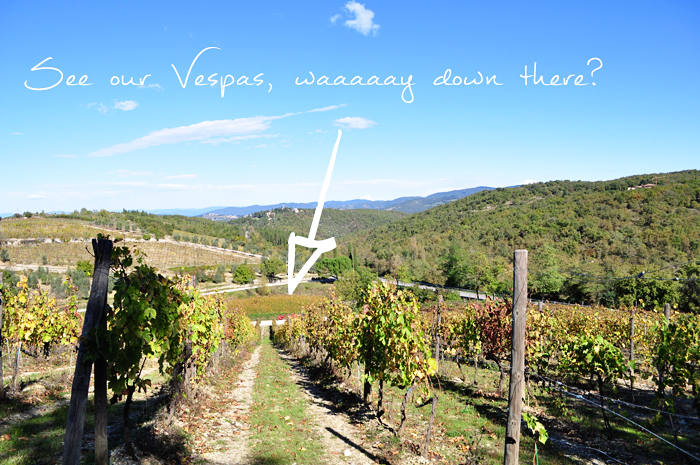 As far as tastings go, our experience at Azienda Agricola Poggio Amorelli was probably the least impressive of the several I did in Italy. The wine, of course, was incredible, but the atmosphere and food were severely lacking.* We did get to try some amazing Chianti, including their gorgeous Chianti Classico DOCG Riserva, Poggio Amorelli, which is the only wine during any of my tastings that I actually considered going into some serious credit card debt to purchase a case and send home.
I also learned that in order to ensure you're purchasing a true Chianti classico, you have to look for the black rooster on the label.
*MyTour's website pictures a different vineyard on this tour. I'm sure it changes with availability and the number of tour participants. This one might also have been nicer on a warmer day, with al fresco dining and views of the rolling hills.
Monteriggioni
Following lunch, we stopped at Monteriggioni, that same 13th Century fortress I'd visited on the other MyTour tour. This time, though, I paid the small fee to climb the fortress walls and take in the views.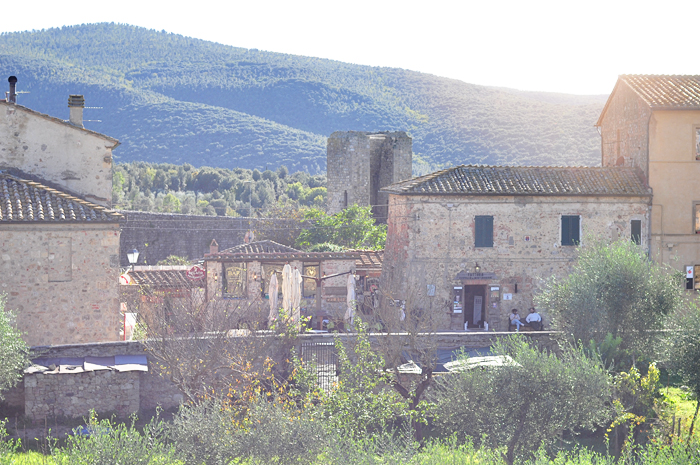 At the end of our tour, Ciro took us to an iconic Tuscan scene for a photo-op — a cyprus-lined drive leading up to a gorgeous villa.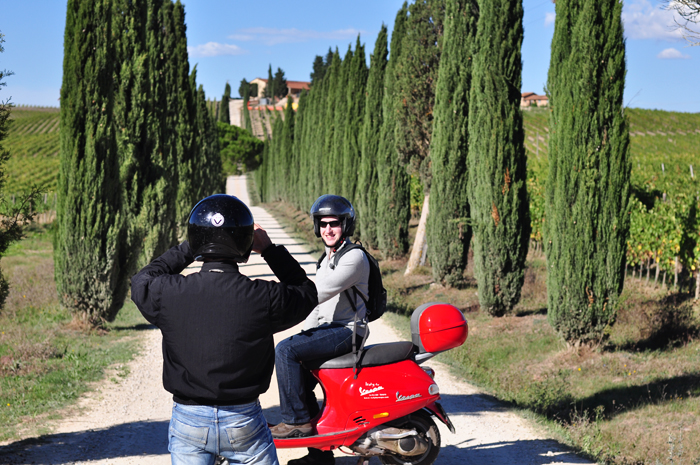 Of course, I had to strike a pose: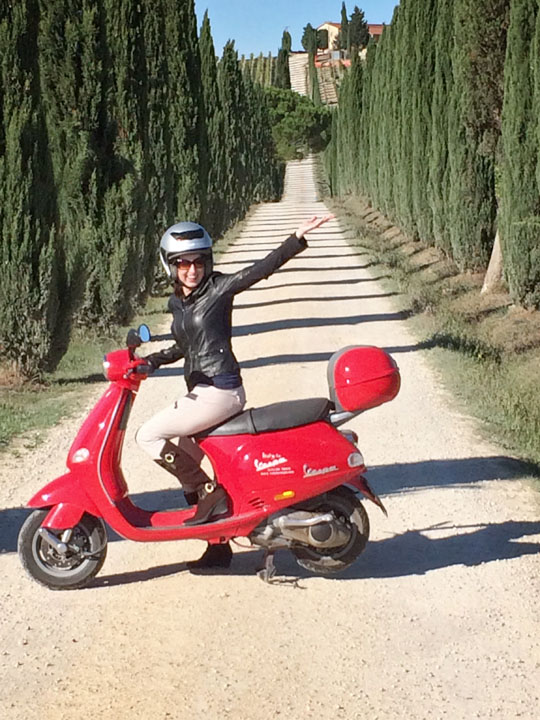 Wind-whipped and sleepy, I held a death grip on my handlebars all the way back to the MyTour office, relieved that my excursion didn't result in a helicopter ride to the nearest hospital.
Because, guys, that's a very real possibility when you decide to do something dangerous.
In the end, the Vespa tour was one of the coolest things I did during my time in Tuscany. But in retrospect, it was also the most risky. Yes, they've had tourists end up in the hospital after accidents, so all I can say is, ride at your own risk.
On the plus side, you might have a serious case of helmet hair at the end of the tour, but at least you won't be blowing black dirt from your nose.
What's the most dangerous thing you've done on vacation? For me, it's a toss-up between this and skydiving.
What I'd change:
I love that MyTours offers small tours, but this one was almost a little too small. I lucked out with a great tour buddy, but I think it would've been even more fun with a larger group — especially during the wine tasting. We did this at the very end of the season — I imagine the tours are definitely a little bigger during the summer.
I didn't love where they had the wine tasting. We were stuck all alone in a tiny back room and the food was served on styrafoam. I suppose I'd been spoiled from the last excursion, and I somehow expected a little bit more.
Need to Know:
MyTour
+39 055 284770
info@mytours.it
Good to Know:
This company offers a vast array of tours covering multiple Tuscan cities.
It's an Italian company, so we had a bit of confusion when I was booking about whether I could be picked up in Siena due to language barriers. In the end, everything worked out and they were incredibly friendly and accommodating.
In the fall, Vespa riding can be very chilly! Wear a jacket, and definitely bring sunglasses to protect your eyes from the wind. Close-toed shoes are highly recommended, as are long sleeves and pants in case of an accident.
Vespas are dangerous. Ride at your own risk.
Disclosure: My Chianti Vespa Tour was provided for review by MyTour. Rest assured, though, that all opinions — as always — are entirely my own.