How To Tour Tuscany & Meet Italy's Oldest Living Playboy.

I want you to think for a moment about some of your simplest, happiest, memories. Or maybe notsomuch memories, but feelings. You know — short but distinct periods throughout your stressball of a life when you felt almost nothing. Just content. Whole. Happy to exist.
For me, those moments usually involve friends. Thoughtful food. A warm — or warming — beverage in-hand. Belly laughs. Flowing conversations. Smiles. Comfort.
It's interesting because when I think about it, it doesn't really matter where these moments take place — whether waiting for the perfect paella on a flower-draped terrace in Ibiza or perched on stools pulled close around my kitchen cart because we're too invested in our talk — in the atmosphere — to move the food to the table, it's not the physical location of the place, but the intangible feeling of the moment. It's the place, the people, the tastes, combined.
The Germans have a word for this — Gemütlichkeit. To the non-German ear it's a bit of an ugly word for a lovely concept, but literally translated, it's a noun for a feeling of coziness or comfort. The German Language Blog explains it like this: "A soft chair in a coffee shop might be considered 'cosy'. But sit in that chair surrounded by close friends and a hot cup of tea, while soft music plays in the background, and that sort of scene is what you'd call gemütlich."
I live for Gemütlichkeit.
It's a fairly un-American cultural concept I've unwittingly adopted over too many years of watching Nancy Meyers movies.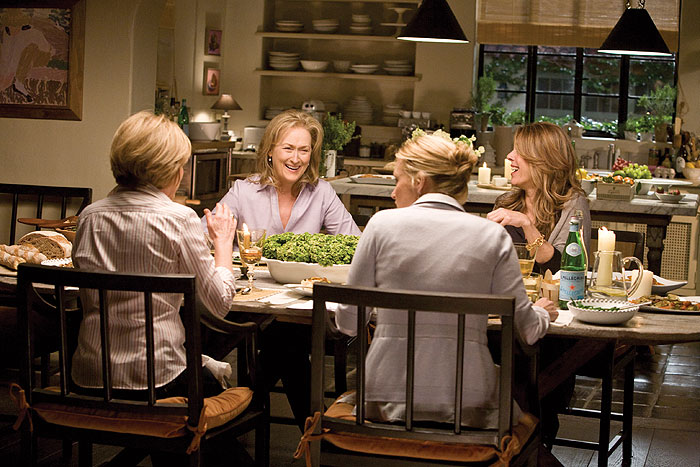 The best thing about Gemütlichkeit is that it's really something that can be captured anytime, anywhere, regardless of whether or not you own those gorgeous William Yeoward crystal wine goblets. (Hint, hint, for anyone wondering what to get me for my birthday this year. They're *only* like $70 a piece.)
I even experienced it a few times during the second half of my trip to Italy, even though I was traveling alone and didn't know a soul.
After my approximately 87th cup of Italian cappuccino, this one served in the gorgeous breakfast room at the Hotel Santa Caterina in Siena, a smiling man wearing Buddy Holly glasses named Francesco (pronounced Franchesco) from myTour came into the lobby searching for me. I was supposed to be outside waiting for him, but sometimes I get lost in a moment — or a cup of cappuccino, or straightening my hair, or figuring out what to wear — and punctuality ceases to be important. Francesco was picking me up for my all-day tour of San Gimignano, Chianti, and Montalcino. (And when I say "all day," I mean all day. This tour was over 11 hours long!)
Since I knew I wouldn't have a car in Tuscany, I figured the best way to see the famous rolling countryside would be by tour. And, being the overachiever that I am, I arranged several.
It's a good thing, too, because our morning started out immensely foggy.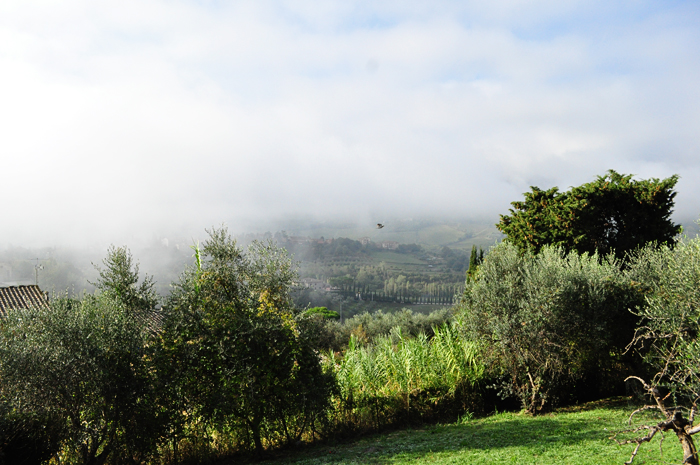 I was the first Francesco picked up in a group of five (that's right — I toured alone with two couples). I love that myTour focuses on small-sized tours. We all fit in a van, which was much more comfortable for cruising than a packed, sweaty bus.
As promised, our first stop was the medieval village of San Gimignano, an ancient hilltop town that used to boast around 72 towers, 14 of which have been preserved.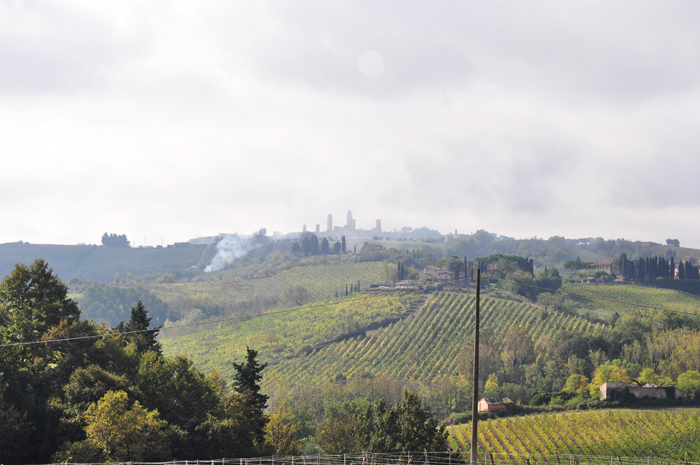 San Gimignano through the fog.
Impressive as it is now, it must have been quite the skyline back in the day with 72 phallic symbols of wealth and power sticking up all under the Tuscan sun. Not to mention the entrance — talk about foreboding.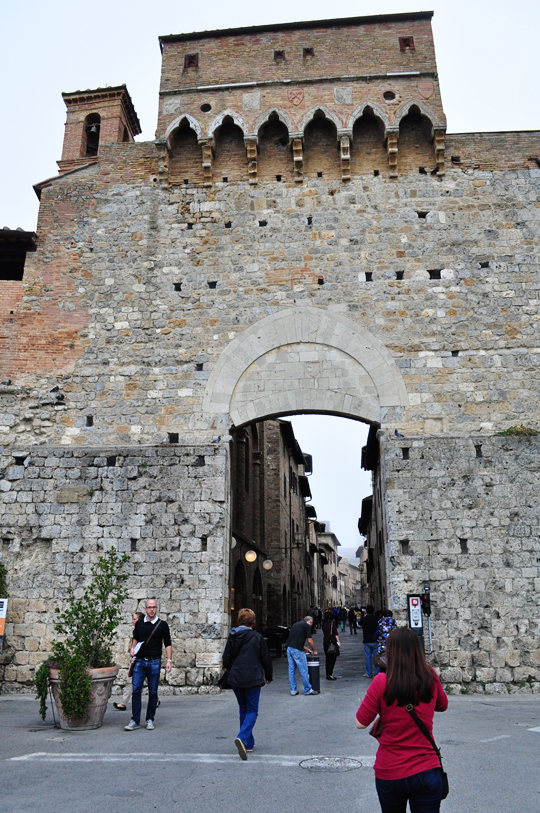 Francesco managed to capture a photo of this bag lady — aka. me — in front of the massive entrance.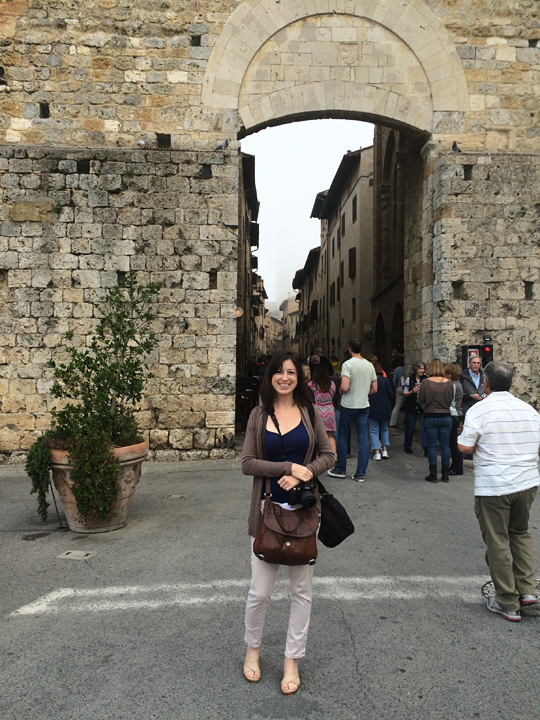 Immediately upon entry, I was mesmerized — the winding cobblestone streets fading off into the fog with imposing, flat facades were people have lived for centuries was completely blowing my mind. Francesco led us to the historic city center, which happens to be a UNESCO World Heritage site, and then left us to explore on our own for an hour or so.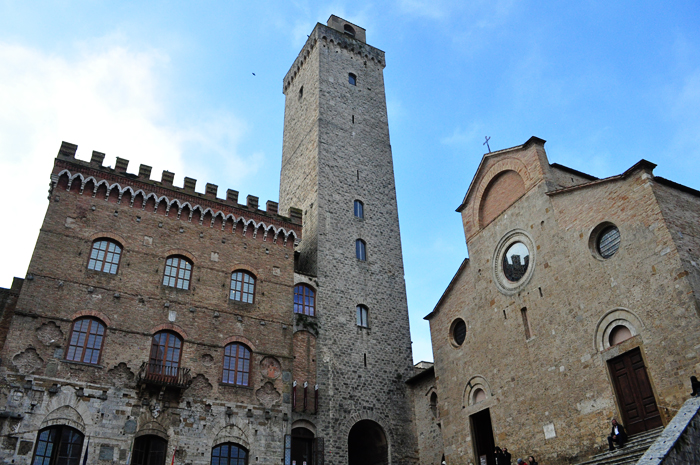 I wandered the streets, dipping into shops and admiring the vistas as the fog slowly burned away.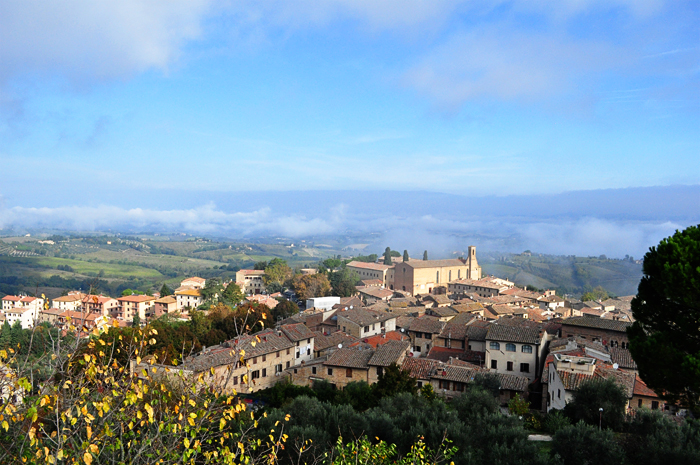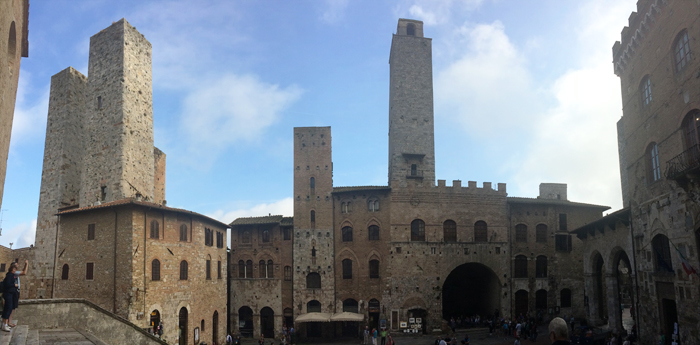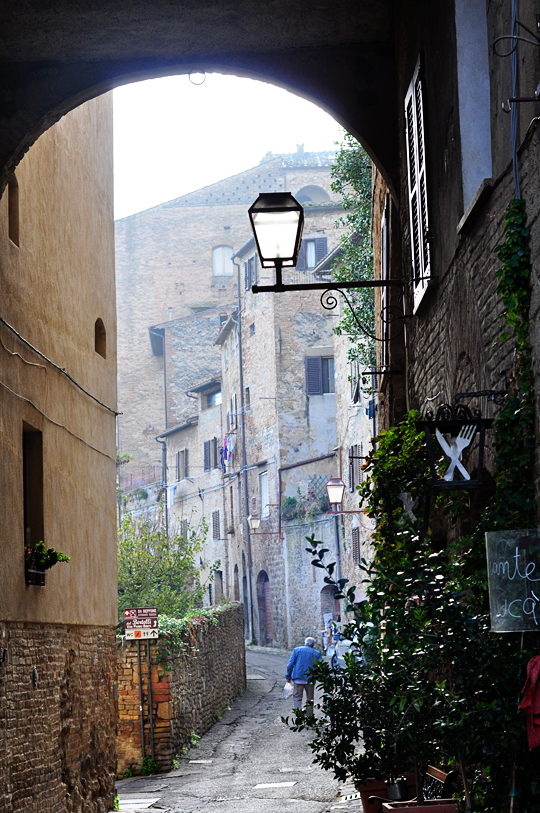 By the time we left San Gimignano, the fog had fully lifted and we were treated to a gorgeous, sunny autumn day. Ideal weather for wine tasting, if you ask me. We stopped to admire some vineyards, where Francesco dutifully explained the growing process while I ignored him to snap photos.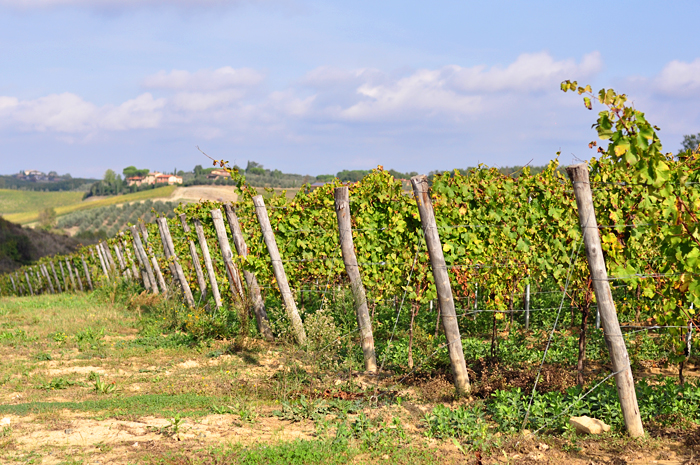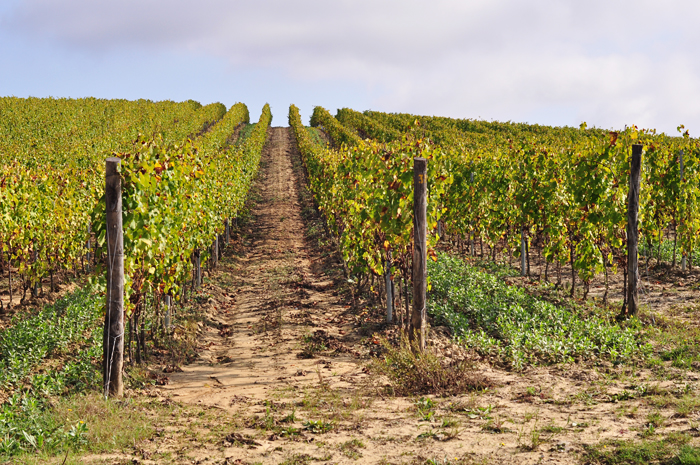 And then he drove us to the most magical place, Tenuta Torciano, where our focus was the famous chianti wines of the region. And I'm just going to say it. This was the BEST winery I visited during my entire trip. (Remember — I base my judgement on Gemütlichkeit — not the actual wine. That would be silly.) It wasn't just the best because our host, Mira, was the first person ever to teach me how to swirl and smell wine without making me feel like an idiot —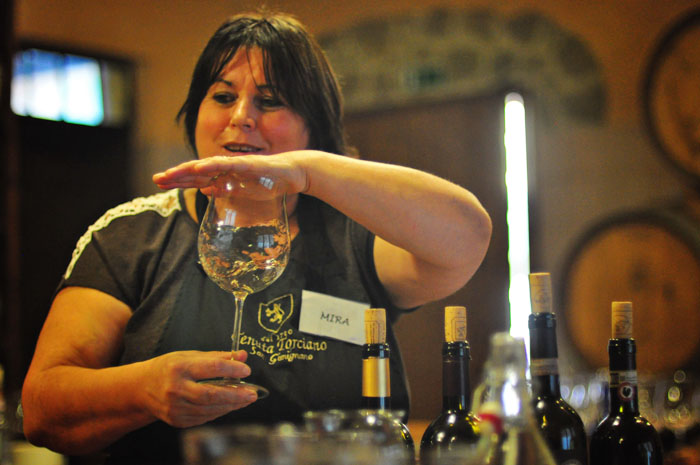 But it also served the best food —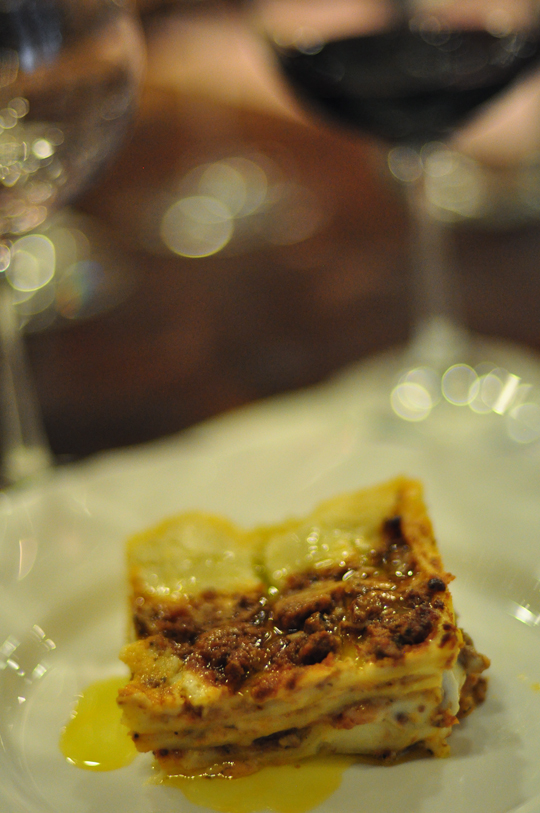 I still dream about this lasagna drizzled in truffle flavored olio.
And felt the most festive.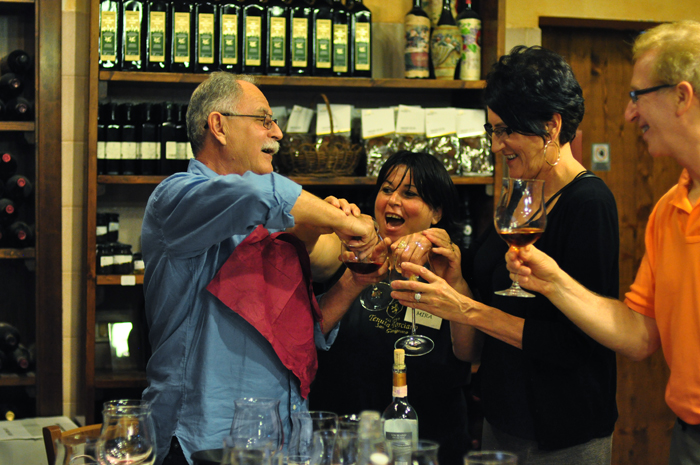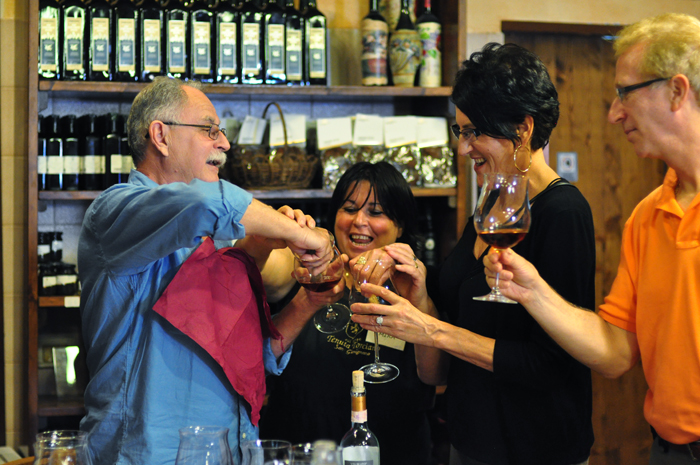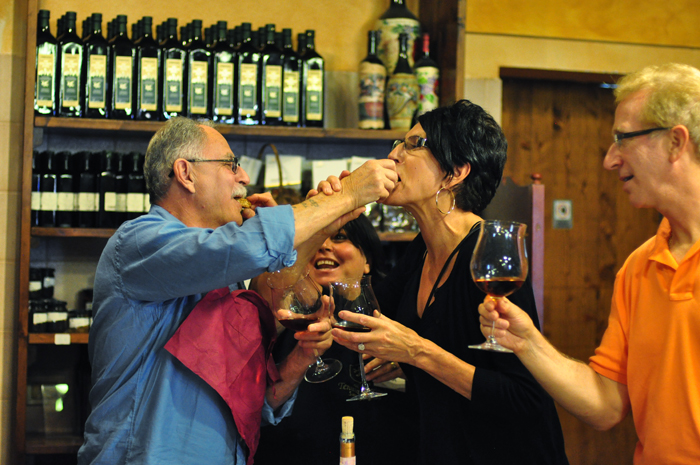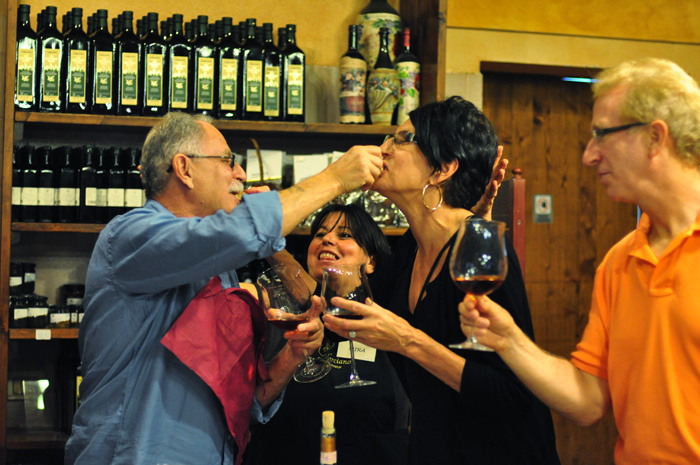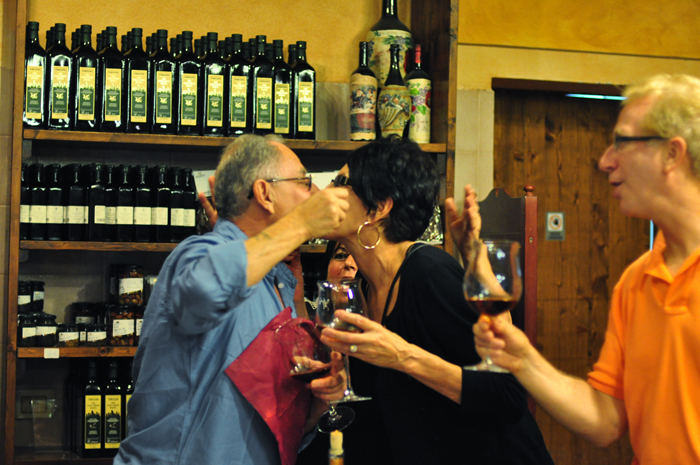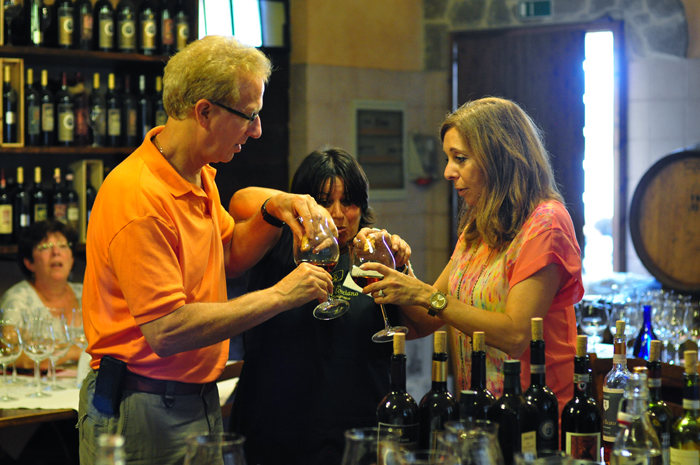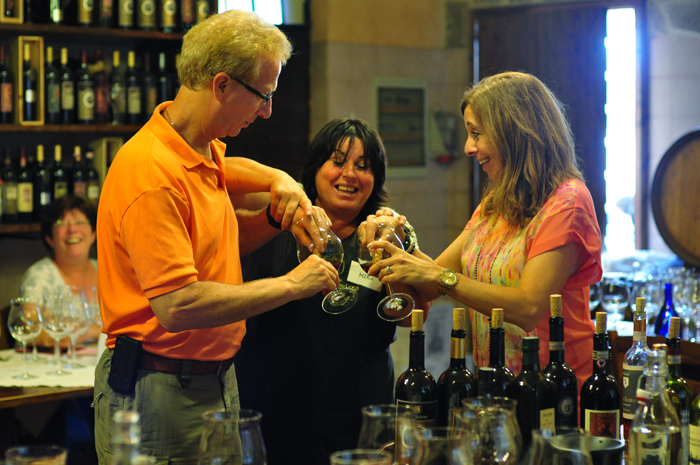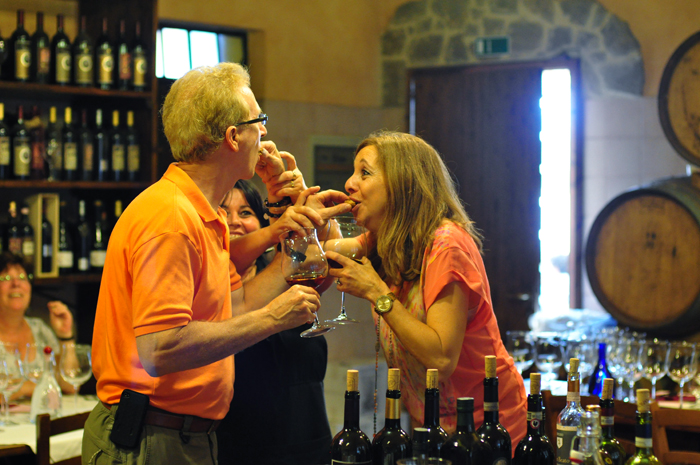 At the end of our tasting, it was tradition for couples to dip biscotti-like cookies into the sweet dessert wine, feed them to each other, and then kiss. I dipped solo and fed myself, but it was fun watching Sylvia and Walter from California (top) and Ruth and Norm from New Jersey (bottom) partake in the custom.
More scenes from my favorite tasting:
If you're interested in that sort of thing, we tried:
Vernaccia di San Gimignano
Chianti
Chianti Classico
Brunello di Montalcino
Baldassarre "Super Tuscan"
Cavaliere "Super Tuscan"
Bartolomeo "Super Tuscan"
Needless to say, I had quite an impressive buzz.
Quite full and ready for a nap (I might have dozed in the back of the van), we hit the road again, cruising through parts of the Val d'Orcia, another UNESCO World Heritage site.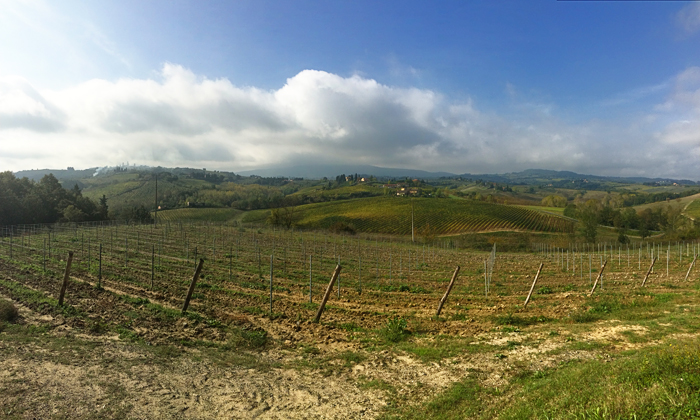 I can't imagine why.
Francesco stopped as we approached the dreamlike view of Monteriggioni, a 13th Century fortress crowning a hill.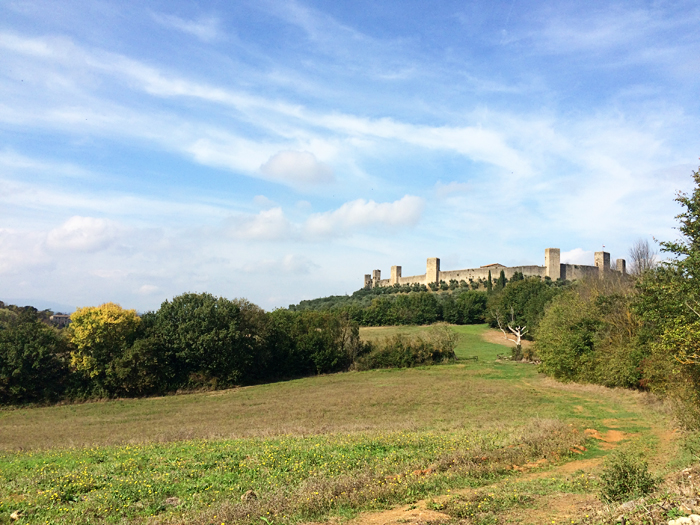 He let us explore the tiny village before hopping back in the van.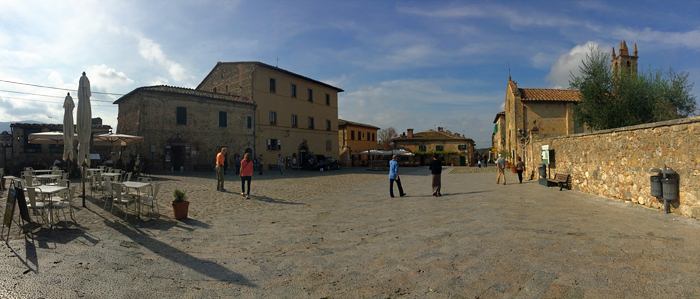 Our next stop was Montalcino, probably my favorite of the Tuscan villages, though by this point I was completely exhausted and didn't explore as much as I would've liked. It was also siesta time, so many places were closed.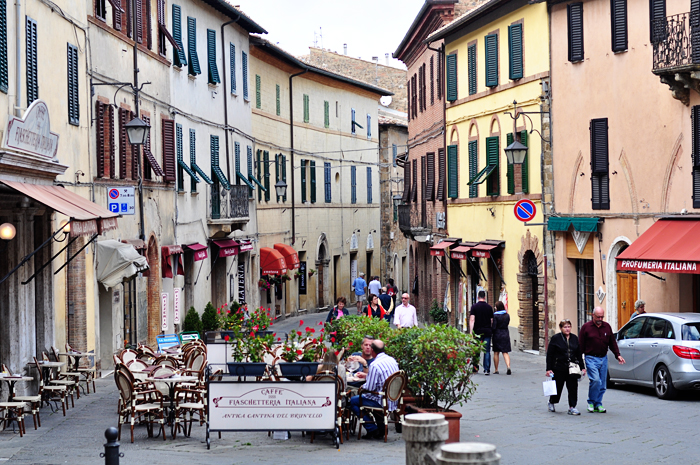 Our final stop was Cantine di Abbadia Ardenga, a winery supposedly renowned for its Brunello.
But I know the truth.
It's really renowned for this man — Mario — an 84-year-old Italian playboy.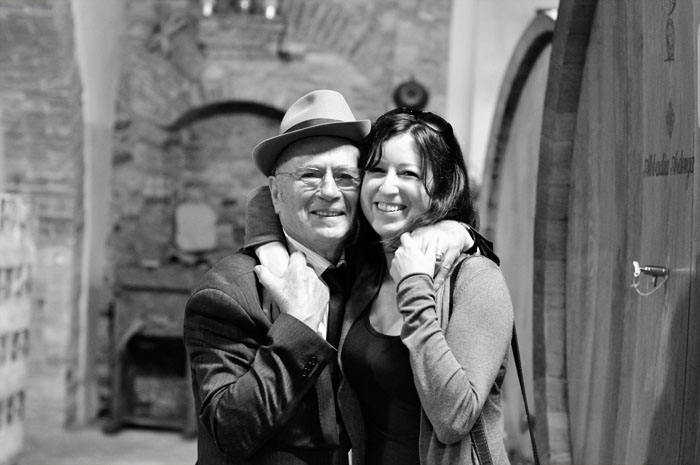 He posed us like this. I apparently didn't mind because by this point, I'd consumed a lot of wine. Also, he didn't speak a lick of english, so Francesco had to translate everything Mario said.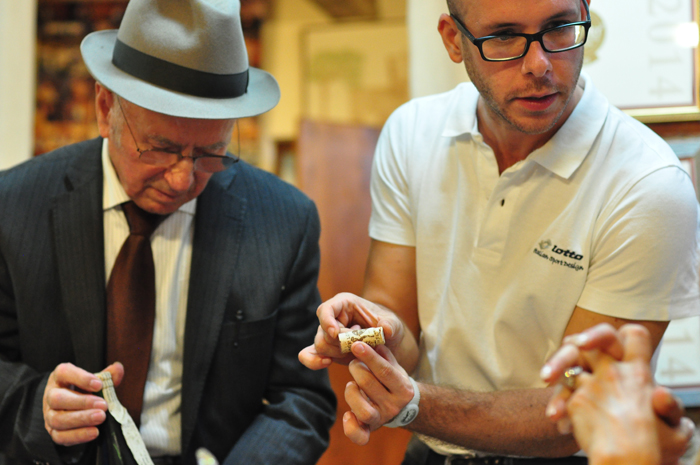 The tasting was held in a cellar and not nearly as festive as the one earlier in the day, but Mario made up for the lack of atmosphere by being both hilarious and charming. Plus, Ruth, Norm, Sylvia, Walter and I had bonded by this point, so Gemütlichkeit was most definitely achieved.
And, in what I was quickly learning to be true Tuscan fashion, we couldn't leave before dessert wine and couple kissing.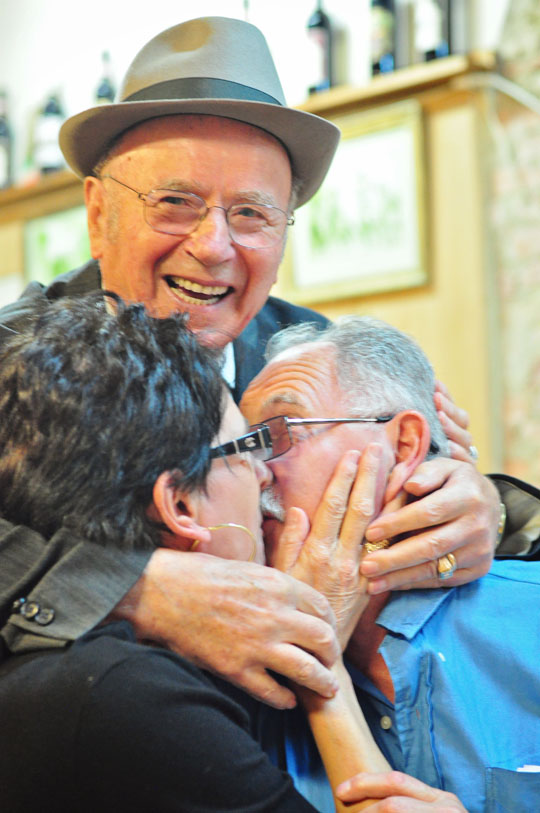 This is where I also experienced my first taste of grapa, an extremely potent Italian digestiv that tastes like a cross between Windex and lighter fluid.
It was amazing.
Overall, this was an incredible tour value-wise, an a wonderful introduction to to Tuscany, and I would highly recommend it to anyone visiting the region. MyTour has an excellent website and really great rates for the variety of tours they offer. The hotel pick-up and drop off service is an added bonus, since many tour companies make you meet them at a predetermined locale.
But the best part was that I unexpectedly experienced that thing — that feeling that happens when the perfect amalgamation of atmosphere, food, and people comes together — Gemütlichkeit. This tour had it. And I'm so happy I went.
What I'd Change:
The van was comfortable, but it was very hard to hear the guide from the back. Ideally, myTour will get a PA system for use in their vans.
If anything, this tour might've been a bit overgenerous and a little too long. Though I'm not sure how to remedy that, since I loved every stop on the trip.
Need to Know:
MyTours
+39 055 284770
info@mytours.it
Good to Know:
This company offers a vast array of tours covering multiple Tuscan cities.
It's an Italian company, so we had a bit of confusion when I was booking about whether I could be picked up in Siena due to language barriers. In the end, everything worked out and they were incredibly friendly and accommodating.
Wear comfortable clothes and shoes — for a long day tour like this, it's smart to wear layers since it was chilly in the morning and warm by afternoon.
Disclosure: My San Gimignano, Chianti, & Montalcino Tour was provided for review by myTour. Rest assured, though, that all opinions — as always — are entirely my own.