Liquid Olives And Sangria: The Ice Breakers Of The Future.
The membrane felt slick and delicate against my tongue. It was nearly tasteless — as though an enlarged droplet of water had been served to me on a silver spoon. Except the droplet was green and clearly not water. Since Brianna and I had arrived 45-minutes late due to some unwieldy outer D.C. traffic, I relied solely on our table mates' explanation of the odd little morsel I held in my mouth. "It's a liquid olive!" they exclaimed, watching expectantly as I slid it between my lips. Hesitantly, I raised my tongue towards the roof of my mouth, putting pressure on the capillary-like membrane until suddenly it burst and — splash! — my taste buds were awash in the distinct brine of olive. The membrane quickly disintegrated and I managed to swallow before a smile of shock overcame my whole face.
Molecular gastronomy, guys. I'm telling you — the future is here.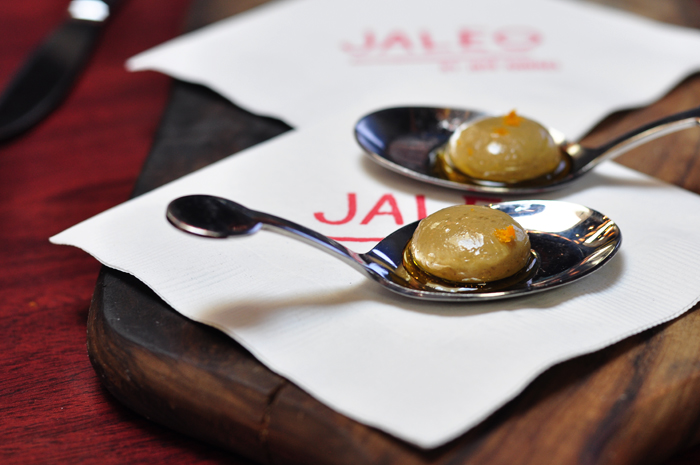 But first, let's visit the past. Say twenty-four years or so ago.
When I was eight, I was a grown-up. For real. I was a tiny outgoing adult with an impressive vocabulary who'd stand around at the epicenter of grown-up parties, hand gripping a cola-filled cocktail glass, and regale the guests with tales from the playground front lines. I was mostly praised and adored, a welcome respite from the same ol'-same ol', and I inevitably grew up thinking I had the natural gift of charm.
Well.
Little did I know, there's a mighty big difference between mingling and networking.
See, mingling I can do. Mingling requires small talk amongst a wide variety of strangers, most of whom happen to find — or at least pretend to find — the various ways I spend my time quite fascinating. Winning complementary trips to Sweden? Reviewing boutique hotels? Heading to work across the hall wearing yoga pants and a sports bra? It really is quite the life. And I, in return, am genuinely interested in their endeavors — be it charitable volunteer work, scientific studies, or a verbal introduction to hot yoga classes, there's always something to learn from people who are very different from me.
But it turns out networking is not mingling. Networking typically involves trying to make yourself sound interesting amongst a whole slew of other people who do almost exactly the same thing you do.
For example, Jerry Garcia might have been a fascinating person to talk to at a neighborhood cocktail party. But plop him in the middle of a room with Paul McCartney, Jim Morrison, and Jimi Hendrix, and suddenly he might struggle a bit to stand out.
Picking up what I'm dropping?
Basically, last Saturday, I was Jerry Garcia, and I had a hard time finding my voice. And probably I was more like Brian Wilson — equally talented, but way less rock and cursed with a questionable sense of fashion.
Anyway.
Jessica van Dop DeJesus, The Dining Traveler, was kind enough to invite me to her #DCTravelBlogger brunch in Arlington, Virginia, which is typically about 3 1/2 hours from my house but this time, due to the devil that is Washington metro traffic, was a solid 4 1/2 hour drive on the way there. So. What's worth an 8-hour round trip in a day?
A blogger networking brunch at Jaleo Crystal City.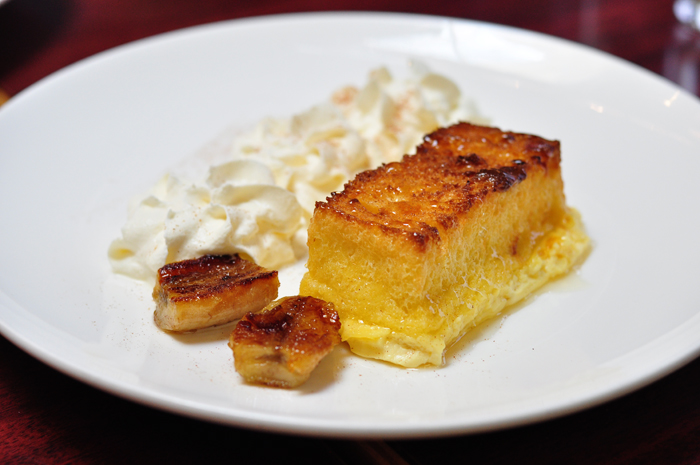 That's dessert. I'll get to that in a hot second.
Colorful, high-ceilinged and full of natural light, Jaleo in Crystal City was the perfect location for an informal gathering of outgoing, travel-loving foodies.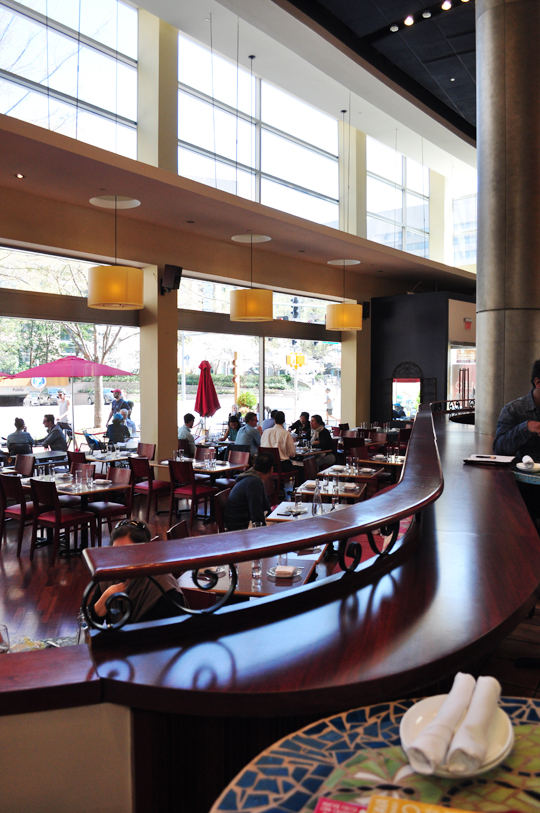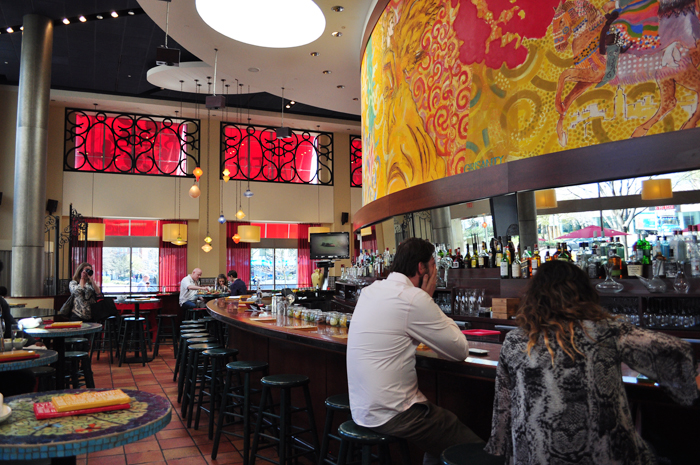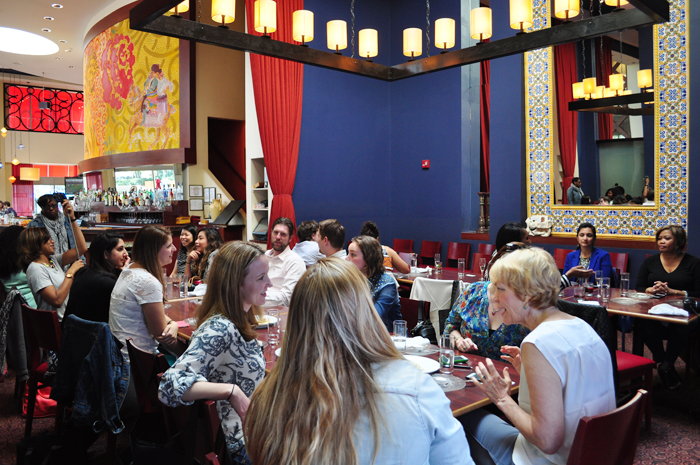 In Spanish, Jaleo means revelry, and this restaurant serves up a veritable celebration of traditional Spanish tapas with a modern twist. So while in Spain it's typical to be served a small bowl of marinated olives upon sitting down at a restaurant table, at Jaleo one can order liquid olives.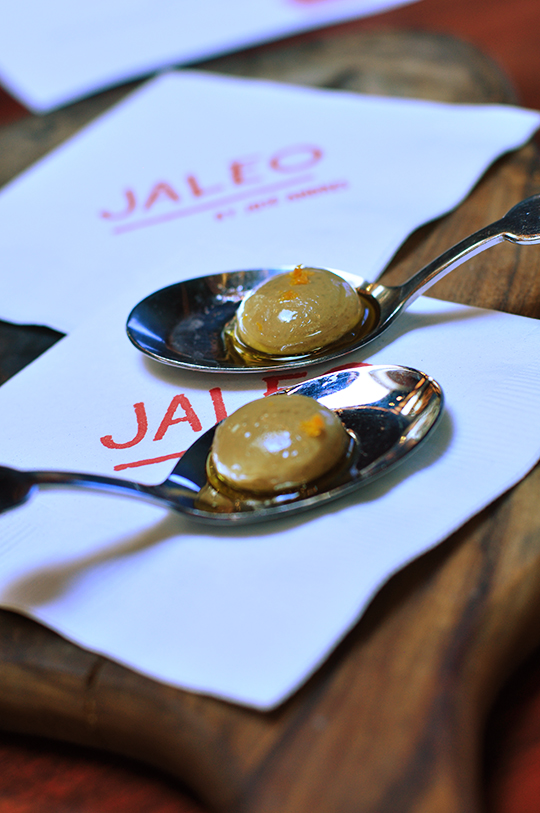 Unfortunately we missed the demonstration of how these are made. Originally concocted by Chef FerranAdrià, pitted green olives are puréed into a juice and then dipped by the spoonful into an alginate bath, which re-solidifies them just enough for serving.
It's probably the coolest thing I've ever put in my mouth.
We were also able to sample a selection of cured ibérico meats…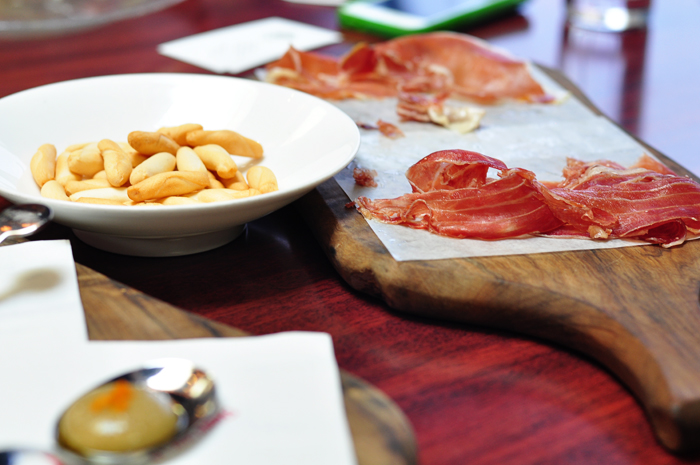 …while sipping champagne and the house sangria.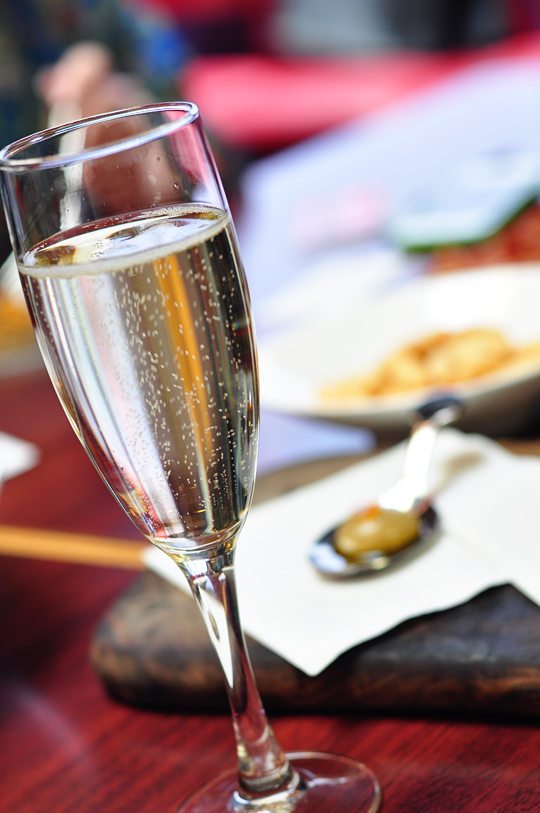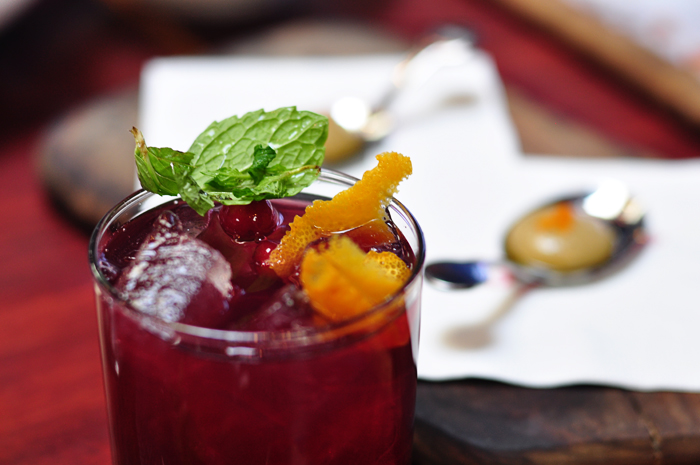 We were off to a rough start. [Insert sarcasm font here.]
Next up was the fried baby shrimp with an organic free range fried egg, which I didn't photograph because it was half eaten and the baby shrimp eyes were slightly unnerving. Delicious, but unnerving.
We were also served some decadent grilled asparagus.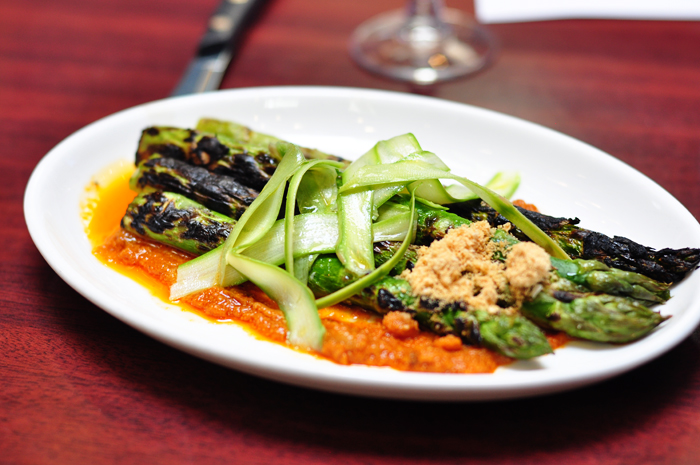 One of my favorite tapas was the smoked salmon on cristal bread with hardboiled egg, goat cheese, and capers, but I was apparently too busy shoving it into my face to get a photo of it. Fortunately, Evan Shaw of Get In My Mouf got a beautiful shot, so here you go: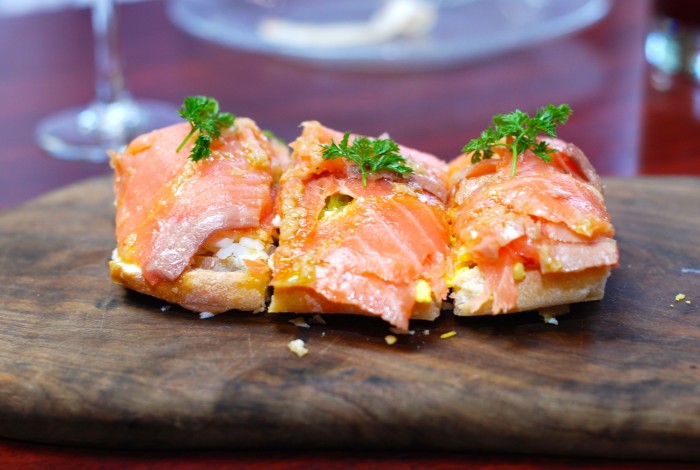 Check out Evan's take on the #DCTravelBlogger event!
Another favorite was the grilled pork shoulder from the acorn-fed, black-footed ibérico Spanish pigs. Served medium-rare with mashed potatoes and piquillo confit (peppers slow-cooked in oil), this dish spoiled me on ham for life.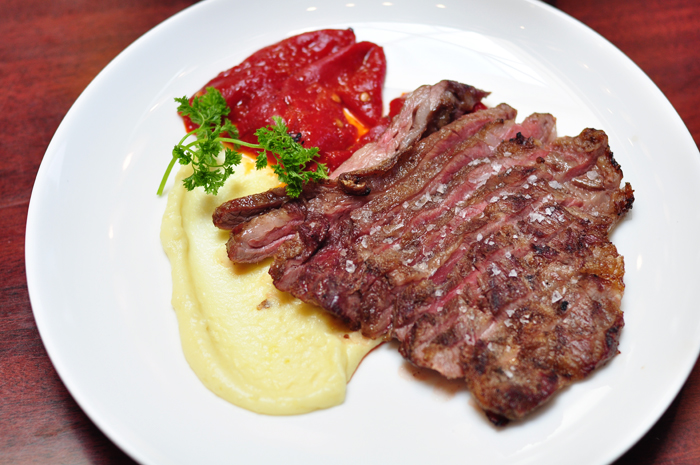 And of course, the main event. With very little fanfare, Head Chef Domenick Torlucci brought out the biggest paella pan I've ever seen.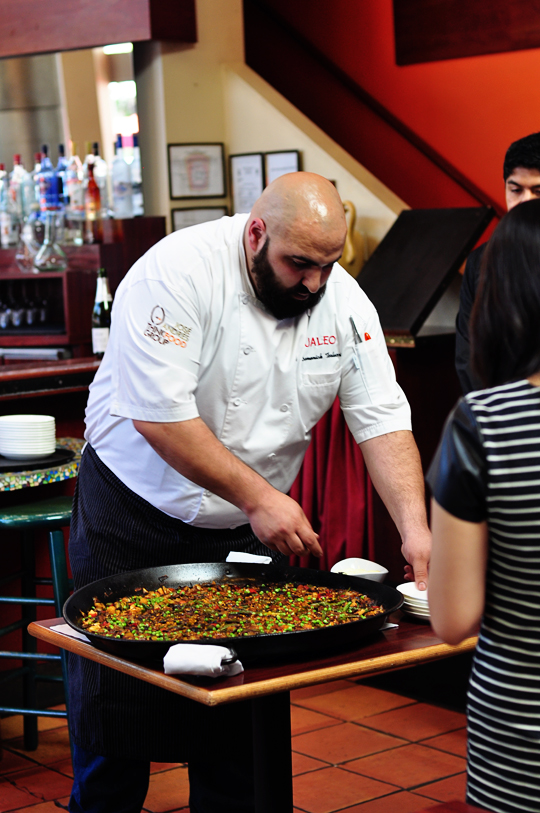 Filled with chicken, mushrooms, and lots of green veggies, this was very different from the incredible seafood and lamb-based paella I had on Ibiza.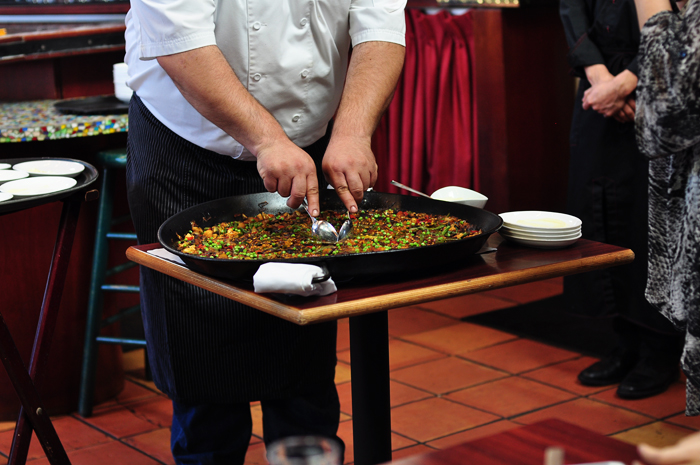 I'm no paella connoisseur, but I imagine it's one of those dishes with a million different variations — each unique to those who serve it.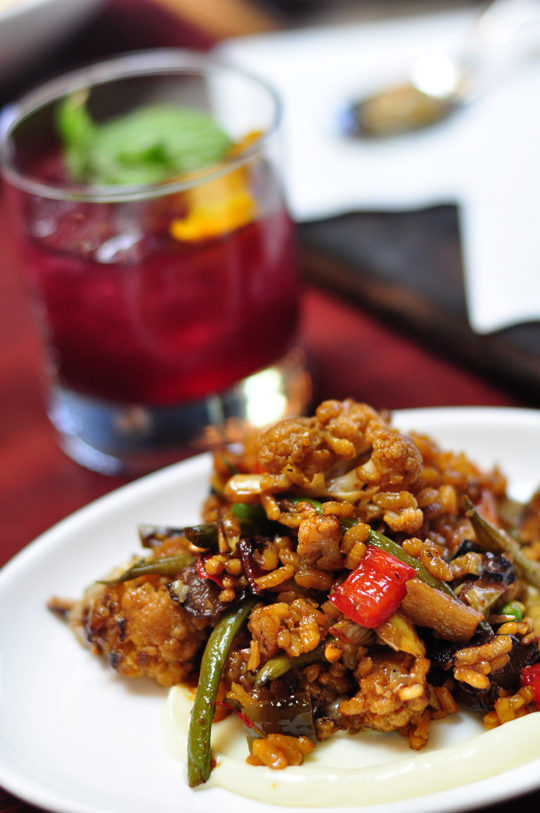 And this one was delicious in its own right. I hope it's not blasphemous to say, but it tasted slightly reminiscent of the pile of fried rice you might be served at a Japanese Hibachi restaurant — especially with the white sauce they served alongside — only the depth of flavor was much more impressive.
For our final course, we tasted sweet-soaked Spanish toast with caramelized bananas and rum whipped cream.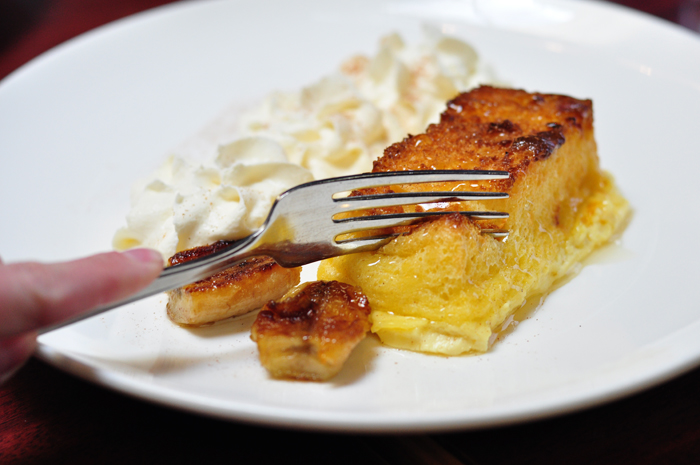 Almost a sponge-like consistency, the toast gave way beneath a crispy golden crust. The perfect level of sweetness when combined with the bananas and whipped cream, it was as incredible as it sounds.
Amongst all of the spectacular food, I was able to meet a variety of D.C. area bloggers, as well as the immensely talented Jean Newman Glock and my new friend Cara O'Donnell from Stay Arlington.
So at least my networking skills didn't evade me completely.
But I think I should probably attend many — many — more food-based events.
You know.
Just to be sure.
***Speaking of networking, Travel Blog Success is currently having a sale (through April 17th) that will save you over $100 off of the normal price!
Good to Know:
Crystal City is typically a business district, so it really empties out on the weekends — perfect for doing some restaurant hopping!
Certain public garage parking is free on the weekends and week days after 4:00 p.m. If you plan to make a quick trip into D.C. as well, park here and take the metro across the river to save a little cash.