Arlington, VA: A Gateway To (And Getaway From) D.C.
Spring is the best time of year because it holds the promise of a long, luxurious summer and it's still possible for me to walk outside without immediately forming a sweat 'stache. The days start getting longer, the birds start chirping sweetly, and suddenly that motivation I'd been missing all winter because I was busy being SAD attacks with renewed zest. Before I know it, I'm working almost full-time as a virtual assistant, digging into home renovations, and surely — if not steadily — working my way towards becoming a novelist.
If you happen to live in coastal Virginia, like I do, spring is also the time of year when the house guests tend to swarm in to take early advantage of prime outdoor activities before it becomes too sweltering to do much of anything. Except form sweat 'staches.
My mom had never really been to the east coast, so when she and Ed visited last month, we tried to squeeze in as many cool places as we could during their 10 day stay. This included a trip to North Carolina's Outer Banks, Virginia Beach and Norfolk, Colonial Williamsburg, and of course, Washington, D.C. Of these, the easiest place to spend the most money is the District of Columbia. Despite the fact that all of the national museums are free to the public, the surplus of fascinating tours, entertainment, pricy hotels, and international dining options makes us lose money faster than this last kitchen renovation. Not to mention the fact that the spring crowds make the major museums and downtown restaurants nearly unbearable for someone who gets panicky in large crowds.
(It was inside the National Museum of American History where one of two adults chaperoning a group of 30-something middle schoolers informed us which museum sells alcohol. It's the National Museum of Natural History right next door, in case you're interested.)
Lucky for us, I met the keeper of the secret to an affordable, less panic-inducing visit on my recent visit to Jaleo in Arlington.
Arlington, Virginia: Our Gateway to — and Getaway from — Washington, D.C.
In case you're unfamiliar with the geography, D.C. squats on the north side of the Potomac River, nestled just above the crook of the fork it forms with the Anacostia. Many of the major landmarks — the Capitol Building, the National Mall, the Washington, Lincoln, and Jefferson Memorials, the Smithsonian museums, and of course the White House, are all located in D.C. proper. But what many people don't realize is that some of the other major landmarks — the Pentagon, the Air Force and U.S. Marine Corps War Memorials, and even Arlington National Cemetery aren't actually in D.C. but happen to be in — get this — Arlington.
When I met Cara of StayArlington.com, it was fate. She told me that not only is downtown D.C. a quick metro ride from Arlington, but with the exception of major holidays, it's 20% cheaper to stay with them on the south side of the river. That would leave us like… a whole lot more money to spend on food. Which you know is my priority.
Where We Stayed
Arlington is actually a county, not a city, which means it's actually composed of several smaller metro areas. We stayed in Crystal City, which is a mini metro rife with small shops, tasty restaurants, and lots of corporate offices.
Doubletree by Hilton
Justin's and my hotel suite at the Doubletree was more than comfortable with two flat-screen televisions (that's one more than we have in our house), a plush king-sized bed, and a really nice work station where I actually did manage to get some work done during our down time.
The best part, though — something I've never experienced at any hotel — was the warm cookies we were given at check-in.
Skydome Lounge
Okay, I lied. There's one other stand-out feature of the Doubletree in Crystal City that you can't get anywhere in the District, and that's a stunning view of the District and Arlington from the top of the hotel in their revolving Skydome Lounge.
I cannot fully express to you the coolness of this experience. After a day spent exploring the city, we came to the Skydome Lounge for a glass of wine and dessert and were rewarded with slowly revolving twinkling skyline views of the major monuments while airplanes zoomed past at steady intervals to land at Reagan National Airport. I believe our waitress told us the restaurant revolves 360-degrees in 47 minutes, but I'd also had three glasses of wine at this point in the evening, so don't quote me on that.
My only criticism about the Doubletree was that the WiFi wasn't free. It's 2015, and this should just be standard in hotels by now. Like towels.
What We Saw
Arlington National Cemetery
It's no secret that Arlington National Cemetery is something to see. Not bathed in mystique like this Spanish moss-laden cemetery in Charleston, Arlington inspires awe due to sheer vastness, uniformity, and symbolism dating back to the Civil War, signifying division that sometimes seems entrenched in our citizens still today. Here Union and Confederate soldiers are buried together — the shape of the gravestone the only indicator of side (rounded for Union, pointed for Confederate).
My mother wanted to visit a gravesite for a friend, and with over 600 acres and up to 30 funeral services per day, it's fortunate that the cemetery offers computers to search for grave sites and a free shuttle service that will drop you off and pick you up within a short walk of the stone.
Good to Know:
If you're staying in Arlington, it's very easy to get to the cemetery via metro. Arlington National Cemetery has its own metro stop, but BE PREPARED TO WALK. If you have any physical limitations, it is a relatively long walk from the metro station to the main building and on into the cemetery.
The visitor's center is air-conditioned and has very nice restrooms. It will likely be crowded. This is where you can purchase tours (recommended).
If visiting during the warm season, bring an umbrella for shade and plenty of water.
The Pentagon 9/11 Memorial
When people think of September 11th, 2001, they often think of the horrific events at the World Trade Center. We tend to forget that the Pentagon was hit as well, and that is in Arlington, Virginia. On a visit to Arlington, a stop at this peaceful, somber place is a must.
The Air Force Memorial is also located in Arlington and is visible from the Pentagon memorial. Its towering piers, I'm told, were built directly in the flight path of the plane that crashed into the Pentagon. Had it been there in 2001, the plane would have hit it.
U.S. Marine Corps War Memorial "What's the difference between a monument and a memorial?" our bus driver asked during our night tour of the major landmarks. "Monuments are built while the subjects are living — memorials are built after the subjects have died." After walking all day, we opted for another night tour of the monuments and memorials. Justin and I had done one once before with his parents, and it's a great way to squeeze everything in while temperatures are a bit cooler. Arlington is home to the U.S. Marine Corps War Memorial, a huge statue designed after the famous photo of 5 American Marines raising the flag at the peak of Suribachi in Iwo Jima.
Where We Ate
Arlington is filled with wonderful places to eat. One morning Justin and I woke up early and had fabulous coffee and beignets at Bayou Bakery.
And of course I had to take Justin, my mom, and Ed to try the liquid olives (and many, many other incredible tapas) at Jaleo in Crystal City: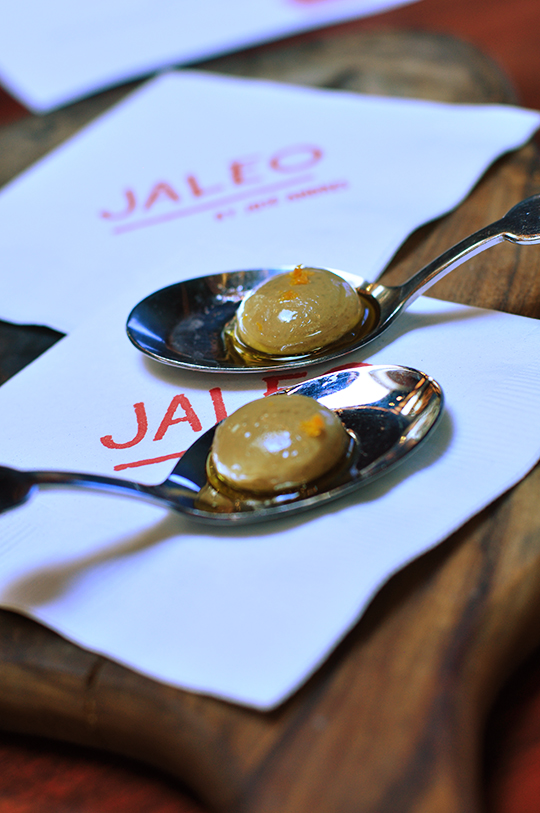 After the chaotic bustle of D.C., heading back to the relative calm of Arlington for dinner was a wise and much-needed respite.
Have you visited Arlington? Next time I hope to explore even more of its unique restaurants and neighborhoods.
*Disclosure: Justin and I received a room at the Doubletree in Crystal City in exchange for writing about our experience in Arlington. All opinions expressed here are my own.