A Domestiphobe's Guide To Accessory Shopping.
Okay I'll admit it.
I'm horrible at shopping for accessories. The idea of spending money on something that's going to have no other function than to sit around my house and look pretty has often felt, to me, like a terrible waste. (And I already have a husband for that. Kidding! He also strips my floors.) Buying a plastic antler to sit on my mantle feels exactly like pulling a wad of cash out of an ATM, dropping it on the ground, and then walking away. Except that would actually make other people happy, so it's not the same at all.
Some people love accessory shopping because when they walk past that decorative box on their end table or gaze across the room at their porcelain stag antlers, it makes them feel happy. They smile, knowing they've surrounded themselves with things they consider beautiful. But me?
It usually only ever makes me feel one thing, and that's guilt.
Welcome to my world. It's ludicrous in here.
Like the time I stumbled upon the giant fake gear at Z-Gallerie. Despite the fact that it was thoroughly on clearance, I hemmed and hawed for a solid hour over its purchase, feeling like I "needed" something to hang on my living room wall but knowing full well that an original piece of artwork or a quick flight to Bali for a hand-woven tapestry was a bit over budget. Finally my mother and my sister dragged me to the counter, heavy gear in tow, and threatened to put off getting lunch until I bought the damn thing.
And we all know how I feel about lunch.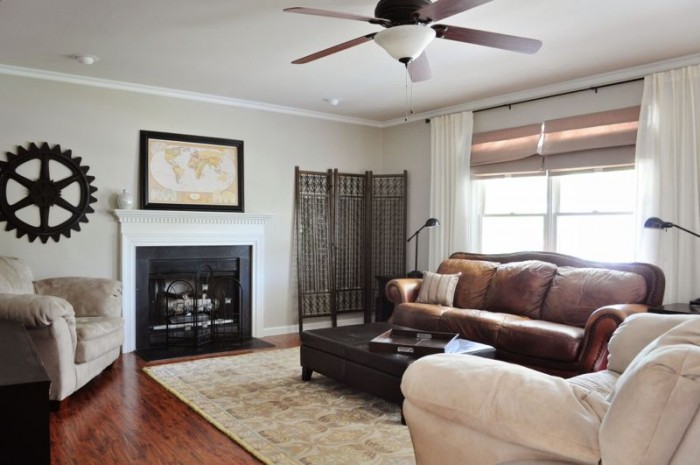 It ended up looking pretty nice in our old living room next to the sale vase I (after about 45 minutes of pondering) bought at Target (and still use), the map my sister-in-law gifted me, and the broken Moroccan style screen I found at a consignment shop.
The thing is, as much as it irks me to make these purchases, when you're trying to turn a house into a home — from a place where you stay to a place where you live — squandering cash on the occasional accessory is a necessary evil. A well-placed bowl or decorative pillow can add a much-needed pop of color to the drab neutrals I work so hard to hone for re-sale.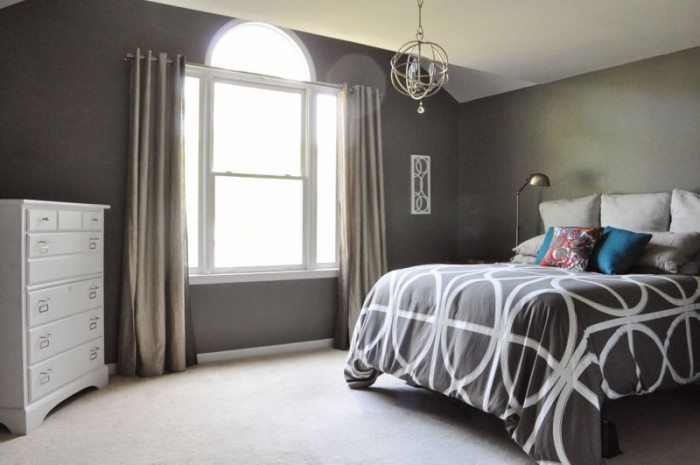 Our old moody charcoal bedroom. I have to say I miss it dearly.
My point is, as much as I'd love for everything I own to be 100% artisan hand crafted and beautiful, not everything I purchase for decoration is going to fit at least one of my qualifying criteria for purchasing dust collectors:
1. Is it "art"?
2. Does it mean something to me?
3. Does its purchase directly benefit its creator?
Sometimes mass-produced impulse purchases are the only way to get 'er done, which is why I've found tips for buying them over the years.
A Domestiphobe's Guide To Buying Inexpensive Accessories:
1. Don't Panic.
That seems a little obvious.
Instead,
1. Justify, Justify, Justify.
It turns out if you're clever enough, you can claim most accessories have a function beyond aesthetic appeal. A cutting board is an essential tool for a well-stocked kitchen, but a pretty cutting board makes the kitchen pretty, too. That "Turkish" glass bowl from TJ-Maxx is really useful for storing clean kitchen towels. And what about cabinet earrings? This turquoise one is the only item I could afford in the whole of Anthropologie and I'm okay with that because cabinets need to open and look how pretty!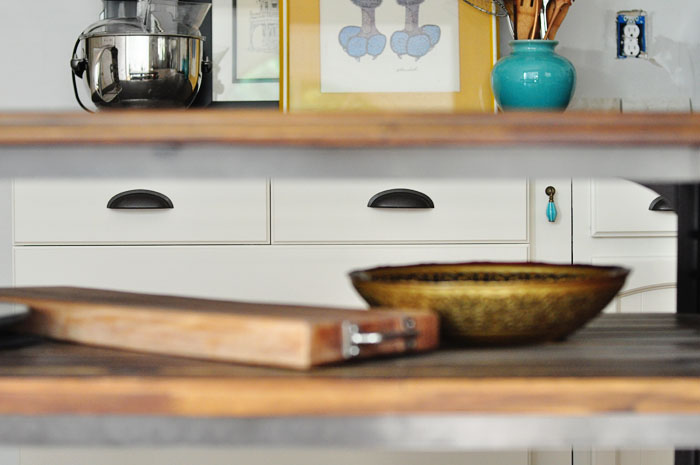 And let's not forget books. Not only can you read 'em (crazy, I know), but there are all kinds of fun and interesting ways to display them.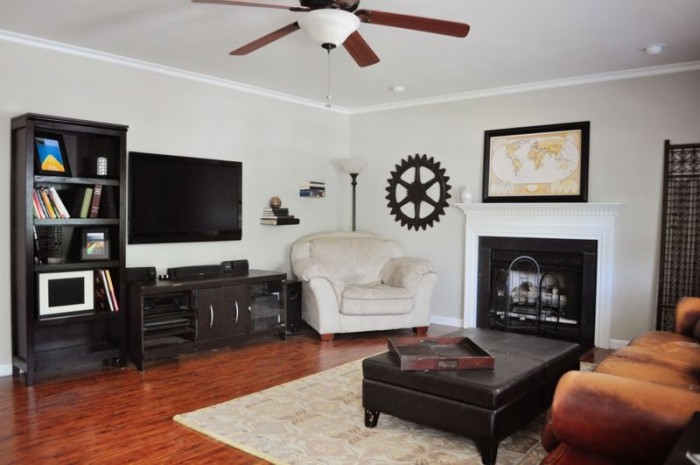 See those invisible book shelves on the far wall? They look like magic.
2. Accessories are like cats — the more lives, the better.
Being a military family, Justin and I always have to think in terms of longevity when we make a purchase. How many lives (aka. moves) is this item good for? Is it house-specific, or does it have a common enough size/color/use to transition? Can it physically hold up to a move or three? If it's likely to break or not fit into the next dwelling, it's probably not worth the purchase. Mass-produced items rarely hold value when it comes to re-selling them, so whether or not you're likely to continue using it if you're a frequent mover is worth considering.
3. Tie it all together.
I find having a general color scheme for a room works pretty well for a decorating novice like myself. For example, I love the color turquoise. It reminds me of the tropical ocean I'm not gazing at and makes me feel serene. So I inadvertently decided that would be my kitchen accent color when I bought our Le Creuset dutch oven. (Which is, as long as I'm justifying things, one of our most-used kitchen splurges. That, and a really nice knife.) Then I found my thrift store owl picture, which is laden with turquoise, and my friend Stacy bought me my Le Creuset French press, also turquoise, and a theme was born.
Which is why, when I bought this $25 rug at Target yesterday, I was exceedingly proud of myself.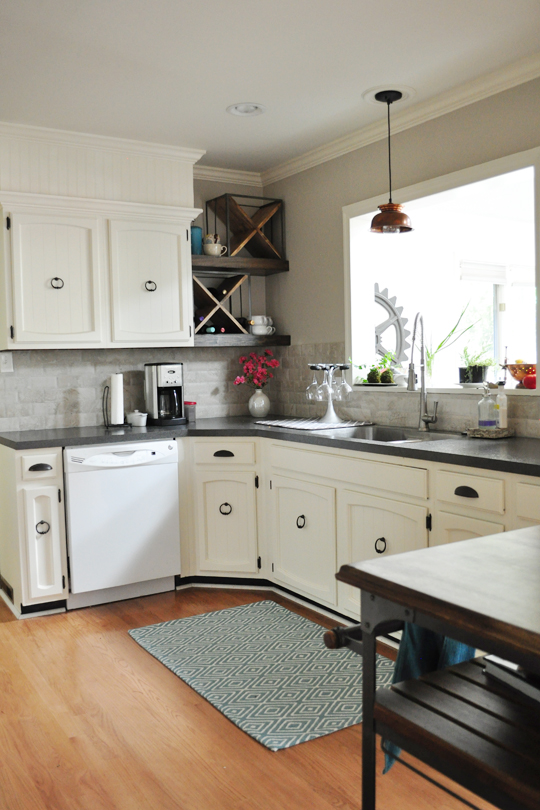 Please ignore the fact that I still need to paint my toe kicks and shoe molding. Kthanks. (Oh hey, Target vase!)
Not only does it add a fun splash of color to the kitchen, but it does well to hide the lovely patina my dogs' nails have left on our hardwood floors. (#1: Justify) It's an average size, durable, and likely to fit in our next kitchen. (#2 Longevity) And, finally, it fits in my color scheme. (#3 Cohesion)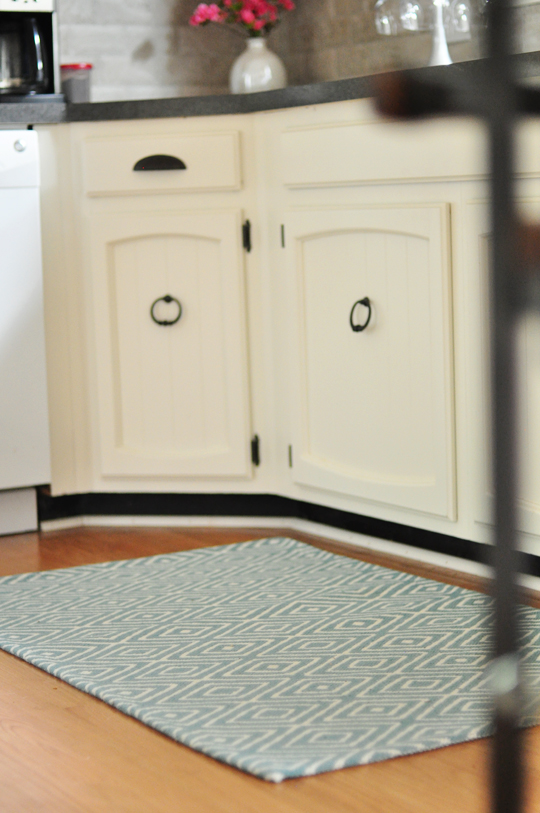 Domestiphobia, you see, is about learning how to overcome stagnancy, routine, and figuring out how to step outside of your comfort zone.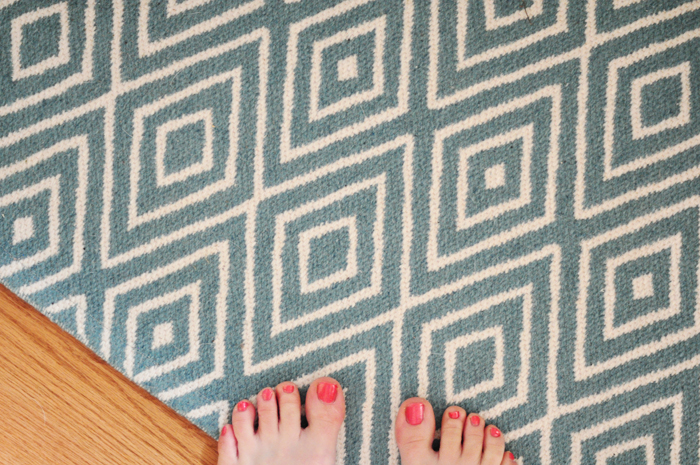 And I think I'm finally figuring out how to do that inside my home — one small justification accessory at a time.