My Decorating Philosophy Is More Like A Drunken Stumble Than Anything Coherent.
So a couple of weeks ago I posted our final house tour, and something really odd has been happening.
People have been asking me — me! — for decorating advice.
I know.
It's shocking.
I've never considered myself one of those design savvy people who can just whip out some fabric, slap it on a pillow, and suddenly a whole room comes together. Hell. A design quiz even called me an alcoholic. (Which, when I look back on the photos I thought were good examples of photography, I realize was probably accurate.)
Anyway.
The truth is, I'm too scatterbrained to design. Instead, I tend to feel may way through, all piecemeal like, often taking months or usually even years to really fluff my feathers and settle in. I'm so slow and indecisive, in fact, that by the time I acquire the "last" piece to complete a room — say a great piece of art or maybe some window treatments — it's usually time to replace one of the worn-out starter pieces I'd bought years before.
Take our living room, for example. When we closed on this house back in April of 2007, it looked like this: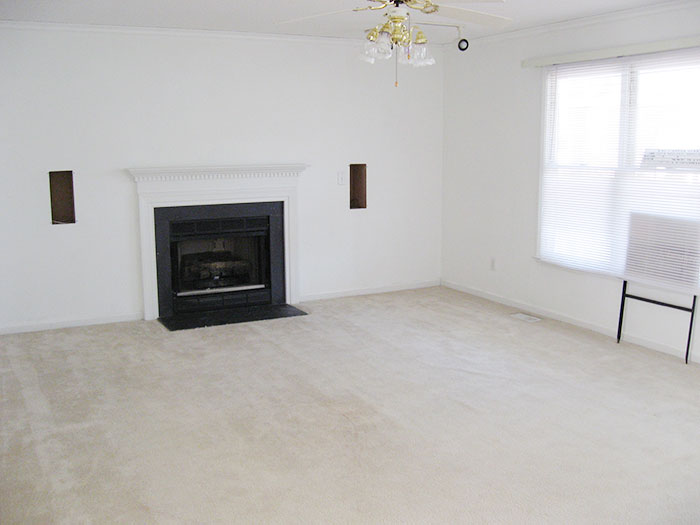 Then we filled it with our motley assortment of goods, including the 3-piece set of overstuffed, 80's-esque, microfiber sofas we were so proud of when we bought them: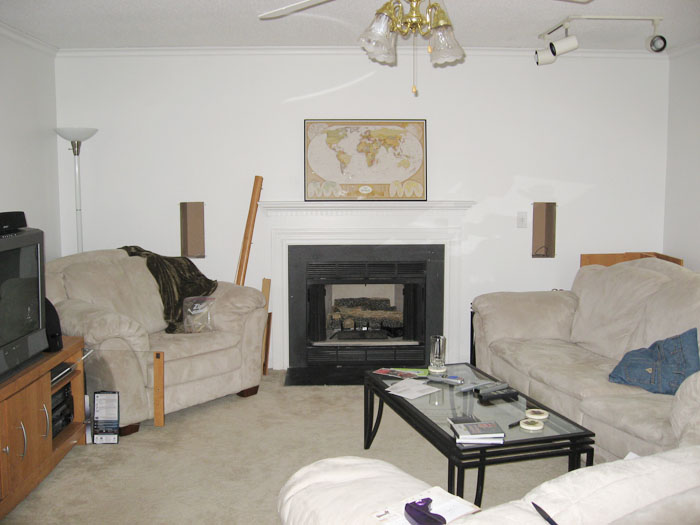 With all of that beige-on-beige action, it was a pretty blank slate. But the problem with blank slates is that kids — and also first-time home buyers — want to just scribble all over them.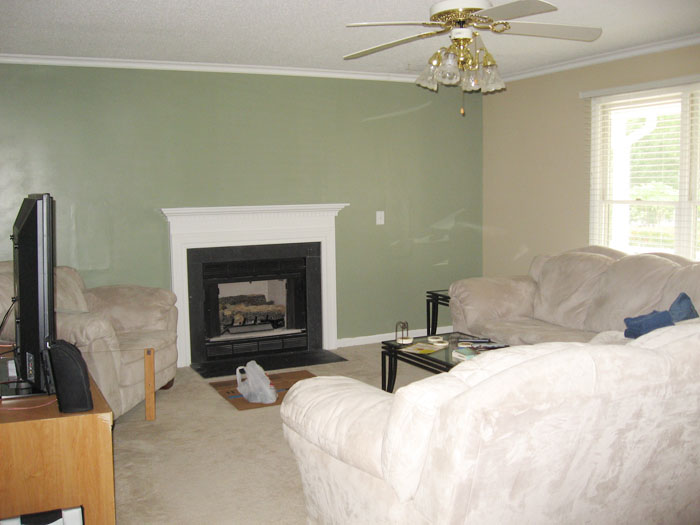 So we scribbled a green accent wall and filled the rest with a dark, almost-but-not-quite-yellow beige.
And it was about this point when I realized that updating a house was a lot harder than HGTV let on.
Our mistakes were plentiful. Uncoordinating accent wall? Check. Horrific speaker hole patch job? Check. Use of glossy paint that highlights the horrific speaker hole patch job? Check. And that was just one room.
We decided at that point that if we were going to bother doing this whole renovation thing, we should probably do it right.
After mentally working ourselves up to the task, down came the popcorn ceiling: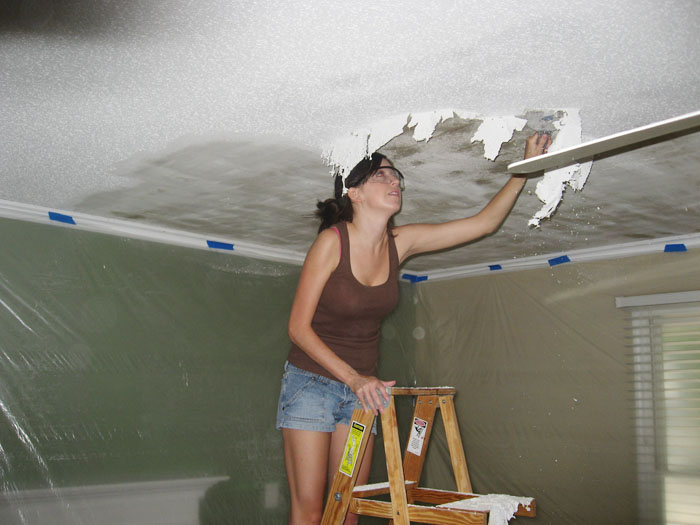 (Don't ask me why we bothered protecting that awful paint on the walls.)
And up went a new light fixture, throw pillows, and a colorful rug to tie everything together: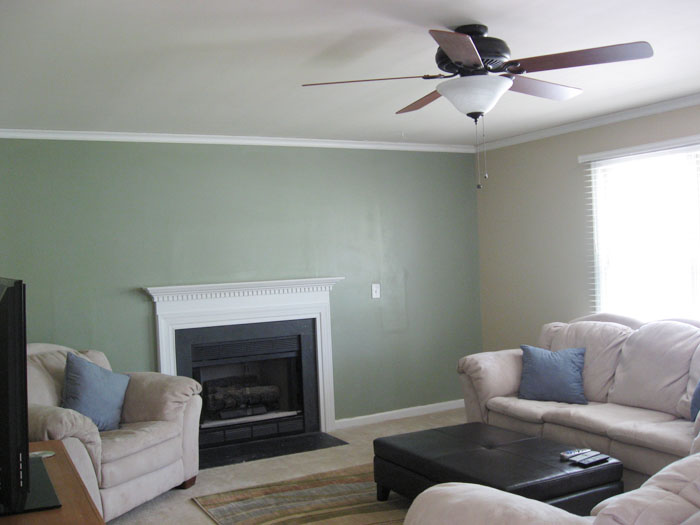 Better. But still not great.
Over the years, though — try five! —, it improved. We installed the laminate flooring. I added some cordless Roman shades from Ebay and some Ikea curtain panels to dress up the window. I snagged a deal on the C-Company rug on Joss & Main (the other rug was much smaller and has since found its way to my office), I painted the blonde wood entertainment center a dark mocha, we mounted the television, and I invested in some tables and a bookshelf from the ever-elegant Tar-jay. (That's Target in non-fancy speak.) Then I went crazy and re-painted all of the walls and made Justin install those can lights in the ceiling to eventually end up with what we have today: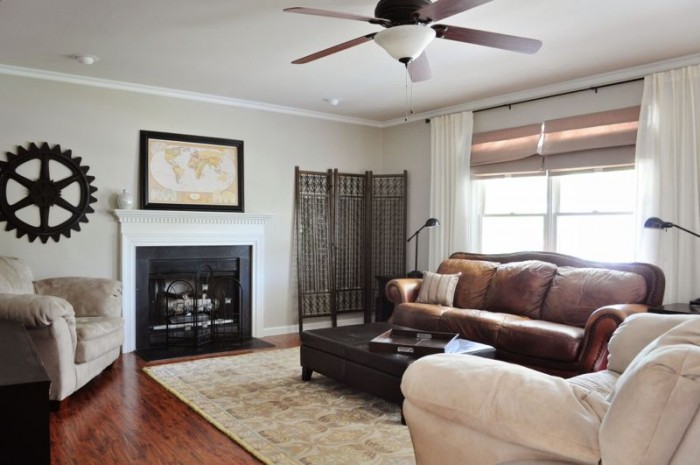 That leather sofa, by the way, was a $40 Craigslist find. Score. And the microfiber loveseat is promised to the same person who bought the larger one when we move out. The "gear" was a sale purchase from Z Gallerie, and the broken Moroccan-looking screen was a consignment find. But even though it looks "done," it's still not done. The painted entertainment center is broken and worn. The matchy-matchy Target end tables are falling apart. The microfiber furniture is reaching the end of its lifespan, and the ottoman coffee table is scratched and broken.
I guess what I'm trying to say is that it's far from designer. I didn't have a clear vision of how I wanted it to look — this is just how it happened to end up.
Those of you who've been around for a while know that I suffer from paralysis when it comes to commitment — especially when said commitment requires me to put holes in the walls. Because painting is hard, you know. It requires arm muscle and wrist agility and there are always drips to wipe up and brushes to clean and sometimes, even days later, I'll find a spot of paint somewhere super weird, like the underside of my elbow, and I'll be forced to momentarily ponder just how effective I really am at showering.
And I don't like to buy a lot of decorative items just for the sake of having decorative items.
I'm sorry, design blog lovers, but it's very unlikely that you'll ever see one of those fake white deer heads on my wall that seem to be all the rage because someone said they're cool. To me, that's like sayin', "Hey. I'm not into hunting, but I'm way into dismembered heads."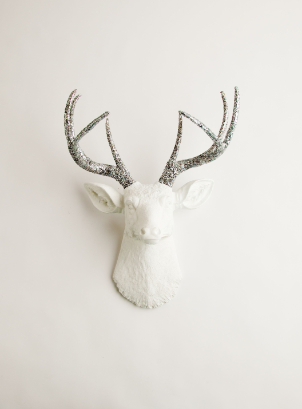 See? It's not gross because it has sparkly antlers.
And while some things I'll buy — after much deliberation and near psyche-outs — because I just like the look of them (hello, giant fake gear), I'm going to be far more enticed by a potential dust collector if it meets at least one of my qualifying criteria:
1) Is it "art?" If it's not mass-produced and/or was created by hand, it's art.
2) Does it mean something to me? If it invokes a particular feeling — usually a good feeling like nostalgia, peace, or quirkiness — it means something to me.
3) Does its purchase directly benefit the creator? If a person makes something I like enough to buy, I like to know that person — and not just the place selling the item — gets a fair cut. If I happened to actually like fake deer heads and wanted to hang one on my wall but discovered it was likely made by a twelve-year-old kid being forced to work for pennies a day, I don't know. For me, that would kind of suck the joy right out of that dismembered animal head.
So okay. Recently I was contacted to see if I'd be interested in reviewing a product for Macy's Heart of Haiti campaign. As a frequent online shopper at that particular store (I'm a big fan of their Hotel Collection towels and duvets), I'd already been somewhat familiar with their "Trade — not aid" initiative to help restore the dignity of work to artisans affected by the horrific earthquake the country experienced in 2010. Basically, Haitian craftsmen (and women) are given the opportunity to work with U.S. designers to expand the market for their goods like jewelry, quilts, and other home decor, which they create mostly from recycled and sustainable materials like oil drums and local wood.
Considering Heart of Haiti products meet not one but all three of my criteria, I was like, YES! Send me free stuff!
Of course, I also let them know that, even though it's a charitable initiative, my review would be 100% honest. I would never want to steer you guys wrong.
So here's what they sent: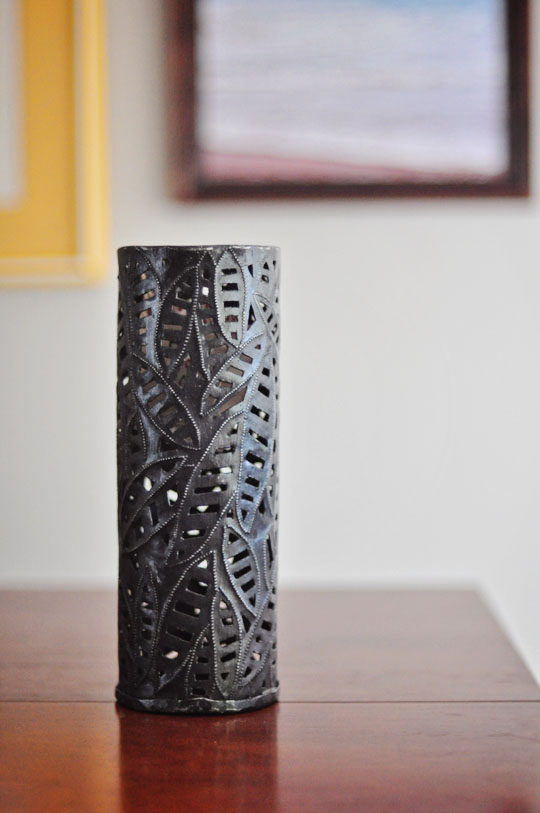 It's a cool tribal-looking metal vase. Honestly? Exactly the kind of item I would've picked out for myself.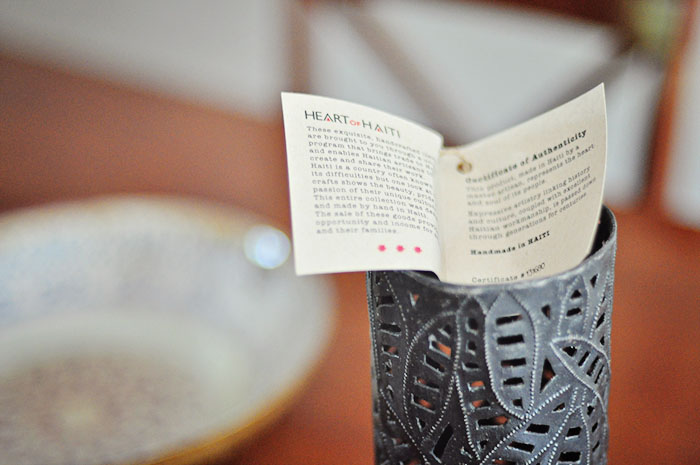 It came with a certificate of authenticity which induces all kinds of feel-goodery.
I love the leaf design contrasted with the gunmetal color. If I were a designer, I'd describe it as "Industrial Leaf Motif," and then I'd give 'em Blue Steel: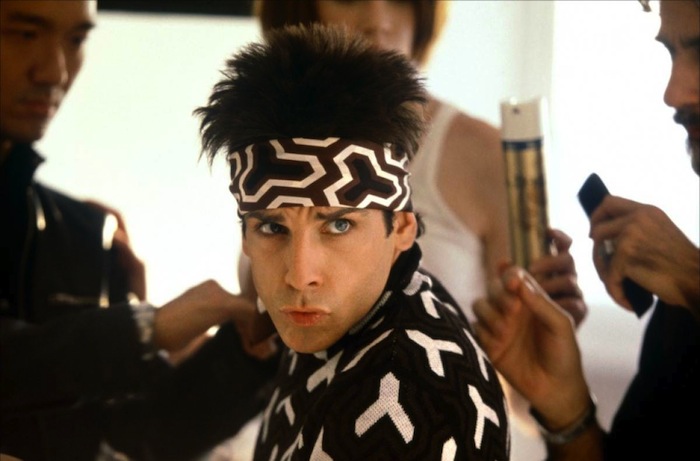 It's hand-made, so there are definitely some imperfections, like where you can see where the piece was soldiered together.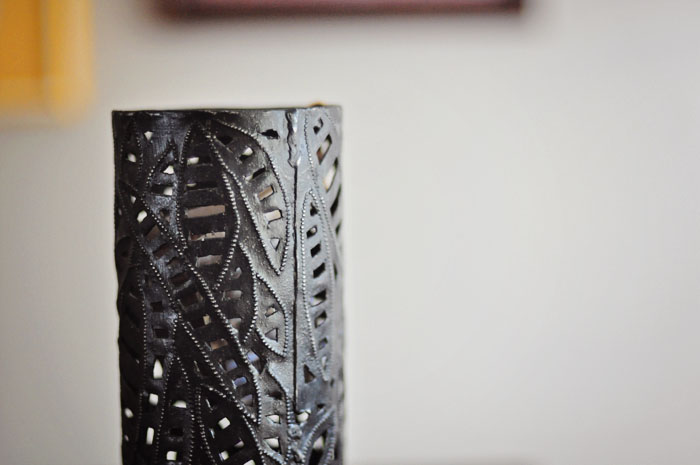 But it's metal, yo. They have to get it to stick together somehow, and I honestly kind of like the seam.
I'm still trying to figure out what to do with it. I can't exactly fill it with water because, you know, holes. But I could do dried flowers or fake greens, or I could very easily place a glass cylinder inside if I wanted live plants.
And honestly, it looks pretty great just empty.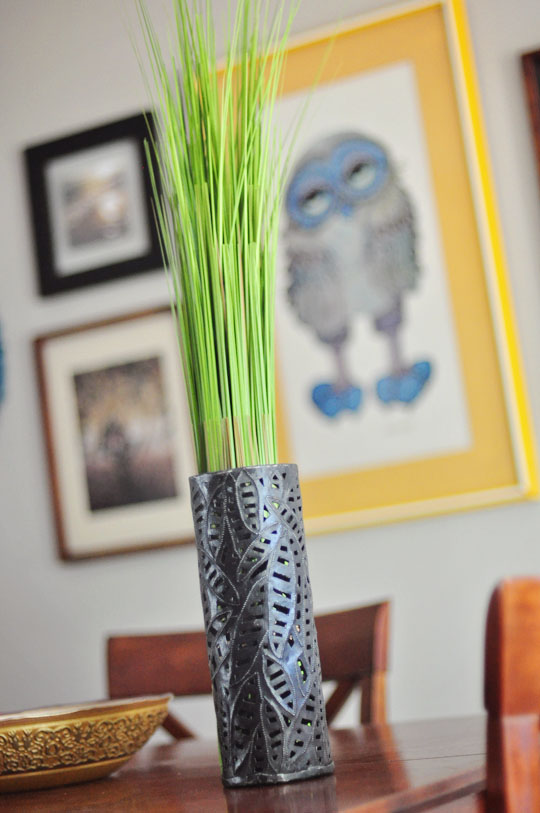 I'm also kind of loving it with this funky green grass, which I'd have to somehow cut down to actually fit inside. Doh.
Whether I have anything inside it or not, this will be something I always keep on display. It looks great and it makes me feel good about myself. Decorating to me? It's all about combining style with purpose. And I'm pretty sure this one nailed it.
What do you think? Do you have certain criteria when it comes to buying stuff to make your house really, really ridiculously good-looking, or am I just like… freakishly discerning?
*This vase was provided to me by the Everywhere Society for review. All opinions expressed are my own. (Seriously? Would I ever give you anything but?)