We Need To Talk About Money. And Cabinet Earrings.
I'll tell you what. It's photos of projects like Christina's, which I posted on Friday, that have the power to either kick a huge motivational boot to my butt or just make me want to give up entirely.
In this case, I'm motivated. Super motivated. The problem? Money.
I wouldn't say we've completely run out of money to spend on the kitchen, but we're far enough into my zone of discomfort that it might be time to pull back the reigns before buying a backsplash and finishing up all of the trim work around the cabinets. The flooring and the drywall added thousands to what otherwise would've been a relatively inexpensive project. I mean, the bulk of everything else involved our own manual labor, plus the cost of counters, some plumbing, and the appliances. (Which we purchased at a huge discount over last year's holiday shopping season. More on that later.)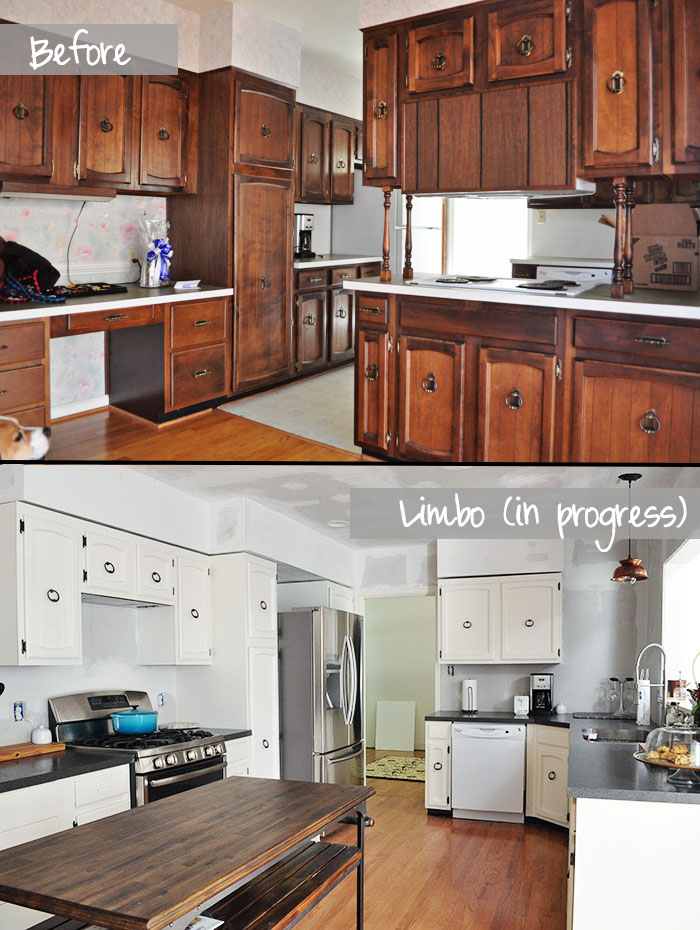 So… um… yeah. We've spent a bit.
Which wouldn't be a problem if I were still earning my keep through real estate photography and by being an adorable housekeeper, but my regular clients all live 4 hours away, and my housekeeping skills have been somewhat lacking in the motivational department since we purchased 2,000 square feet of floral wallpaper, mint green trim, and an excessive amount of tasseled scalloped roller shades.
Houses. I don't call 'em "money pits" for nothin'.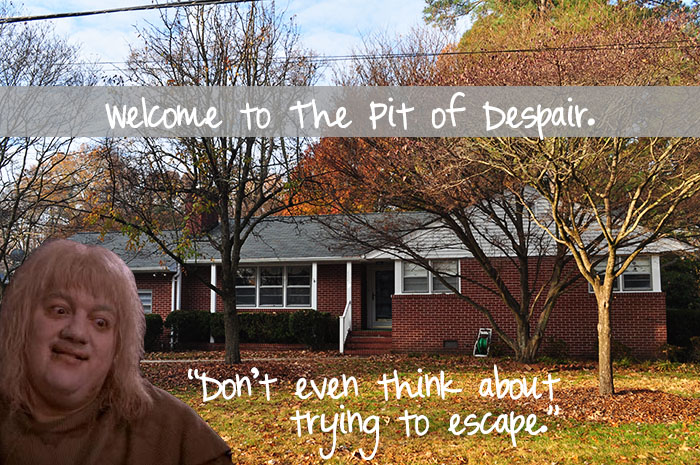 Listen. No one likes to talk about money.
I get it.
But yet I don't.
Because not talking about money is the reason so many people are in debt. It's why we often pay more than something's worth. It's why women in the U.S. still, on average, get paid less than men to do the same job.
Me? I'm big on saving. I'd always been the kid who, by the time Halloween rolled around, still had a couple of rock-hard pieces of taffy left over from last year. Because for one, no one really likes Halloween taffy. (If you do, let's talk — I probably have some from 1995 that I'll trade you for a peanut butter cup.) And for two, because I never knew when, months after Halloween, I might have a tough day at the sandlot and need a good, stiff piece of taffy to help me relax when I got home.
I saved because I never knew when I was going to need it.
The same went for money.
So.
Justin and I have always been really good about only spending money we actually have (with the exception of our house and, unfortunately, when we need to purchase a vehicle) and keeping a decent amount in savings for emergencies.
I like to know that if something happens and we're left without income, we have enough saved up to cover our expenses for a solid amount of time. But lately, with this kitchen renovation and lots of visitors and frequent travel a noticeable lack of monetary contributions on my part since we moved, I'm watching our savings dip uncomfortably low. And really. Who could say "no" to Italy?
In order to relieve the stress, last week I landed my first part-time food industry job since The Wine Bar, and I also paid off my last student loan for that degree I don't use.
So if you see me stripped naked and streaking down Jefferson Avenue in rapt celebration, yeah. That's what that's about.
But in the meantime, we need to scale back the pace of our renovation spending and concentrate on more labor-intensive, low-hanging fruit kind of goals like painting and organizing and making use of what we have.
We did, however, manage to get some pulls on those drawers. I'd originally wanted something a little more unique, but they didn't make those in the right size and I ended up finding these pewter cup pulls on sale for $2.30 a piece: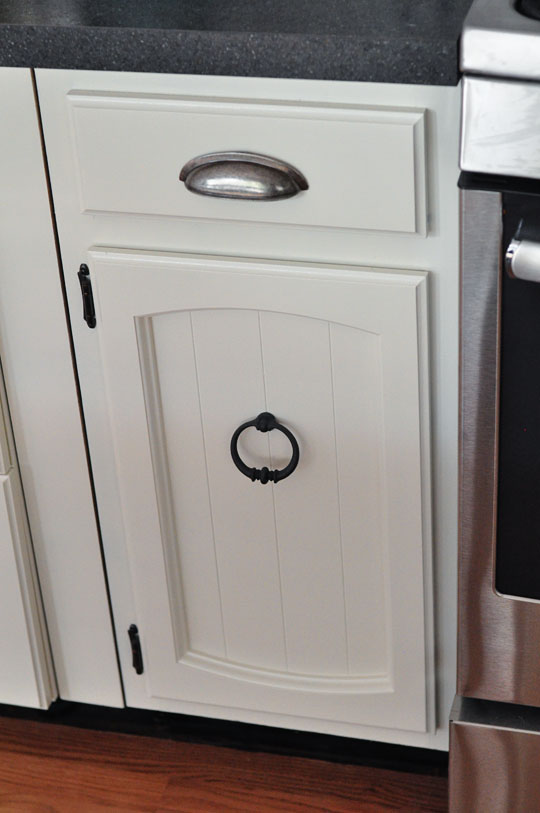 I double-checked with the company to make sure they weren't the kind that need to be counter-sunk into the drawer face (some cup pulls are built that way, so beware), and we were good to go. I already have enough different metals going in this kitchen without adding pewter to the mix, so I spray painted them to match the ring pulls:
The screws that came with these were extra long and had blank spaces in the threads so we could saw them off where needed. After that, they were easy to install. Except on the IKEA cabinet. I'd special-ordered drawer fronts for the IKEA cabinet to match our other drawers, and they didn't come pre-drilled for hardware.
So I measured.
And then I measured again.
Then I fixed my marks and measured again, because math drives me to drink.
Then I had the live-in handyman double-check my work and install them.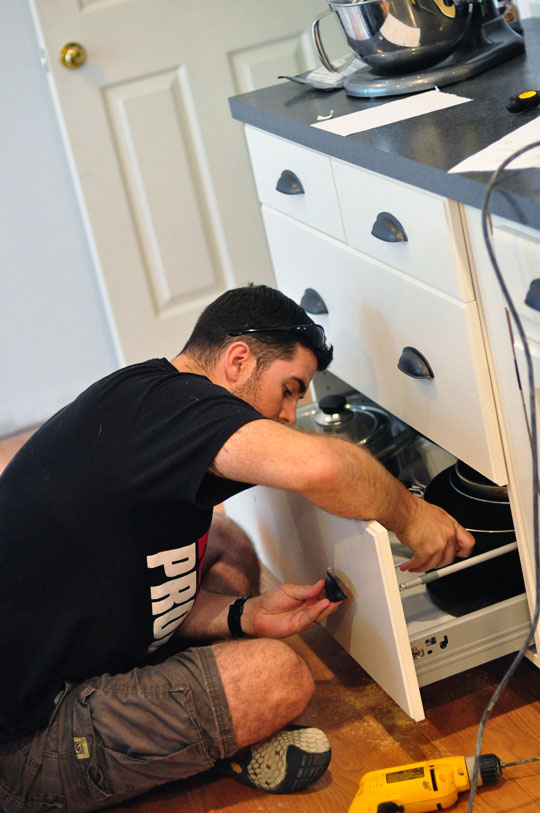 He lets me pay him with sex.
After massive amounts of pit sweats and pacing, I was able to see that they lined up perfectly.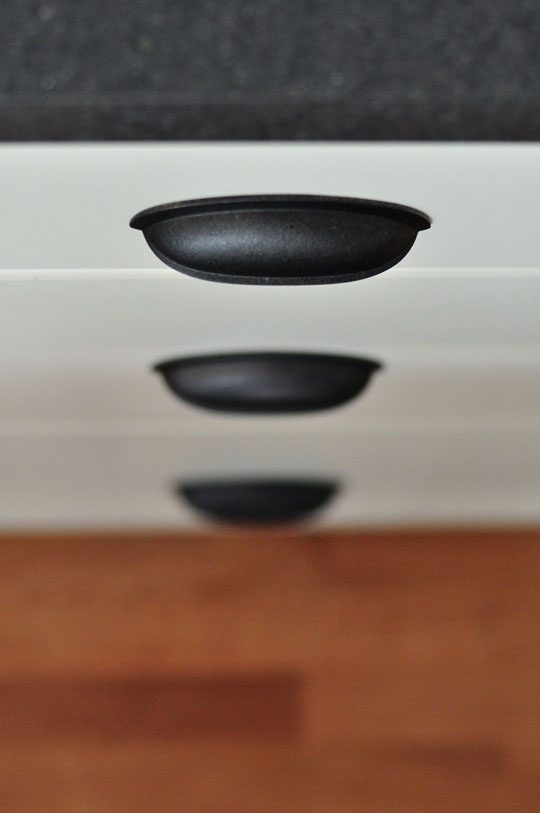 And… I might've added a little something extra.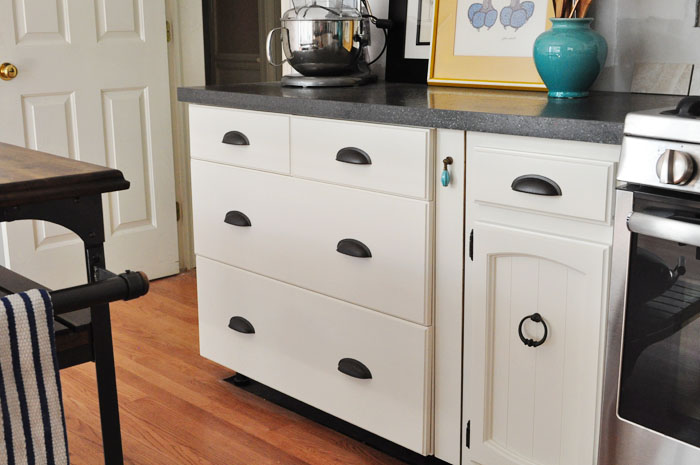 A little cabinet earring, if you will, to spice things up a bit.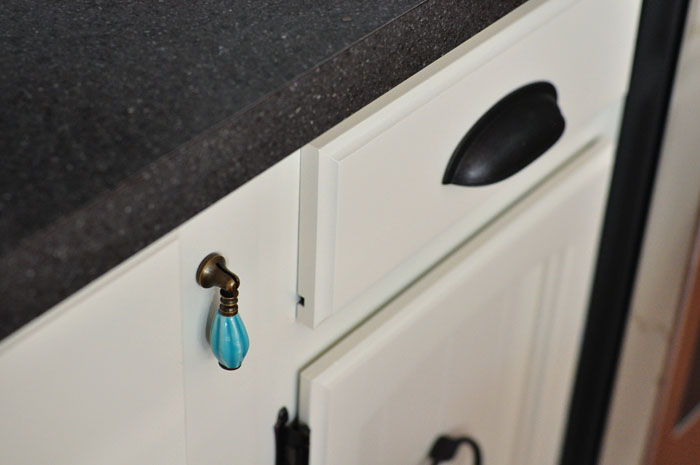 It's the "melon pull" from Anthropologie in turquoise, and officially the only thing I own from that store.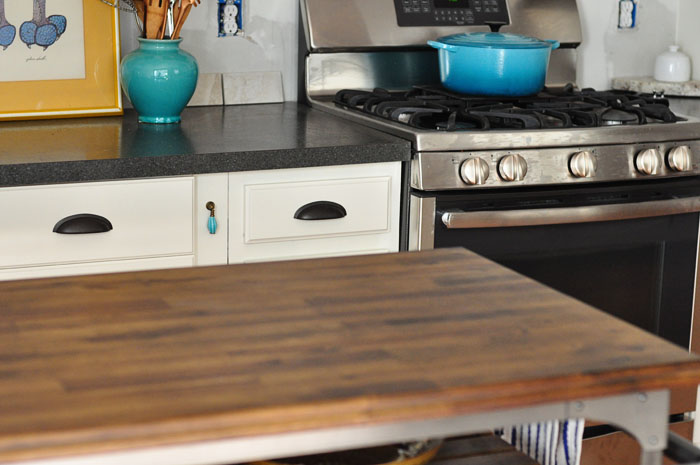 Yep. It's another shade of metal. I'm not going to spray paint it though for fear of gumming up the hinge. Since we don't yet have a backsplash or wall paint, this adds a nice little pop of color.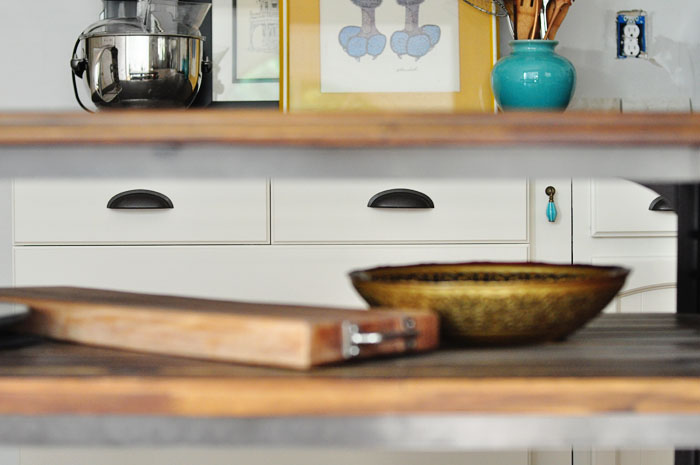 And it functions perfectly for our pull-out spice rack.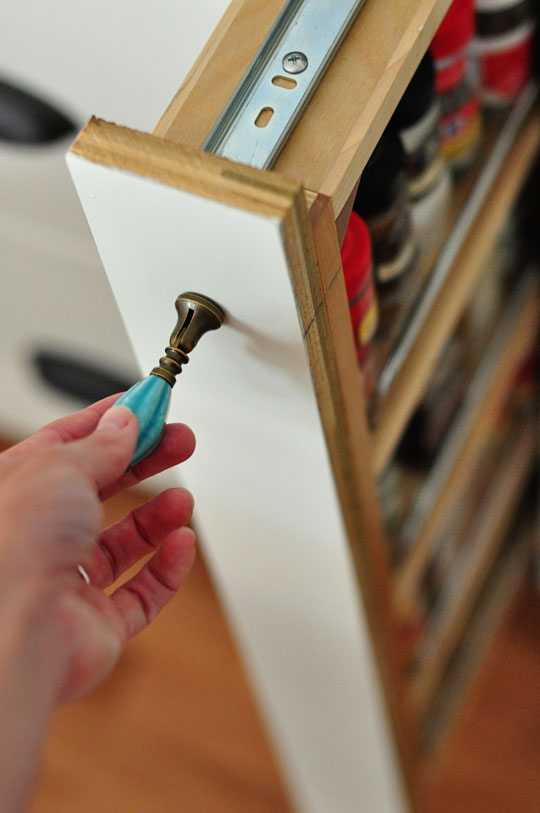 Overall I'm pretty happy with how these look. And for less than $30 for all 12 of them, the price would've been hard to beat.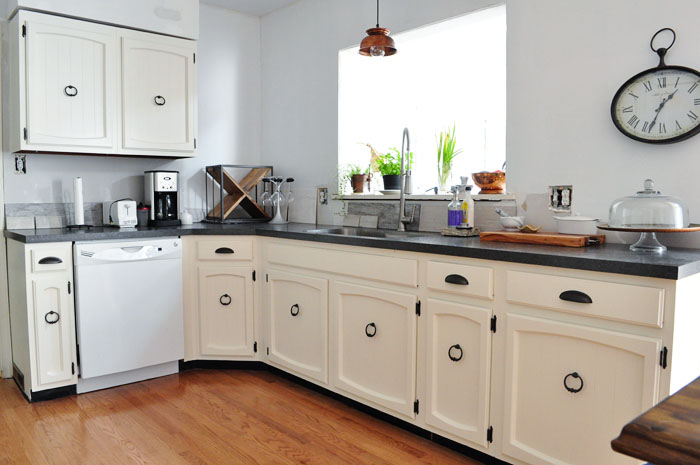 I ordered 2 extra for that blank panel beneath the sink. Do you think I need them there? I'm kind of thinking it looks okay without them.
So that's our slow progress in the kitchen. I do feel a little anxious about getting a backsplash, simply because I've already splattered some grease on the raw drywall behind the stove, and I'm thinking that probably isn't good. So if you see any amazing tile deals floating around out there, be sure to let me know!
What do you think of my cabinet earring? Yay, or have I officially fallen off the rocker?
Other Posts That Might Interest You:
Tour of Our Current Money Pit.
How to Paint Your Kitchen Cabinets.
How to Make A Beautiful Copper Pendant Light.
Why We Chose Laminate Counters