And That's Why You Shouldn't Eat Animals That Don't Have Faces.
There are some things you should probably know about me. Ready?
I seem to have developed a negative physical reaction to scallops. I know. The non-picky eater finally has a thing, apparently, that I now have to note whenever anyone asks me if I have any special dietary restrictions. For thirty-two years I've happily answered, "No! I have no special needs. I'm like… the least picky eater ever. Whatever you serve, I'm game!" But now I have to say, "Well, I don't really know. I have this weird thing with scallops." And I know the likelihood of someone serving up a plate of scallops at the neighborhood barbecue is lower than meeting Kirk Whalum at the Newport News airport (I know this because I met Kirk Whalum at the Newport News airport but no one's ever served me scallops at a neighborhood barbecue), but still. It's out there now. A fact about myself that's necessary to share in the in the interest of full and responsible disclosure whenever I'm asked whether I have any food restrictions and I seriously don't like it. And not just because I really enjoy scallops.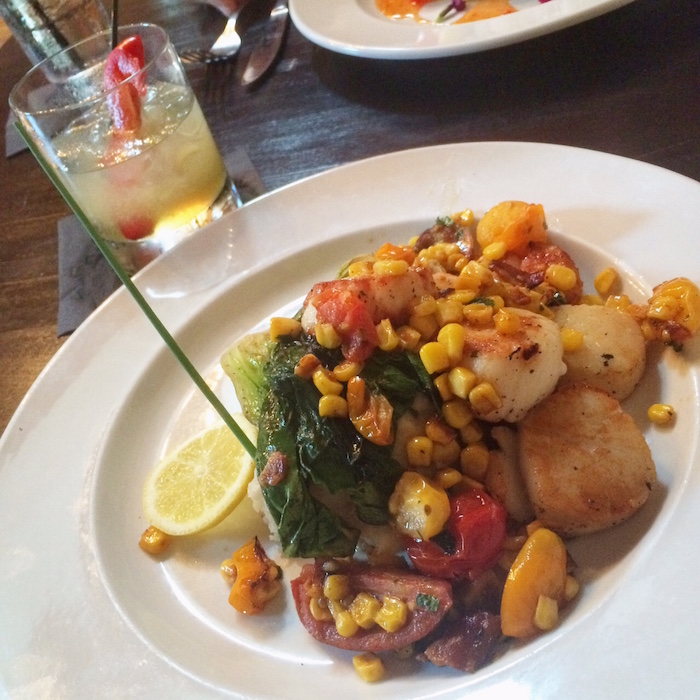 I'm not sure if it's an allergy because I don't break out into hives and my tongue doesn't turn fuzzy and I definitely don't go into anaphylactic shock or feel the need to carry an EpiPen in my purse, but this thing happens with my stomach and severe cramping and it's like my body is trying to do whatever it can to expel the wriggly mollusks from my digestive system. It's basically all of the symptoms of food poisoning or the flu without any actual bodily excretions. I have waves of cramping and nausea with no relief or release for anywhere from 6 to 8 hours. So that's fun. And I'm pretty positive it's only an allergy to scallops (and no other shellfish) because I've done a lot of experimenting over the last several months. Especially in Sweden.
(By the way, did you follow along on Instagram and Facebook during my trip to Sweden? Because you probably should have.)
The media company arranging the trip asked me whether I had any food allergies — especially to shellfish — and I replied with the requisite, "Well scallops have recently started making my tummy hurt BUT EVERYTHING ELSE IS FINE, I SWEAR!" and I'm pretty sure they had second and third thoughts about allowing The Expert Vagabond to take one of his readers along on his press trip. But I'm so glad they did, because
Sweden surprised me in the best possible way. Seriously. Sweden was that party your partner drags you out to after you've already washed your face and taken off your bra so you have to fully put yourself together for the second time that day only this time, instead of coffee, you're armed only with a cup full of resentment. But then you get there and realize the hosts aren't too cool to play Billy Joel and the food is killer (no scallops in sight) and you're all, "This was such a great idea! This party is phenomenal! I can't believe I ever thought of not going."
And that's Sweden.
Only I didn't have resentment about going — just excitement at the prospect of another country stamp and a bit of ambivalence. Because, really. What do Americans ever think they know about Sweden besides IKEA, meatballs, and really hardcore massages?
We know nothing.
Also, Justin and I officially sealed our uncool status by attending a Billy Joel concert. Let me tell you at age 63, the man can still rock a show. We loved it. The only down side is that I spent the first half of the concert partially resenting the fact that Justin had flat-out refused to help me learn all of the lyrics to We Didn't Start the Fire and the second half of the concert regretting the fact that I'd ordered scallops for dinner that night.
I'm really scared for my dog right now. In life, for the most part, I try to practice not worrying about things over which I have no control. Usually I fail miserably. Especially when it comes to health issues or the safety of my loved ones. But one of my mutts, Capone, is having a skin issue that could be nothing or it could be cancer. He had one spot surgically removed while I was in Sweden, and with reassurances from the vet that it was deep but likely just some wound that had gotten infected and probably not malignant, Justin opted out of the biopsy. But now there's another sore, similar to the last. And I'm trying not to panic but when I look at the little shaved spot on his chest and the spiky black stitches that come out tomorrow, I see the roly poly puppy with the fat pink belly we adopted 7 1/2 years ago and I feel like I'm failing him somehow.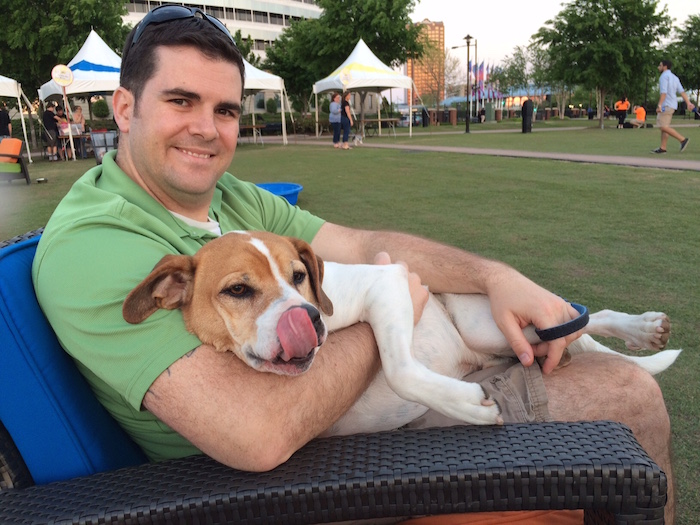 Speaking of failing.
Since I declared that I was going to write a novel, I've written approximately 14,600 words of it. That might sound like a lot, but in reality that's only the equivalent of around 12-14 Domestiphobia blog posts. That means I have probably around 55 blog posts left to write and somehow tie together before I even have a workable draft. On the plus side and to put this whole word count thing in perspective, I've published 829 posts on this blog. That means I've theoretically written almost twelve novels already for Domestiphobia.com, which admittedly makes me feel a hell of a lot better about myself.
Now.
If I could somehow mentally adjust to the fact that I now have "special needs" when it comes to my diet and stop accidentally ordering scallops at restaurants, I'm pretty sure I'd have this whole Life thing figured out.