A Slightly Scary Story.
Sometimes in this life I find myself somewhere — stepping into new territory either mentally or physically — and it feels as though I'm slowly emerging from a haze of anesthesia. Everything feels cloudy, surreal, like it can't really be happening. Like if I move too quickly, I might lose the moment and find myself back in bed.
My time in Sweden was winding to a close. The Expert Vagabond and I had been mountain biking, zip lining, moose feeding, meeting one of the best families ever, and sleeping in teepee tents in Dalsland, climbing pink granite in Smögen, and cruising a nice little Volvo around the west Sweden countryside. By that point in the trip, Matt was feeling the pressures of a full-time travel blogger, wondering when, between press trip outings and his next adventure in Greenland, he'd be able to squeeze in some work.
We landed one evening in a lovely guesthouse on the island of Styrsö Skäret, one of thousands of rocky outcroppings that compose Sweden's impressive archipelago — an impressive smattering of islands dotted off of the main coast, like breadcrumbs dotting the tablecloth after a bite of crunchy toast. Each piece was unique, each with its own myths and rules and paths to explore.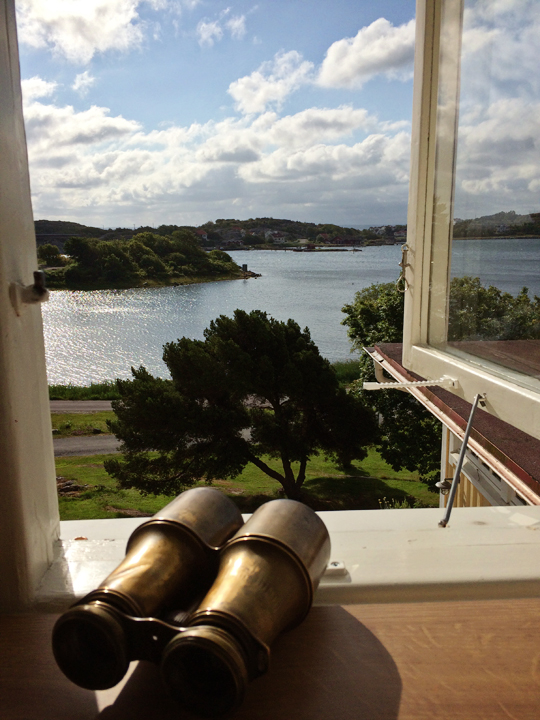 So after a dinner of crayfish served with three different flavors of mayonnaise (trust me, it was delicious), Matt stayed in to work and I decided to do just that — explore. Our inn's concierge, who was also playing the role of bellhop, head chef, server, and maître d' on that particular evening, marked with orange marker a place on a map that might still be open for a glass of wine and some good conversation on our quiet side of the island. He'd suggested I take the direct path along the coastline, or, if I wanted, I could wind my way up through the woods in search of some famous landmark atop a tall hill. Swedish summer days are long, and even though it was nearly 9:00 p.m. when I headed out, I knew I still had another couple of hours of daylight, so I opted for the wooded route.
Me being me, however, I quickly became lost. Not lost, really, since the island is small. But I couldn't find the right road to the right hill, and it's one of those things that's immensely embarrassing, even when you're completely alone.
I used to make maps for a living.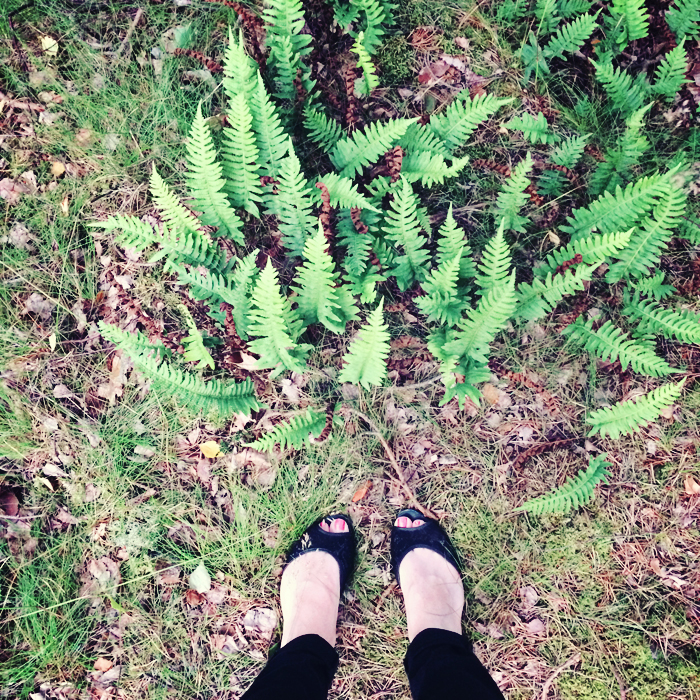 At one point, after ending up in the same place approximately seventeen times, I followed a barely-visible footpath directly up the side of one hill. After a minute the path disappeared, and I was left to navigate the moss-covered rocks on my own, breathing salty sea air and keeping an eye out for wood nymphs. Just when it felt as though I was stepping somewhere no one had ever stepped before, I came upon a small, manicured pond — just a poolful of water on a tiny, hillside terrace. Verdant green ferns and tiny flowers dotted the ground, and I was still fully immersed within the green, mossy cover of surrounding trees. I took a moment to breathe, admire the moment, and then continued climbing precariously up the steep, rocky hillside. Then, I heard it —
Crack!
The snap of a twig, not too far behind me. Dusk was beginning to settle through the trees, and I turned in time to see a human-sized shadow disappear into the depths below.
Had I hallucinated it? I wasn't sure. My heart beat hard against my breastplate, and I continued up the hill, (the alternative was heading back down towards the shadow), intent on reaching the top with its fabled picnic tables and grand monument and the faint, wistful hope of other people. But when I did finally emerge atop the bald head of granite, I was greeted with nothing more than a spectacular panoramic view of the islands and sea, and a fierce, gusty wind that almost sent me pummeling back down the other side.

The sun was dipping behind the horizon for its brief foray to another hemisphere, and I knew I had to head back down — back towards the shadow — to reach the path back to the inn before dark settled fully and I couldn't find my footing. So I made my way down, sheltered once again from the ferocious winds, following my old path as best I could, placing my hands on the cool stone when necessary to avoid falling. (That patch of moss — had I passed that before? That rock looks familiar, I'm sure I stepped there.) As I neared the pond, something foreign and white against the brown mottled forest floor caught my eye — almost glowing in the twilit, breathless air. Whatever it was didn't belong there. Epic goosebumps covered my arms.
I nearly turned and ran as I approached, as though I'd stumbled upon a pensive cobra, poised ready to strike, rather than the poor, defenseless, map I'd apparently dropped on my way up. I picked it up and shoved it back in my purse, relieved but still not quite at ease. The pond had lost its luminescence and looked like a large, unfilled grave. Queasily, I found my way back to the road.
It wasn't until I arrived back at the inn, door locked behind me, that I could shake the feeling of being followed, that my breath returned to normal, that my beastly heart settled back down in its cage. I washed my face and put on my pajamas, content to feel the blood return once more to a resting pace. The memory of the shadow felt more like a dream — like my subconscious was conjuring images from The Girl Who Loved Tom Gordon because I was lost alone in the woods and dumb enough to devour that Stephen King book at a time during my youth when I never suspected that I, too, might one day find myself lost alone in the woods.
Feeling rested and ready for bed, I pulled the map from my purse to see if I could discover where I'd gone wrong, and that's when I felt it — that odd cooling of the face when the blood drains to pool somewhere in the stomach, as though the realization of what I was looking at had abruptly pulled a plug from somewhere in my throat.
This wasn't my map.
There were no orange markings indicating where I should go — which way I should walk. No star at the inn, indicating safe haven. Shaking, I reached into another pocket of my purse and fumbled until my fingers clutched the map — my map — I'd stowed safely inside.