Where The Highway Ends – Chillin' in the OBX.
Okay.
So I know that I just took a trip, and I haven't even finished telling you about that.  Or, for that matter, the one before that.  Or the one before that.
But that's okay, I figure, because things don't need to happen chronologically in blog time.  In blog time, time does not exist as we know it in life.
It's not even a line.
It's a viscous fluid, like tanniny wine.
Anyway.
I just took a trip, but if this post of yore was any indication, I was still in need of a getaway.
And while planes are awesome and can transport me from coast to coast in a matter of hours, sometimes I just need to get in my car and drive.  If you don't know that feeling — if you've never had it before — I think you're probably lucky.  And I think your car, unlike my tracker, probably doesn't have over 160,000 miles on it.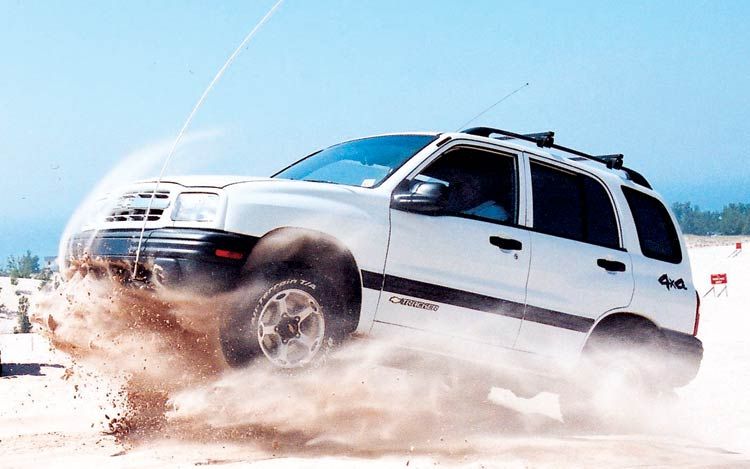 Go, Tracker – Go!
Jack Kerouac probably said it best in On the Road — a book I didn't at first fully appreciate (and probably still don't), but inside of which find snippets of virtue here and there whenever I happen to need it — he said, "Nothing behind me, everything ahead of me, as is ever so on the road."
And that's how it feels — meditation on wheels.
So when Justin's aunt and uncle (the same ones we visited in Philly earlier this year) invited me to stay the weekend at the beach house they'd rented with their two kids and Justin's grandparents, I could hardly say no.  Especially after I realized it was only 4 hours away.  And especially when I realized it was in North Carolina's Outer Banks (also known to the trendy peeps as OBX) — somewhere I still hadn't been.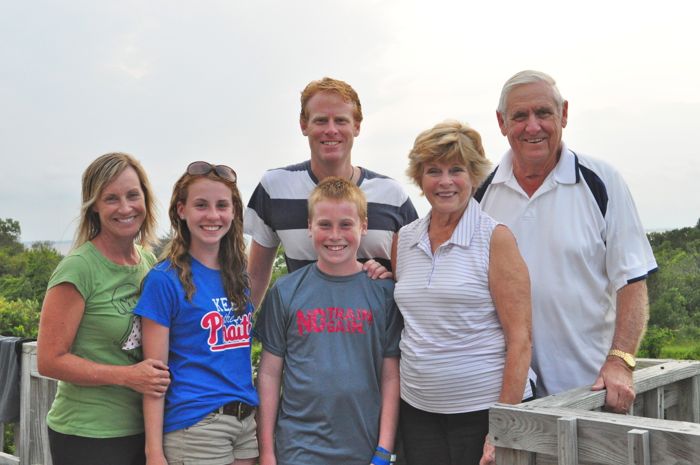 (Okay.  So my dark brown hair and green eyes don't exactly make me visually fit in amongst these toe-heads and gingers, but with them, you don't need to look like them to be treated like family.  Which we are anyway, through marriage, but you know what I mean.)
After work on Friday, I came home, fed the dogs, left my neighbor some feeding instructions, threw some stuff in a duffel bag, and just started driving.  Of course, as with any road trip, I made sure I had my mix CDs from the late '90s and cranked up the tunes.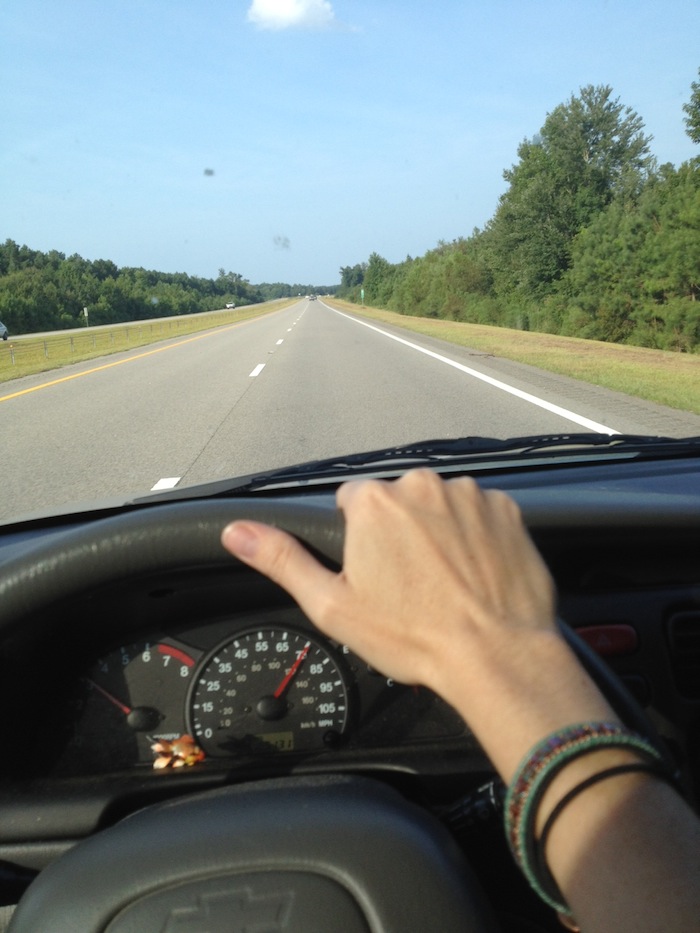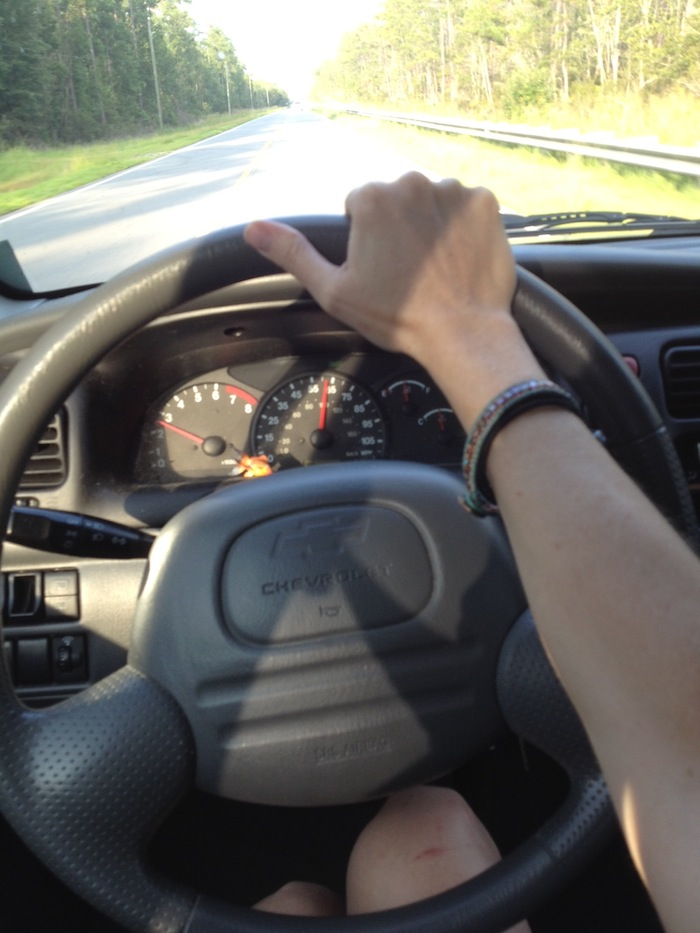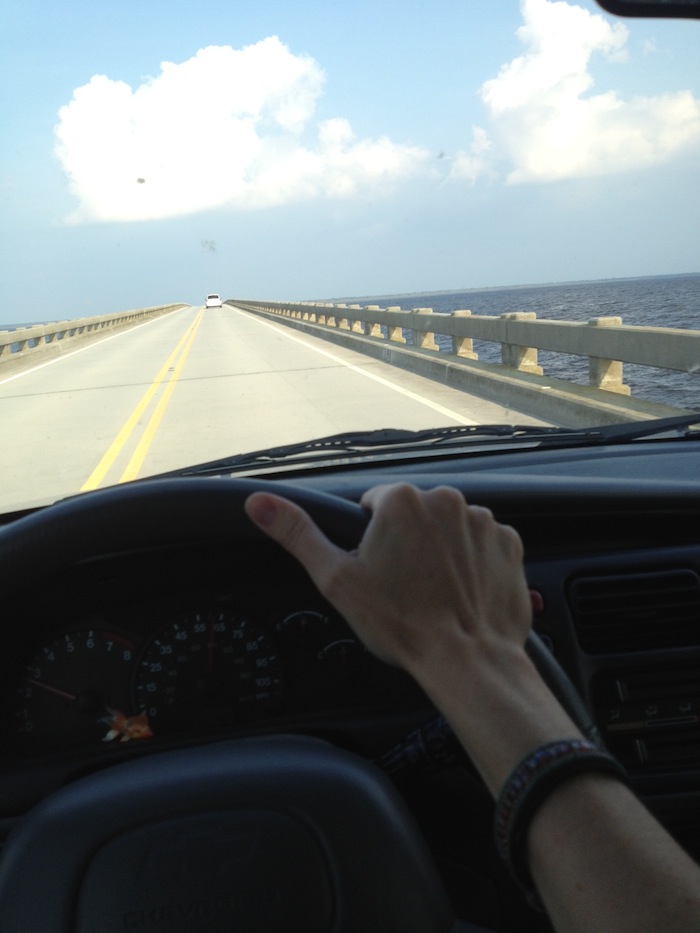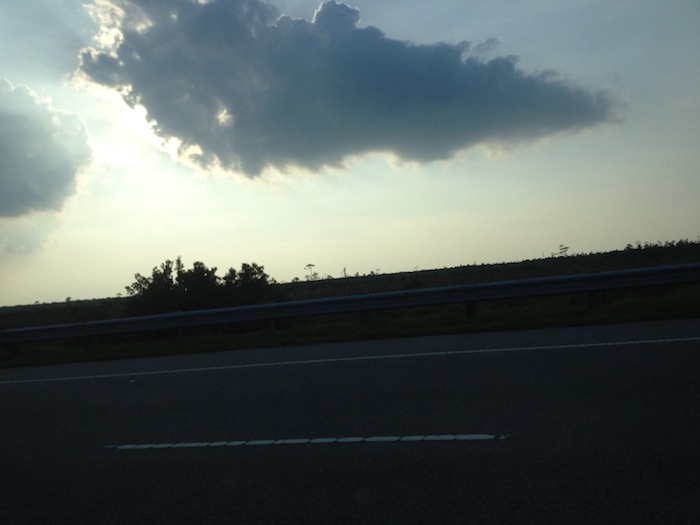 Why does driving away always feel so good?
I had to stop and pick up some boiled peanuts to bring to my hosts.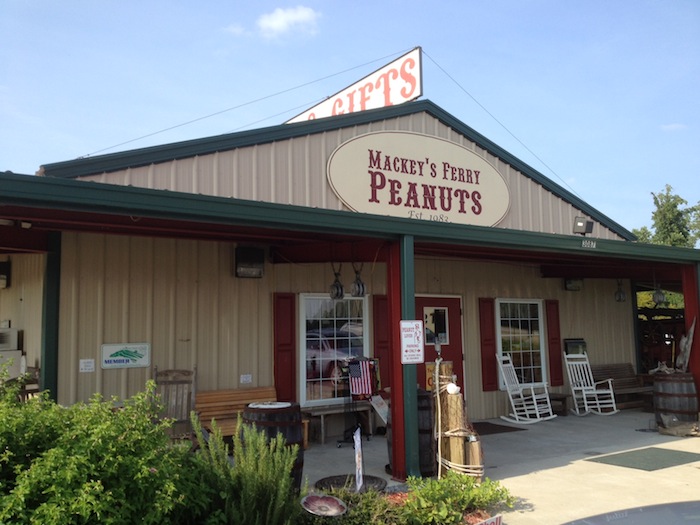 Welcome to The South.
Eventually, after about 4 hours, I reached the end of Highway 64 and consequently entered a whole other universe.
We're not in Fayettenam anymore.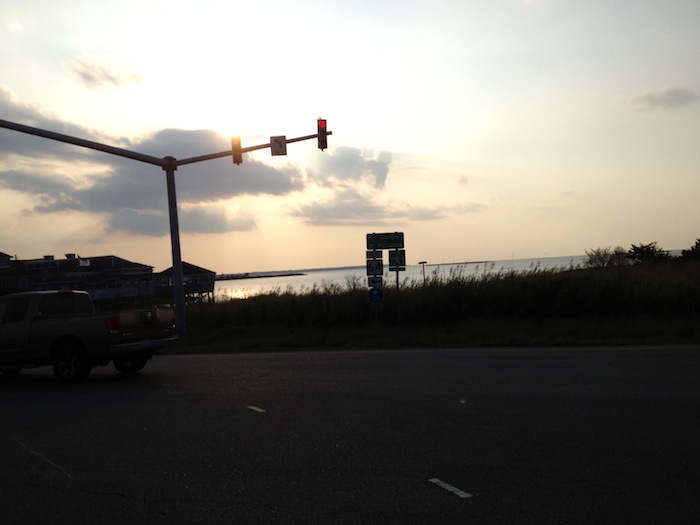 A universe with stilted, shaker-sided beach homes and salty air and nary a uniformed soldier in sight.
The Outer Banks are a series of barrier islands just off the northeast coast of North Carolina.  During hurricane season they have a tendency to get battered and beaten as they protect the mainland from the onslaught of the ocean's fury, but now, during summer, they're a laid-back refuge with dotted chains of trinket shops and surf towns with thought-provoking names like Nags Head and Kill Devil Hills  and Duck.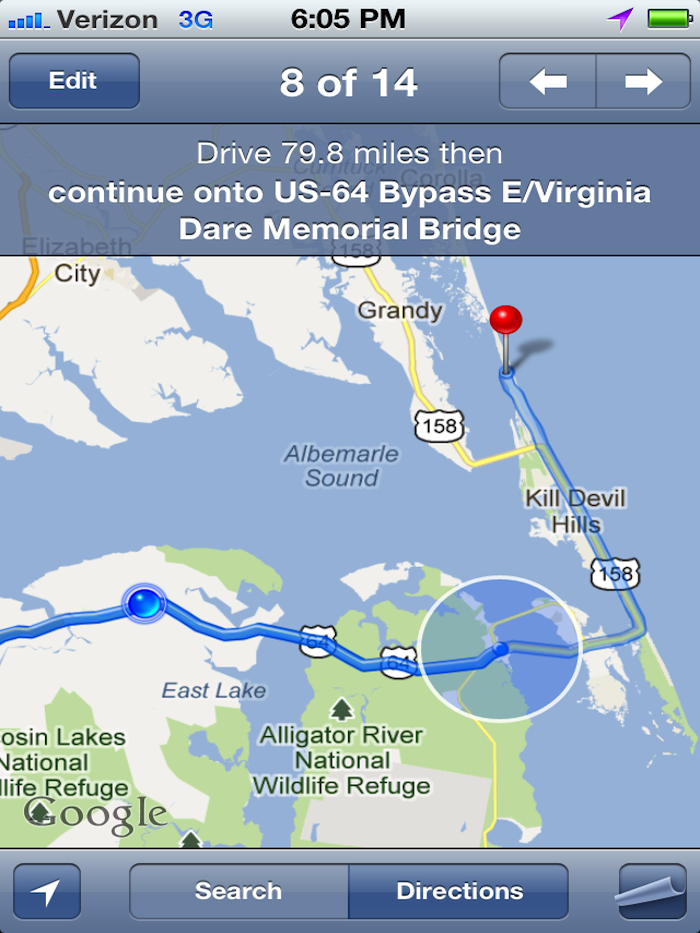 Duck?  Like the animal that quacks, or that thing you do when hurricane winds hurl a tree branch your way?
As I started heading North from Nags Head towards Duck, I caught an incredible view.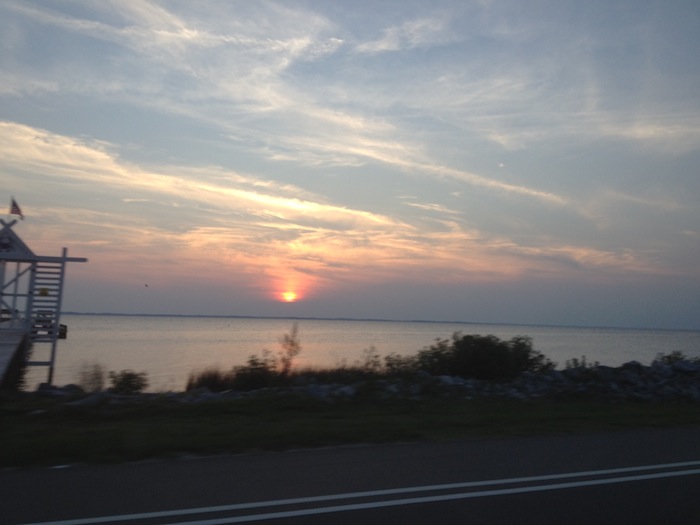 And then another.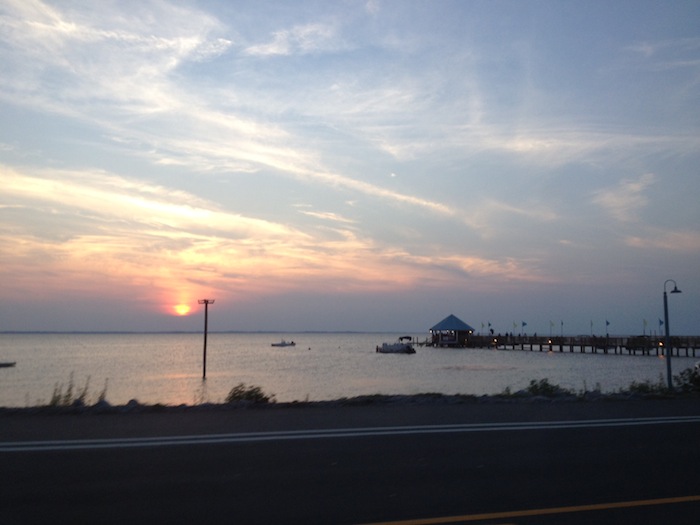 And then — WHAT IS THAT?!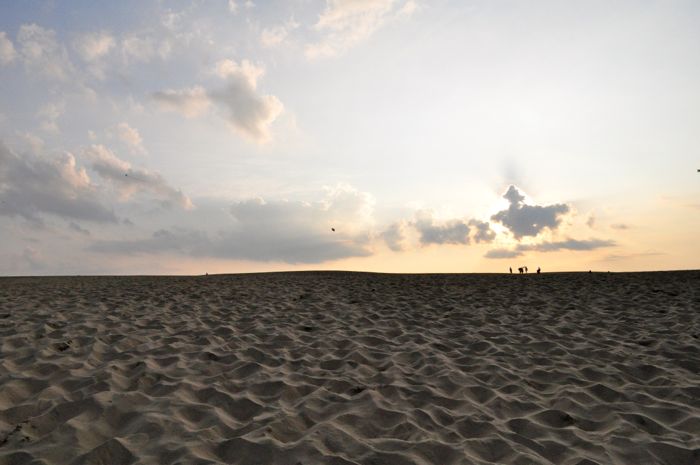 Really, what IS that?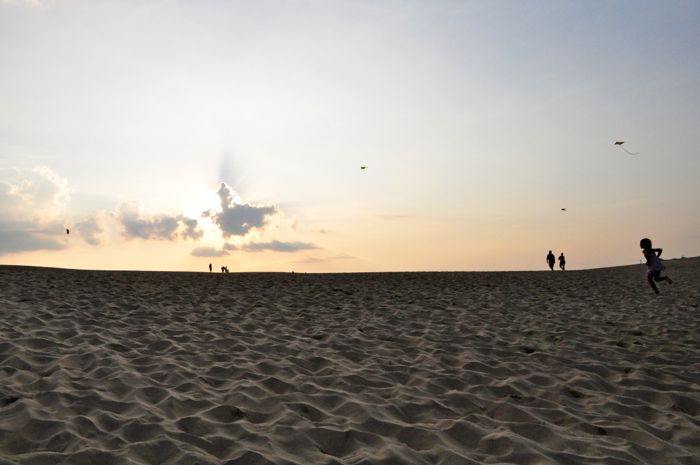 Dunes.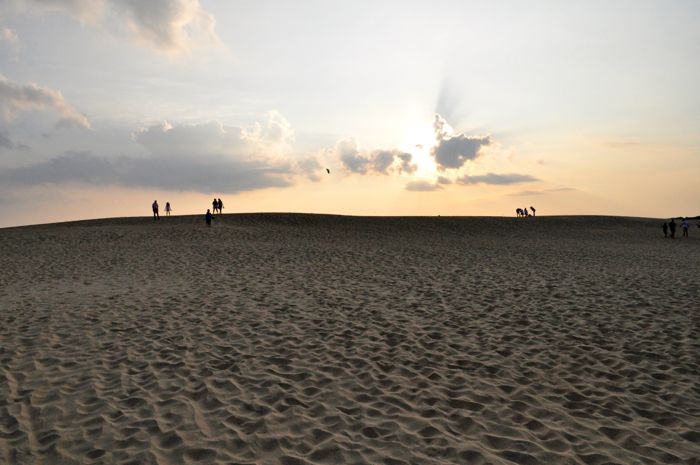 Sand mountains.
People frolicking and dancing, drawn to the sunset and the soft, soft sand.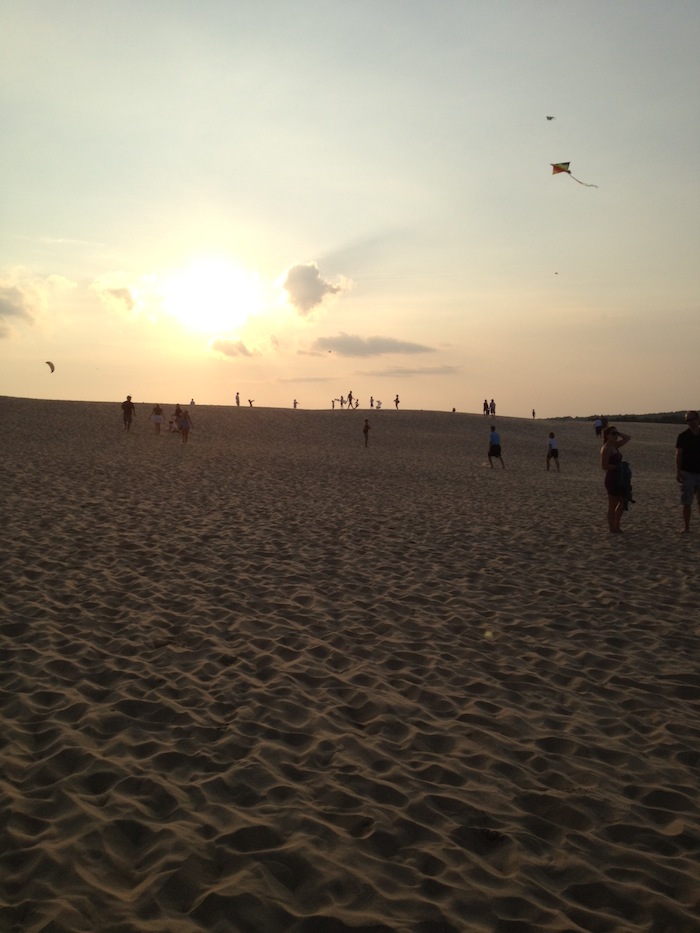 I've never seen anything like it.  I had to pull off to the side, kick of my sandals, and climb.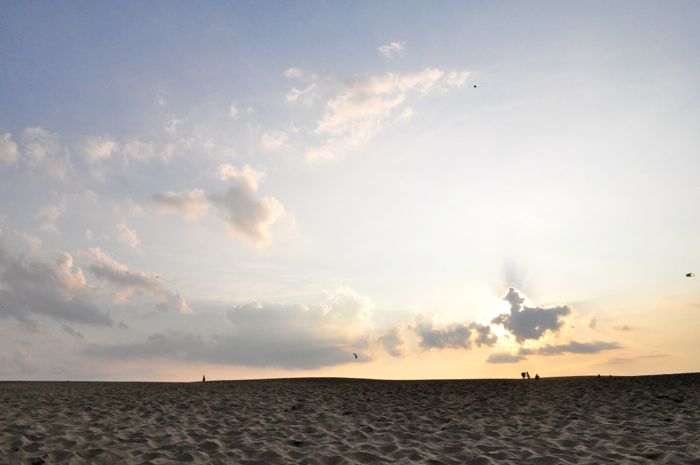 When I got to the top, I expected to see water, but no.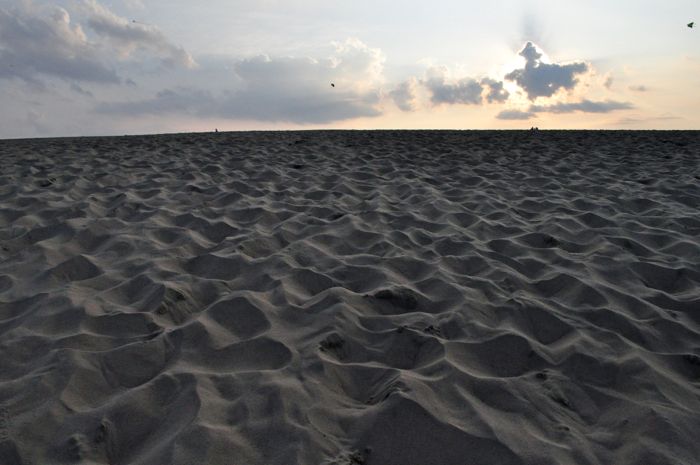 Just more dunes.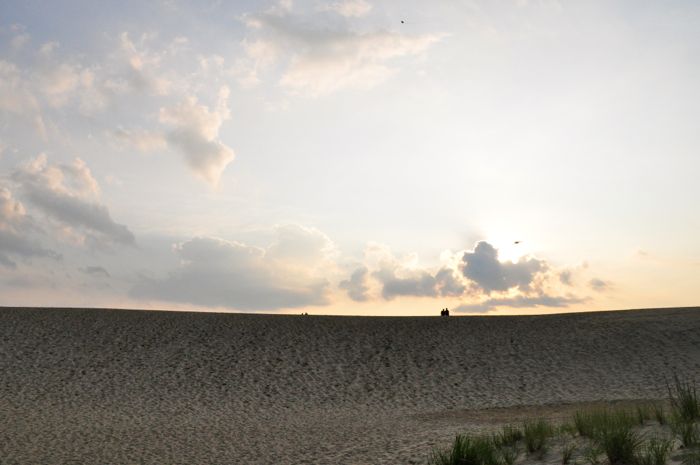 It was incredible.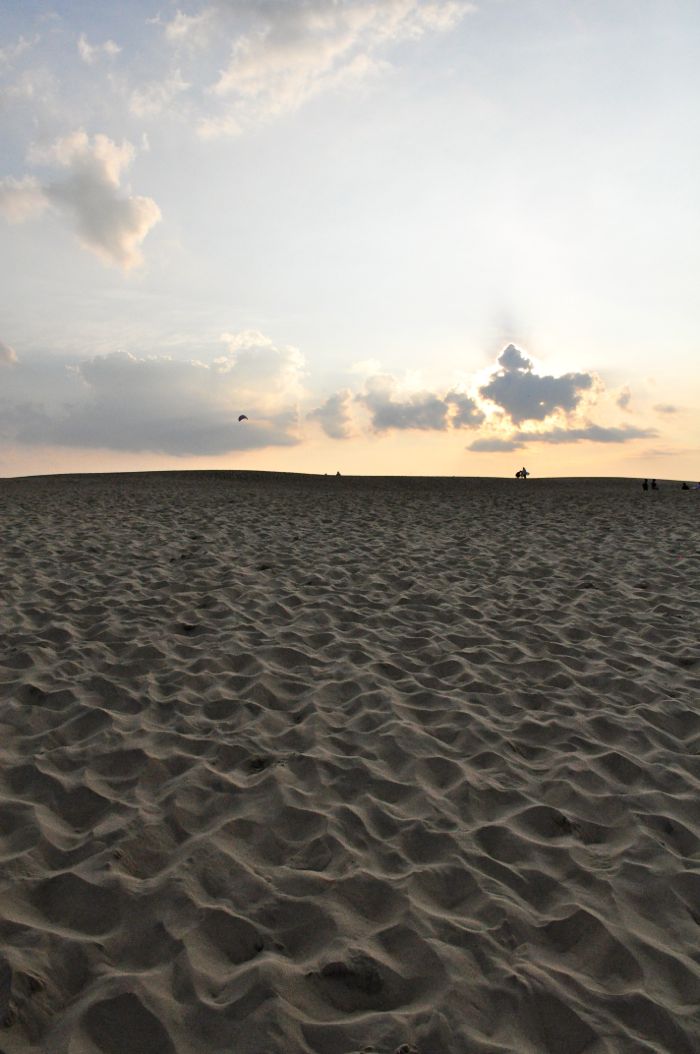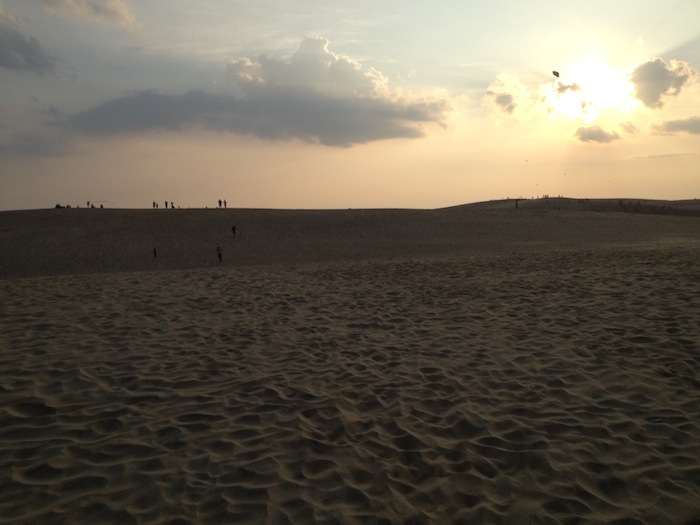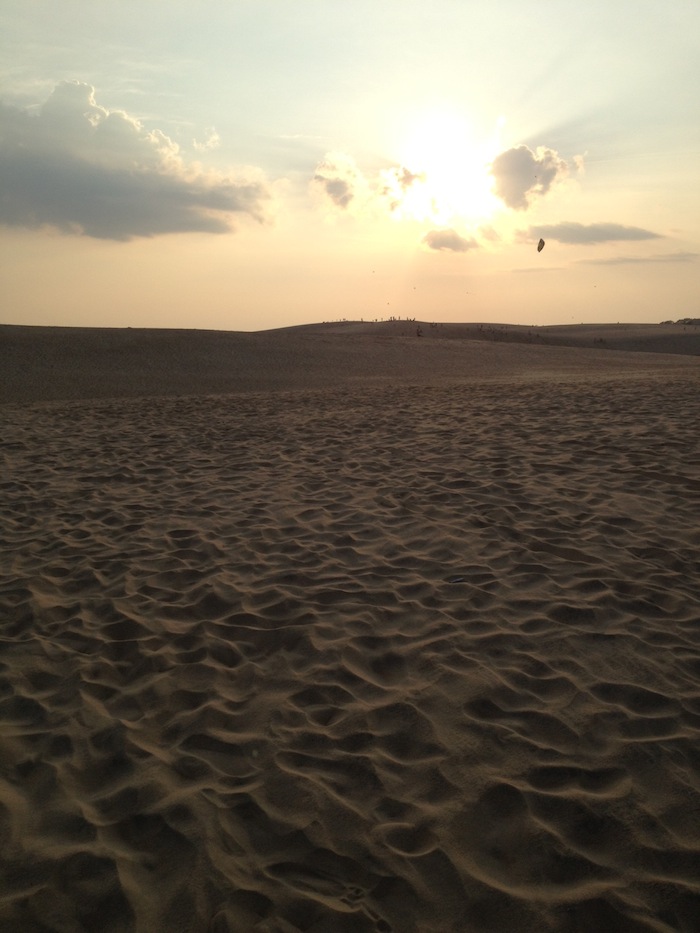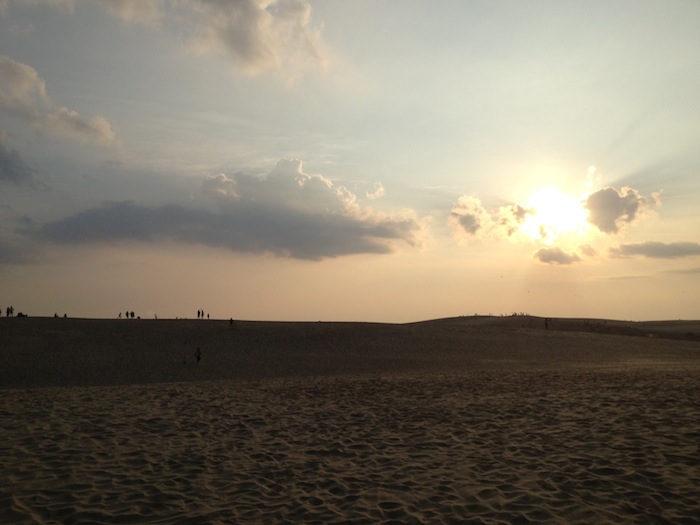 Word on the street is you can hang glide off of these.  If this is true, I will be back.
But my shadow was long, and true to my M.O., I was already late for dinner.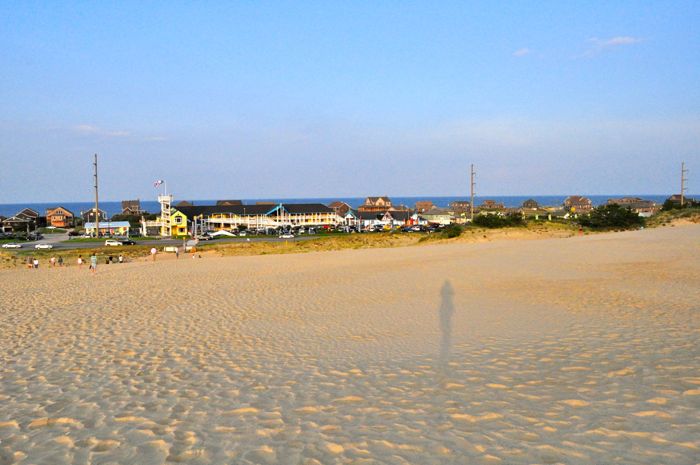 So I headed back down.
The rest of the time, I spent doing what you do when you go to the OBX:  Eating, Drinking, Beaching, and keeping tabs on the sun.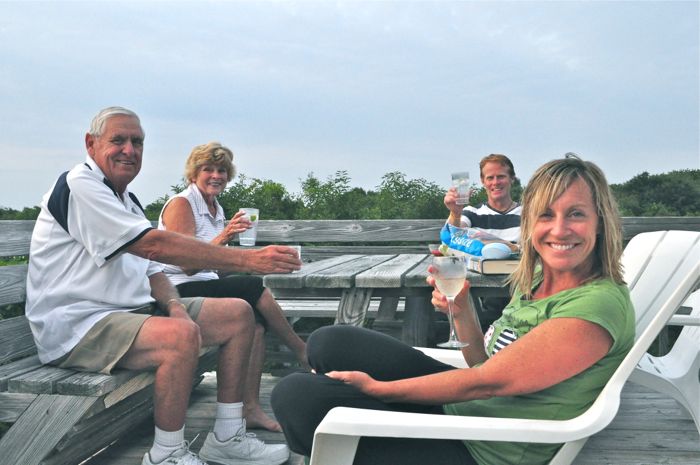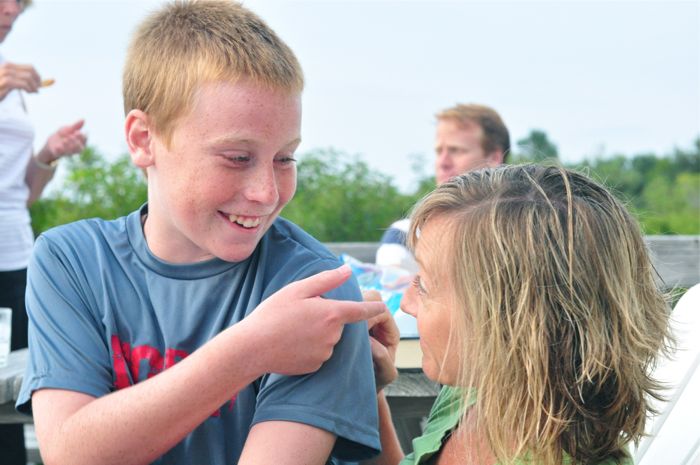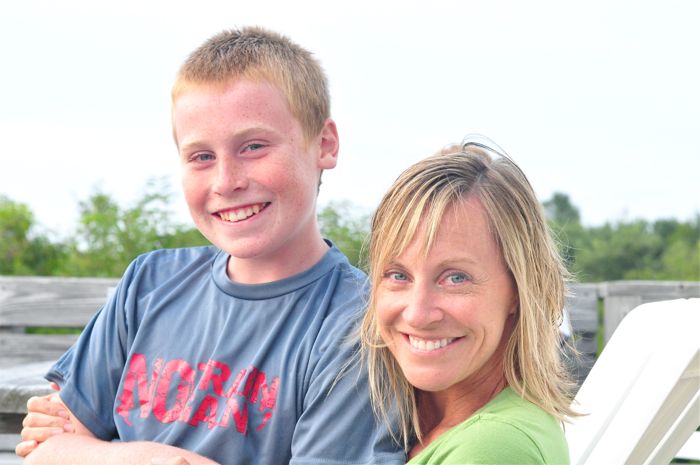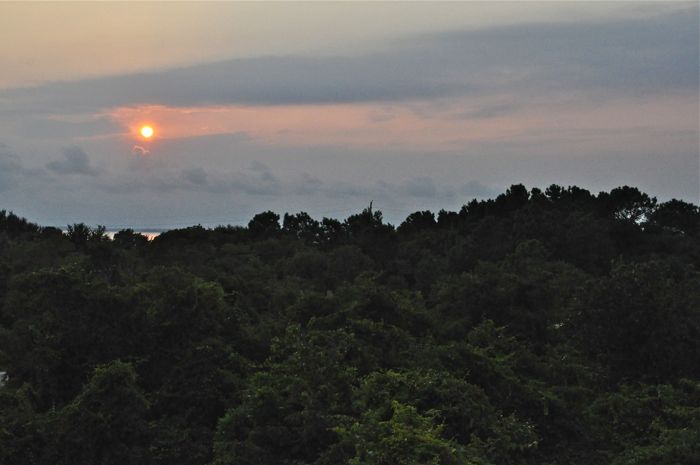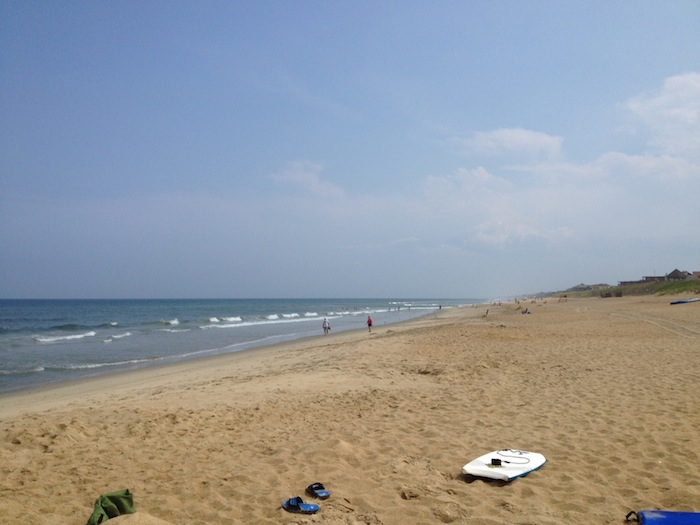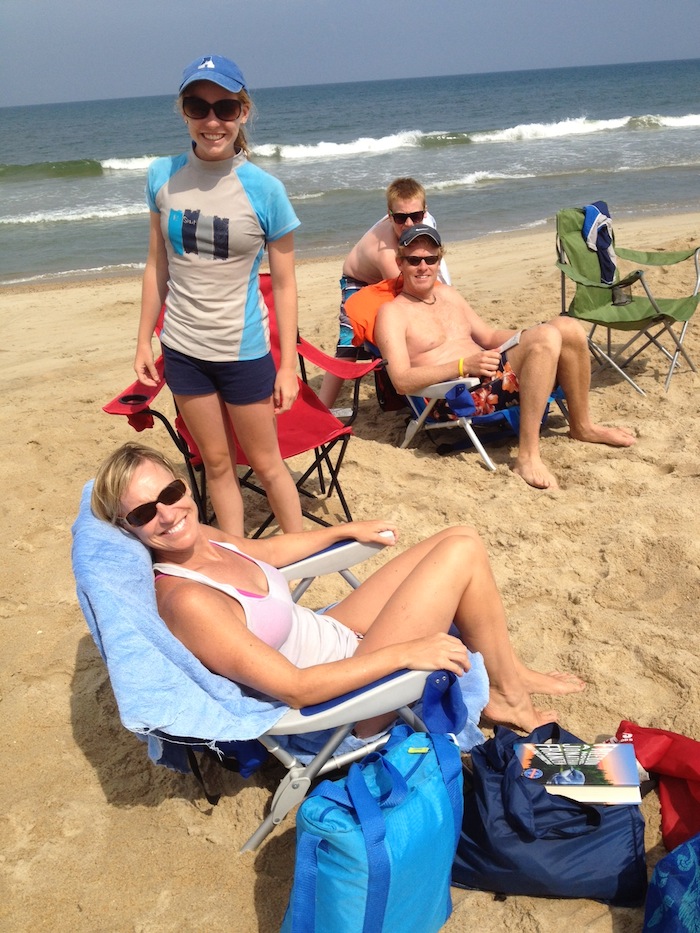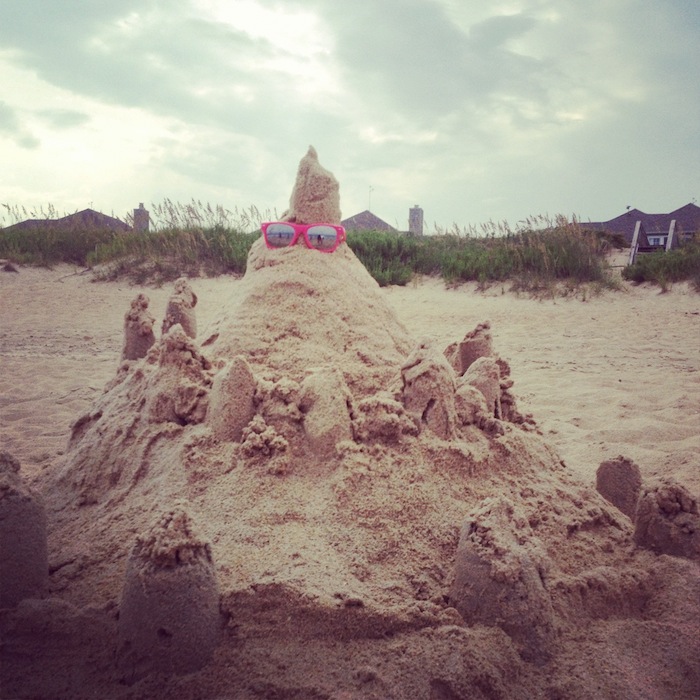 Not my sand castle. Unfortunately.
Automobiles aren't allowed on the beaches, and they're lined with gorgeous beach houses — not hotels — so they feel more pristine and less crowded than my coastal areas in the U.S.
I really enjoyed the town of Duck.  It sits on one of the narrowest sections of the OBX, and our short walk to the beach included a simultaneous view of the ocean and the sound.  The town was quaint, with a great selection of restaurants, shops, and a fantastic boardwalk.  The walking/bike paths are fantastic, and our 7 mile bike ride made me feel less guilty about our late night dinner at Blue Point.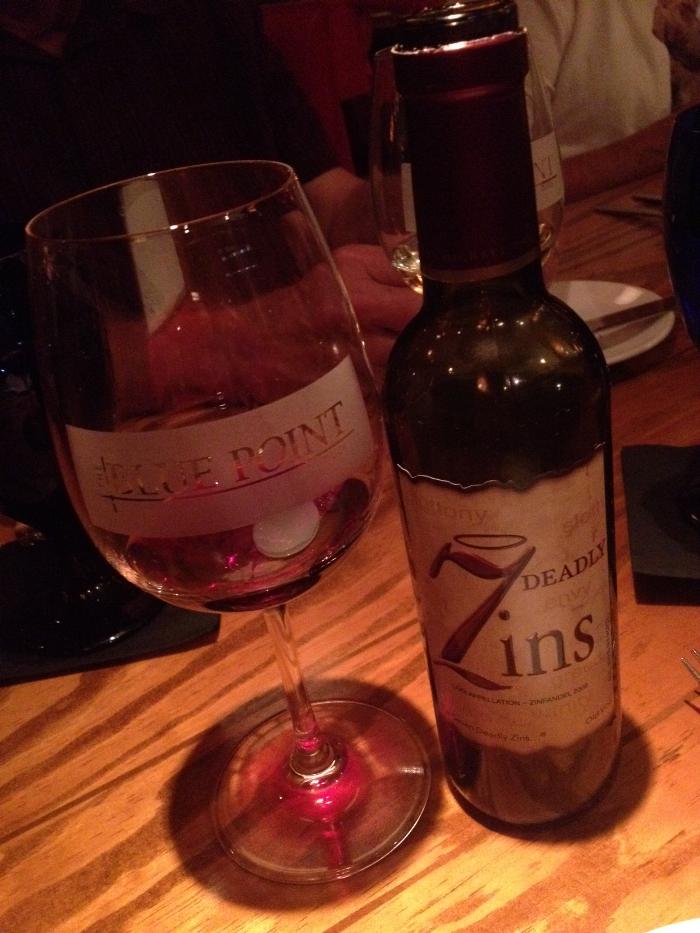 Punny.  And delicious.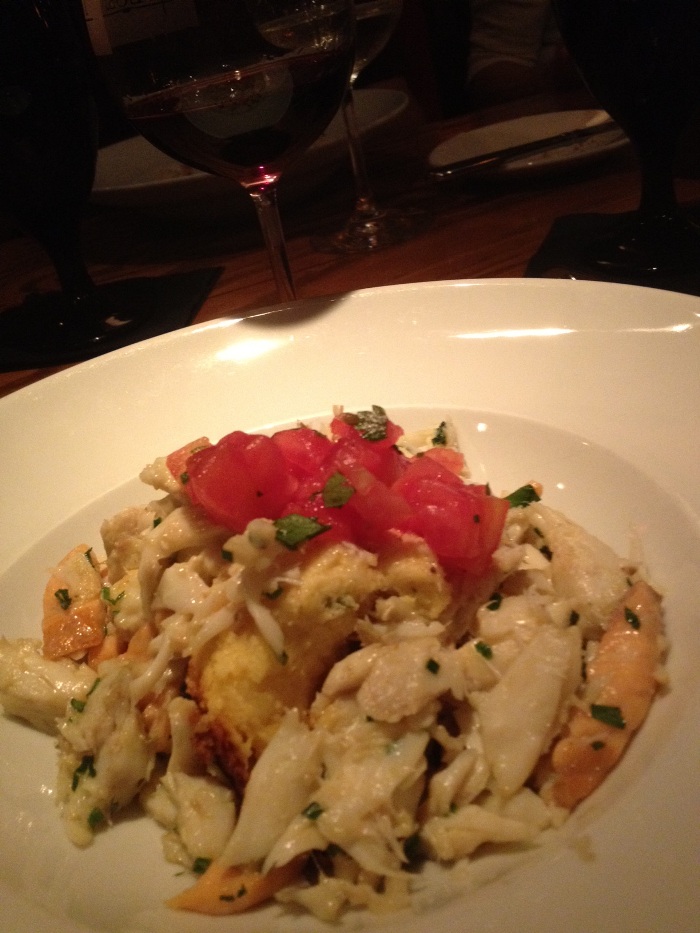 Crab saute with salmon and spoon bread.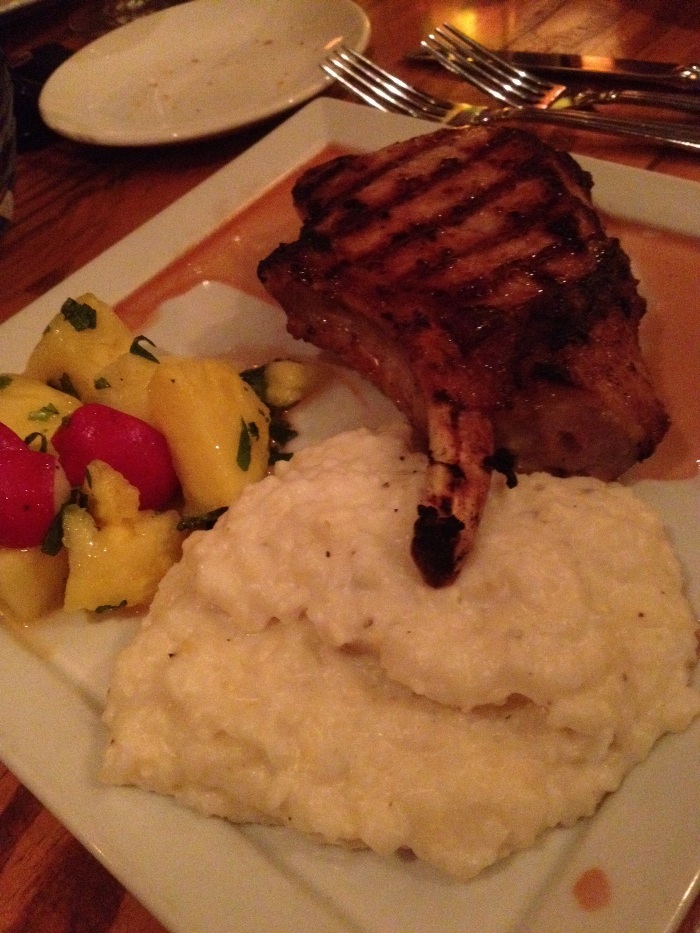 Pork chop with Parmesan grits, pineapple, and radish.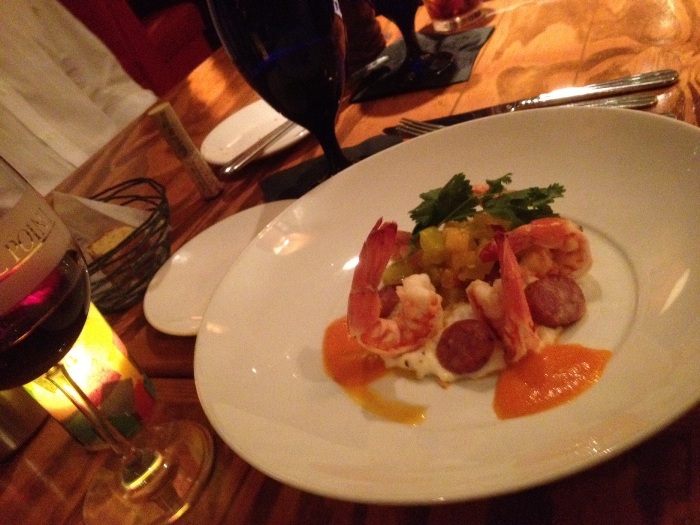 Pickled shrimp.
The food was pricey but tasty, although I wish I could have tried it 6 years ago, before the restaurant expanded.  The she-crab soup was decidedly the best item ordered.  I didn't get a chance to take a photo before it was demolished.
I suspect you're mainly paying for the service (which was impeccable) and the view (which we didn't get to see at 10:00 p.m.).  If you'd like to try it, make reservations early so you can watch the sunset over the sound.
In my 36 hours at the OBX, I'm obviously no expert, but I shall impart my wisdom anyway.
What to Bring:
A car (mainly so you can bring everything else)
Recreational ocean stuff (to include bathing suits, towels, toys, kayaks, surf boards, paddle boards, paddle ball, boogie boards, jet skis, yachts, etc. If you have it, bring it.) Really, you can probably rent or buy pretty much anything you forget.
Sunscreen/Sunglasses/Sunbrellas
Bikes
Patience (traffic can be annoying)
Surfer 'tude.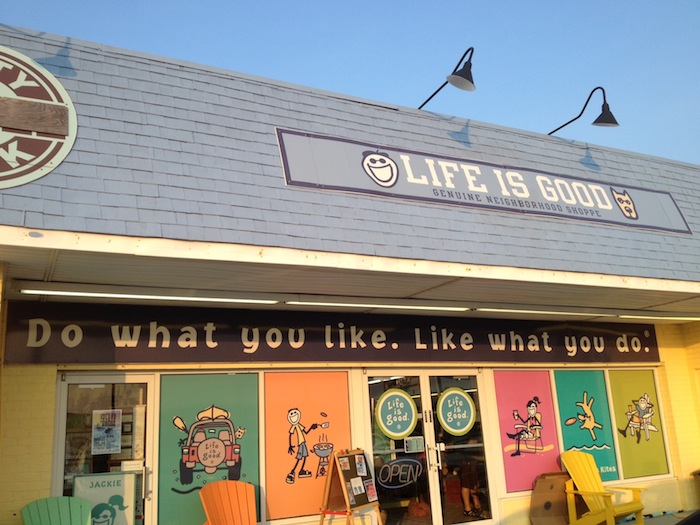 What to Buy:
Groceries (if you're staying in a beach house, which likely you are, it gets expensive eating out for every meal. Buy groceries.)
Duck Donuts.  Just trust me on this.
Hammocks.  Apparently OBX is the place to buy hammocks.
Seafood.  Eat lots — and lots — of seafood.
Hang gliding lessons.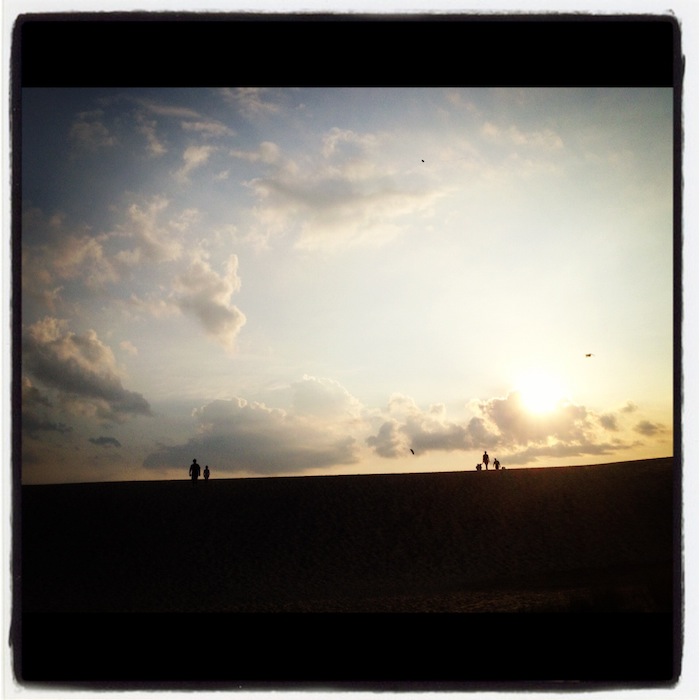 Next time, my friends.  Next time.