Halloween: Pretty Much The Poster Night For Bad Parenting.
Aaaaand, we're back.
Everything's back to normal.
Trust me — this is not a good thing.
If you've been reading this blog for over a year now (and if you have, wow. Thank you. Sincerely.), you're probably aware of the fact that I usually face Halloween with a certain amount of trepidation — and not for fear of creepy costumes or scary decorations or eerie soundtracks, but for the future of America.
Last year, however, I had hope. I had hope for the future because of this story (which you really should read).
See, I usually spend the evening perched on my neighbor's front porch, hiding my alcoholic beverage behind the rails (this year it was mulled cider spiked with Southern Comfort), oohing and aahhing at the adorableness of the tiny people.
A miniature peacock hugged me. Hugged me — the Halloween Grinch. And, just for a while, she melted this icy cold heart of mine.
But then it started happening. The scary stuff. The stuff that makes me fear for our future and wonder — what the hell happened to my generation?
I see it. I see it more and more every year and it haunts me. Parents drive down the darkened streets in minivans — minivans! —  and drop their kids door-to-door, many of whom haven't even bothered to don costumes. They don't say, trick-or-treat!, and they certainly don't say thank you.
I mean, not to sound like the crusty old man on the front porch rocker, but hey — I grew up in Minnesota. My costume was usually hidden beneath a behemoth layer of long johns, snow pants, sweater, jacket, scarf, mittens, and hat, but dammit, it was there.
AND I walked.
In the snow.
Up-hill.
Both ways.
Some of my favorite foggy memories are those of my dad letting go of my bemittened hand so I could run up a sidewalk, yell trick-or-treat with the utmost enthusiasm, graciously thank my benefactor, and reach back for his waiting hand while assessing my latest haul.
If his hand had been, instead, the cold metal handle of the wood-paneled Dodge caravan — his proud smile and flushed cheeks just the back of a headrest and impatient sigh — the memory wouldn't be special.
It probably wouldn't even exist.
Don't you get that, parents?
You are turning every special moment — every chance to bond with your children and your neighbors — into a chore you just need to get through. If you can just check this one thing off the list, you can move to the next.
It's no wonder we see less and less porch lights every year.
It's no wonder we see more and more fat, lazy, ungracious children.
You are raising greedy, rude, impatient snobs.
Yep. I said it.
No costumes necessary, I guess. The monster's already there.
I know. I'm opening myself up to a bit of a backlash, here. But I guarantee you — the only people who might get mad or defensive at what I've had to say are the exact people to whom this applies.
Of course there are exceptions — illness, disabilities, houses are really far apart in the country, no money for costumes, etc. But the rest of you? Don't you remember? Don't you remember what it was like when your parents just took time? Or when you wished they would just take time? When the night was special and it was just for you? When you saw their smiles and sensed their joy when, just for a night, they let the scheduled task list fall by the wayside so you could have fun? Real fun?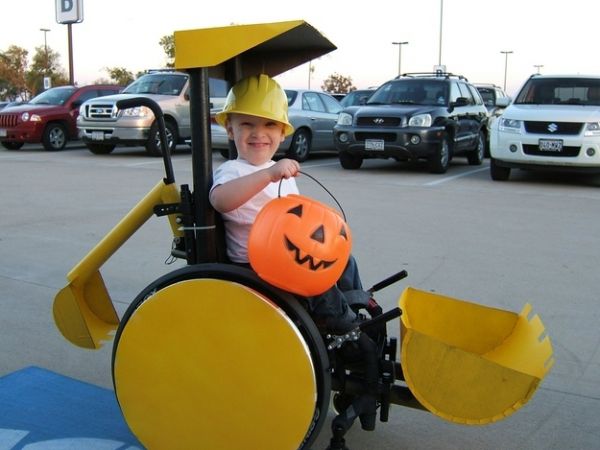 Who hasn't seen this photo of the wheelchair costume floating around social media? Why do you think it made so many people smile? I'll give you a hint: It's not just because the kid is adorable. It's not just because his costume kicks ass. It's because a loving parent took the time to make it for him. The same parent who likely walked with him, from house to house, to fill his jack-o-lantern with goodies. The same parent who probably taught him to say, "trick-or-treat." The same parent who probably taught him to say, "thank you." The same parent who probably taught him — and still teaches him — that you have to work for the things you want in this world.
Even though I didn't see any Central American Revolutionary Fighters this year, there were still some who tried. The younger ones who toddled from house to house or were pushed in strollers and the older ones who ran, elated, across yards and through artificial fog doing their very best impersonations of Superman himself — who yelled and leapt and smiled and took joy in the night — those are the ones who still give me hope.
Who still have a shot at learning how to just be.
Who don't have to just get.
Who won't, necessarily, grow up feeling entitled.
Those are the ones who get extra candy. And who probably will, for the rest of their lives, while the others just sit, do nothing, receive nothing, and then wonder why.