My New Rating System. And Also Why I Probably Shouldn't Be Allowed To Hold Sharp Objects.
If you follow me on Facebook or Instagram, you're probably aware of the fact that last night I tried to make a pot pie from scratch.
That's right.
From scratch.
And if you're confused about why I, a self-professed Domestiphobe, would attempt to do such a thing, the answer is simple: I love to learn. And cooking is something I can learn to do while wearing comfy shorts, fuzzy socks, and drinking wine. Hell, I can even be basting my feet in coconut oil while slip-sliding around and singing along with Fiona Apple. So it's pretty much my favorite activity as of late.
I've gotten more and more adventurous over the years, taking a shot at Coq au Vin with cauliflower mashed "potatoes", Roasted Chicken in Marscapone Mustard Marsala Sauce, and one of my favorites, Fig, Prosciutto, and Goat Cheese Pizza.
Sometimes, though, a girl just needs her comfort food. Especially when it's winter and I need that extra layer of holiday fluff.
You know.
To stay warm.
And to fill out my sweaters.
All in the name of fashion.
So lately I've been craving a good old-fashioned pot pie — the kind with a creamy filling and a buttery crust and all kinds of veggies and cooked poultry stuffed inside. Also, I realized it would be the perfect way to clear out some of that leftover turkey, celery, heavy cream, and chicken broth from our Thanksgiving Day Feast.
The problem was that the only kind of pot pie I've ever had is the kind from a box.
Then I came across this recipe on Pinterest and decided, rather nonchalantly, to make it using my leftover Thanksgiving turkey.
I was oblivious to the sheer enormity of the task I was about to undertake, thinking it was great that I'd be saving myself some time by using pre-cooked bird and chicken broth from a box.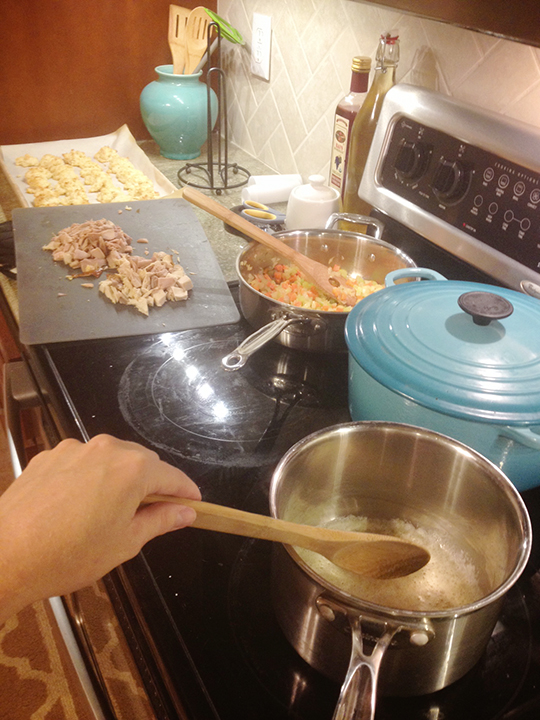 This is just part of my chopping, simmering, baking mess. The other side of my kitchen was nearly reminiscent of the Great Sushi Debacle of 2011.
This is also the only action shot I was able to get, and it almost resulted in major butter burnage. Almost.
In the end, although I was convinced we'd be eating a bland, holy-crap-I-can't-believe-I-wasted-an-hour-of-my-life-concoting-this-dish-of-slop casserole, it actually turned out pretty tasty.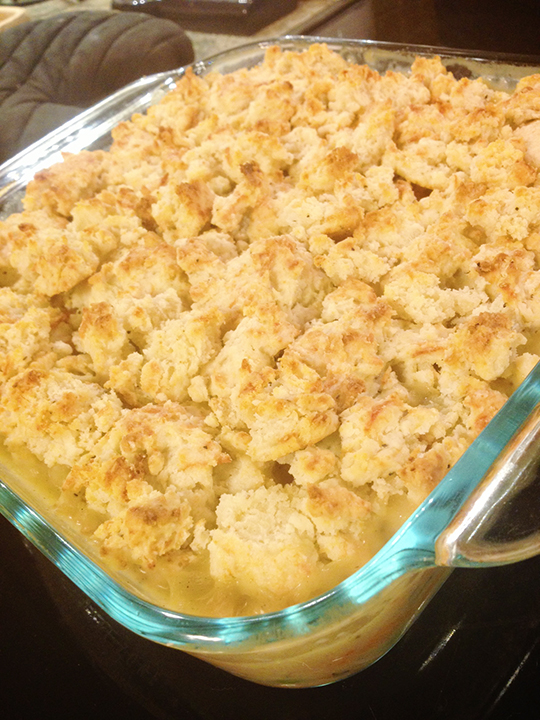 Exactly, in fact, what I had in mind — warm, crumbly, and oh-so-comforting.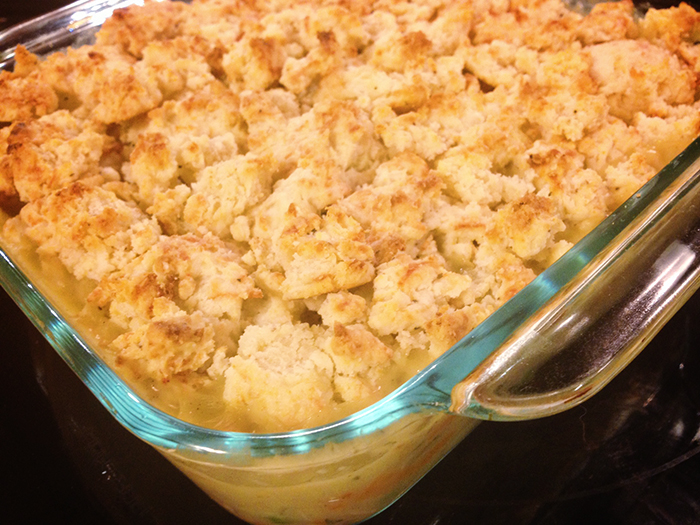 But the work?
I think it's important to point out that I'm not one to shy away from a fat mess of a kitchen, but I'd usually like it to be for a cause more… I don't know… SUBSTANTIAL than pot pie for 2 people.
And the bitch of it is that it wasn't even a real "pie" because there was no crust — just the topping.
So in the spirit of helping all of the other Domestiphobes out there who are interested in trying new things, I'm going to develop a patent-pending rating system for meal and project difficulty, with one glass of wine representing easy-peasy, and three glasses of wine meaning you should probably get good and drunk before you even attempt to try this so you care a lot less about how long it's taking or whether or not it will be a colossal failure.
And this? This was a 3 glass kind of meal.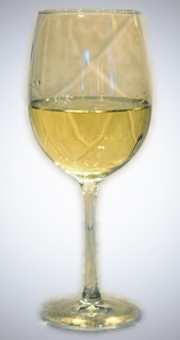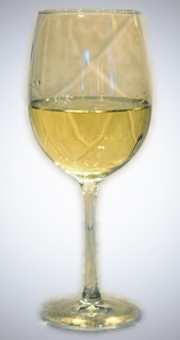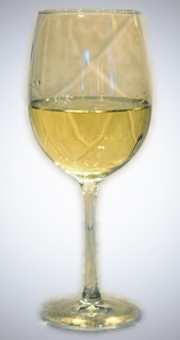 Keep in mind this system is for regular people — Domestiphobes like you and me — not full-time cooks or DIY-ers. Capiche?
Also, use caution while wielding a knife.
Ah, well.
Living and learning, right?
I'm pretty sure that's what it's all about.