This Is Why I'm All About The Second Chances.
So the first time I visited Austin, I only had a day to spend there. My friend Stacy and I drove from San Antonio, picked up Bec at the Arboretum outside the city, and drove down to 6th street where we heard all the action was.
We re-caffeinated at a local coffee shop, perused a giant book store, drank some intricate craft cocktails and dined al fresco on sensational sushi, and pretty much camped out on one end of 6th for the duration of the visit.
I had a great time, but in all honesty I left thinking, huh? That was it?
I mean, it was nice in a way dating Joseph Gordon-Levitt might be nice — just because he's a star, it doesn't mean he's going to be exciting.
In all fairness, we visited on a Sunday.
The streets were clean, the food was excellent, and the company couldn't have been better, but I left feeling disillusioned.
Wasn't Austin supposed to be an alternative, laid-back oasis in the middle of the vast, tyrannical Texas desert? Wasn't there supposed to be live music and white people with dreadlocks and clothing made entirely from hemp?
And where were the chickens? I'd imagined everyone who lived in the city kept rooftop chickens and container gardens and sold fresh eggs and homegrown kale on the streets in protest of big box supermarkets.
I knew we must have missed something.
And oh, how we did.
We'd missed Hopdoddy's Burger Bar and the colorful SoCo district. We'd missed the Oasis and heart-stopping Lake Travis views. We'd even missed breakfast tacos, for crying out loud.
So we did all of those things this time, and then we went back downtown.
Back to 6th street, to the scene of the sushi and high-end restaurants and Whole Foods.
Only this time, we went to the other end of 6th street.
The east end.
The dirty end.
Parking in Austin is no easy feat, so we parked a few blocks away and conducted ourselves a little walking tour.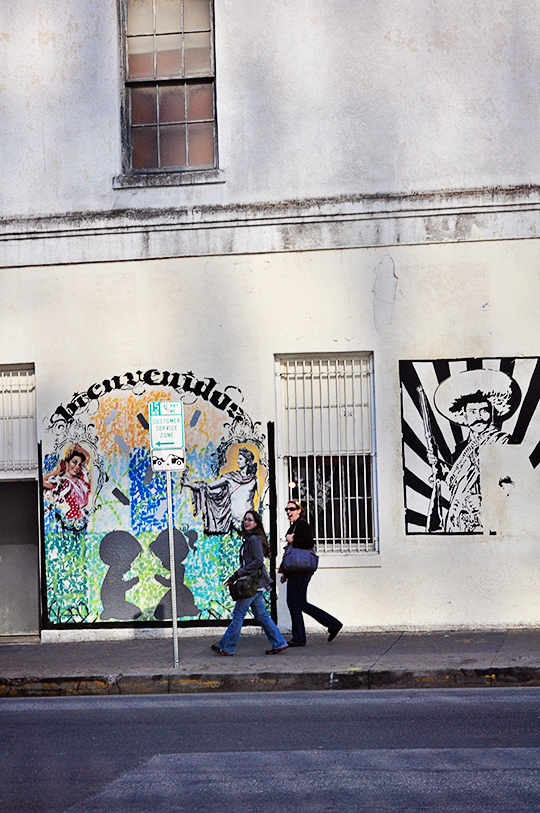 I may have crossed the street and pretended to paparazzi stalk Stacy and Bec to pass the time.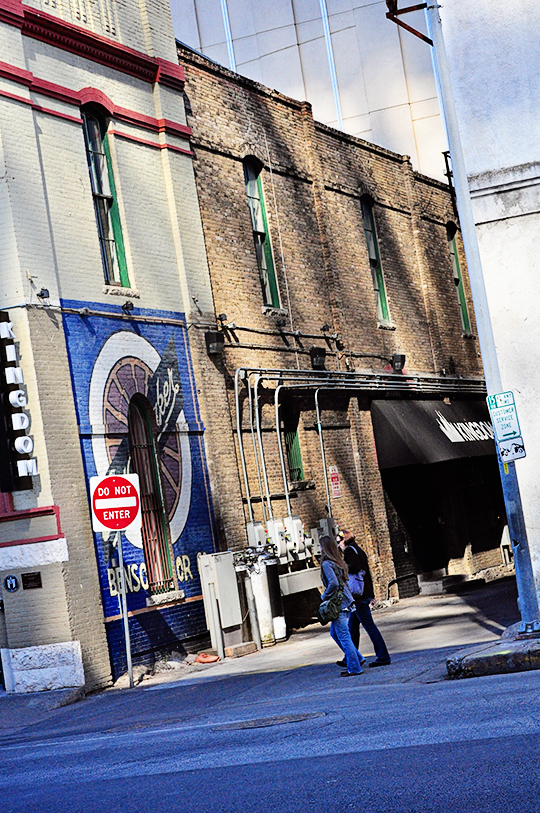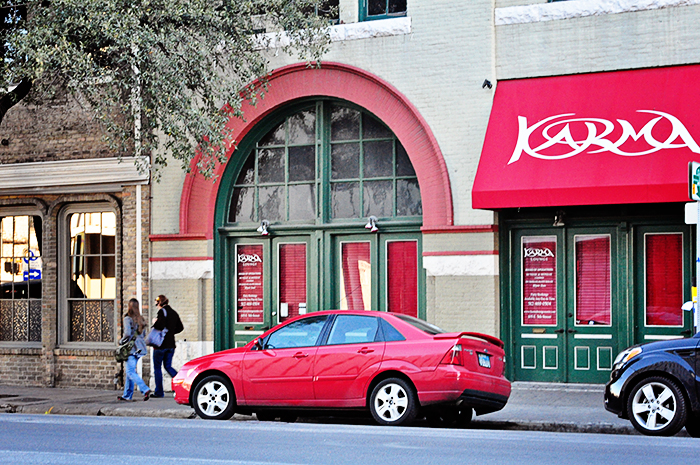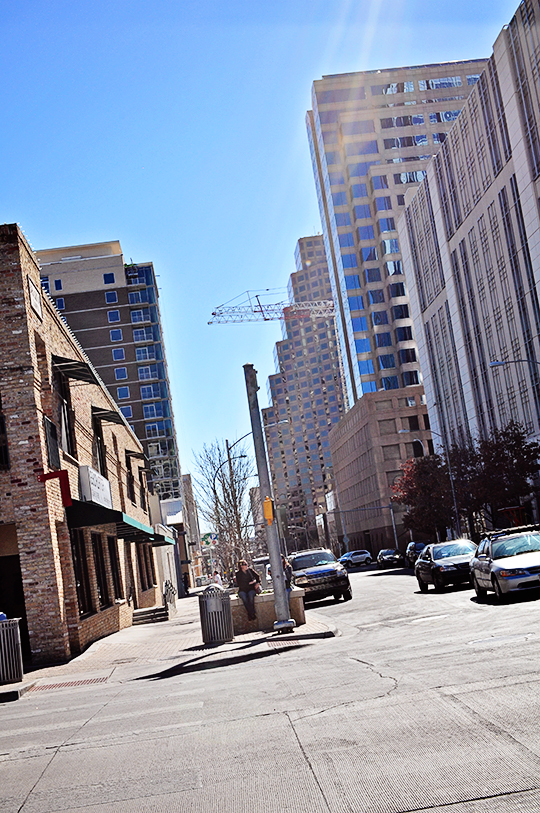 There they are, diligently waiting for me.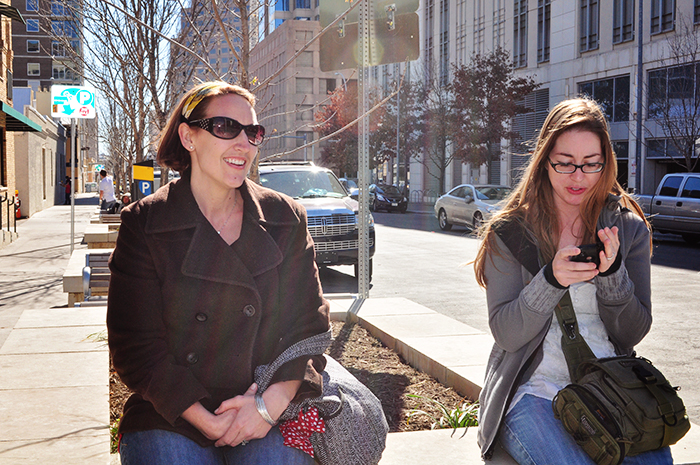 And trying to figure out where to stop for a drink while we waited for Maria to get out of her class.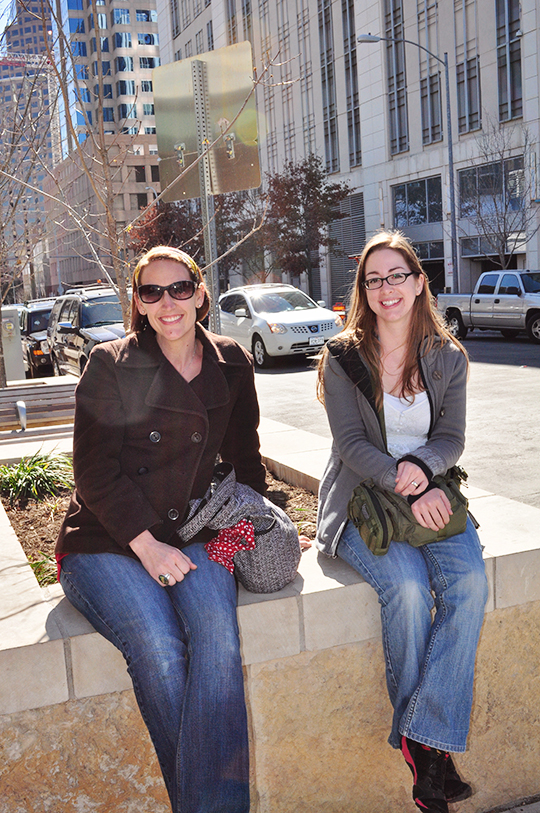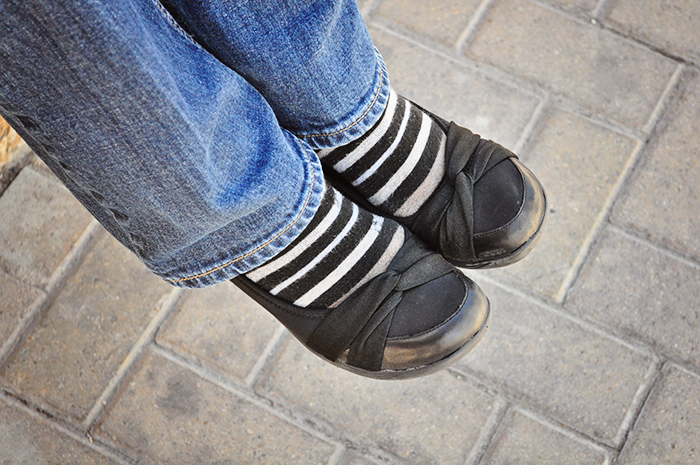 Bec's awesome footwear.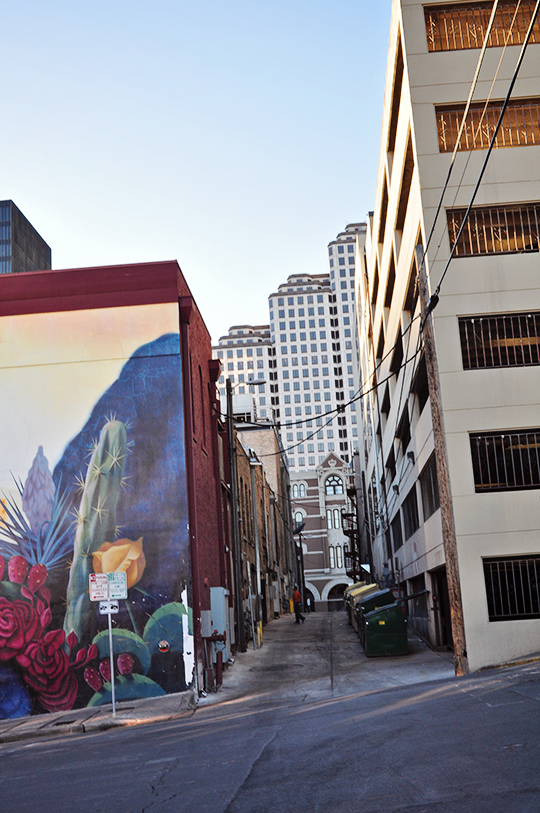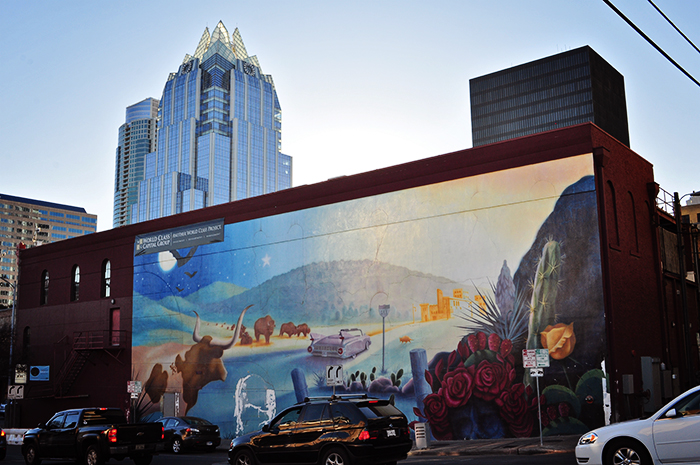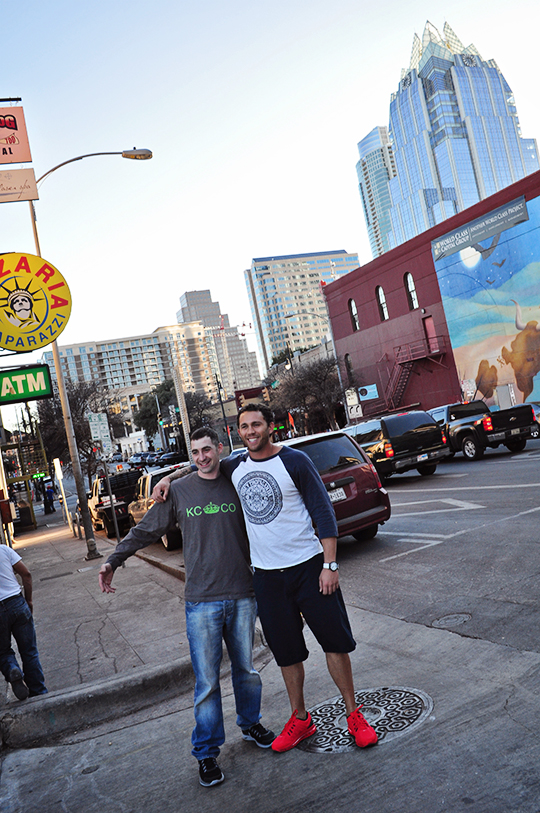 It's easy to make friends in Austin. And you know my theory about people who wear colorful shoes.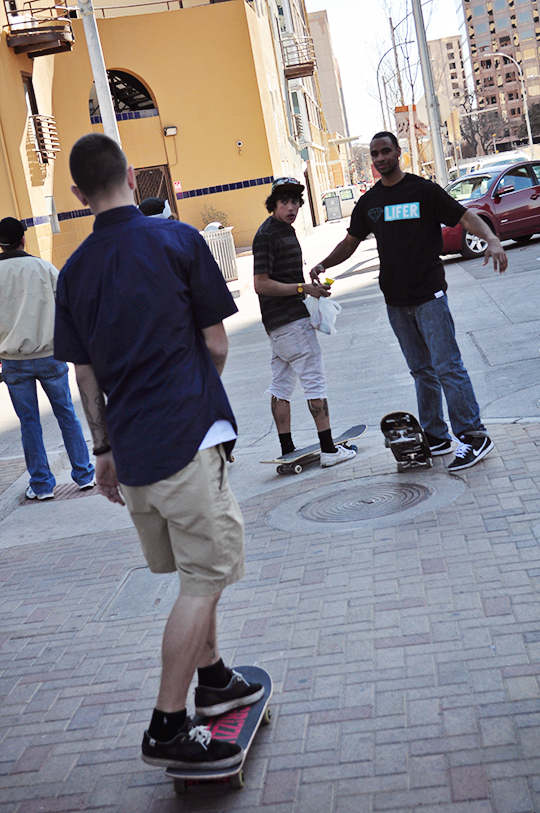 These guys were totally about to let Bec try their skateboards, but then they realized she looked shady and might steal them.
Then, there it was — Dirty 6th: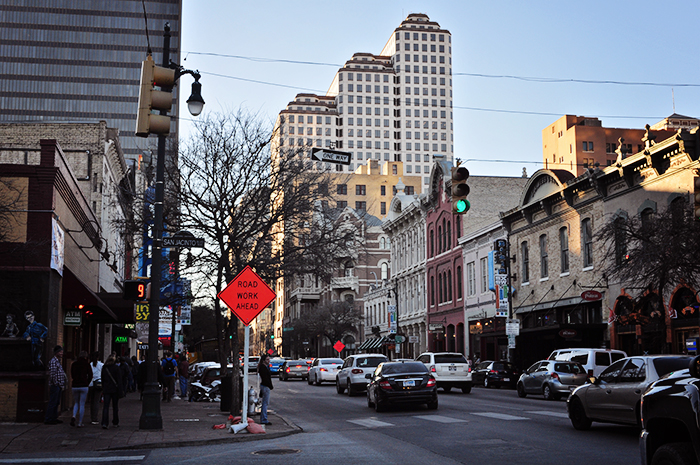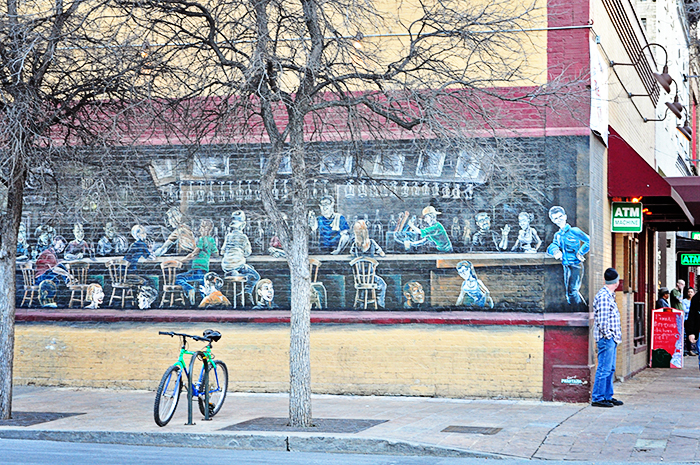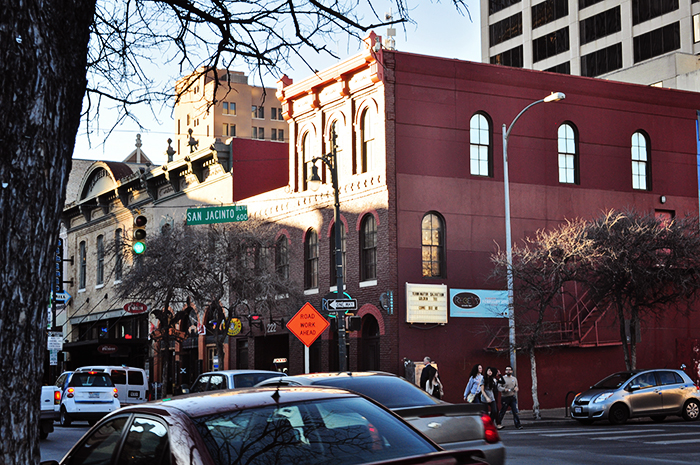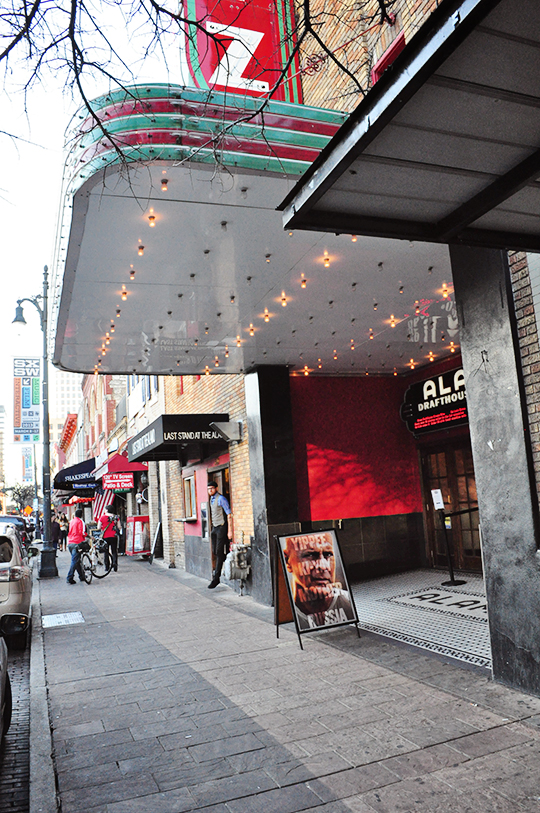 Of course we were there way — way — too early for it to really be all that dirty.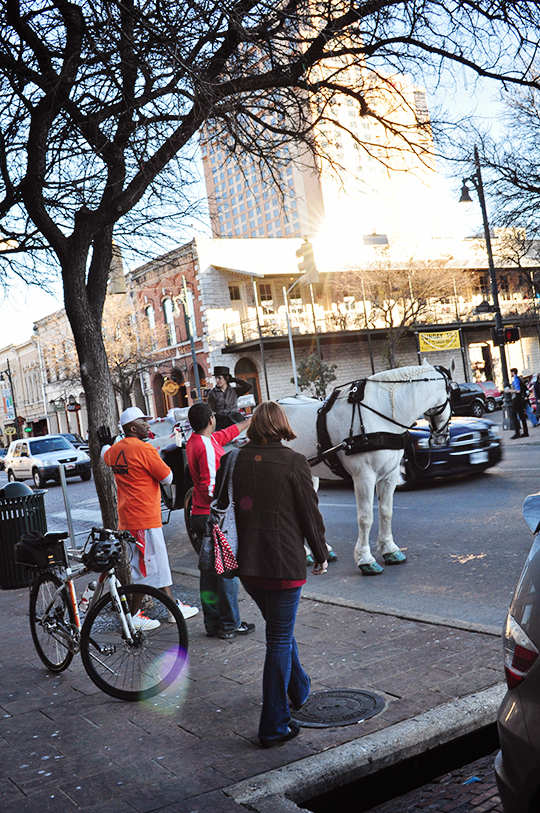 Carriage drivers still lined the streets, picking up the last of the early bird traffic.
But there were still people beginning to fill up the rooftop bars…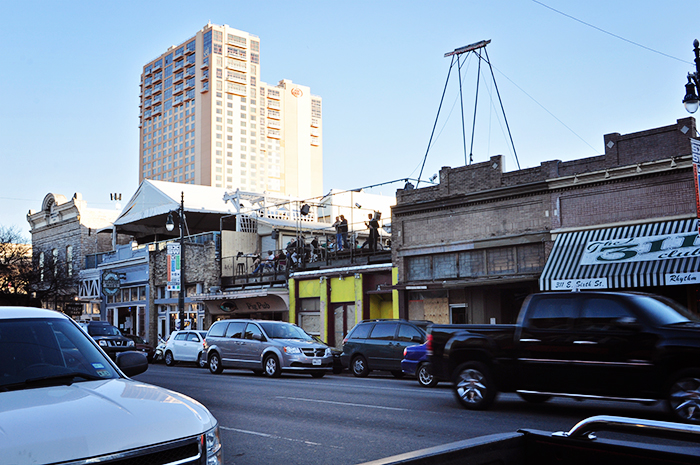 And funny signs beckoning street traffic inside…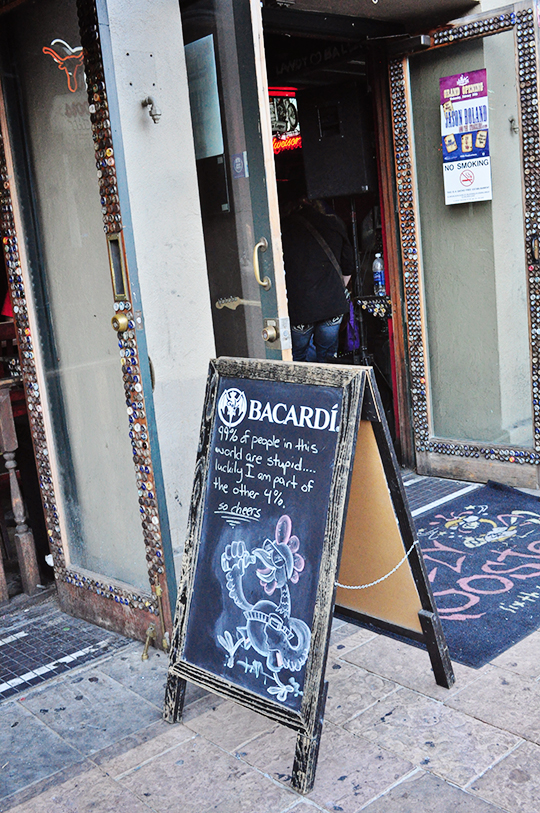 And musicians artistically posting all album cover-esque on the sidewalks.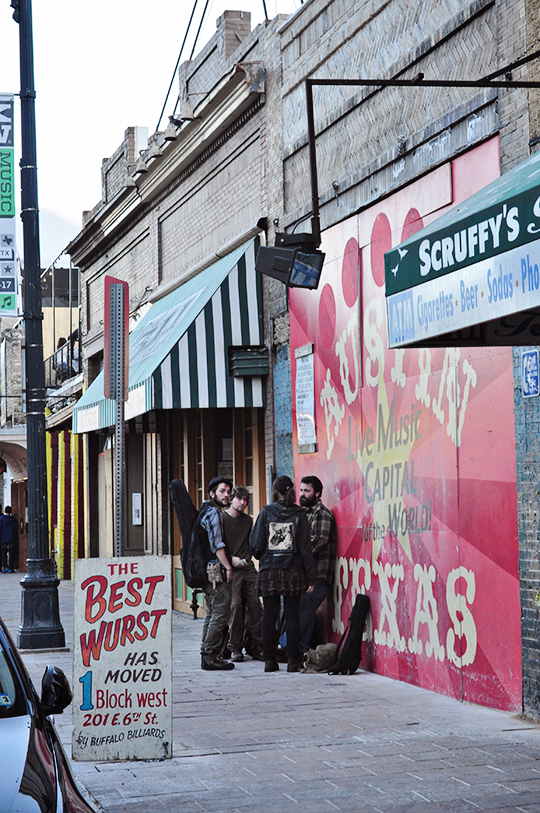 Of all of the places from which to choose, we were for some reason drawn to the well-over-100-year-old Driskill Hotel.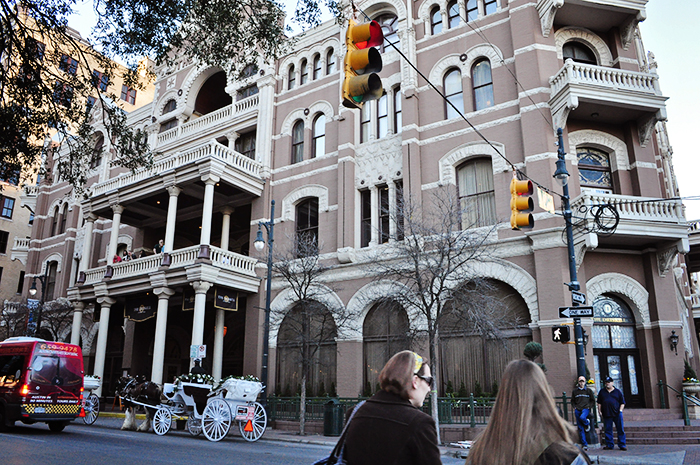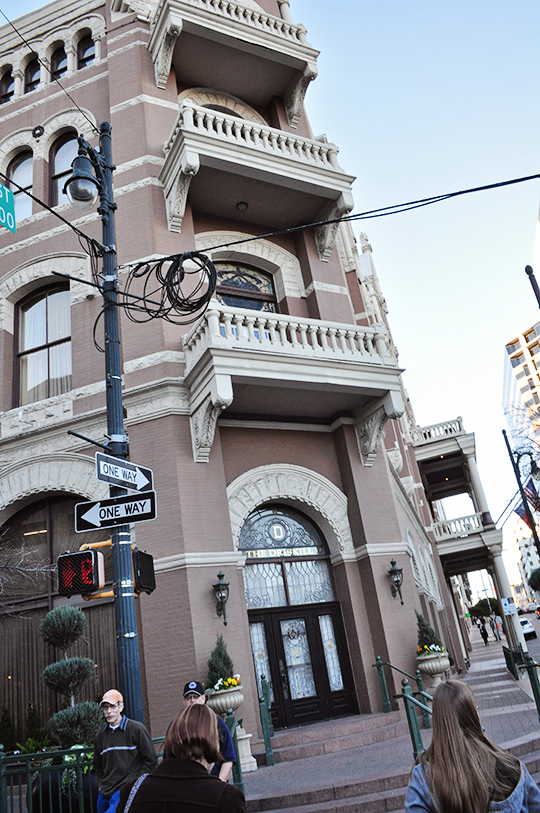 We meandered through the impressive lobby…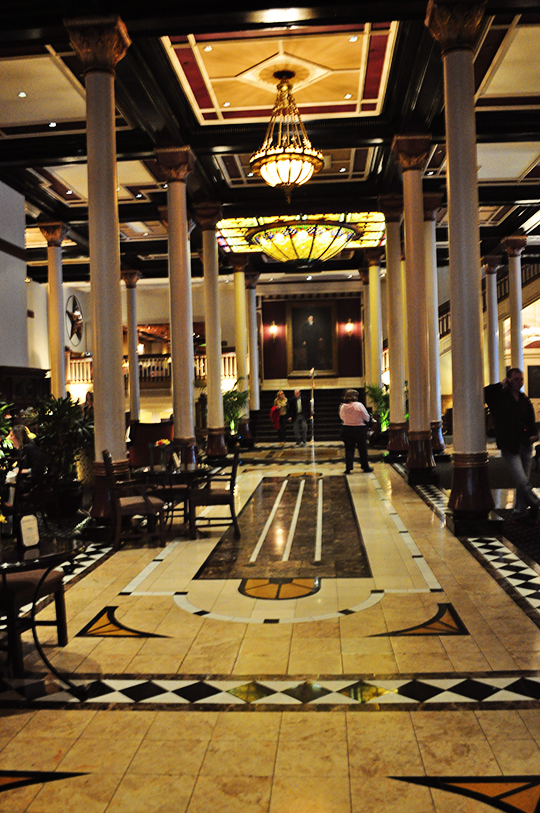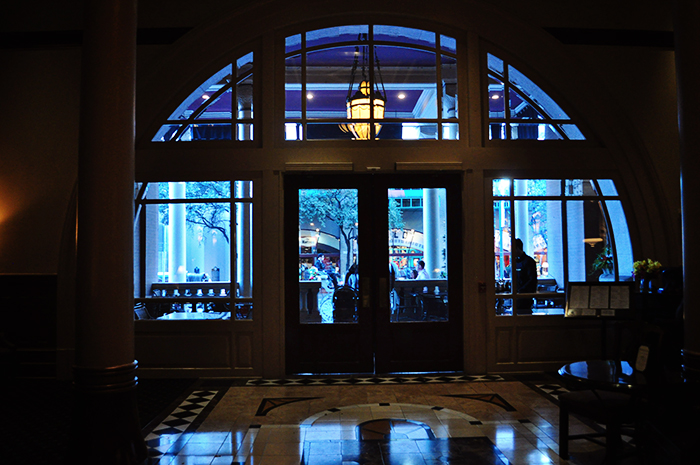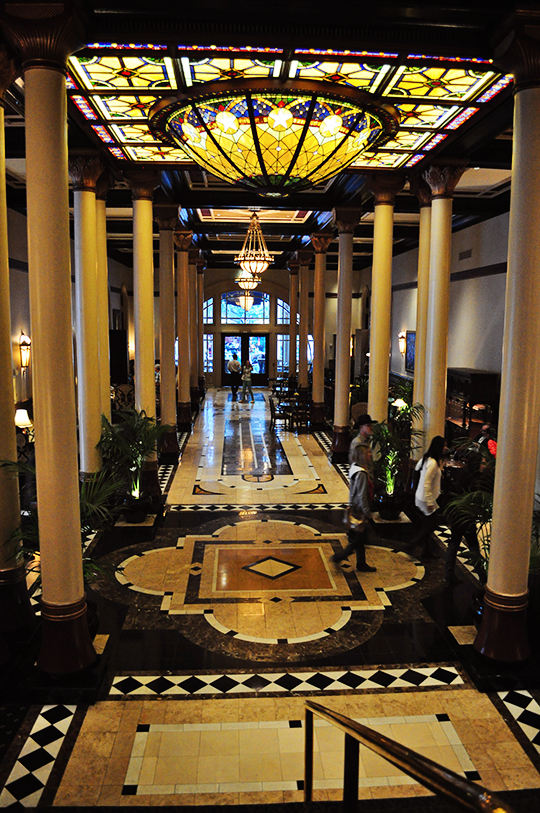 And made our way up to the bar: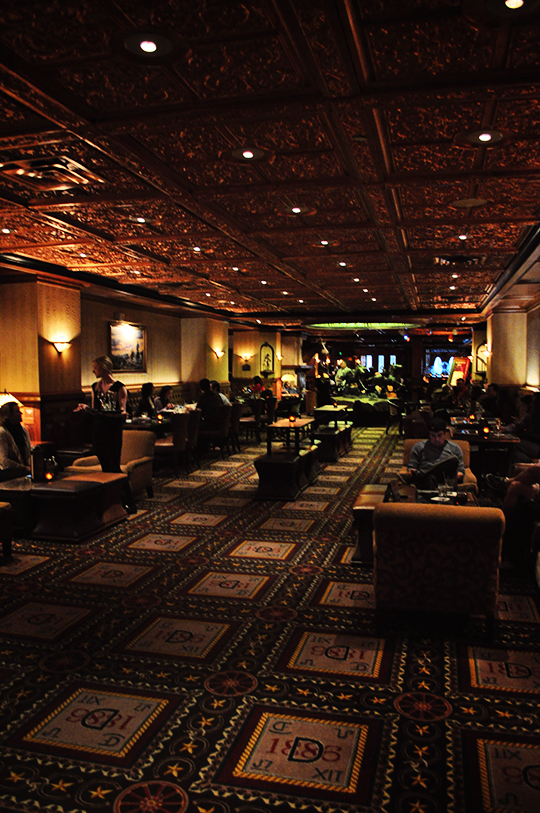 It was worth the stop to see the building, but next time I'd skip the overpriced drinks and the exceedingly rude waitress.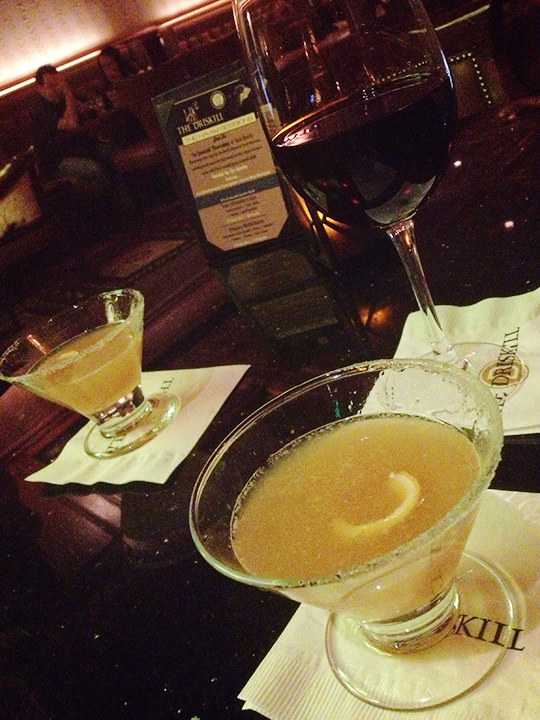 This is how our sidecars were served – 3/4 full, sticky, and missing sugar from when she'd unceremoniously plopped it down and scampered off to tend to her better-dressed customers.
Don't these people know that the worst dressed are usually those who have waited tables in their lives??
Anyway.
When Maria arrived, we decided to take over the bathroom at a hotel near where we'd parked to get pretty for the evening.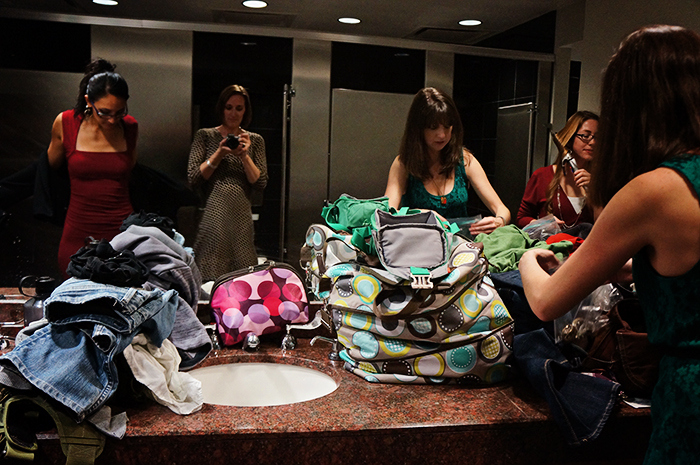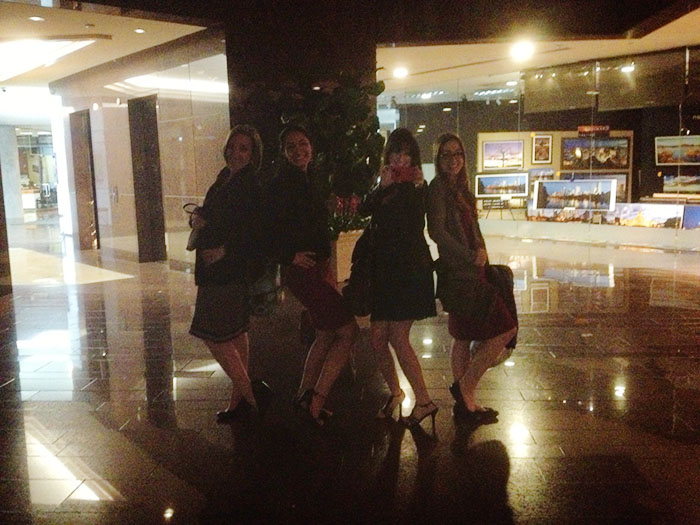 Unfortunately, this is the best group shot we got of us all dressed up and we're still wearing our coats. Doh.
I consulted UrbanSpoon about where we should eat, and we walked about 15 city blocks wearing heels to get to a supposed Tapas place that was dead empty, playing thump thump music, and had wait staff wearing booty shorts.
Umm… no.
So we walked back up a few blocks back towards 6th and ended up at Gloria's, a Latin fusion restaurant with welcoming, firey outdoor heaters.
Listen, ladies.
If you're all dressed up and you want attention, go to a Latin restaurant.
The wait staff were insanely polite and attentive, the decor was incredible, and the blend of Latin, Ecuadorian, and Tex Mex food was phenomenal.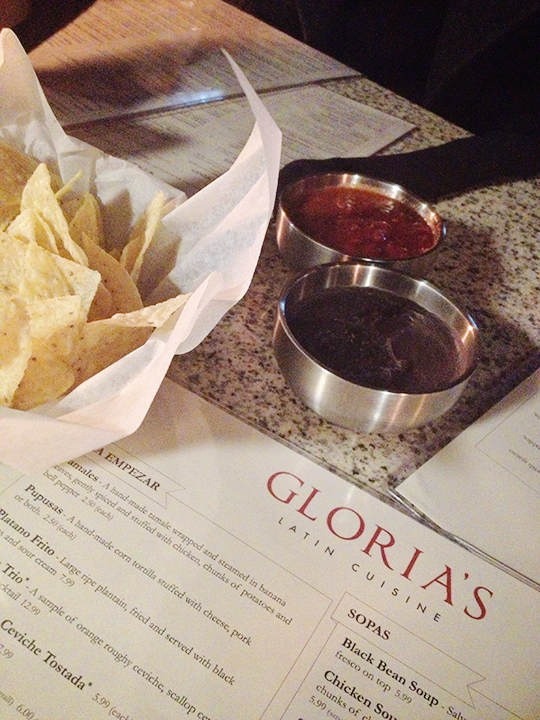 The chips were served with salsa and black beans.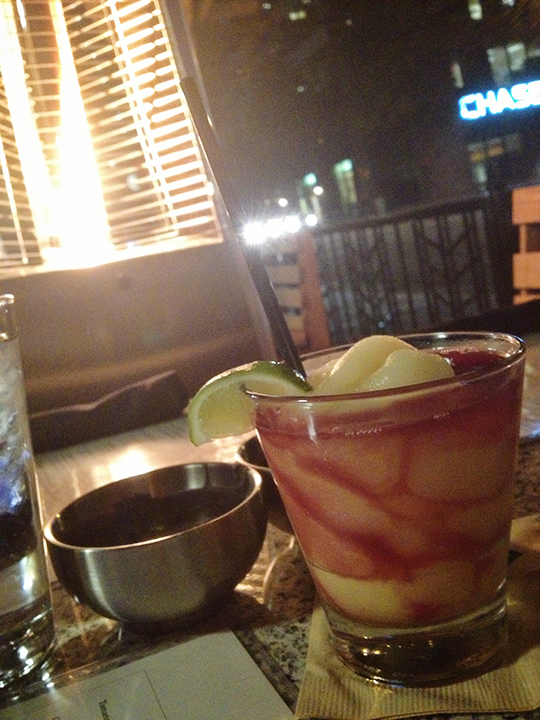 The drinks were inventive and delicious.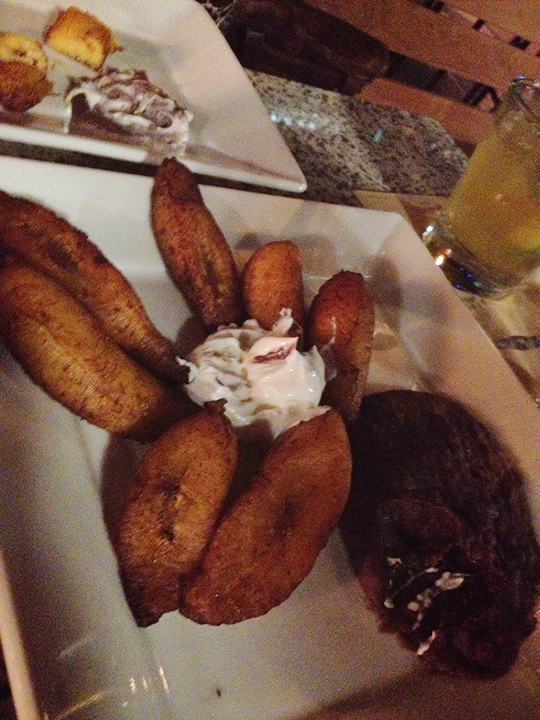 The fried plantains brought Bec, Maria and I back to our days in Costa Rica. Even though these were prepared a little differently than what we were used to, we still gobbled them up.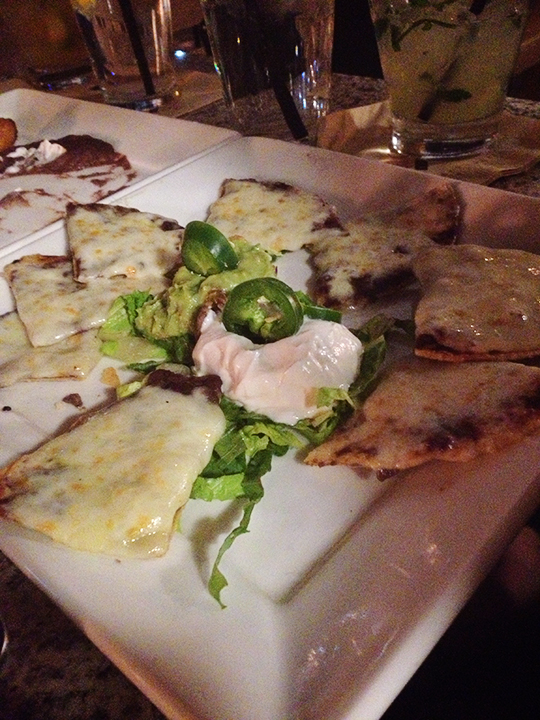 Bean and cheese nachos.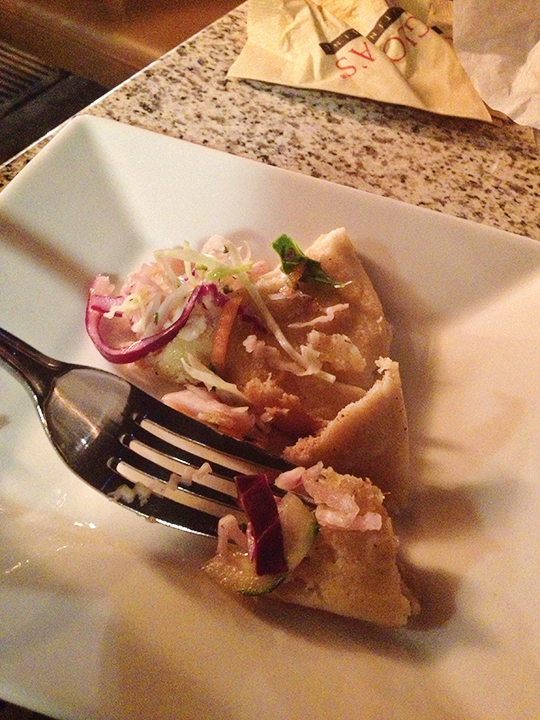 Pepusas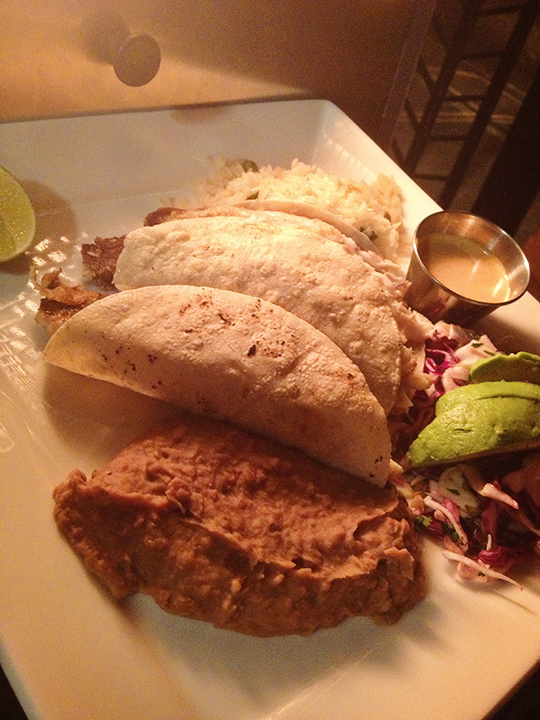 The fish tacos weren't the best I've ever had, but they were definitely good.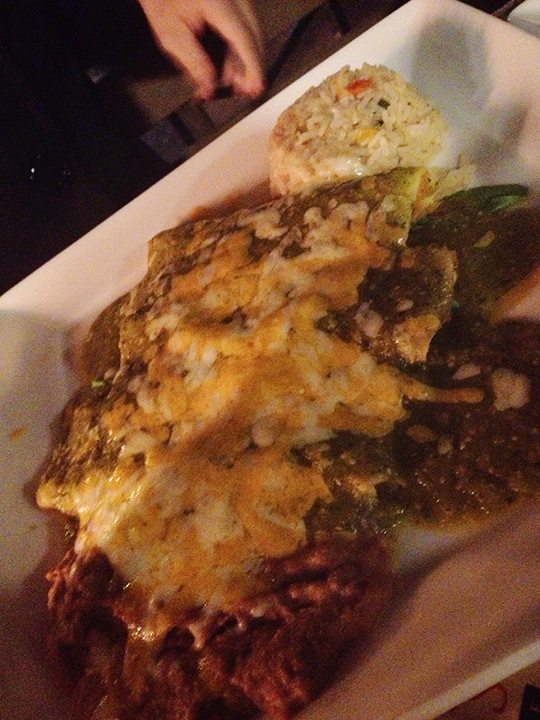 And I can't remember what Maria ordered, but it was definitely cheesy.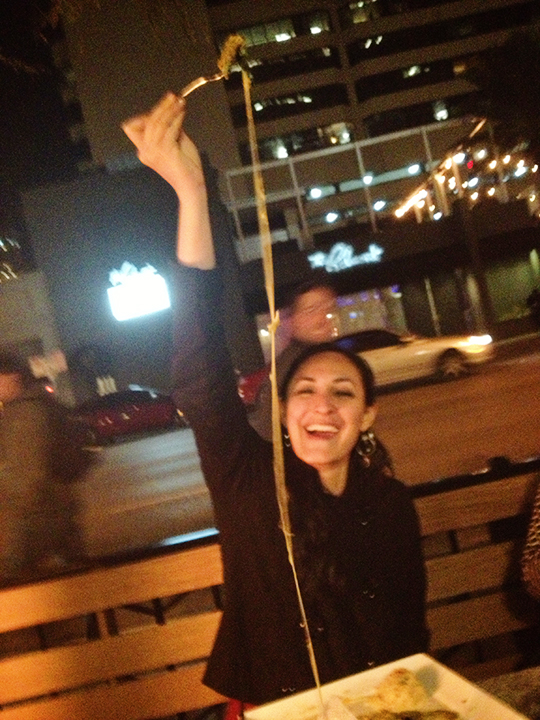 And that's a good thing.
For a chain restaurant, it was quite tasty and we could tell it was important to the staff that everyone was happy.
All-in-all, it was a pretty successful night.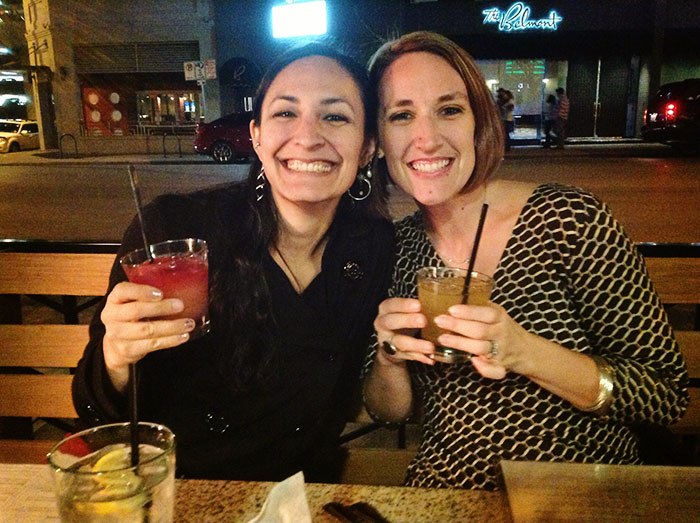 Maria and Bec.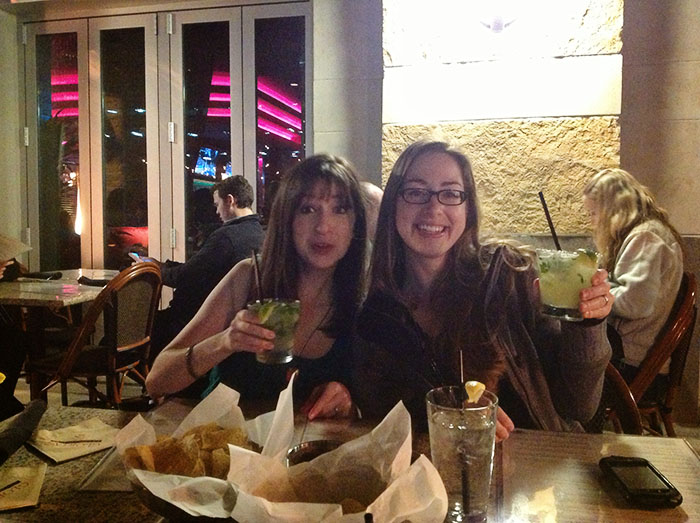 Me and Stacey.
We walked past Dirty 6th on our way back to the car, but we didn't stop.
The wild crowds, competing music, and the compact energy of the place didn't draw us in like it once might have.
Three years ago, that may have been my scene. And it still may be my scene at 4 in the afternoon when I don't have to fight sweaty crowds and girls who can still pull off booty shorts with heels.
But that night?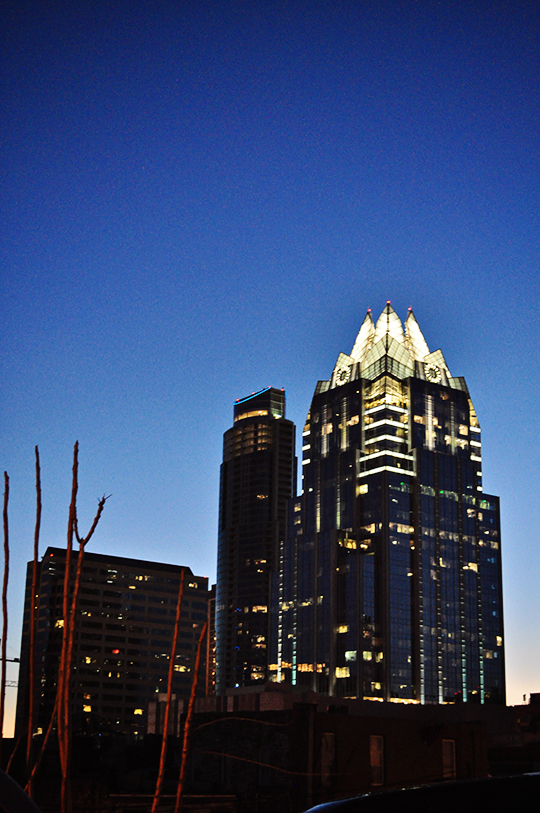 That night I was happy with great friends, fantastic food, and a quiet hotel room where I could finally rest my tired feet.
*For a more informative guide to Dirty 6th, check out this post (from a local) on Austinot.com.