Behind Every Erratic Woman Is A Completely Rational Fear Of Choosing To Choose Our Choices.
So I'm fairly convinced that almost every great lesson in life can be learned by watching an episode of Sex in the City.
SLAM!
What was that?
Oh, nothing. Just the sound of every last male reader closing the door on my blog forever.
But if you haven't left yet, hear me out.
First and foremost, let me be clear: I am talking about the show — not the movies. This is an important distinction because I am not at all convinced (nor have I bothered to research) that the same people who wrote the witty genius that is SATC the show are the same people who wrote the horrific abomination that is SATC the movie.
Second, what I'm about to talk about applies to men as well, I think, but I'm going to focus more on the woman's perspective because I am — you know — a woman.
Anyway.
There's this scene in one of the episodes in which Charlotte, the pretty, doe-eyed brunette, announces to her friends that she is quitting her prominent career running an art gallery so she can focus on her marriage and motherhood.
She's not a mother yet, mind you, but she's on "the baby track," which I picture as a crushed tire-cushioned running track with a starting line and a football field in the middle where women wearing jogging suits monitor their hormones on electronic wrist gadgets and chase their husbands in circles, jumping them to harvest their sperm whenever the timing is right.
What? That's not accurate?
In all fairness, she doesn't actually say she's quitting because she's married or because she's going to have a baby. She kind of slips it in all sneaky-like, first saying there's so much more she could be doing with her life than working at the gallery. When one of her friends asks for an example, she says, "Soon I'll be pregnant, and that'll be huge. Plus, we're redecorating the new apartment, and I always wanted to take those Indian cooking classes, and sometimes I'll walk by one of those Color Me Mine pottery places and I'll see a woman having just a lovely afternoon glazing a bowl. That'd be a nice change. And I wanted to volunteer at Trey's hospital. And help raise money for the new Pediatric AIDS wing."
Of course, the pottery comment merits a joke from Carrie, the witty Sarah Jessica Parker, who says that the AIDS stuff is good but if she walked by on the street and saw Charlotte painting pottery, she'd just keep on walkin'.
Charlotte sighs, defeated, and repeats that it's what she wants to do.
The next day, Charlotte calls up her friend Miranda, the red-headed lawyer. The general exchange is something like:
Charlotte: You were all judgey!
Miranda: Huh?
Charlotte: At lunch! When I told you I was quitting. You think I'm one of those women who quits work just because I'm married!
Miranda: Dude, I haven't had coffee yet.
Charlotte: The women's movement is supposed to be about choice. And if I choose to quit my job, that's my choice.
Miranda: WTF is happening?
Charlotte: Admit it! You're judging me! There's nothing wrong with having a husband! I'm quitting my job to make my life better and do something worthwhile like have a baby and cure AIDS.
Miranda: Oh? You're going to cure AIDS? Good for you! Just don't be disappointed if all you end up with is a pretty ceramic mug with your husband's name on it.
Charlotte: Take that back!
Miranda: I'm hanging up on you now.
Charlotte: Don't you dare hang up! I need you to get behind my choice!
Miranda: YOU get behind your choice!
Charlotte: I am behind my choice. I choose my choice.
Miranda: I don't have time for this. Some of us still have to work.
Charlotte: I CHOOSE MY CHOICE! I CHOOSE MY CHOICE!"
And right there.
Right there is the brilliance of Sex in the City, because, look. Of course it's funny to watch a woman go all irrationally semi-psychotic on her friend, but when we stop to think about it, there's a lesson in there, right? Was her melt-down completely unjustified?
The truth is, it's hard to make a major, life-altering decision with absolute conviction. Especially when you know you're going to be judged for it. And while Charlotte knew that quitting her job was actually the right decision for her – that it was, in fact, what she really wanted to do at that time in her life, what she really needed was for someone else to validate it.
Just like the girl whose boyfriend pushed her off the cliff!
(See how I tie everything in full-circle?)
The reality is that neither woman — the judger or the judgee — is a saint. The women in that show are caricatures of the best and the worst in each of us. Sometimes we're not brave enough to own our own decisions. Sometimes we judge each other just because we might not make the same choice or worse, because we're mad at ourselves for not making the same choice. Sometimes we erratically lash out at the people we love because we know we're being weak when we ask for their validation and, truth-be-told, we hate that about ourselves.
Miranda, judgmental as she may be, is spot-on when she says, "YOU get behind your choice!" because here's the thing: There is no right decision.
But there's also no wrong decision.
There's just a choice. Boom. Make it.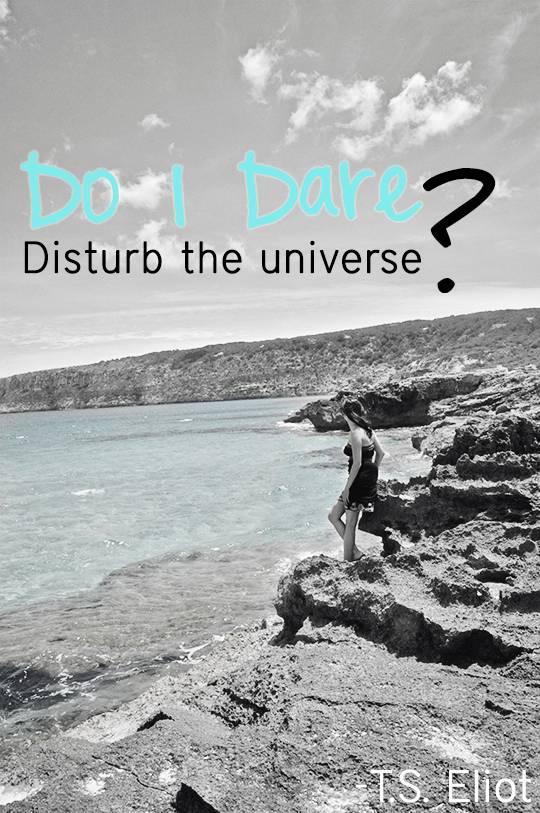 I am the worst when it comes to making decisions, but I'm finally starting to learn — while the prospect of negative consequences is always a scary thought, the paralyzing humiliation and complete waste of time that comes with indecision is often far worse.
If you quit your job and things don't work out, you'll get a new job.
If you move to a new city and find out you hate it, you'll move back home.
If you ordered the fish but your friend's steak looks better, you'll eat your friend's steak.
But the point is, you adapt. You learn. You move on.
It's like we have this fear that life is going to freeze during our lowest possible moment. That the second we find ourselves unhappy, failing, or flailing with reckless abandon, that is the moment time will choose to stand still forever and ever and ever, amen.
But guess what? It won't.
So take that chance.
Choose your choice.
Paint the shit out of that pottery because dammit, something inside you told you it was the right thing to do. And really, that's all the validation you need.