If We're Only As Good As The Company We Keep, Then I Am Now Officially Awesome.
Listen.
If there's one really great thing about where I live, it's its proximity to other really great places.
The beach is only a couple of hours east, and the mountains just a few hours west. We have the Raleigh/Durham/Chapel Hill triangle to the north, and Charleston to the south. Any number of day and weekend trips are just a short drive away, and I'm ashamed to admit that we don't take advantage of our strategic middle-of-everywhere locale nearly often enough.
So when the opportunity arose for me to meet one of my favorite travel bloggers, Andi Perullo of My Beautiful Adventures in her hometown of Charlotte, NC, I honed my crazy internet stalker tendencies, hopped in the car, and made the 2 1/2 hour voyage west to arrive in time for lunch.
You drove 2 1/2 hours just to meet a total stranger?
No.
I drove 2 1/2 hours each way. Actually, it was more like 3 1/2 hours on the way back due to some horrible city traffic, but I'd rather not focus on that.
And we're not total strangers. I mean, I've been reading her blog for over a year now. And we're Facebook friends. And she totally got my reference to Salt -n-Pepa the hip hop trio when she mentioned salt and pepper the table seasonings.
Can I get some fries, with that shake-shake boobie?
If looks could kill, you would be an uzi
You're a shotgun – BANG! What's up with that thang?
I wanna know – how does it hang?
So… yeah.
Due to my intense level of weirdness, it's probably Andi who was a little freaked out.
But probably not really, since she's used to the pro blogging scene and has met quite a few.
Not that I'm a pro, but you know what I mean.
Anyway.
She picked an incredible place for lunch.
Located in the Mint Museum in downtown — or rather uptown — Charlotte, the dining room of Halcyon Flavors from the Earth is a marvel in itself with its soaring windows, intricate chandeliers, and gorgeous carved wood tables.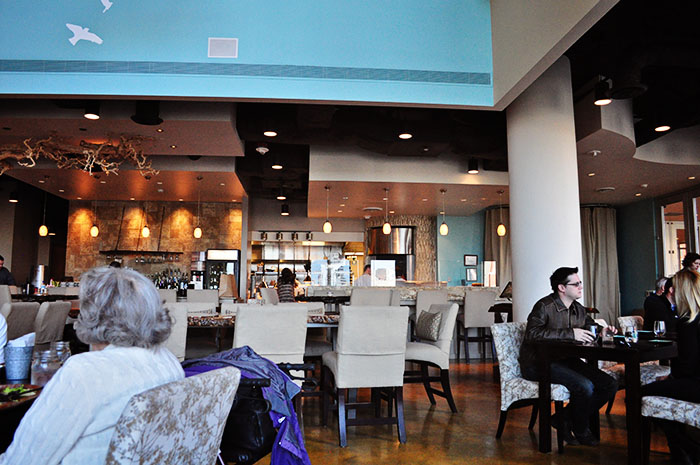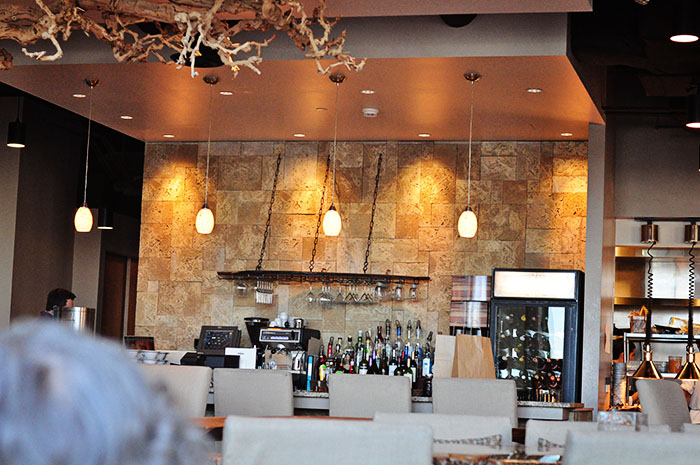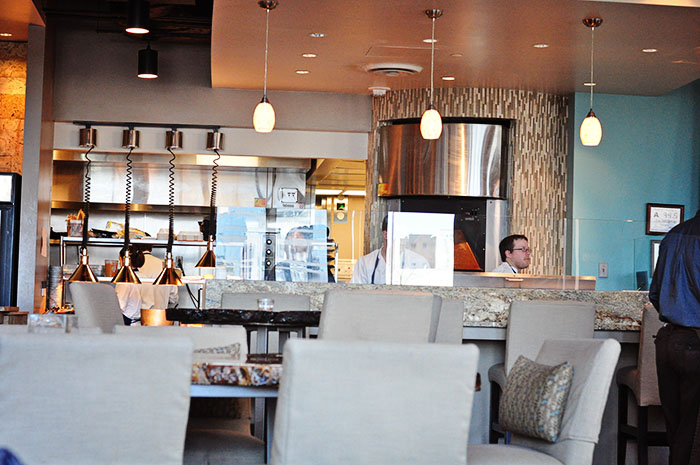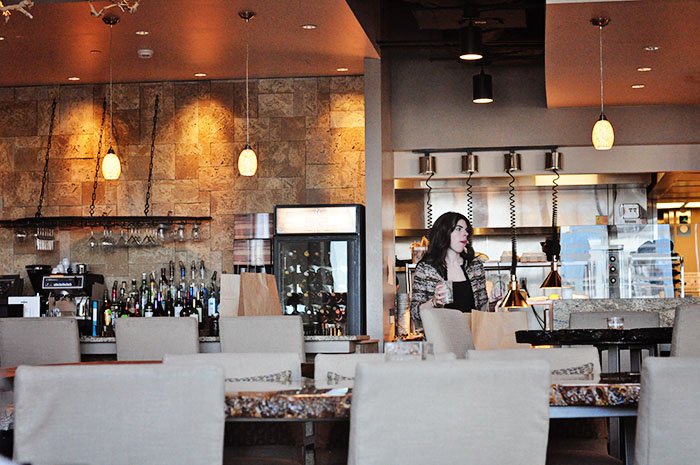 I tried to be all covert when taking photos of the room which resulted in a less-than-stellar representation of the place, but hey. I think you get the idea.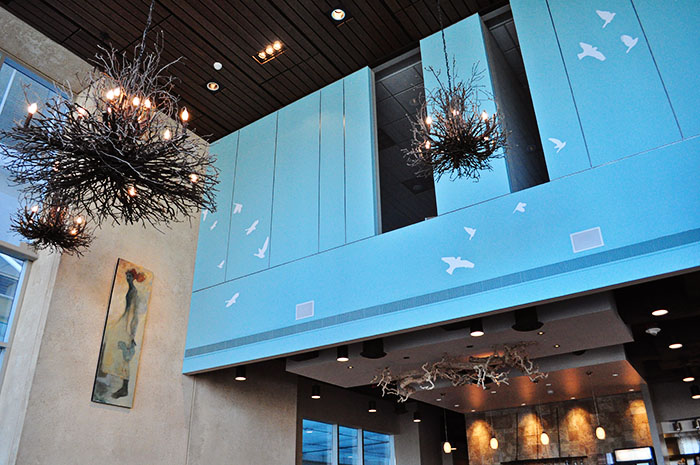 And this was the view from our table: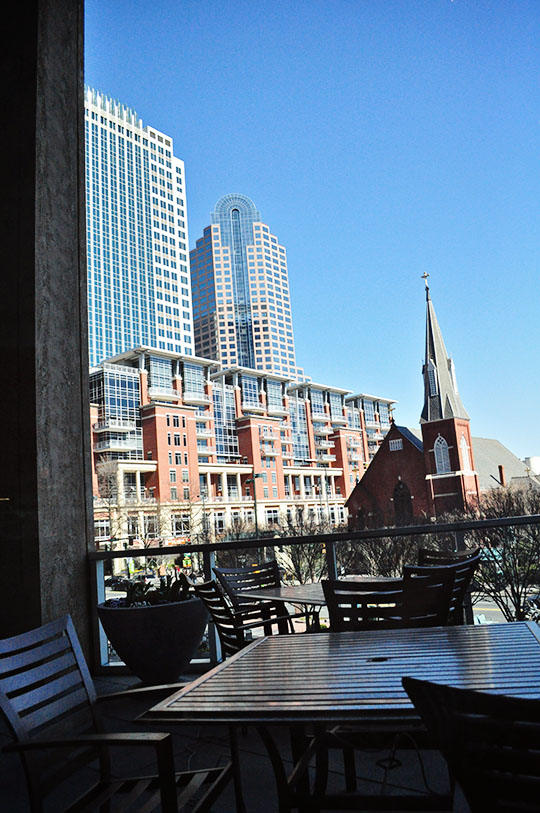 Not too shabby!
I was afraid the gorgeous blonde I was meeting for lunch would be intimidating, but it's true — she's just as warm and friendly in person as her online personality.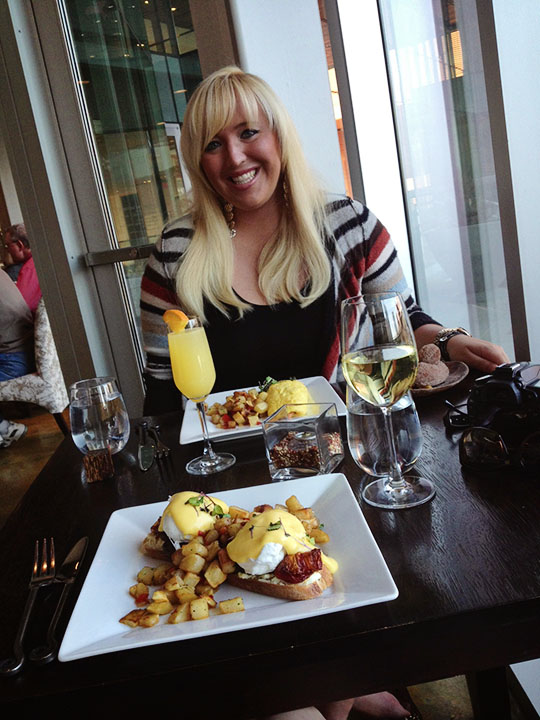 Can you believe the only photo I took of a photojournalist was with my iPhone?
Professional fail.
And I was completely envious of her glass.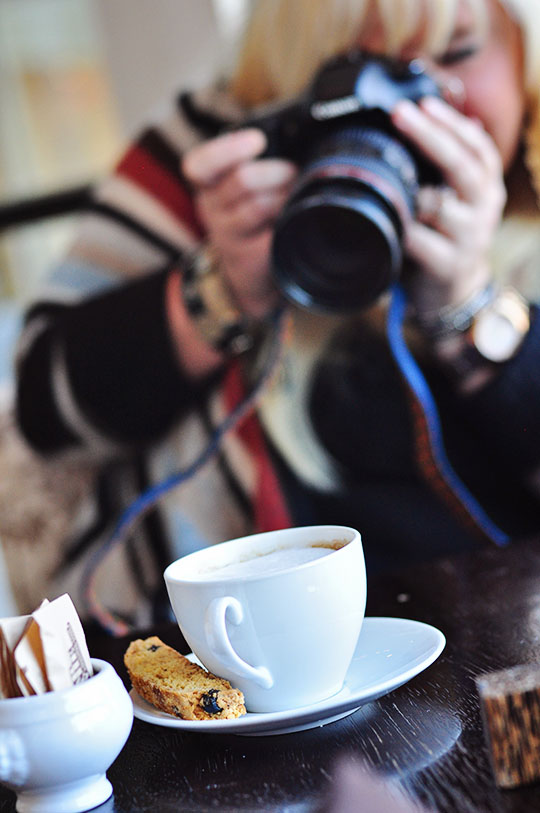 Hey, I said GLASS — as in camera lens.
Get your minds out of the gutter.
Seriously — it was beautiful.
We started with a couple of mimosas.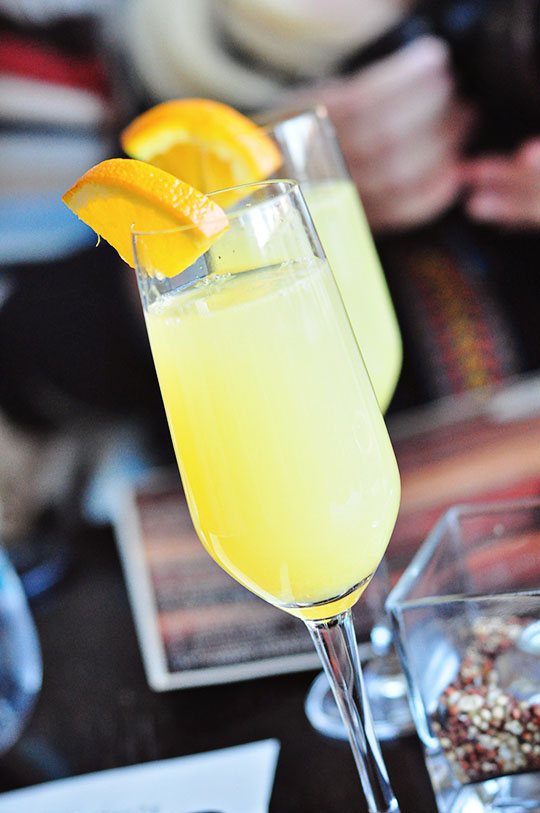 But the food menu required quite a bit of further study. See, a random man in the elevator on my way up from the parking garage told me that Halcyon had the best burger he's ever eaten.
And we all know I like my burgers.
But, in all honesty, I'm pretty sure I'm still digesting the best burger I've eaten to-date, so I decided to order brunch to go along with my mimosa.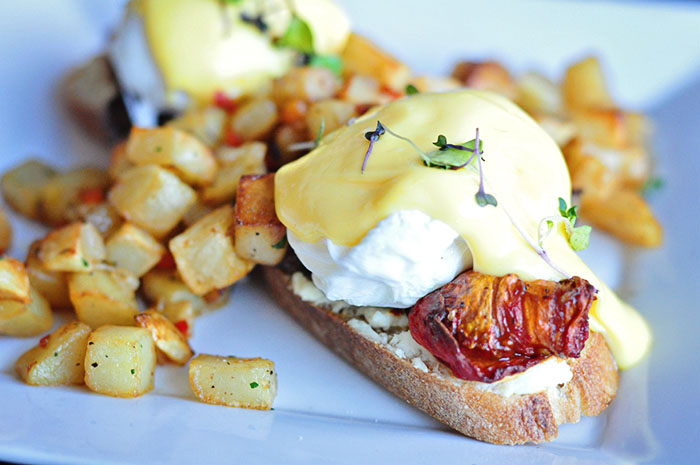 Friends, meet the Shepard's Benedict. The online menu describes it as poached WTF eggs, house-crafted lamb sausage, overnight roma tomatoes, warm chèvre  (also known as 'goat cheese' to us average folk), toasted fresh-made baguette, hollandaise, and duck fat hash.
It was incredibly rich and delicious, though the baguette was pretty tough to cut through — even with a knife!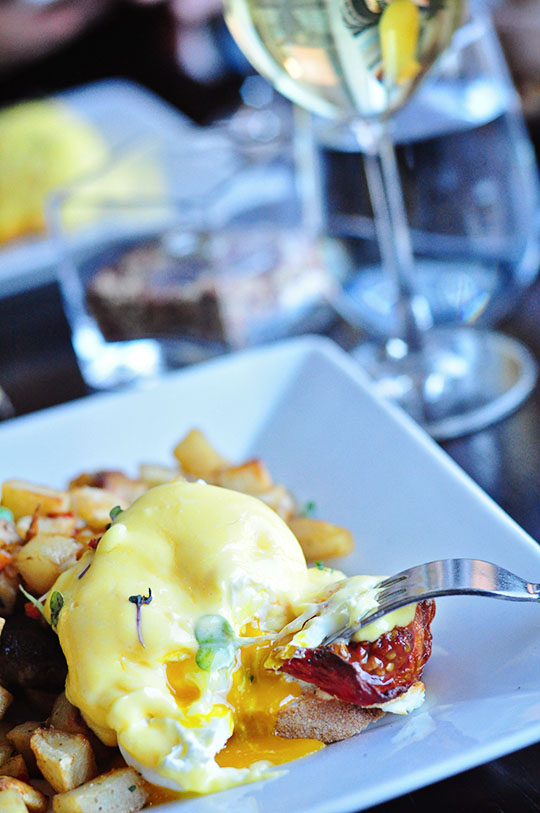 Mmm. Is there anything better than a poached egg?
And the Spanish Rioja our knowledgeable server recommended went perfectly.
Andi is a vegetarian and the restaurant was more than accommodating when it came to specializing her pimento cheese and mushroom omelette.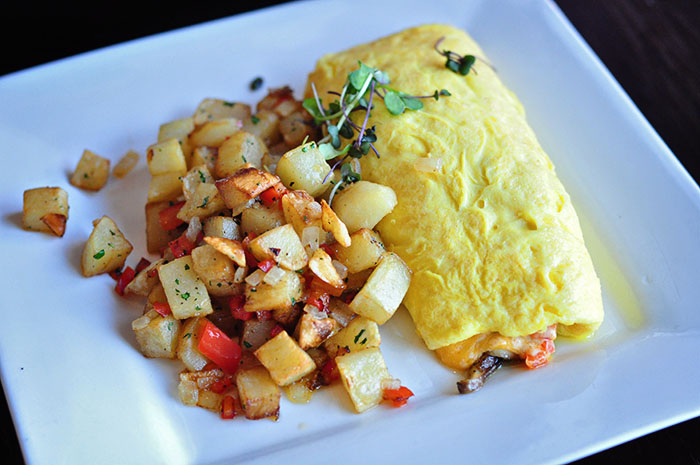 Her NC cider house doughnut with local apple compote didn't look half bad, either: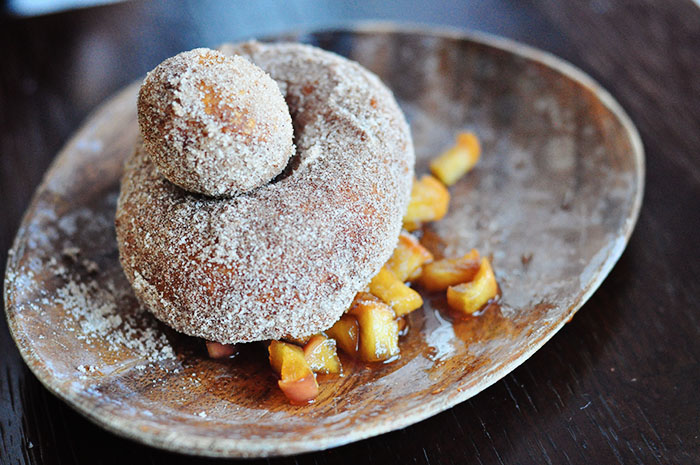 Unfortunately I didn't know her well enough to snag a bite.
At one point I ordered a specialty drink called the Amaro Amore —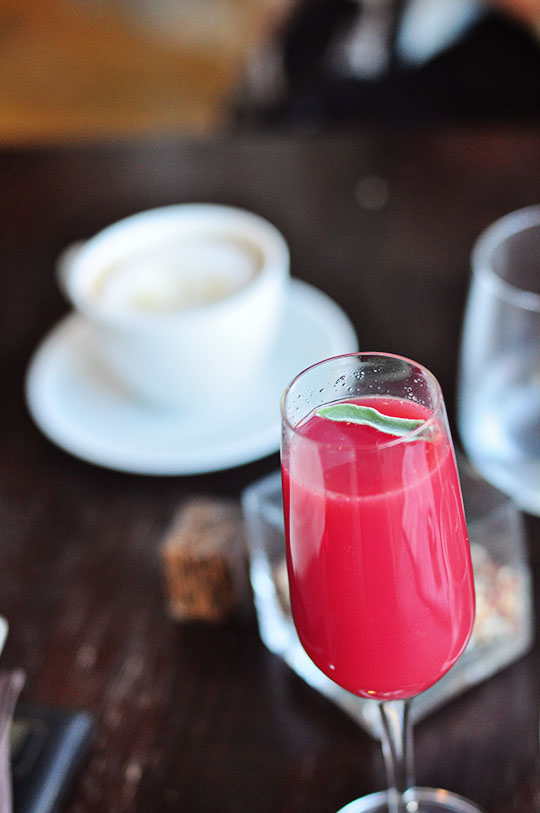 — with house-made cranberry sage "Amaro," St. Germain Elderflower Liqueur, blood orange puree, and sparkling wine. It was delicious!
And finally, the coffee.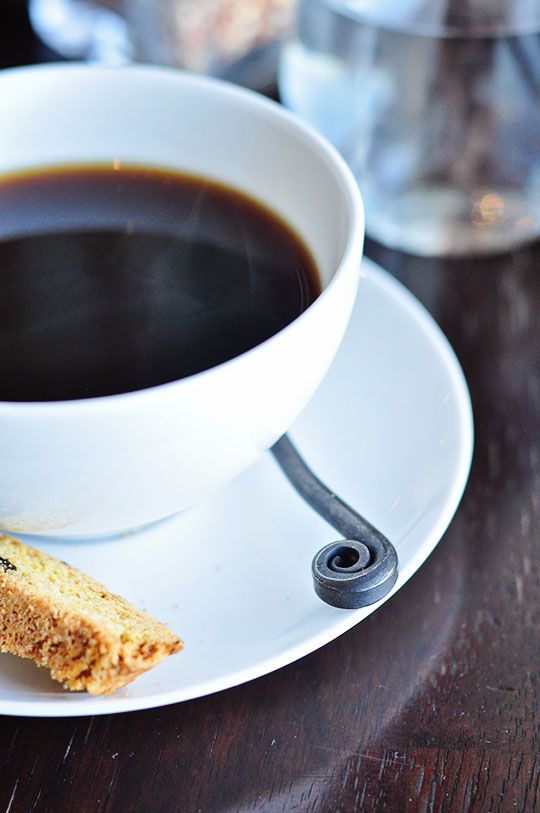 Oh, the coffee.
I have dreamt about a cup of coffee like this but never experienced it for myself until that day.
Not even during our Carrboro Food Tour.
It was velvety, smooth, and delicate without a hint of aftertaste.
Seriously.
Coffee breath doesn't exist with a cup like this.
It needed nothing. No cream. No sugar. Just the occasional dip of a crumbly scone, and it was perfection layered on perfection.
I would come back to Halcyon just for another taste of this coffee.
I didn't see any more of Charlotte that day because we spent five hours at the restaurant.
Five.
Our server left his day shift, went home, and came back for his dinner shift to close us out.
But sincerely, it's not our fault.
When you find yourself with perfect food in a perfect atmosphere in perfect company, time passes unnoticed.
And while Andi and I share a passion for travel and experiencing the unknown, I think we could both agree — that day, local "travel" was all we needed to have an exquisite time.