"Style" Is Totally Subjective, Anyway.
I woke up this morning with the song, Damn I Wish I Was Your Lover by Sophie B. Hawkins in my head, and I knew it was going to be a weird day.
My sister and I spent a lot of time digging around in my dad's basement last week, and among the limited boxes of treasures of my youth (many of my belongings were sold or tossed before I had time to go home to retrieve them), I found a stack of old compact discs, still pristine in their plastic cases. I couldn't believe they'd made it through The Purge, but there they were — just as shiny and magical and uncool as the day I'd bought them.
I popped the 1996 Grammy Nominees CD into my player the other day and was surprised to learn that I still remember all of the lyrics to Any Man of Mine and most of the lyrics to Gangsta's Paradise and omg I'd completely forgotten about Joan Osborne's [What if God was] One of Us.
Sorry, Joan. Never again.
As my yearbook photos only further evidenced, I was a decidedly uncool teenager. And I was apparently very open about it, what with my recently unearthed collection of plastic button covers, colorful friendship bracelets, and the stack of Jock Jams and Now THAT'S What I Call Music! and Ultimate Dance Party CDs.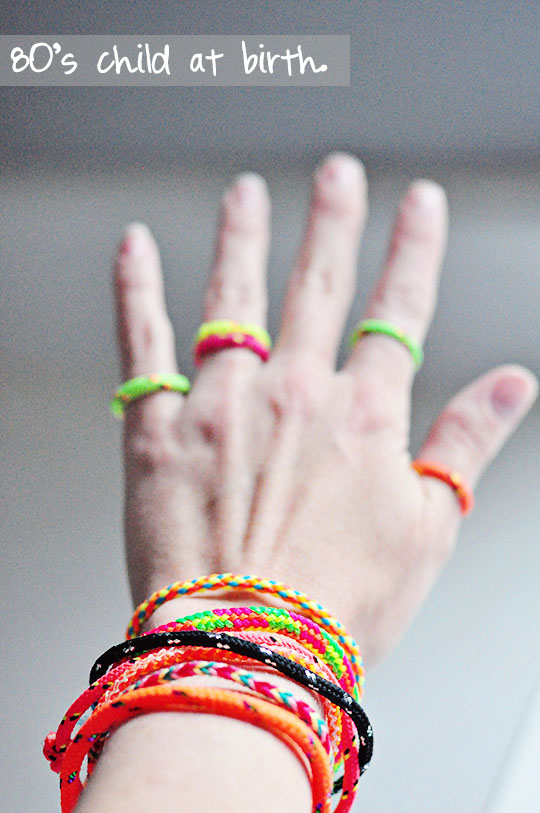 But, you know, that's just who I was. In middle school, I went through a phase where I tried to be just like my sporty friend Lindsey and wore nothing but track pants and giant athletic shirts and swore to my mom that if she'd just buy me a pair of tearaways I'd be set for life on clothing, but she was all, "Why would I buy you pants that anyone could just rip off?" and instead of seeing her totally legitimate point, I just got all huffy and pre-teen and convinced that I would never be cool because I didn't own pants that anyone could just rip off.
In elementary school it was even worse, when I tried to imitate my friend Erica by trying to embrace the grunge look and wearing overalls with one strap unhooked and long-sleeved flannel shirts and feathering my bangs, only I took it one step further, of course, by wearing overall shorts and letting my mom buy me flannel that had pink in it and I ended up walking around looking like some incredibly confused Spice Girl.
With giant, plastic earrings.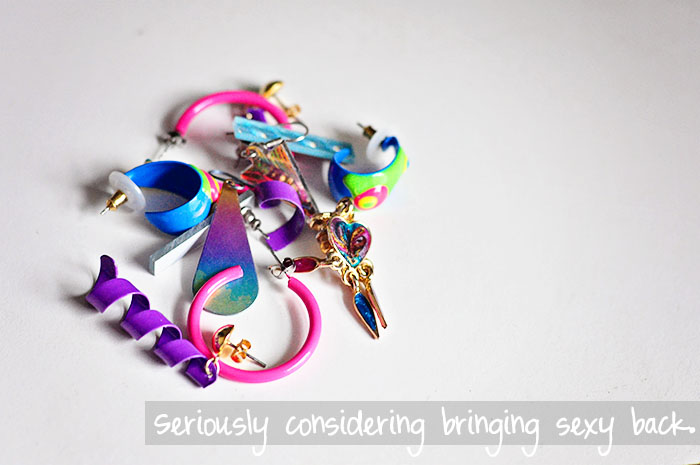 And even today, when I'm all grown up, I still get all befuddled when I look in my closet and see the mishmash of clothing items I've bought over the years — from the hideous brown eyelet dress I purchased at a consignment shop last summer that thought I could pull off to the super cute, too-short sequined skirt I'll probably never wear, and I realize I have a very difficult time defining myself through clothing. And it doesn't stop there. I look at our living room, all cozy and library-esque with its worn fluffy couches, tattered leather coffee table, dark wood furniture and bookshelves and think, Yes! This is ME! This room reflects exactly what's happening in my head. But then I walk to our bedroom with its moody charcoal walls, sleek gray-and-white duvet, and ultra contemporary armillary sphere chandelier and I think, Yes! This is ME! This room reflects exactly what's happening in my head.
Which, now that I think about it, totally explains my early obsession with mixed artist CDs. I could pop one into my Walkman and get a little Coolio, a little Brandy, and a little Shania all in one shot. I didn't have to commit to a genre, you see, which apparently is my Achilles heel in life.
But then, why should I? It seems like so often we try to squeeze ourself into a tidy, compartmentalized definition of ourselves when really, we're a total mess.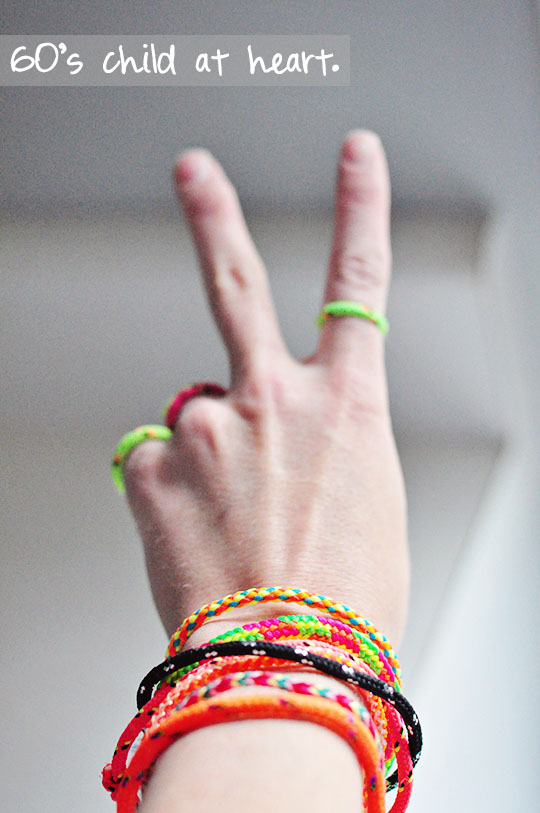 At least I am.
And while it would be so much easier if I could just say "Well, I'm a classic Myers Briggs INFJ" and hand over my handling instructions, I realize it's never going to be that simple.
I'm constantly changing. Constantly evolving — or devolving, as the case may be.
And I think maybe it's time to just accept that fact about myself.
And about my surroundings.
And about life.
What about you? Do you have a distinct style? A definitive personality type? Or are you as confused as I am about the whole thing and ready to run around your house wearing Keds on your feet and a banana clip in your hair and singing Damn I Wish I Was Your Lover like you really MEAN it?