Eccentricity Is A Luxury Afforded To The Wealthy. When You're Middle Class, They Just Call It "Crazy."
Ugh.
$(@)#$$%)($*%@)$++$(#$(@#@>.
You know?
And, like, $%()#$&$(*@#%)(*!
I have nineteen sticky notes on my desk.
Nineteen.
They are covered in lists of to-dos, inspiring quotes, jotted ideas or even actual, pertinent information that an organized person would have printed and collated and filed neatly away in a drawer with color coded folders. My problem is that if I take the time to put something "away," I never see it again. Not for years, at least. "Away" is some strange and far off land accessible only via wormhole or the Knight Bus from Harry Potter. "Away" is a magical place where I manage to complete tasks in an orderly fashion and where all of my little balls fit together to form one giant ball filled with one massive and attainable goal, the achievement of which will somehow make me feel like I'm on the "right" track.
But right now, right here, all of my little balls are crazy and unrelated.
I photograph houses for real estate agents and have continuous requests to expand this venture into a full-blown listing service, so I have stickies with a la carte pricing ideas and necessary website updates and contact information for earnest clients. I write the occasional column for a local magazine, and sometimes they even use one or two of my pictures, which is like, surreal, so I have stickies with invoice reminders and deadline pronouncements and names and phone numbers of people to interview. I photograph families, so I have stickies reminding me who still needs edits and who still needs follow-ups and a list of dream lenses and notes about new cameras. We have to get our house ready to sell, so I have stickies with quotes from handymen and tasks to complete and other things that make my jaw clench when I think about actually tackling them. I have stickies with blog post ideas and novel ideas and media kit bullets and advertisement pitches and travel plans and plane tickets to purchase and I spend all day staring at these damn inspiring quotes by Fredrich Nietzsche and Sir Francis Bacon and Rumi and Ernest Hemingway and Will Smith and I swear sometimes it feels like they're mocking me with their smug, inspiring wisdom.
Lately I've been spending a ridiculous amount of time researching credit cards, because I've come up with the brilliant idea that I will achieve my dream of affordable travel via bonus miles and rewards points and frequent flyer programs, which is like this entire world of fine print to decipher and foreign legal language to learn, but that's totally okay because I've got it all mapped out with this brilliantly foolproof blue sticky note system.
Did you know that they actually approved me for a credit card?
I know.
See, until recently, Justin and I only owned one credit card between us. We used it for nearly every purchase, paid if off every month, and racked up our reward points in a 1:1 ratio, using them to occasionally acquire plane tickets or spendy electronics. But lately I've been learning about travel cards and sign-on bonus miles and the wonderful perks that can come with knowledgable and responsible credit card ownership. Of course they make it confusing on purpose, so I'm careful to jot the pertinent stuff on a designated sticky, and I wasn't even sure I'd qualify for any cards of my own since my individual annual income is hovering somewhere around the poverty line, so I prepared myself to feel dejected when the word "DENIED" inevitably flashed across the screen, but it turns out a phenomenal credit score is apparently enough for them to look the other way.
Score.
Now look. I'm not encouraging you to run off and start applying for a million different credit cards just so you can rack up bonus miles, but Justin and I figured this was something we could ease into — a hobby of sorts — because we recently refinanced our house and can afford to let our superb scores take a minor hit from some credit inquiries. The learning curve is huge, and for someone like me with the attention span of a gnat, it's going to take some work to figure it all out. But I'll let you know as soon as we're ballin' first class to Paris.
What I need, I think, is a system.
Something more effective than stickies because, hey. I might actually have a problem.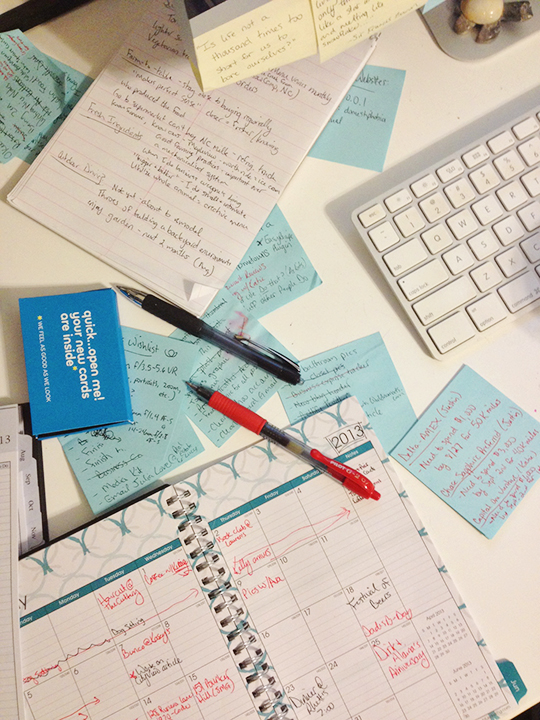 (And it's not just that my calendar's still open to May.)
I want someone to hold my hand and tell me which of these things needs my attention the most, and which needs it the second most, and so on because frankly, I'm ready to fill the bathtub with sticky notes, pour myself a glass of champagne, climb on in, and go full-out eccentric writer crazy because I'm afraid I'm just not cut out for multitasking.
And worse, I don't know which of these things feels most important to me, because I enjoy them all.
Which is why I'm always envious of people — the Hemingways and Smiths and Rumis and Bacons — who know what their passion is and can concentrate all of their energy on that one single thing and become so fantastically awesome at it that I'm inspired to transcribe their advice on sticky notes so they can mock me daily from the bottom of my computer monitor.
Does that make sense?
Or should I start filling the tub?