What Every Gambler Knows.
Sometimes I am a ridiculous person.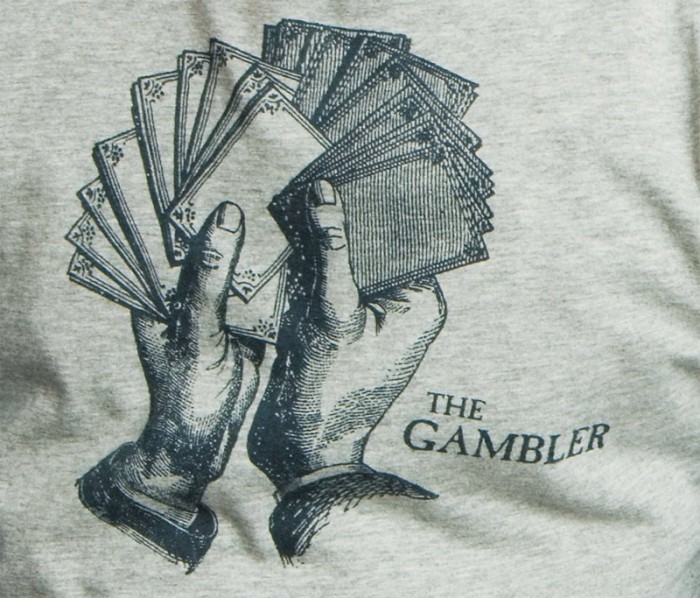 Actually, I've pretty much been a ridiculous person for the last ten years.
Since the time I met Justin and especially since we got married, I have been driven — nay, consumed — by the idea of living somewhere overseas. Everyone knows this. Justin knows it. My parents know it. His parents know it. Probably my postwoman knows it, and basically every person with whom I've ever come into verbal contact knows it.
Frankly, I'm like that pregnant girl who can suddenly speak of nothing but the various methods of child rearing and wrapping and feeding, only I speak of orders and packing and leaving and I've been pregnant for ten years.
I feed off of any information I can gather from friends who are there, living in that elusive world of beer festivals and Mediterranean cruises and daily access to the pineapple ice cream at the DOLE plantation, and I envy the people I meet who are going.
Oh, you went to Prague last weekend? How nice. No, I've never been. But soon! When we're stationed in Germany, it will be just a train ride away. No, we don't have orders. But we're hoping really hard. That counts, right?
and
Oh, you're having a garage sale because you're moving to England? How nice. NO, I don't want your crap because I'm pretty sure we're moving there, too. Eventually. No, we don't have orders. But we're hoping really hard. That counts, right?
What's worse is that nearly my every thought and subsequent decision is somehow related to this move that's certainly potential but not guaranteed.
We probably should reign in our kitchen gadget impulse purchases, because there's no way we'll squeeze all of this into a tiny kitchen overseas. Really? We have to start feeding Capone a special urinary crystal dissolving dog food? How will we find that overseas? It's dumb to invest in a lumbar-supportive foam core mattress right now, because who wants to lug that overseas?
The humiliating truth?
This is beyond obsession.
The Buddha believed that desire is the root of all suffering.
And think about it: Every time you've been unhappy — every time you've felt like flailing around on the floor and throwing a good, old-fashioned tantrum — it's because you've wanted something — the world, a person, a situation, your mood — to be different from what it is in that very moment. And meanwhile, that moment gets missed. It's passed over like a sad little mutt in the pet store window, and why?
Because you were waiting for something better to come along.
And the craziest aspect of this logic is that "better" isn't guaranteed. And it certainly isn't guaranteed to last.
It's hard to admit, but my desire has caused an exorbitant amount of suffering. Not just for myself, but for the people who constantly have to hear about it. And especially for Justin, who feels primarily responsible for it. A series of professional career decisions not granted to many within the military led to our commitment of over six years to a sedentary lifestyle. Six years of the same roads, the same grocery stores, the same radio stations. Six years that were great for his career, but not so great for someone whose biggest fear is stagnancy. Six years that I let pass in a blink because, while I knew it was the right decision for us at the time, I was still waiting for something better to come along.
So this year, we opted to not stay here. It's a complete gamble.
According to Kenny Rogers, every gambler knows that the secret to surviving this messy, confusing world of ours is knowing what to throw away and knowing what to keep.
It turns out what I need to throw away, my friends, is expectation. Not goals, not ambition, but the general expectation that my life should be something other than what it currently is. Because I've got all of these aces up in my hand that I barely even notice. My husband. My health. My family and my drive and my worldful of friends. I've been sitting at the table, shamelessly counting all of my expectations right in front of everyone, which is exactly what Kenny tells us not to do. Because when we do that, we miss it.
We miss the entire, breathtaking game.
I spent most of my twenties gambling all wrong — assuming that just because we weren't dealt what I'd wanted, it must be a losing hand. But that's not the way to play. Because what if we don't get orders overseas? What if they send us to North Dakota or Oklahoma or Georgia instead? Do I lose that hand, too? Do I skulk away with embarrassment and regret and blink away another six years? Or do I learn to play it right?
The hard-to-swallow philosophical truth is that they already have sent us wherever we'll go.
It just hasn't happened yet.
What desires have caused you to suffer and what expectations can you learn to let go? Have you skipped over parts of your life because you wished it was different? Or have you learned how to play?