Is It Possible That Portland's Just Trying Too Hard?
Sometime in middle school, an English teacher assigned us a book about cities.
I don't remember much about the book*, except that it basically described a whole bunch of fictional cities — dreamscapes, really, where down could be up and right could be left and anything that could be imagined might actually be real. Each of us students were assigned one of the cities to illustrate, and I remember listening and watching, enraptured, as the class unveiled these magical places.
*Seriously, if you know which book this might be, please let me know. I think it was even referenced in another book I just read. Of course I can't remember which one. It's driving me crazy.
One of the coolest things about growing up so far, I think, has been discovering that places like this actually do exist. That the world is filled with these dots on a map that, when you go take a real, live, look, translate to streets and buildings and vehicles and people. The streets could be asphalt or cobblestone or dirt; the buildings tall steel or stout brick or soft stone; vehicles with motors or powered by blood; the people a multitude of colors and language and clothes. Some cities have a gyrating, frenetic, energy with pulsating noise and steam from the sewers. Others are relaxed with outdoor cafes, plenty of planters, and cool breezes. And while many such places are veiled in stereotypes perpetuated by television shows and movies and the like, no U.S. city, it seems, has been getting more flack and fist-bumps in recent years than the one called Portland, Oregon.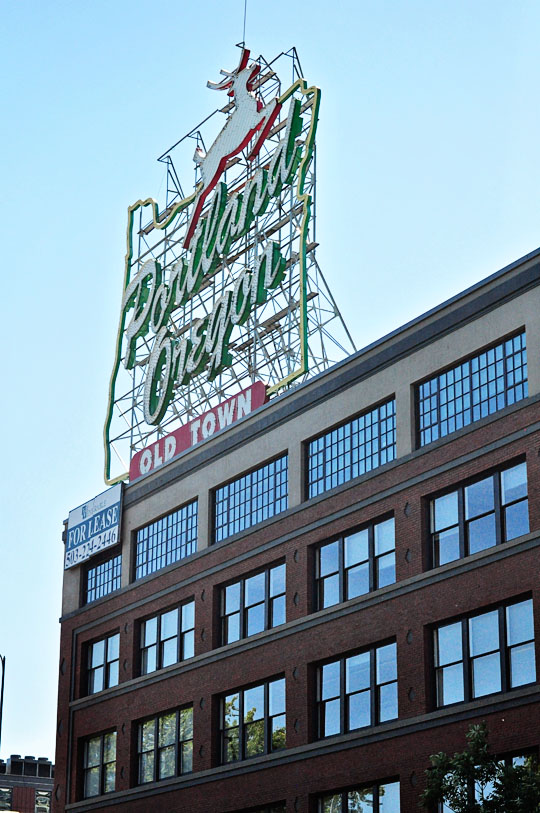 With an unofficial slogan like "Keep Portland Weird" (yep, they pretty much rip off Austin with that one), and shows like "Portlandia," it's no wonder I had in my head this trendy, counter-culture mecca of urban chic local retailers, bongo drums on every corner, and incredible restaurants supplied only with locally grown, organic, foods.
These will be my people, I thought, as we headed up the coast from quirky San Francisco and the sunny, relaxing Napa Valley. They will be accepting and open and deliciously un-fake.
Only… my crotchety intuition knew that it probably wouldn't be true. The thing is, hipsters were cool, like back in the 90's, when being a hipster simply meant being yourself and not conforming to mainstream societal dress codes, political beliefs, and taste in music. Unfortunately, somewhere during the last twenty years, this freethinking ideal rotted and fell off. Now the twisted irony is that being a hipster means you have to put a whole lot of effort into being effortlessly cool. You must sport an edgy, androgynous haircut and listen to nothing but indie rock and be fundamentally opposed to showering — or at least, fundamentally opposed to looking like you showered, because that's trying too hard. The bohemian accoutrements for your living space and clothing must be acquired second-hand, though it doesn't matter how much money you spend. You have to be an active environmentalist and at least a lacto-ovo vegetarian with a pesco-pollo exclusionary clause for holidays and special occasions, and hey. Don't even think about ordering a book off of Amazon.
It's like the worst of all of the members of the PTA and your Home Owners' Association and the popular girls in high school melded into the most elite membership club in all the land advertising UNIQUENESS and FREE THINKING and LIVING HAPPY and all the while telling you exactly how you have to do it.
Otherwise you don't belong.
Hipsters, it seems, have gone the way of the feminists. They took what started as a genuinely good idea and turned on their own.
So.
I guess it's fair to say that I wasn't going into Portland with the blankest slate of reserved judgement. I was prepared to feel like I didn't really fit in, but still be awed by the culture Portland has worked so hard to portray. What I didn't expect was to not really feel much of anything at all.
At least not at first.
DISCLAIMER: We had one brief day to spend in Portland before our red-eye flight took us back to the east coast. This, as seems par for the course for me lately, was a whirlwind tour of a city that has much more to offer than what you could possibly absorb in an 8-hour period. So take these first impressions with a grain — or six — of salt.
After the pleasant surprise of discovering that the widely-hailed Voodoo Doughnuts actually lived up to the hype, Justin's sister Becca took us to another "must-see" stop on Portland's hit list, Powell's City of Books.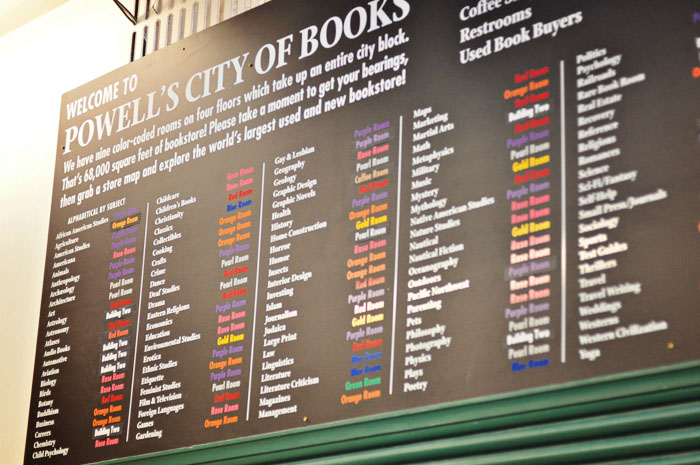 And while it may not be an actual city, it's close enough with multiple floors, 68,000 square feet of retail floor space, and a building that takes up an entire city block.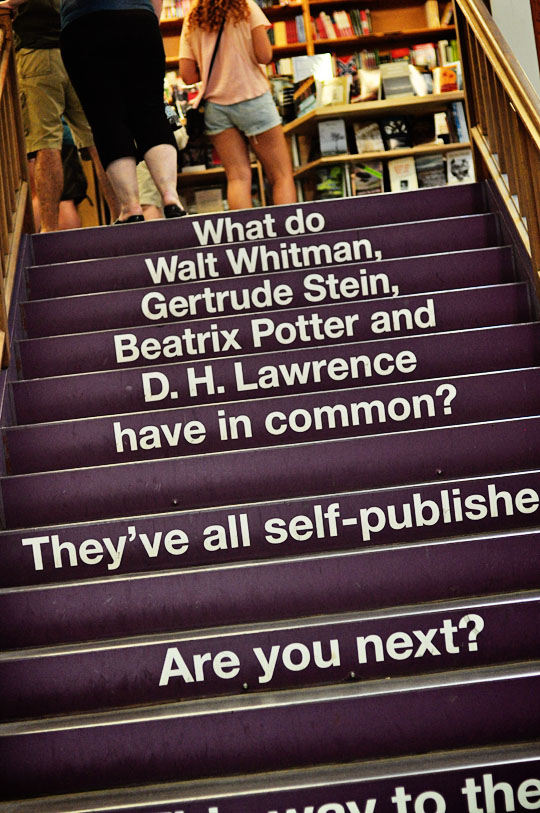 Easily, we could've spent hours there.
Eventually we emerged and meandered around downtown, looking for a way to round out our lunch o' doughnuts. The streets were clean and it felt perfectly safe, but it seemed to be missing the air of in-your-face confidence I'd felt in Chicago.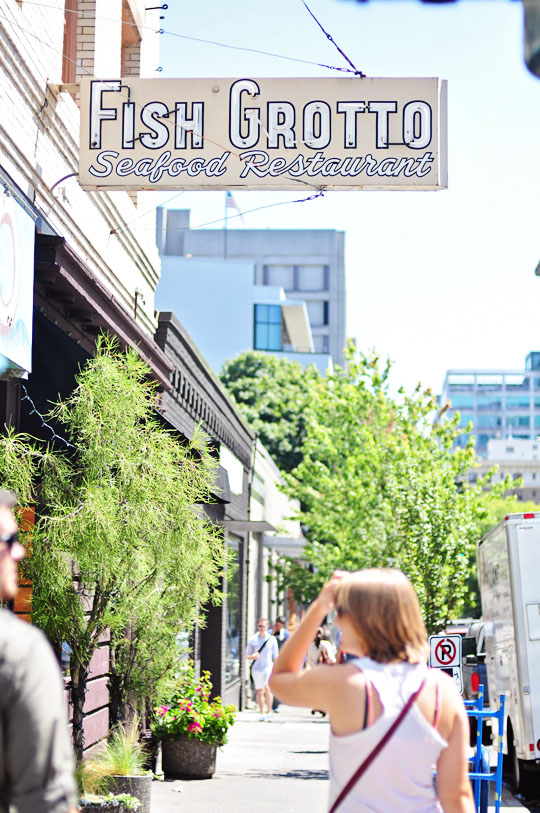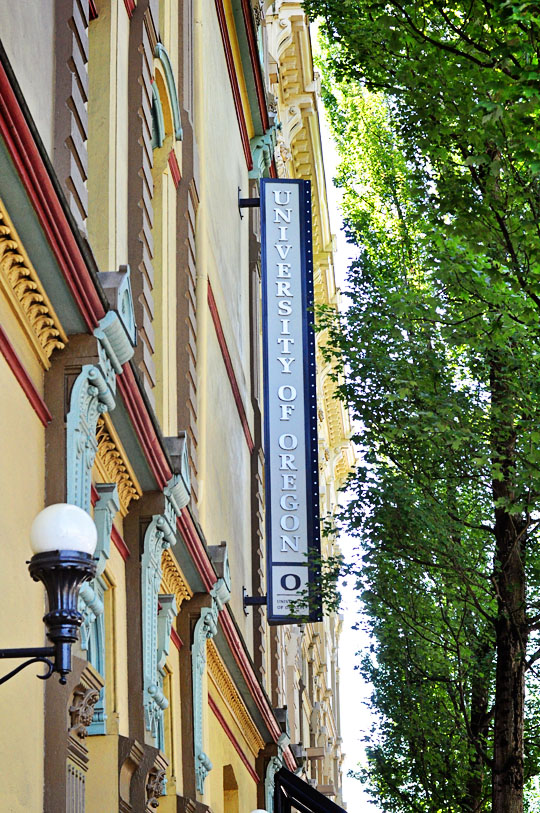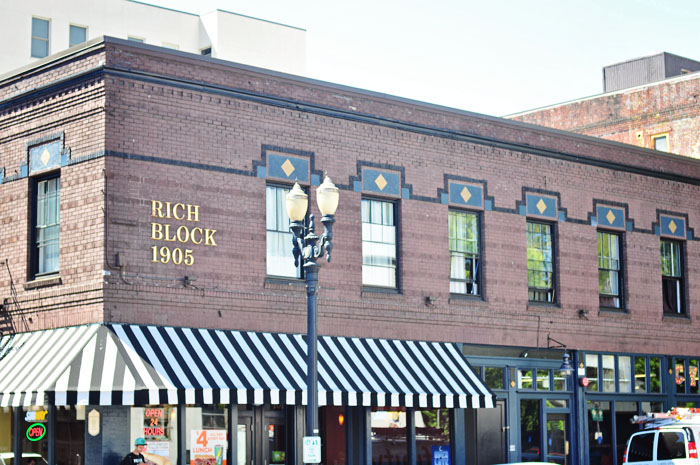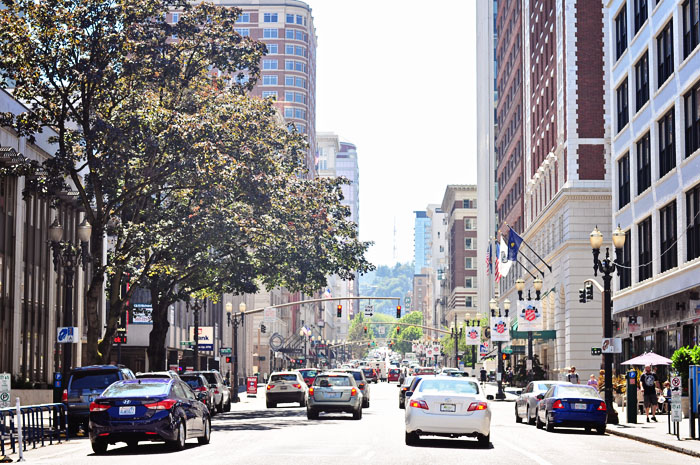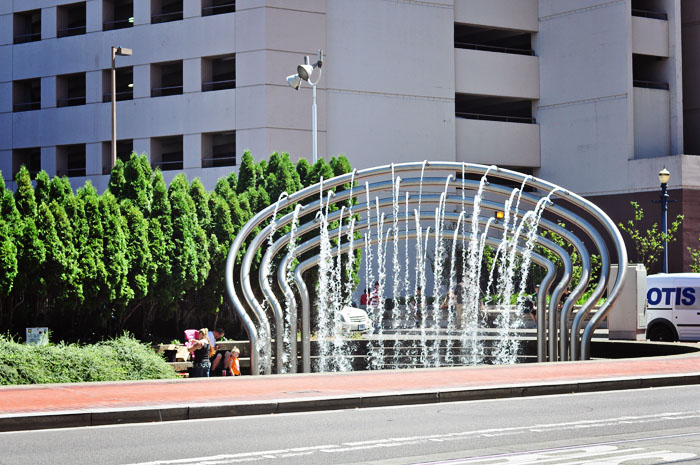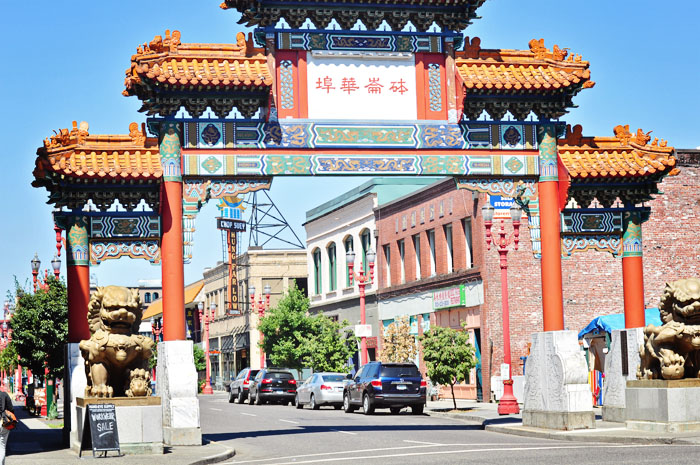 Not quite as bustling as the China Towns of San Francisco and Chicago, but that's not really a fair comparison since this city is also quite a bit smaller.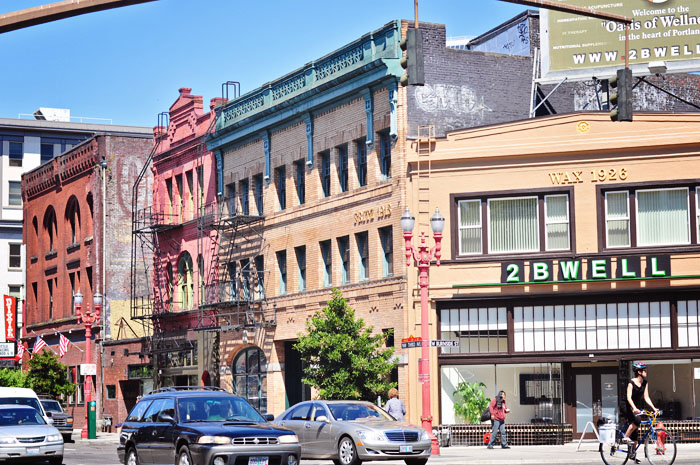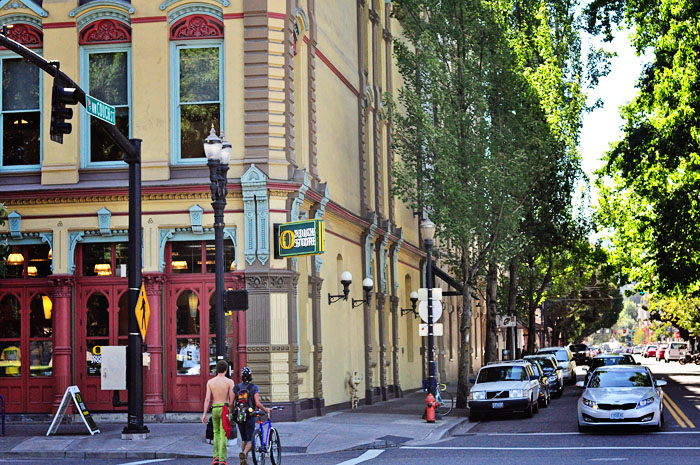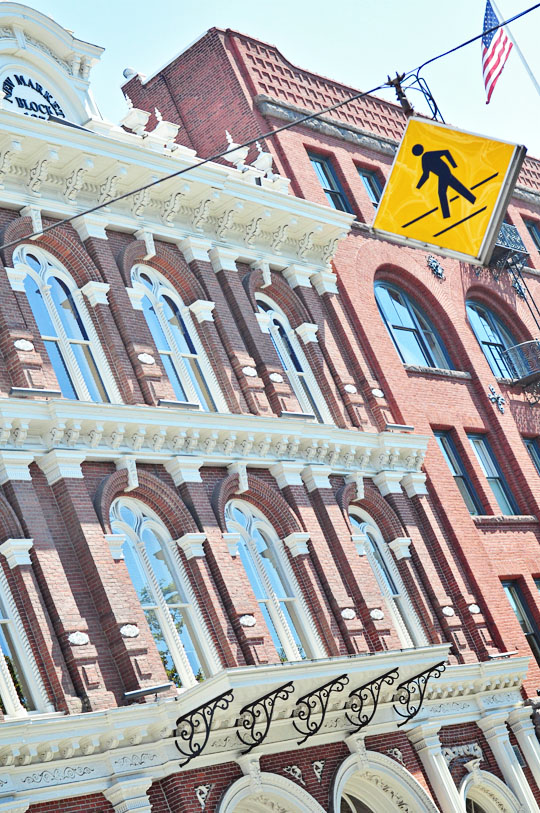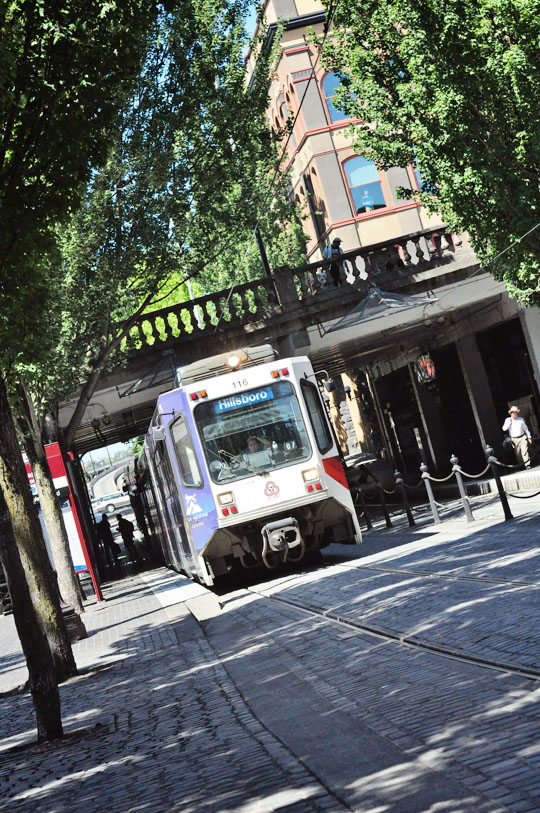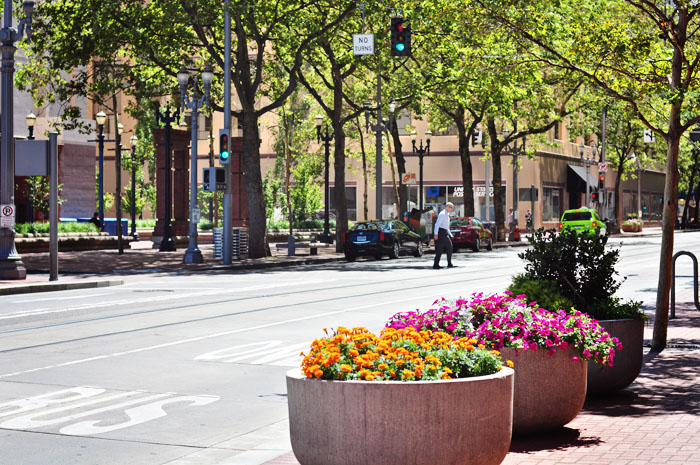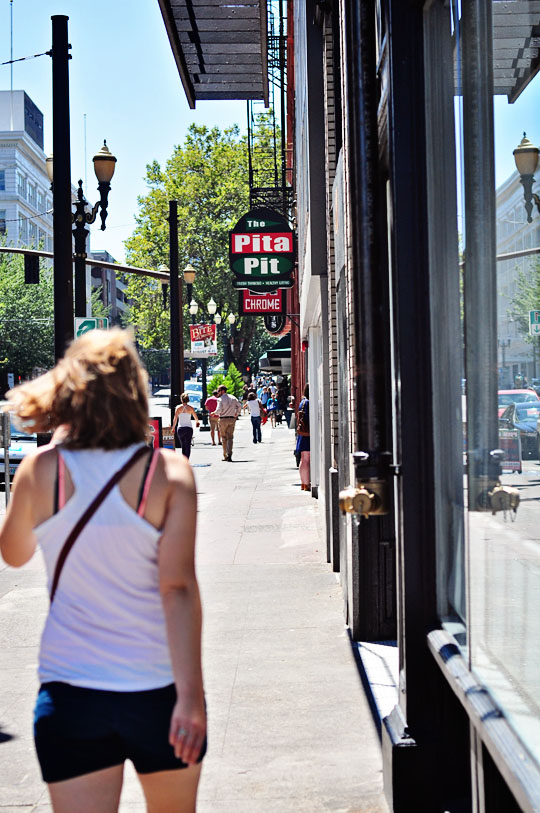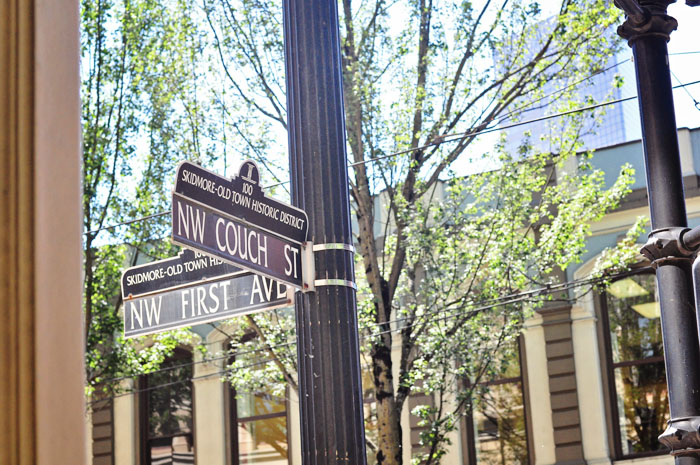 Finally, we found what we'd been searching for — a block of food trucks to satiate three different cravings for three different people. It was time for the real test. The food. I already knew that the famous Voodoo Doughnuts was well worth the stop, but was one place worthy of judging the culinary adventurousness of an entire city?
No way.
I needed at least… two.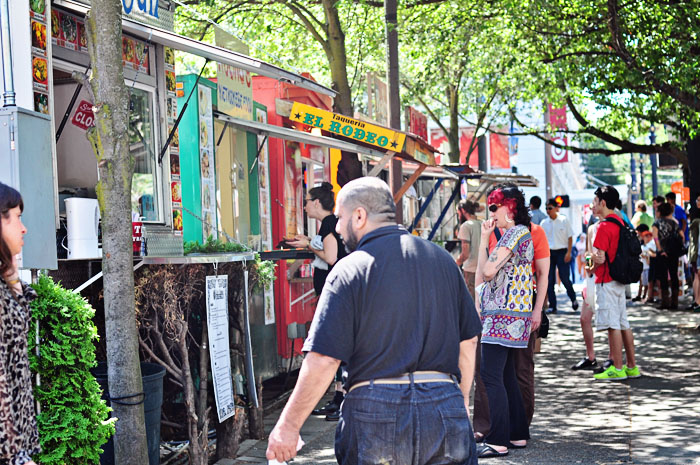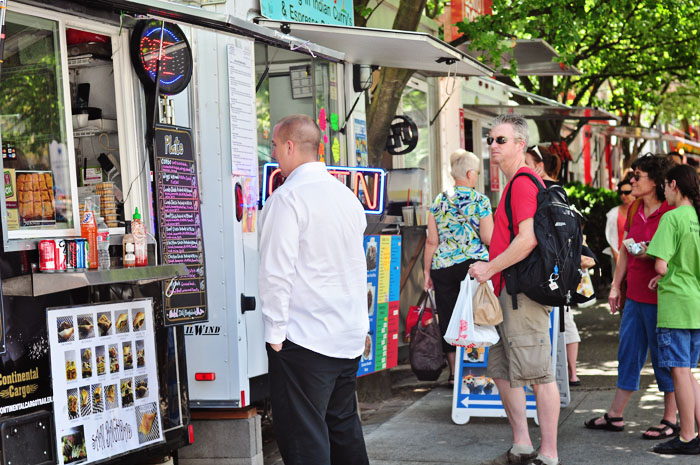 I actually don't remember what everyone ordered, except that mine involved falafel and it was delicious. This was easily my favorite place in downtown Portland, and I could've spent a day right there sampling bits of almost every region imaginable — Middle Eastern, Caribbean, Indian, Latin — the gang was all there. And while they weren't exactly inexpensive, it was most certainly a convenient conglomeration of cuisine from around the world.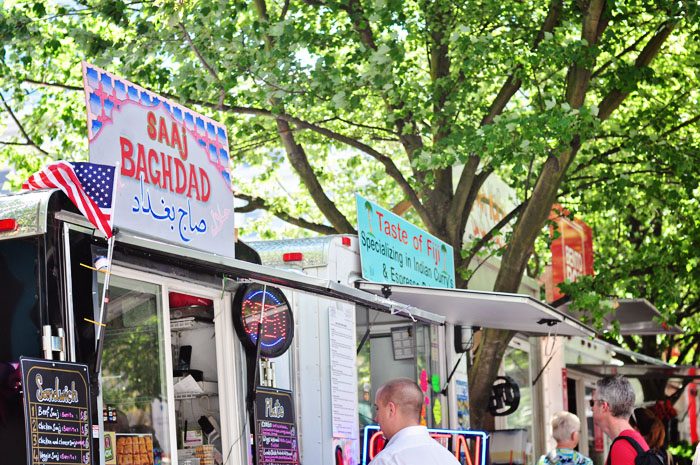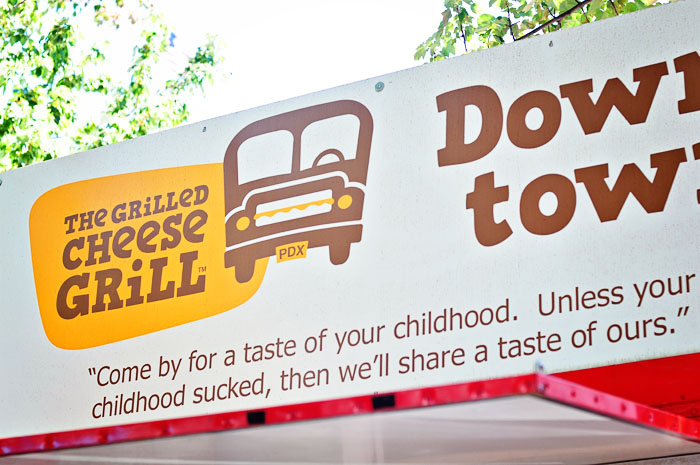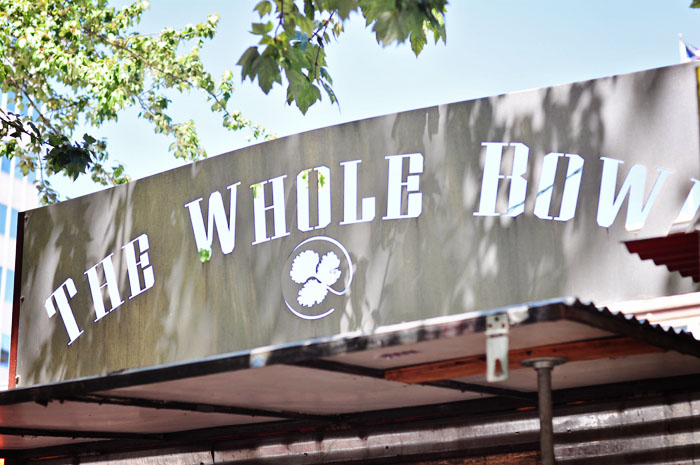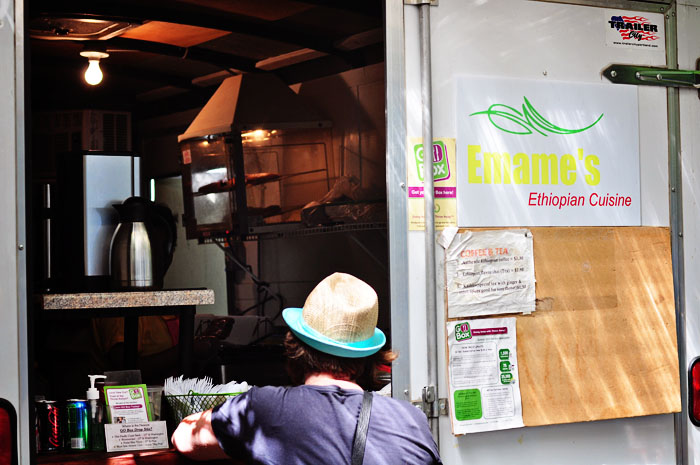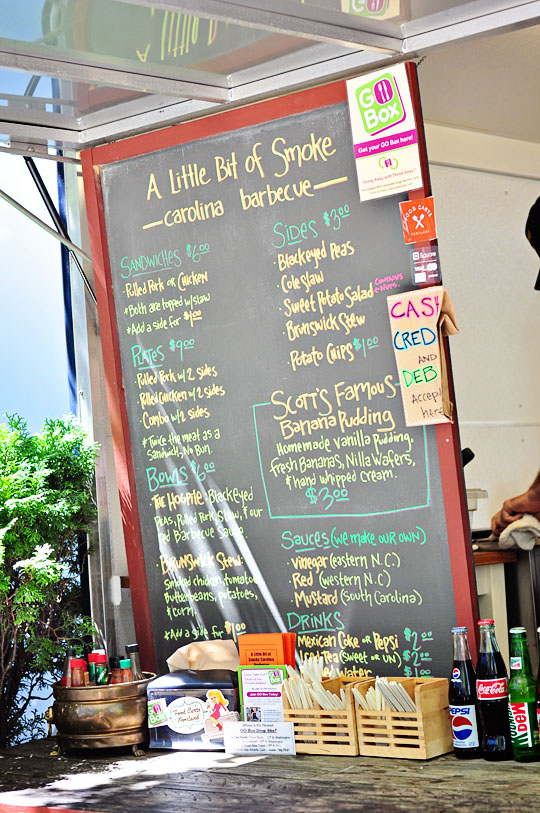 I did not come all the way to Oregon to eat food from North Carolina. But it was nice that the option was there, in case I was feeling homesick.
According to FoodCartsPortland.com, the city has over 500 food carts available at any given time, and often they're organized into these "pods." I can't remember which pod we stumbled across, but it was fantastic.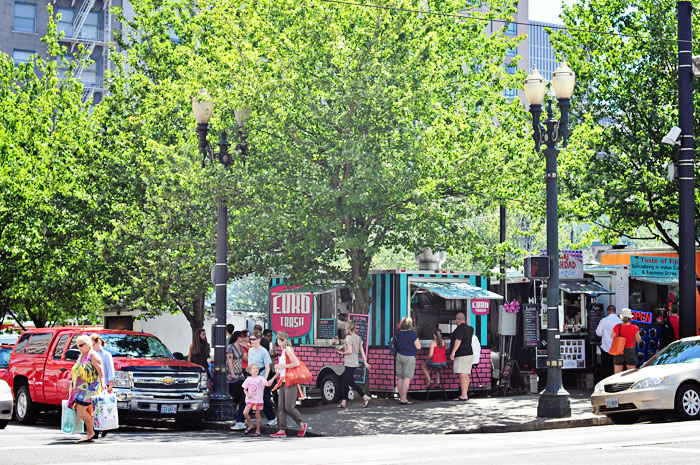 After plopping down in a nearby park to devour our finds, we meandered some more and stumbled across this awesome shop, Hoodoo Antiques.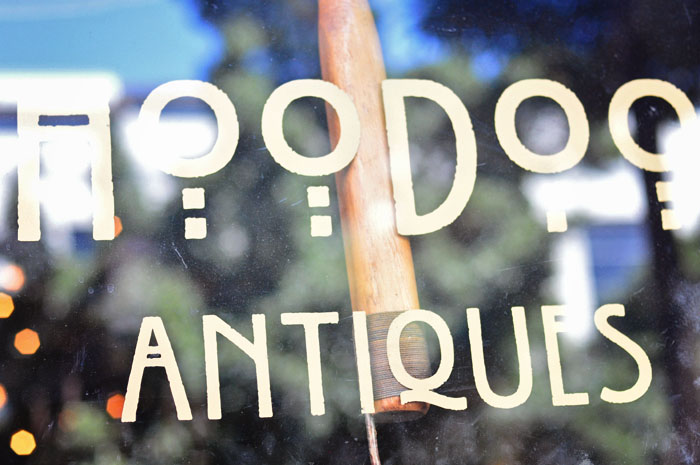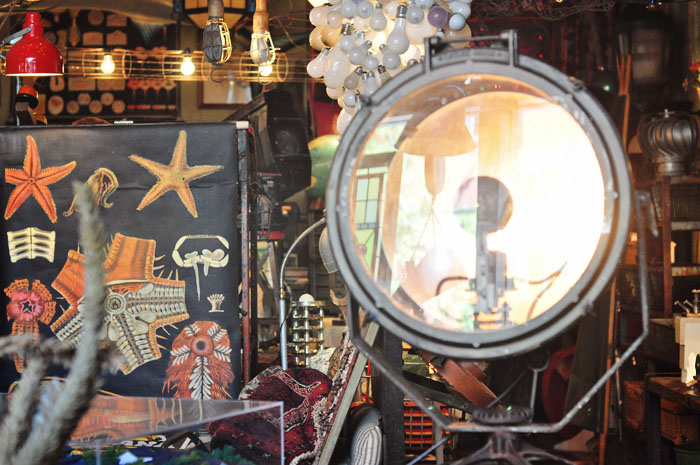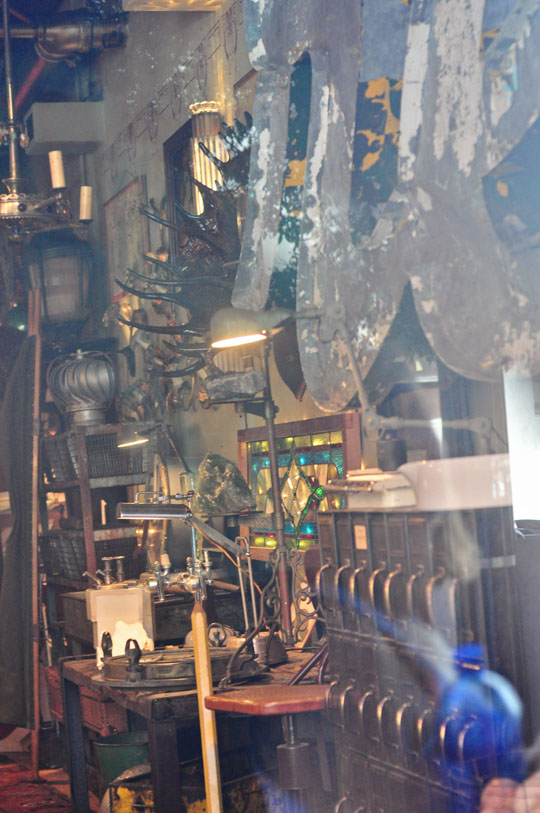 I drooled in front of the locked door for a bit before Justin and Becca dragged me on. My biggest regret about Portland is that it wasn't open and we weren't able to explore inside.
Eventually, we made our way to this park by the river to relax and digest.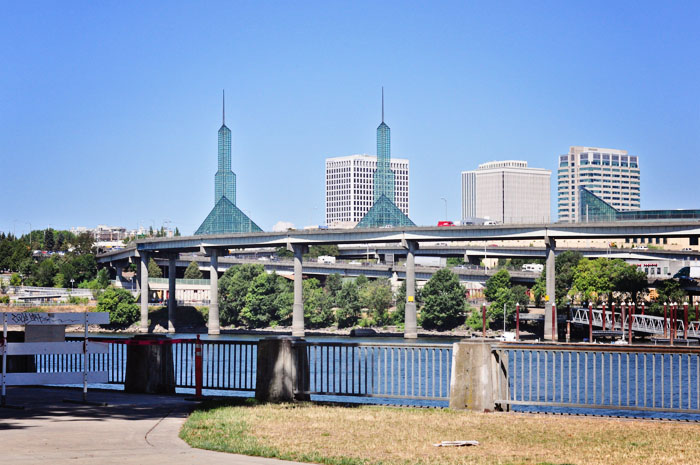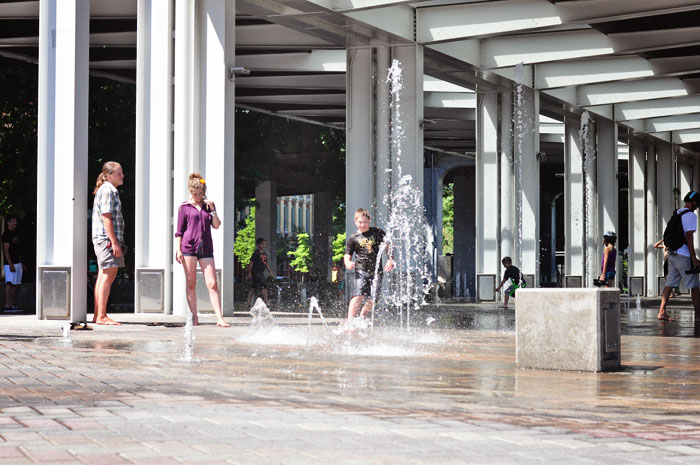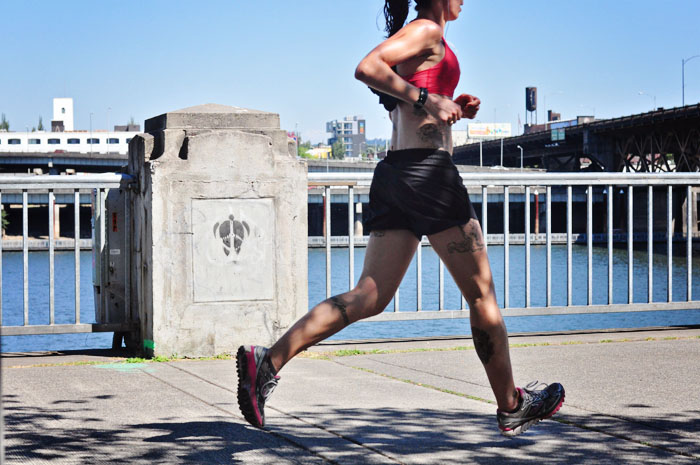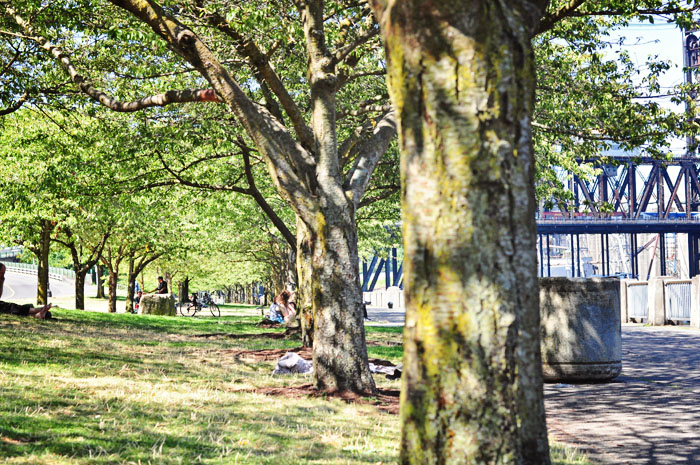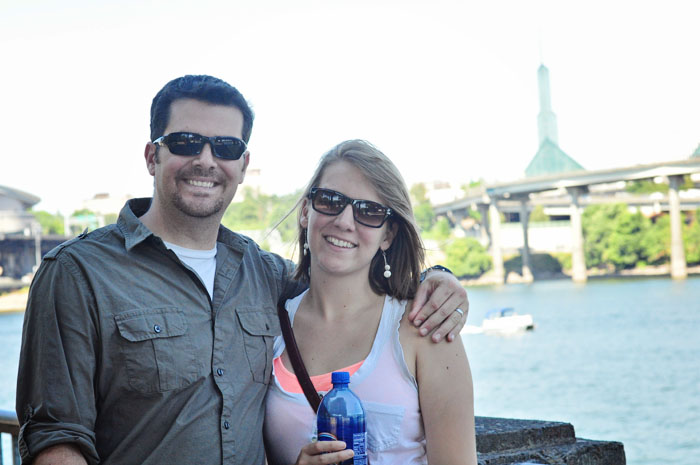 Justin with his sister Becca.
I reflected on how I felt about this city — it had all of the components it needed to impress: interesting architecture, green spaces, and a friendly atmosphere, but for some reason I still wasn't completely feeling it. It felt a bit like a pimply teenager, still trying to "find itself" and come into its own.
Truth-be-told, downtown Portland, in my one very limited day spent there and food cart orgy aside, didn't live up to the hype.
BUT — and listen close because this is a big but — most cities, just like people, don't live up to the hype when you're first getting to know them. If you've been around here for a while, you know my favorite quote by the Gin Blossoms goes, "If you don't expect too much from me, you might not be let down." 
And that's how I feel about Portland. She's still trying to brush off the typecasting cobwebs that have been modpodged all over her true, eclectic spirit. If you don't go into it expecting the wrong thing, she's actually a really great date. Not too dramatic. A little bit quirky. And deep enough to want to get to know her better.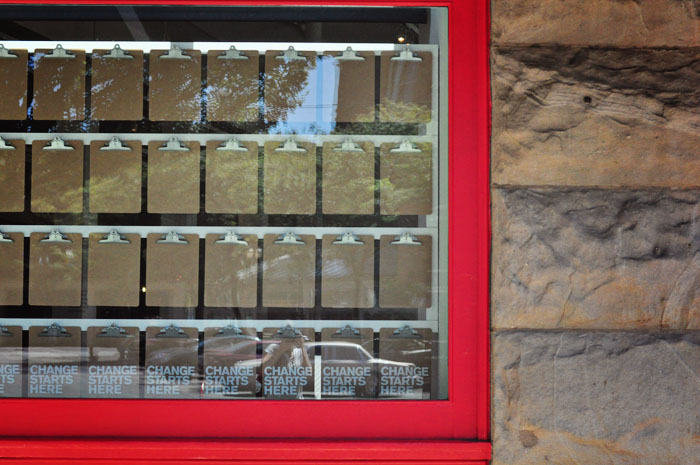 So.
Overall impression? The hipsters, true to form, performed perfectly as caricatures of themselves and did not disappoint. But does that mean that the people of Portland are trying to hard?
Absolutely not.
The thing is, the proud citizens of a city — from the outlandish typecasts to the everyday folks — can never try too hard to make it the place of their dreams.
And the highlight of one of my favorite spots, which was actually in the 'burbs, is still to come.
Good to Know:
Downtown Portland is highly walkable. Bring good shoes, find all-day parking, and just go!
It was too hazy to see the mountains on the day I visited, which might've changed my opinion of the overall beauty of the city dramatically. Also, my impression is that the Portland area is more about what you do outside of the city than within. Next time I want to check out some of the outdoor activities that abound in the surrounding area.
I noticed, I would say, an above average number of homeless people in downtown Portland — even in comparison to places like Chicago and San Francisco. This could just be based on my specific location in these downtown areas, or it could have actually been the hipsters. No one can be sure.