The Year-End Clearance Resolution Sale. All Items Must Go.
I think I need help.
Not of the psychoanalytical variety, although that's debatable, but of the prioritizational kind.
(Also, the kind that encourages me to stop making up words. Because I think I'm addicted. Or just too lazy to look up real ones.)
You know, it's almost hysterical — and hypocritical for sure — that not all too long ago I ragged on my ex-boss for making me multitask at my old job when the truth is, I make me multitask. All the damn time. And what results — and why I find the concept of multitasking as a whole so stupefyingly coagulating — is near-complete paralysis.
My inability to do anything because I want to do everything.
What specifically do I want to do?
Learn to play acoustic guitar.
Earn a living wage as a full-time blogger.
Travel the world.
Figure out how to keep fingernail polish looking nice for longer than 18 hours.
Completely update this 1957 brick ranch on a budget.
Subscribe to — and actually read, bookmark, and execute vacations and recipes from — at least three culinary and/or travel magazines.
Write a series of children's books for my friend Jenn to illustrate.
Become a better cook.
Thoroughly explore my new part of the country.
Walk my dogs and/or work out daily.
Stop wasting so much time.
Consider getting a real job so I can earn my keep and justify doing any of the above.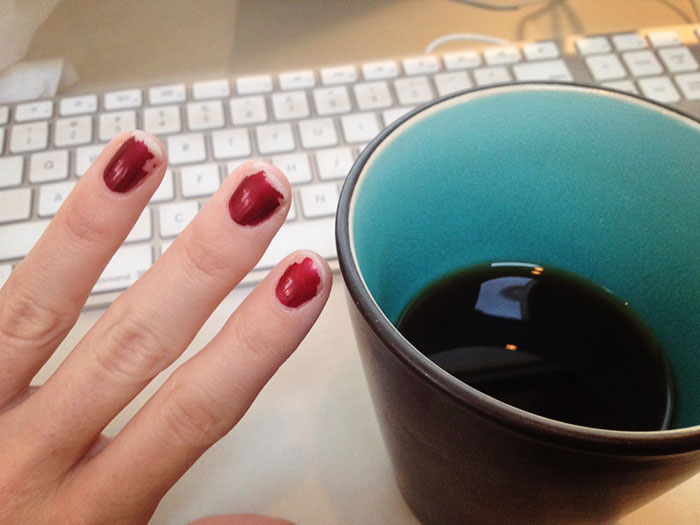 Hour 19: It looks like I've been raking leaves with my bare ass hands.
And actually, now that I list it out like that, it doesn't look so daunting. Except. Each of those bullets has bullets of its own that directly or indirectly affect the completion of the task at hand. For example, I can't just snap my fingers and update this house. Hell. I can't even paint a room without about a hundred — or six — other things needing to happen first.
Two weeks ago I picked a color for our master bedroom because the mint green? It's just not working for me.
And I was so proud of myself for picking the paint and buying the brushes and rollers and making sure we'd brought our leftover primer from the last house, and I was all ready to get started when I realized that the previous owners left nails in the walls. Rude.
So I set about prying them out so I could use my quick-drying, light weight spackle to tackle the problem and move on, when I realized that these walls are plaster — not drywall. Which likely means they need a different method of patching. Which likely means I need to Google it and ultimately get sucked into the endless vortex of internet tabs and Pinterest pins and Facebook status updates and before I know it, it's too dark to paint anyway. Plus, for some unknown reason, the previous owners ripped out about half of the shoe molding in each room, which means that has to get replaced before I can paint the trim, which really should happen before I paint the walls.
And now I still have a mint green bedroom.
With two gallons of super awesome paint collecting dust in the corner.
Meanwhile, I'm still researching the best ways to modestly update our kitchen, searching for inexpensive doorknobs online, ordering light fixtures to replace the brass, calling handymen for estimates, and compiling a list of thrift and consignment shops in the area because I'm not sure what to do with so much house. (First world problems, I know.)
But the problem is, I can never finish just one thing because I'm always working on twenty.
It's worse, of course, during this time of year when the countdown begins and resolutions start falling off the shelves because apparently the ball's about to drop on a giant red "RESET" button, and hey. Now I can write new resolutions and I have a whole year — which reduces down to approximately seventeen minutes when I subtract all of the time I'll likely waste watching Netflix and YouTube — to accomplish them.
So for the last couple of years, instead of writing doomed resolutions, I've been picking a word — just one word — to describe what I hope will represent the year ahead. (I know it's not even Christmas yet, but I'm feeling the inspiration now, dammit, and so now is when this is happening.) And by focusing on that word when I start to get frustrated on my (sometimes lack of) accomplishments, it helps me do what I need to do to in order to work towards my bigger goals.
For 2012, the word was ambition. For 2013, it was momentum. And I actually feel like I did okay with those. My real estate photography business was just starting to take off, and I was feeling a little less guilty for not having a "real" job with a steady paycheck. But then The Move happened, and it's kind of like starting over. Like the last two years didn't even happen.
Except.
When I think about it, I know I wasn't being honest with myself about what I wanted. I thought if I could just be successful at something — if I could just figure out a way to work for myself — that I could finally learn to ignore the little voice telling me that I'm still not doing it right.
That I'm still not doing what I'm supposed to be doing.
So.
What's the word for 2014?
prioritization.
And okay. It's not the most glamorous or heartfelt or inspiring of words, but listen.
It's solid.
It's real.
It gets things done.
So when I'm sitting around next year, thinking about the word I want for 2015, I won't be stuck wondering how a full three hundred sixty-five days have passed and all I managed to do was buy some oil-rubbed bronze doorknobs.
Because I'll have prioritized, baby. I'll have set daily goals. I'll have maximized my time.
I'll have ambitionized the crap out of everything I've ever wanted to do, I'll still be making up words, and I'll feel happy. Accomplished.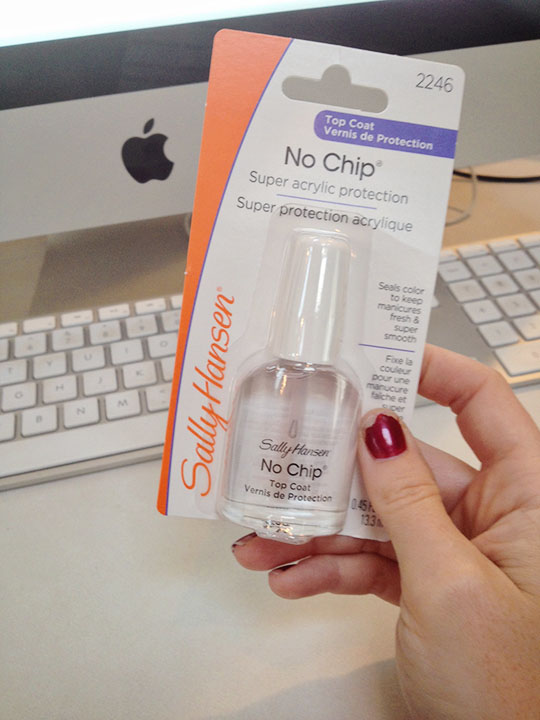 And look. I know it's only December 17th, but consider this Day 1.
Figure out how to keep fingernail polish looking nice for longer than 18 hours.
And I've already crossed something off the list.
What's YOUR word for 2014? Or would you prefer to stick to traditional resolution-setting? Or would you prefer to eat a tin canister of Christmas cookies instead of thinking about it?