Cue The Sun.
Destination: Seaside, Florida
I departed Panama City with high hopes for what I'd find further west along Florida's panhandle, a stretch of shoreline that laps the Gulf of Mexico known as the Emerald Coast.
So far all I'd found was urine.
Thanks to a post I'd recently read on Adventurous Kate, I knew beyond the more rustic, spring-breaky, in-your-face beach towns for which the region is famous, there existed an idyllic little planned utopia called Seaside.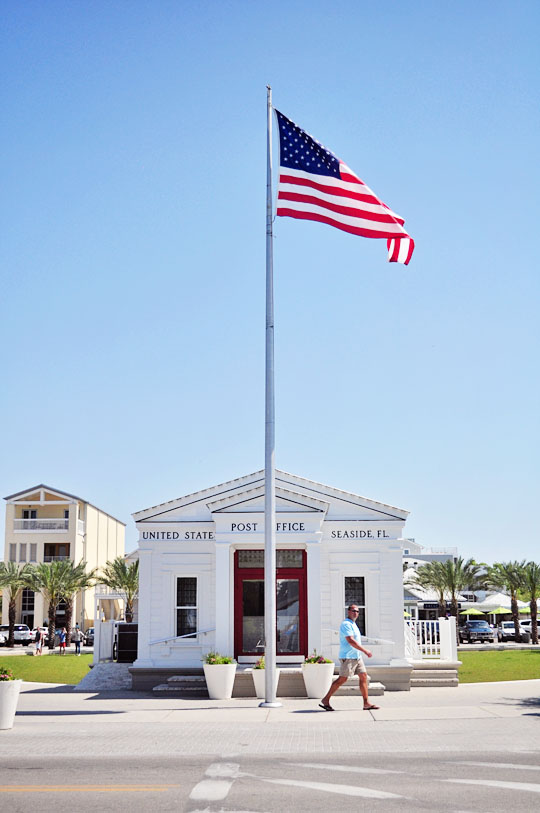 And all I had to do was find it.
Seaside is one of the first concept communities in the United States designed based on "New Urbanism" back in the early 1980's. The idea was to build a walkable community in a picturesque setting with a variety of jobs, housing, and open spaces.
What resulted was so idyllic — so surreal — that it served as the spotless backdrop town of Seahaven in the 1998 film, The Truman Show, starring Jim Carrey.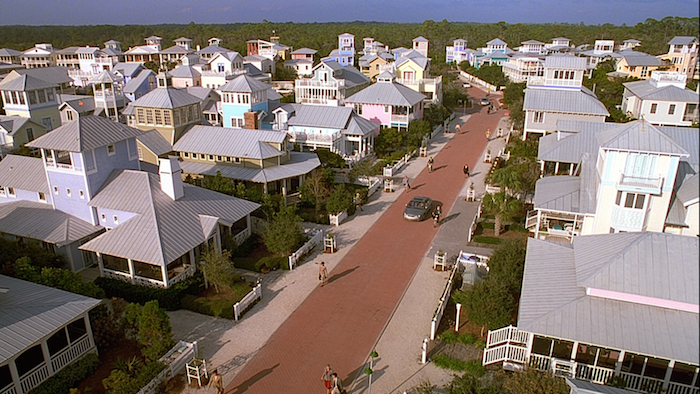 Yep. That's a real place.
And I wanted to find it.
Mindlessly following my GPS, I headed west on 30A/US-98, then descended upon the town by traveling directly south on Hwy 395 through Point Washington State Forest.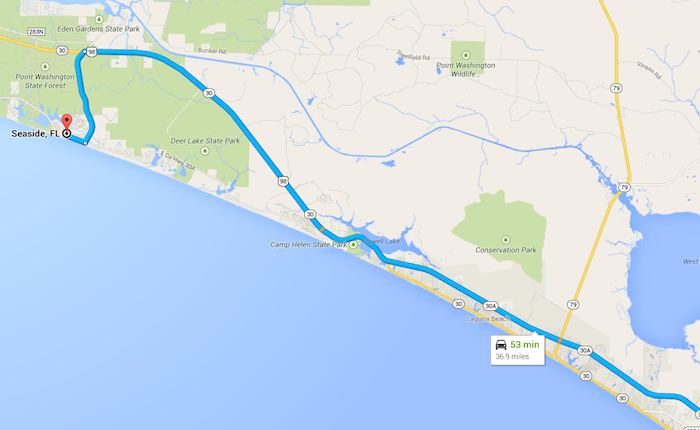 The truth is, if your intention is to drive across the Panhandle as quickly as possible, you could pass right by Seaside without ever knowing it was there.
Instead of taking 395 all the way to the coast and coming into town along the main route, I impulsively turned off into one of the neighborhoods tucked behind the bustle of the main square and there, squeezed behind the steering wheel of my trusty ol' tracker with the dust-covered dash, my jaw dropped.
In the movie, Jim Carrey's character, Truman Burbank, unwittingly stars in a reality show about his life. From the time he was born, billions of people around the world watched him grow up and live life in a completely fictional, constructed reality. His town is a set, the people in his life are actors, and everything that happens to him is a plot scripted by writers and directed by an overseeing, God-like, creator/director played by Ed Harris.
At one point in the film, after Truman becomes aware of the massive conspiracy that is his life, the crew can't locate him. I remember one of the characters saying something like, "We'll never find him like this — cue the sun."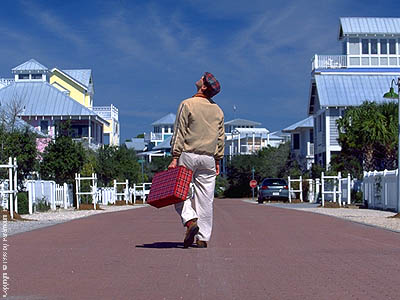 Cue the sun.
And that's exactly what Seaside did for me.
Everything was so… pristine.
I couldn't even stop to snap a photo for fear of disturbing the immaculate streets dotted with immaculate landscaping adorning the yards of immaculate homes. Immaculate children in sun hats and white dresses actually frolicked in a park. And while it felt like my very presence might tip some delicate universal balance that allowed this place to exist, I pressed on toward the coast in search of a place to park.
During a busier season, I imagine it would be quite difficult to find a place for your vehicle if you're not actually staying in town. The majority of non-time restricted public spaces were along 30A, but I lucked out and found one mere blocks from the town center. Unsure of what to do with myself after that, I simply walked and soaked in the surreal perfection that encompasses Seaside: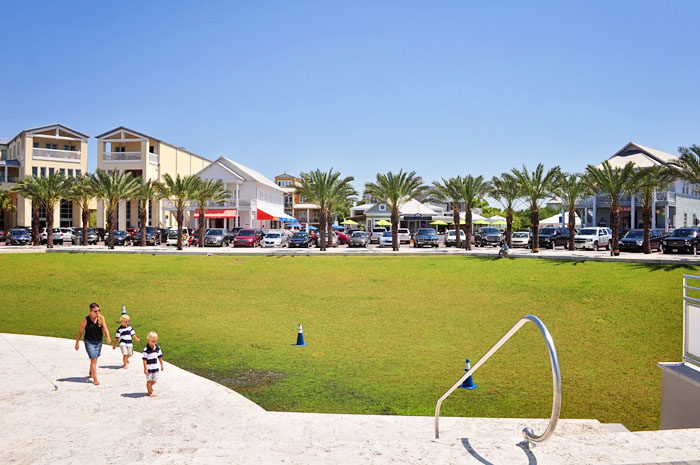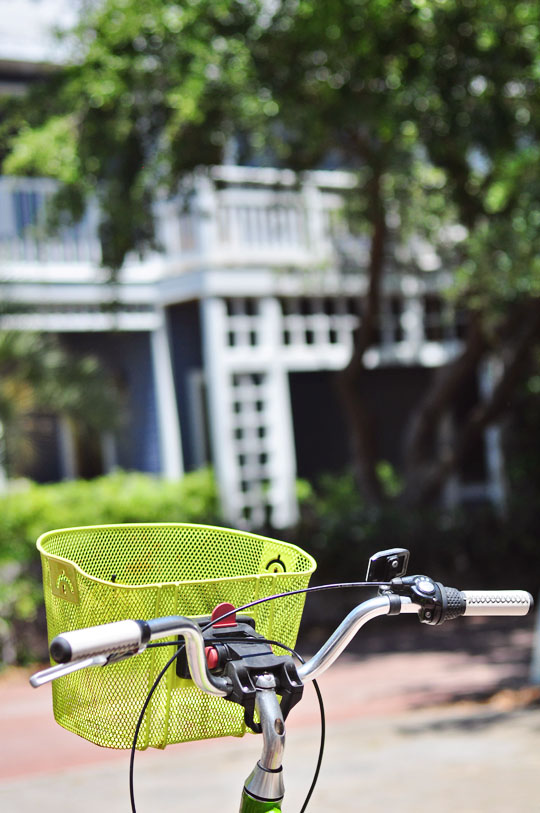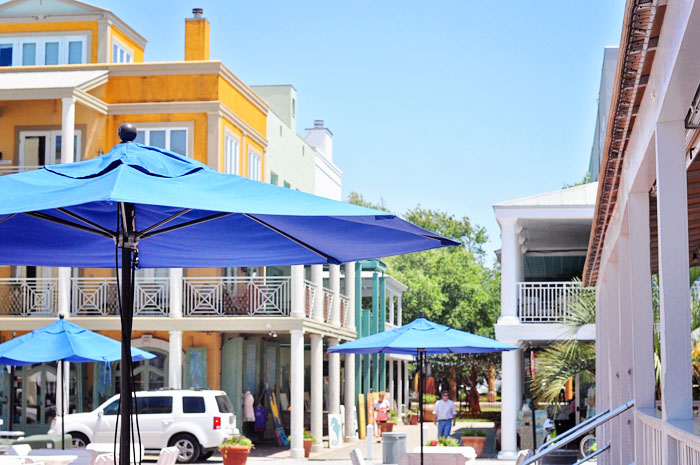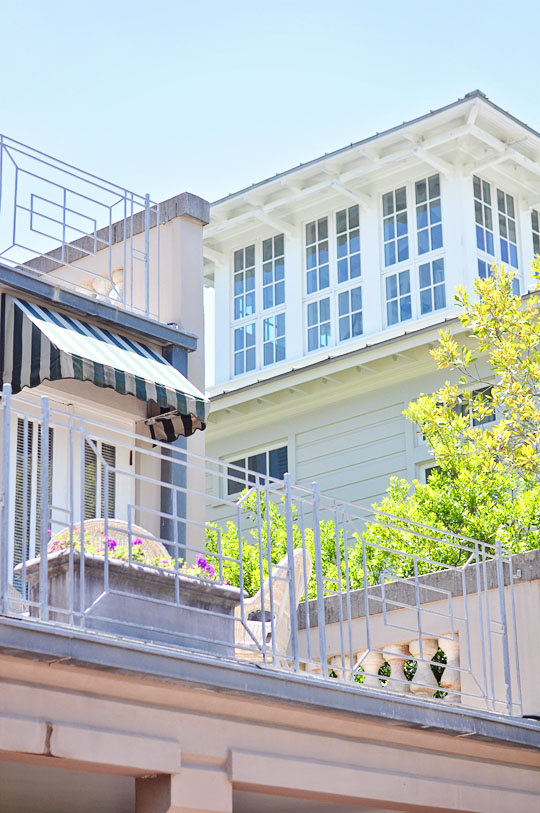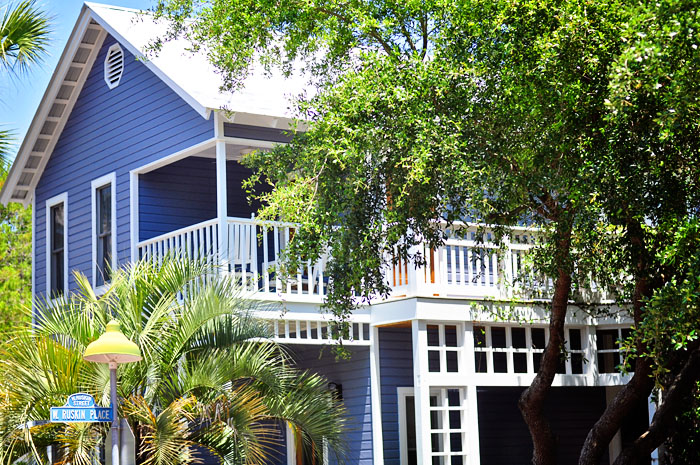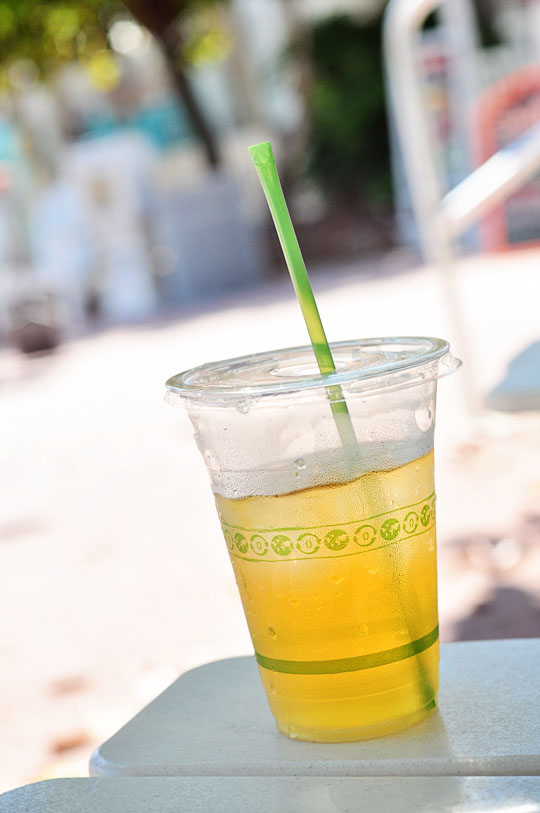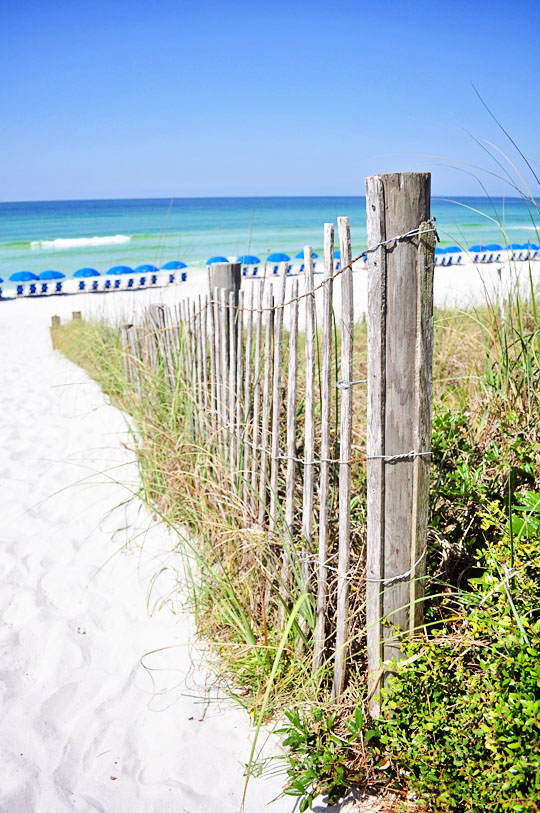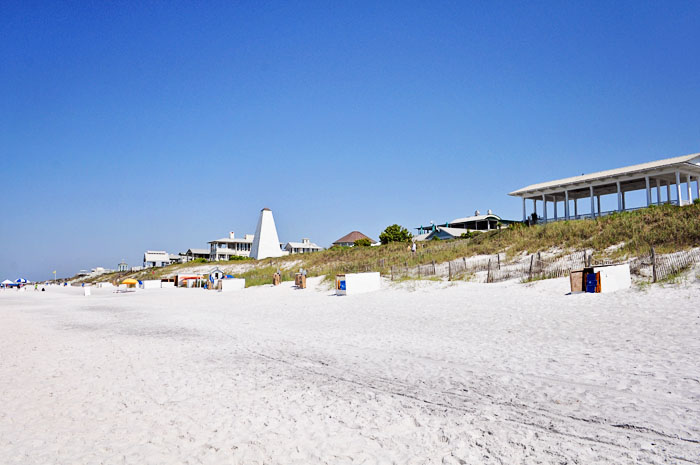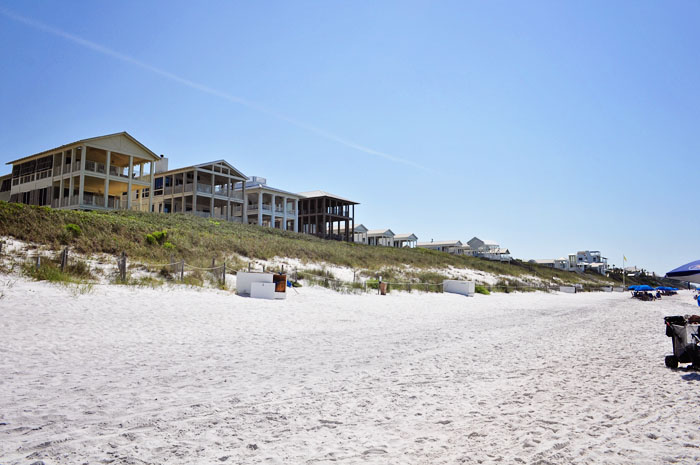 Maybe I'm weird (okay, I'm definitely weird), but I don't often mentally register what strikes me about a place until I go back and look at my pictures. And while Seaside was gorgeous in terms of architecture and natural beauty and even its public restrooms, I wanted to know about one thing — the food.
"Oh, there's this great little seafood place back between those buildings there," smiled a woman my age who'd been going to Seaside every summer since she was a kid. "Or the food trucks near the main square — the caprese grilled cheese is to die for! And don't forget to check out Modica Market! That was in the movie a lot."
I headed to the market first, where I promptly ordered myself a fresh-squeezed mimosa.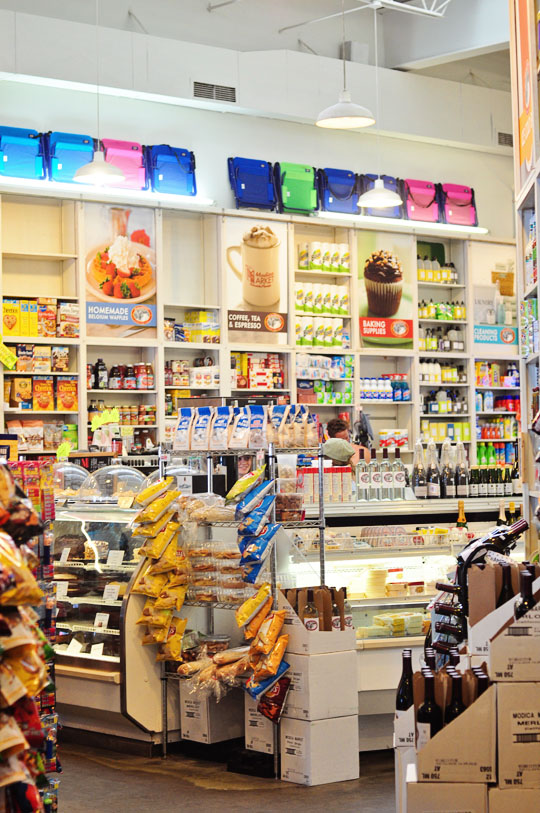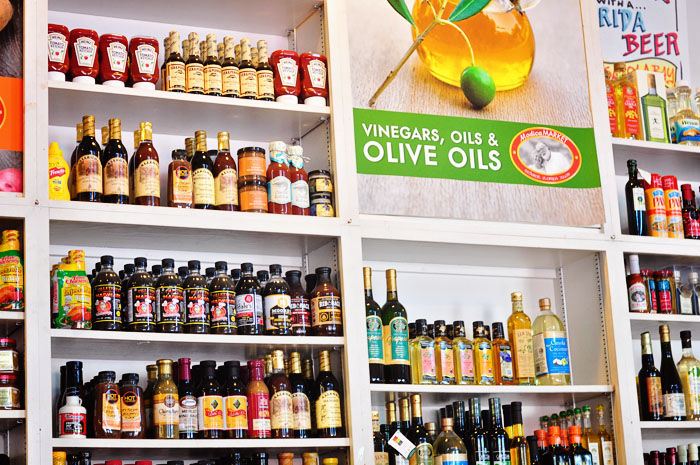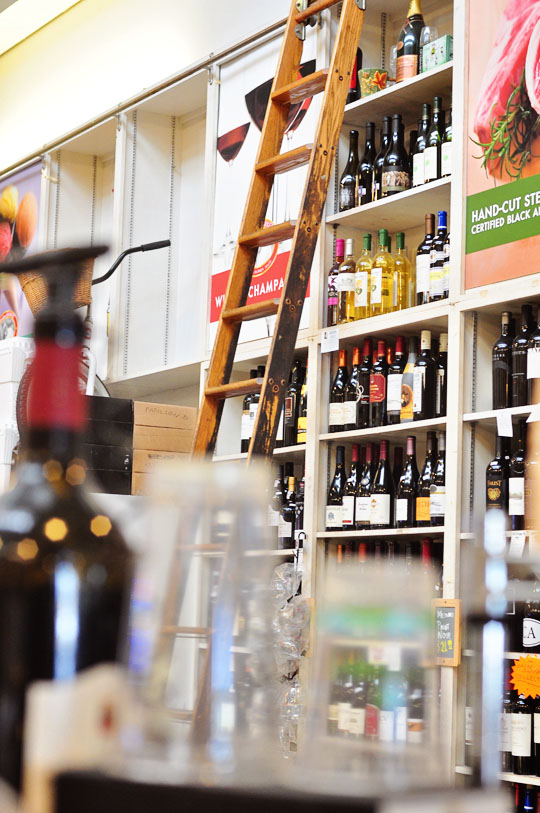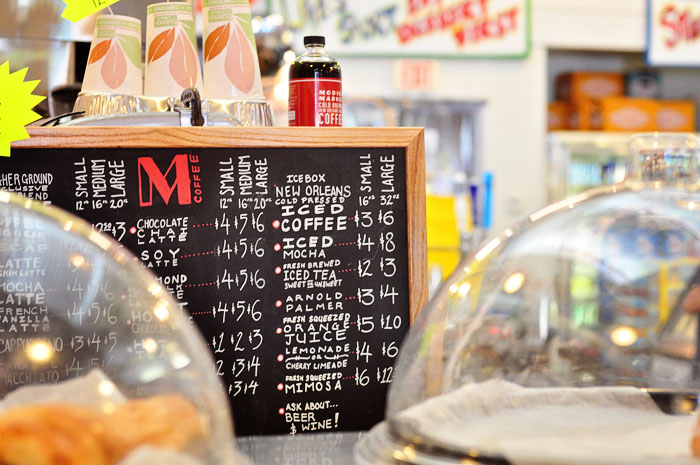 It served as a souvenir-slash-snack-shop-slash-vacation-rental-stocker-slash-regular-ol'-grocery-store. Aside from the sweet sorority girls who made my mimosa, the employee running the register and a man who was presumably the owner or manager seemed irritated by life in general and strongly encouraged me to drink my mimosa outside.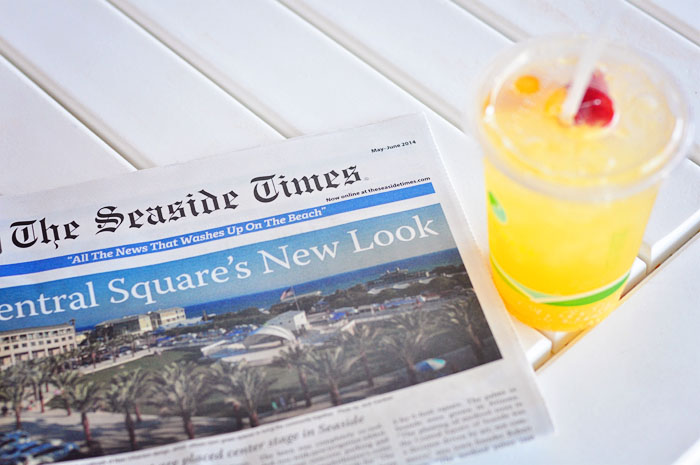 So I wandered around, developing a slow buzz from the heat and champagne, stopping to buy some books in the wonderful local bookstore where the friendly cashier commiserated on the trials of being left-handed and gift-wrapped one of my purchases…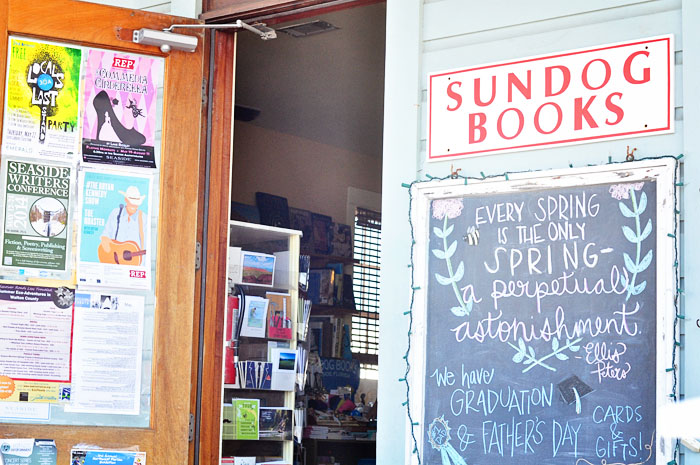 … peruse the real estate listings for million dollar beach homes…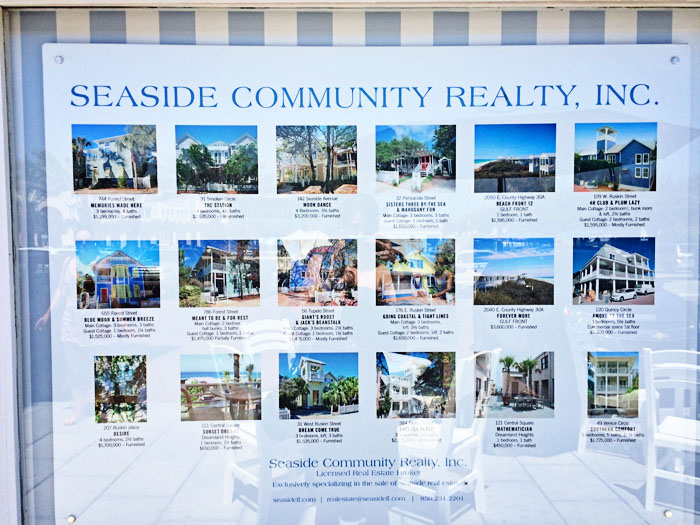 …stumble through a store called The Art of Simple, which was filled with beautiful things I couldn't afford…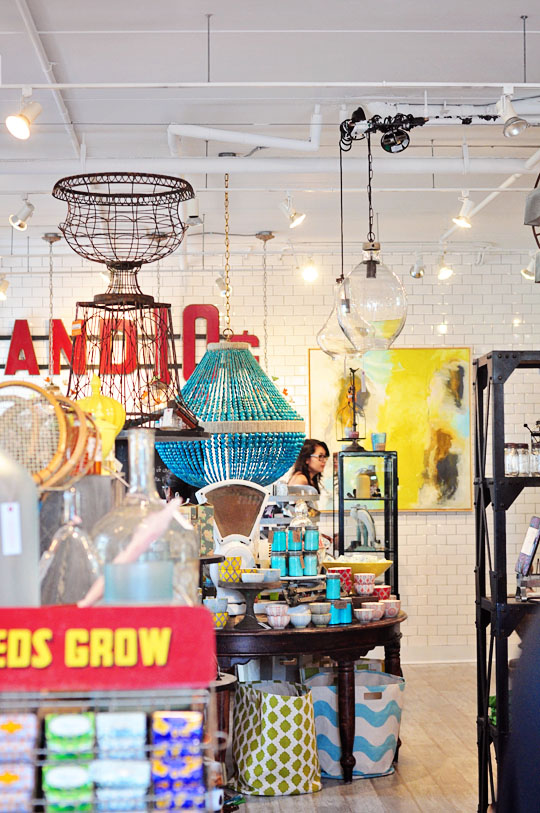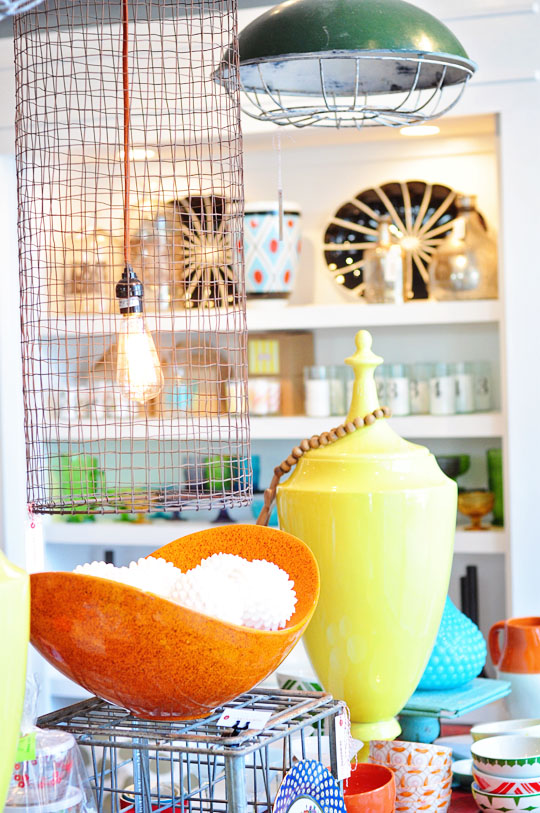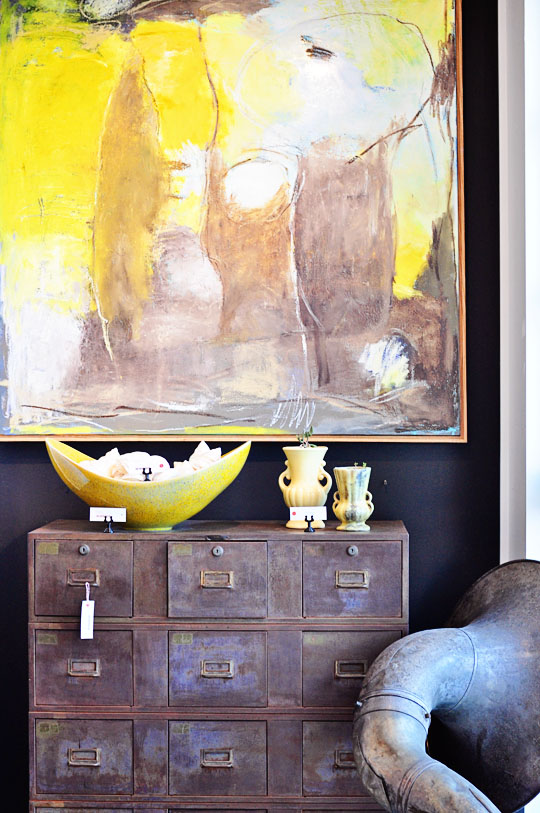 … and meander down a side-street to stumble upon the Ruskin Place Artist Colony, an eclectic neighborhood with boutique art shops surrounding a lovely open square.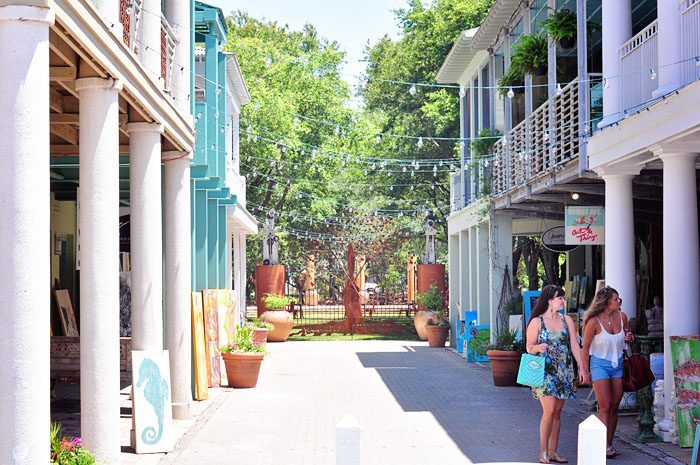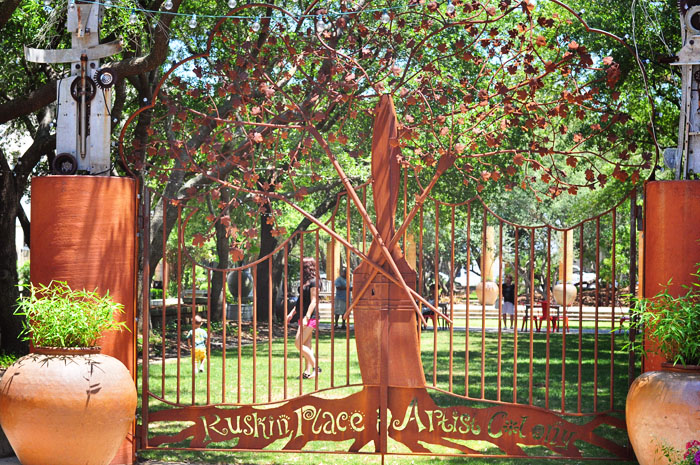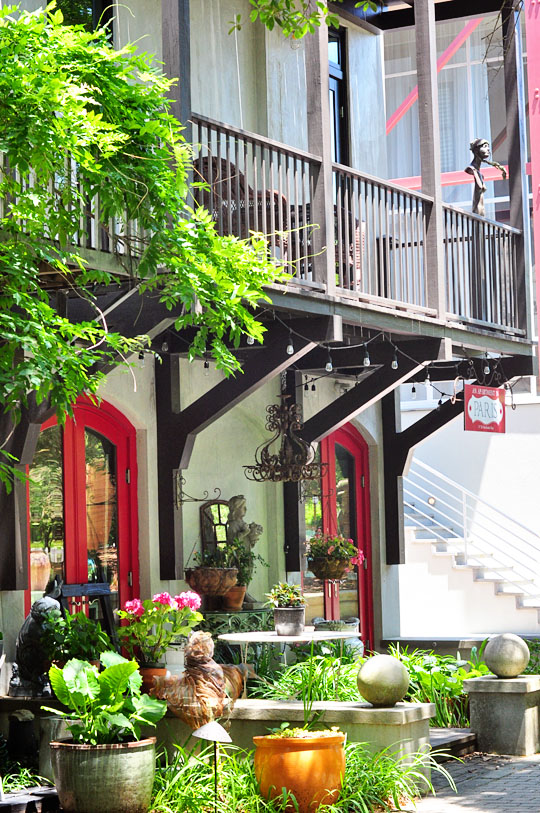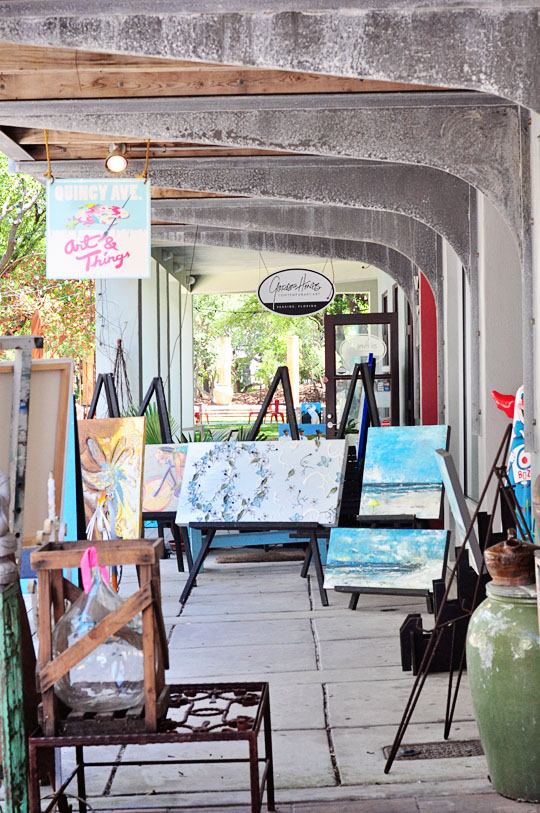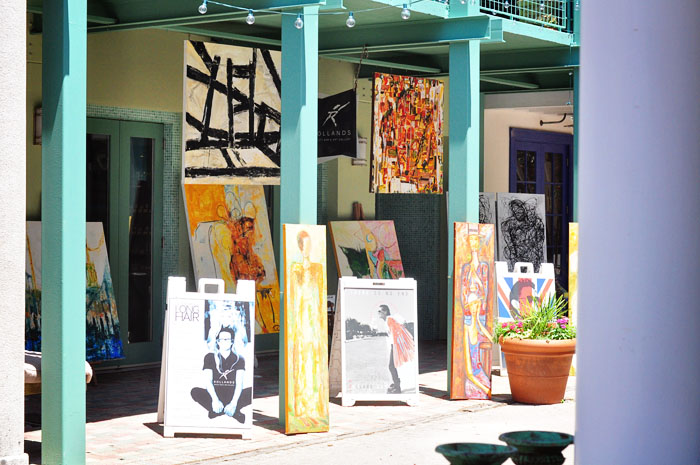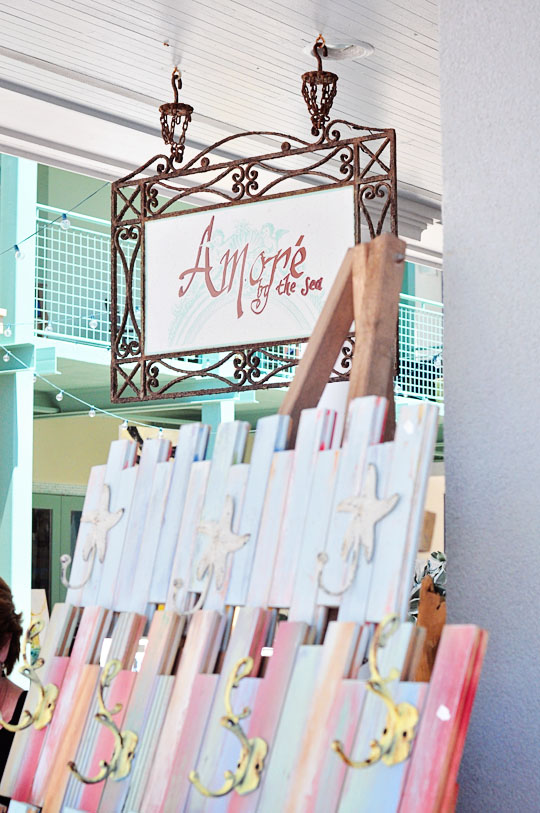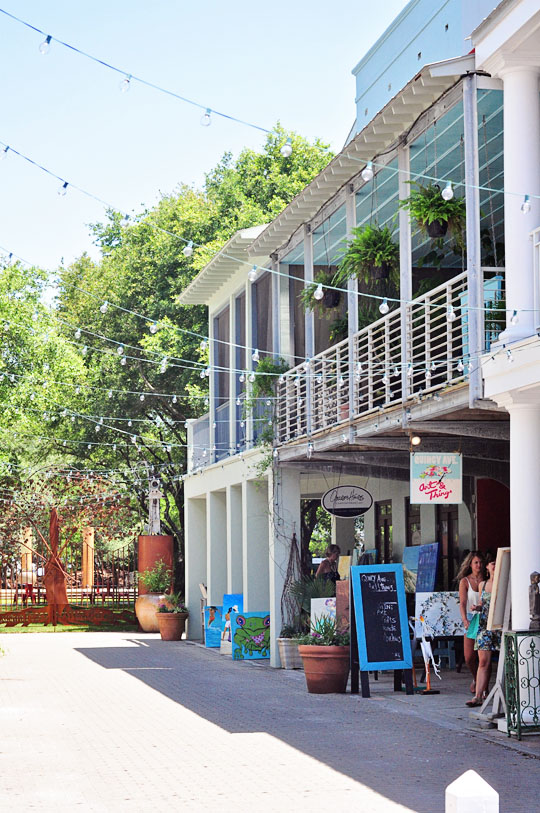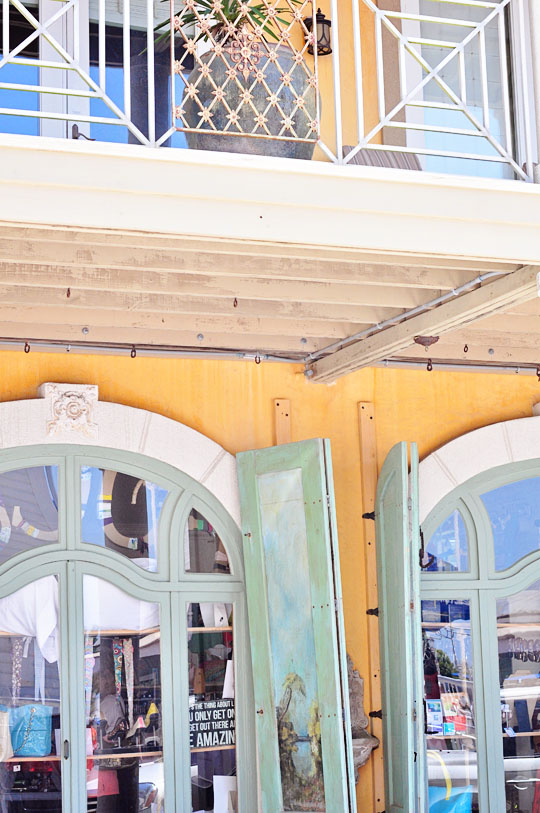 I didn't feel like spending a fortune on food, so I headed back to the four food trucks that framed the post office — shiny airstream baubles to further reflect an air of retro hipness amongst the old-fashioned rental bicycles and ice cream parlors.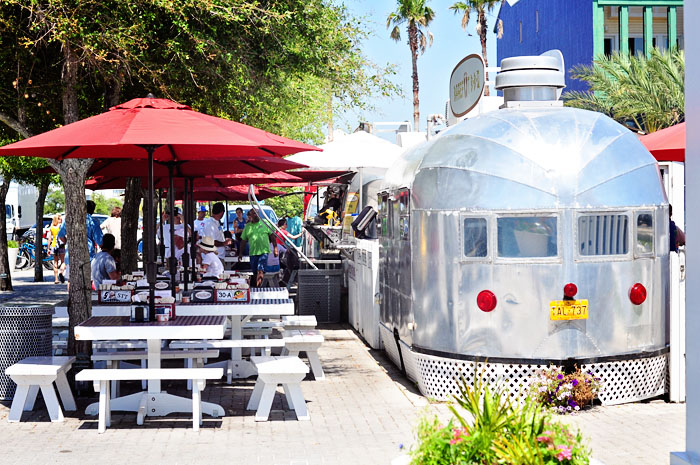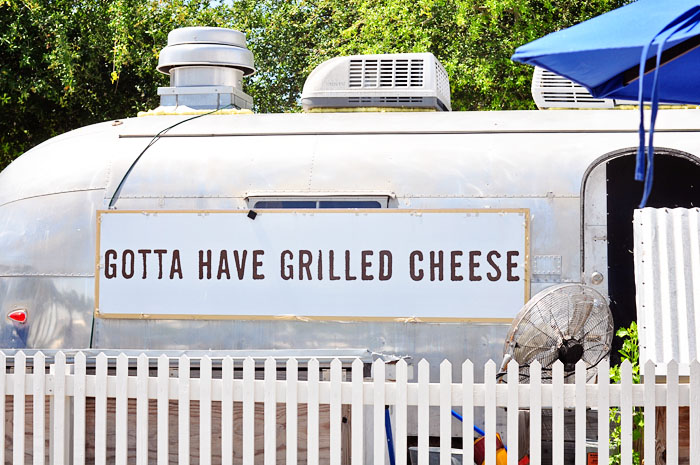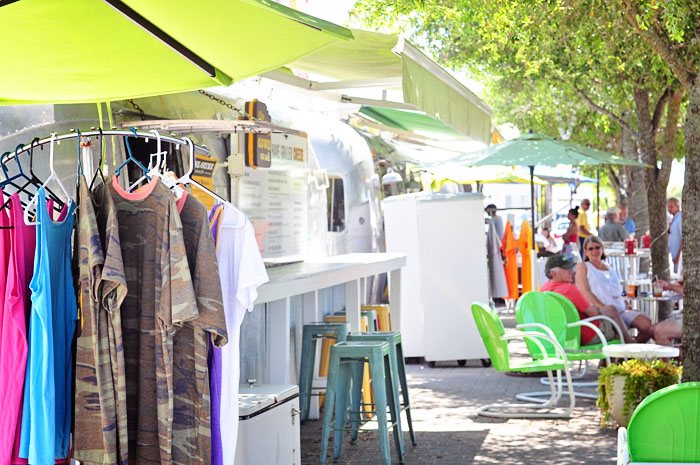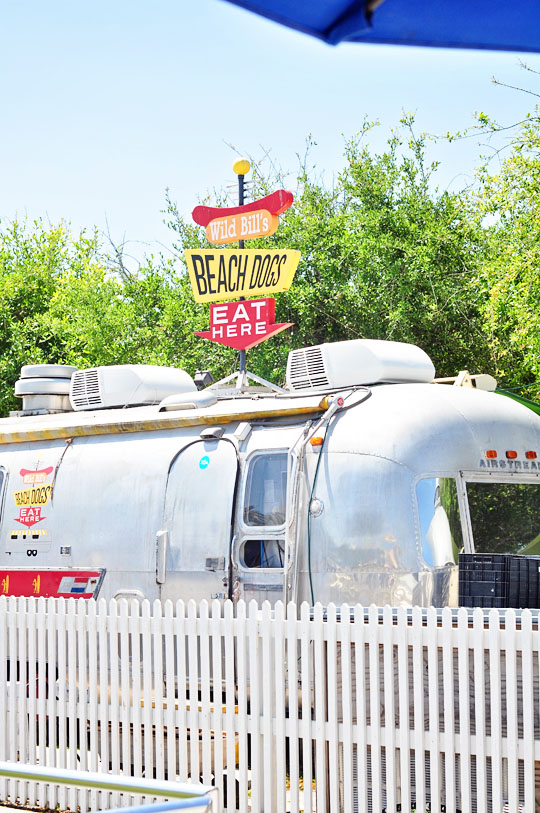 The grilled cheese truck had some amazing options, but I went against my better judgement and ordered the recommended caprese — a simple sandwich of melted mozzarella, fresh tomato, and basil.
It was disappointing.
I realized in a place this adorable, no one really needs to try when it comes to food. There is what there is, though I'd love to go back to see if I could find better.
Unsure whether that was it — whether I'd unearthed all the bounty of Seaside in a couple of short hours, I cooled down with some tea on a shaded adirondack chair and implored the woman sweeping up each leaf as it fell what I should make sure to see before I leave.
She grinned.
"Alys and Rosemary." (She pronounced it Alice.)
"I'm sorry, who?"
"Head down 30A towards Panama City and stop in Alys and Rosemary. Alys has a beautiful pool, and Rosemary is just something to see."
And in fact, the woman who swept the leaves wasn't the first to make this suggestion. So too did the purveyors of my green tea at Amavida Coffee & Tea, as well as the woman in a children's store who sold me a stuffed animal for my friend's kid.
"Definitely check out Alys," said the children's store saleslady with a sly smile. "It's very… different."
So I'd come to a picturesque village on Florida's Emerald Coast, only to be told to go see two other picturesque villages on Florida's Emerald Coast. I dragged myself back to the Tracker, while the sun — cue the sun! — beat down on 30A with its hot iron fist. Sweat trickled down my back.
I left with a mixed impression of Seaside. An underlying disdain for the infestation of tourists was there, to be sure, but overall, I found the few locals I spoke with to be exceedingly friendly. And not in a fake way — in a Truman kind of way.
Heading east towards Alys, I waved in my rearview.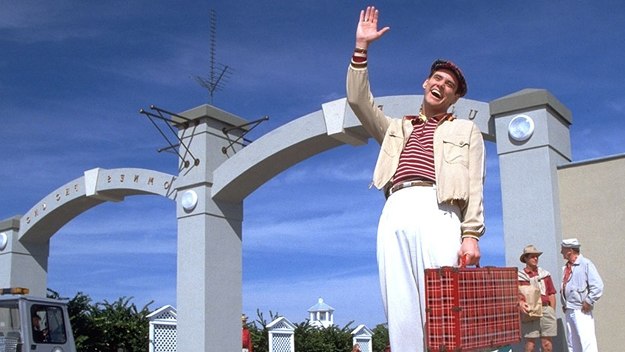 I knew I'd take Justin there the next day, because the fact is, this isn't a place you don't stop to see, but I said it anyway —
"Good morning, Seaside. Oh, and in case I don't see ya, good afternoon, good evening, and good night."