I Know Where I'll Be Riding Out The Zombie Apocalypse.
Destination: Alys Beach, Florida
"Go check out Alys," the saleslady at the children's clothing store in Seaside told me with a knowing smile.
(She pronounced it "Alice.")
(And seriously. She might as well have winked.)
"Yeah, it's real different," chimed in a younger clerk.
"It's like… here in Seaside, everything's out. The parks… the shops… the people… it's all accessible," continued the first woman. "But in Alys, everything's… in."
"But it's fun to drive through and see what you can glimpse!" said the second.
I walked back to my car with my globular, haphazard caprese sandwich squished between my fingers, wondering why I'd ordered such a melty sandwich on such a melty day. Letting the air conditioner blow my hair back with the ferocity of a top-down freeway drive, I headed east on the winding, two-lane scenic 30a with my eyes peeled for Alys Beach.
It turns out I didn't have to peel my eyes at all (um, has anyone else realized how gross that saying is?), because the entrance to Alys was marked by pointy white towers on either side of the road, followed by a stretch of 30a lined with unblossomed palm trees.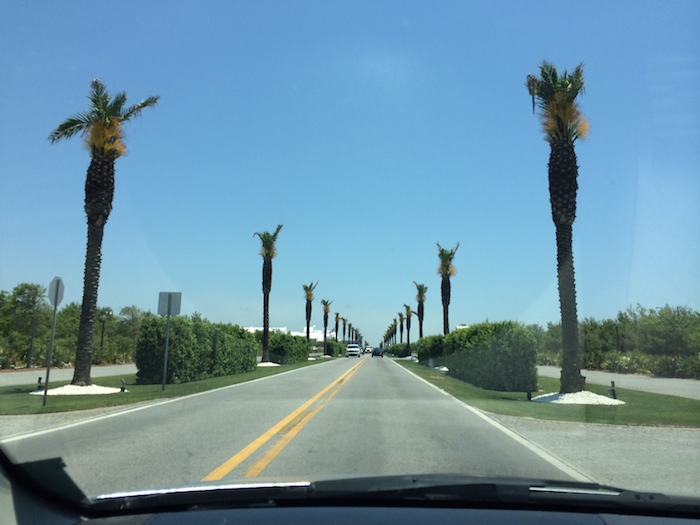 I turned left, away from the ocean, to see what I could see of this bleached-white community.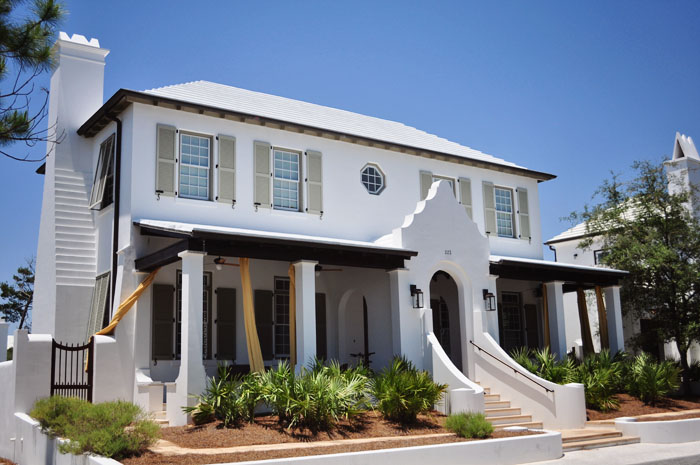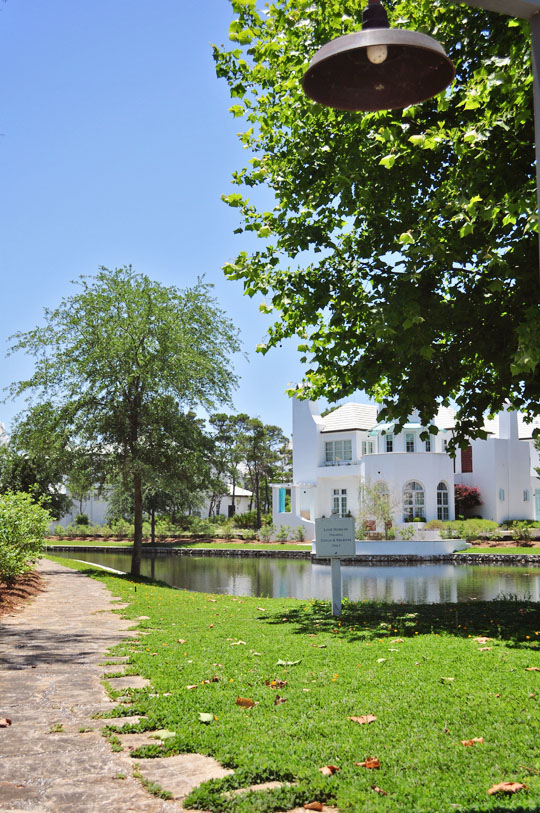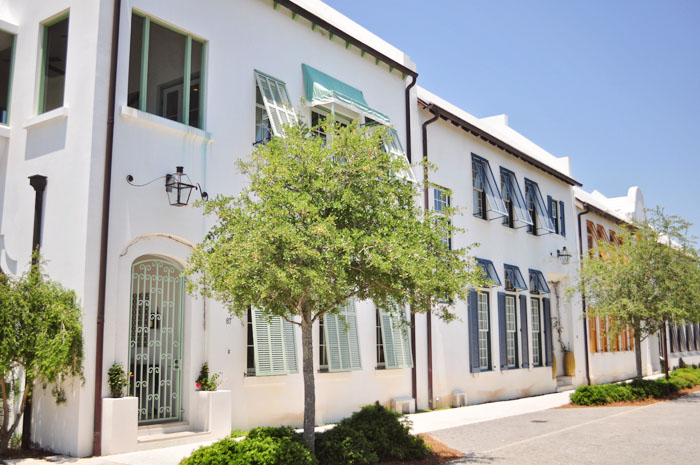 Another example of the New Urbanism movement, the idea in Alys Beach is fortification. You know, like the medieval walled cities dotting the landscape of Europe, protected by nearly impenetrable barriers and topped off with impressive castles?
(Kind of like this one on Ibiza.)
Only Alys isn't exactly walled, and there aren't any hills on which to build a castle.
Although that didn't stop some from trying…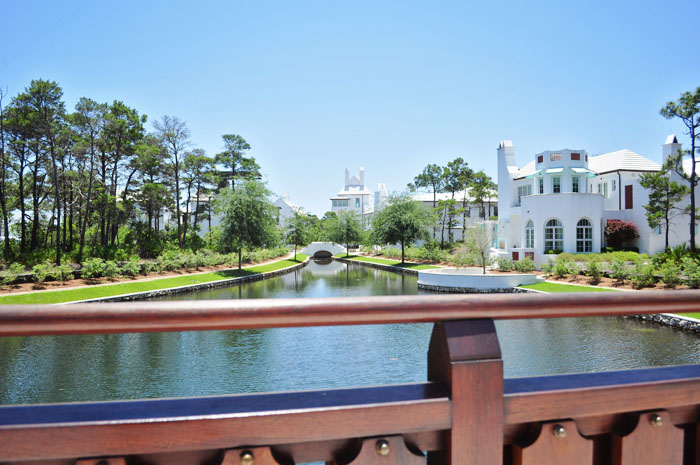 The idea behind Alys's fortification lies in the construction of the individual buildings. Fortified construction is a prestigious (read expensive) insurance industry certification standard that the town's major planning and architecture firm, Duany Plater Zyberk and Company, utilizes in the homes it designs there. Using "above and beyond" construction methods like reinforcing wall-and-roof anchoring systems and fireproof materials, they help further protect the homes against natural disasters.
Because it's not like Florida doesn't have any of those.
By meeting the highest standards of the Institute for Business and Home Safety, the goal is for Alys Beach to become certified as the first fortified community in the U.S.
So the construction thing was cool. And the whiteness was cool-ing. (Literally. The all-white construction reflects the sunlight, helping the town stay cooler in hot summer months. The intended look is a Mediterranean vibe, but mostly it just hurt my eyes.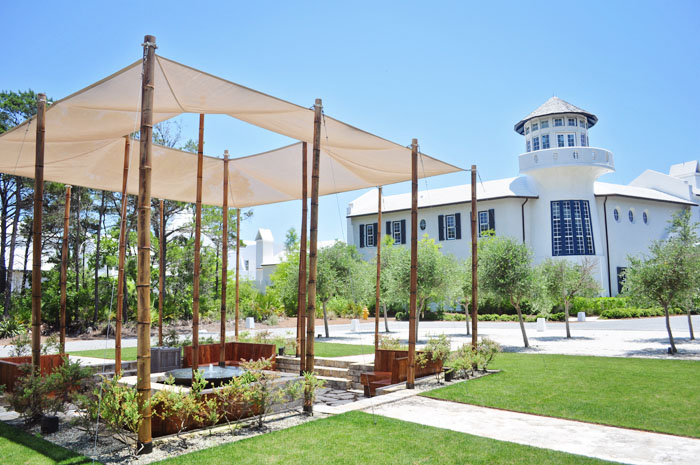 There was also something else strange about Alys.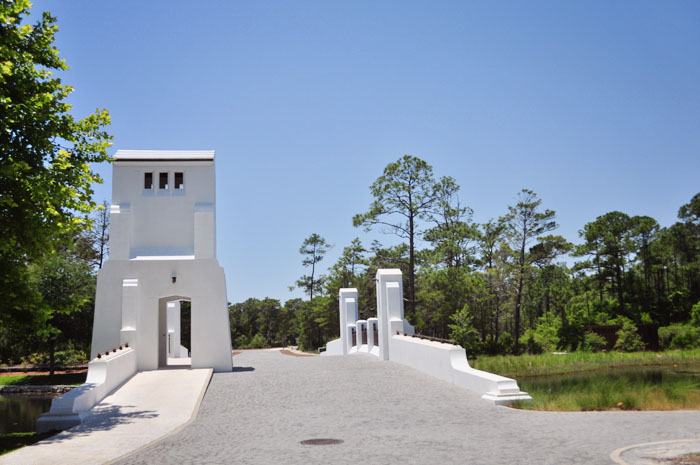 Something a little eerie, even.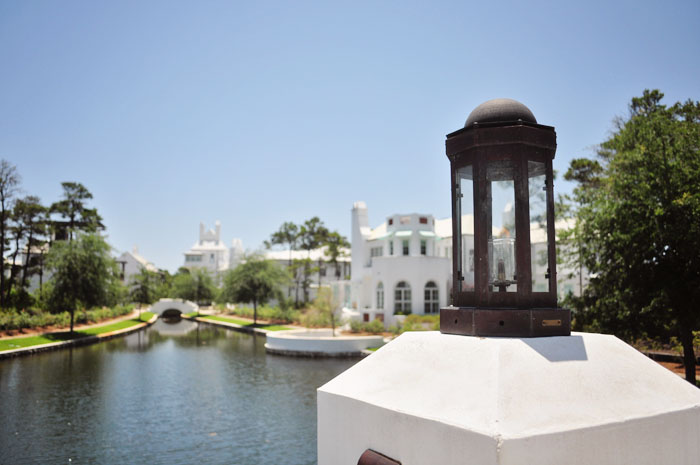 Because, guys — guys?
There weren't any people in Alys.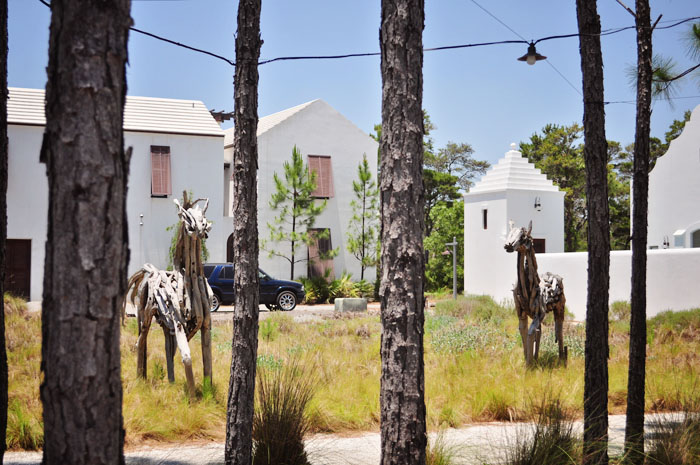 Or at least, it didn't seem like it. Compared to the bustling pre-noon streets of Seaside filled with pastel-wearing tourists and sun hat-touting children, Alys appeared empty.
Desolate, even.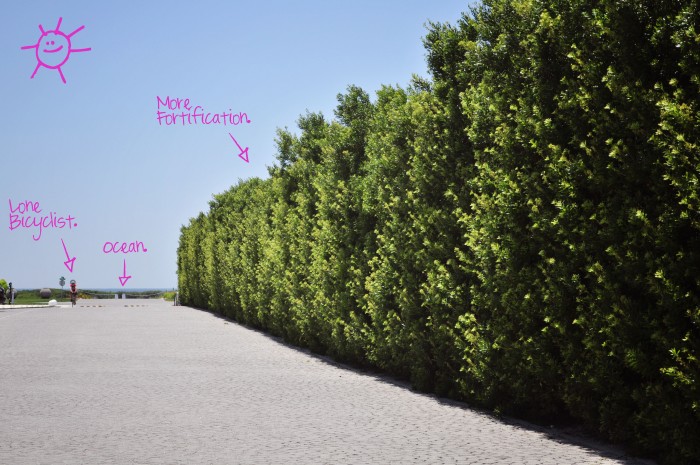 As I stopped every twenty-or-so yards to snap a photo, this lone bicyclist caught up to my car.
He looked at me, bemused expression spread wide across his face. "Where do they buy their groceries?" he asked, incredulous.
And he made a good point.
The woman at the children's shop wasn't exaggerating — everything in Alys was in. It was a private town collapsed upon itself, guts and bones fully protected from any exposure to outside eyes. Hidden courtyards and manicured hedges and whitewashed walls. It was stunning to look at, but it somehow felt cold beneath Florida's hot summer sun.
I came upon another wall and heard the sound of laughter.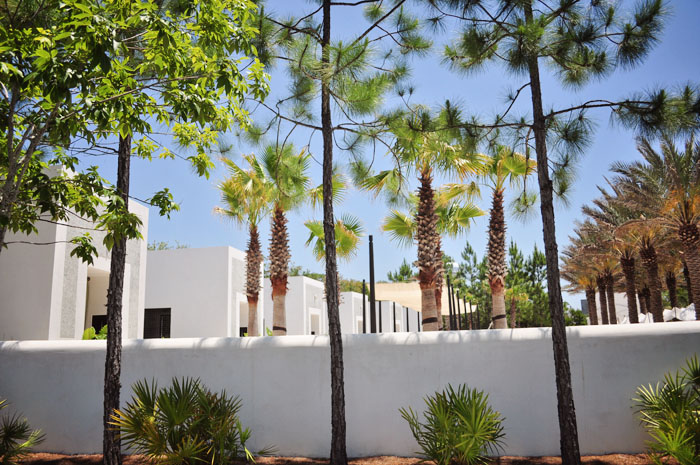 Lime green umbrellas and more young planted palms peeked out from behind the protective facade, and the quiet sound of peaceful merriment wafted just above the crest.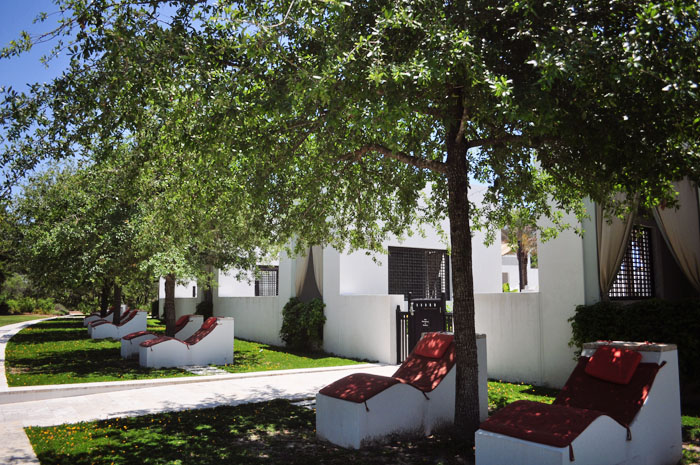 I hopped along the exterior, trying to see beyond the un-climbable white wall and tightly spaced gate posts, eventually making my way to the shaded rear side where empty cement loungers stood sentinel. Feeling ashamedly voyeuristic, I peered through the open curtains of a vacant luxury cabana and finally saw them. People.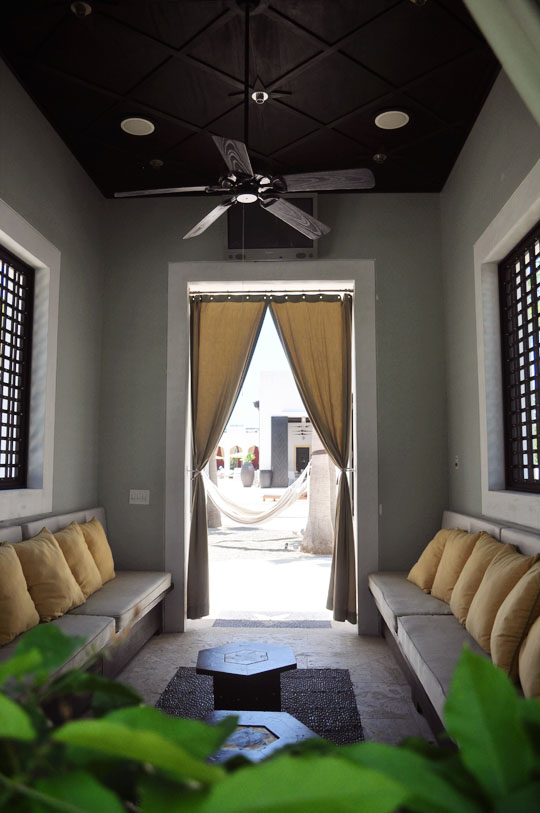 You can't see them in this photo, but trust me. They were there.
It turns out all of the people in Alys were enjoying the cooling waters of its gorgeous infinity pool. And, upon further inspection, there were a few to be found in the cafes lining 30a, and some little ones splashing through fun jumping fountains.
It was a relief to know they weren't all hiding behind the walls of their fortified homes, wielding weapons and peering out at me from behind hurricane-proof glass.
The community is young. Construction is still evident in spades, and it was originally held up, presumably, by the post-911 financial crisis. This amazing video gives a wonderful digitally-represented visual of the original grand intentions for the place, and the building seems to have commenced once again. Though, especially on the beach side of the road, it still has a long way to go —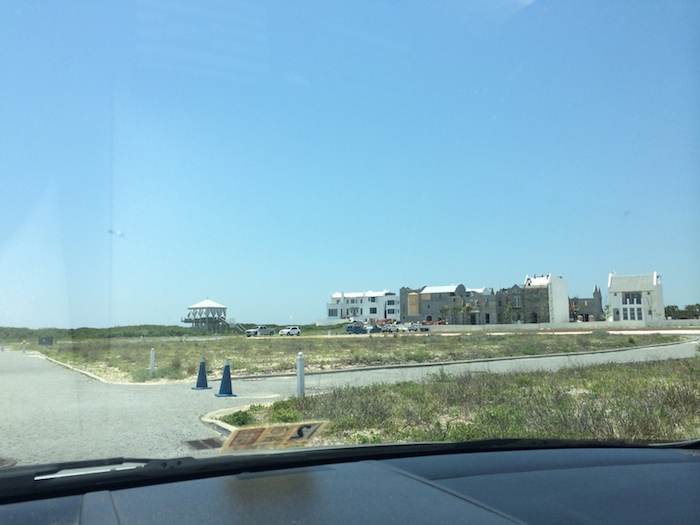 Unfortunately, it looked as though some of the beach-front property has been encroached upon by private builders, and some of the sprawling mansions don't exactly match the image of the rest of the town.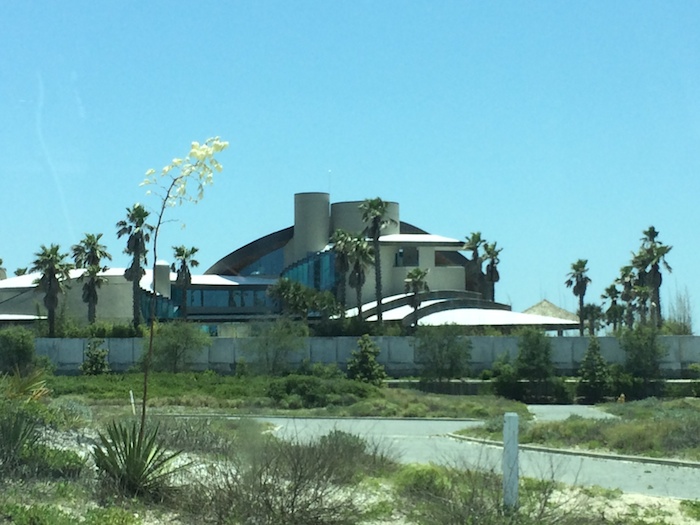 (Forgive the quality of these last photos. I wasn't actually supposed to be on this street — it was closed off for construction — but I couldn't resist snapping a quick picture of this place through tinted car windows.)
So.
It's hard to say whether Alys will ever catch up to the original vision of its planners, but as I drove on towards Rosemary, my last stop along 30a, I knew the woman in Seaside's children's shop (and the kid at the tea place, and the lady sweeping leaves) was right —
It was definitely something to see.