Giveaway Reminder!
**If you're having problems with the sign-up form, try clearing your cookies or history. I'd try fixing it, but I'm stuffed into a vehicle with four other people en route to eat all of the food in downtown Chicago. So sorry for the inconvenience!!**
Just a friendly little reminder that there are only a few days left to sign up for my giveaway.
Miss the info?
Here you go:
I'm giving away TWO sets of four Gordon Ramsay pasta bowls in white by Royal Doulton® to TWO lucky readers.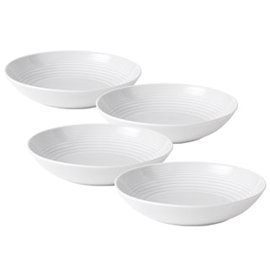 These dishes are the perfect size for serving up some homemade pasta with a big wedge of crusty bread to soak up the sauce.
And okay. I suppose you could use them for the store-bought stuff, too.
Hell. Looks like Gordon thinks you can even put salad in them, so there you go.
Anyway, they're durable, dishwasher-safe, and look really pretty and classic with the entire set: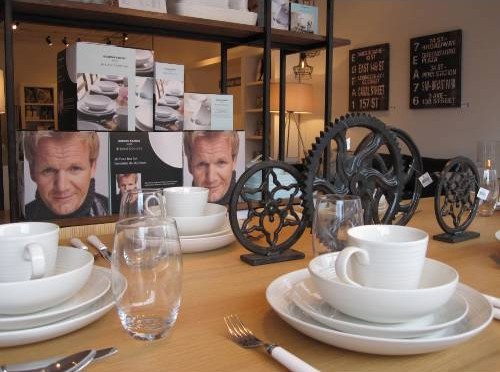 But this giveaway is a little different than normal.
I'm starting a new feature that will let me touch base with you via email. If you're already signed up to read my blog posts through email you may have already received a confirmation request from me. This will allow me to switch you over to the new system. But you'll also need to sign up for my email list below to enter the contest.
See, I want to send each of you an email every couple of weeks to let you know what's been happening around here, but more important, to give you sneak peeks about what will be happening around here.
I've got some exciting news about some upcoming plans (hint: pasta bowls), and I might even sneak in a picture of the kitchen progress before anyone gets to see it here on the blog.
And because I'm not super technically proficient, we have a 2-step process for entering this giveaway:
1) Use this form (or the one that looks like it in my side bar) to subscribe to my bi-monthly email and get the inside scoop of what's happening before I've had a chance to share it here:
2) Once you've confirmed your subscription (you'll get an email), come back here and let me know using the Rafflecopter below. Once you confirm you've subscribed, there will be a few other ways you can add entries to increase your chances.
Unfortunately I can only ship to U.S. mailing addresses for this giveaway. But, if you don't have a U.S. mailing address, it shouldn't stop you from signing up! Either don't enter the Rafflecopter portion or, if you do anyway and you win, I can send them to someone you know in the states.
This giveaway is sponsored by ME.
Rest-assured I will never sell, rent, or giveaway your email address. I just want to be able to get in touch with you a little more personally!