Inappropriate Insults And Thai Fish Curry.
When we were tweenagers, my little sister and I did not get along.
I resented her for being a tall blonde Barbie look-a-like, and she resented me for being a geeky straight-A student. We had the type of relationship that involved setting up impermeable lines down the middle of the car-seat with our coats to depict sides. Stomach punches resulting from stolen bits of wardrobe. And insults that went far beyond that which nice girls our age should've been spouting.
(Remember, Mean Girls hadn't been invented yet.)
So one day, my parents, sister and I were piled into the minivan, listening to the radio, and riding along in relative peace.
(Remember, iPads hadn't been invented yet.)
Then, out of nowhere, my sister shouted, "Eeeewww! What's that smell?" while glaring at me accusingly. So, I glared back and said, quite pointedly, "I don't know — maybe you should try closing your legs."
(Remember, corporal punishment hadn't been abandoned yet.)
And then my mom.
My mom laughed.
She couldn't help it. "KATIE!" she shouted, trying to contain the giggle while sounding angry but failing miserably. I could see my dad's shoulders bobbing up and down in a silent snicker. Then, in spite of herself, my sister started laughing — her consternation apparent in the uncontrollably upturned corners of her mouth.
"Gross!" she yelled while fighting off the smile. "You are so gross!"
It's one of my favorite family memories.
Now that we're all grown up, I can get away with saying all kinds of things to my sister. We have an understanding. And also, I can't make Thai Fish Curry without thinking about that moment.
And if that's not the greatest segue in the history of all blogs, I don't know what is.
Sorry.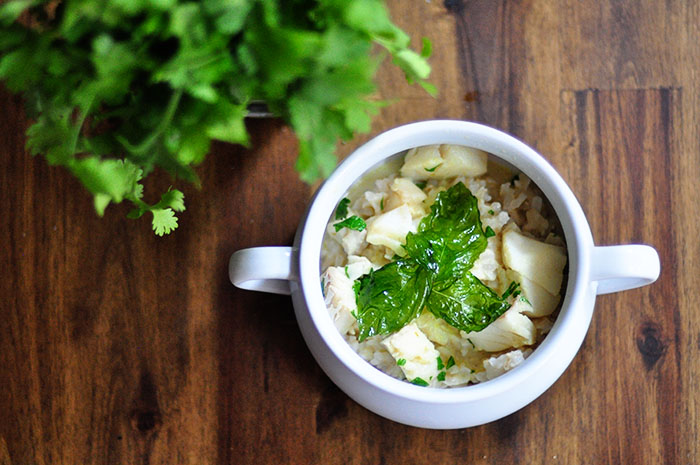 Now. I know if you're not a particularly adventurous eater, you might shy away from this recipe. You might shy away from this delicious recipe — one that only takes 30 minutes to prepare because it's called "curry," which sounds foreign and strange and stinky. But contrary to what I implied when I started this post, actually makes your kitchen smell out-of-this-world amazing .
I'm telling you — if you don't make this, you'll be missing out.
I found the recipe here and I really don't change much. I actually serve mine over coconut rice (recipe below) instead of plain, which makes it even better.
Brown Coconut Rice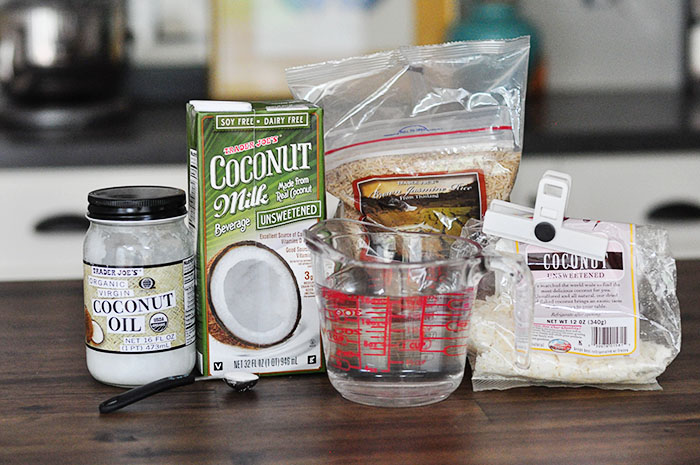 Sometimes I make brown coconut rice, and sometimes I make white. It depends on what I have in my pantry. For white rice, which needs a different liquid-to-rice ratio, use this recipe.
To make it like I did, you will need:
1 T. coconut oil (you can use olive oil if you don't have coconut, though there are so many fun things you can do with coconut oil.)
1 1/2 c. brown jasmine or basmati rice
2 c. unsweetened coconut milk
2 c. water
1/2 tsp. salt
2 (heaping) T. unsweetened coconut flakes (optional)
Directions:
1. Plop 1 T. of coconut oil into a pot over medium-high heat and spread it around. Add ALL of your remaining ingredients, bring to a lightly bubbling boil, then reduce the heat to low (WAY low if you're cooking with flame). Pop a lid on that bad boy and allow to cook for about an hour, until most of the liquids are absorbed.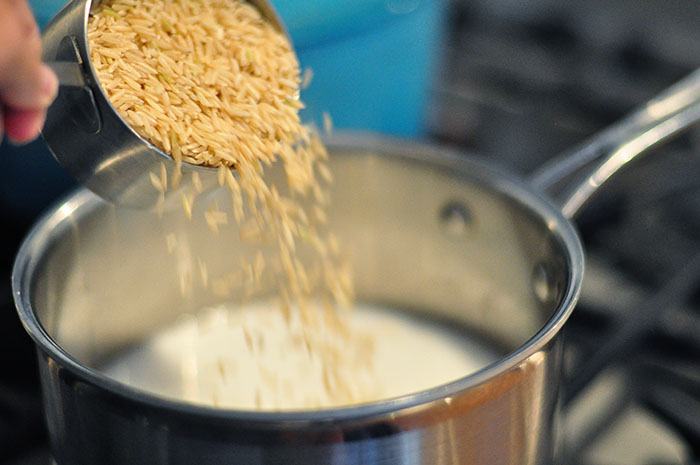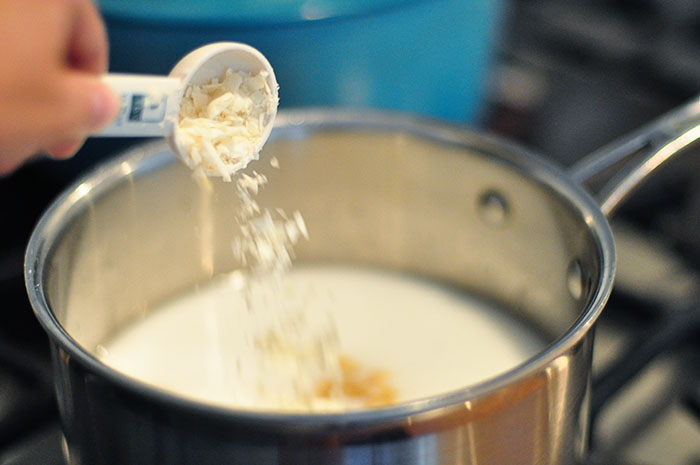 Curse the lack of natural light in your kitchen…
Then set it and forget it.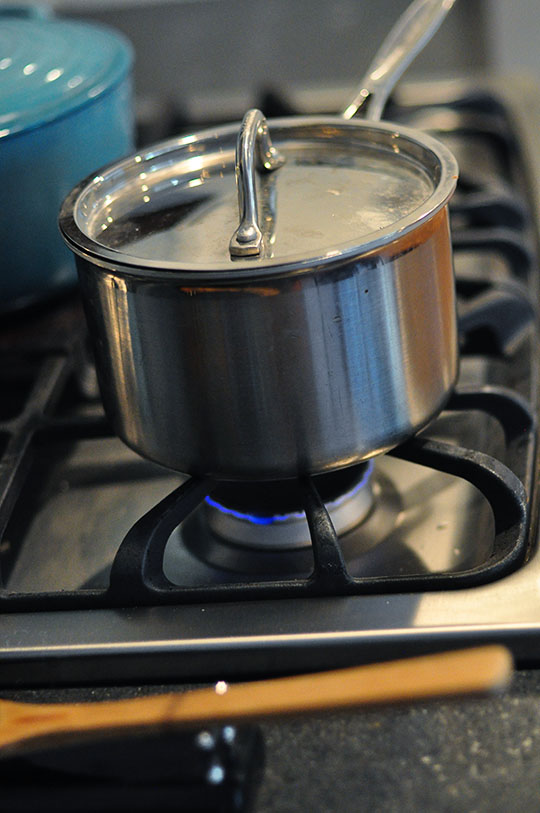 2. After an hour, turn off the heat, but keep the lid on until you're ready to serve. (You can take a quick peek to make sure the liquid is absorbed.) When you're ready to eat, remove the lid and fluff the rice with a fork.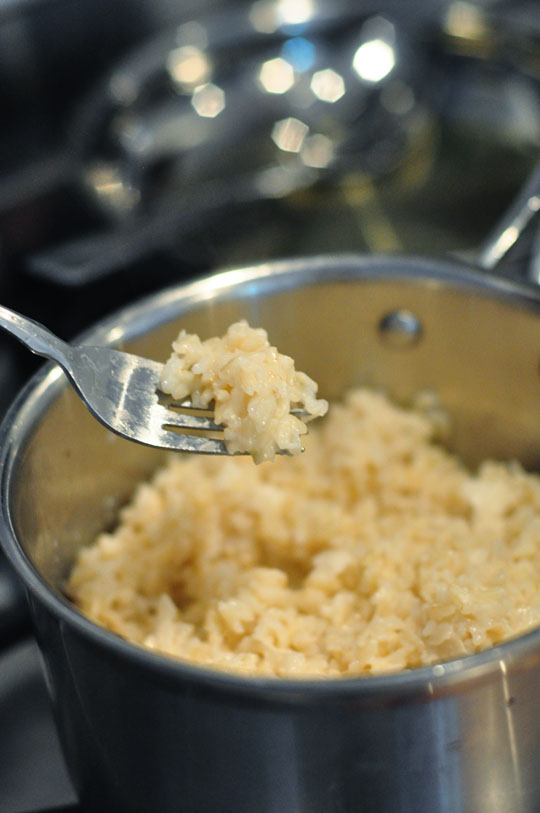 While the rice is cooking, make your fried basil leaves and fish curry.
Shallow-Fried Basil Leaves (optional)
I like making the fried basil leaves for this dish, though they're wholly unnecessary if you want to skip this step. If you're feeling adventurous though, make them! They're very easy and add a tasty crunch. (Not to mention the fact that they look really cool.) In retrospect, I probably shouldn't have made these without a backsplash. I'm pretty sure oil-spattered drywall is not a good look.
To make these, you will need:
High smoke point cooking oil like canola, vegetable, or peanut
15-20 basil leaves
Directions:
1. Fill a shallow pan with some oil — enough to cover the bottom and come up the sides a bit — and heat over medium-high heat. When it gets hot (but not scalding), test a leaf to make sure it doesn't burn right away. If it does, turn down the heat. If it starts sizzling, you're good to add the rest of your leaves. (I did mine in batches.)
Toss the leaves into the pan and BACK AWAY. That hot oil will pop!
Then press the leaves down to soak in the oil…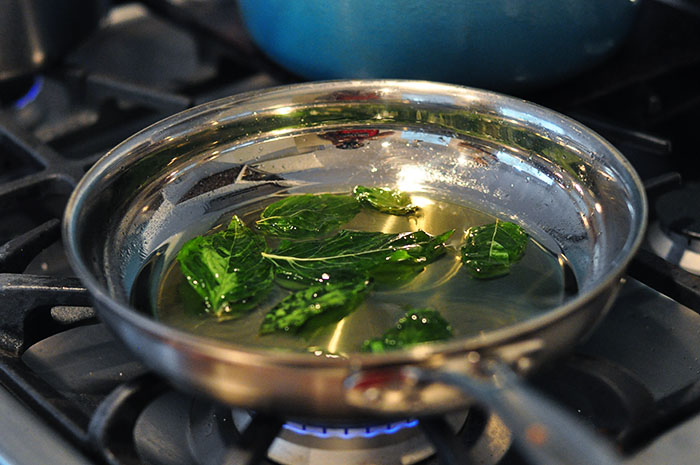 And let them sizzle until they turn a bright, translucent green.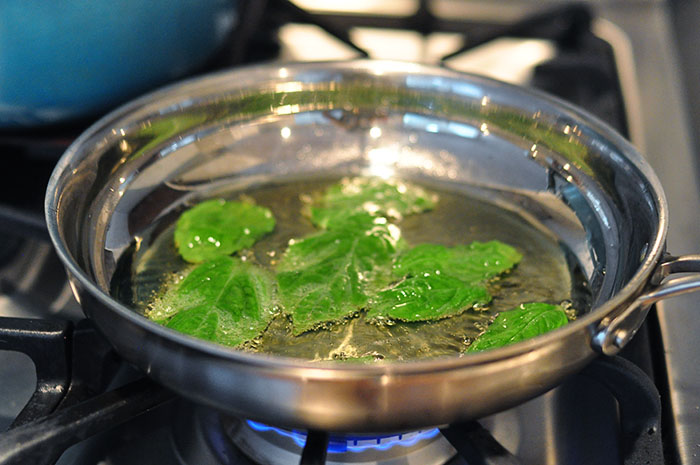 Gently remove them with tongs or a slotted spoon and set on paper towels to dry. They will be thin, crispy, and very fragile!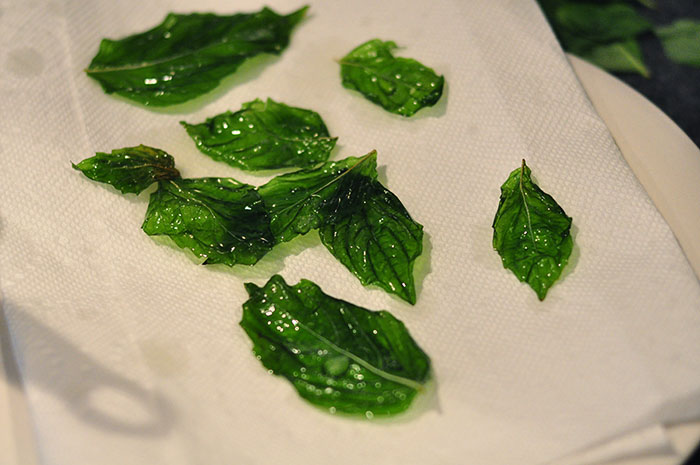 They almost look like they're made of cellophane.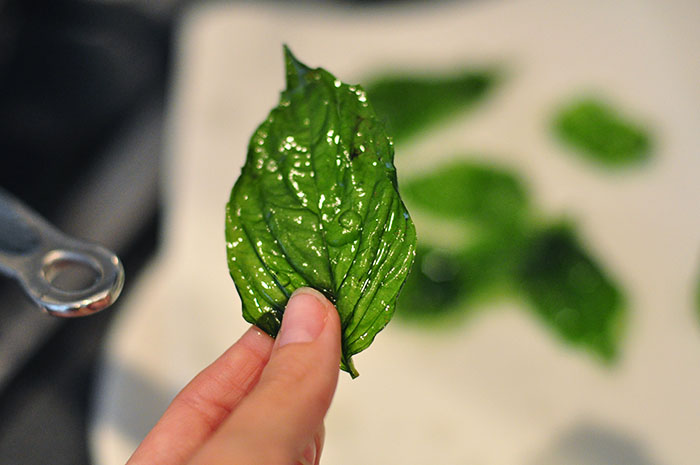 Thai Fish Curry
Once the basil is fried, it's time to make the curry. This is, by far, the easiest part of this recipe.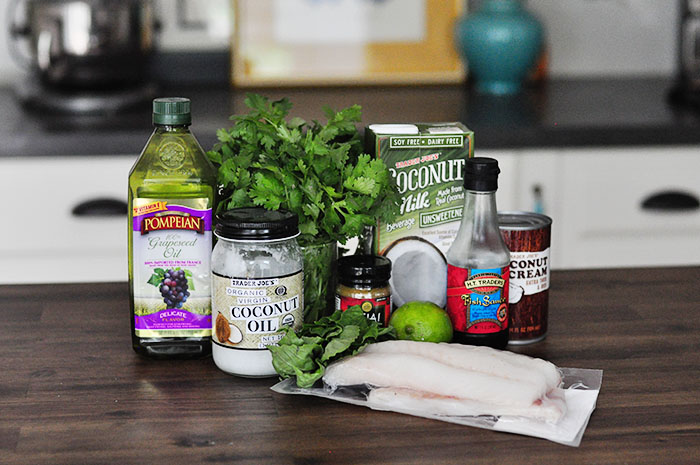 To make this like I do, you will need:
1 T. oil (This time I used grapeseed, but I've used coconut oil before and I think that was better.)
4 T. Thai green curry paste (available in the Asian section of most supermarkets or make your own — next time I'd like to try this kind)
1 3/4 c. unsweetened coconut milk
3 tsp. fish sauce (available in the Asian section of many supermarkets)
1 lb. thawed white fish fillets, cut into bite-sized pieces (I've used Halibut, tilapia, and cod. This is cod. Halibut was the best. But right now Justin and I have halibut tastes on a cod budget.)
5 oz. coconut cream (This comes canned at Trader Joe's. I've also found it in bottles in the drink mixers section of regular supermarkets!)
3 t. fresh squeezed lime juice
1 handful of chopped cilantro (optional)
Directions:
1. Heat the 1 T. of oil (coconut really has worked best for me — it makes the resulting sauce less oily, somehow) in a large pot over medium-high heat. Then add the 4 T. of green curry paste and stir around for a couple of minutes until fragrant.*
*IMPORTANT NOTE: If you let the oil get *too* hot, you WILL cough and gag and feel like you're dying when you add the curry paste. This curry paste varies widely in heat, though usually it's not too bad. (Justin and I are HUGE weenies when it comes to spice.) I have noticed, though, if I let the oil heat up for too long, the curry paste fumes get out of control.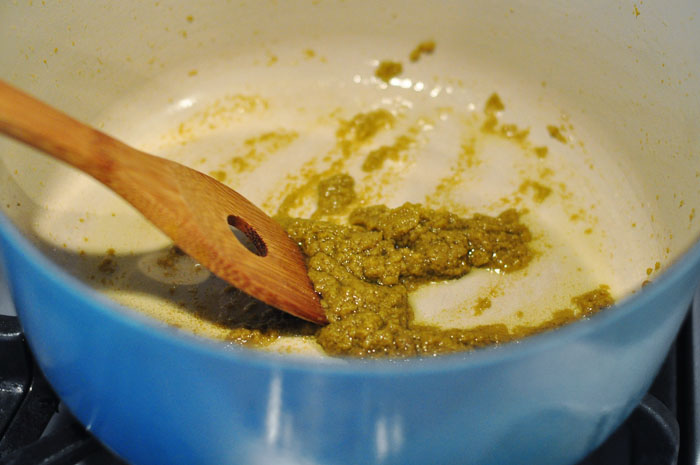 Mmmm. Doesn't this look appetizing?
2. Turn heat to medium-low, add coconut milk and fish sauce, and let simmer for 8-10 minutes.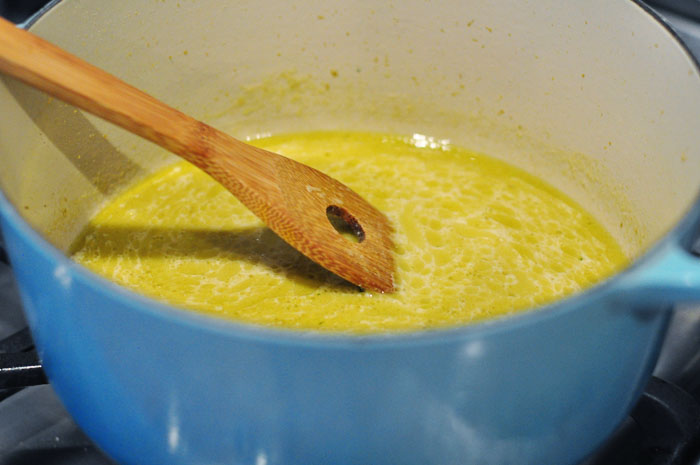 3. Add fish pieces and let simmer for 3-5 minutes until cooked.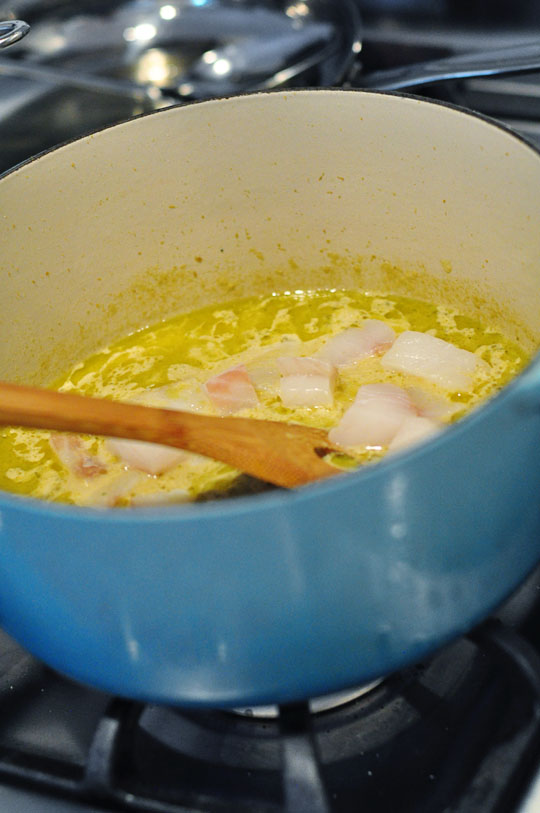 4. Stir in the coconut cream, cilantro (optional), and lime juice.
Coconut cream is delicious.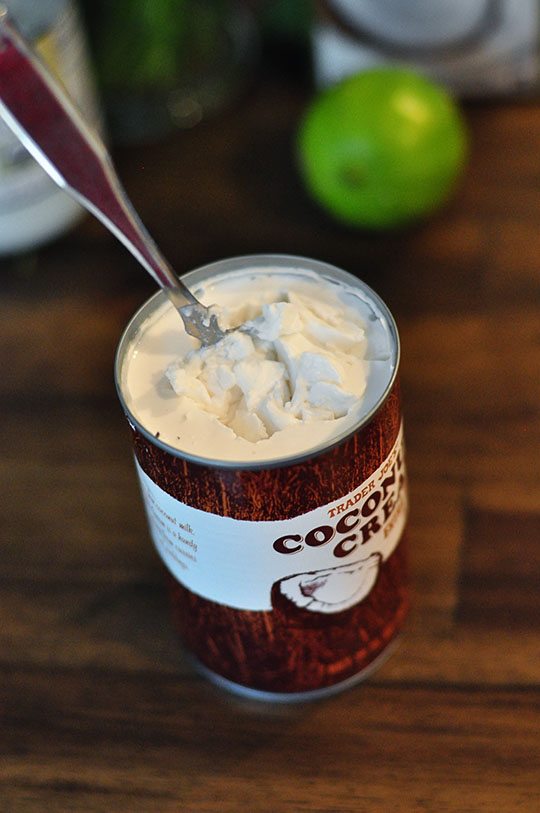 Just plop it in.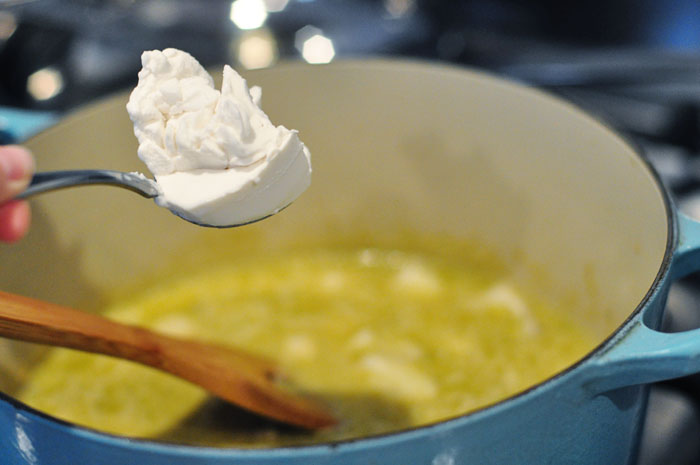 Add a squeeze of lime…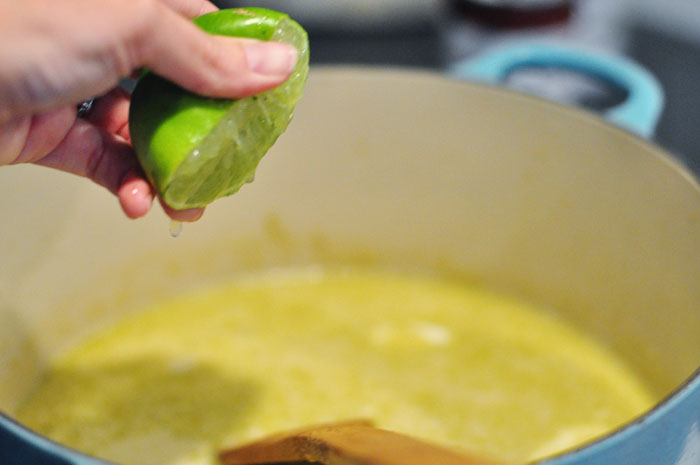 And the cilantro, if desired. (We've had this without, and it's still incredibly tasty.)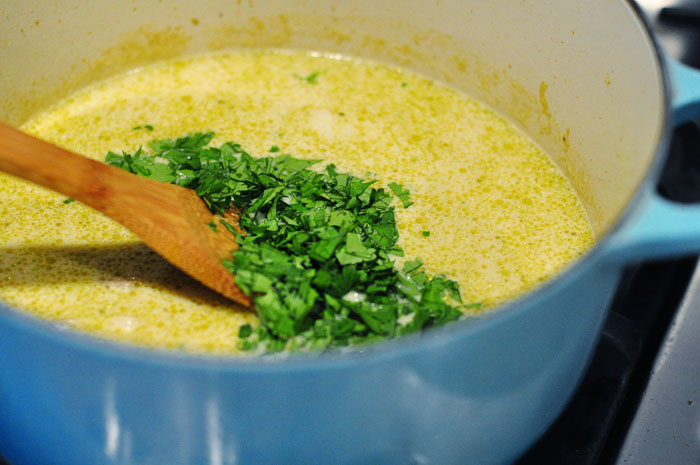 5. Spoon some rice into a bowl, top with your coconut fish curry sauce, and enjoy!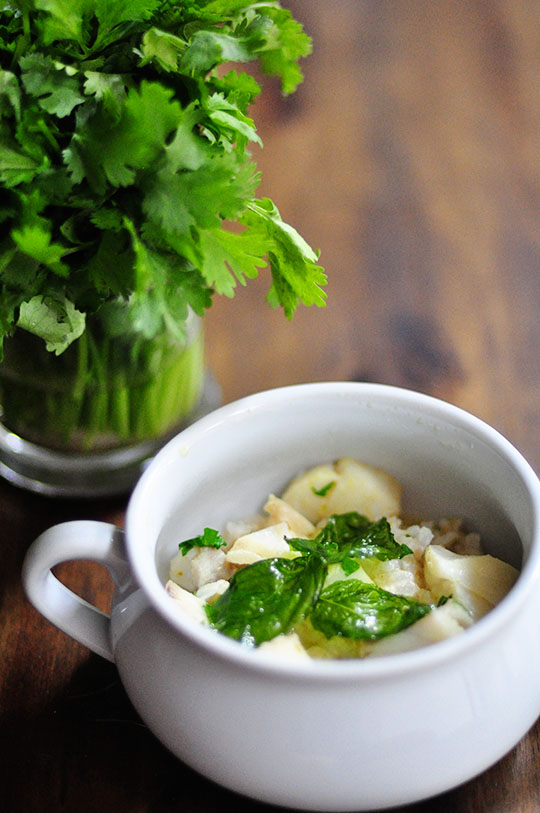 Justin was so skeptical the first time I made this — it might've had something to do with me running coughing and sputtering out of the kitchen while he opened the windows — but we both agreed that this was something we'd make again and again.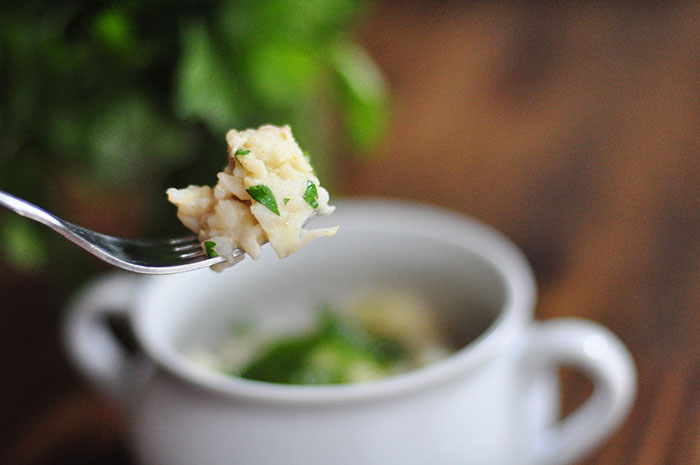 Have you ever made any kind of curry? If not, this is a good place to start. Of the ones I've tried so far, this dish with Thai green curry paste is my favorite.
P.S. I have many more interesting recipes for you to try!
P.P.S. I'm heading somewhere VERY interesting this weekend. Make sure you're subscribed to my newsletter to get the scoop first!