The Good News Is My Feet Are Smooth. The Bad News Is My Head Smells Like A Chef Salad.
I think I'm handling this whole turning 30 thing really well.
Like, exceedingly well, as evidenced by the fact that I spent at least 5 hours yesterday basting various body parts in assorted cooking oils and then wiping and rinsing them off to see what happened.
I didn't want to have to admit this to you, but my body, she's a changin'.
I partially blame it on the fact that I turned 30, mixed with the fact that I panicked and asked my doctor to prescribe me some Retin-A to magically stop my face from aging, which it apparently does by causing excessive exfoliation.
See, Retin-A is generally prescribed for acne. I know this because when I asked my doctor about it, he said, "You want it for wrinkles, don't you?" Cue sheepish nodding from me. "You know I have to prescribe this for acne, right?" I pointed to a tiny pimple on my chin.
"I'm breaking out everywhere," I said. Everywhere with wrinkles.
He smiled and wrote the scrip.
Anyway. Because it's typically an acne medication, it massively dries my skin. And since flakey scales are hardly an improvement over my burgeoning dermal creases, I've been experimenting with various ways to moisturize my face that won't anger the Retin.
As for the rest of my body, well. It's dry outside. It's winter, in case you haven't noticed. And also I switched brands of birth control. And if we haven't reached the too-much-freakin'-information point in this post yet, so help me I'm going to keep going.
So yesterday, while Justin was diligently sanding and priming our master bathroom for yet another exceedingly slow remodel project, I used my I'm-still-getting-over-a-cold excuse (and I was) to lock myself in the hall bath with some olive oil, coconut oil, plastic bags, plastic wrap, wash cloths, towels, a bottle of ice water, and a laptop with a DVD from Season 4 of Sex and the City.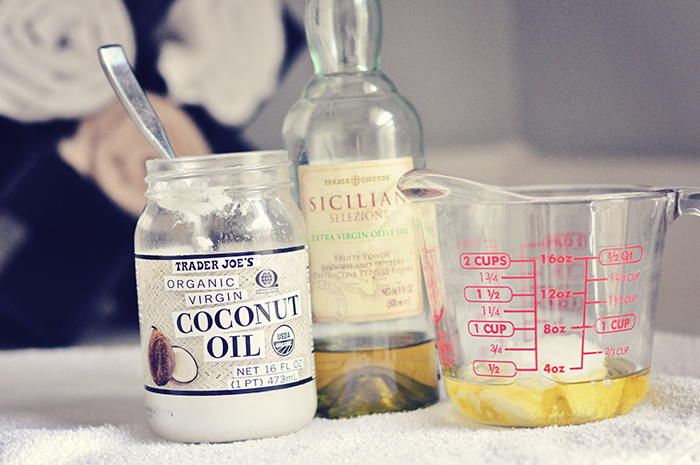 I started by mixing about 1/4 cup of olive oil with 1/4 cup of virgin organic coconut oil, microwaving it for about 30 seconds, and then using my fingers to massage it into my scalp. Then I flipped my head upside down over the bathtub and just poured the rest over my hair, thinking that I'd go ahead and moisturize that right along with my scalp.
Then I wrapped everything up in some Saran wrap and a towel and sat back to watch the antics of Carrie, Miranda, Samantha and Charlotte for a couple of episodes.
I can't deny — it felt good.
That is, until it was time to shower.
I used the "good" Paul Mitchell Tee Tree Oil stuff and shampooed. And rinsed. And shampooed again.
Then I told myself my hair was supposed to feel a bit slick so I conditioned, rinsed, and wrapped everything up in a towel.
Then, on to the face.
All I did was use my fingers to smooth a thin layer of olive oil all over my face, rubbing gently to work it into my pores.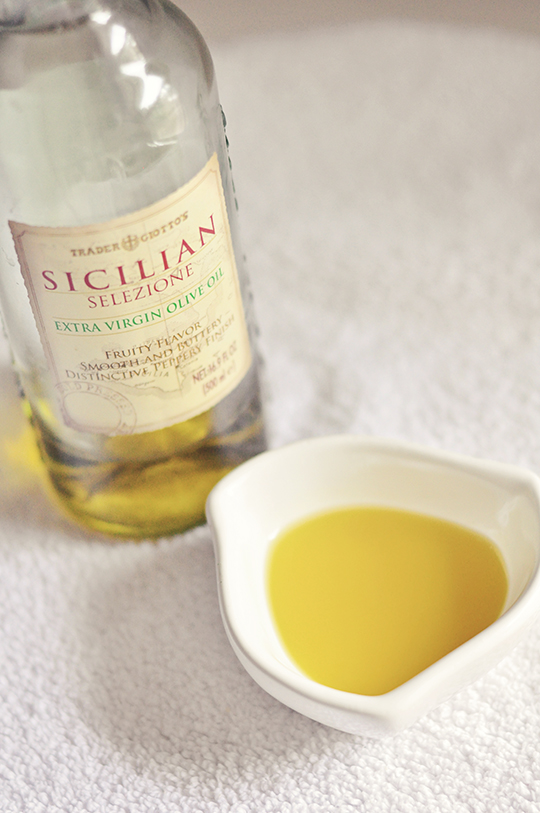 I know what you're thinking.
You rubbed OIL into your PORES?
You don't understand. Retin-A. Chemically induced hormone imbalance. I TURNED 30.
My skin was dry, people. Like the Great Salt Flats kind of dry.
So.
Desperate times, and all that.
I took a wash cloth, ran it under some hot water, squeezed it out, and set it on my face to "steam" for a few seconds. I wiped off the excess with the wash cloth and let my face air dry, fighting every urge I had to apply a layer of moisturizer.
Finally, my feet.
I scooped up some coconut oil, which is solid at room temperature, and started rubbing it in. (I'd already vigorously scrubbed with a pumice stone in the shower while I was trying to rinse the olive oil from my hair.) It melted as I worked with it, and pretty soon my feet were greased up and smelled incredible. I slipped them into some plastic grocery bags, tied some yarn around my ankles to hold them up, and put my warm, fuzzy socks with the grippy bottoms over the top to keep myself from sliding all over the house.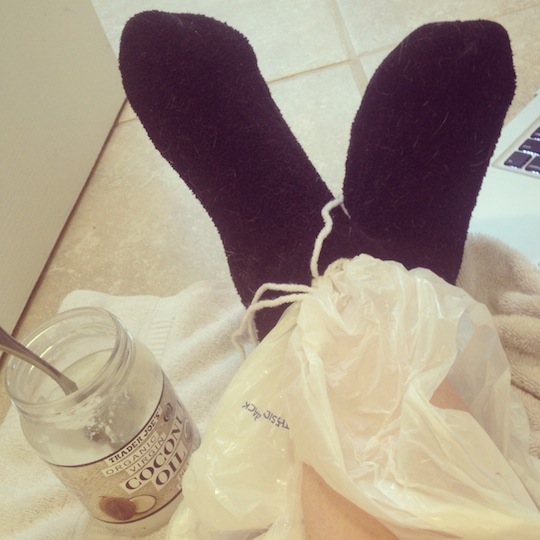 Eventually I trimmed the tops of the bags because I was tripping on the handles, but this getup worked pretty well. I kept them on for the rest of the day.
Then I tried to dry my hair.
Wait. Why is my hair not drying? It feels dry, but it still looks wet.
I ran my fingers through and they came away shiny.
Not good.
It took 4 more shampoos (this time with some good ol' reliable Pantene Pro-V) in the kitchen sink and a douse of baking soda to remove the rest of the grease.
I'm pretty sure, as Justin walked past me to bring his paint supplies back out to the garage, that this was one of those times in a marriage when a spouse just knows that it's best not to ask questions.
We topped off the evening with a movie, some Hooter's chicken wings, and pino noir. (A winning combination, I assure you.)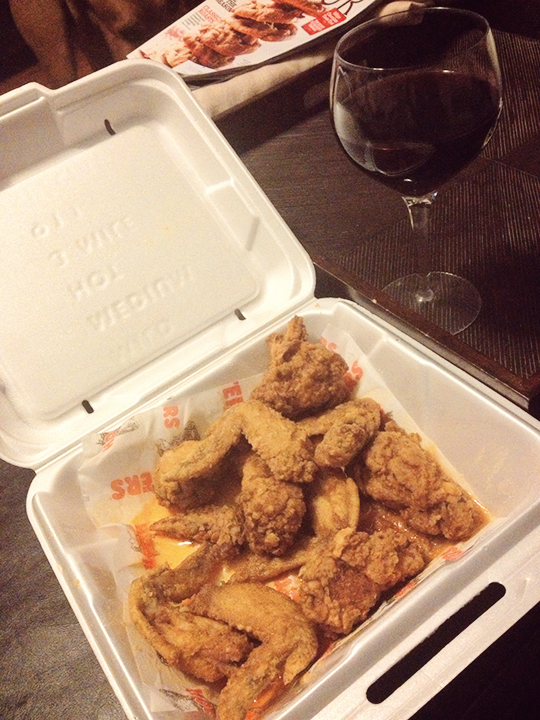 Because apparently I needed more grease in my life.
When I finally removed my fuzzy socks and plastic bags, most of the oil had soaked into my feet and they felt smooth and refreshed. My face was supple and soft and had that dewy glow I'd been searching for with all those expensive, chemical filled moisturizing products. Baby butt skin on my face. Turns out all I needed was a $6.00 bottle of salad dressing.
But my scalp?
Oh, my scalp.
It felt cleaner than it's ever felt before, that's true.
But the excessive shampooing pretty much had the opposite effect of providing moisture, if you know what I mean.
Ah, well. You win some, you lose some.
If you have excessively dry skin this season, I'd highly recommend trying out the coconut oil foot wraps and olive oil face cleanser. It will smooth your skin and make your bathroom smell like a spa.
And don't worry — I have another trick to try for my scalp. It involves apple cider vinegar and some herbs I picked from the yard.
And guys, if you're actually still reading this, if it seems like your women folk are making a lot of salad dressing in the bathroom over the next few weeks, don't ask questions.
It's best if you just let us age gracefully.