Discovering A Secluded Ashram In Rural Virginia. Stranger Things Have Happened.

The handle wouldn't turn.
Shi– oot.
I'd promised myself that here, I wasn't going to swear.
I tried jiggling the handle once more, just to make sure I was only semi-idiotic and not fully-idiotic and the door was, in fact, locked.
It was.
I peered through the screen — just a thin, holy membrane that separated me from the key sitting on the sill. I slid my nails between the slits on the sides and tried pulling. Then pushing. Then wiggling it back and forth, but the thing was secure. And I didn't feel like adding damaged property to my burgeoning list of out-of-place humiliations. I haven't been here five minutes and already I've made a complete idiot of myself.
Well. Semi-idiot.
Sheepishly, I walked back up to the reception building, all-too-aware that my shorts were too short and my tank top was too low. Bill told me I could wear shorts, I muttered, glancing at the visitors, students, and residents meandering around the quad clad in flowing linens and breezy skirts — all below-the-knee. Bill was my liaison for the weekend and the marketing director of the Satchidananda Ashram. I wondered if his idea of shorts and my idea of shorts were two entirely different things. Ducking into the relative sanctuary of the reception office, I rang the bell and the woman wearing a beautiful sari who'd checked me in laughed when I told her what I'd (already) done. She handed me a spare key and I ran to my room, depositing my tripod and camera where I'd already dropped my bag.
The Background:
Satchidananda Ashram-Yogaville in Buckingham, Virginia was founded in 1979 by His Holiness Sri Swami Satchidananda (1914-2002), renowned spiritual leader and world teacher of integral yoga.
Seriously, you guys — he opened Woodstock in 1969. He was — and is — kind of a big deal.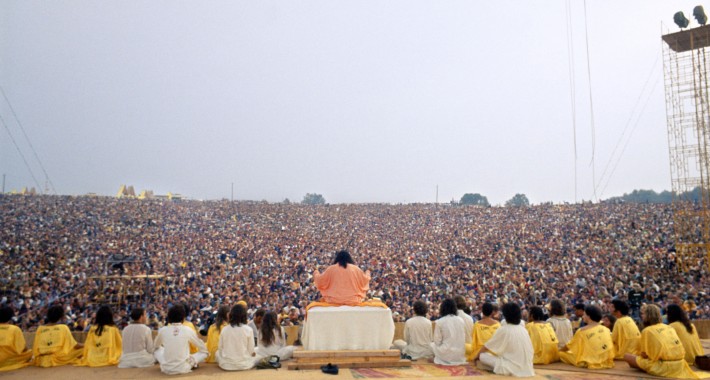 Image from yogaville.org.
Bill gave me a book about Swami Satchidananda. It's crisp and new, and I like flipping its pages past the tip of my nose because it still smells like there — clean and invigorating with a hint of incense, but nothing strong or distracting. And while I'm looking forward to reading it, one thing was very clear to me upon exploring the Yogaville grounds, its ashram, the temple, and the land: I don't need a book to tell me that Swami Satchidananda's main drive in life was to convey understanding among all religions of the world.
When it comes to doing good, you probably can't do much gooder than that.
I'd assumed an ashram would be filled primarily with Hindu paraphernalia, but at Yogaville, I was constantly reminded through language and symbols that all people of all religious backgrounds were welcome there. And the goal wasn't to convert, but to promote spirituality. In fact, Swami Satchidananda believed that "a true Hindu is a person who embraces everything."
Yogaville is not only a place to learn Integral Yoga practices, but it's also a community. In fact, it recently won Buckingham's "Community Pride" award. Bill explained to me that people go there to live and to learn, but the community is often transient and frequently changing — just like life.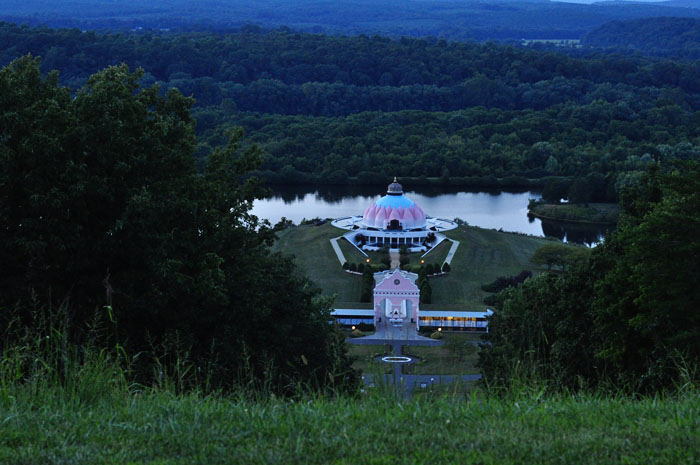 Why I was there.
Like I mentioned last week, my goal is to introduce a new series on Domestiphobia. The simple explanation is that I'd like to promote local travel as a way of experiencing new things when you can't afford (either with money or with time) to get a stamp in your passport. The more complex explanation is that I found myself moving to Virginia six months ago, almost entirely against my will. For years, I'd wanted nothing more than for us to get stationed somewhere overseas — Germany, Italy, Japan, Hawaii — I didn't care, as long as I could immerse myself in a culture different from my own. Then we got orders to Virginia, a mere 4 hours from our home in North Carolina, and I was… well. You know. You were there. But with this news came a new goal in my life — the goal of accepting things that are beyond my control and, if it can be helped, making the absolute best of any situation in which I find myself.
And let me tell you — now that I live here, I'm learning that Virginia is an extraordinarily complex, beautiful, and diverse state. It's a fantastic place to explore local travel, which is how, while researching lesser-known Virginia locales, I stumbled across the existence of an actual ashram — yep, the stuff of Eat, Pray, Love — set against the backdrop of the ancient Blue Ridge Mountains and just a few hours from my home. And there, I read, I could learn to practice Integral Yoga.
According to the exceptionally informative guest handbook I was given on arrival, the goal of Integral Yoga "is achieved by maintaining our natural condition of a body of optimum health and strength, senses under total control, a mind well-disciplined… a will as strong and pliable as steel, a heart full of unconditional love and compassion, an ego as pure as crystal and a life filled with Supreme Peace and Joy."
Yep. I'm in.
The First Night: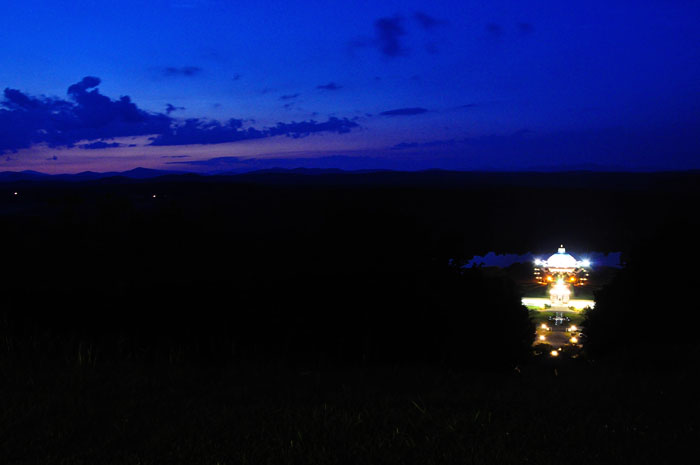 Every Friday evening, the LOTUS (Light Of Truth Universal Shrine) Temple is lit up like a glowing beacon alongside a reflective lake in the winding valley of the James River. "Why don't they light it up every night?" asked my new friend, Puja. Puja's from New Jersey, but her family is Hindu and she's had experience at ashrams before.
"Well," said Bill, "if they lit it every night, it would no longer be special."
That night, Puja, Jenn, another girl and I followed a wooded trail in search of the shrine at the top of a hill overlooking the LOTUS temple. When we heard coyotes at dusk, we walked a little faster. In our haste to beat the darkness, we took a wrong turn and ended up at the bottom of the hill.
Shi– oot.
Rather than take the wooded path back up, we decided on a shortcut. A massive, steep incline (where the ashram plans to eventually build a stairway).
Guys, this was a big hill.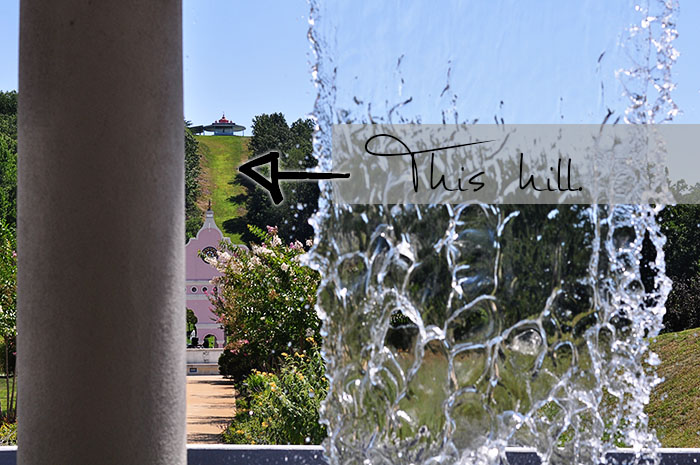 Had we seen it during the day, I doubt we would've attempted it. I lugged my tripod up for good measure, and the view was totally worth it.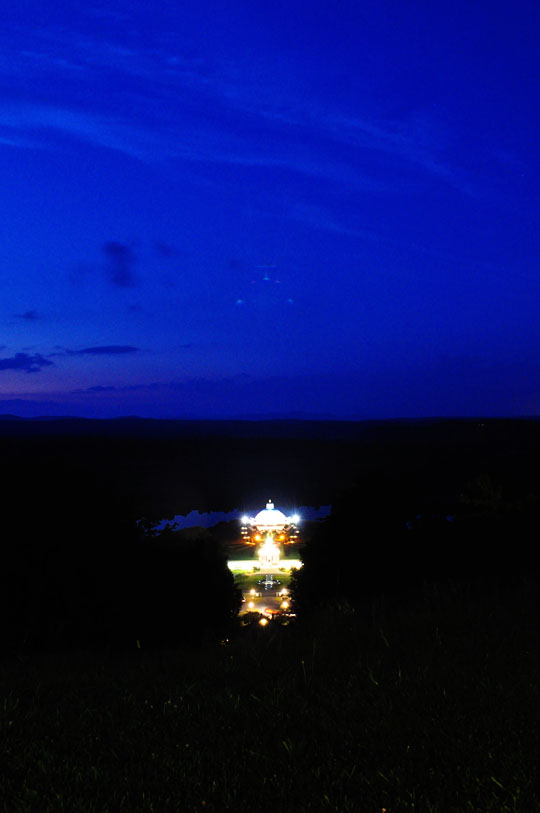 I returned to my room, sweaty and exhausted, and set my alarm for 5:00 a.m. That night marked the first of what would be several physical and mental challenges I'd face that weekend.
The Room:
Both private and comfortable, my room had a large bed, sofa, and over-sized (handicap accessible) en suite bathroom.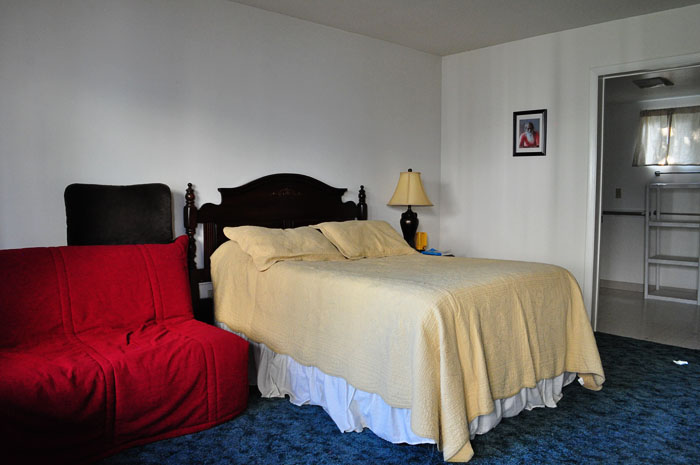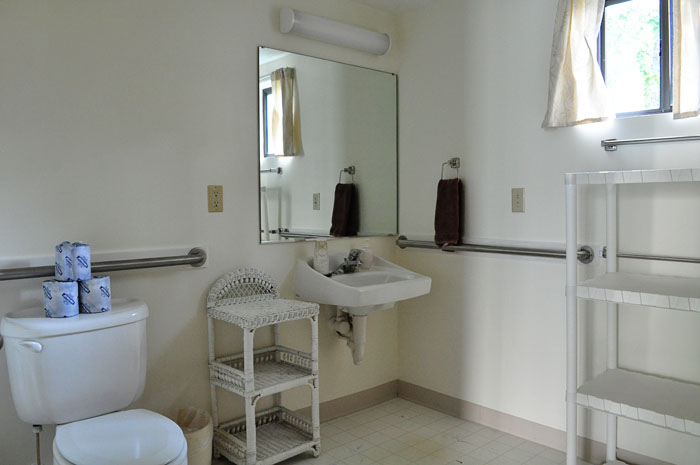 Satchidananda Ashram also offers dormitories with shared sleeping quarters and bathrooms, which I also had a chance to check out once I made a few friends. The beds were comfortable, the sheets were clean, and the rooms were bright and airy. Best of all, people in the dormitories were woken with lovely violin music in the mornings!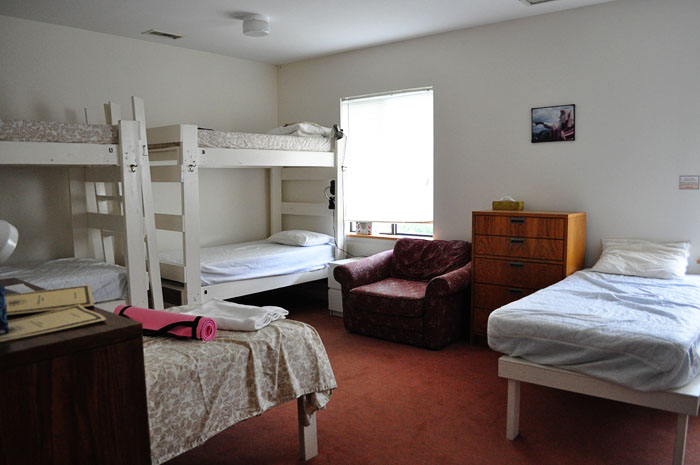 Typical dorm style room.
The Classes:
While the ashram offers various workshops, retreats, and residential programs, I was invited to attend their Welcome Weekend, which was an excellent introduction to the workings of Yogaville. I was given a schedule that contained a healthy mix of guided and regular meditation sessions, introductory-level Hatha yoga classes (that's the kind with the bendy flexy poses and the mats), and the opportunity to attend special ceremonies for the 12th anniversary of Sri Swami Satchidananda's mahasamadhi, or leaving of his body.
I'm not a super bendy person, and my experience with meditation and yoga is limited. Much of the time, I was resisting the urge to scratch an itch, sneeze, or topple over. But the teachers there were extremely kind, patient, and knowledgable. This is a place where beginners are welcome, but there are also advanced classes for those who are further along in their practice.
The Food:
The meals served at Yogaville are 100% vegetarian with vegan options, and they were all incredible. I only managed to snap a photo of my breakfast on the last morning, but I wish I'd gotten a photo of the amazing lunch and dinner dishes, which included sautéed eggplant, seasoned quinoa, lentil dishes, soups, rice, teas, and all kinds of flavorful and healthy options.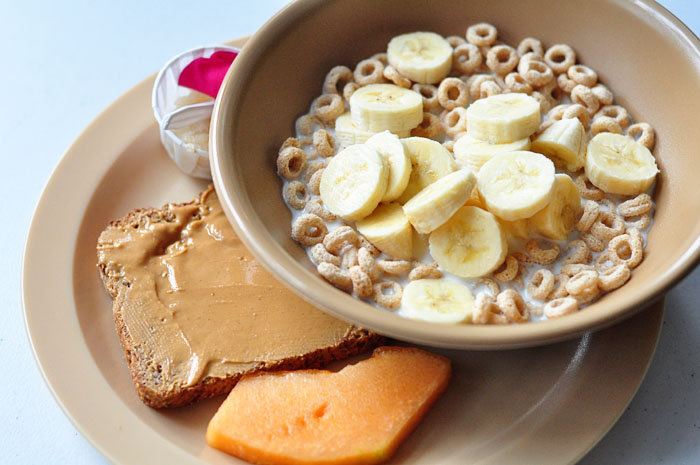 Hunger was never an issue.
And, for those adjusting to a real food diet, there was a coffee shop less than 100 feet from my room that also sold various sweets and snacks, where I could, if I'd wanted, cave to my caffeine, sugar, and salt addictions.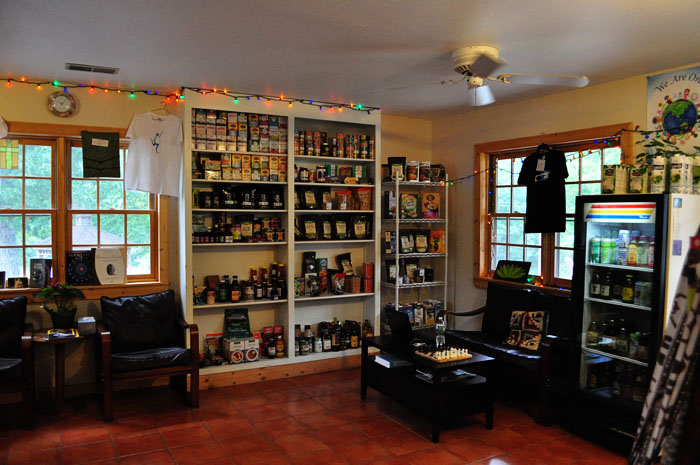 The Tour:
On the afternoon of the second day, the Executive Director, Ganesh, gave us a guided tour of some of the grounds. He's been there since practically the beginning, and was a wealth of information when it came to the history and ideas behind this incredibly unique place.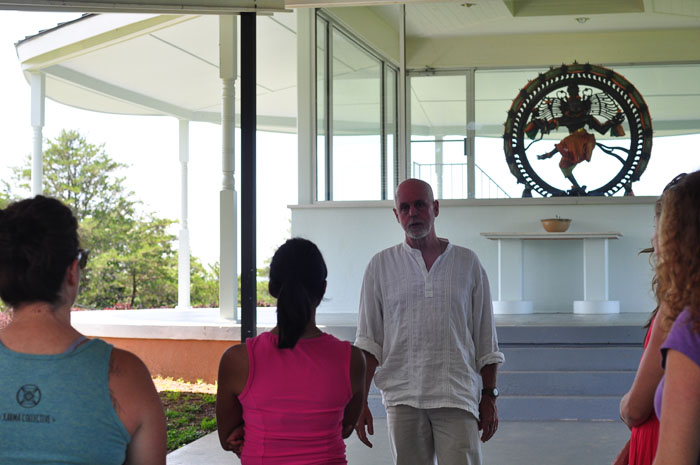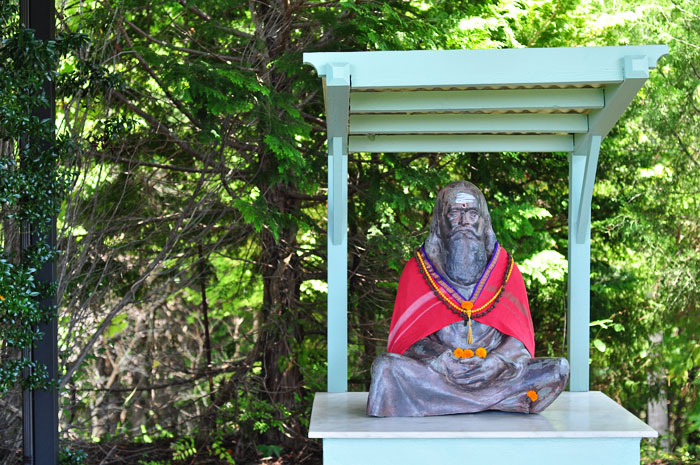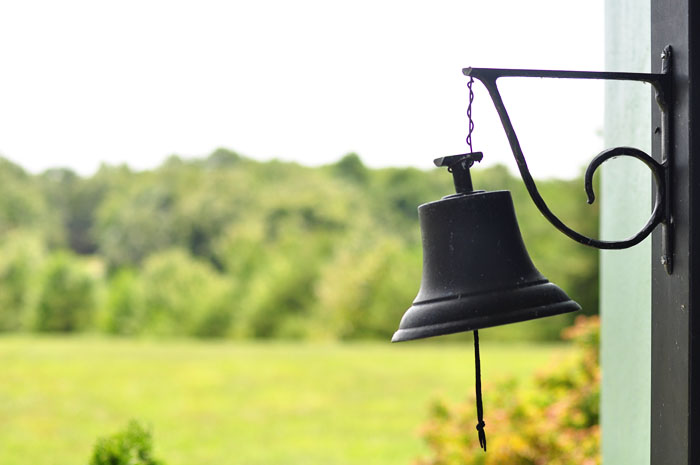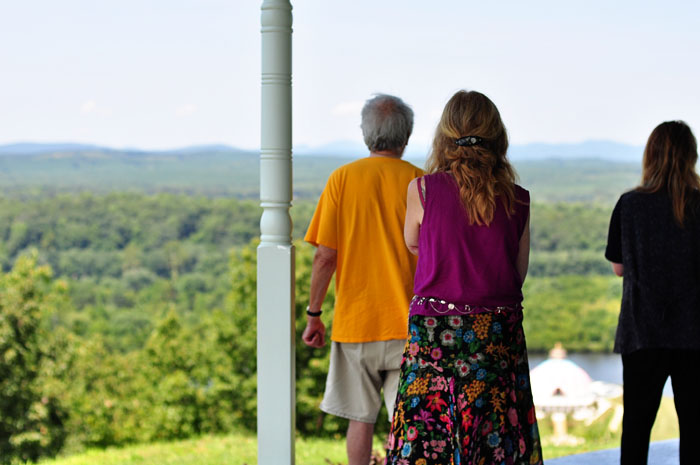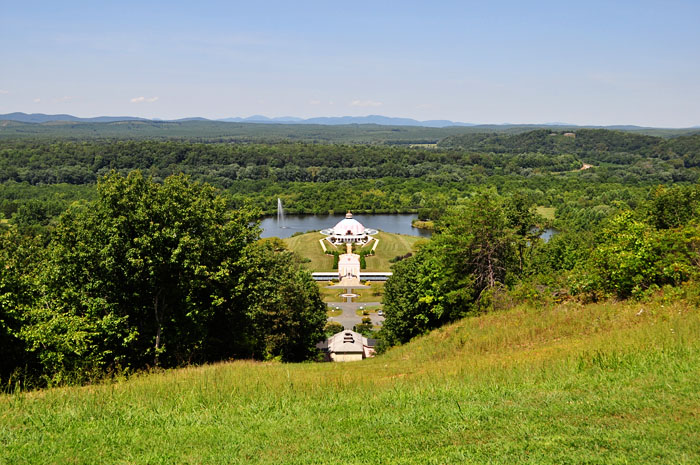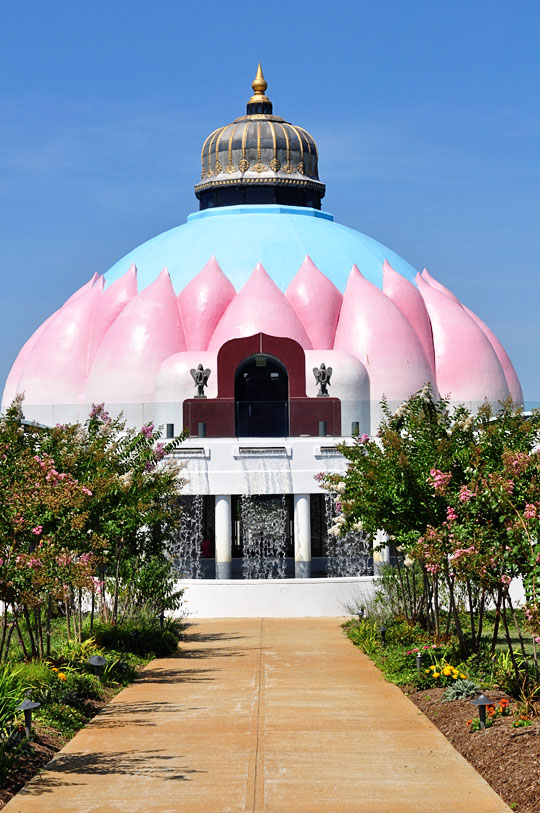 The Temple:
On the lower level of LOTUS is the All Faiths Hall, which houses a display for each of the world's major faiths (including even those which do not yet exist). The upper domed level is a quiet sanctuary intended for silent meditation.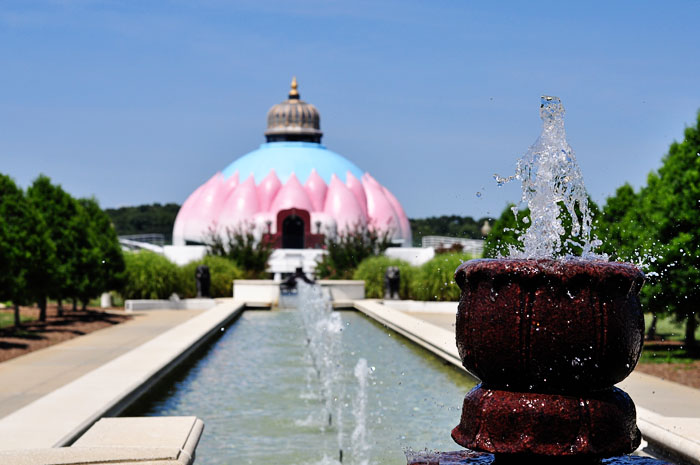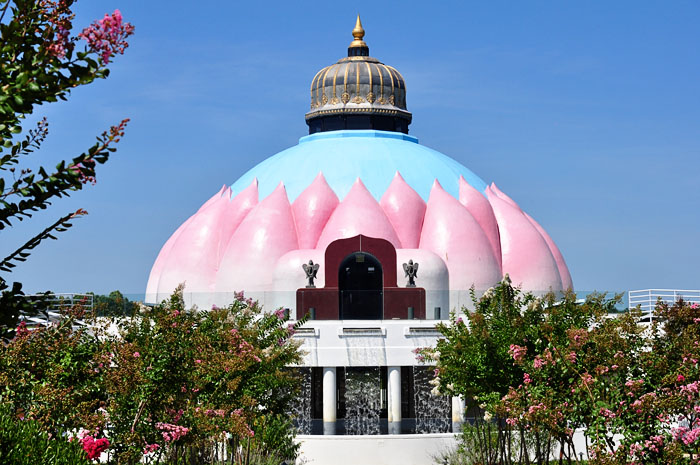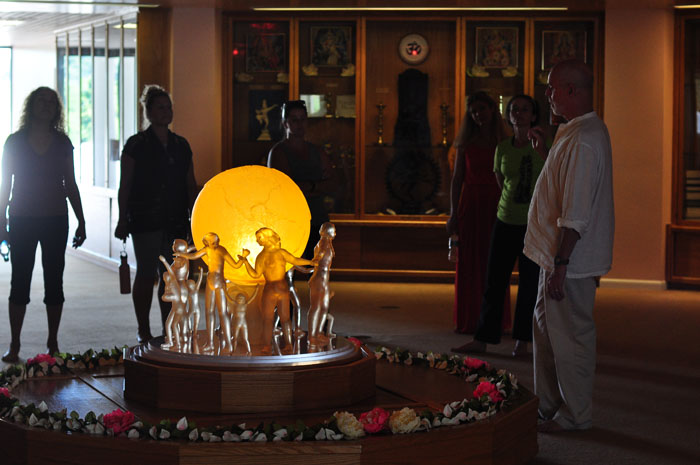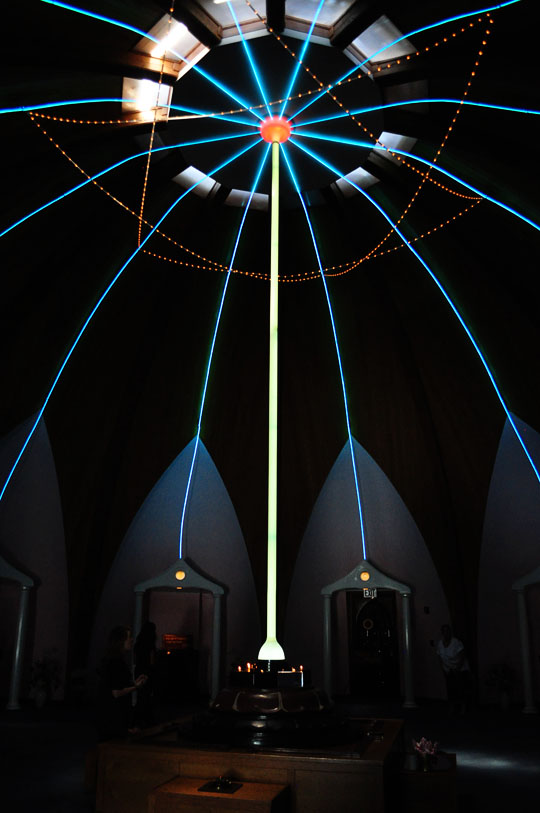 My Takeaway:
Initially, I didn't feel like I belonged at a place like Yogaville. It was a struggle for me to adjust to the schedule and exist alone in my head without the distractions of television or even working cell service or internet. (WiFi is available for free at the coffee shop and for $5/day anywhere else on the campus.) I don't know if you know this, but my mind is wired, guys — like a baby bunny after a bowl full of crack. Also, I'm kind of a social person. So immersing myself in an environment where I didn't know anyone and excessive chatter isn't all-too-common felt like leaping into space without any oxygen.
But then I met Puja. And then Jenn. And then Amy and Jen. (Turns out they were all sharing a dorm room.)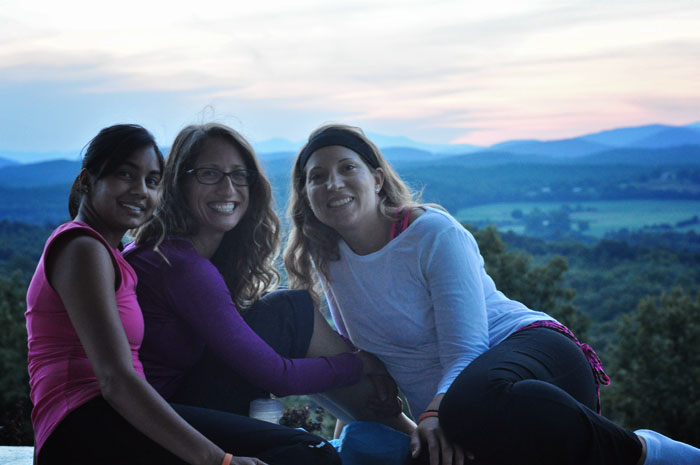 Puja, Amy, and Jen.
And while it may not have been what I was supposed to be there for, I spent hours talking with these women, learning their stories, and connecting with people I otherwise never would have known.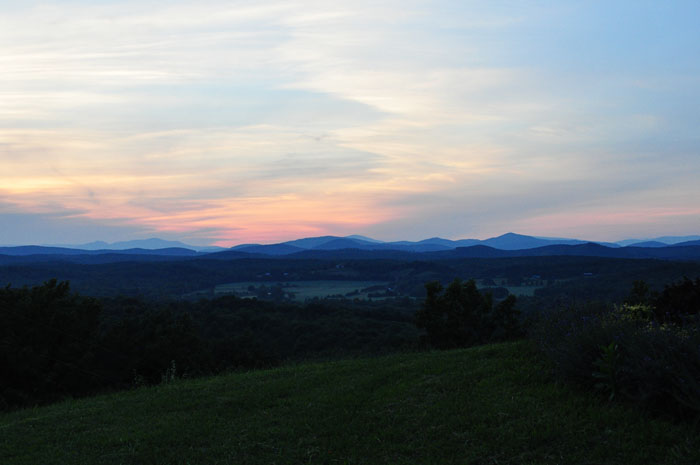 Connecting with people is my favorite aspect of travel (aside, you know, from food), and what do you know — I learned I didn't have to go far to experience that same sense of euphoria.
Upon our departure the next day, Amy gave me a handful of cherry tomatoes from her garden. I plopped them onto the forlorn and inappropriate shorts I'd left abandoned on my passenger seat and pulled onto the main road — back to the white noise, back to my WiFi, back to my makeup and hair dryer, yet taking with me a sense of something more.
I still have learning left to do.
While the social aspect was something I needed at the time, Bill explained to me that yoga is a personal inward journey.
Now I have some of the tools I need to practice at home, and Yogaville is just a few hours away if I need some respite. And I 'm happy for the outward connections I made while there. Those tomatoes? They were the sweetest ones I've ever tried.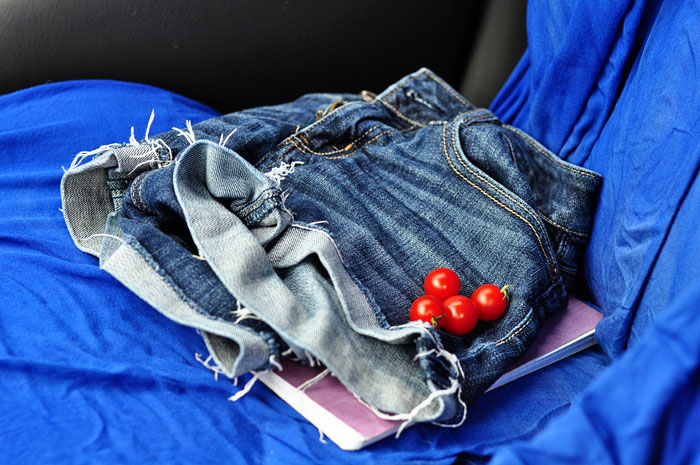 This is the type of experience that will be different for anyone who goes. But if you're curious about yoga, meditation, or the idea of embracing all cultures and religions, Yogaville is a wonderful place to visit.
What to bring:
Loose, modest clothing — Most of the time I wore no makeup, yoga pants, and a t-shirt. But I would've been even more comfortable in long, loose pants and flowing linen shirts. Out of respect, below-the-knee pants are required in the meditation halls. (Update 8/22/14: Bill maintains that shorts — though maybe not "short-shorts" — are totally okay to wear at the ashram during classes and leisure time. After all, how can a place with so much spandex be uptight about clothing? Touché, Bill. Touché.)
Flip-flops and tennis shoes — Flip flops were great for day-to-day use, since shoes are removed in every building. (Yes, including the dining hall.) I was glad I'd also brought tennis shoes though for hiking the numerous trails.
Book — There are no televisions in the rooms, and while you'll likely be exhausted at night, reading a book was a nice way for me to relax even further before going to bed.
Yoga mat — They have mats available there as well, but it's better to bring your own.
Bug spray — Trust me on this one.
An open mind — Yogaville was a harder place for me to adjust to than most. It seemed like just as I was getting comfortable, it was time to leave. I spent too much time worrying what others might think of me — my awkward clothing, my loud laugh, the fact that I clearly wasn't enlightened — instead of just existing. Yet I found myself in a place that was trying to teach me to do just that — and in an arena where people from all over the globe and all walks of life come together specifically to embrace differences, spiritually grow, and not make judgements.
Now, for next time, I'll know.
And I'll try not to lock myself out of my room.
Disclosure: My Welcome Weekend visit was provided by Yogaville. But, rest assured, all opinions are entirely my own.