Indulgent Introspection. (And A BIG Travel Announcement.)

You know.
Back when I was twenty-five and newly gradumatated and off to my big Geographic Information Systems job with an environmental consulting company in a building with glass doors and elevators and a receptionist, it never occurred to me — not even the tiniest bit — that the day I'd finally make my last student loan payment would also be a day I'd be getting excited about a call back for a coveted part-time position at a gourmet food shop and cafe. It never occurred to me that I'd also be working as a freelance virtual assistant, enthusiastically (and genuinely) helping another person bring her own dreams to fruition. (Or at least, you know, dealing with the distractions so she can bring her own dreams to fruition.) And it certainly never occurred to me that I'd be spending most days at home, writing, researching, walking the mutts, cooking, and cultivating this groundwork for something — never really understanding just what that something is.
I sometimes have that moment. You know that moment, in the book Eat, Pray, Love, when Elizabeth Gilbert describes herself curled up on the bathroom floor, snot-nosed and ugly crying, asking God or the Universe for some kind of direction?
Been there.
But never — not once — have I received an answer. No calming voice telling me to go back to bed. No clear way of working things out. Nothing. Empty.
So yesterday, I let go.
It wasn't so much an epic "eff it" moment as a slow, resigned release — like a pinprick hole in an over-filled tire. I stopped vying for control. I stopped calling myself a failure. I stopped looking for answers.
And then I got the call back for that part-time job.
This morning I stepped into my office, steaming coffee mug in one hand, bowl of granola-topped yogurt in the other, and sat down on the deflated toss pillow I use to pad my old, worn office chair. I looked pensively at the little zen calendar (this one) gifted to me by my friend Angie — you know the kind where you tear off a sheet each day to reveal a new quote? I stared at it, apprehensive about what it might tell me today. Sometimes they're duds — like the fortune cookies that spout some horrific b.s. advice when all you wanted was for it to predict your entire future. But sometimes they're weirdly profound — like the exact thing you might need on that given day.
Today, I got lucky:
"You ask me what you should do and what you should not do? Just allow yourself to change naturally."

–Chuang Tzu
So there you go. The answers always come when you just stop looking. Like love and lost keys and the full series of Dawson's Creek on Netflix.
And today is the day I start allowing myself to change.
If you've been reading this blog for any length of time, you know — that domestiphobia, it gets me.
Usually it gets me in the form of wanderlust. And, like, it doesn't really matter that our kitchen renovation is carving a canyon — I'm pretty sure it's bigger than that one they call the "Grand" — into our savings account or that plane tickets to Europe currently cost the same as a mortgage payment.
Because it's only money, right?
I mean, my student loans are DONE. And it's not like Justin and I will starve to death. (*quickknockonwood*) We just might need to eat a little less… fancily for a bit. You know, Food Lion Brie over Fresh Market Camembert. Harris Teeter's generic green olives over World Market's Castelvetranos. Trader Joe's Charles Shaw Cabernet over a wine shop Italian import.
Oh, how we suffer in the name of travel.
On the plus side, if I bring a large enough suitcase I might just be able to bring some Italian wine home with me because, guys —
I AM GOING TO ITALY!!!
If you haven't signed up for my exclusive emails yet, you missed the news when I first announced it, but I've been invited to spend SIX WHOLE DAYS with The International Kitchen for their Women Only Week® Mediterranean Cooking Experience on the Amalfi Coast this October.
It starts on my 32nd birthday.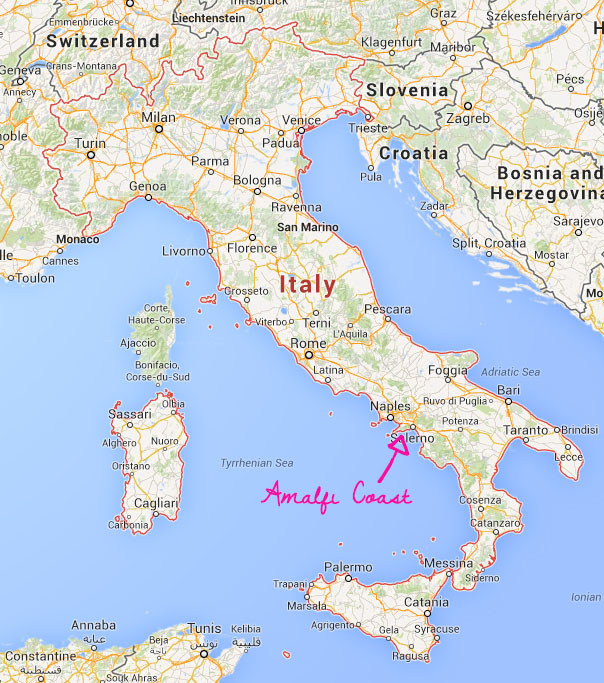 The Amalfi Coast itself is known for its striking beauty — colorful cliffside villages tumbling down towards sandy beaches that crest the Tyrrhenian Sea.
I mean, here's what happens when you Google it: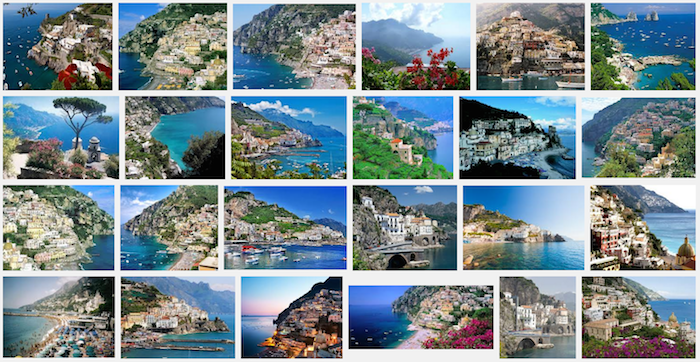 Since it's a "Women Only Week," Justin won't be there, but my friend Alaina jumped at the chance to escape her children stick a stamp in the passport she hasn't used since her honeymoon — six years ago. When she saw what the tour entailed, she bought a ticket almost immediately (after minimal convincing of her amazingly supportive husband). We won't be staying directly on the coast, but in a tiny village called Sant' Agata sui Due Golfi, named accordingly because it sits on the tip of a spit of land between the Golf of Salerno and the Gulf of Naples.
Our hotel, the 4-star Relais Oasi Olimpia, was originally built in 1892 as a luxury residence for a rich German aristocrat. Now its wine cave, tennis courts, al fresco dining room, exercise room and swimming pool will be our luxury residence for seven nights, and I plan to enjoy every bit of it. (Except maybe not the pool, because October. And also the exercise room, because exercise. In Italy. I mean, come on — the only exercise I'll be needing is the free-weight lifting of my fork — and wine glass — to my mouth.)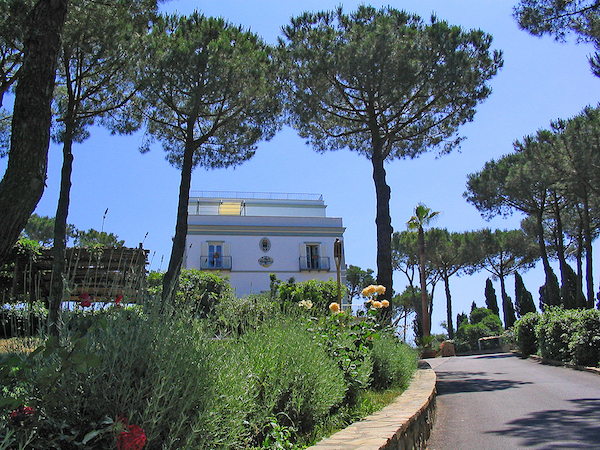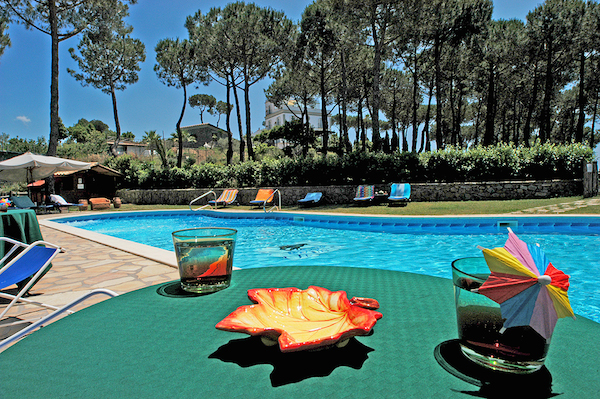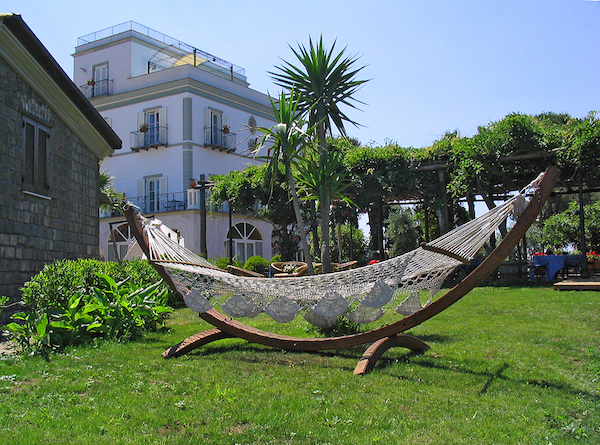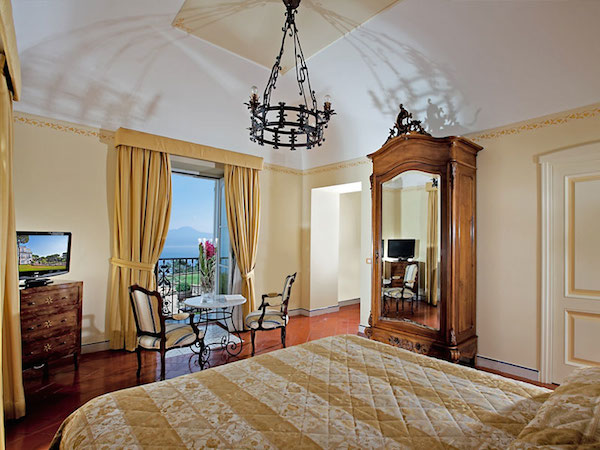 What exactly is a "Culinary Vacation?"
Well. Beyond the city food tours I've been introducing you to (which I love), and simple cooking classes (which I also love), a culinary vacation is an extended experience — days of living, breathing, exploring a region from a culinary perspective.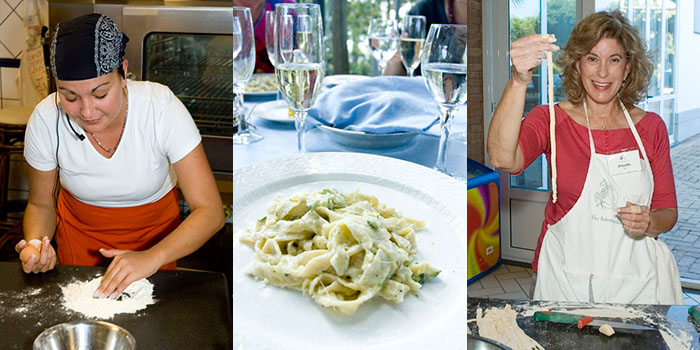 For our Mediterranean Cooking Experience, we'll not only be eating the food — we'll be making it. From fresh gnocchi to Neapolitan pizza, delicious calamari to artichokes, we will prepare, taste, and learn about the cuisine of coastal Campania from an actual Italian chef.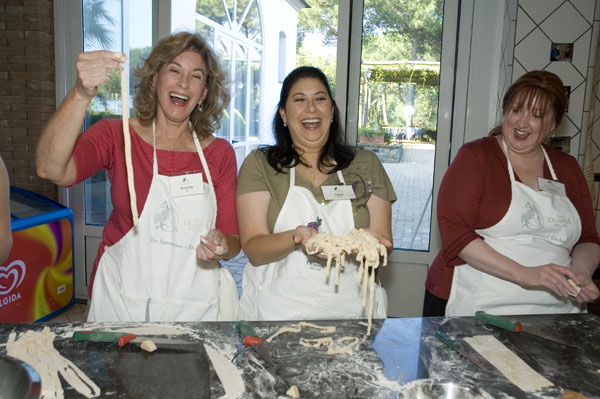 I don't know who these women are, but they look like a lot of fun.
We'll also get to visit some of the stunning cliffside villages of the Amalfi coast; tour Pompeii, the famous ancient village decimated by Mt. Vesuvius; and sample olive oil, limoncello, and fresh mozzarella from a local farm.
Also, there will be wine.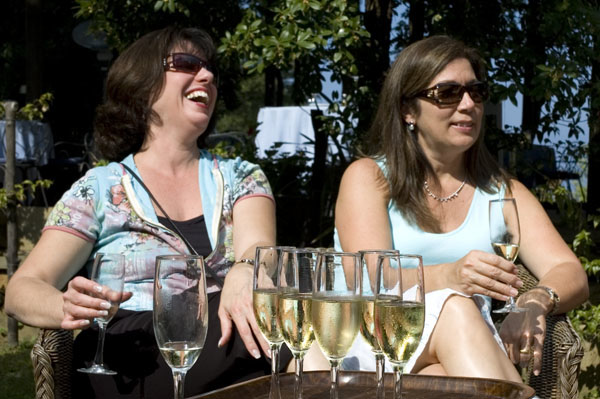 I know many seasoned travelers scoff at the idea of a guided tour, but to me, this is the ideal way to explore a country. At its heart, this tour encompasses all of my core values about immersion travel, locally produced food, supporting boutique hotels, and cultivating a culinary education.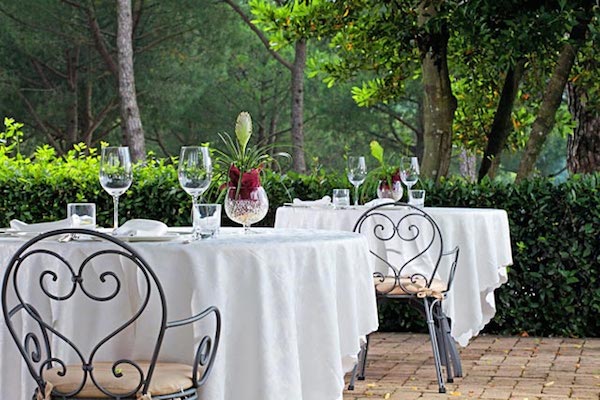 I couldn't tailor a trip more suited to my particular set of ideals, and I didn't have to because the incredible team at The International Kitchen has already done it for me.
I'm letting go, and good things are happening.
And although it sounds I'm already biased in their favor (probably because, hello, this tour looks incredible), rest assured that all opinions of this experience will be entirely my own.
*Images of Relais Oasi Olimpia and culinary vacation provided by The International Kitchen.
Other Posts That Might Interest You:
Why I didn't graduate until I was twenty-five.
Learning to make fresh pasta at The Flavor Exchange.
Tasting Arancini at Eataly in Chicago (video).
Recipe for Rustic Pasta Carbonara (one of my favorites).
Culinary tour in downtown Chicago.