5 Simple Rules For Hosting A Foodie.
"Quick! I have a foodie friend coming to visit — where should I take her to eat?"
When I saw the message my friend had posted on Facebook, I wasn't sure whether to laugh or feel mortified about the obnoxious level of navel gazing I must have finally reached in order to inspire a social media status update such as this. Dee and I had never met in person, and I planned on stopping through her town for a quick breakfast on my drive from Chicago to my grandma's house in Wisconsin. It never occurred to me that my pit stop might actually cause stress — however minor.
And this wasn't the first time I'd noticed.
Sometimes sarcastic and seasoned with annoyance, friends or acquaintances will ask, "Well where do you want to eat, Miss Foodie?" Or sometimes timid with a pinch of trepidation, "This is just a basic recipe. Just something I throw together. It's not a big deal, so don't expect a big deal. Were you expecting a big deal?"
And the thing I hate to admit about myself is that yes, sometimes, I was.
But I'm pretty sure their idea of a big deal is different from my idea of a big deal. And I don't like it — this idea that people might worry about what I think of what they're feeding me or where they're taking me, because I'm not typically a high-maintenance kind of girl.  The thing is, as a lover of food, I don't really care where we go or what we eat, as long as there are good things to put in my mouth. Things that you care about. Things that are real. Things that didn't come from a box or a pouch.
Oh, and you can't get annoyed when I talk about them.
Feeding me never has to be a huge production involving a 9-course dinner with professionally paired wines, but fellow foodies understand — there is a set of unspoken rules when it comes to hosting someone who loves a good meal if you want to impress them and inadvertently encourage their food snobbery. Because while true foodies — who also happen to be decent people — will eat whatever you put in front of them, there are several factors determining just how much they'll actually enjoy it.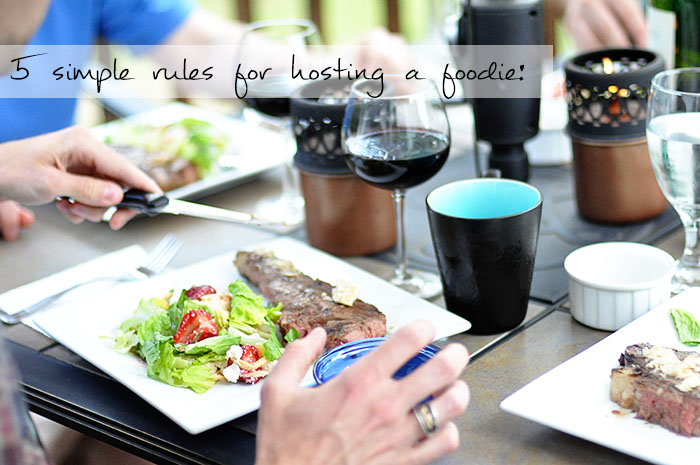 5 Simple Rules for Hosting A Foodie:
1. Don't take them to a chain.
Seriously. This should be Rule #1 for hosting anyone — not just foodies — and seems so obvious that I feel a little ridiculous putting it in writing. And yet. When my sister's boyfriend recommended we eat at the Hard Rock Cafe while visiting his home city of Chicago, it took all of my willpower not to advise her to break up with him immediately. It was worse than the time she dated The Picky Eater, because at least The Picky Eater didn't try to make me eat crappy food, too.
Chain restaurant food consumption should be reserved for lazy family nights, travel desperation, and hangovers. That's it. I understand that chains maintain loyalty through nostalgia, but tucked safely in your memories is probably where they should stay. To this day, I cannot pass by a Perkins without reminiscing on fluffy buttermilk pancakes with warm maple syrup followed by a slice of peanut butter cup pie. In my family, Perkins nights were the best nights. Hardly anyone fought, lest we ruin our chance for dessert. And yet. Would I take a guest out to Perkins for my much-beloved breakfast at dinnertime? That same restaurant they saw perched at the edge of every other overpass along I-95?
I think not.
2. Unless that chain happens to be unique to your region. Then you can take them there.
Food appreciation is all about exclusivity. Can you get it somewhere else? If so, it's not impressive. If not, it still might not be impressive, but it's definitely worth a try. Driving around Texas with my friend Stacy, I couldn't help but notice a chain I saw over and over called Taco Cabana. Curious, I requested a stop. I mean, the place was everywhere. And it couldn't be everywhere if it wasn't at least a little bit good, right? And it was. Typical fast food, but I remember a choice of brisket and an especially unique salsa bar with at least six different options, and I knew — if I lived or happened to be passing through Texas (or New Mexico or Oklahoma), Taco Cabana would be a reliable choice for a lazy family night dinner.
Or a quick travel pit stop.
Or a hangover.
And even though it's a chain whose quality is oft disputed, it's culturally significant to the area and adds to the travel experience.
3. Atmosphere matters. But not the way you might think.
Cliche as it is, some of the most memorable food I've consumed was purchased from places where I might normally be afraid to wash my hands. Like that chorizo taco in Costa Rica that was cooked like this: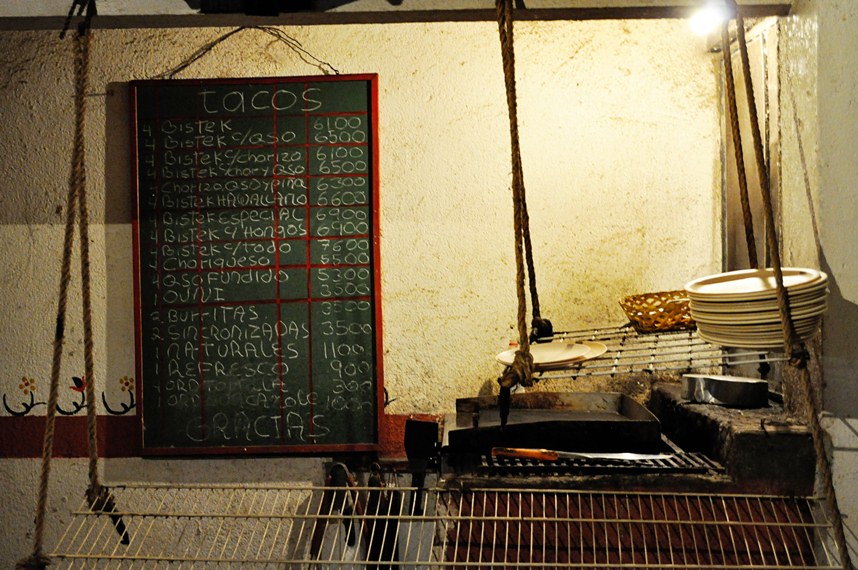 But tasted like this: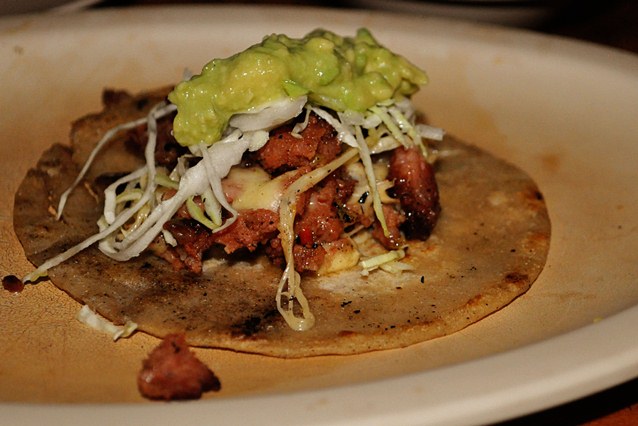 Key atmospheric elements to foodie enjoyment are not necessarily white linen table cloths and fine crystal wine glasses, but comfort. Sincerity. A genuine desire to cook something delicious and see it consumed by someone who understands.
When my foodie friends Matt and Danielle came for a visit, I didn't even cook them a real meal — just a bruschetta bar: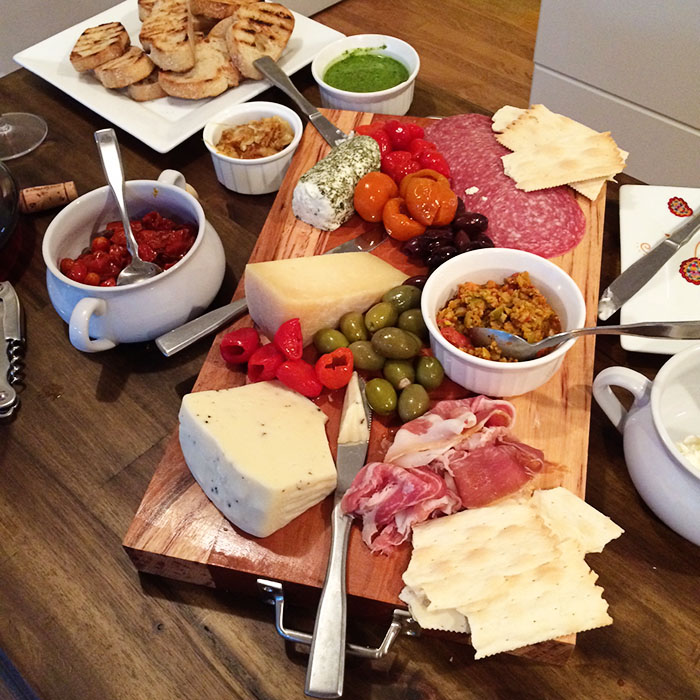 My kitchen was a construction zone, yet we didn't bother to move to the table. Gathering around the overstuffed cart filled with good food and nice wine, no restaurant could have competed with my raw drywall, bare bulb light fixtures, and a cooking mess of gargantuan proportions. When fun friends who just love food are involved, the rest doesn't really seem to matter.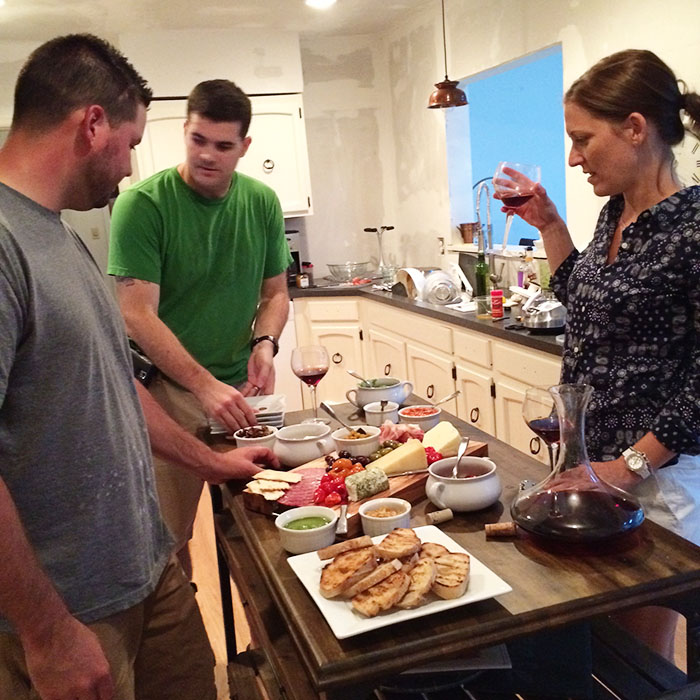 4. Take them somewhere you love.
Foodies are typically the least picky eaters of all time. Pork belly? I'll taste it. Vegan bean burger? Might be good. Braunschweiger? Why not? If there's a significant cultural culinary reason to do so, we'll try anything — or in my case almost anything — at least once. I'll admit that when Victor told me I had to try Henry's Puffy Tacos in San Antonio, Texas, that I was a wee bit skeptical. Especially after he told Stacy and I to walk close so we wouldn't get mugged.
But then I tried it.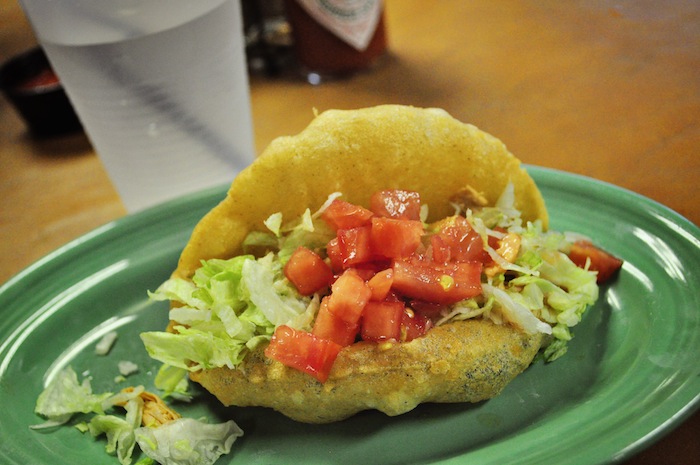 And there was something about it. The taste of tradition. Of authenticity. Of Victor's happy childhood memories and also the delightful puffiness of it all. The flavors didn't send me into a frenzy of foodie excitement, but the idea did.
And that was enough.
5. But don't take them somewhere you love too much.
We recently ran into someone who, while stationed in Omaha, Nebraska, had tried these crazy little Hot Pocket-esque sandwiches from a local chain called Runza, and she pretty much expressed that she thought they tasted like warm snot-filled rags.
I thought I might have to hold Justin back.
See, Runza is his much-beloved childhood chain, and she might as well have called one of his little sisters a fugly, bug faced brat. And while us foodies might be the least picky eaters of all time, we're also the most picky eaters of all time. If something's not up to par — it's a little under-seasoned, a little over-cooked, lacking a little sumpin' we don't even know how to name but dammit, it's missing — you're definitely going to hear about it.
And hear about it.
And hear about it.
So if you can't handle hearing the good and the bad about that restaurant that feels like family, it might be best to leave it off of our radars.
Fuzzy Runza.
Fortunately for both of us, Dee managed to follow all of the foodie hosting rules, and my fried egg-and-cream cheese croissant at her local coffee shop was the stuff of dreams.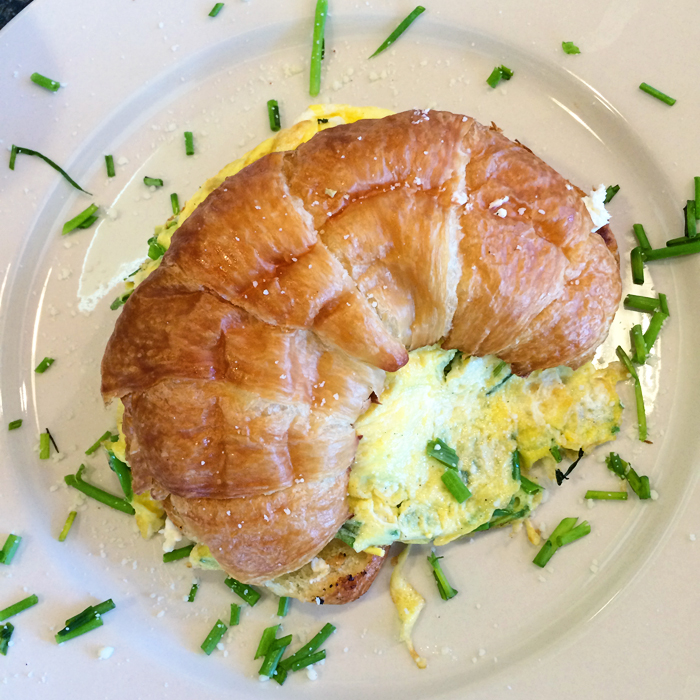 The perfect pit stop and a breakfast I won't likely soon forget.
And really, pleasing me is what life's all about.
What other foodie feeding rules would you add to this list?