When Life Gives You Lemons, Make Limoncello. (TIK Tour Day 2, Part 1)

"We're here!"
Our driver/hotel-concierge/fixer-of-drinks/good-humored-token-male-during-women-only-week Tony, seemed pleased with himself. We were stopped on a two-way road that was, quite inexplicably, only slightly larger than the width of one vehicle, mere inches away from a solid stone wall. The six women in our group stumbled out of the van, where we were greeted at the gate by Antonio Gargiulo, olive oil maker extraordinaire.
Now.
It's really important that you understand something before we get too involved with my posts about Italy. What you need to understand is that every single man from southern Italy is named Tony. Or Antonio. Or Antonino. Or Tonino. Or just Nino. Sometimes there's a Salvatore or a Stefano for varietal purposes, but a good rule of thumb is if you've forgotten a man's name anywhere south of Rome, Tony is a pretty good guess.
So.
Tony — Tonino — was our concierge. And Tony — Antonio — was the maker of the olio.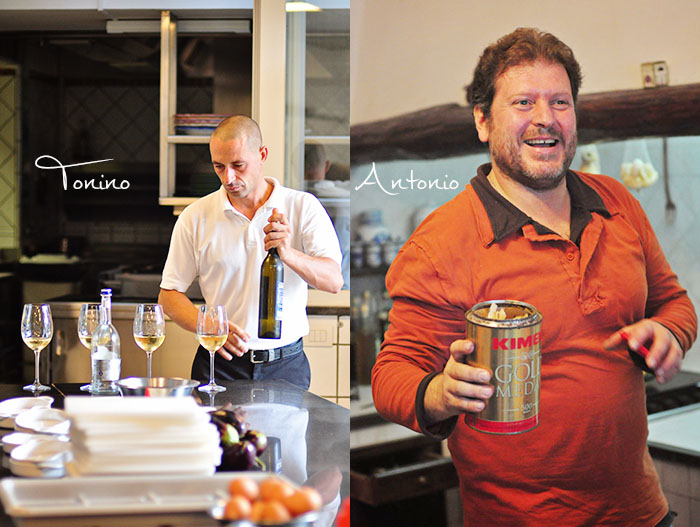 So Tonino left us with Antonio, and the six women of The International Kitchen's Women Only Week spent the morning learning how to make two primary culinary representatives of Italy's Campania region — mozzarella cheese and limoncello. (Pronounced lemon-chello.)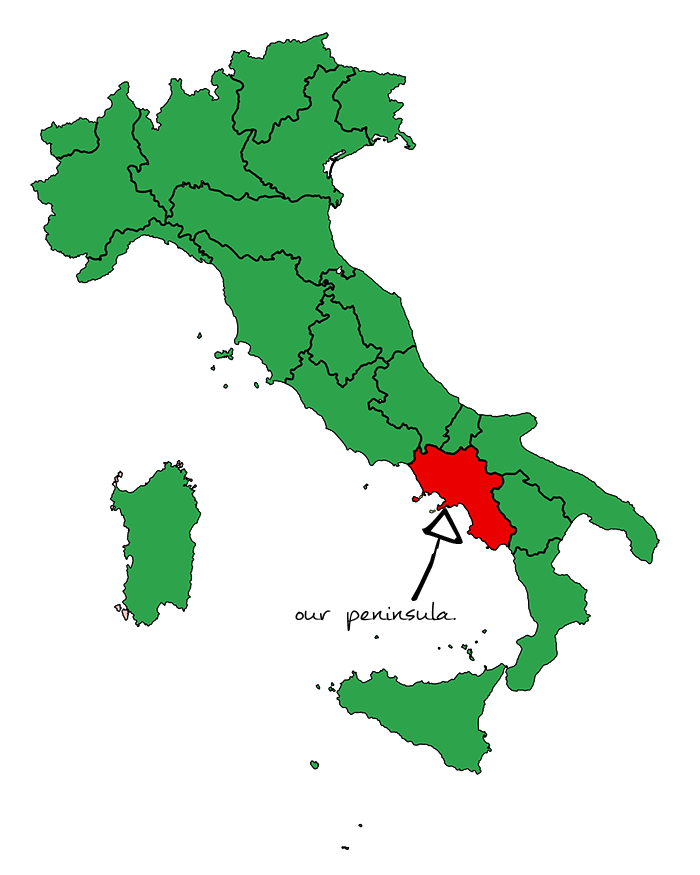 I know. When I think of Italy, I typically think of pasta, too. And don't worry — it has plenty of that. But it turns out the Mediterranean region surrounding Naples has an entire subculture of cuisine consisting of fresh seafood, tomatoes, chestnuts, cheeses, olives, and lemons, lemons everywhere.
I learned that in Campania, when life hands you lemons, you make limoncello.
But first, the cheese.
Leading our foray into the exciting world of fresh mozzarella was Antonio's mother, Nonna Rosa.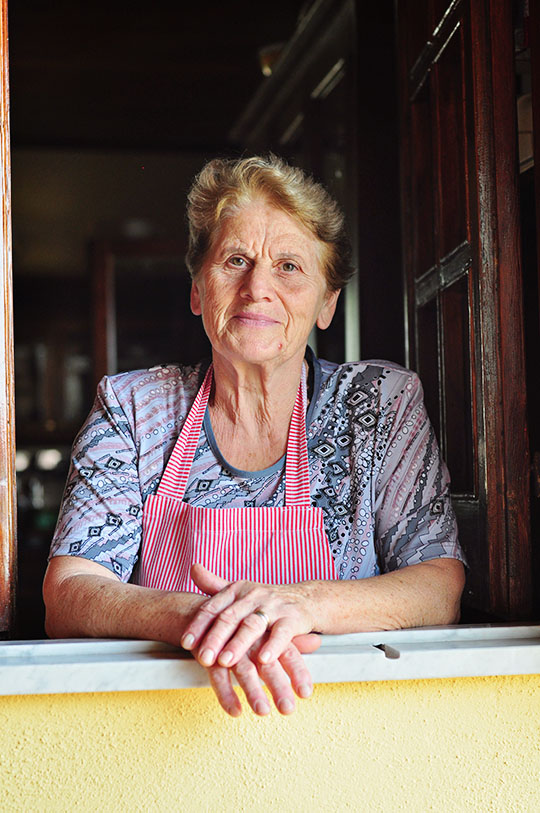 Nonna means "grandma" in Italian, and by the time we were finished, you'd think she was our grandmother the way she doted.
Nonna Rosa demonstrated several different kinds of cheese-making. I'll be honest and say that I wasn't paying too much attention to the specifics of the process; instead, I was snapping pictures, taking video, and thinking constantly about when we'd get to taste the cheese.
I kind of have a one-track mind when it comes to food.
It was pretty amazing though to watch as she and Antonio added hot water to the curds in a giant earthenware bowl while she mixed with her undoubtedly calloused bare hands until what looked like a globular mess of liquidy chunks fairly quickly transformed into a silken, smooth strand of the freshest mozzarella, which she then shaped into various shapes like this fun hangy sac: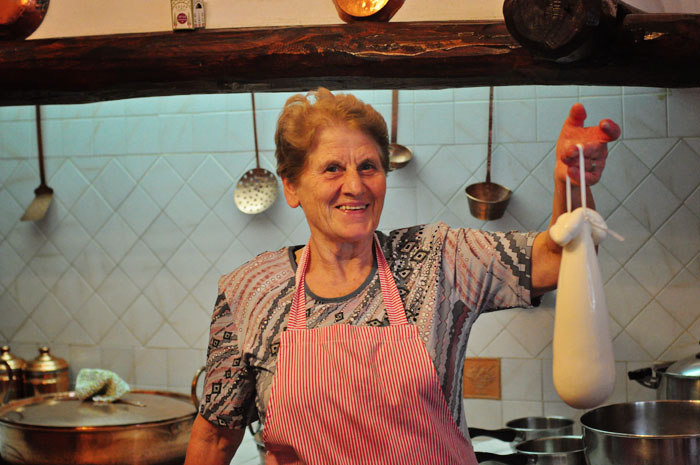 And this lovely braid: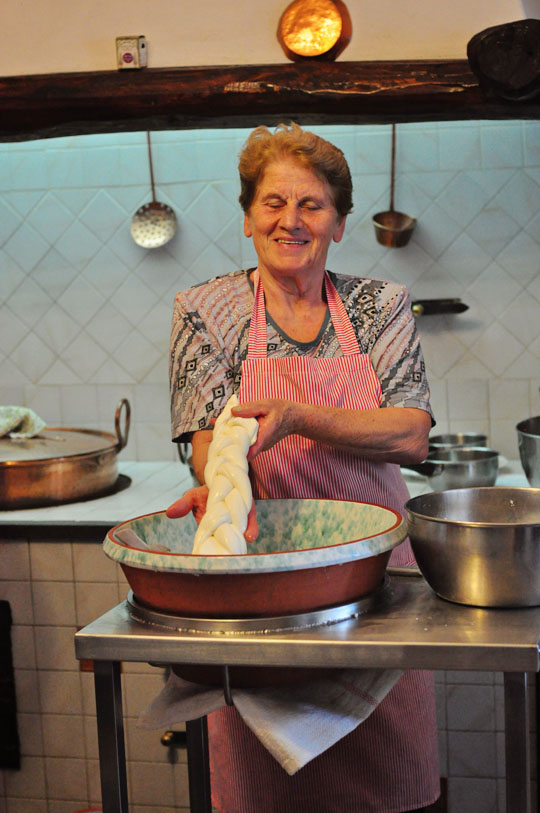 And this delectable looking cheese wreath: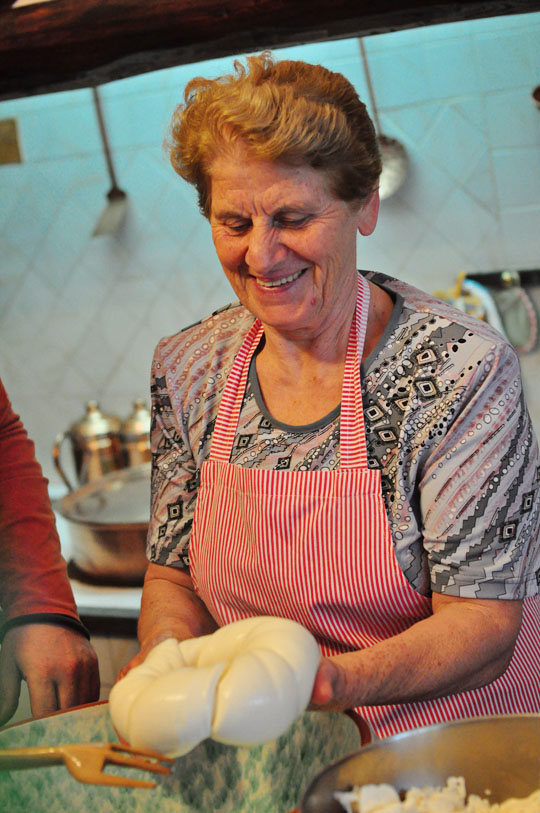 All I want for Christmas is a cheese wreath.
Nonna Rosa has been making cheese for over six decades, and her skill as an artisan was incredible to watch.
Betsy, one of our group's two sassy Texans, offered to help with the cheese-making process — something I regret not jumping in and trying myself!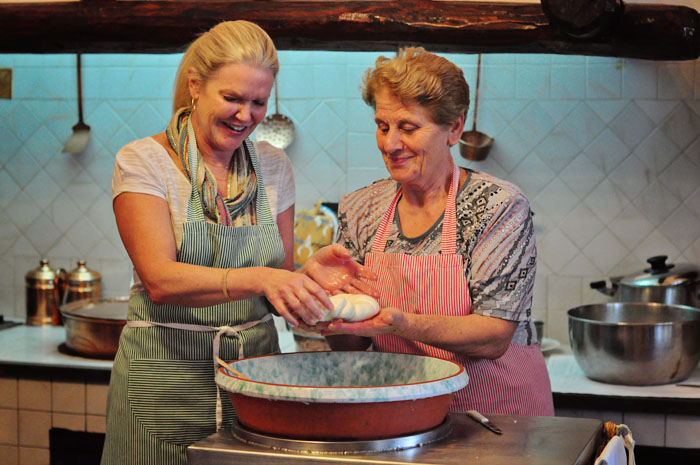 And while she proffered helpful tidbits like, "it feels like egg whites!" the best way to get a feel for how this delicious stuff comes together is to see it for yourself:
After learning all about cheese, just one of the Gargiulo family's specialties, Antonio showed us a bit of his terraced hillside property, including his small lemon orchard, happy animals, and outdoor kitchen overlooking the Mediterranean Sea.
Alaina and I were digging the lemons.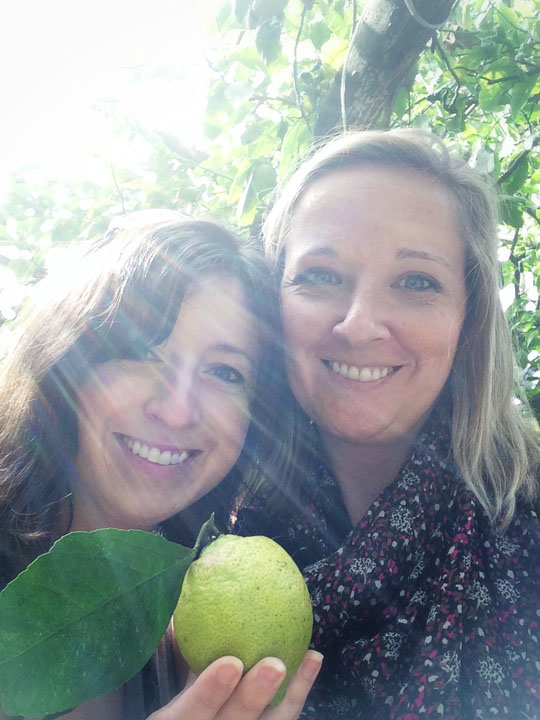 Eventually, Antonio led us to a relaxing terrace where we had what in my world constitutes a perfect mid-day meal: local wine, salami, grilled vegetables, bruschetta, fresh tomatoes, and some of the incredible cheese we'd watched Nonna Rosa make earlier. We drizzled everything in Antonio's olive oil except one of the cheeses, which I doused liberally with his lemon infused oil.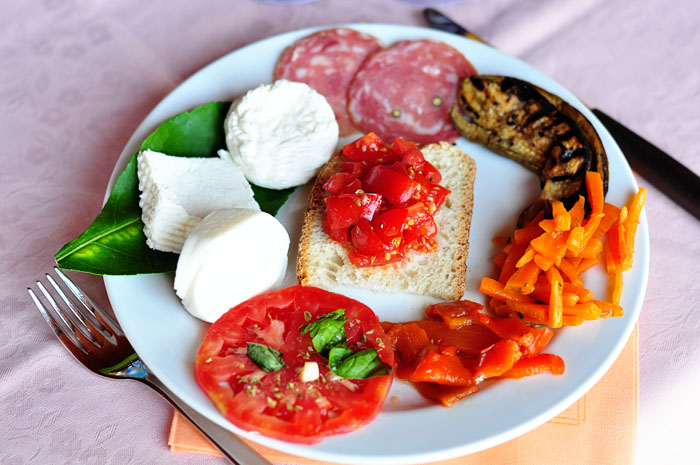 And then I died.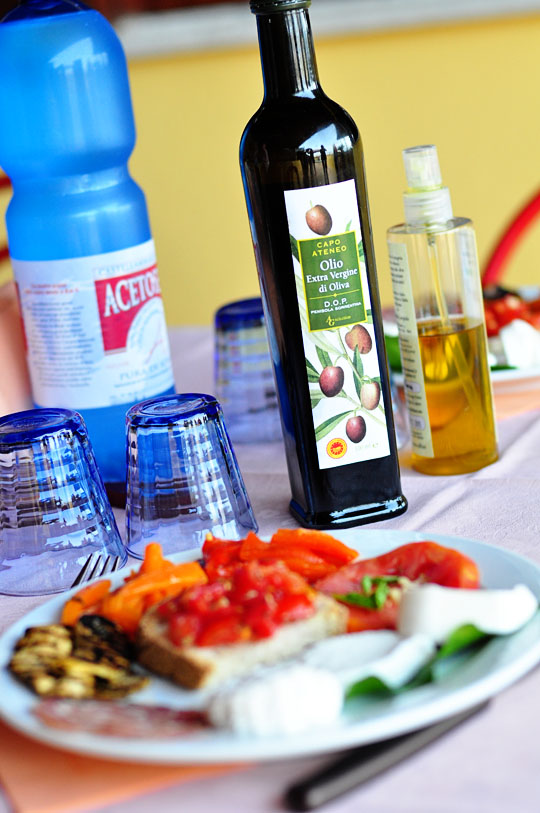 I have no regrets.
One of the things I loved most about this tour (and life in Italy in general) is that I never felt rushed. We could've sat on that terrace all day, gabbing in broken English with Antonio and broken Italian with Nonna Rossa, and I don't think anyone would've gotten bored.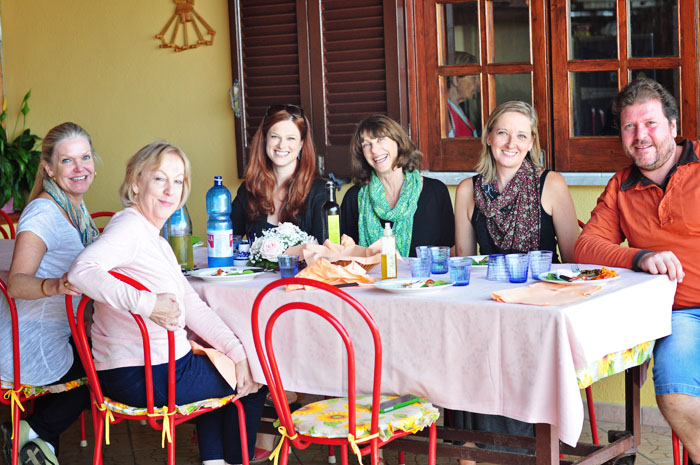 (Betsy and Renee, the Texans; Jessica and Valerie, daughter/mother Californians; Alaina, my bff; Antonio, olive oil and limoncello genius.)
Just when I thought my stomach couldn't get happier, Nonna Rosa brought out some homemade tarts.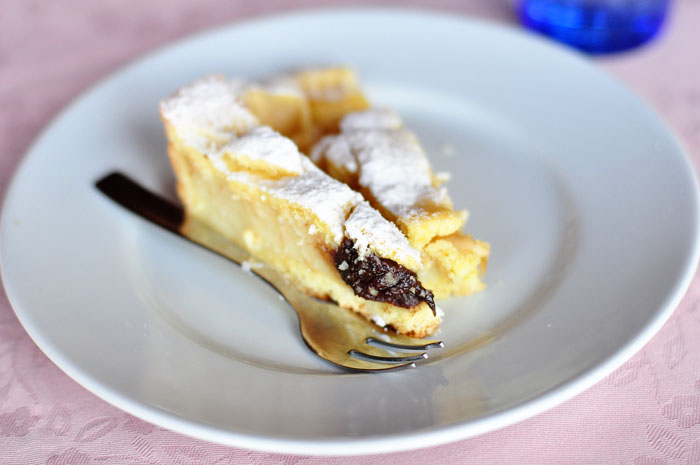 And of course, there was limoncello.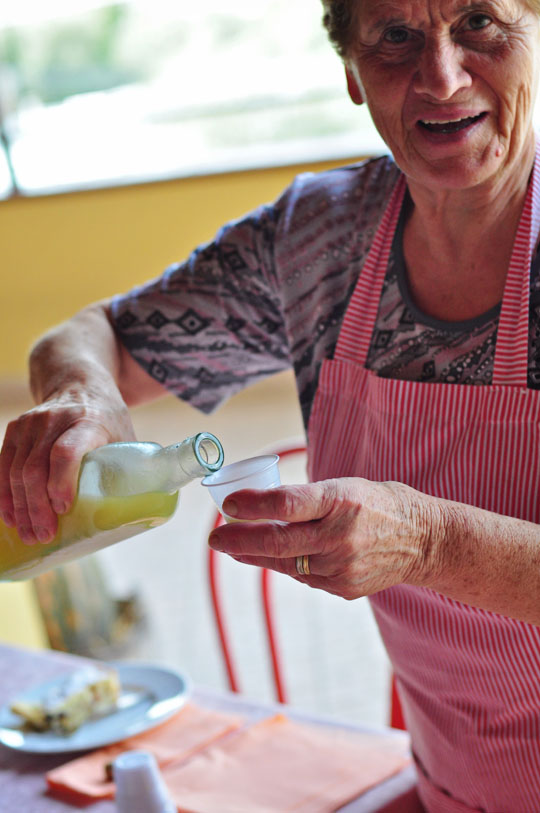 Here's the thing about limoncello — people tend to love it or hate it. I happen to love it. It's a viscous, sweet, adult-spiked lemonade. As my dad would say, "It puts hair on your chest."
Antonio demonstrated how he makes his particular version, with lots of lemon peel, grain alcohol, and sugar water. That's basically it.
Feeling pretty good and liquored up at this point, chest hair and all, Antonio strategically took us to his shop room where he and his wife store their various bottled oils before shipping to various vendors. There, he let us peruse the shelves and purchase different plain and flavored oils to take home. I bought a large tin of plain olive oil, and a gift pack of smaller sized flavored oils and I know that once I use it up, it's going to be really hard to go back.
After traveling extensively throughout the U.S. and UK as a chef, Antonio found he couldn't deny the familial pull that led him back home after his father passed away. And ever since then, he's been striving to grow a family business that plays into his culinary passions.
Often, people seem to dislike taking tours when they travel because tours imply other — they tend to represent an "us" and "them" mentality that separates us — the tourists — from them — the locals. To that, I have two things to say:
1) If you don't live in a place — and especially if you weren't born there — it's very likely there's going to be an "us" and a "them" regardless of whether you're traveling with a tour group or not.
2) A well-executed tour is going to give you an opportunity to interact with some locals far beyond a casual exchange with a waiter or a chance encounter at a bar. A tour can provide a local with the opportunity to educate visitors about his country, his livelihood, his passion — and get paid for it.
I could already tell from the first half of Day 1 that The International Kitchen pulls the local experience off seamlessly.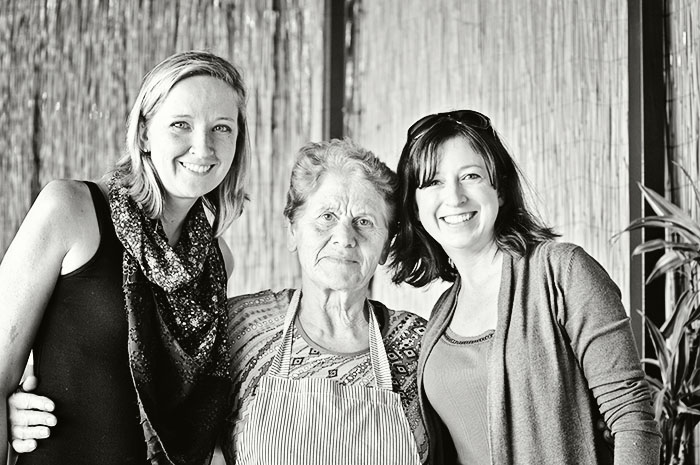 And if I ever make it back to this tiny village by the sea, I know where I'll be buying my olive oil.
Disclosure: My Women's Only Week Culinary Vacation was provided for review by The International Kitchen. Rest assured, though, that all opinions — as always — are entirely my own.