How To Cook And Eat A 4-Course Meal. (TIK Tour Day 2, Part 2)

Two nights ago, the weather turned spicy cold. Well. Spicy cold to a 10-year southeastern U.S. transplant. Spicy cold means I need to put a thick faux fur blanket on top of the down-alternative comforter and walk around my house with a 3-foot tall space heater in tow. Spicy cold means I crave nothing but chili and casseroles and basically anything with sausage, and I only drink red wine or alcoholic beverages whose names contain the word "mulled." Nothing with ice cubes, thankyouverymuch.
I also learned that spicy cold means it's time to start missing southern Italy, with its dreamy Mediterranean breezes, crisp white wines, buttery olives, and cliffside resort towns. I'm also missing the friends I made there — the sassy Texans, Betsy and Renee, and the classy Californians, Jessica and Valerie. And of course, my friend Alaina.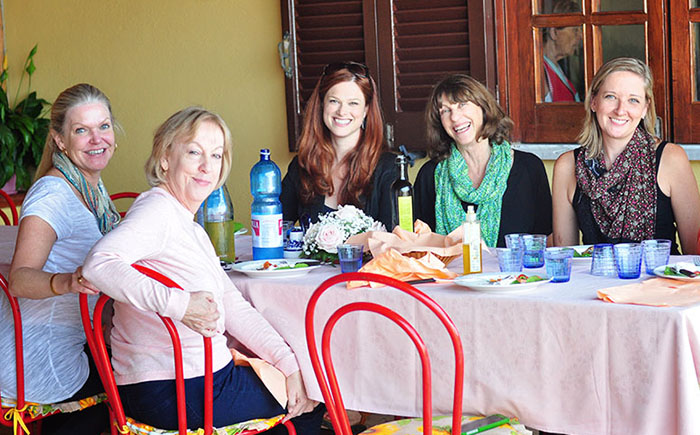 As you can imagine, after 6 nights together in a boutique hotel, several cooking classes, plenty of day tours, and multiple meals shared at the same table, we connected in a way that's rarely achieved by strangers on vacation.
Especially during the cooking classes.
We had 3 different cooking classes in our itinerary for the week, and going in, I had no idea how they would be conducted. On our second day, we returned to our sanctuary of a hotel in the early afternoon after a long, luxurious morning of learning how to make mozzarella cheese and limoncello, at which point we had a few hours to ourselves. Some walked into town for gelato, others took naps, and of course Alaina and I drank wine on the veranda.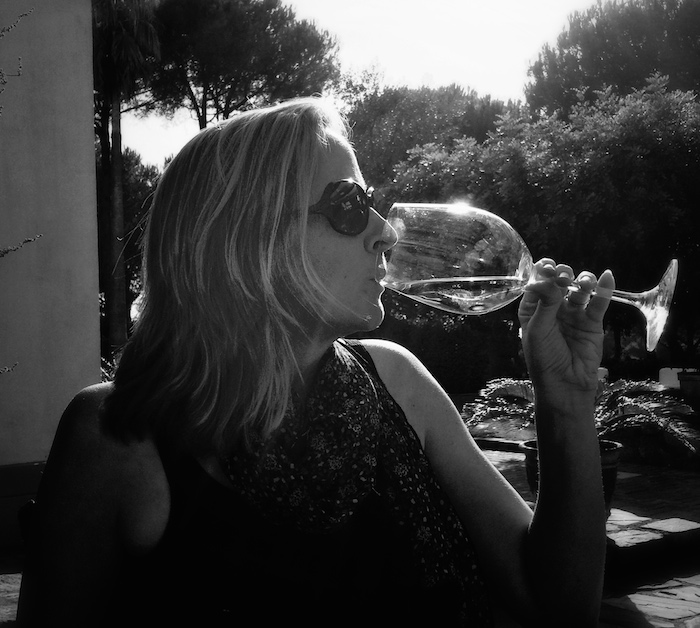 Hey. We'd found our happy place, and this was day 2 of no luggage.
After we'd established a semi-permanent vacation buzz, it was time to meet in the kitchen for our first cooking lesson. Now. I've been to casual culinary classes before and thought, hey. No big deal. We'll maybe whip up some fresh pasta with a tomato sauce and call it a night.
This was not the case.
The classes were casual, definitely, and geared toward beginner to intermediate cooks. But guess what? It turns out beginner to intermediate cooks can cook a lot. That very first night, we made:
Deep-fried Mozzarella Eggplant Rolls
Sorrento Style Gnocchi with Tomato Sauce
Potato Encrusted Filet of Fish
Tiramisu
Had we been a more experienced group, however, I'm sure they could've stepped the classes up even further, but I'm so glad they didn't.
Gathered around the huge lavastone island in the Oasi Olimpia's incredible teaching kitchen, wine in-hand at aprons at the ready, the six of us stared in shock when Chef Carmen brought in a bowl of beautiful silver fish. I mean, she'd told us we were starting with the fish, but I'm pretty sure we'd all envisioned some fleshy little cuts of pre-scaled, de-boned triangles, previously frozen and pulled from the shelves of the local Walmart-o.
What we were not expecting was a bowl full of fins and scales and heads with beady eyes, their lives not long departed.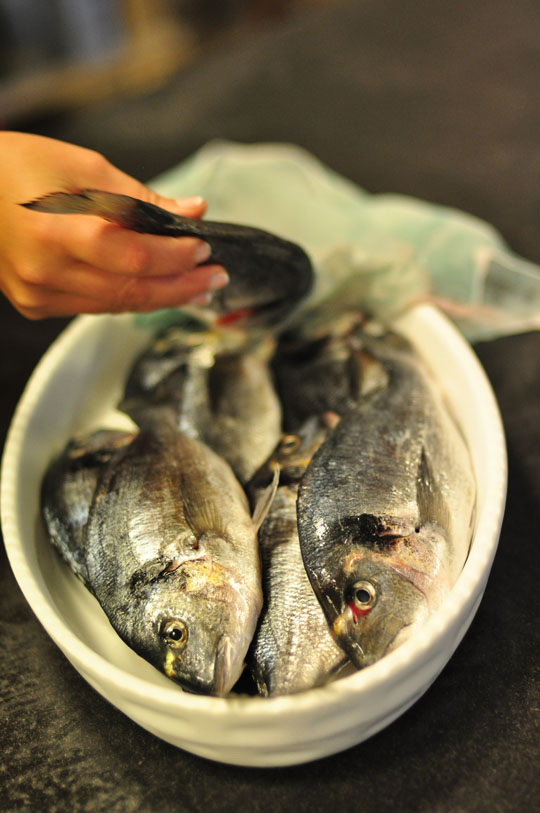 Uh oh.
I'd like to tell you that we were mature about the fish.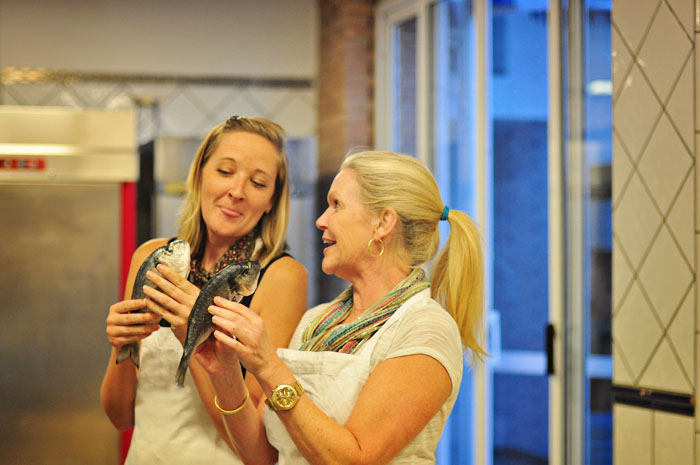 I'd like to.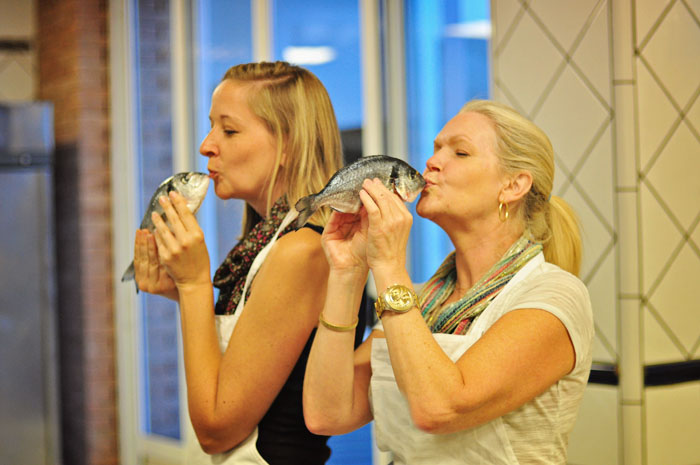 But I can't.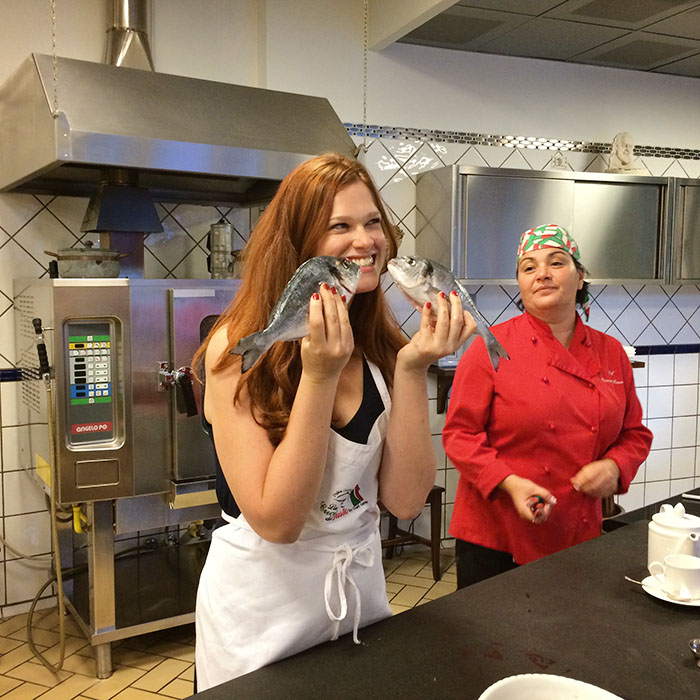 Chef Carmen was disapproving at first, but eventually she saw our side of things.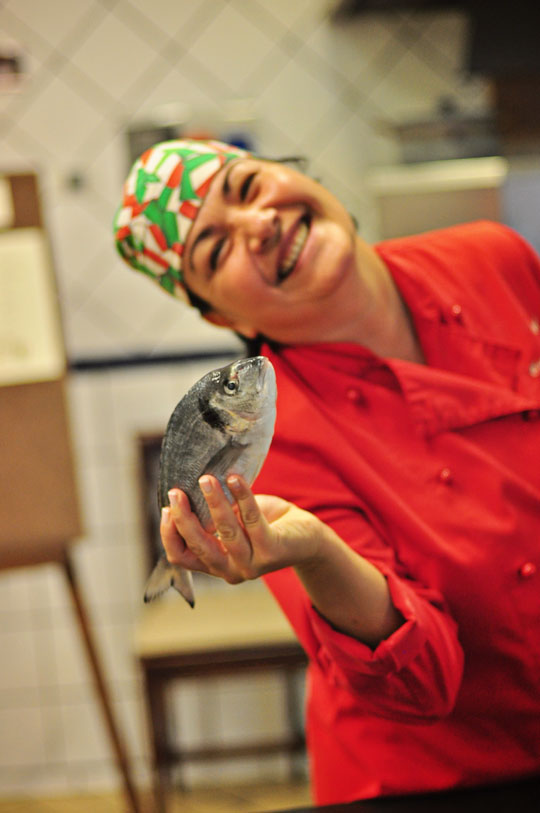 Once we were done respectfully playing with our food, it was time to cook. Chef Carmen taught us how to filet and de-bone our fish. We used a mandolin to thinly slice some potatoes, then we layered them over the fish like scales. Finishing up with a drizzle of olive oil, some salt, pepper, and rosemary, and we'd successfully completed Dish #1.
After that, it was time to make a mess with gnocchi. And make it, we did — everything from peeling the parboiled potatoes, to kneeding and rolling the dough, to cutting and cooking and compiling the sauce.
Somehow, while we were cooking the gnocchi, the other half of the kitchen magically cleaned itself (thanks to Lina, another amazing staff member at the hotel), and then it was time to cook Dish #3 — deep-fried mozzarella eggplant rolls.
This was one of my favorite recipes of the entire trip, and I believe I might try to re-create it to share with you one day.
At this point we were pretty exhausted, but we'd signed up for cooking classes, and they made sure that's what we got. A culinary trip to Italy wouldn't be right without learning to make tiramisu — a creamy, delectable, whipped dessert over coffee-infused ladyfingers — so that was our final dish for the evening.
In true vacation style, our mess was cleaned for us and our food was put in the oven, while we were sent out to relax with an Italian apertif of prosecco — a habit I'm thinking I should adopt at home. The alcoholic array served with typical meals starts with a sparkling light drink, the apertif, to whet the appetite. Then wine with dinner, followed by coffee or espresso — not cappuccino, which is only a morning drink — completed with an after-dinner digestif of limoncello, grappa, or some other puts-hair-on-your-chest kind of spirit to help everything in your body do exactly what it's supposed to do with all. That. Food.
This is what slow dining is all about.
Our first Italian feast was gluttonous, rich, and oh-so-satisfying. We couldn't believe that we'd prepared that delicious food ourselves, and it felt right to take an hour to enjoy it after spending several hours to make it.
Why we don't eat like this in the U.S. every day, I absolutely can't fathom.
Oh, that's right — we don't all have a Lina to clean up our kitchens.
Good to Know:
If your luggage doesn't happen to be lost, bring comfortable clothes and shoes for the cooking classes.
Chef Carmen selects the dishes based on skill level and available seasonal ingredients. She's flexible to suggestions.
Be prepared to COOK! There's plenty of relaxing time on the tour, but the cooking is no joke. You will learn, and you will love it.
Disclosure: My Women's Only Week Culinary Vacation was provided for review by The International Kitchen. Rest assured, though, that all opinions — as always — are entirely my own.