Boutique Hotel Spotlight: Hotel Santa Caterina.

When the driver pulled up to a nondescript building right along the road and heartily declared, "We're here!," my heart sank.
I'd finally arrived in the Tuscan town of Siena after my very first solo foray into a foreign country. So far that day, I'd successfully navigated my way by regional train from a Naples suburb called Frattamaggiore to the main Naples station, planted myself into my plush business-class cabin on a luxuriously fast Frecciarossa train to get to Florence, then found my exceedingly well-hidden and rickety regional train — I believe it was at platform Nine and Three-Quarters — to get the rest of the way to Siena.
By the time I arrived I'd been baked to my seat in the hot, hot sun, and my first order of business was to finagle myself and my luggage into a tiny bathroom stall and perform Cirque du Soleil-worthy maneuvers over the toilet seat to change my sweltering clothes. I'd originally planned on walking all the way from the north end of the city and through the Porta Romana (Roman Gate) to get to my hotel just outside the southern city wall, but Siena is a gorgeous medieval mess of 45-degree inclined cobblestone streets and ancient stairwells, and the line-up of cabs just outside the station was too enticing to resist.
Nearly 20 euro later, I was getting dumped at the side of a somewhat busy street while the cabbie pointed to a door marked Hotel Santa Caterina. This was it.
Once I stumbled into the warm, receptive lobby, however, my impression did a speedy 180. And by the time the bellhop handed me my antiquey fringed skeleton key to my room and, with a flourish, spread the shutters wide to reveal this view —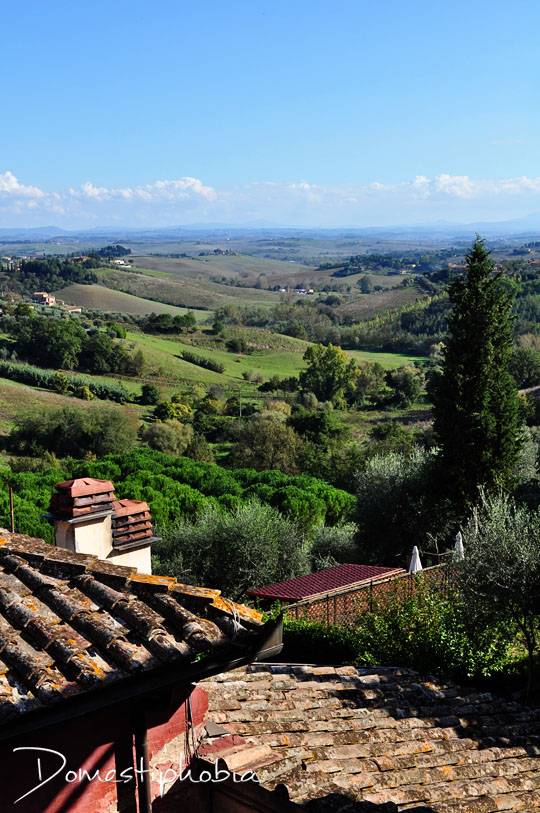 — I was convinced that the Hotel Santa Caterina and I would be very, very happy together.
It turns out Saint Catherine of Siena (b. 1347 – d. 1380), after whom this hotel was named, was a super influential woman of her day. Unfortunately, her day happened to start out as peak season for the Bubonic Plague in Europe. It also happened to be a time during which infant mortality rates sat around a staggering 30%, people on average lived to only their late 40's, and women in general were not exactly respected as political, religious, or historical leaders.
Basically, the Middle Ages sound like kind of a crap time to be alive in general, and an even crappier time to be a woman. In fact, the primary choice of young women during that time was either to become a nun or a wife and mother, both of which Catherine vigorously opposed. Perhaps one of the western world's very first feminists, a teenaged Catherine protested promptings to attract a husband by cutting off her long hair and refusing to marry her deceased sister's widower, who apparently wasn't even a very nice guy. She eventually became quite adept at protests — fasting being her primary modus operandi — until her father finally caved to her refusal to conform to society's expectations and she was allowed to live a prayerful life outside the walls of a convent as a tertiary. (Which, from my limited understanding, is someone who lives according to the ideals of a religious order but does not take vows. Seriously — this stuff gets complicated.)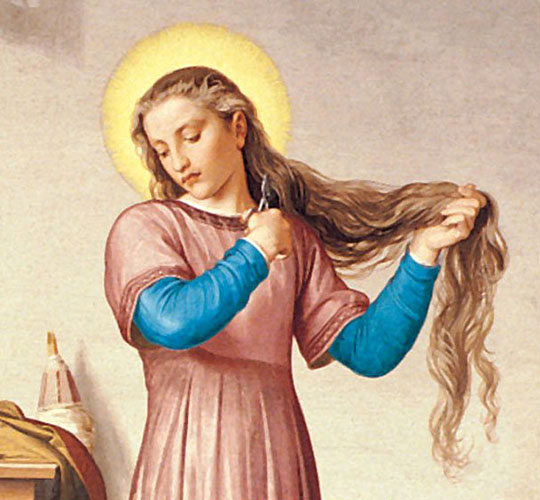 Anyway, Catherine pretty much spent her life serving others and spreading the word about her political and spiritual beliefs (and eventually consuming only the Eucharist for sustenance, which probably explains the fact that she eventually basically starved to death) and became kind of a big deal in Siena, Florence, and throughout Tuscany.
All of this is probably why Siena has a hotel — and a restaurant, a pottery store, and a whole bunch of churches — named after her.
The Hotel
The Hotel Santa Caterina in Siena has a lot of rooms — about half with views of the valley, and half with views of the street. I'd highly recommend booking in advance to request a hillside view, though they're not guaranteed. Either way, the location is fantastic, just outside of the Porta Romana and a very short walk to the historic City Center. You could pay more for a hotel inside Siena, but you're far less likely to get those views.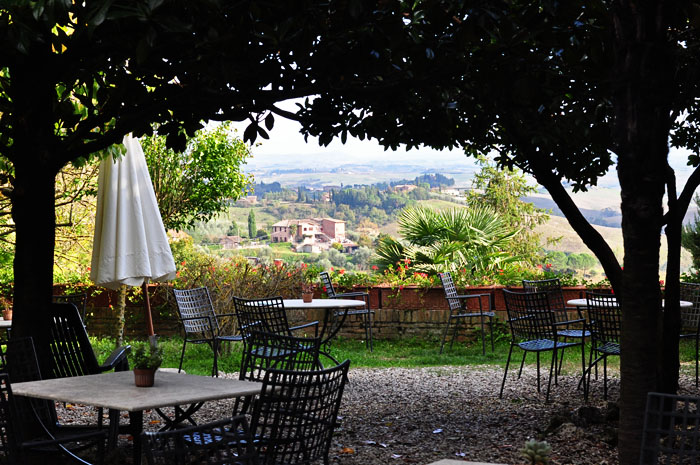 Even if you can't snag a room with a view, the garden out back is glorious. It was foggy both mornings I stayed and too chilly to sit outside, but I imagine in the summertime you'd be hard-pressed to ever get me to leave the hotel grounds.
The Room
Aside from that incredible view, the room was nothing much beyond a typical European hotel room.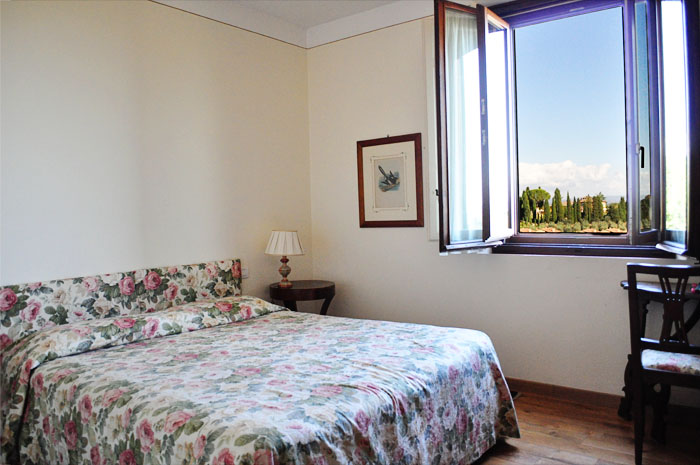 It had a moderately comfortable bed, flat pillows, small work area, large wardrobe, and a television.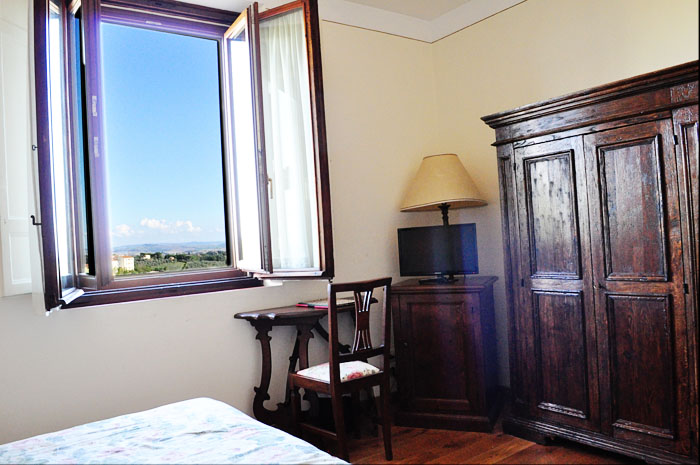 I loved that I could turn all of the room's lights on and off from switches near the bedside tables, and while the bathroom was quite small, the shower was a decent size for European standards.
Funny story: After showing me The View to End All Views —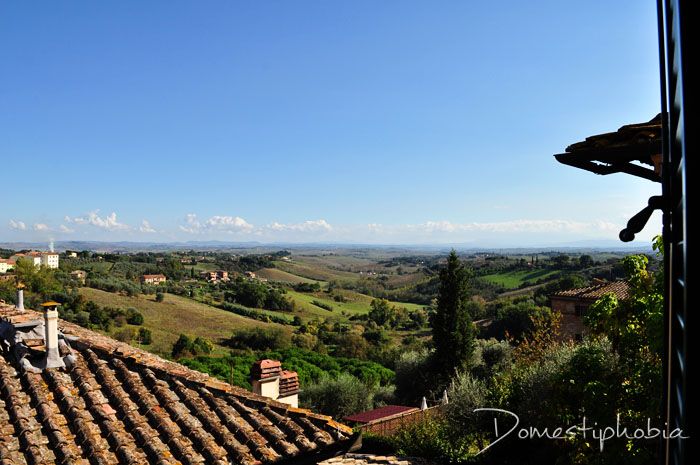 — the bellhop proceeded to show me how to work the television. He turned it on and started pointing out various functions on the remote, all the while completely oblivious to the fact that over his shoulder, the screen was displaying a sultry scene featuring a very nekkid couple entangled on the beach. Of course, he turned beet red and was horrifically embarrassed as he fumbled to turn it off, but I'm thinking he's probably a lot more careful now about noting which channel the television's turned to when he shows it to guests.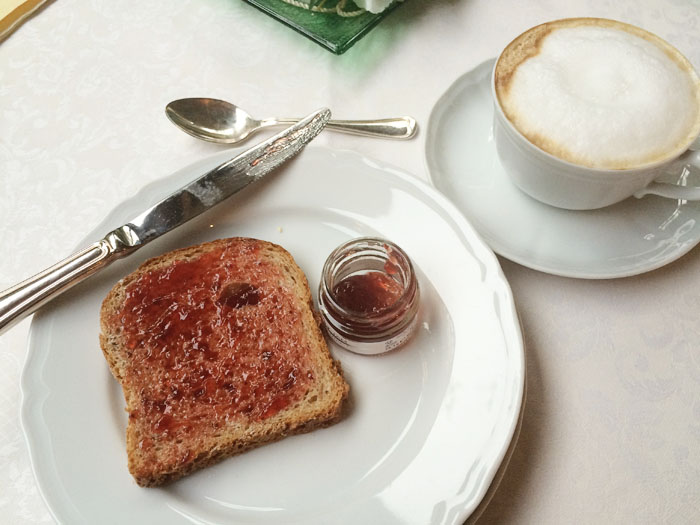 On my last morning there, I had a little time to chat with Lorenza Capannelli, the vivacious hotel manager. Both assertive and humble with a charisma typical and necessary for someone in her line of work, Lorenza was bustling with excitement after a return from two networking conferences and getting ready to review a potential luxury property for acquisition. She's been manager at the Hotel Santa Caterina for 17 years, and it was clear from our chat that she's immensely proud of her staff. "In all that time," she explained in her thick Italian accent while I sipped my wonderful cappuccino in the breakfast solarium, "I get some typical complaints here and there, but no one EVER complains about my staff."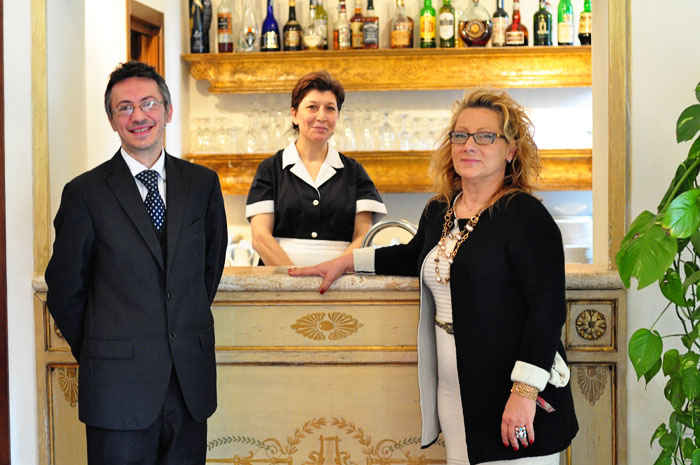 Lorenza, who was immensely camera shy, with some of her staff members.
And it's true. In a town where I'd felt a bit lonely and self-conscious about my tourist status — frowned upon for my bumbling Italian that I was sometimes too embarrassed to even try speaking — the staff at the Hotel Santa Caterina was always smiling, patient, and genuinely friendly.
For that reason alone, I'd go stay again.
But also, oh, those views…
Need to Know:
Hotel Santa Caterina
Via E. S. Piccolomini 7 53100 SIENA
0577 221105
info@hotelsantacaterinasiena.com
Good to Know:
If you can manage, try to get a room with a view.
The hotel is not located in the historic city center, but the views from the garden and some of the rooms make it worth the walk.
Yes, they get the naughty channels, as the bellhop embarrassingly showed me. Now you don't need to ask.
Disclosure: The Hotel Santa Catarina invited me to stay in exchange for writing a review. Rest assured that all opinions, as always, are completely my own.