These Shelves Float My Boat. And My Wine.
Coastal Virginia is not a region known for accumulating massive amounts of snow. So when I woke up at dawn to this —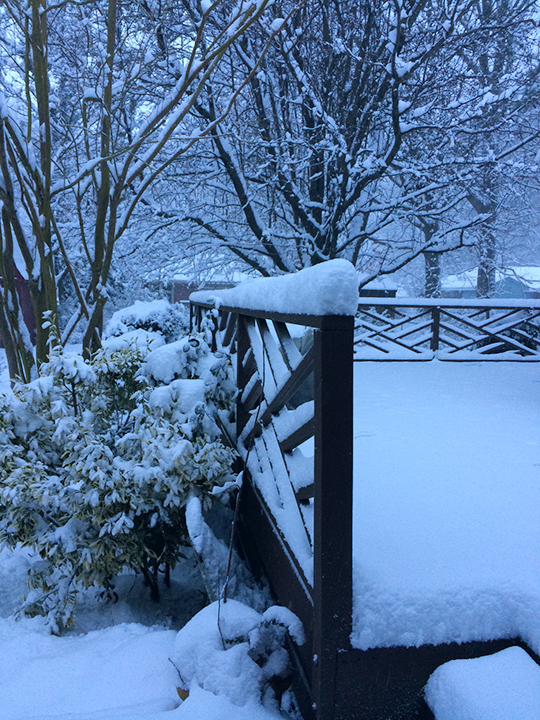 (and it was still coming down)
— I got to spend 10 minutes watching the mutts frolic around the yard in mass confusion while the coffee brewed and slowly filled my cozy kitchen with an aromatic warmth.
It was the quietest my neighborhood has ever been.
And you know, when I describe my kitchen as "cozy," I'm definitely not speaking of the 70's monstrosity that crowded it when we moved in (which, in all fairness, was probably pretty badass in its heyday):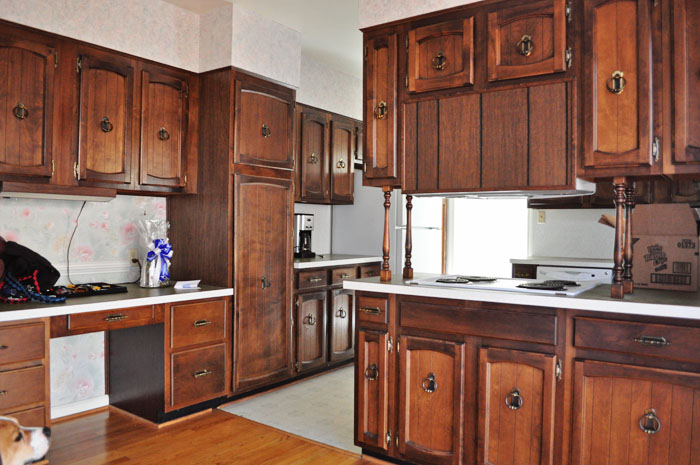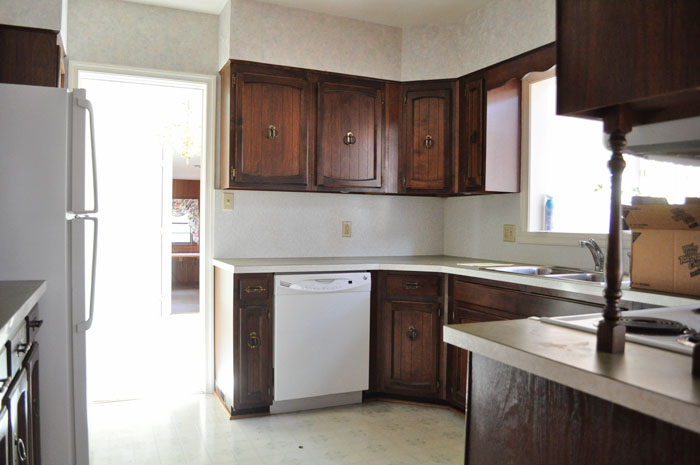 And I'm definitely not speaking of when we had to worry about contracting tetanus or breathing asbestos spores just by walking through: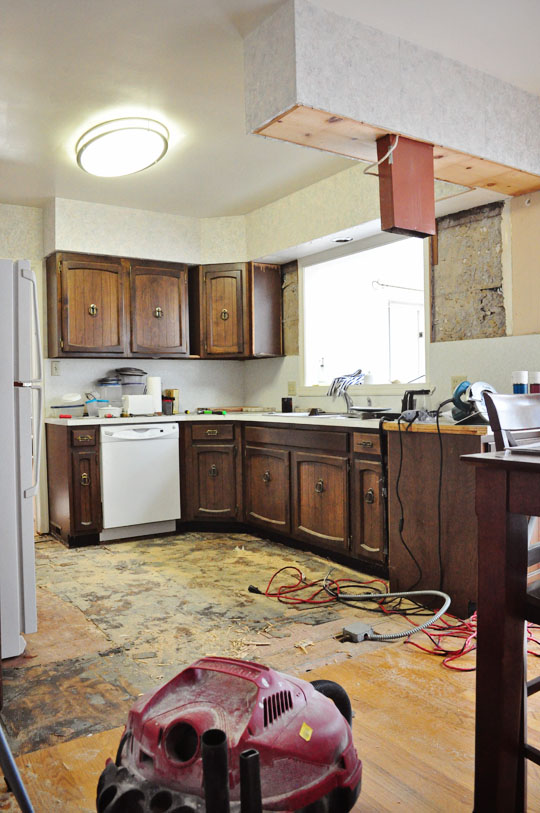 And I'm not even speaking of the nearly finished look I showed you last, after we tiled the backsplash for less than $200; painted the cabinets and rearranged them to fit our needs; added hardwood floors, recessed lighting, and a DIY pendant light; installed new laminate counters; and did a million other things about which we'll never speak again: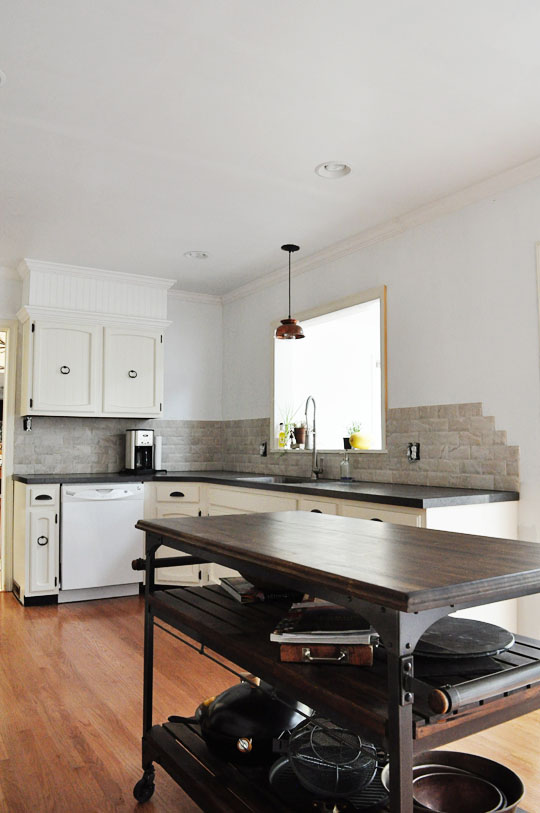 While that was certainly a huge improvement, it was still far from feeling like home. The beadboard soffits and crown were still builder-grade white, the walls still sterile with primer, and that nook. See that nook in the corner to the right of that cabinet above? I'd had big plans for that space since I first designed the layout and finally, after unspeakable months of molasses-like progress, my idea has finally come to fruition: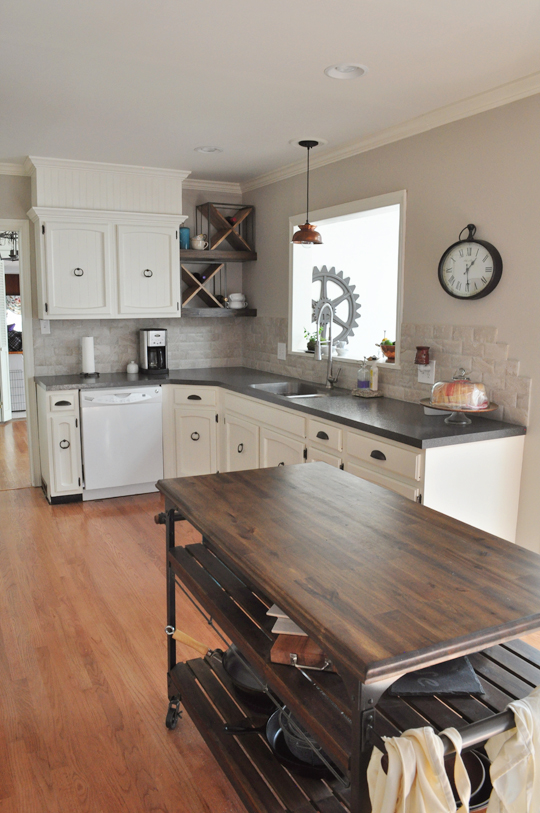 Pictured above:
I painted the beadboard and crown molding the same color as the cabinets;
I painted the walls. Twice. (I hated the first color and ended up with a color we had in our last kitchen — Glidden's Sand White);
Justin built my floating shelves.
I'd never planned on leaving that corner empty, but we didn't have a leftover wall cabinet that fit the space.
Sad, empty corner before: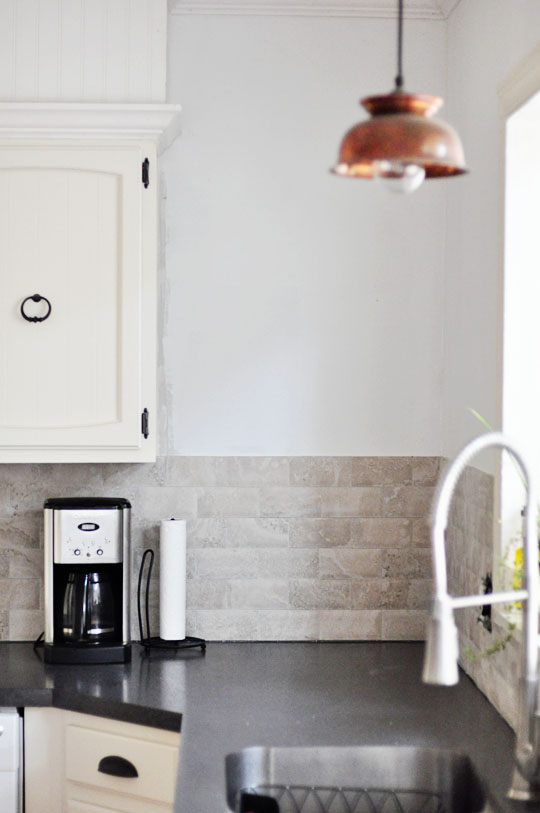 Happy, delightful storage of alcoholic beverages after: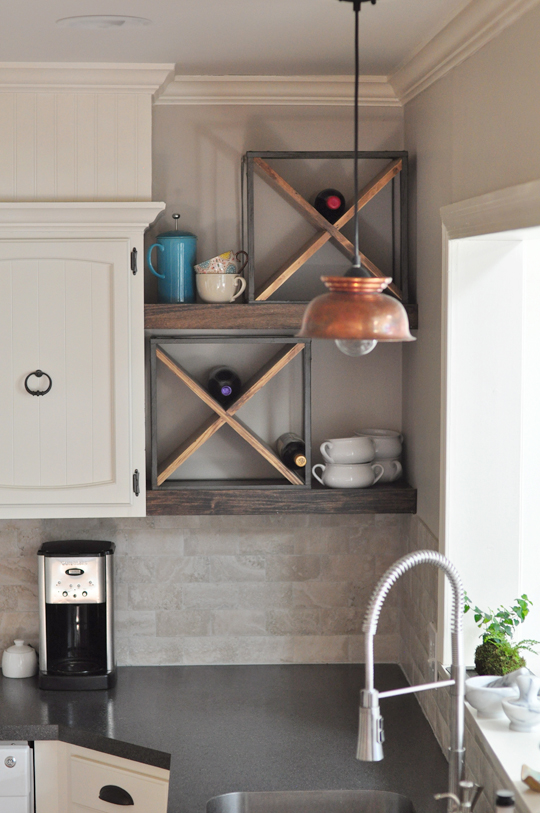 I love how the stained wood ties into the wood of the kitchen cart.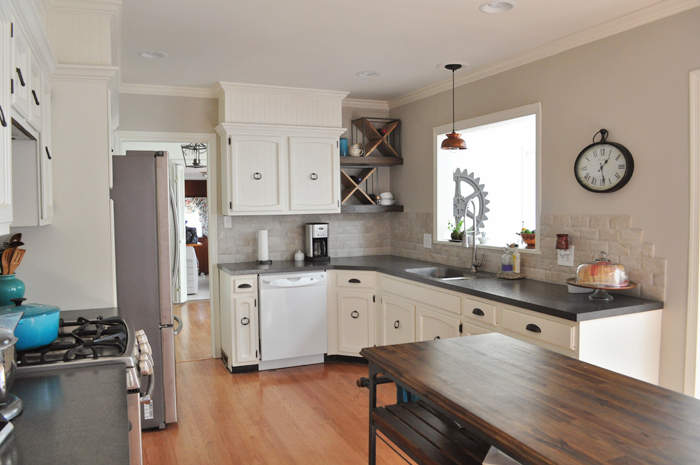 I'm not sure if the wine cubes will stay, but for now they work and I like how they add some interesting shapes (and much-needed wine storage — my supply is frighteningly low these days).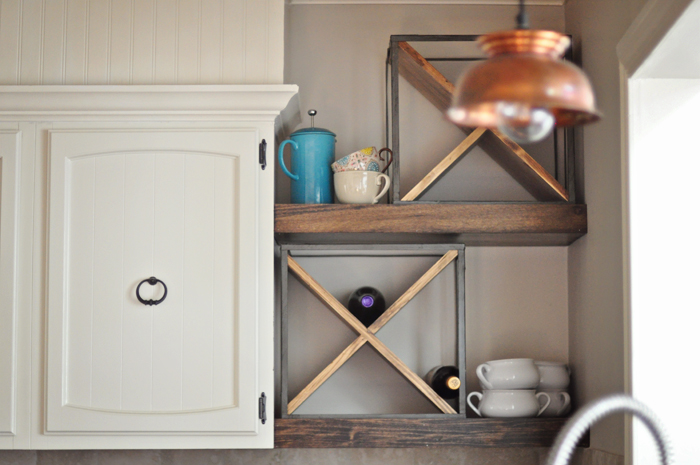 For Justin, building them was fairly simple. I didn't want regular shelf brackets because we'd have to screw them into the backsplash. So instead, he used several pieces of 1×2″ poplar for the interior supports, a 1/4″ thin strip of 3″ wide poplar for the fronts, and a 1×12″ pine board for the tops and bottoms. Basically, he put them together like a sandwich.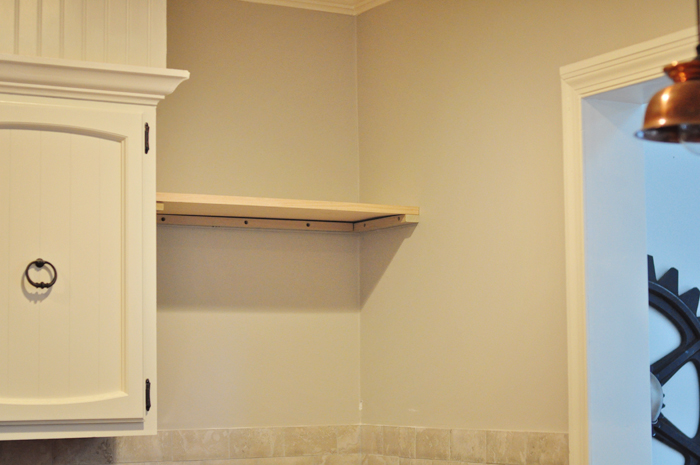 They're sandwich shelves.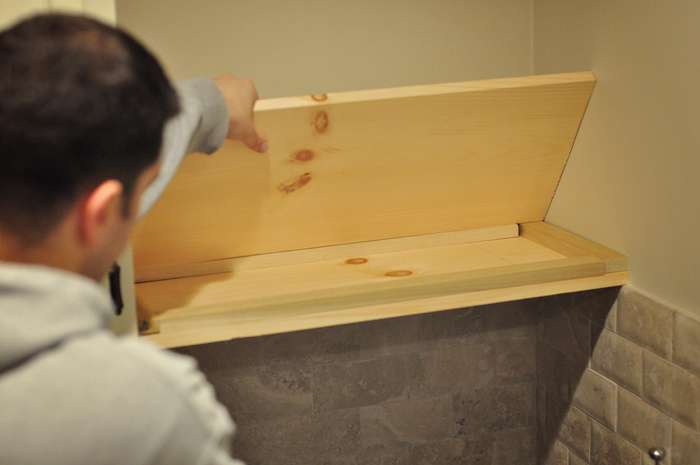 He made sure everything would fit before screwing them in, and then he stained the sides that would show before installing. He screwed the 1×2″ supports into the wall and used clamps, glue, and nails to secure the sandwich "bread."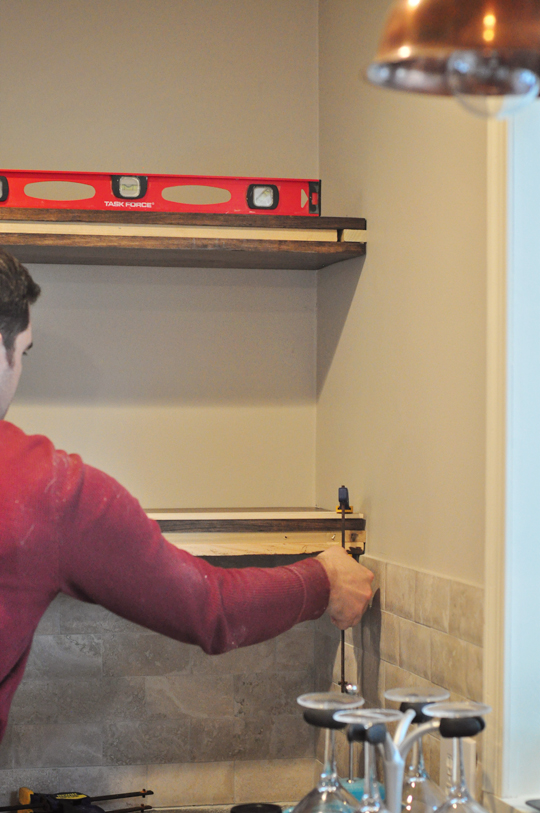 Here's a look at the sandwich once more: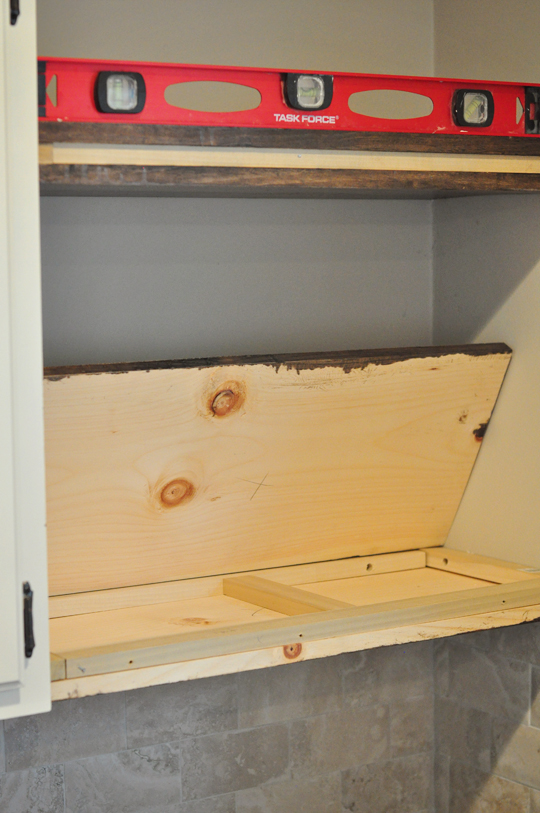 Then he secured the thin strip of poplar to the fronts with tiny finishing nails. (If the barely visible nail heads bother you, wood glue would probably do the trick.)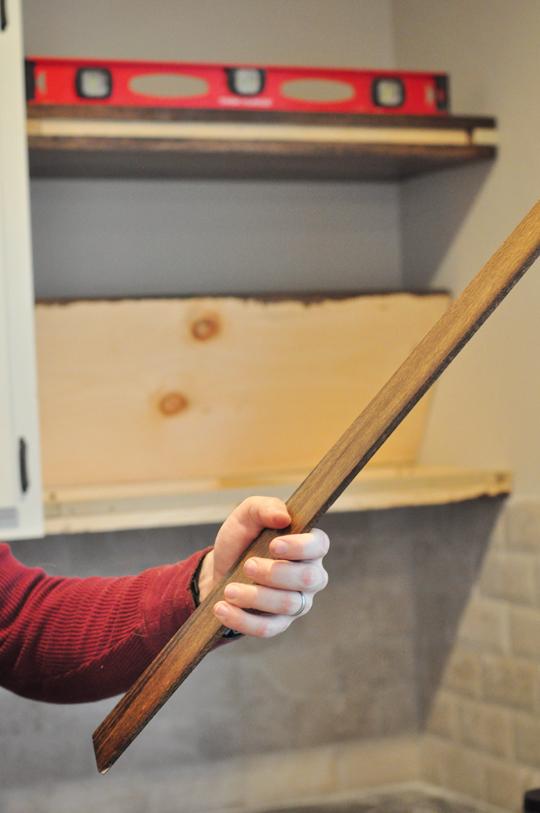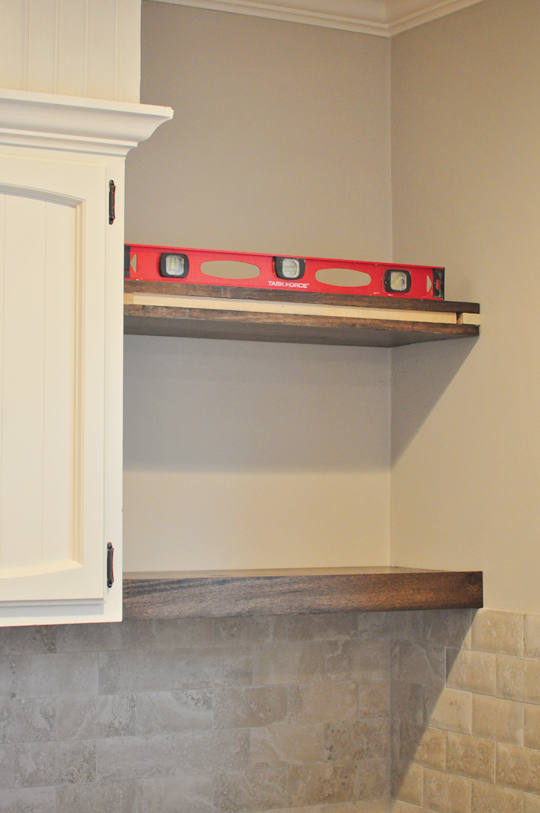 TIP: If you're building more than one shelf, make sure the grain on your front pieces of wood is similar. Ours is not — the bottom one is pretty "busy" while the top one is fairly smooth. It makes my perfectionist eye twitch.
Smooth top: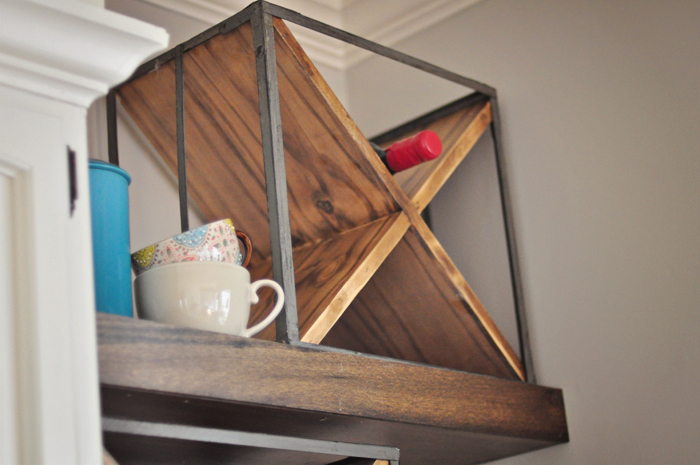 Rustic bottom: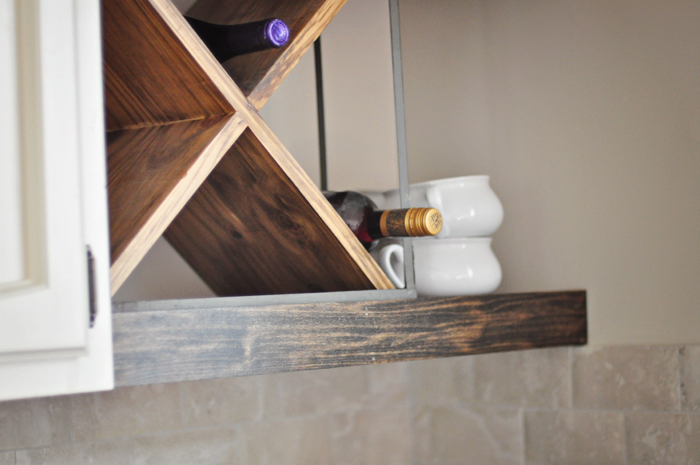 In the end, though, I'm still a fan. My empty corner no longer looks like wasted space: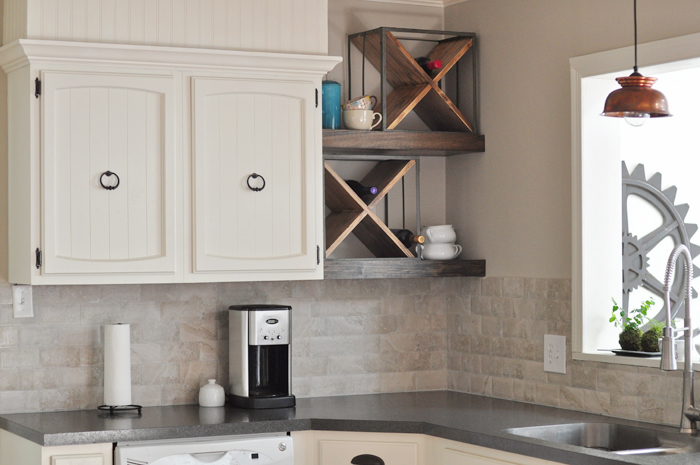 And my kitchen is finally — finally — starting to feel like home.
Oh, and that huge empty wall across from this?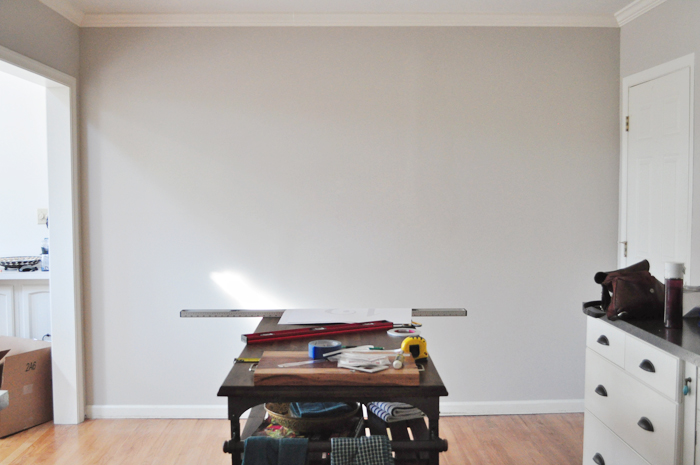 We've finally filled that, too.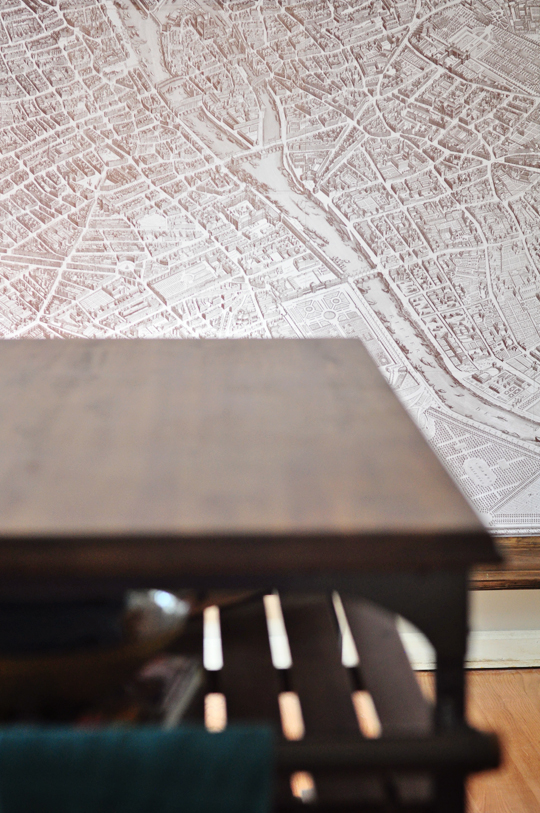 But you'll have to wait until the next kitchen post to find out how. (Unless you've subscribed to my newsletter, in which case, you already know!)