Exploring The Amalfi Coast & Dining In Style. (TIK Tour Day 5)

With a delicate pop, an intense burst of flavor unlike any I've ever known splayed across my tastebuds. My eyes opened wide in shock, my hand gripping the ridiculously tiny spoon while, dismayed, I side-eyed the small test tube-like glass that sat on my plate. I tried to assess whether or not it would be more effective to just pick it up and stick my tongue down into its depths to quickly access more of whatever it was I just ate.
No, I reprimanded myself, glancing down at my little black dress and strappy sandals — the first new outfit I'd worn after recycling the same tank top/sweater/cardigan combo I'd been sporting since we'd arrived, sans bags, in Italy 5 days earlier. This is a Michelin-starred restaurant. You don't lick the cups in Michelin-starred restaurants. Just to be sure, I looked around my table to make sure no one else was.
They weren't.
I resignedly dipped the spoon back inside and emerged with the perfect portion of a creamy mousse-like substance, dotted ever-so-sparingly with speckles of real Italian truffles. It didn't take me long to realize that these were very different from the flavored extracts that had been pandered to me as oils and the flecks of fungus that dotted the "truffle" cheeses I'd bought at my grocery store. This, I thought, gazing around the gaudy pink dining room, must be Heaven.
---
Earlier that morning, I'd stuffed myself full of Nutella-laden breakfast rolls and a couple of Chef Carmen's delicious cappuccinos before all six ladies of The International Kitchen's Women-Only-Week Mediterranean Cooking Experience piled into Tony's van for an excursion to Italy's famous Amalfi Coast.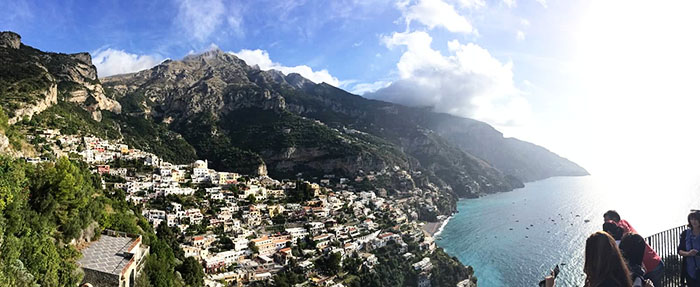 Photo by Alaina Barth.
While this was the day I'd most been looking forward to, I felt a bit bedraggled as I adjusted the top my friend Alaina had generously loaned me for the day and tried to smooth out my frizzy hair, longing for the conditioner and straightening iron I'd so callously packed inside my checked bag nearly a week before.
We'd been trying our best to stay positive. One night, while the hotel generously washed our few belongings, all of the ladies from our tour gathered in the kitchen in our bathrobes for wine and chocolate in an overwhelmingly gracious act of camaraderie.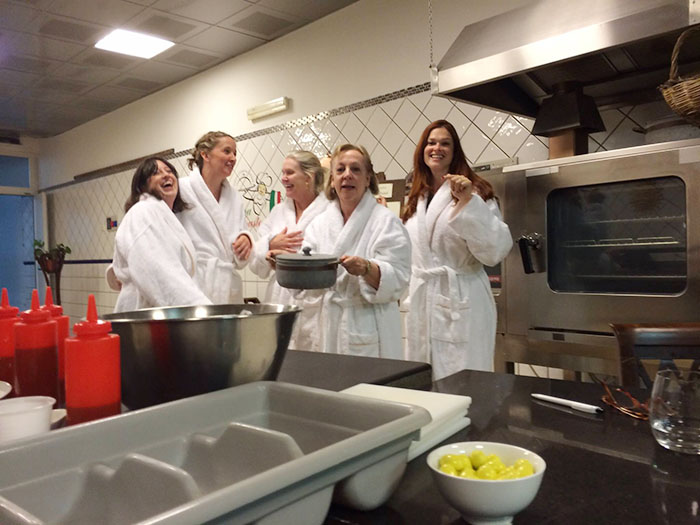 Attempting to explain the intricacies of a camera phone to a confused older Italian woman results in some interesting photos.
Even so, sporting the same socks day after day can get a little tiresome.
So, just for that day, I decided to leave my clunky DSLR camera at the hotel in order to travel light and enjoy every moment. And while I only have grainy iPhone photos and one piece of street art purchased from a vendor in Positano to commemorate the beauty of the coast, the whirlwind experience would've been far less enjoyable with my face stuck behind a machine.
The beauty of this place is unparalleled.
Since the hotel where we were based was right at the crest of the range of hills that divides the northern and southern portions of the Sorrentine Peninsula, it was a relatively short jaunt to get to the cliffside panoramas of the stunning southern Amalfi Coast: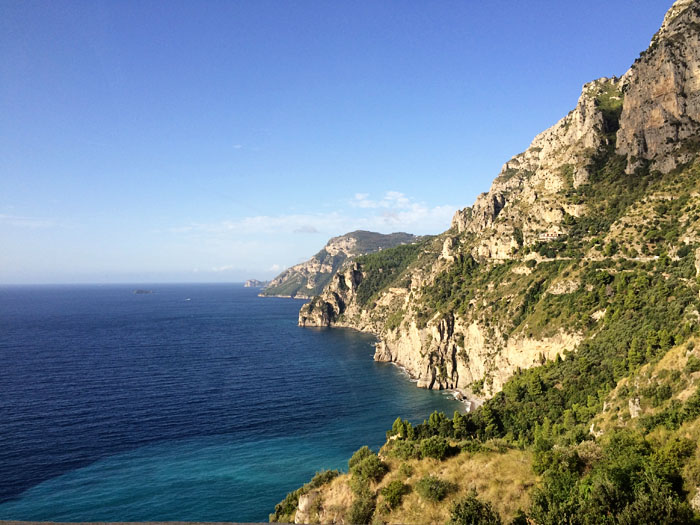 The Amalfi Coast, which is accessible only by foot, boat, or a single, cliff-hugging highway contains 13 municipalities, we only had time to visit 3: Positano, Ravello, and Amalfi.
Along the way, there are ceramic stores and souvenir stands for those brave enough to stop.
Positano
John Steinbeck once wrote, "Positano bites deep."
And that, it does.
While the jarring natural landscape rivals that of two of the most gorgeous scenic places I've ever stepped foot, Kauai and Formentera, the most striking aspect of Positano was the man-made additions — pastel buildings cascading down crumbling cliffs like melted frosting.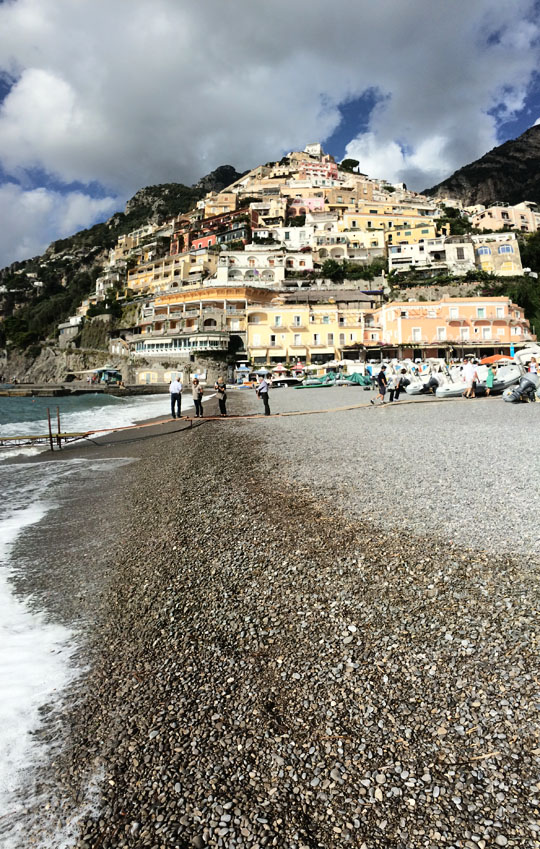 It took me some time to adjust to the sheer, human audacity to build on such cliffs. And they rarely used cranes — the main beast of burden for such precarious construction was the donkey.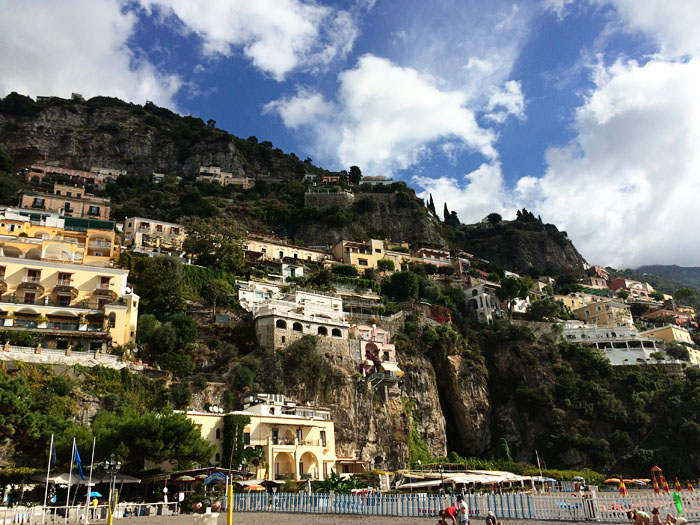 There's only a single, one-way road winding through Positano, so I recommend hiring a driver to take you there or research in advance where the parking garages are located because if you miss one, it could take hours to turn around — especially in high-season traffic.
The charm here clearly lies in the pedestrian paths meandering through town and the smattering of adorable gift shops along the way. Be prepared, though — the paths can be steep.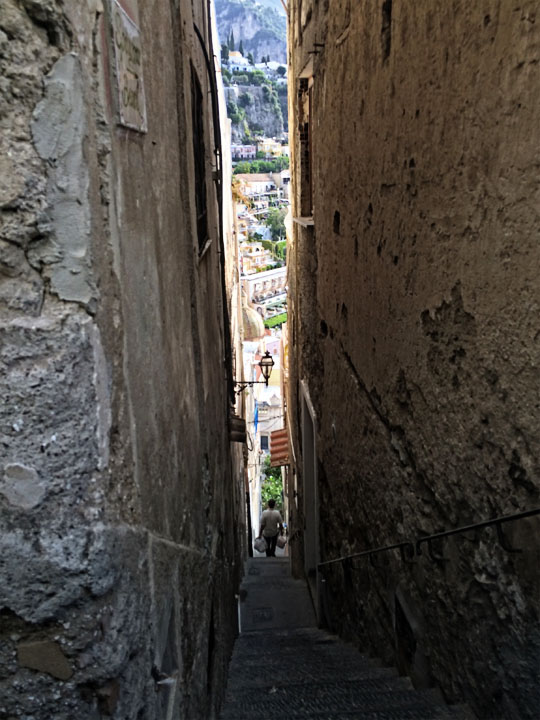 We only had an hour to peruse through town, and we spent most of that time down at the beach. Most of the shops sold much of the same — limoncello and Positano linens. (TIP: I'm all for supporting a local economy, but I'm also big on supporting my wallet, and you can find the Positano linens much cheaper in Sorrento. Instead, I dropped some coinage on a unique piece of local street art.)
I do wish we'd had more time in Positano, for the simple fact that the crowds made it hard to explore all of the interesting nooks and crannies! Though if crowds make you exceedingly apprehensive, an hour is plenty of time in what's arguably the most touristy town on the Amalfi Coast. (A bit surprising, considering it was featured as the quaint beachside village in Under the Tuscan Sun.) The beach, though, was fairly quiet:
Steinbeck wrote, "It is a dream place that isn't quite real when you are there and becomes beckoningly real after you have gone."
And that's the thing — tourist attractions are touristy for a reason. It's great to travel "off the beaten path," but show me a path that's beat like Positano, and I'd happily go back again and again.

Ravello
Soaring high, high, high upon the cliffs of the coast sits the town of Ravello. Far less crowded than Positano, Ravello boasted views of terraced farming hillsides and even more sweeping views of the Mediterranean.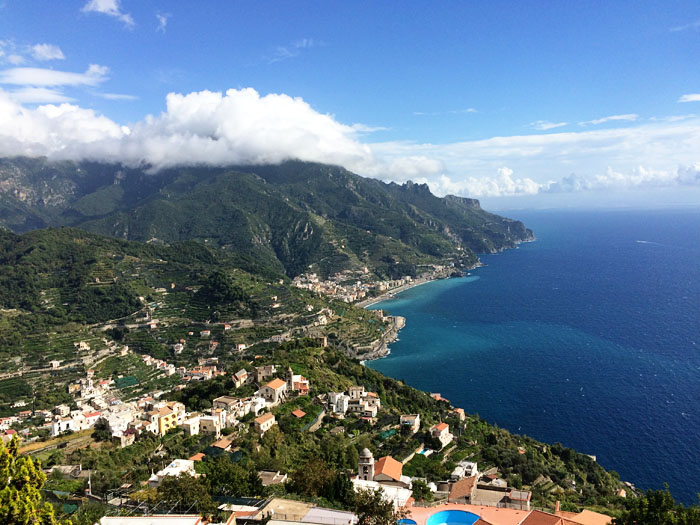 A bit famished, we stopped for lunch at the first place we saw just outside of the city walls, the Hotel Ristorante Garden.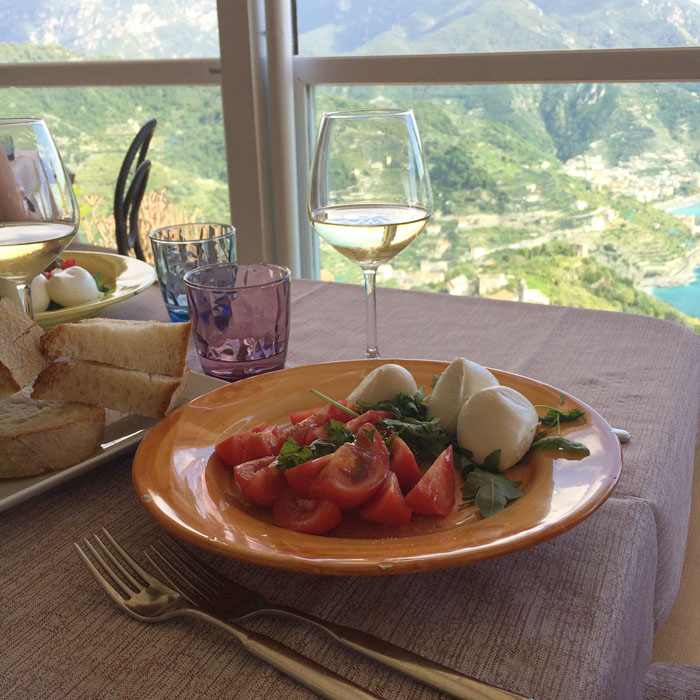 Although it's the only place we ate, I'd say it has the best views of the sea.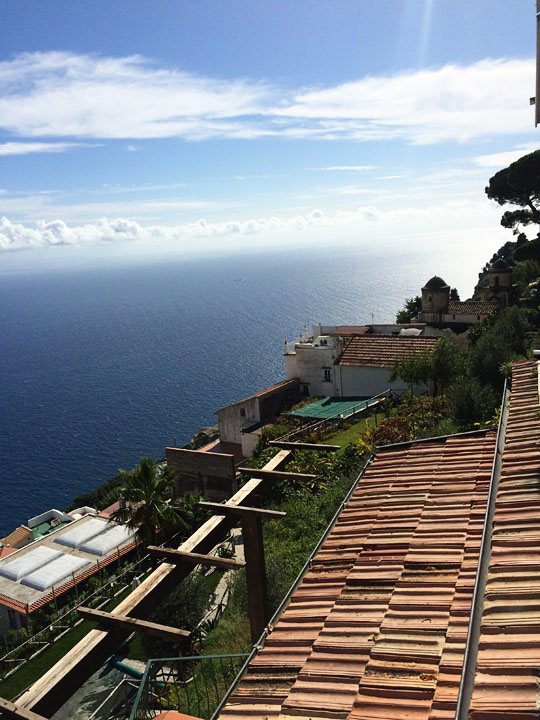 The hill views weren't too shabby, either: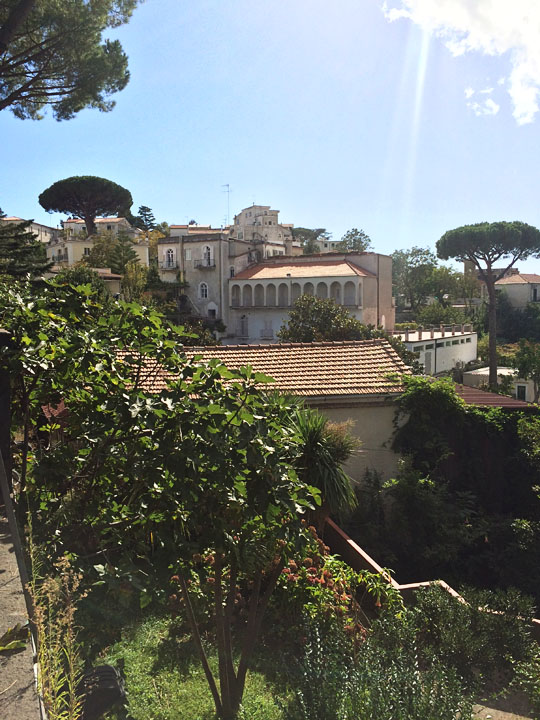 I loved Ravello's quiet, village feel. There was a band playing in the square near the ancient church, and everything felt more rustic and real. This video clip gives a really good idea of the vibrancy, compared to the seaside atmosphere of Positano:
We didn't have much time, but we had fun meandering amongst Ravello's quiet shops medieval buildings.
I wish I'd had more time to spend there.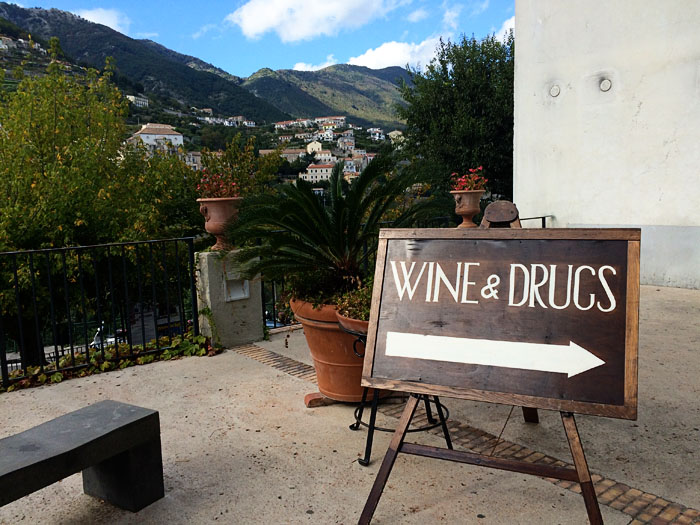 Amalfi
Our final stop on the tour was the town of Amalfi. By this point, Carmen had called from the hotel to let us know that our bags would be arriving before we returned, and I'll admit — I let my excitement over finally having luggage after 5 long days and general exhaustion override my time in this beautiful town.
Probably the most accessible of the Amalfi Coast towns, Amalfi has a lot to offer — plenty of shops, restaurants, and space to walk around. Easily the most impressive sight was the cathedral, with its intricate facade and impressive gothic archways.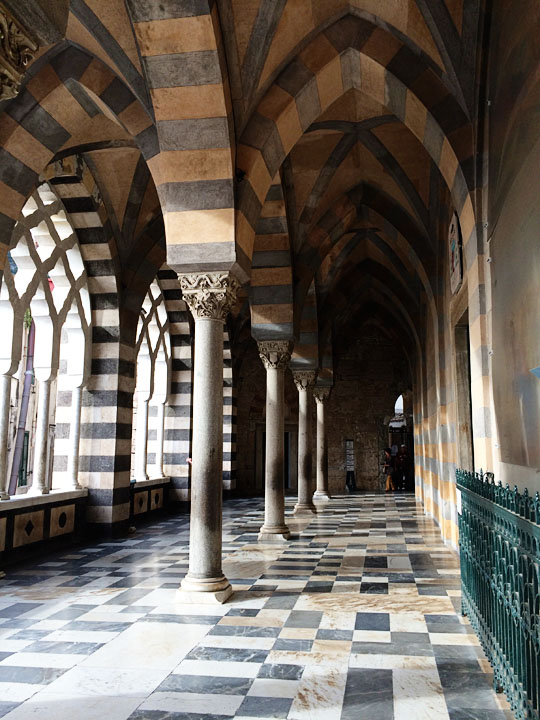 And while my limited photos don't do it justice, this is a town I'd love to re-visit and explore for much longer.
There's so much I didn't see!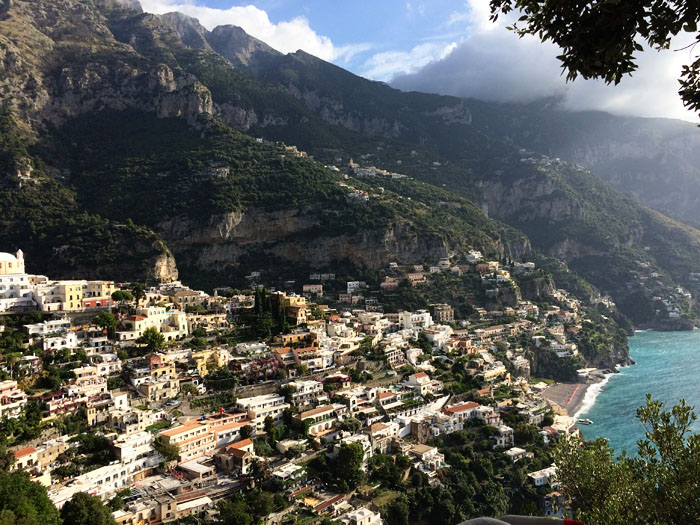 What I will remember about the Amalfi Coast:
I will remember sunshine. I will remember beauty. I will remember clinging to the edge of cliffside streets and house numbers printed on colorful ceramic tiles. Sometimes I see a place and think, There. Now it's done. Let's cross that one off the list. But here? I feel like I've only begun to explore.
Meanwhile, back at the hotel…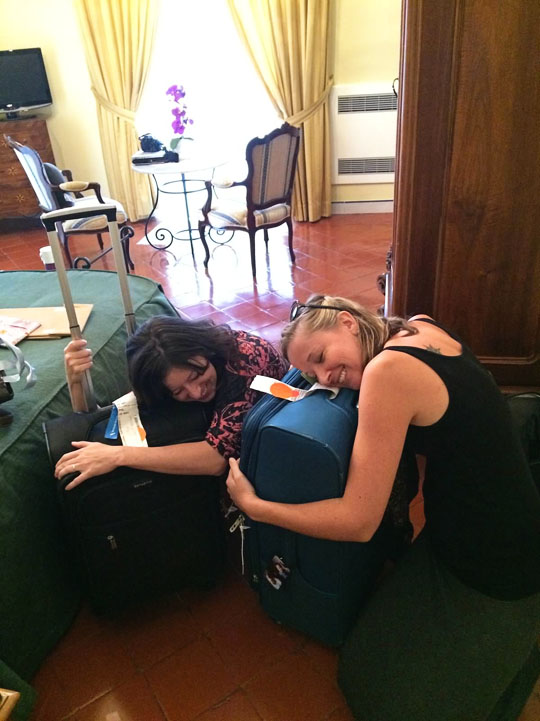 Don Alfonso 1890
Our day didn't end with some of the most spectacular scenery I'll see in my lifetime or a make-out session with my luggage. Instead, it ended with some of the most spectacular food I'll likely ever eat.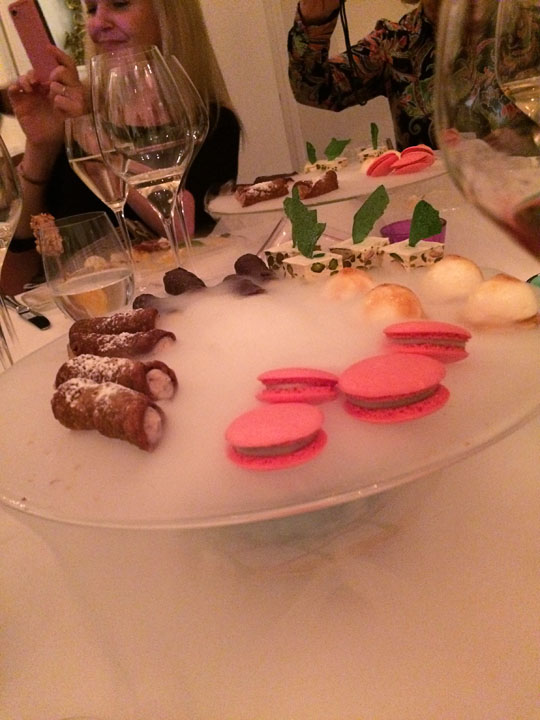 From a truffled amuse-bouche to a decadent dessert tray adorned with dry ice, I took the time to truly eat and experience my first Michelin starred restaurant rather than take photos.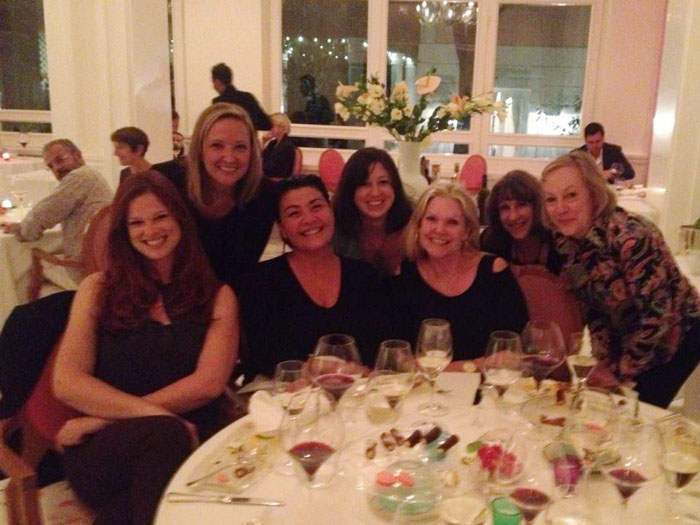 Blurry group shot — Carmen came to join us at the end of dinner. I'm the one in the middle, thrilled to be wearing new clothes, even though for some reason it looks like I'm topless.
The part I did take photos of, however, was our surprise tour of their 6th Century BC wine cellar.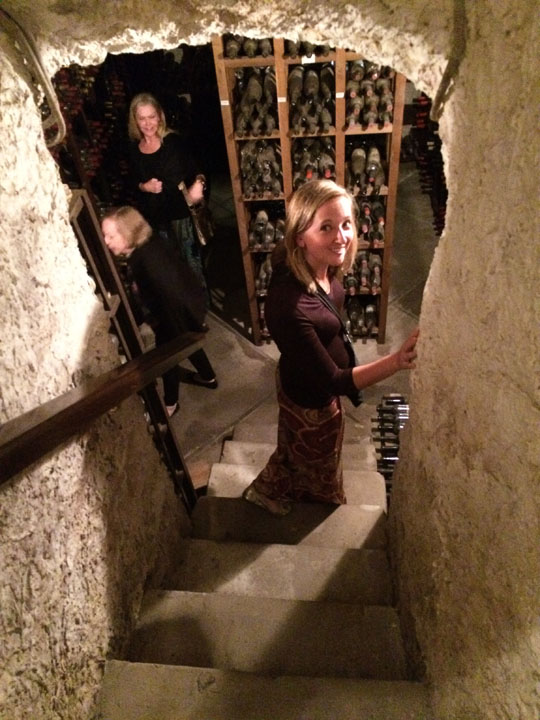 Think about that for a second, guys.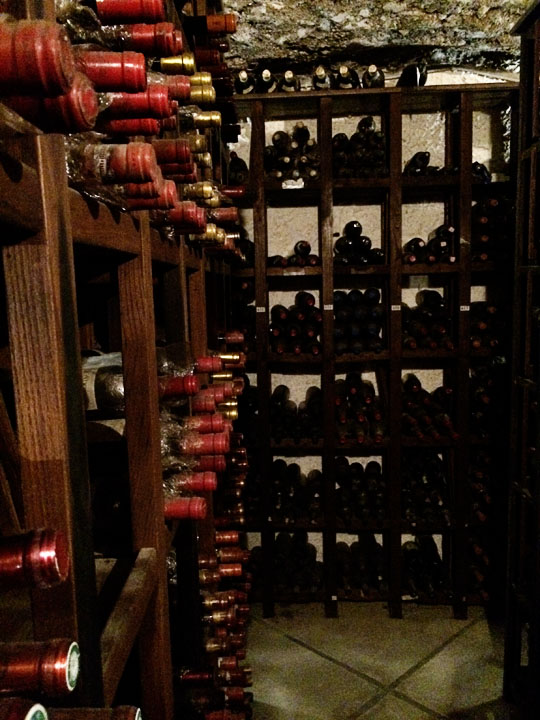 This was built 600 years BEFORE Christ.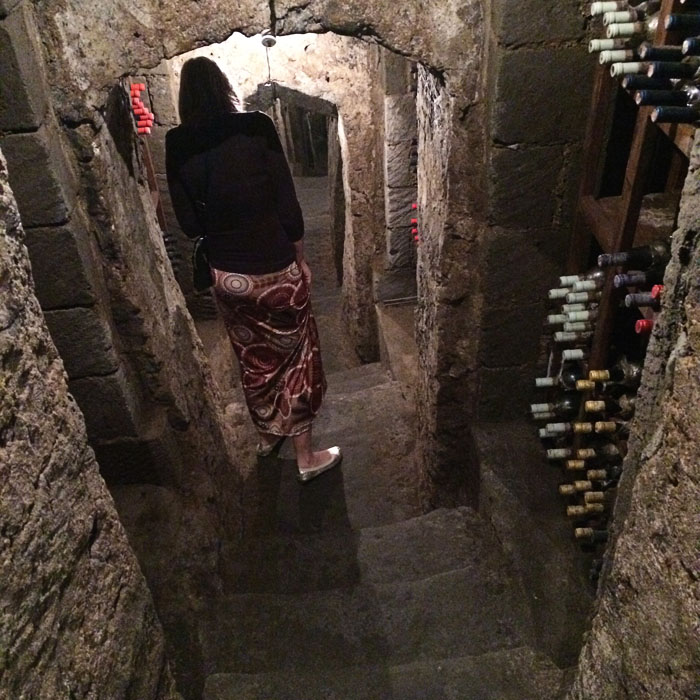 And some of the bottles looked like they'd been there that long.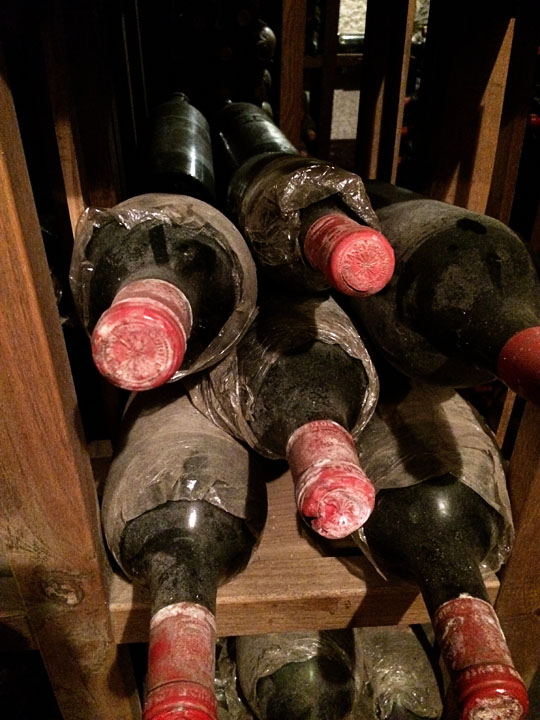 Of course back then, it was likely some kind of escape route rather than a storage place for spirits. The tunnel was 30 meters long, and a few of us were brave enough to venture down to the bottom.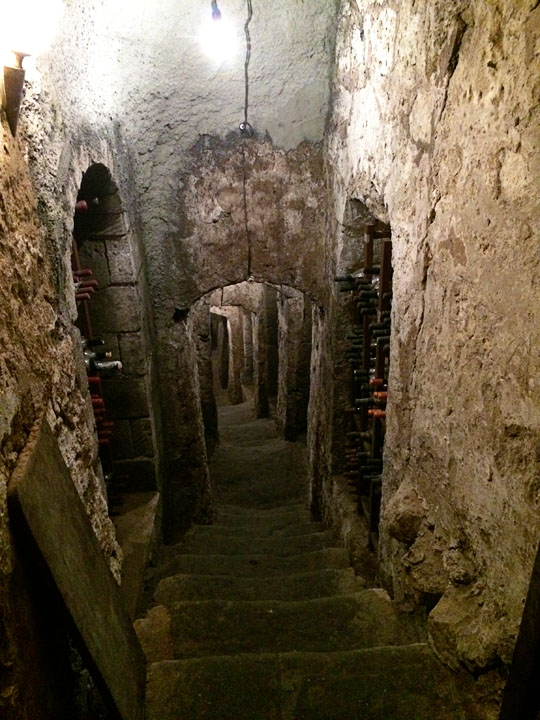 I cannot describe to you how 2,600 year-old hand carved steps feel beneath your feet. It's just something you have to experience.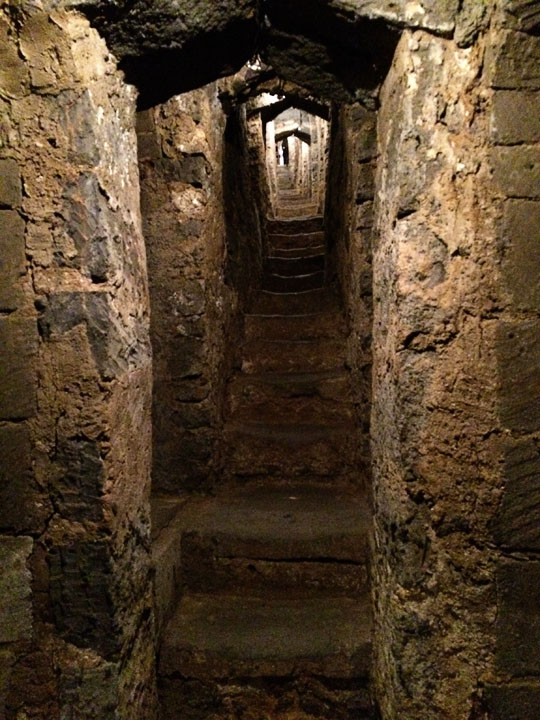 View back up towards the top.
At the bottom was a dark, spiral staircase that we later learned leads down to where they store cheese. I wish I'd ventured down there, but at the time I was fairly well convinced that's where they stored the bodies. Or zombies. Or both.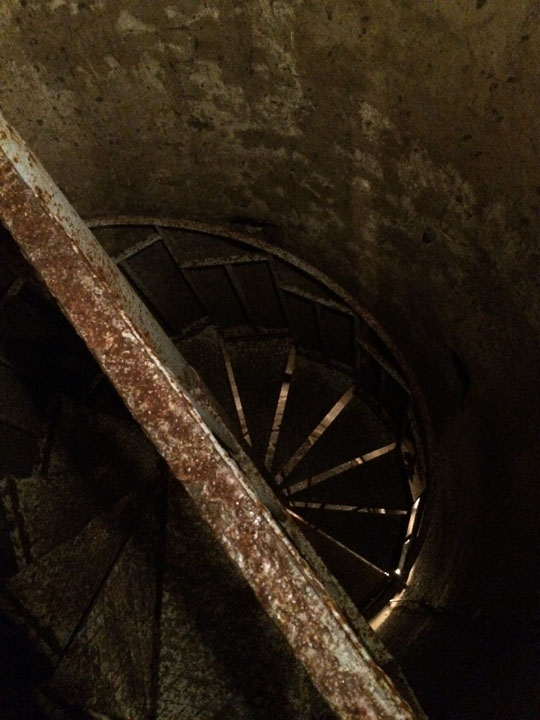 How about you? Would you have climbed down?
Good to Know:
It's best to either hike (outside the heat of summer) or hire transportation to get to the Amalfi coast — especially if you're only planning a day trip. I can't imagine navigating those congested cliffside highways myself or perched on a gigantic tour bus.
If you make it to the 2 Star Michelin Don Alfonso 1890 in Sant' Agata, do not leave without a tour of the 6th Century BC wine cellar. It was one of the most memorable moments of my trip.
Only one day is scheduled on the Amalfi Coast as part of this International Kitchen Tour. If you think you might want more time there, you might want to consider extending your trip!
Disclosure: My Women's Only Week Culinary Vacation was provided for review by The International Kitchen. Rest assured, though, that all opinions — as always — are entirely my own.